21 Top-Rated Things to Do in Provincetown, MA
We may earn a commission from affiliate links ()
You'll be hard-pressed to find a quirkier place than Provincetown. A haven for artists of all mediums, this flamboyant town offers non-stop action and a plethora of interesting things to do. Set on the farthest, hooked tip of Cape Cod, Ptown is an exciting spot for a vacay, and an especially popular destination for members of the LGBTQ community.
Whether you hope to attend a concert, head out on a whale-watching tour, or go off-roading across sand dunes, you'll find plenty of fun things to do in Provincetown. Top activities include shopping along thriving Commercial Street, grabbing a tasty bite at a café or restaurant, and perusing art galleries.
Keep your eyes peeled for unique tourist attractions spotted around town. From lively, mosaic-riddled alleyways to iron-statue-laden front gates, art abounds at virtually every corner. That said, Ptown's beauty extends beyond its vibrant core. Lusciously soft beaches, adorable lighthouses, and the verdant Cape Cod National Seashore attract thousands of summer visitors to this top small town in Massachusetts.
Plan your sightseeing with our list of the top things to do in Provincetown.
1. Visit Pilgrim Monument and Provincetown Museum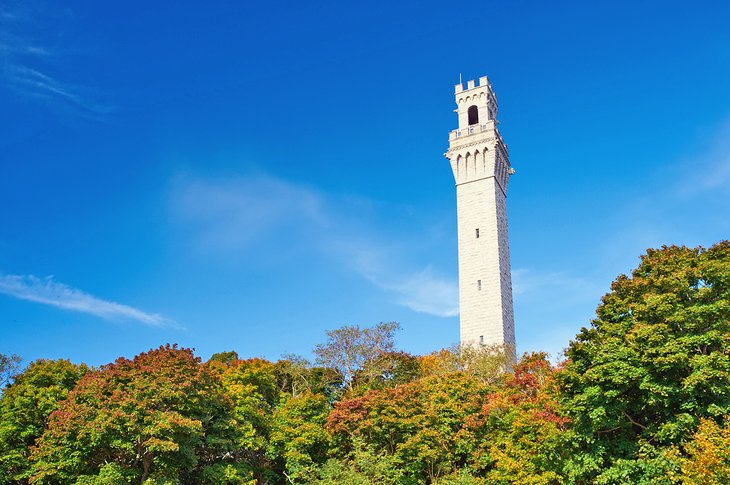 The best view of Provincetown can be had from atop the Pilgrim Monument. You'll have to climb 116 steps and 60 ramps to reach the summit of this iconic tower, which was built in 1892. Created to honor the Pilgrim's first Provincetown landing in 1620, this historic monument is a must-see and easily one of the best things to see in Provincetown.
At 252 feet, Pilgrim Monument is the tallest all-granite building in the United States. It was designed to resemble Siena, Italy's Torre Del Mangia and is graced with a cornerstone laid by President Theodore Roosevelt in 1907.
Knowing the importance of educating the public about the nation's history, a museum was built at the monument's base in 1910. Known as Provincetown Museum, this building bursts with educational exhibits (both permanent and changing), including a recreated 19th-century sea captain's parlor and a model of Provincetown Players' first theater.
Address: 1 High Pole Hill Road, Provincetown, Massachusetts
Official site: https://www.pilgrim-monument.org/
2. Spot a Seal on Race Point Beach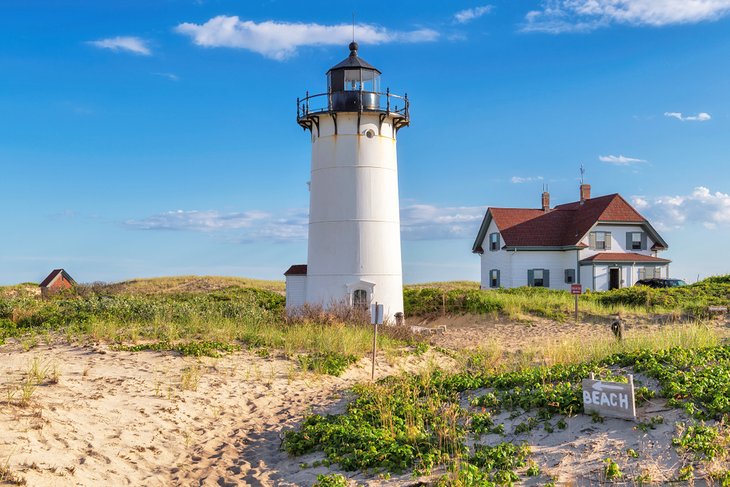 Race Point Beach is one of the best beaches in Provincetown. As such, it has everything you need for a perfect day out. Soft fine sand that doesn't stick to your legs, rolling dunes, an active colony of nesting birds, seals, whales, and surfable waves welcome visitors to this lovely spot. It also boasts seasonal restrooms, changing rooms, and showers.
Part of the Cape Cod National Seashore, this expansive beach was named for its fast and powerful riptides. Be sure to keep hold of little ones when swimming, and prepare yourselves - the water is cold! Also, bring snacks, chairs, and an umbrella, as there are no amenities.
While here, walk to the picturesque Race Point Lighthouse.
Address: The end of Race Point Road, off Route 6, Provincetown, Massachusetts
3. Shop on Commercial Street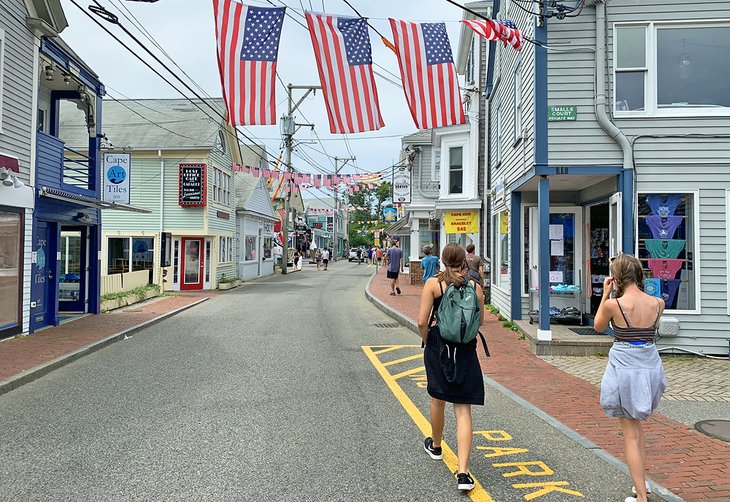 You'll find pretty much everything you never knew you needed on busy Commercial Street. From homemade gelato to touristy sweatshirts to vintage jewelry and board games, this popular street is the shopping, eating, and people-watching hub of the town. Wandering its busy length is one of the best things to do in Provincetown.
Three miles long, Commercial Street runs through the heart of town. It's rare to see a car on this pedestrian-friendly street, and you must keep your eyes peeled for the incredible (and often quirky) art on display in alleyways and courtyards, and on the sides and fronts of buildings.
A kaleidoscope of bright colors greets visitors to this street, which is peppered with art galleries, souvenir shops, restaurants, and clapboard houses begging to be photographed. If you're looking for rare books, one-of-a-kind T-shirt designs, or a super useful kitchen tool, you'll find it here.
4. Fish from MacMillan Pier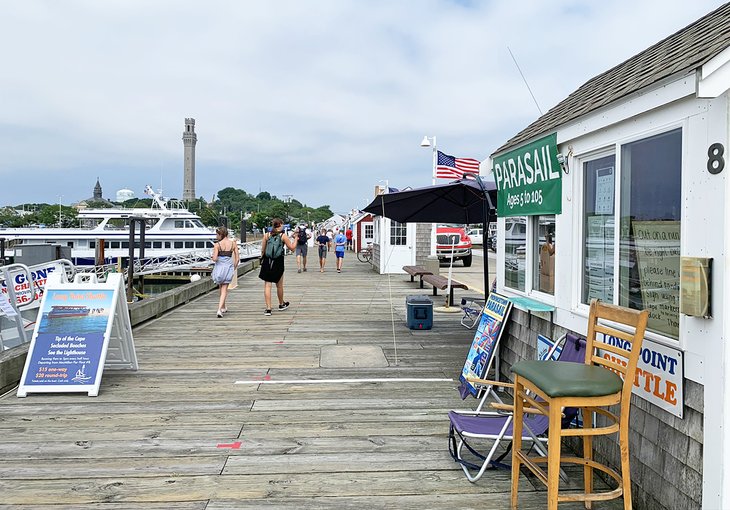 Many of Provincetown's visitors arrive at and depart from MacMillan Pier. The town's main transportation hub, the pier plays host to cruise companies like Captain John Boats, Bay State Cruise Co., and Boston Harbor Cruises. It was named after Admiral Donald B. MacMillan, a local Arctic explorer.
In addition to a long boardwalk, the pier boasts small fisherman's huts selling various wares, and an area for guests to try their luck at fishing. You'll also find restrooms, a pump out station, the harbormaster's office, and the Whydah Pirate Museum.
The pier offers a wonderful view of the Pilgrim's Tower and charming houses that dot the sandy shoreline. At times, you'll find art classes held here, as well as celebratory fireworks on July 4th. Visiting this pier, even if it's just for a wander, is one of the best things to do in Provincetown.
Address: 24 MacMillan Wharf, Provincetown, Massachusetts
5. Hit the Water with Captain John Boats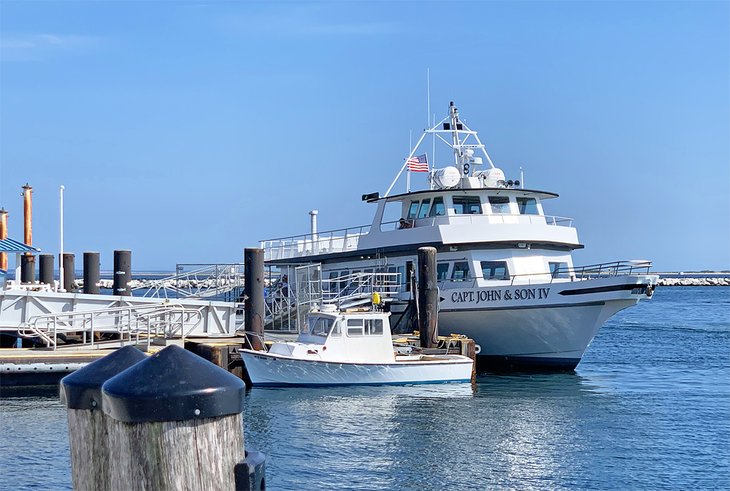 Arguably the best view of Provincetown can be had from the water. Hop aboard a floating vessel to admire a stunning panoramic vista of the town's pretty shoreline. From the ocean, you'll also see some of the area's most stellar attractions (i.e. whales, seals, and sharks) up close.
Captain John Boats is one of the best tour operators in the area, offering unforgettable four-hour-long whale watching trips from Plymouth and Provincetown, as well as cruises on the Pilgrim Belle, a historic paddlewheel boat. The staff are friendly and extremely knowledgeable about the area's history.
Not sure you want to spend that long on the open water? Book a trip on the "fast ferry to Ptown." This fun, one-and-a-half-hour trip departs Plymouth in the morning and returns in the early evening.
Address: MacMillan Pier and 10 Town Wharf, Plymouth, Massachusetts
Official site: https://www.captjohn.com/
6. Lounge on Herring Cove Beach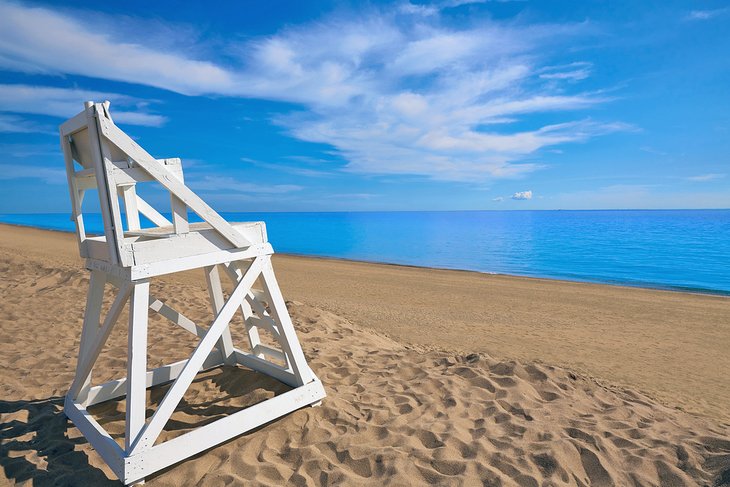 Herring Cove Beach is another unmissable gem found on the Cape Cod National Seashore. A fab spot for family fun, this sandy beach is located on the calmer western side of Provincetown. As a result, it boasts smaller waves, warmer water, and little undertow in comparison to its Outer Cape counterparts.
During high season (a.k.a. summer), the beach boasts lifeguards, restrooms, a snack bar, and nighttime concerts. It's also a great spot to admire the sunset. A five-minute, two-and-a-half-mile drive from downtown, this is the most popular beach in Provincetown, and one of the best places to visit in the area.
A daily fee of $25 per car or $10 per bicycle will gain you access to Herring Cove and all six of the beaches managed by the Cape Cod National Seashore.
Address: End of Route 6, Provincetown, Massachusetts
7. Get Inspired in Provincetown's Art Galleries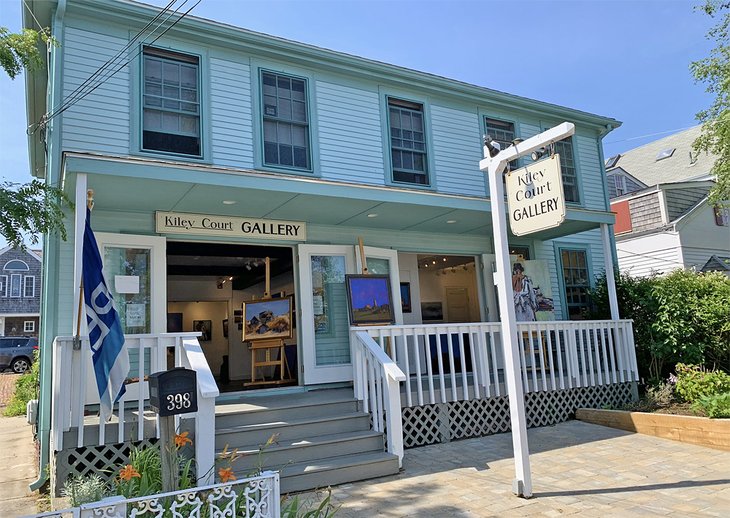 A village that appreciates creative minds, Provincetown plays host to a slew of fabulous art galleries, nearly 40 of which line Commercial Street. The works on display range from paintings to photography to sculptures created in various mediums. The artists themselves vary from local talents to international creators.
It's easy to spend an entire day wandering in and out of the local galleries. The hard part is leaving them empty-handed.
A lover of sunsets, local painter Arthur Egeli has his own gallery, which features some of his works alongside other Massachusetts-based artists and those from other regions across the globe. Kiley Court Gallery, which opened in 1991, boasts multiple exhibits featuring mostly contemporary oil paintings.
8. Cycle the Province Lands Bike Trail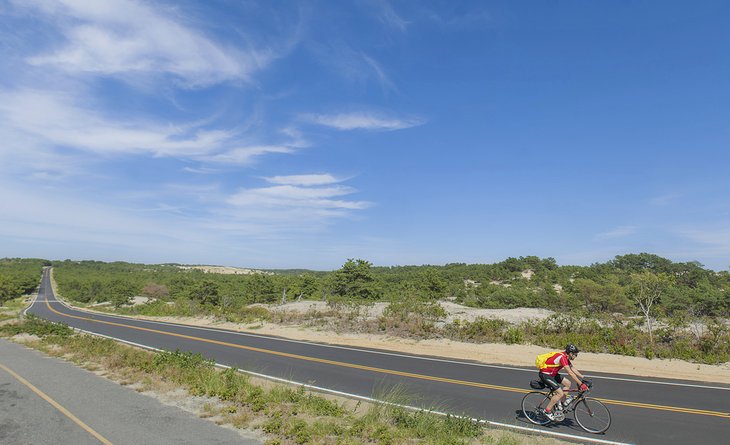 Province Lands Bike Trail is the first bike trail created in a national park. It's also one of the best places to visit in Provincetown. Bikers are rewarded with incredible views as they ride along this nearly five-and-a-half-mile loop that traverses the Cape Cod National Seashore. This well-loved trail passes Race Point Beach, Herring Cove Beach, and Beech Forest.
The trail winds its way through the Province Lands, passing beside sand dunes, around cranberry bogs, and through forests packed with pine trees. Entrance points can be found at Race Point beach, Herring Cove Beach, the Province Lands Visitor Center, Bennett Pond, and the Beech Forest Parking Lot.
Insider's tip: At times, the path can be a bit challenging - steep hills, sharp curves, and tunnels can stand in your way. It can also be wet, so only intermediate and advanced riders should attempt to ride here.
9. Take a Hike in the Beech Forest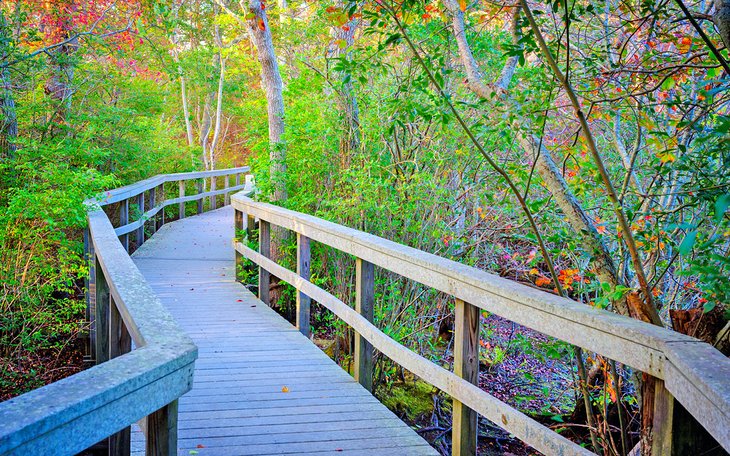 Feel your worries melt away the moment you step into the marvelous Beech Forest. Watch birds flitter through the tall beech trees, skip a rock across the shimmering Beech Forest Pond, or take a hike along the one-mile Beech Forest Trail. There are so many fun (and relaxing) things to do in this natural wonderland.
This lovely loop winds its way through verdant forest, transporting visitors to a welcome place of calm and respite. The walk itself is quite easy, although good shoes are recommended, especially if it's wet. You'll find a few steep log steps along the 0.25-mile extension loop, but nothing too challenging.
If you're hoping to explore even further, bring a bike and make use of the easy access point to the Province Lands Bike Trail.
Address: 36 Race Point Road, Provincetown, Massachusetts
10. Dine Italian-Style at Mistralino Ristorante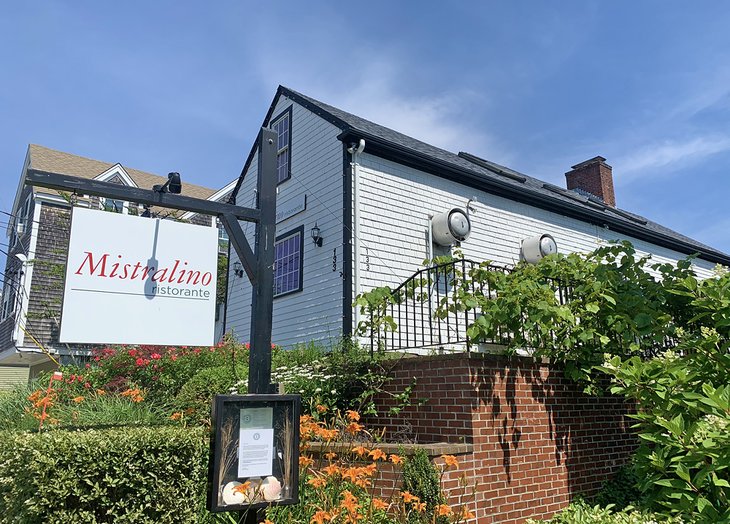 Rustic wooden beams run along the ceiling, brick-lined fireplaces grace the main room, and china plates cover the walls at this adorable Italian-American eatery. Despite its overt charm, ambience is only part of what attracts people to dine at this popular eatery.
The real reason gastronomes descend upon Mistralino has more to do with what comes out of the kitchen: authentic, finger-lickingly good fare. Dishes like chicken parmigiana and polpette pomodoro keep guests salivating. Insider's tip: Save room for the homemade dessert.
On pleasant evenings, guests can dine al fresco on the terrace. From here, they can enjoy a great meal, as well as a wonderful view of the Pilgrim Monument under a star-studded sky. The trickling fountain only adds to the laid-back atmosphere.
Address: 133 Bradford Street, Provincetown, Massachusetts
Official site: https://mistralino.com/
11. Satisfy Your Sweet Tooth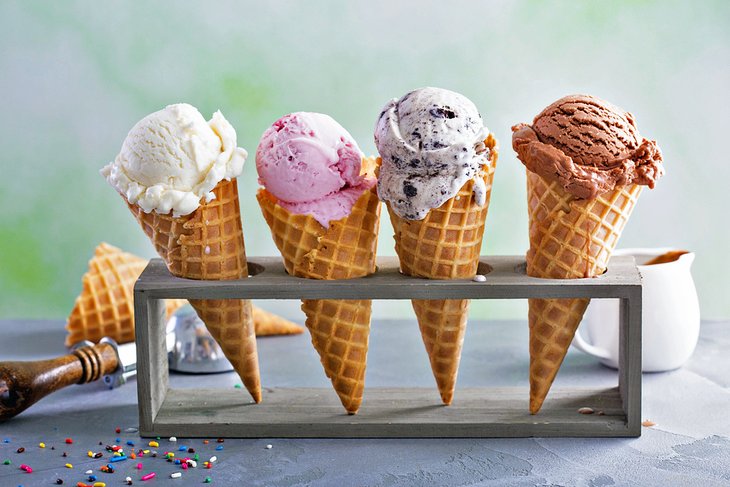 Is there anything better than enjoying an ice cream while wandering along a charming New England street? Reward your palate with a sweet treat from local hot spot, I Dream of Gelato. From smoothies to vegan gelato to espresso, you can satisfy any sugar craving at this sweet spot.
Not an ice cream kind of person? Head to Cabot's Candy for peanut brittle, popcorn, gummies, and fudge so delicious you won't be able to resist another piece. This candy shop has been serving up the most delectable, hand-pulled saltwater taffy since 1927. What a perfect seaside treat.
Cabot's began selling their sweet wares at small local fairs, becoming so big and popular that they soon opened a store and factory. Both are still in operation today.
I Dream of Gelato
Address: 205 Commercial Street, Provincetown, Massachusetts
Cabot's Candy
Address: 276 Commercial Street, Provincetown, Massachusetts
12. See a Giant Boat Model at the Provincetown Library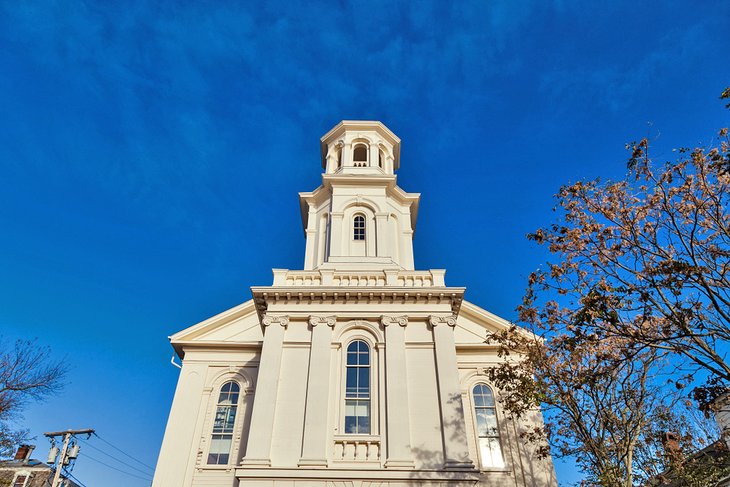 Bet you've never seen a fishing schooner inside a building. A visit to Provincetown Library will change that. In addition to viewing its vast collection of nearly 40,000 items and 30 works of art, library visitors come face to mast with a giant (half-scale) model of the Rose Dorothea Schooner.
Housed in the former Heritage Museum building (circa 1860), the library's interior is more than worthy of a visit. Vaulted ceilings; grand staircases; and bright, open spaces welcome visitors to gawk at the building's innate beauty.
Insider's tip: Don't miss the unique bookcases created from mahogany armrests that once adorned church pews.
Address: 356 Commercial Street, Provincetown, Massachusetts
Official site: https://www.provincetownlibrary.org/
13. Explore the Side Streets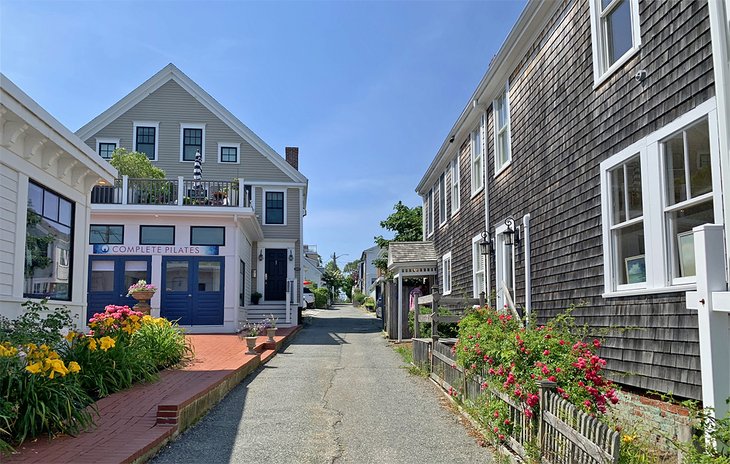 The best way to get to know a city is by touring its less popular locales. While Commercial Street is the town's main drag, the small side streets that lead away from this shopping hub reward visitors with fun and unusual finds.
Clapboard houses, local galleries, quaint shops, and various pieces of art grace the homes, B&Bs, and fences of Provincetown's streets. Have a camera at the ready to capture the unique sights, which are guaranteed to brighten your day.
Since Provincetown is deemed the "oldest continuous art colony" in the US, you're sure to come in contact with interesting works. From a vibrant alleyway lined with eclectic murals just off Commercial Street to a small, historic home lined with interesting sculptures, creative finds can be spotted in Ptown's most unexpected places.
14. Catch a Concert at Town Hall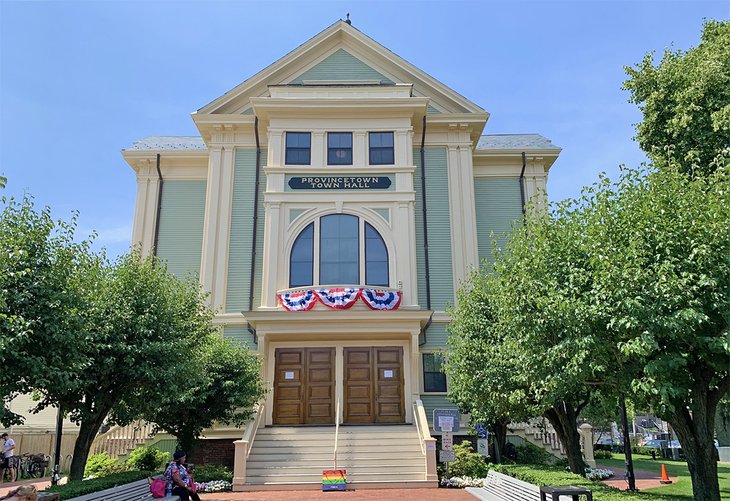 While you likely won't be conducting business in Provincetown's Town Hall, this is a building you'll be happy to visit. It's home to nearly 30 pieces of local art.
Many tourists stop to use the free public restrooms but stay to admire the creative works, historic wooden balcony, and hand-painted murals.
A large auditorium hosts concerts on the second floor, which are a big draw, especially in the summer. Artists such as the Indigo Girls, Ani DiFranco, and Madame Ghandi have performed here.
Insider's tip: You'll have to climb steep stairs to reach the auditorium's balcony, which isn't ideal for some.
Outside are comfortable benches and shaded grassy areas. This is a perfect place to rest for a bit and people-watch.
Address: 260 Commercial Street, Provincetown, Massachusetts
15. Get Inspired at the Provincetown Art Association and Museum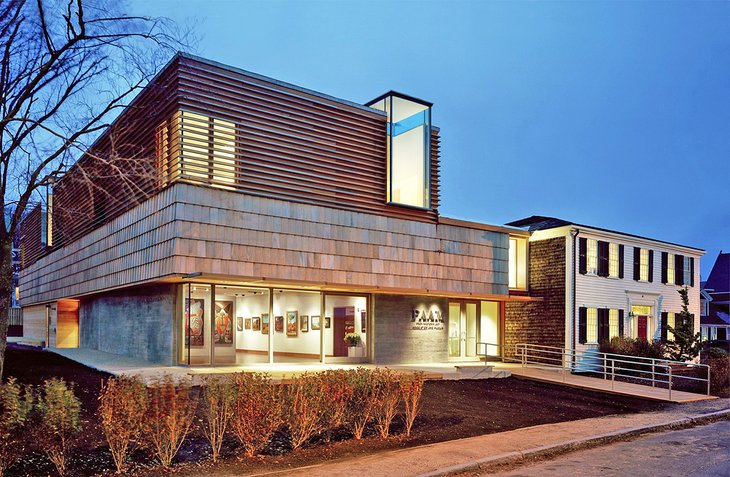 The Provincetown Art Association and Museum (PAAM) was founded in 1914. Its goal was to unify the community by collecting and exhibiting works by area artists. Today, PAAM is still going strong. It has over 700 contemporary member artists and offers multiple exhibitions, workshops, lectures, and other events year-round.
A hub for all things creative, PAAM is considered a "vital cultural institution" and is one of the most popular attractions in Provincetown. The original building is listed on the National Register of Historic Places, while the 2006-renovated contemporary wing is more in line with today's architectural prowess.
The renovation also brought increased gallery space, providing plenty of room for concerts, lectures, and other performances to be held in the museum.
Address: 460 Commercial Street, Provincetown, Massachusetts
Official site: https://www.paam.org/
16. Ride the Dunes with Art's Dune Tours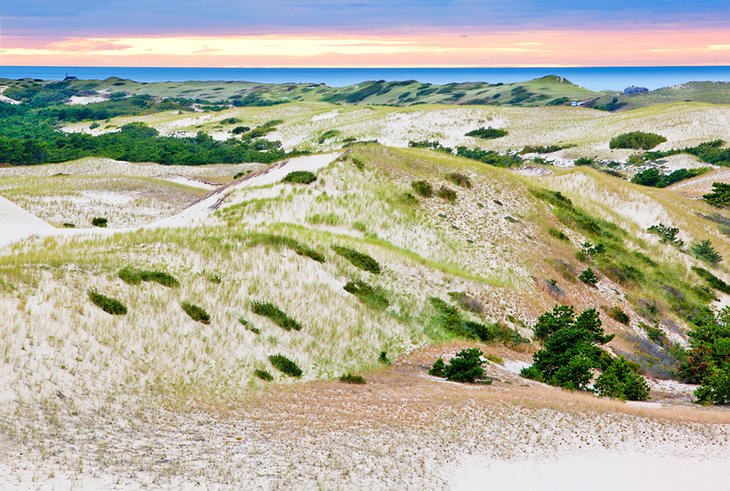 Art Costa founded Art's Dune Tours in 1946 to showcase the area's immaculate natural beauty. With the help of a 1936 Ford Woody, Art (a.k.a. King of the Dunes) piloted his guests on an off-road adventure, bumping across dunes and through thick sand covering the Cape Cod National Seashore.
Today, the company is run by Art's son, Rob, who continues his father's mission to educate visitors about the incredible ecosystem in this part of the state. In an effort to preserve the dunes, current tours travel on roads and in areas that have been approved by the park service. Heading out on a tour is one of the best things to do in Provincetown.
Insider's tip: Keep your eyes open for the unique artists' shacks teetering atop the dunes. They've been used as inspiring venues for years by painters, playwrights, photographers, and writers.
Multiple tours are offered, including a daily sunrise, sunset, and art and lighthouse tour.
Address: 4 Standish Street, Provincetown, Massachusetts
17. Find Lost Treasure at the Whydah Pirate Museum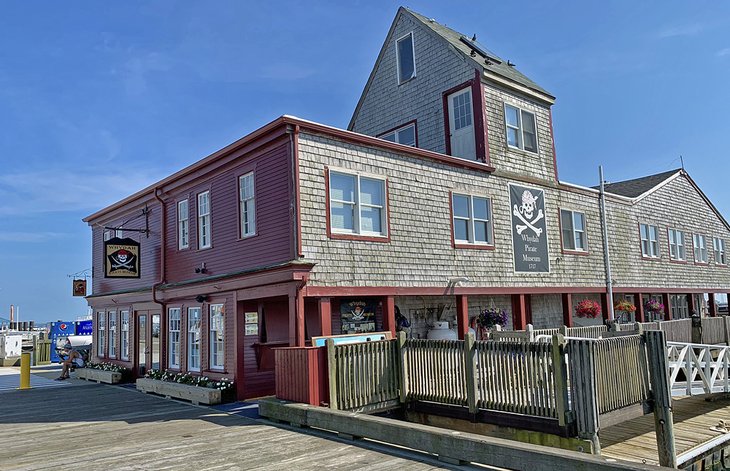 Ahoy there, matey! If you love all things pirate, don't miss the Whydah Pirate Museum. A National Geographic museum, this small space is packed with interesting finds from the 1717 shipwreck of the pirate vessel, Whydah, just off the coast of Wellfleet.
While you'll see old cannons, coins, pistols, shoe buckles, and cutlery at this locale, the majority of the loot is housed at the museum's larger counterpart in Yarmouth (47 miles from Provincetown).
With only two survivors (there were 146 aboard), this shipwreck was deemed the worst on the shores of the Cape. What did survive, however, were multiple treasures, including coins, jewelry, clothes, pistols, and swords dating back to the early 18th century.
18. Find Peace in the Unitarian Universalist Meeting House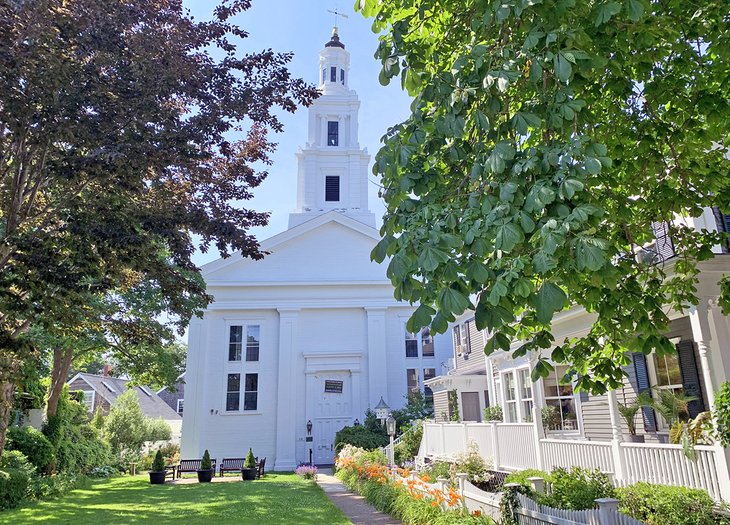 The Unitarian Universalist Meeting House asks visitors to "dwell together in peace, to seek the truth in love, and to help one another." Built by off-duty seamen and fishermen in 1847, this beautiful creation was created in the Greek Revival style. The organization it hosts values inclusivity, acceptance, and love.
The building's crowning glory is a steeple designed by famed architect Christopher Wren. This wasn't added until 10 years after the church first opened its doors and had to be reinforced 140 years later, as its weight caused part of the meeting house to sink into the sand.
Inside, you'll find a welcoming group of people, as well as an escape from bustling Commercial Street and fascinating 3D paintings created in the trompe l'oeil ("fool the eye") style.
This attractive spot holds services every Sunday, as well as concert and theater productions, especially during the summer. Monday evenings are reserved for the Monday Night Meditation Circle.
Address: 236 Commercial Street, Provincetown, Massachusetts
Official site: https://www.uumh.org/
19. Photograph Provincetown Marina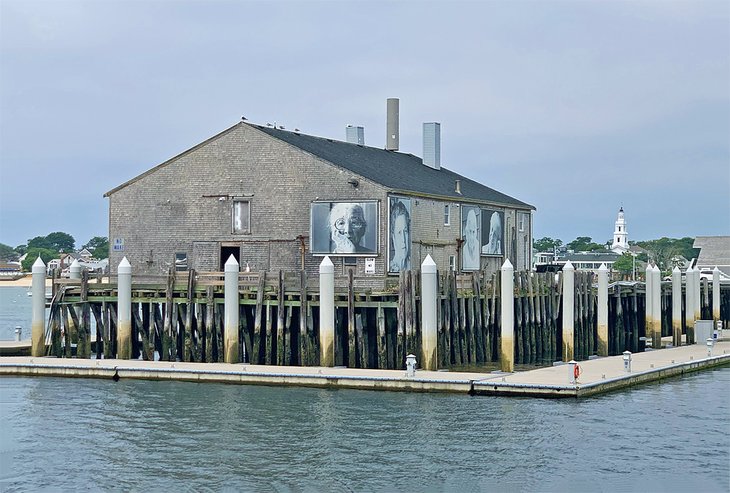 Formerly known as Fisherman's Wharf, the Provincetown Marina lies directly parallel to MacMillan Pier. Home to 100 slips that can fit vessels as long as 300 feet, there are a ton of boats to admire in this pretty spot.
At the end of the pier lies a historic building adorned with giant photos of Portuguese locals. An art installation by Provincetown artists, Norma Holt and Ewa Nogiec, this eye-catching exhibit is titled, They Also Faced the Sea.
It was created in 2012 in tribute to the Portuguese community and in an effort to highlight the town's fishing heritage. This is particularly beautiful when viewed during sunrise.
Address: 9 Ryder Street Ext., Provincetown, Massachusetts
20. Long Point Light Station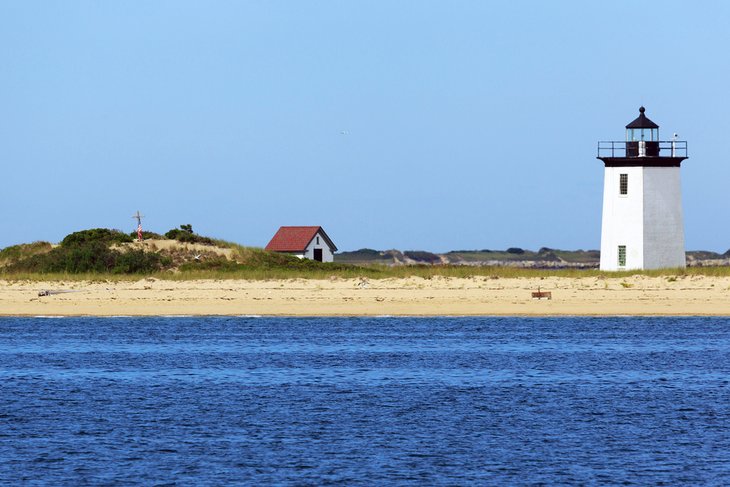 The Long Point Light Station is unmissable, especially if you're cruising into Provincetown Harbor on a boat. Located on the northeastern tip of the Long Point Peninsula, this pretty white lighthouse is endearing.
It was built in 1874 to warn sailors of a nearby sandbar that extends about a quarter mile towards Cape Cod Bay. Still active today (but more for historic and picturesque purposes), the Long Point Lighthouse can only be reached by boat or foot.
The lightkeeper's house was destroyed in the 1950s, when the light became fully automated. It has been run on solar power since 1981. At the very tip of the peninsula, you'll spy the Oil House, a white hut topped with a bright red roof that dates to 1904.
21. Book the Anne Hutchinson Tour of Provincetown
Anne Hutchinson has been dubbed one of America's first feminists. Mother of 15 (yes, you read that correctly), she was banished from Massachusetts in 1637 for heresy. According to her accusers, Anne held religious meetings in her home, challenged the beliefs of Puritan spiritual leaders, and tried to undermine church authority.
Today, her memory is honored with an hour-long, comical, and enlightening adults-only tour of Provincetown. Fittingly named the Anne Hutchinson Tour of Provincetown, the excursion is hosted by a very knowledgeable "Anne Hutchinson" who leads her guests around town while teaching them her version of Ptown's history.
The tour leaves from Bas Relief Park and ends at 1 Gosnold Street.
Address: 106 Bradford Street, Provincetown, Massachusetts
More Related Articles on PlanetWare.com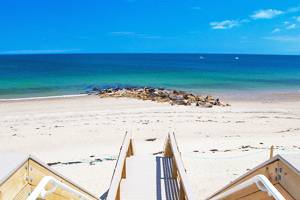 Other Things to Do in Cape Cod: One of the most popular vacation spots on the East Coast, Cape Cod is the spot to be when the weather turns warm. While visiting, be sure to check out these super fun tourist attractions and don lots of sunblock when you head to the area's best beaches.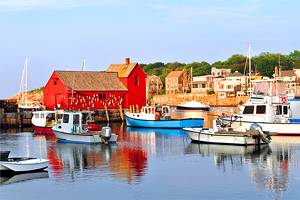 Pretty Places to Visit in Massachusetts: A truly gorgeous state, Massachusetts is packed with beauty. From its striking sandy beaches to its adorable small towns the Bay State (as it's known by locals) will keep your camera snapping.