From Boston to Martha's Vineyard: 6 Best Ways to Get There
We may earn a commission from affiliate links ()
The quintessential New England retreat of Martha's Vineyard, situated seven miles off the coast of Massachusetts in the Atlantic Ocean, has no bridges or tunnels connecting it to the mainland and is only accessible by ferry or air. If you are traveling from Boston, you will have several ferry options, as well as a few flight choices.
Long before being popularized by the film, Jaws, this charming summer destination located south of Cape Cod has been attracting vacationers to its pristine beaches, quaint villages, fresh seafood, and recreational activities.
While you may end up taking all manner of transportation to reach the ferry or airport to get to the island, once you are here, all your cares will melt away. Fresh air, leisurely walks along the harbor, picturesque lighthouses, and cozy seaside inns, are just some of the delights awaiting your visit.
Note: Some businesses may be temporarily closed due to recent global health and safety issues.
1. From Boston to Martha's Vineyard by Organized Tour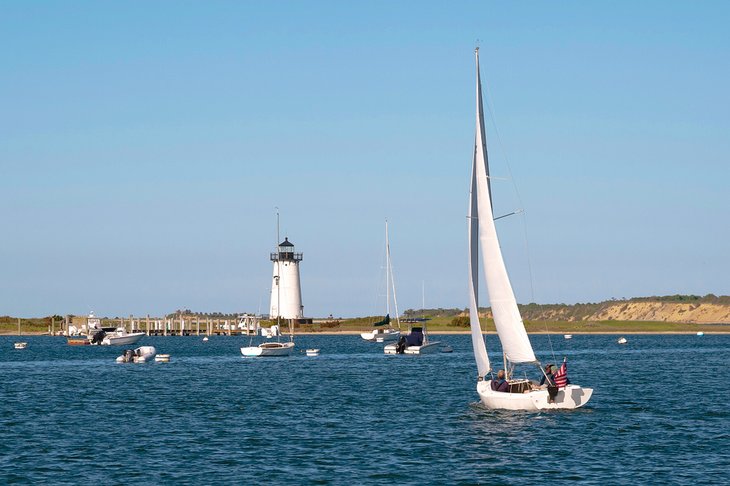 On this popular Boston to Martha's Vineyard Day Trip Tour on Viator, you can avoid the hassle of driving and planning, and have a care-free day enjoying the island's beaches, dining, shopping and more.
Travel in an air-conditioned mini coach to Cape Cod, then ferry across the Vineyard Sound either on the The Steamship Authority or Island Queen Ferry (depending on the season) to Martha's Vineyard to explore all six of its distinct towns, including Vineyard Haven and Aquinnah.
Other activities include a drive through the downtown of Falmouth and along the Cape Cod Canal in Cape Cod. The tour also provides discounted admission to the new Martha's Vineyard Museum in Vineyard Haven from the end of June 27 to mid-October. With an Island Tour upgrade, you can explore the historic village of Edgartown, and the Gay Head cliffs and lighthouse of Aquinnah.
Pickup and drop-off are included at select hotels in Boston, and the coach departs from Boston Marriott Long Wharf. You will have six blissful hours on Martha's Vineyard.
2. From Boston to Martha's Vineyard by Ferry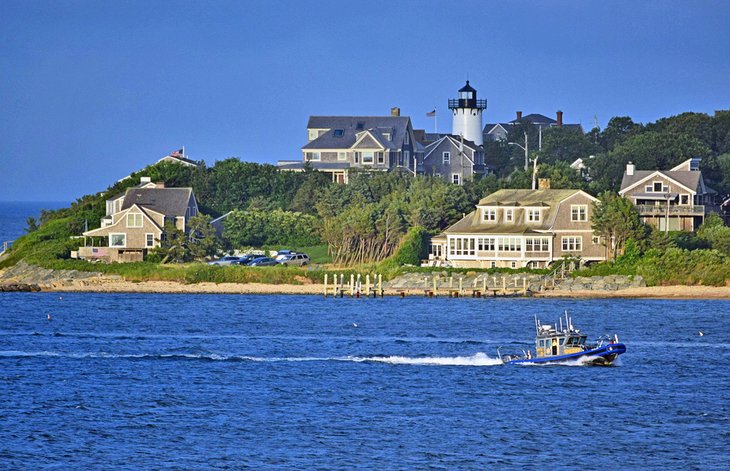 Enjoy the scenic Vineyard Sound on a relaxing ferry ride from Cape Cod to Martha's Vineyard on either The Steamship Authority or the Island Queen Ferry. The former is run by the state of Massachusetts and departs from Woods Hole in Cape Cod to Vineyard Haven all year-round, and Oak Bluffs seasonally. It is the only ferry that can transport cars.
Keep in mind that you need a reservation to bring your vehicle onto the ferry; otherwise, you may go for an impromptu day trip to Martha's Vineyard on the ferry by choosing any one of the several daily crossings. It takes 40 minutes on the ferry to reach the island.
From May to October, you have the option of cruising with the privately-owned Island Queen Ferry, which goes from Falmouth to Oak Bluffs. Another private company, Hy-Line Cruises, offers transportation onboard high-speed catamarans from Cape Cod's Hyannis to Oak Bluffs. For an additional fee, you may bring your bikes onboard any of these ferries.
Those traveling with pets are welcome to bring their furry companions onboard the Steamship Authority and private ferries, as long as they are leashed or crated.
3. From Boston to Martha's Vineyard by Car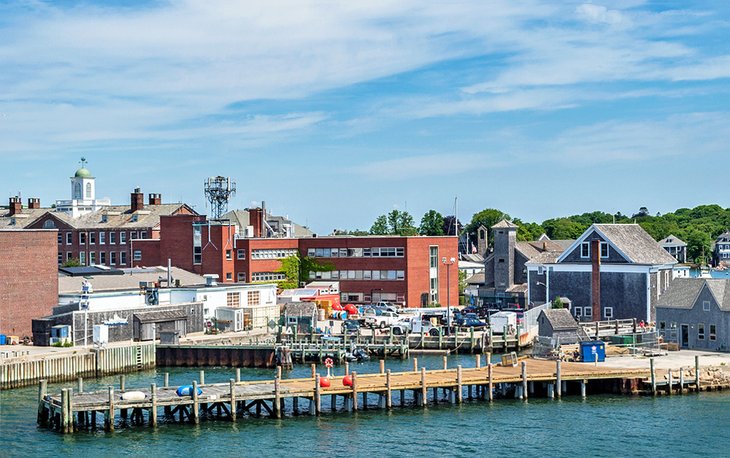 There is no direct road connecting Boston to the island of Martha's Vineyard, so your easiest option is to drive to Cape Cod's ferry terminals. Woods Hole, the main port for the Steamship Authority passenger ferry, is 75 miles south of Boston, and you may bring your rental car or personal car onto the ferry with advance reservation.
Travel time on the road is anywhere from an hour-and-a-half to two hours, depending on traffic.
Keep in mind that during the summer months, the parking lot at the Steamship Authority ferry terminal is almost always full. The nearby towns of Falmouth and Bourne have off-site parking lots that have transfers on shuttle buses to the ports.
4. From Boston to Martha's Vineyard by Bus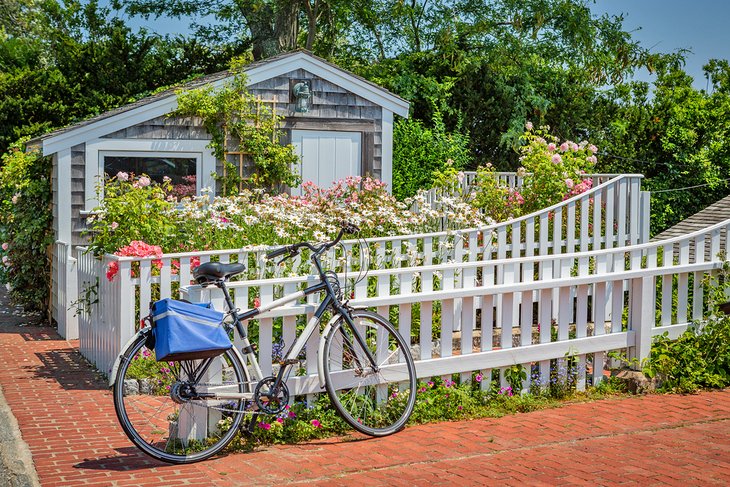 If you'd rather not deal with the hassle of driving and finding parking, you have the option of taking the bus from Boston to Cape Cod to catch the ferry. Peter Pan Bus Line has regular service from the Boston Logan International Airport and South Station transportation terminal in Downtown to the Steamship Authority terminal at Woods Hole, Cape Cod.
To reach Hyannis for Hy-Line cruises, Plymouth & Brockton Bus is a good year-round choice. The bus ride takes approximately two-and-a-half hours from the airport and two hours from South Station in favorable traffic.
5. From Boston to Martha's Vineyard by Train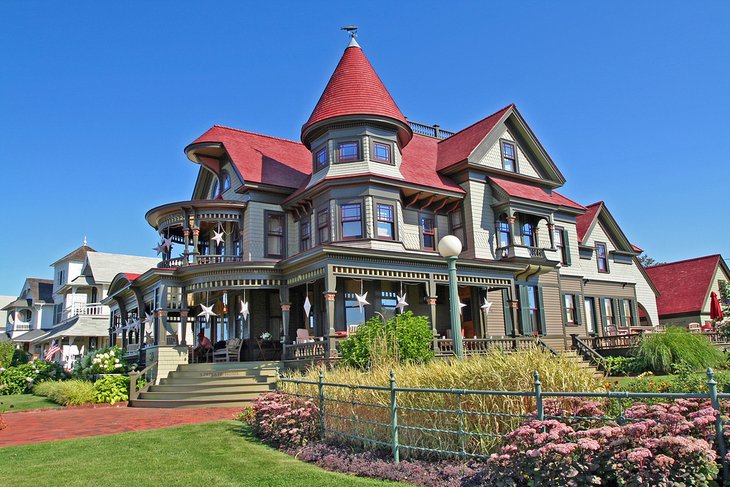 From Memorial Day to Labor Day, the passenger train of CapeFLYER of the MBTA (Boston's public transportation system) runs from South Station to Hyannis on weekends. Ride the train in comfort, enjoy onboard concessions and free Wi-Fi, bring your pet or bike for free.
The train doesn't require advanced reservations, and it makes six stops in Massachusetts along the way. Buses are available at Hyannis for a free transfer to the port of your choice. Seniors get 50 percent off their fares, and kids under 11 ride free.
6. From Boston to Martha's Vineyard by Plane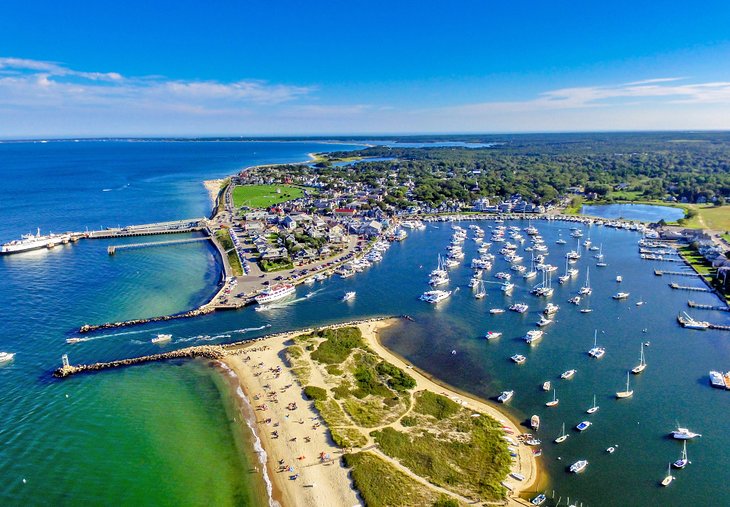 Traveling by plane is perhaps the most efficient and easiest way to get to Martha's Vineyard from Boston, especially if you tend to get seasick. Cape Air has daily departures all year-round between Boston's Logan International Airport and Martha's Vineyard Airport, and flight time is approximately 40 minutes.
JetBlue also offers seasonal non-stop flights from the Logan airport to Martha's Vineyard. The airport is located in the middle of the island, three miles south of Vineyard Haven.