4 Best Beaches in Provincetown, MA
Tourists visit Provincetown for its lively atmosphere, inclusive culture, and in summer, the beaches. This small town has a big heart and offers plenty of things to do. This includes beaches like Race Point Beach, which is one of the best beaches in the northeast US.
If you're arriving via ferry from Boston, you will have no trouble getting around, even if you don't bring your car. Since parking is at a premium here and distances are short, bicycle rentals are a great way to get to the beaches.
Most of the sandy waterfront near downtown is located on private property, but there are a few beaches you can reach without having to drive or bike. During the summer tourist season, a trolley also provides transit around town and to the main beaches, Herring Cove Beach and Race Point Beach.
Find your new favorite sandy oasis with our list of the best beaches in Provincetown, MA.
1. Herring Cove Beach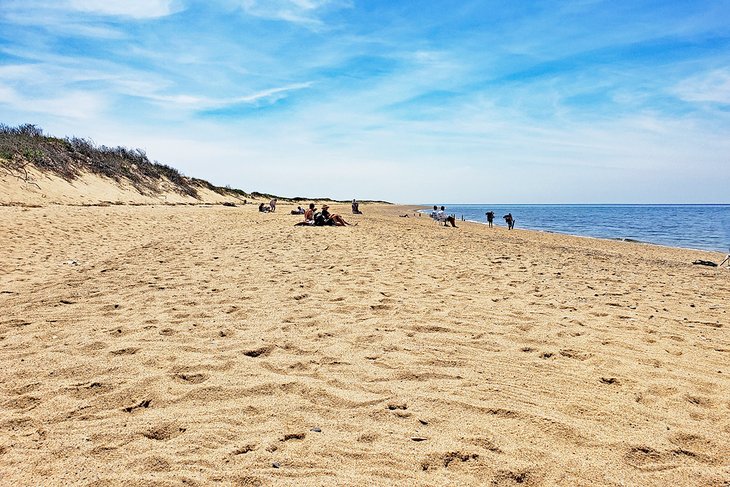 Herring Cove Beach sits on the southwestern edge of the cape along Cape Cod Bay, facing inland. It offers a wide sandy shoreline that extends along the coast for well over a mile, providing plenty of space to spread out. This is an excellent place to find shells, and seals can often be spotted playing in the water offshore.
A bonus for when you are traveling with your four-footed friends is that this beach is dog-friendly during most of the year, with restrictions only in place during shorebird nesting season.
This large beach has three access points, with the main entrance at the southern end and two smaller parking lots farther north. The lot at the main entrance has plenty of parking and public toilets, as well as a large concession area with a deck and picnic tables. During July and August, there are also live evening concerts on this end of the beach.
Visitors should take care to walk only on designated pathways and not wander onto the fragile dunes, as tempting as it may be. The beach sand here is coarser than many other beaches, so water shoes are recommended for those who want to do a lot of walking.
If you have mobility issues, you can get beach wheelchairs from the lifeguards.
2. Race Point Beach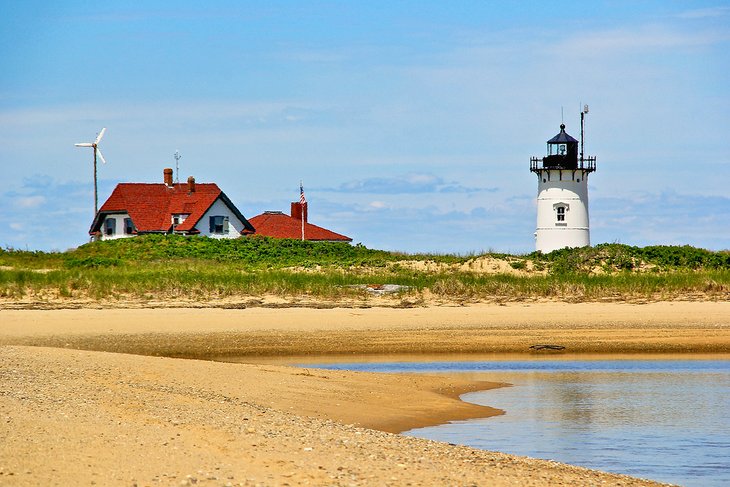 Race Point Beach is one of the best beaches on Cape Cod, extending approximately six miles along the northern shore of the outer cape facing the open Atlantic Ocean, making up the largest section of the Cape Cod National Seashore. It stretches from the Race Point Lighthouse along the stunning dunes, eventually reaching High Head Beach in neighboring Truro.
This beach has one main access point at its western end plus a couple of designated footpaths that you can use to access it from the expanse of dunes on the eastern end. Visitors will find basic amenities, including restrooms, changing areas, and showers.
The main parking lot is located at the end of Race Point Road, past the Province Lands Visitor Center. The Visitor Center is a great place to stop on your way in or out of the beach, home to a gift shop and a theater, which shows an informational film about the area's cultural and natural history.
Near the parking lot is the Old Harbor Life-Saving Station, a museum dedicated to the cape's long history of shipwrecks due to the numerous sand bars that surround it. The structure is one of the 13 original stations, relocated to this spot in 1977 from Chatham.
You will find that the surf here is more active than it is at Herring Cove, and also several degrees colder. This is a great place to spot seals that sun themselves on the beach, but unfortunately, it is likely that sharks are not far behind, so avoid the water near any seals, and pay attention to posted warning signs.
3. Dog Beach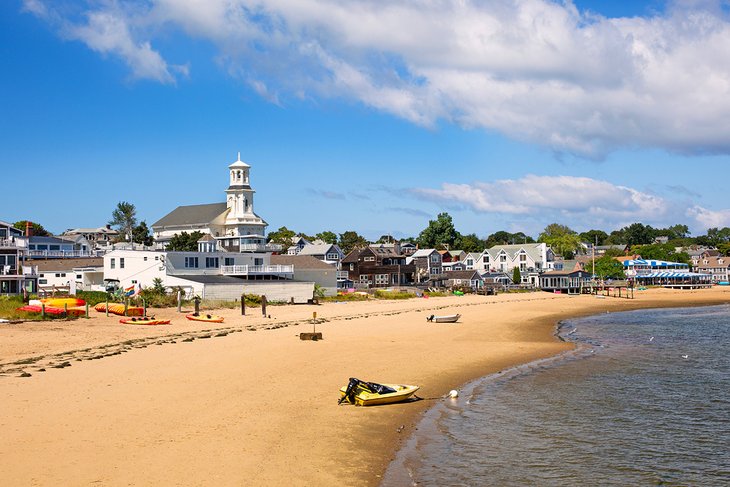 One of the best things about visiting P-Town is that it's incredibly welcoming to dogs, so it's no surprise that there is a beach space set aside for your best friend to play. Dog Beach can be found at the southwestern end of Commercial Street just behind the West End Lot. This beach also has a small boat launch and is popular with kayakers.
Although there are no designated swimming beaches right in downtown Provincetown, there are a few places within easy walking distance where you can get your feet wet after hours of strolling among the shops and galleries. Ptown Harbor sits on the western side of MacMillan Pier Parking Lot and offers enough space to fly a kite or bask in the sun, although it is rarely used for swimming.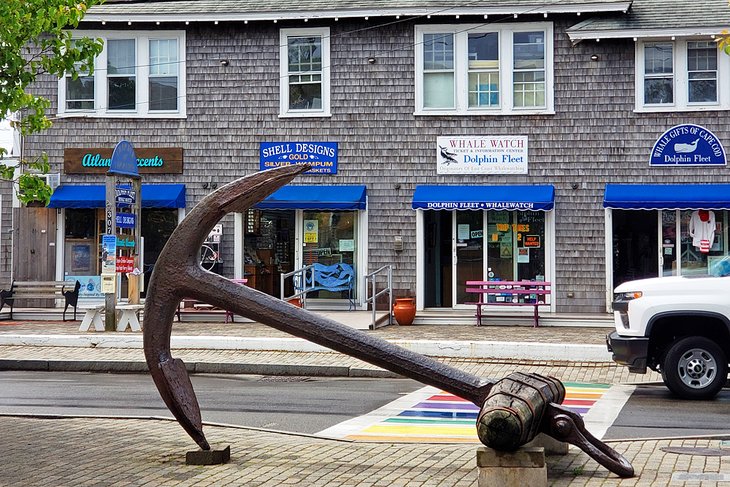 On the other side of the lot next to MacMillan Pier is a smaller stretch of sand that is a popular put-in spot for kayakers. MacMillan Pier is home to all the major charter and tour boats, and is the pickup and drop-off point for ferries headed to and from Boston. Tickets for the ferry can be purchased at the Chamber of Commerce on Standish Street, and most tour operators have kiosks nearby or right on the pier.
4. Long Point Beach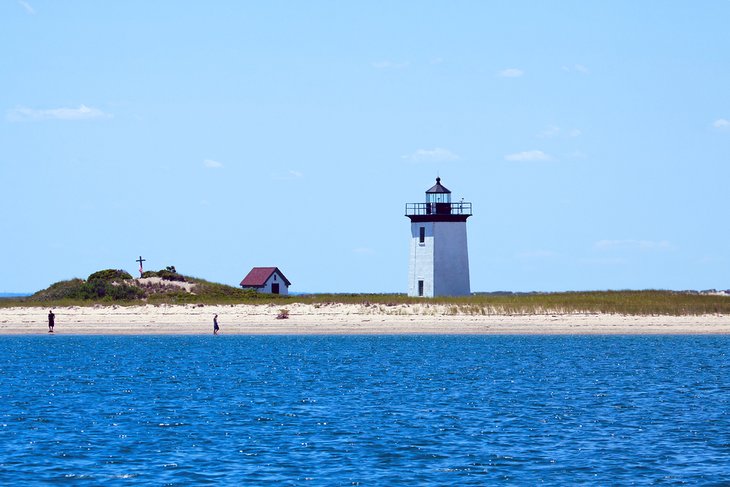 This secluded beach is difficult to get to, but well worth the journey if you are looking for a truly remote spot to soak up the sun. Located along the outermost section of the "hook" that gives the cape its distinguished shape, this beach is between Wood End Lighthouse and Long Point Light Station which sits at the very tip of the cape. The only way to reach this beach is by boat or by foot via the Provincetown Causeway.
The hike across the causeway is nearly a mile, and the tide needs to be considered before embarking on a journey since it can become submerged if the tide is particularly high. The causeway is an uneven surface and not hospitable to wheelchairs, strollers, or wagons, so hikers will need to carry anything they may need while at the beach.
The causeway begins at Pilgrims' First Landing Park, and visitors should expect a hike of at least a mile and a half each way, and more if visiting either of the lighthouses.
Map of Beaches in Provincetown, MA
Getting to Provincetown from Boston
By Land:
When traffic is ideal, it should take you a little over two hours to drive from Boston to the tip of Cape Cod — unfortunately, it's never ideal during the summer. The upside is, it's easy to hop off the main road (US-6) and take a break in some of the Cape's other towns, which are full of good restaurants and tourist attractions. If you don't want to drive, Peter Pan offers a bus service to and from P-Town, which usually takes a little over three and a half hours.
By Sea:
If you want to get there quickly, the Provincetown & Cape Cod High-Speed Ferry to/from Boston is the way to go. This ninety-minute trip is the fastest way to get to Provincetown by boat, and an excellent choice if you aren't bringing a car, especially because it drops you off right in the heart of the town. If you do want to bring your car, but don't want to make the drive all the way out to P-Town, car ferries do depart from Hyannis and Woods Hole.
By Air:
If you really want to get to P-Town in style, you can hop on one of Tailwind Air's seaplane flights, which means you don't even have to drive to Logan. A water taxi departs right from both Fan Pier Marina and Rowes Wharf, and the seaplane takes off from farther out in Boston Harbor, servicing both Plymouth (PYM) and Provincetown Municipal Airport (PVC). Cape Air and Jet Blue also offer flights to PVC, which depart from Logan International Airport (BOS); these flights take about thirty minutes. You can pick up a rental car at the airport, or it's just a short walk to Race Point Beach.