14 Top-Rated Weekend Getaways from Boston
We may earn a commission from affiliate links ()
Boston packs a whole lotta fun and entertainment within its borders; we're talking world-class art, culture, food, shops, and sporting events. Sometimes, though, all of that excitement can get to be a bit much. That's when it's time to plan a great weekend getaway from Boston.
Bostonians looking to unwind tend to enjoy a more laid-back weekend adventure. They like to destress in nature, enjoy a scenic boat cruise, or simply sit back and sip a coffee on a quiet outdoor patio in a charming small town. Luckily, within a few hours' drive from Boston, tourists can reach a wide variety of destinations.
Whether you are looking for outdoor adventure, fantastic beaches, or great food, all are within easy reach. Explore the best places to visit with our list of the top weekend getaways from Boston.
1. Portland, Maine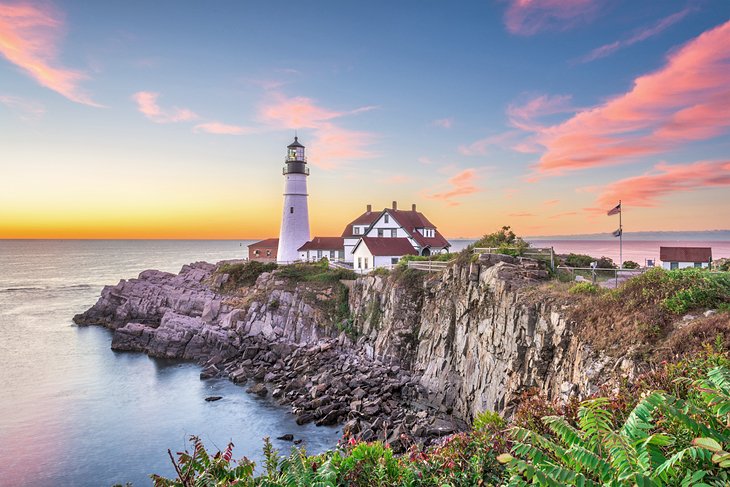 Portland has undergone a renaissance of late, becoming a hot spot for travelers looking for a refreshing weekend getaway from Boston. New restaurants are opening, and their chefs are winning awards. With that in mind, it's a particularly popular spot for those looking for a foodie destination.
This coastal town goes a lot deeper than its remarkable food scene and, depending on your interests, Portland has a little something for everyone. Outdoor enthusiasts can take advantage of a multitude of water sports. Hiking trails surround the area. Art lovers should head to the Portland Museum of Art, where an impressive number of works from both local and international artists are on display.
Another must-see is the Victoria Mansion, an 1800s-era mansion with a remarkable period interior. The historic "Old Port" is a cobbled-street neighborhood on the waterfront, with plenty of shops and restaurants, many housed in repurposed warehouses.
Outside the city center, excursions to the Casco Bay Islands or Cape Elizabeth are worthy of additional time. Pack a towel, as you'll want to spend some time at the beach, especially if you're visiting during summer.
For an overnight stay, good value can be found at the Holiday Inn Portland by the Bay, which offers free Wi-Fi and a pool. Directly on the waterfront is the Portland Harbor Hotel, a boutique property with luxury amenities.
2. Provincetown, Massachusetts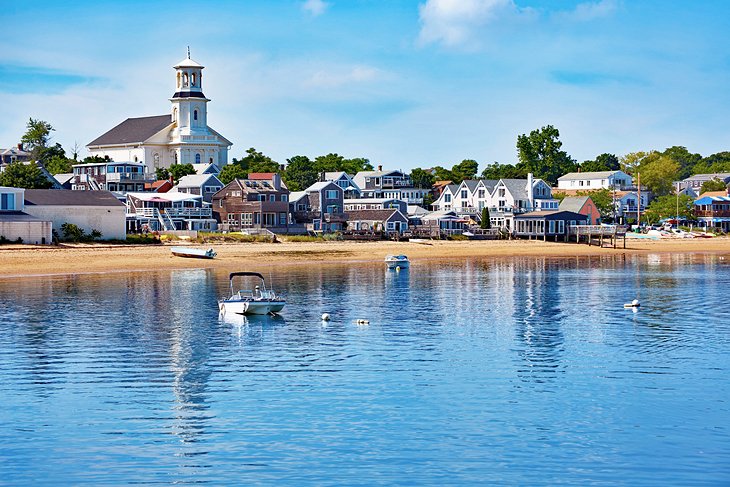 Provincetown is a fun and vibrant city located at the tip of Cape Cod's "hook." Chock-full of art galleries, ice-cream stores, eclectic shops, and unique murals, this one-of-a-kind destination is one you really must visit.
While this is a great year-round destination for a weekend getaway from Boston, the best months to visit are July and August. This is when the water is at its warmest and the beaches at their most luxurious, and it's the time when the town comes alive with tourists of all ages, shapes, and sizes. This is an uber popular spot for a summer vacay, and it's best to book early if you're hoping to spend a night or two.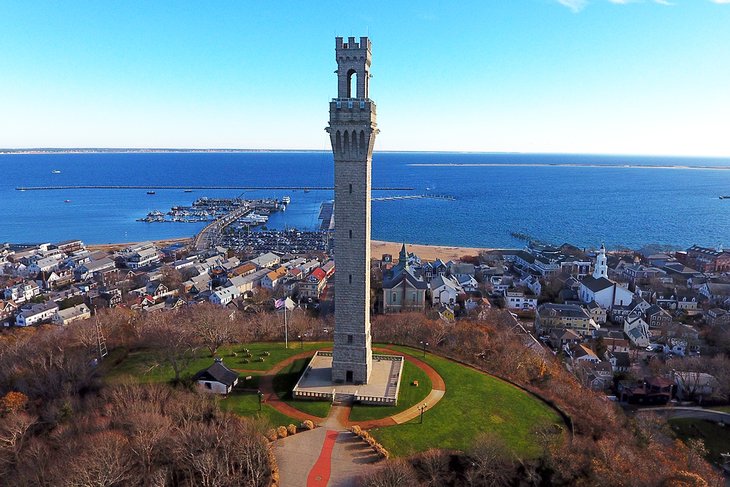 The Pilgrim Monument is a must-see. This iconic landmark can be spotted from pretty much every place in town. From the water, it serves as an opulent white blip on the landscape, marking the landing of the pilgrims in 1620. A climb to the top rewards visitors with remarkable vistas. Looking for some adventure? Rent a kayak or paddleboard in town.
Provincetown is about two hours from Boston, but in the summer, it could take much longer (we're talking four hours or more) to reach your destination. Travel on a weekday (not including Friday) for a faster drive or, better yet, leave the crowds behind by taking a seasonal ferry. Boston Harbor offers ferries that run to Provincetown in only one hour.
3. Martha's Vineyard, Massachusetts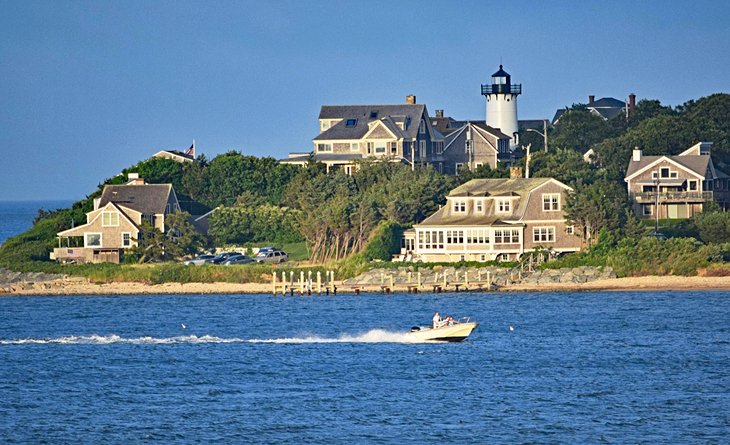 Martha's Vineyard is the perfect getaway to leave the hustle and bustle of Beantown behind. This island has long been a prized vacation spot for Boston's elite and others just wanting to get away, recharge, or enjoy a romantic couples retreat.
While you are here, rent a bicycle so you can explore the island at your leisure. On the southwestern tip of the island is Aquinnah Cliffs, a popular tourist spot, where you can see the impressive clay cliffs. From the top, you can view the Gay Head Light or the Elizabeth Islands.
For animal lovers, head to Island Alpaca, where you can meet one of the friendly Huacaya alpacas and tour the beautiful farm. The main draw to Martha's Vineyard is the beach, so be sure to enjoy the ocean, sand, and sunshine on your trip.
Martha's Vineyard is a few hours from Boston, but well worth the drive. If you want to bring your car, make sure to have a ferry reservation booked well in advance (we're talking months, not days). You can also reach it via plane. In all, there are six main ways to get from Boston to Martha's Vineyard.
Centrally located in Edgartown, the Vineyard Square Hotel and Suites is a boutique property with modern décor and seaside charm.
4. Nantucket, Massachusetts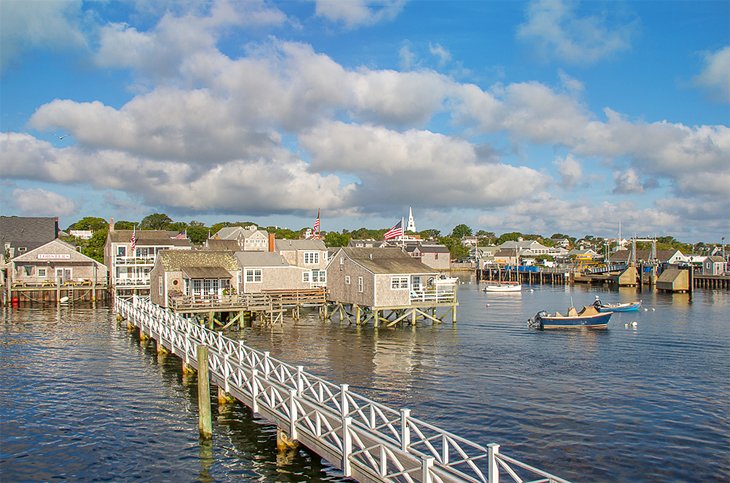 Thirty-six miles out to sea, there is an island off Cape Cod that is committed to preserving it's past while moving into the future. Rose-covered cottages, cobblestone streets, and white picket fences are the norm. Many of the roads are unpaved, and a good portion of the island is devoted to conservation land. It's a beaut!
Although Nantucket is known for its beaches, culture and history play a big role in the social scene here. The remoteness and simple beauty just adds to the abundance of charm.
For just a weekend visit, leave your car at home and rent a bicycle to get around and see the island's beauty. There are many spots to do so right off the ferries. Stop by the Brandt Point Lighthouse or one of the many pristine beaches like Ladies or Jetties Beach.
A large selection of restaurants offers many choices, but on summer weekends, make sure to have a reservation. You could also load up on the amazing bounty of seafood or readily prepared sandwiches at Bartlett Farm and have a picnic on the beach.
The easiest way to get to Nantucket is to fly from Boston via Cape Air, or you can drive to Hyannis and take the ferry over. It will take a few hours either way, so this trek is best made on a long weekend.
5. Block Island, Rhode Island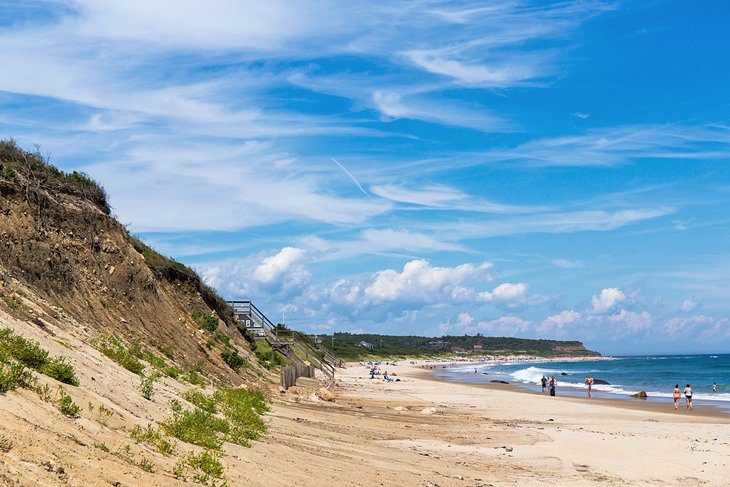 Located just off the coast of mainland Rhode Island and Long Island, New York, this nine-square-mile isle is only accessed by ferry from the mainland. Getting here from Boston is easy. Take the hour-and-a-half drive to Kingston and then hop on the Block Island ferry, which takes approximately 15 minutes port to port.
Once there, rent a moped or bike and explore the 17-mile perimeter of some of the most pristine sandy beaches in Rhode Island. Even though Block Island is small, it's filled with dozens of charming specialty shops, art galleries, and more.
Nature enthusiasts will enjoy the Clayhead Nature Trail, Rodman's Hollow, and Settlers Rock. Pack comfy shoes, snacks, and plenty of water and sunblock as you'll want to hit these trails for hours.
The Block Island Maritime Institute is a fun stop, and you'll likely learn something new about the diverse marine life in this area. If you are looking for a little more adventure, try a fishing excursion with Block Island Fishworks.
National Hotel, within walking distance from the ferry docks, is the epitome of a classic Victorian-styled hotel. The large structure has a front porch made for rocking chairs and binoculars. Breakfast is included in your stay.
6. Berkshires, Massachusetts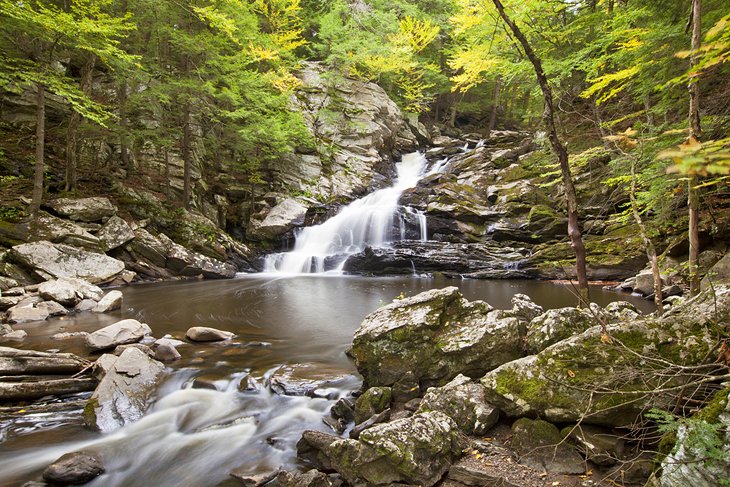 There are few views as beautiful as those from atop the Berkshire Hills. This gorgeous region, one of the most popular getaways from Boston and New York, spans western Massachusetts and parts of Connecticut. It's packed with some of Mother's Nature's best creations, a natural wonderland begging to be explored and photographed.
This area offers a lot to those who choose it for a weekend getaway from Boston: visiting quaint towns, eating great food, and hiking lush trails top the list of things to do in the Berkshires. Depending on your mood, you can enjoy relaxing during a class at the world famous Kripalu Center for Yoga and Health in Stockbridge, or indulge your inner adventurer by white water rafting or flying high through the trees on a zipline. Alternatively, you may simply choose to relax at one of the beautiful resorts in the Berkshires.
History buffs will particularly love this area as it's home to places like Historic Deerfield and museums like the Norman Rockwell Museum and Susan B. Anthony Birthplace Museum. One of the best things to do here is eat! Farm to table has taken up residence within the Berkshires' borders, with plenty of great restaurants taking advantage of the artisan food suppliers and makers in the area.
In the heart of the Berkshires, the chic Hotel on North is a loft-style boutique hotel, with modern conveniences, exposed brick, and high ceilings. Located in Lee, Black Swan Inn on the Lake is a lakefront property with balcony rooms overlooking the water.
7. Mystic, Connecticut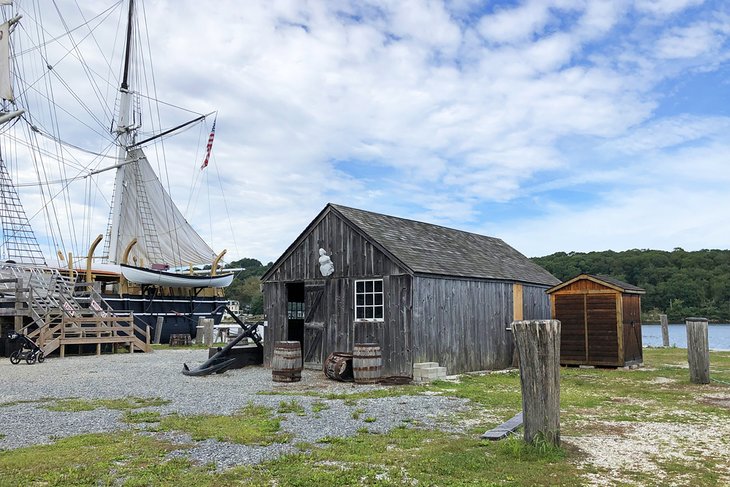 There are few towns as charming as Mystic. A quaint seaside village set about two hours southwest of Boston, this small Connecticut town is worthy of a weekend visit. Yes, the pace here is slower, but that's not a bad thing, especially if you're looking to escape the hustle and bustle of the big city.
In Mystic, visitors can sample delicious menus at rave-worthy restaurants; shop in eclectic boutiques; and soak up the maritime history that seeps through the town's every crevice.
Visiting the Mystic Seaport Museum is one of the town's top things to do for good reason. In addition to a recreated 19th-century seafaring village, visitors can board the world's last wooden whaling ship (the Charles W. Morgan), sail around the harbor on the working catboat, Breck Marshall, or entertain the kids in the Children's Museum.
Nearby, you'll find the town's other main tourist draw, the Mystic Aquarium. One of the best attractions in Connecticut, this is a mecca for lovers of marine life. Beluga whales, seals, and penguins call this palatably sized, yet inspired aquarium home.
Across the street lies the lovely Olde Mistick Village. Save your appetite, as it's filled with great restaurants and shops selling everything from candied nuts to homemade donuts to flavored popcorn and fudge. Yum!
The Whaler's Inn is a charming place to rest your head at the end of a busy Mystic day. Centrally located and newly renovated, this historic inn has rooms in five buildings, including family-friendly suites. Taber Inn & Suites is another quaint hotel that's been family run since 1971. It boasts an indoor pool, and the luxury suites come with a fireplace, Jacuzzi tub, and private balcony.
8. Rockport, Massachusetts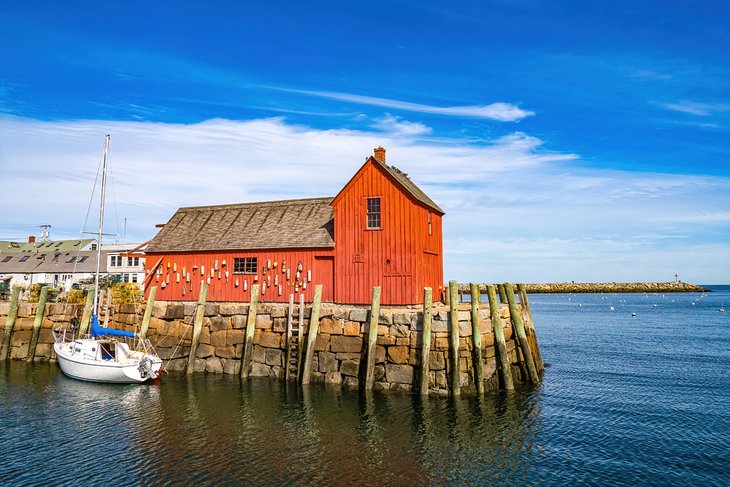 The sweet, salty air of Rockport will cure what ails you. A quaint small town in Massachusetts, this elysian seaside retreat lies a mere hour northeast of Boston, right on the tip of Cape Ann, where it meets Sandy Bay.
When you arrive, check any tension at the harbor, because there's no room for anything but relaxed shoulders and deep ujjayi breaths in this adorable weekend retreat. While you're at the harbor, you can't miss the famous red Lobster house, an image of which is found on virtually every postcard made of this idyllic town.
Pack a swimsuit and towel, as you'll want to spend much of your time either on the beaches, exploring the waterfront parks (Halibut Point State Park is a beauty), or touring the area's lighthouses (like the Straitsmouth Island Lighthouse).
When hunger strikes, walk to Bearskin Neck, a well-populated area peppered with funky shops, art galleries, and restaurants. Head back to The Seafarer Inn if you're hoping for a laid-back waterfront hotel that oozes charm. The Rockport Inn and Suites is another great place to stay if you're in the market for a slightly larger, more upscale, family-friendly spot that boasts extra amenities, like an indoor pool and hot tub.
9. Providence, Rhode Island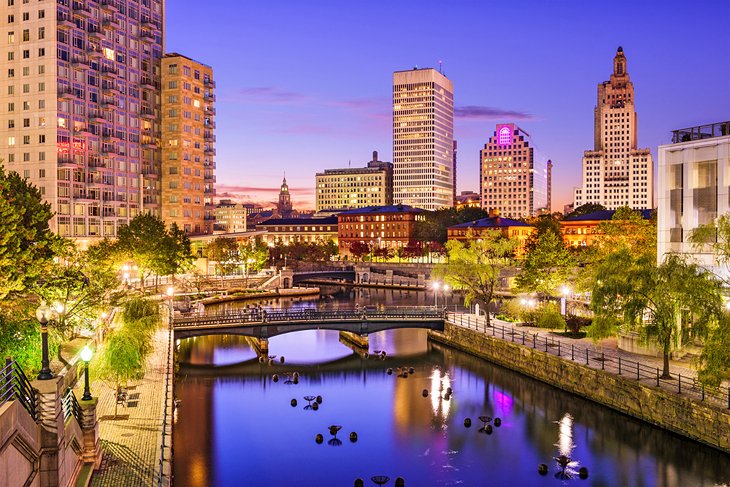 Pretty Providence lies about an hour's drive from Boston. This small city is busting at the seams with charm and a rich history, making it a wonderful and very romantic spot to spend a weekend getaway from Beantown.
Check out some of the town's beautiful architecture, from the historic homes that line Benefit Street to the dome of the State House, which is home to the fourth-largest self-supporting marble dome in the world. If you are an art lover, the Rhode Island School of Design has an impressive body of work on display. More than 90,000 pieces of art are here for your viewing. You won't want to miss a show at the Providence Performing Arts Center.
Those traveling with family should definitely take in one of the many kid-friendly venues like the Roger Williams Park Zoo. With so many things to do, Providence will hit every item on your weekend getaway bucket list.
Providence Marriott Downtown has a resort-type atmosphere and a great outdoor pool. It's also one of the few places in town to offer free parking. In the heart of downtown, The Dean Hotel has been tastefully restored to reflect its past and is convenient to the Convention Center.
10. Newport, Rhode Island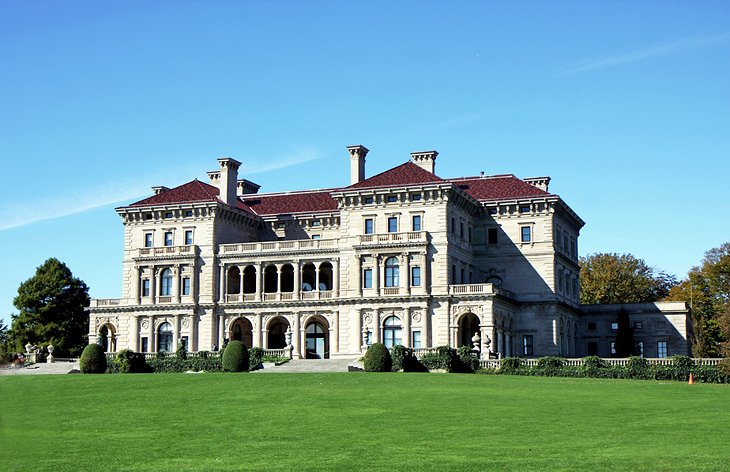 Newport is another Rhode Island gem you won't want to miss, and it's only a two-hour drive (without traffic) from Boston. For those of you craving a luxurious couples getaway, this is the place to visit. Its sparkling waterfront views, impeccable restaurants with picturesque outdoor patios, charming pedestrian shopping areas, and romantic boat cruises up the charm factor dramatically.
Speaking of romance, why not tour the opulent mansions that once housed the summer homes of some of this country's richest families; think Vanderbilt. Be sure to check out The Breakers, The Isaac Bell House, and The Elms, which are the most popular estates to visit.
If you are a history buff, a stop at Fort Adams or the National Museum of American Illustration will be top on your list. No matter what sites you choose to visit, don't miss the town's most famous attraction: the Cliff Walk. On a nice day, walking along this famous path with the ocean on one side and the mansions on the other, is wonderful. Let's be honest, this walk is nice on a not-so-nice day as well.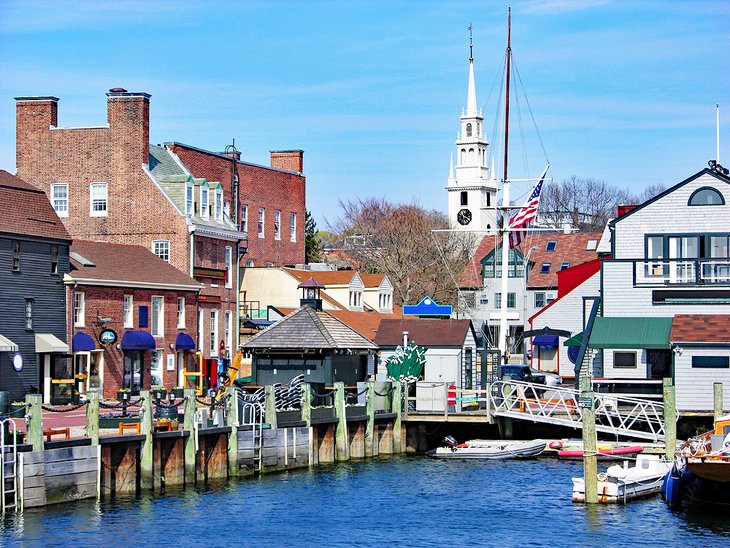 After a busy day of sightseeing, grab a bite to eat or enjoy some retail therapy at the waterfront or Thames Street. Ice-cream shops abound, so be sure to partake in some sweet eating. Parking can be a challenge on summer days, but be patient. Something will open up eventually.
11. Kennebunkport, Maine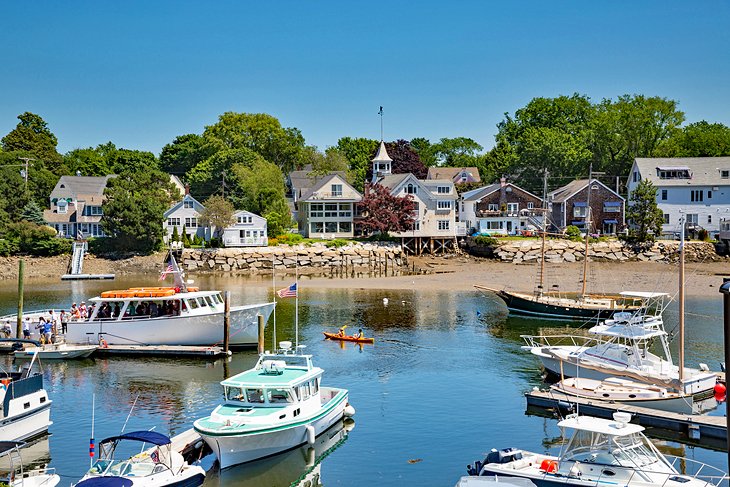 If you're looking for a coastal retreat where water sports reign, you'll be happy you traveled to the adorable town of Kennebunkport in Maine. A bustling locale in the summer, this popular vacay spot is a mere two hours' drive north of Boston up Route 95. Unlike most of Maine's rocky coastline, Kennebunkport has nice sandy beaches waiting to welcome visitors.
One of the best ways to see Kennebunkport and learn about its rich history is the Intown Trolley Tour. You'll get a full rundown of the notable attractions, from the Bush compound to the Spouting Rock and a local monastery.
Head out of town to enjoy the sights of the lighthouses like the Wood Island Light or Boon Island Light. There are five lights within a 20-mile radius, although some are privately owned and not available to tour, they still make a great photo op.
Before you leave, head to Dock Square. There you will find your fill of unique boutiques, restaurants, and galleries. The town does a good job of incorporating festivals into the shoulder seasons, making the Kennebunks a good year-round destination.
The Nonantum Resort offers plenty of additional activities on their menu, family fun, and an on-site lighthouse. The Rhumb Line Resort offers great value with an in-ground pool and free breakfast and Wi-Fi.
12. Portsmouth, New Hampshire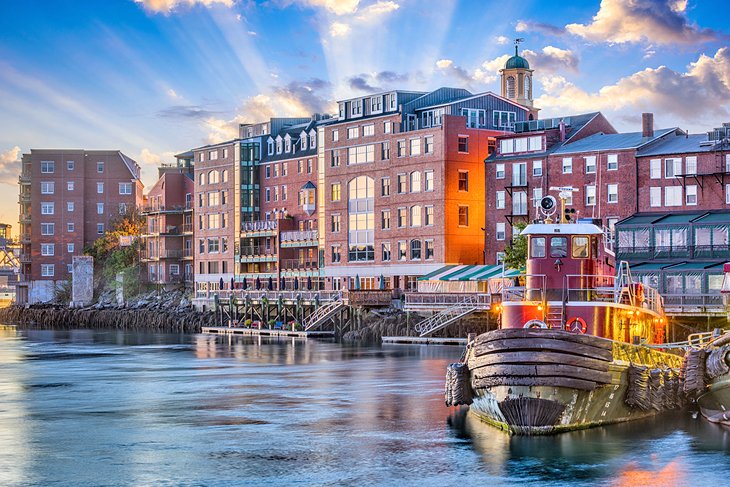 Portsmouth's elegant beauty and graceful green spaces entice visitors to unwind, put their feet up, and settle in for a vacation to remember. A big draw for Bostonians looking for a quiet and picturesque weekend getaway, this New Hampshire gem can get crowded in summer. That's not surprising considering its pristine beaches and lush parks, but it's the historic seaport and friendly maritime ambience that charms even the most harried of travelers.
A mere hour's drive north of Boston leads visitors to this historic area located on the picturesque Piscataqua River. While in town, take a leisurely stroll around Prescott Park or Celia Thaxter's Garden to enjoy the beautiful scenery.
Learn more about the area and its history with a visit to the Strawbery Banke Museum. Here, actors reenact what it was like in the waterfront neighborhoods hundreds of years ago. Are you an avid arts lover? Check out a concert at the Music Hall, a historic 895-seat theater, which produces concerts and stage productions.
13. Stowe, VT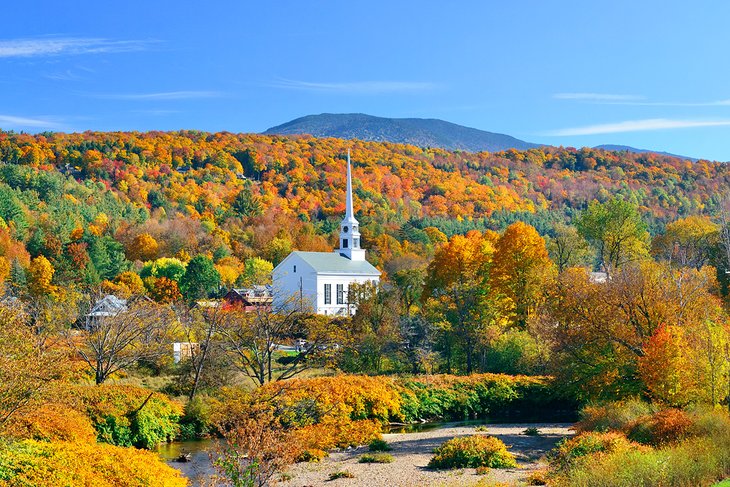 While most think of Stowe as a winter destination - a haven for skiers and snowboarders, it is best known as an upscale Vermont ski resort - this phenomenal locale is captivating at all times of the year. During fall, Stowe is arguably at its most photogenic, vibrant hues of red, orange, and yellow painting the landscape with such beauty, you'll be left awe-struck.
Luckily for those traveling from Boston, the drive to this top Vermont small town only takes about three hours (without traffic, of course). Once there, lucky weekenders can traipse through mountain trails, enjoy a latte in a cute café, or shop in one of the charming stores. Prepare yourself for a hefty bill, though, as Stowe isn't well suited to those with shallow pockets.
Whether you choose to bike, hike, cross-country ski, snowboard, or whoosh down the mountain on skis, you're sure to find some type of adventure to get your heart-pumping in this gorgeous part of New England.
The Trapp Family Lodge is set within a European-style alpine resort on a sprawling 2,500 acres of incredible landscape. The Lodge at Spruce Peak is another fab spot to rest your weary heads. Also set within a phenomenal mountainous terrain, this lavish spot is the only ski-in, ski-out luxury resort in Stowe.
14. Old Saybrook, Connecticut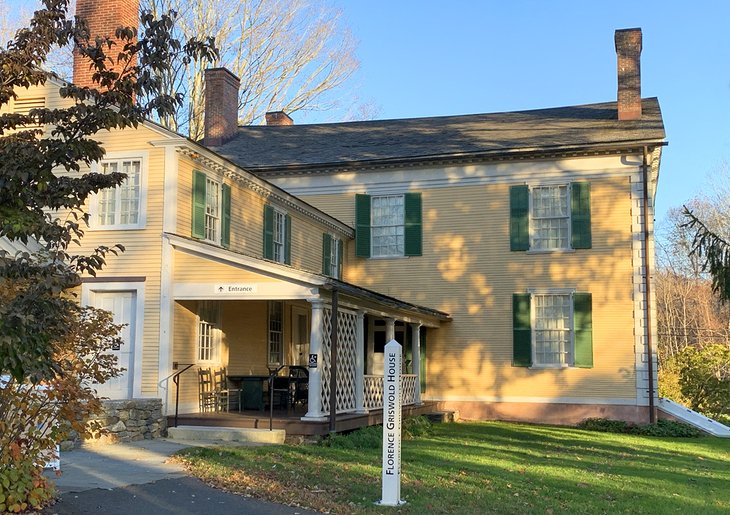 Another sweet small Connecticut town tops our list of the best weekend getaway locations from Boston. Located a mere 124 miles southwest, this small yet mighty seaside retreat is one of the best places to visit in Connecticut.
One of the state's oldest towns, Old Saybrook bursts with historic colonial charm and enough antique shops that you're bound to find something you didn't know you needed. The Fenwick Historic District is particularly charming. This is where you'll find picture-perfect shingled cottages that date to the 19th and early 20th centuries.
It was once the home of famed actor, Katherine Hepburn, and you can catch a concert, comedy show, or film at The Kate, a cultural arts center named in her honor. Visiting the Florence Griswold Museum is another top thing to do in Old Saybrook. Technically five minutes outside the border, in neighboring Old Lyme, this bright yellow house is impossible to miss.
Harvey's Beach is one of the top beaches in the state, and the reason that Old Saybrook tops the list of Connecticut's best beach towns. Spanning 100 yards of shoreline, this is an uber popular spot for summertime fun with its fine sand and calm water.
The Saybrook Point Resort & Marina is by far the best place to stay in Old Saybrook. Not only does it offer the most stunning panoramic vistas, but the rooms are elegant and there are vacation villas on-site if you're visiting with a larger group. The Lighthouse Suite is a romantic spot set in a lighthouse (obviously) at the end of the pier. Schedule time for a treatment at the luxury spa and a tasty meal at Fresh Salt.