15 Best Places to Visit in Massachusetts
The sheer variety of experiences and tourist attractions in Massachusetts will astonish you. Boston itself combines the vibrancy of a modern university town and commercial city with treasured historic sights. Plymouth preserves - and recreates - the experience of New England's earliest settlers. Throughout the state, you can visit the homes and studios of some of America's most beloved writers and artists: Louisa May Alcott, Thoreau, Whistler, Longfellow, Melville, Norman Rockwell, and Daniel Chester French.
But the places to visit in Massachusetts are not all about culture and history. Whether you head for the ski trails of the rolling Berkshires in the west or the long white sands of Cape Cod and Martha's Vineyard, Massachusetts is about kicking back and having a good time, too. Plan your trip with our list of the best places to visit in Massachusetts.
1. Boston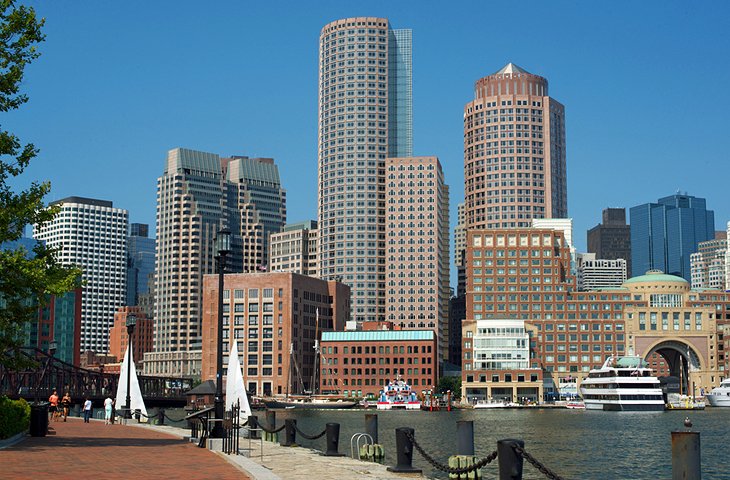 From the Brahmin bastion of Beacon Hill and the historic sights of the famed Freedom Trail, to the world-class art museums, "The Hub" has something for everyone. Whether your passion is fine art, ethnic neighborhoods, Americana, antiques, seafood, modern architecture, black history, music, the Revolution, technology, bookstores, boats, brownstones, boutiques, or baked beans, you'll find it here.
Tourists interested in history can start their tour of the Freedom Trail at Boston Common, where you can get self-guided tour information or sign up for a tour led by a costumed interpreter at the Visitor Center. Highlights of the tour are the State House, Old South Meeting House, Paul Revere House, Old North Church, and Bunker Hill Monument. Tourists can also explore areas like the North End, a walkable neighborhood that is home to many historic sites (and several excellent pastry shops).
Boston is a great city for families, offering plenty of attractions that interest all ages. The Waterfront district is a great place to start, home to the New England Aquarium and the Christopher Columbus Park. The famous Faneuil Hall Marketplace is only a five-minute walk from here, offering a huge range of dining options, including a food hall, as well as tons of shops and cart vendors. Families also love the Boston Museum of Science, home to a planetarium, IMAX, and many interactive exhibits.
Younger kids always adore the Boston Children's Museum, which is full of activities and playful learning, and any summer visit with kids needs to include a ride on the Swan Boats in the beautiful Boston Public Garden.
2. Cape Cod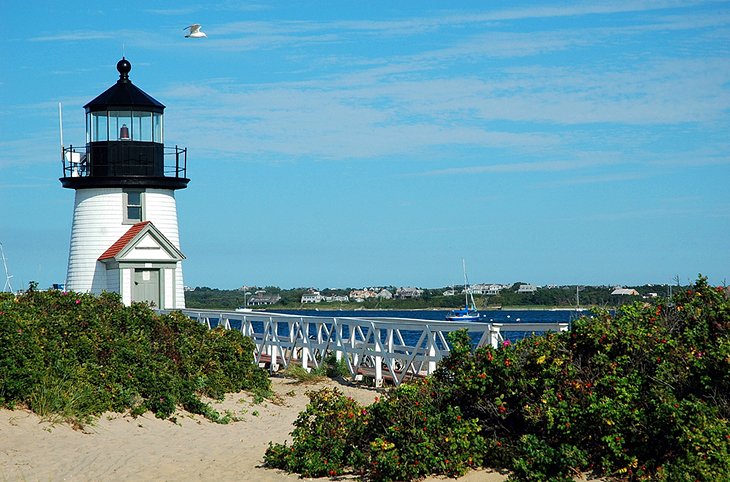 Reaching out into the Atlantic south of Boston, Cape Cod is the city's summer playground, with miles and miles of white-sand beaches and picturesque towns filled with tourist attractions and amusements.
For active travelers, the Cape offers sailing, fishing, kayaking, swimming, and miles of cycling and walking trails. Nature lovers find bird-filled salt marshes, and whales to watch in the nearby waters of Stellwagen Banks. The seafood is legendary, and in the fall, entire landscapes are red with cranberries.
A 40-mile stretch of Cape Cod's eastern coast is set aside as Cape Cod National Seashore, its perfect dune-backed beaches, woodlands of Atlantic white cedar, and bird nesting grounds networked by miles of hiking paths. At the outer tip of the cape is lively Provincetown, known for its inclusive atmosphere and thriving arts scene, including live drag shows during the summer. Tourists also venture to the far end of the cape to see the impressive dune system.
3. Cambridge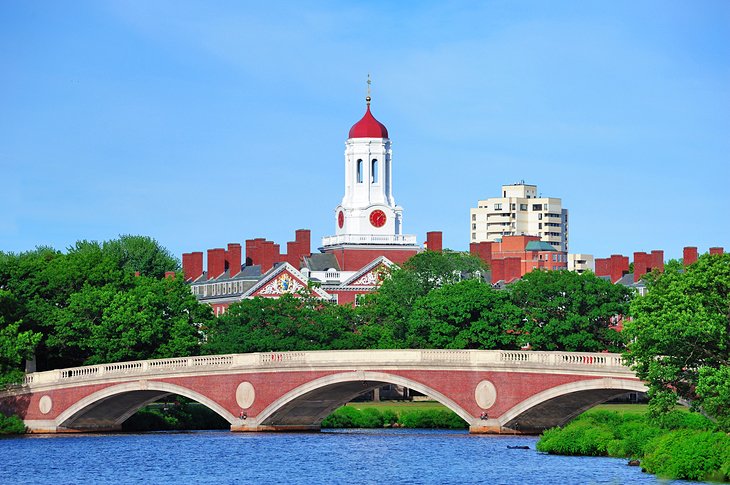 Although part of Boston's metropolitan area and connected by a single transit system, Cambridge is a separate city. And within it are two premier universities whose campuses feel like cities of their own. Harvard is the country's oldest institution of higher education, dating from 1636, only 16 years after the Pilgrims landed at Plymouth. The campus, which you can tour free with a lively student guide, is centered in Harvard Yard, right at Harvard Square.
Adjacent are the outstanding Harvard Art Museums, in a building designed by Renzo Piano, and farther on is the complex housing the equally prestigious Peabody Museum of Archeology and Ethnology; Mineralogical Museum; and the Botanical Museum, housing the famous collection of glass flowers.
The 150-acre Massachusetts Institute of Technology (MIT) campus is an open-air art gallery, with sculptures by artists that include Pablo Picasso, Alexander Calder, Henry Moore, Jacques Lipchitz, and Auguste Rodin. Discover these with the help of a campus map, as you stroll among buildings designed by some of the greatest names in modern, postmodern, and contemporary architecture: Frank Gehry, Alvar Aalto, I. M. Pei, and Eero Saarinen, among others.
4. Nantucket and Martha's Vineyard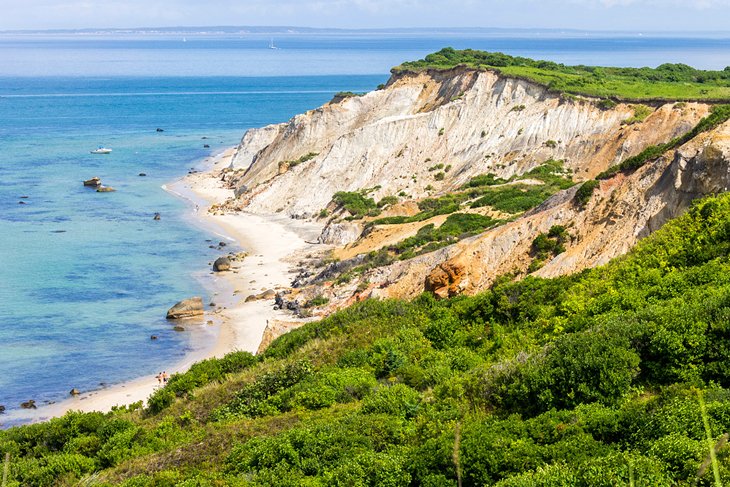 South of Cape Cod and easy to reach by ferries, Nantucket and Martha's Vineyard offer sandy beaches and the relaxed pace of island life. Nantucket is a 15-mile-long island only 30 miles south of Cape Cod. Between 1740 and 1830, more than 125 whaling ships called Nantucket their home port, making it the world center for the whaling industry.
You can discover more about whaling, whales, and the ships and seamen who hunted them, at the Nantucket Whaling Museum, filled with ship models, scrimshaw, whaling equipment, fascinating logbooks, and the skeleton of a 43-foot sperm whale. Elsewhere on the island are chic shops and restaurants, beaches, and miles of quiet lanes and walking trails.
One of the most relaxing places in Massachusetts is laid-back Martha's Vineyard, only five miles from Cape Cod, but light years away in atmosphere. Its gentle landscapes are covered in farms and six villages, each with its own year-round local life. Some of its miles of beaches are beneath scenic sand bluffs. The appealing town of Oak Bluffs preserves rows of little 19th-century "gingerbread" cottages, built when it was a Methodist Camp meeting site; don't miss the historic merry-go-round, the Flying Horses Carousel.
5. Salem and Cape Ann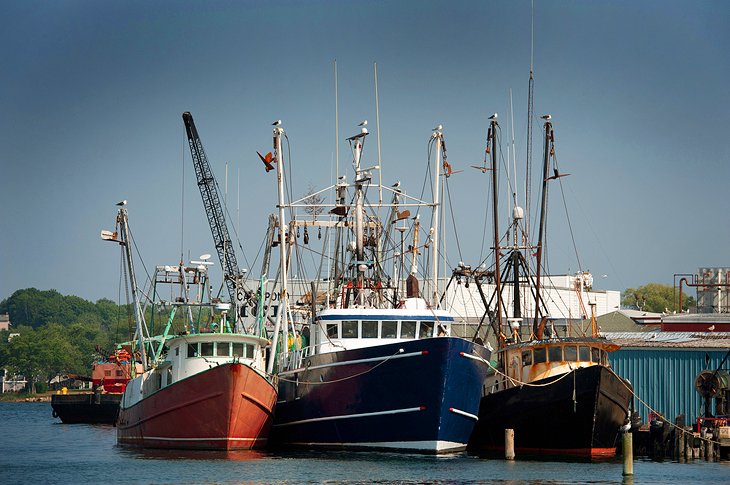 North of Boston, and less visited than Cape Cod, Cape Ann is known for the picturesque fishing harbor at Rockport, and the working port of Gloucester. But in-the-know travelers come here for its beautiful and uncrowded beaches, its thriving art colonies, and the idyllic little towns of antique-filled historic homes.
Salem was the hub of the China Trade, and once one of the major ports on the East Coast, and its streets today are still lined by stately homes built for sea captains and prosperous merchants. It has literary connections as the birthplace and home of Nathaniel Hawthorne, and the added historic appeal of the infamous Salem Witch Trials-a grim history that Salem has turned into several tourist attractions.
6. Concord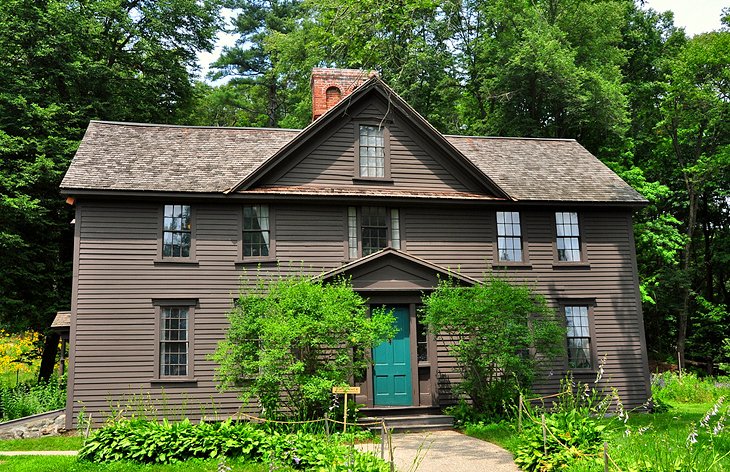 Although Concord was of major importance in the struggle for independence - it was here that the "shot heard 'round the world" was fired at North Bridge on April 19, 1775 - it is as well-known for the transcendentalists. This remarkable group of writers and philosophers who lived and worked here included writers Ralph Waldo Emerson, Louisa May Alcott, and Henry David Thoreau, and they created some of their most famous works here.
You can visit the Alcott's Orchard House, preserved in its original state, where Louisa set her semi-autobiographical novel Little Women. Walden Pond, immortalized in Henry David Thoreau's writings, is part of a 411-acre nature preserve with a replica of his cabin.
For an overview of Concord's Revolutionary history and literary legacy visit the excellent Concord Museum, where you'll find Native American artifacts, Thoreau's snowshoes and furniture, Ralph Waldo Emerson's study, and the original lantern that signaled Paul Revere, along with collections of 17th- to 19th-century decorative arts and furniture.
7. Lexington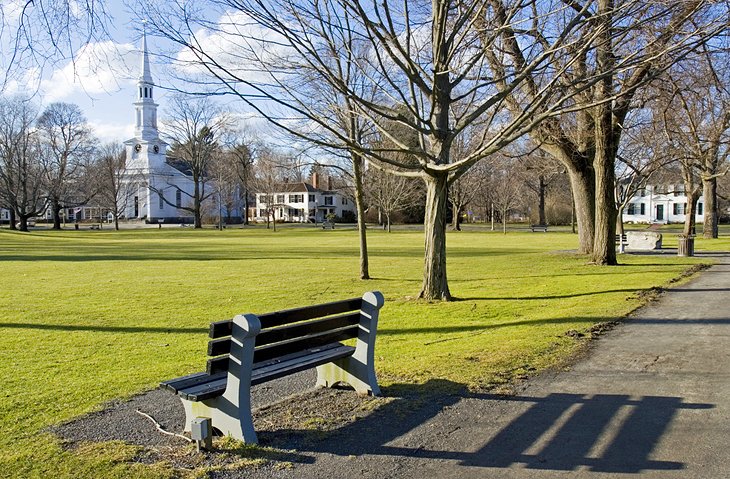 Northwest of Boston is Lexington, where the first shots in the War of Independence took place on April 19, 1775. A Minuteman statue by sculptor Henry Hudson Kitson and a monument mark Battle Green, where colonial militia members (called the Minutemen for their ability to get ready for battle in a minute's notice) clashed with British troops.
Minutemen and their commander, Captain Parker, gathered in the 1710 Buckman Tavern before confronting the British, and its interior, preserved as it would have been in the 18th century, is complete with the original seven-foot-wide taproom fireplace. The old front door still contains British musket-ball holes.
Munroe Tavern, built in the early 1690s, became a field hospital for the wounded and contains period artifacts and furniture. The Hancock-Clarke House contains period furniture of the Clarke family and Reverend John Hancock, grandfather of the signer of the Declaration of Independence.
8. Plymouth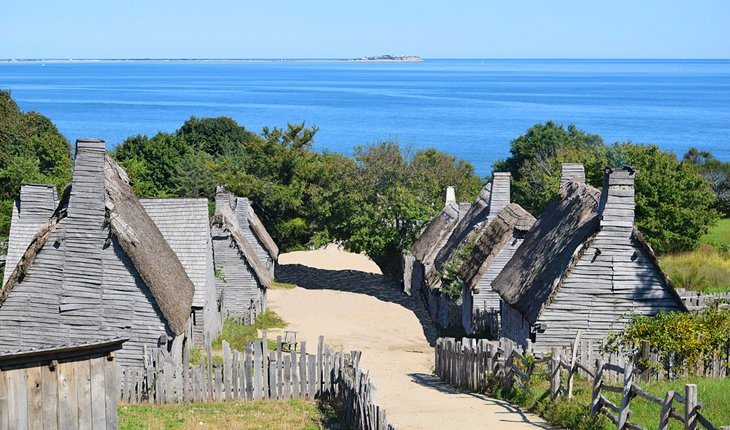 Pilgrims fleeing religious persecution in Britain arrived in Plymouth in 1620 on board the Mayflower, establishing the first permanent European settlement in the north. Plymouth Rock marks the place where the Pilgrims first landed.
Visit a re-creation of their village, peopled by costumed interpreters who play roles of actual Pilgrims at Plimoth Patuxet Museums (formerly known as Plimoth Plantation), and learn about the life of Native Americans who welcomed them at Hobbamock's Homesite.
Pilgrim Hall Museum opened in 1824 to showcase Pilgrim artifacts; furniture; decorative arts; painting; and the remains of the Sparrow Hawk, a wooden ship that wrecked off Cape Cod in 1626. Highlights include Governor Bradford's bible, Myles Standish's sword, and the original cradle used by Peregrine White, who was born on the Mayflower. Sparrow House, built in 1640 and Plymouth's oldest surviving wooden house, shows how primitively the first settlers lived.
9. The Southern Berkshires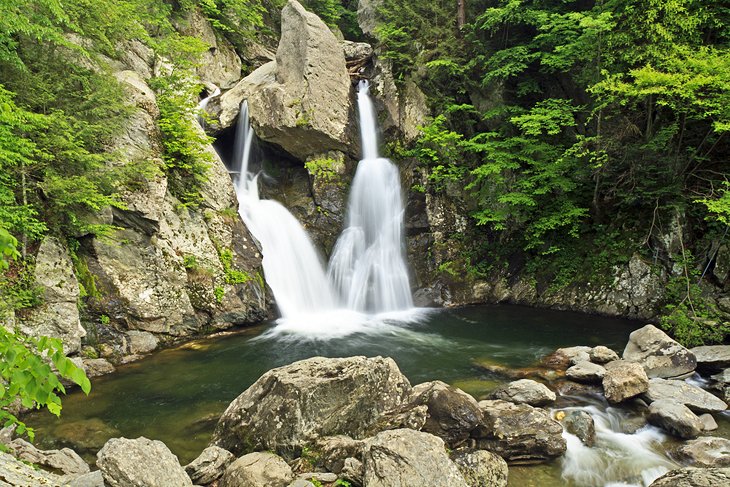 The Berkshires, with their green hills, white churches, photogenic villages, and narrow country lanes, present the idyllic view of New England. Since the early 1800s, the southern communities of this region, which covers the entire area of western Massachusetts, have been a magnet for creative talent, and this cultural largess of music, dance, art, and literature is one of the region's major tourist attractions.
So are the miles of hiking trails, scenic waterfalls, and the ski areas of Butternut and Catamount, which combine to make the southern Berkshires one of the favorite places to visit in Massachusetts in the winter. Among the natural highlights are 80-foot Bish Bash Falls and the hike to the summit of Monument Mountain.
Stockbridge was home to the artist Norman Rockwell, and the Norman Rockwell Museum features his original works. Chesterwood was the summer home of Daniel Chester French, sculptor of the Seated Lincoln in Washington's Lincoln Memorial; his studio showcases his work, including working models.
In Pittsfield, you can tour Arrowhead, home of Moby Dick author Herman Melville. Lenox, best known for Tanglewood, the summer venue of the Boston Symphony Orchestra, was home to Pulitzer Prize winning author Edith Wharton, who built The Mount here in 1902 on a 40-acre estate, where you can tour her extraordinary Italianate gardens.
If you love gardens, be sure to also see the Berkshire Botanical Garden in Stockbridge. The Berkshire Museum in Pittsfield features works by American artists, an Egyptian mummy, and antiquities from Classical Greece and Rome. Naumkeag is the 44-room summer residence of a prosperous family, filled with antiques, art, and Chinese porcelain.
10. Mohawk Trail and the Northern Berkshires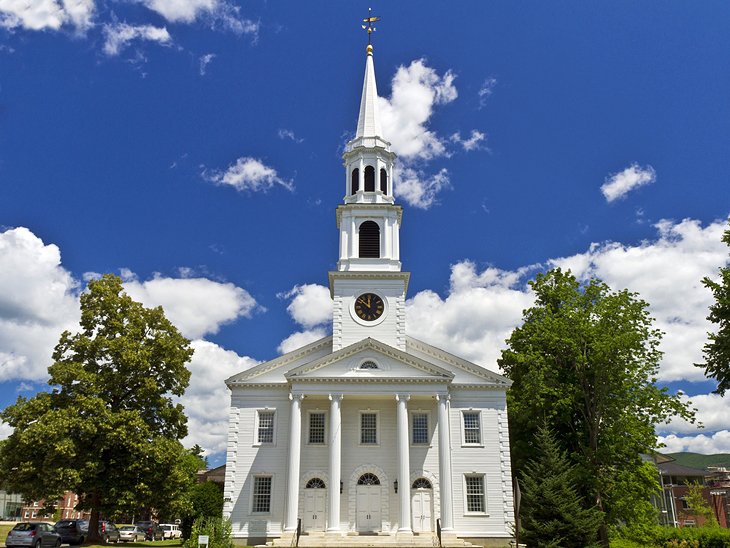 Tony Award-winning Williamstown Theater Festival and the many resources of Williams College make Williamstown a cultural hub in Western Massachusetts. The Clark Art Institute Museum features extensive collections of European and American painting and sculpture, highlights of which are the works of French Impressionists and American painters Winslow Homer and John Singer Sargent.
Hike the Maine-to-Georgia Appalachian Trail as it crosses the summit of Mt. Greylock, the state's highest point, or you can drive to the top for views of three states.
Williamstown is the start of the scenic driving route, the Mohawk Trail, which follows an old Native American trail across western Massachusetts. In North Adams, MASS MoCA is an arts center for sculpture, theater, dance, and film, housed in 27 restored historic buildings. Hancock Shaker Village features a working farm using Shaker methods and 20 original furnished buildings used by the Shaker community from 1783 to 1960, including the Round Stone Barn.
11. Worcester and Old Sturbridge Village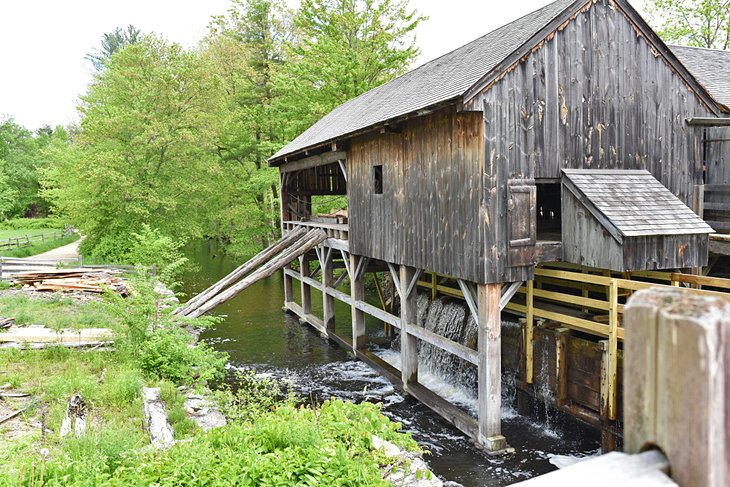 Worcester is an industrial city west of Boston, at the center of rolling rural countryside. Its prosperous history shows in the collections of the Worcester Art Museum, whose more than 35,000 pieces are highlighted by European and American works, Asian art, Greek and Roman sculpture, and contemporary art.
The most recent addition is the outstanding collections of medieval, Japanese, and other armor and artifacts from the now-closed Higgins Armory Museum. The indoor/outdoor EcoTarium complex features wildlife exhibits, a planetarium, and a tree-top walkway where you can learn about the New England environments and ecosystems.
Worcester was the major center of manufacturing diners between 1906 and the 1960s, turning out more than 600 of them that were transported across the country. You can honor this legacy by stopping at the well-preserved Miss Worcester Diner or Boulevard Diner.
Not far from Worcester is Old Sturbridge Village, a living history museum of more than 40 historic homes, farm buildings, and shops demonstrating New England crafts and daily life of the early 1800s. One of the state's most visited tourist attractions, Old Sturbridge Village appeals to all ages with its costumed interpreters demonstrating period crafts such as spinning, weaving, wool dyeing, pottery, tinwork, and blacksmithing, along with the daily tasks of farmers, millers, and homemakers.
In May, July, and September, the small town of Brimfield becomes the entire Northeast's Antiques Central, as dealers and collectors converge for several days of frenzied buying and selling at the Brimfield Antique Show and Flea Market.
12. New Bedford and Fall River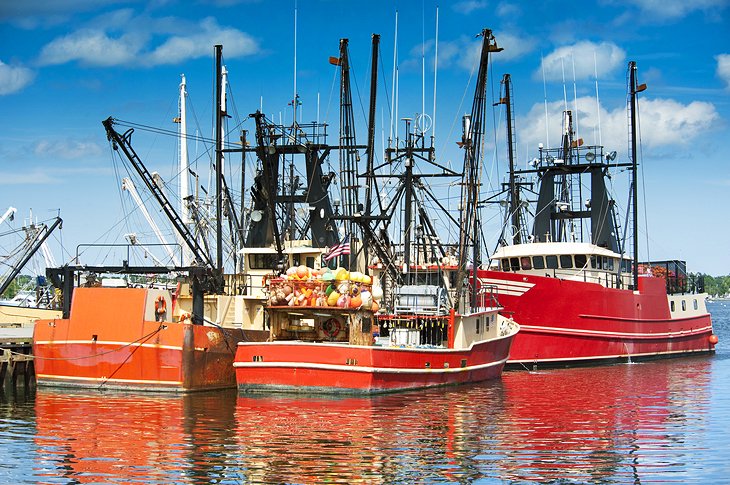 South of Boston and Cape Cod, New Bedford was the heart of the world's whaling industry in the 19th century, with 80 percent of the nation's whale ships, and factories turning whale oil into candles and whale bone into corset frames and umbrellas. This legacy is remembered in the excellent Whaling Museum, with displays on the history of whaling, a large scrimshaw collection, a whaleboat, whale skeletons, and a whaling film.
Also worth seeing are the Seamen's Bethel featured in Herman Melville's Moby Dick, and the 1834 Rotch-Jones-Duff House with decorative arts, antique furniture, and extensive gardens. Take a self-guided walking tour of the waterfront, preserved as the New Bedford Whaling National Historical Park, and still an active and colorful fishing port.
Nearby Fall River also has a rich history, both as a textile center and a shipping port, but perhaps its most famous citizen was Lizzie Borden, whose trial for her alleged murder of her parents still fascinates visitors to the Fall River Historical Society museum. The Marine Museum houses one of the world's largest Titanic exhibitions and models of the Fall River Line, a fleet of steamships that carried wealthy passengers from New York and Boston to summer homes in Newport.
At Battleship Cove, you can tour New England's largest floating museum, which includes the battleship USS Massachusetts, PT torpedo boats 796 and 617, the USS Lionfish, a WWII submarine, and the USS Destroyer Joseph P Kennedy, which served in Korea, Vietnam, and the Cuban Missile Crisis.
13. Amherst and the Pioneer Valley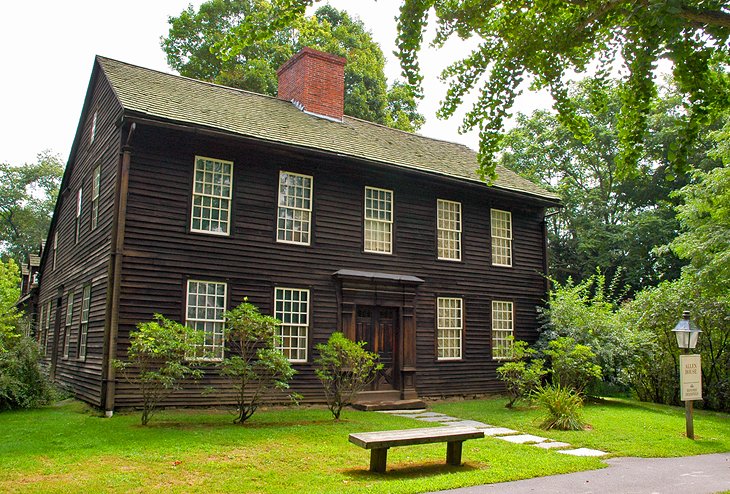 Near the Connecticut River in central Massachusetts, Amherst is home to the University of Massachusetts, Amherst College, and Hampshire College, making it a center for arts and culture with museums, galleries, bookstores, and performance venues. The Emily Dickinson Museum includes the poet's home and that of her brother, where you'll find collections and exhibits relating to her life and writing.
In nearby Hadley, a stage coach, oxcart, wagon, broom-making equipment, and other old farming equipment is shown in a restored 1782 barn at the Hadley Farm Museum. Several historic homes and a museum at Historic Deerfield illustrate the colonial and Federal periods in the Pioneer Valley.
14. Lowell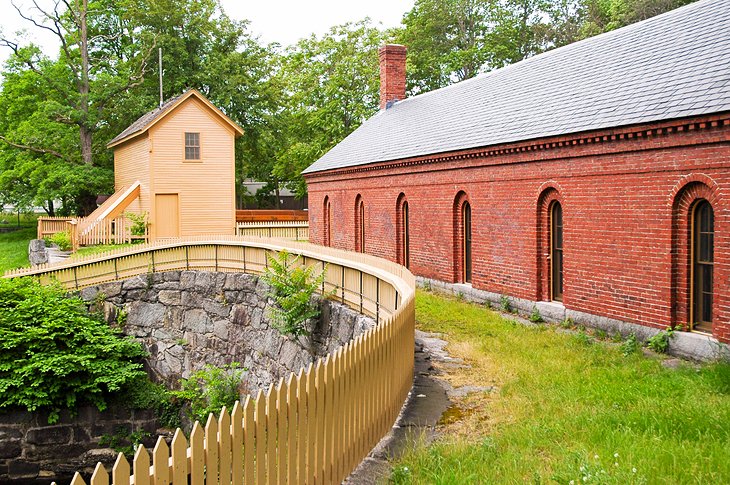 The Merrimack River powered some of the world's largest mills during the heyday of the textile industry, and in the Lowell area are a number of reminders of that era. The Middlesex Canal, built between 1793 and 1803, connected the Merrimack with the port of Boston, playing an important role in the Industrial Revolution that is explored at the Middlesex Canal Museum in Billerica.
The American Textile History Museum traces textile production from the 18th century to the mid-1900s with exhibits of hand-powered tools, machinery, fabrics, and garments.
Another facet of textile history is shown at the New England Quilt Museum, where you can admire the intricate handiwork in contemporary, traditional, and antique quilts. For a break from textiles, see works of James Abbott McNeill Whistler and other American artists at his birthplace, the Whistler House Museum of Art.
The major tourist attractions relating to Lowell's part in the Industrial Revolution are found at two open-air museums: the Lowell National Historic Park and the Lowell Heritage State Park. After seeing the videos, hop on the trolley for a tour, or in summer ride a boat along the canal system.
A guided tour of the Boott Cotton Mills Museum shows the weaving room where 88 looms pound away, powered by an ingenious system of shafts, belts, and pulleys all driven by the Merrimack River. Nearby, the former workers' boardinghouse concentrates on the living conditions and explores the stories of textile workers, often farm girls or immigrants. Lowell's textile mills were instrumental in the beginning of the American labor rights movement.
15. Newburyport and Plum Island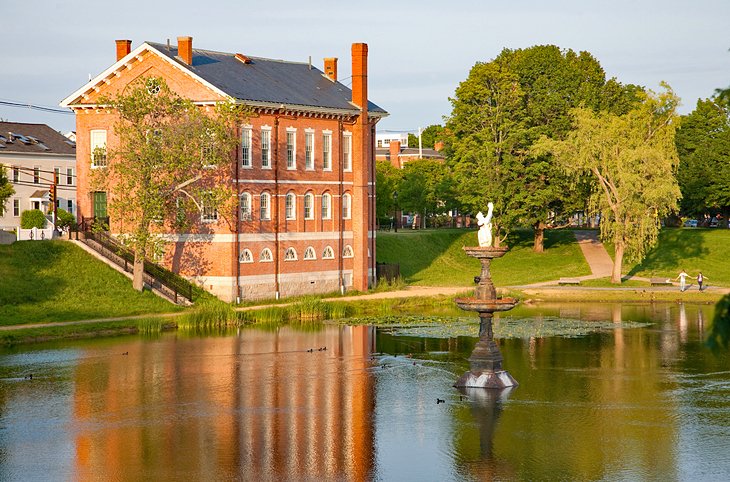 Newburyport has a rich history as an important seaport and shipbuilding center, and you can explore its seagoing past in the Custom House Maritime Museum. Get a look at the prosperity that shipbuilding brought to the city at the federal-style Cushing House Museum and its beautiful gardens. The house is filled with collections of furniture, silver, needlework and treasures brought back from exotic ports. The harbor is still active, and you can take whale-watching tours from its docks or enjoy a meal at one of the waterfront restaurants.
Nearby Plum Island is an 11-mile barrier island, with miles of beaches, dunes, and marshes protected by the Parker River National Wildlife Refuge. You can kayak in its marshes, walk its beaches, and watch for sea and shore birds from its boardwalks. For information on its resident and migratory birds, stop at the Massachusetts Audubon Society's Joppa Flats Education Center.
Map of Places to Visit in Massachusetts
More Related Articles on PlanetWare.com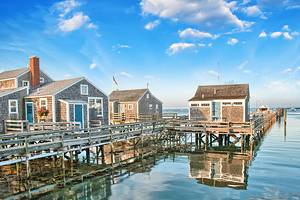 Where to Go in Massachusetts: For even more information on what to see and do, refer to our pages on the Top-Rated Tourist Attractions in Massachusetts. This will give you a complete overview of the major tourist sites around the state. When you are ready to fine tune your itinerary, these articles will lead you to the best beaches, hiking trails near Boston, and the best weekend getaways.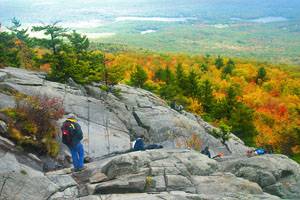 Exploring Nearby States: New England is a compact region, so it's easy to see the attractions of New Hampshire and explore historic Portsmouth, only a short trip from Boston. Northern New Hampshire is home to the White Mountains, where you'll find some of New England's best hiking trails and mountains for skiing. On the coast to the south is Rhode Island, with the spectacular mansions of Newport.