14 Best Small Towns in Massachusetts
A state steeped in history, Massachusetts is home to an abundance of fascinating small towns, both on the picturesque seashore and well inland. Many of these towns have witnessed defining events in American history during the Revolutionary War.
Tourists will also find a large variety of historic homes, gardens, and even living history museums, which bring the past back to life. Visitors should note that historic buildings are often only open to the public during the warmer months, generally late spring through fall. The coastal region of the state, as well as Cape Cod and the surrounding islands, are especially well known for their artists and artisans.
Learn more about the best places to visit with our list of the top small towns in Massachusetts.
1. Northampton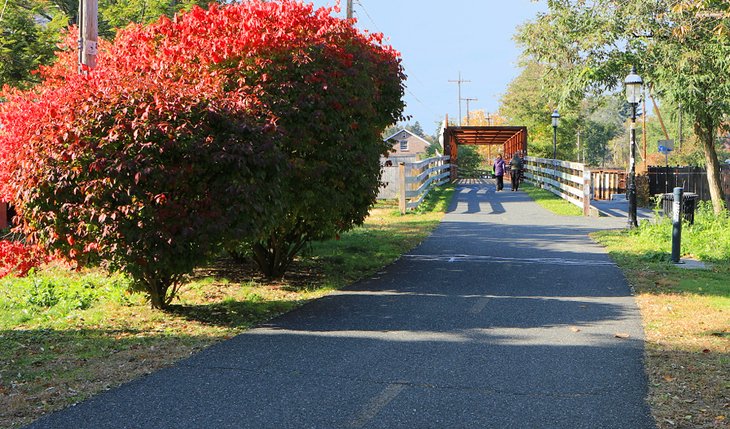 Due to its location in western Massachusetts, Northampton is often overlooked, however it is a center of cultural activity and rich history that rivals any of its eastern counterparts. Northampton is home to an extraordinary variety of specialty shops and an equally impressive range of culinary options for a town its size, as well as numerous boutiques, galleries, and used book shops-a dream for anyone who loves shopping and browsing.
Smith College, a prominent women's liberal arts school, contributes a great deal to the town's artistic and cultural life. Collections at the Smith College Museum of Art include artwork from the ancient world; works from Asia, Africa, Europe, and the Americas; and special collections focusing on functional art, art after 1950, and works on paper.
To learn more about local history, visit Historic Northampton, a museum that occupies three historic homes. Collections include artifacts from the region's earliest occupants though to recent history, and the permanent exhibits focus on Northampton history. Changing exhibits include art and historic topics.
2. Provincetown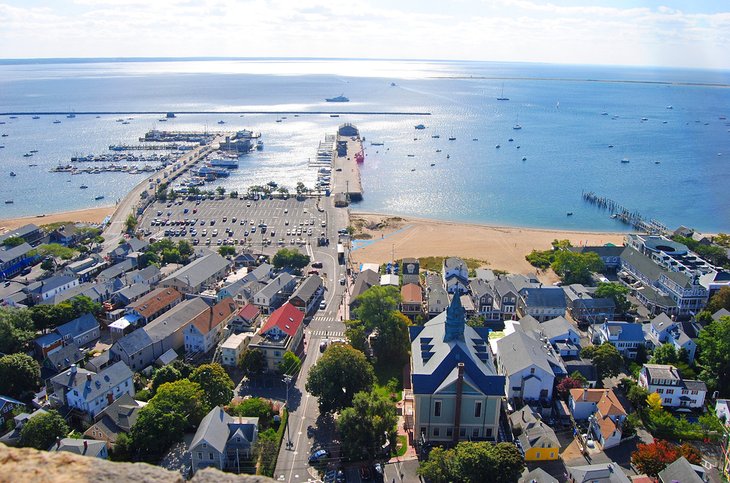 Known as "P-Town" to New Englanders, Provincetown is a favorite destination for couples, singles, and families - including those with four-legged kids. It is located at the tip of Cape Cod, accessible by car or ferry from Boston, and sits next to the Cape Cod National Seashore, which is home to two excellent beaches, a bike trail, and fragile protected dunes.
P-Town is especially well-known as an arts community, home to over 60 galleries and the Provincetown Art Association and Museum. There is also a local museum located at the Pilgrim Monument, the town's most recognizable feature, now accessible via a glass-walled escalator-tram from downtown.
After visiting the monument, take a stroll down Winslow Street to see the former residence of Captain Ezra Cook, now the home of Howards End Guest House, a cozy bed-and-breakfast that is steps from downtown and perfect for those traveling on a budget.
Annual events fill each week of the summer season, including film festivals, CabaretFest, "PAWs" pet appreciation week, the Provincetown Portuguese Festival, and many more. This small town is packed full of live entertainment, local restaurants, and shopping. The majority of shops in Provincetown are locally owned and operated, offering tasteful souvenir shops, water sports rentals, specialty shops, and bakeries.
Accommodation: Where to Stay in Provincetown
Read More: Top-Rated Things to Do in Provincetown, MA
3. Concord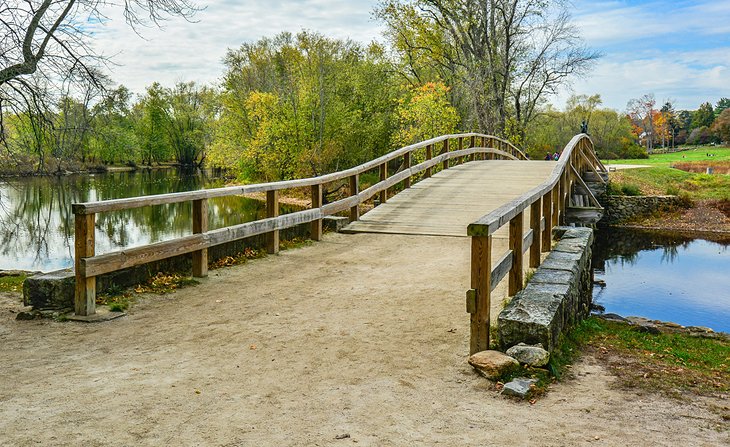 The town of Concord is rich in history, both literary and Revolutionary. It was here on the North Bridge in 1775 that the "shot heard "round the world" was fired, and the area is rife with other historic landmarks from the early days of the Revolutionary War. Concord is also known for its association with several great American authors, including Henry David Thoreau, who immortalized nearby Walden Pond during his solitary stay here.
The Concord Museum is the best place to get a solid overview of the town's most significant sites and residents, as well as learn about the Native Americans who preceded European settlers. Among its most significant collection items is a Paul Revere lantern, one of the two legendary lights that alerted the revolutionaries to the British attack. Among other exhibits are Thoreau's writing desk and other personal items, a re-creation of Ralph Waldo Emerson's study, and other period rooms.
Literary tourists can visit several significant sites, including the Emerson House, the former home of the author. Here, he entertained other prominent writers and thinkers of his time, including Thoreau and Louisa May Alcott, and he was living here when he wrote his famous essay "Self Reliance."
Thoreau's cabin on Walden Pond is another top destination, and there is a visitor center as well. Those looking to pay their respects to some of Concord's fine writers can visit Emerson, Thoreau, and Alcott, as well as Nathaniel Hawthorne, in their final resting place in Sleepy Hollow Cemetery, an area known as Author's Ridge.
4. Wellfleet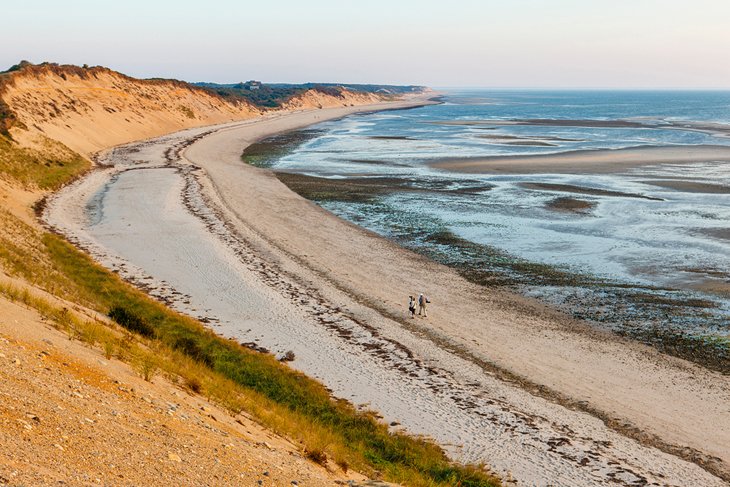 The small town of Wellfleet is located about halfway up the "forearm" of Cape Cod. Although the drive is about 100 miles from Boston or Providence, it is well worth the trip because it is less crowded than the more accessible areas of the cape. Downtown Wellfleet, although small, has a wonderful selection of restaurants, shops, and galleries, and visitors can catch a show at the Wellfleet Harbor Actors Theater (WHAT), which features all forms of performing arts.
Wellfleet's beaches are one of its biggest draws, and there are plenty to choose from. Most of the beaches are located on Wellfleet Harbor, a well-protected area with calmer waters preferred by families with children. Among the most popular beaches are Cahoon Hollow Beach and Lecount Hollow Beach (also known as Maguire Landing Beach), which are staffed with lifeguards and have some amenities. Smaller beaches include Indian Neck Beach, a favorite for families, and Mayo Beach, which has free parking and is known for its seashells.
On the drive back to the mainland, be sure to take a quick detour into Yarmouth to visit the Whydah Pirate Museum, home to the only confirmed pirate ship artifacts in the world. Chronicling the life and exploits of Samuel Bellamy, the "Robin Hood of the Sea," the museum displays an astounding collection of weapons, gold, silver, and other treasures discovered nearly 300 years after the Whydah was wrecked off the shores of Cape Cod.
Accommodation: Where to Stay in Cape Cod: Best Areas & Hotels
5. Sandwich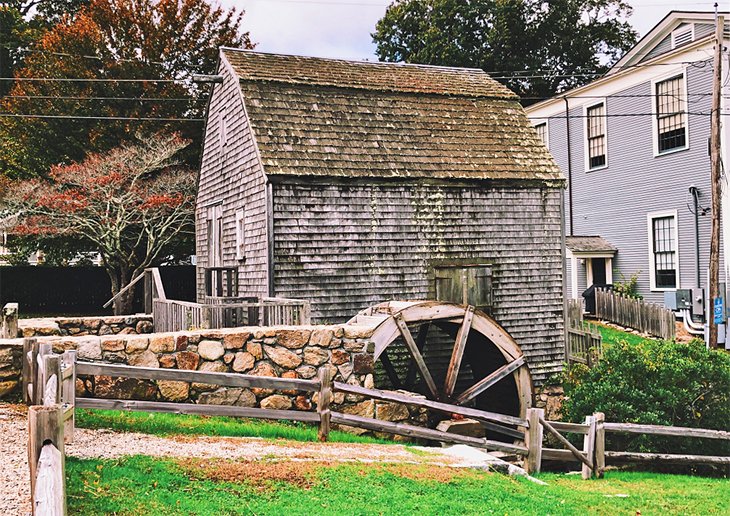 Located on Cape Cod's northern shore, a visit to Sandwich does not require the long drive or ferry ride that many of the other towns do. Nestled deep within Cape Cod Bay, its beaches are known for their safe waters.
During the 19th century, Sandwich was a major center for glassmakers, and those interested in local history can visit the Sandwich Glass Museum, home to thousands of examples of authentic Sandwich Glass, as well as exhibits about the craft and live demonstrations. Tourists can also visit the Dexter Grist Mill for demonstrations, and then take home a bag of the stone-ground flour.
Sandwich is also home to a unique grouping of museums dedicated to Americana, collectively known as the Heritage Museums and Gardens. The buildings sit within 100 acres of gardens and are connected by walking paths, allowing visitors to enjoy the flowers; of note are the hydrangeas and rhododendrons, as well as an interactive play area for children. Museums include an art museum that features Native American and colonial folk art, an automobile museum with classic cars, and other highlights.
6. Sturbridge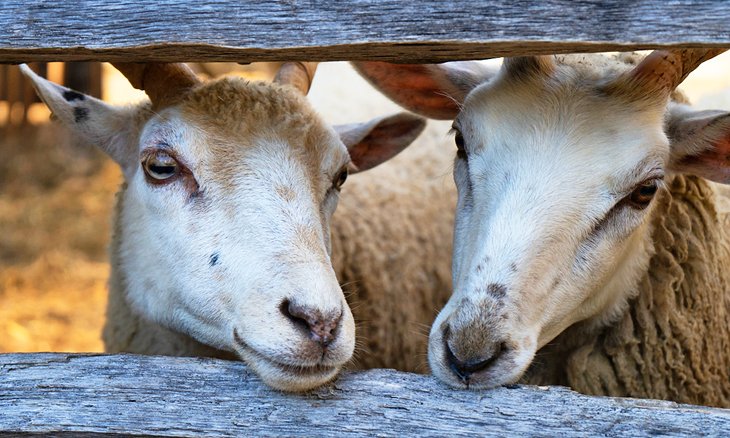 The sleepy town of Sturbridge in central Massachusetts is home to one of New England's best living history museums, Old Sturbridge Village. Visitors are fully immersed in every aspect of early 19th-century life, including a rural farming community, a neighborhood surrounding a water-powered sawmill, and a thriving village center. Visitors can speak with the costumed interpreters and watch as they go about their daily chores and various occupations, and in some areas even participate. Various special events are held throughout the year.
Sturbridge is also home to Wells State Park, a dog-friendly public park that has 12 miles of multi-use trails, as well as a large pond for kayaking, fishing, and swimming. Visitors can also enjoy the small nature center, and there are day use facilities, including grills and picnic pavilions.
Accommodation: Where to Stay in Sturbridge
7. Lexington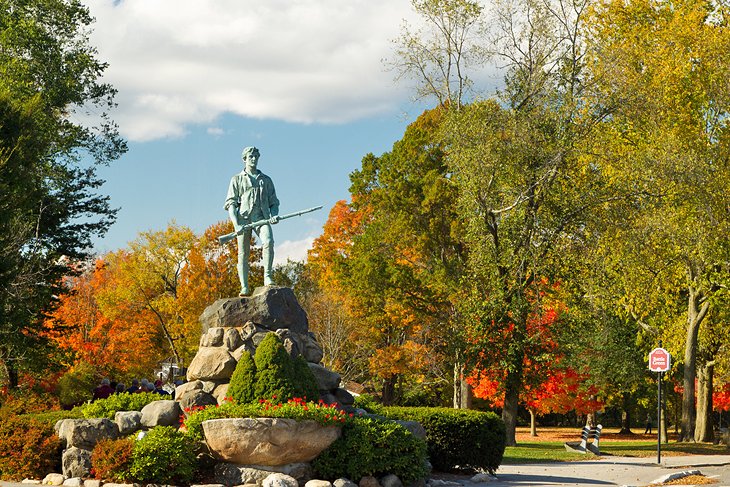 Despite the passage of well over two centuries, Lexington is still closely associated with the Revolutionary War battle that started it all. Lexington Common, also known as Battle Green, is watched over by a life-size bronze statue of a member of the Lexington militia, the Lexington Minuteman.
The earliest of the Battle Green monuments is the Revolutionary War Monument, placed here in 1799 to mark one end of the line that the Minutemen held; the other end of this line is marked by an inscribed boulder. There is also a stunning relief sculpture depicting the battle, created by Bashka Paeff. Tours of Battle Green led by costumed interpreters are available during the summer months.
A replica of the Old Belfry, once also located on Battle Green, now sits on a hill overlooking the town, commemorating the simple but striking bell that sounded the alarm on the first night of the Revolution. There are several historic buildings and homes in Lexington that are open for tours, including the Buckman Tavern (c. 1704), the Hancock-Clarke House (c. 1698), Munroe Tavern (c. 1690), and the Lexington Depot, now home to the Lexington Historical Society.
Accommodation: Where to Stay in Lexington
8. Gloucester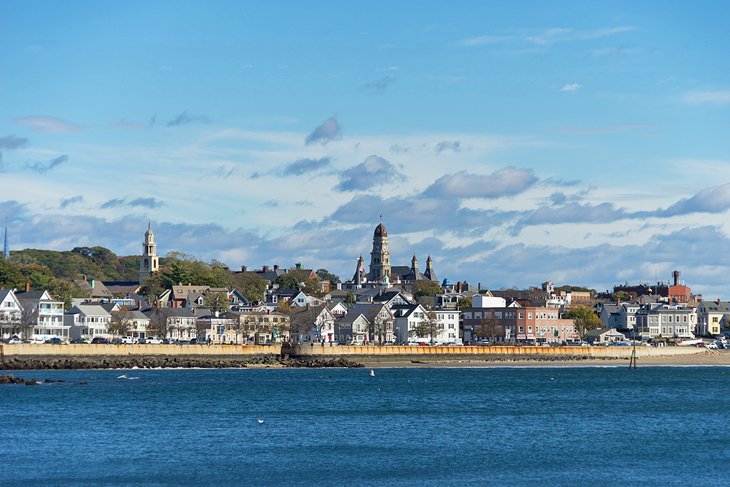 Gloucester sits on the southern shore of Cape Ann, an outcropping on the northern coast of Massachusetts, and has been an active fishing harbor since colonial times.
Harbor sightseeing cruises, schooner sailing, deep-sea fishing, and whale watching are popular activities, and tourists can also enjoy a variety of land-based tours, including "foodie" tours and historic walking tours. For those who want to be in the water, there are several good beaches in the area.
Visible from both sea and shore, Hammond Castle is a unique landmark that is far newer than it appears. Inventor John Hays Hammond built this massive residence in the 1920s to resemble a medieval castle, complete with turrets and flying buttresses.
Romantic and picturesque, this is a popular venue for everything from weddings to Renaissance festivals; the castle is open June through September for visitors to explore when it is not hosting special events.
Another seaside historic home known for its unique architecture is the Sleeper-McCann House, also known as Beauport, the former home of interior designer Henry Davis Sleeper. The home can be toured, as well as the Sargent House Museum, a historic home in downtown Gloucester that was built in 1782.
Visitors can learn more about the area's history and admire local art at the Cape Ann Museum. Those traveling with children will want to visit Maritime Gloucester, which has an aquarium and exhibits about the area's maritime legacy.
9. Rockport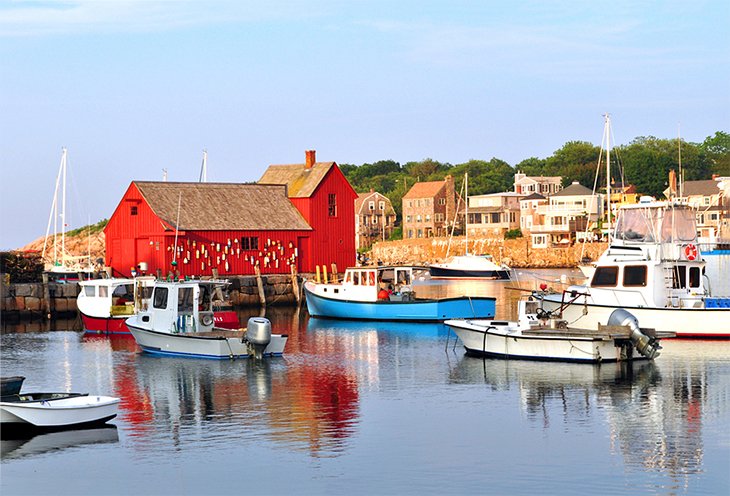 Thanks to the idyllic beauty of this coastal New England town, Rockport is home to numerous artists whose work can be admired throughout the many galleries in town. Visitors can also see local art at the Rockport Art Association and Museum, which features changing exhibits highlighting local art, including film and other media. Performing arts are equally important in Rockport, which you can find at The Shalin Liu.
Located on the tip of Cape Ann, Rockport is also home to several lovely beaches and scenic oceanside parks, including Halibut Point State Park. Local lighthouses include the Straitsmouth Island Lighthouse and the Twin Lighthouses of Thatcher Island, viewable from one of the many sightseeing cruises offered locally.
The Captain's Bounty on the Beach is a great option for those who are looking for a beachfront hotel, featuring pet-friendly rooms and efficiency suites.
10. Westport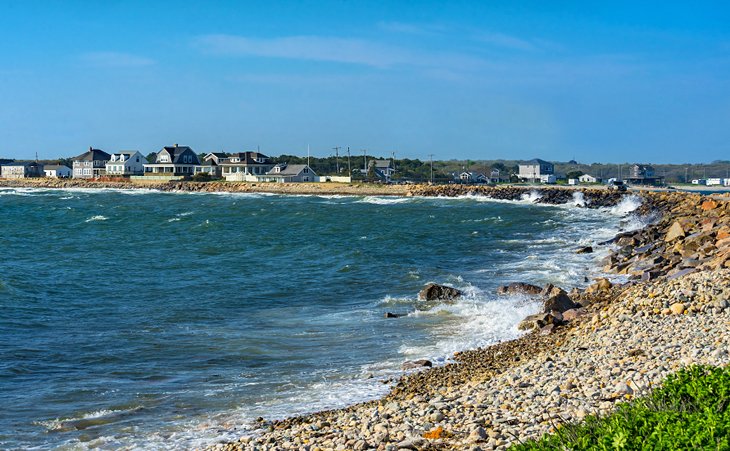 Westport is Massachusetts' southernmost coastal town, and far quieter than its northern counterparts. The area is known for its farms, the source of produce, meats, and cheeses for many of Boston's top farm-to-table restaurants. The Westport Town Farm, now a protected area, has a network of riverside walking paths for nature-lovers, and the Allens Pond Wildlife Sanctuary has trails that run through a variety of landscapes to the shores of Buzzards Bay.
Horseneck Beach is located within the sanctuary, a two-mile stretch of sand that faces Rhode Island Sound. Although it can get crowded on weekends, there is plenty of space for enjoying the ocean. On rainy days, the Central Village has a variety of galleries, shops, and eateries to explore.
Accommodation: Where to Stay in Westport
11. Lenox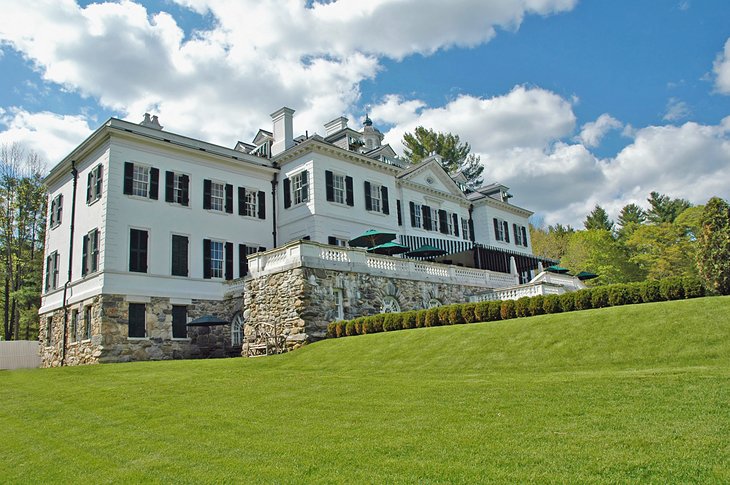 The upscale community of Lenox is tucked away in the southwestern corner of the state, in the Berkshires close to the New York and Connecticut borders.
Lenox is best known as the home of Tanglewood, the summer home of the Boston Symphony Orchestra. This venue hosts a variety of performances throughout the summer season, and theater lovers can also see a variety of plays at Shakespeare and Company. Lilac Park, located on Main Street, also hosts live music performances and cultural events.
The town has long been known for its affluent residents, and the Gilded Age Museum at Ventfort Hall Mansion provides exhibits and collections from the Gilded Age. The Ventfort Hall grounds and home are also open for tours, and the facility hosts a variety of events throughout the year.
Another lovely historic home is The Mount, former home of Edith Wharton, where you can tour the house and gardens by day, or take a spooky ghost tour in the evening.
Visitors can learn more about the area at the Museum of Lenox History, operated by the Lenox Historical Society.
12. Oak Bluffs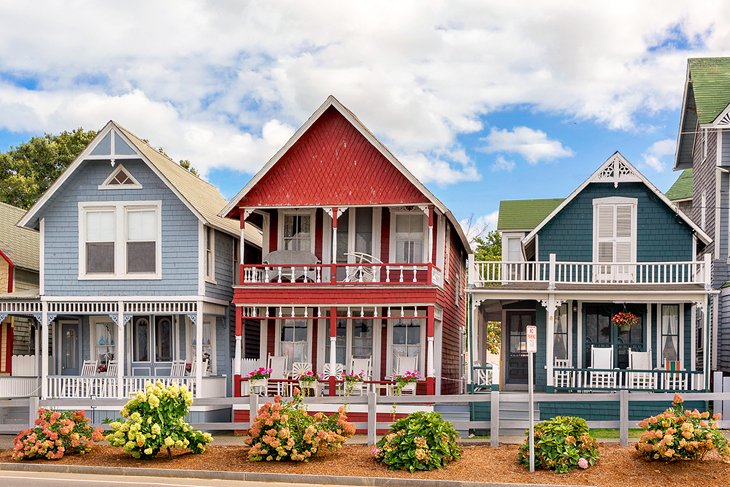 Located on the northeastern shore of Martha's Vineyard facing Nantucket Sound, Oak Bluffs is a small resort community on the upscale vacation island.
The town's most unique feature is the Oak Bluffs Campground, which is nothing like the name makes it sound-this National Historic Landmark neighborhood is filled with ornate "gingerbread" cottages that are delightful to behold.
The lively downtown strip of Circuit Avenue is where you will find the majority of the town's shops, boutiques, and eateries, as well as games and entertainment for younger tourists.
Close to the lovely Ocean Park and the Woods Hole Ferry landing is Inkwell Beach, known for its soft sand and easy accessibility. For a longer expanse of sandy shoreline, visit State Beach, a slightly less-crowded option that has excellent swimming, as well as plenty of water sports.
For a nostalgic ride, visit the vintage Flying Horses Carousel, originally built in 1876 for Coney Island before moving to Oak Bluffs in 1884.
13. Newburyport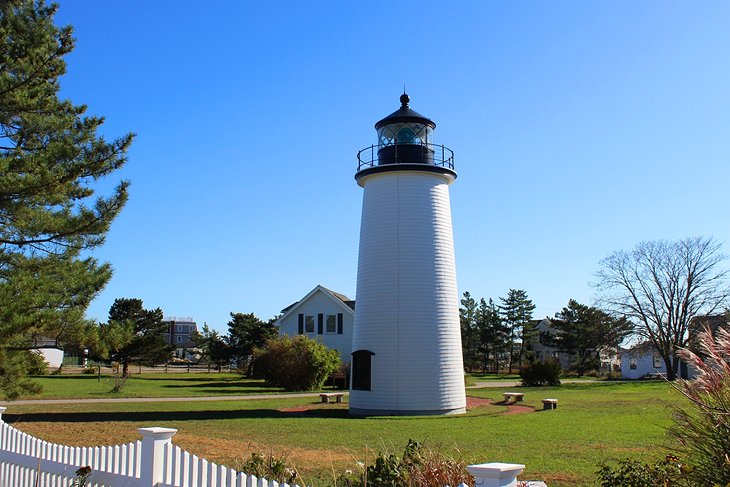 Newburyport is located on the north shore, close to the New Hampshire border and about 35 miles north of Boston, along the banks of the Merrimack River as it reaches the Atlantic. The protected waters and easy accessibility by sea made it one of the top port towns in New England, and this was the birthplace of the Coast Guard.
Visitors can learn about Newburyport's history as an important shipbuilding center and trade center at the Custom House Maritime Museum.
Newburyport also has an active cultural scene, and throughout the summer, you will find that there is a cultural event nearly every weekend, from art walks to music festivals. Walking tours are an excellent way to explore the city, and there are several boat tour operators for sightseeing cruises and whale watching excursions.
14. Stockbridge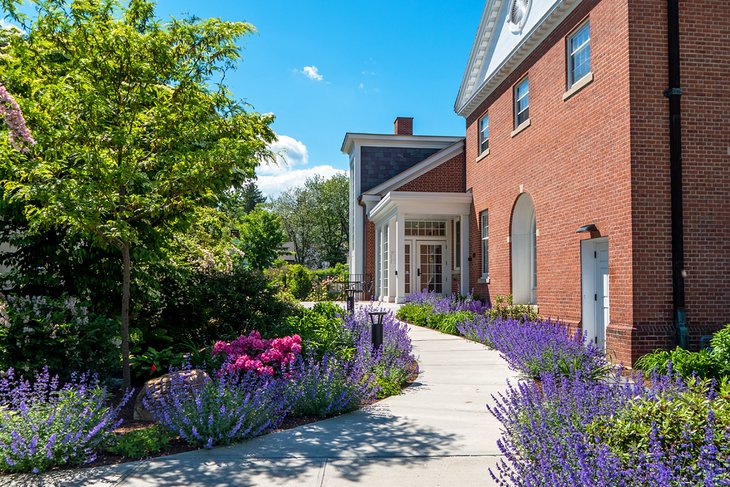 Located in the heart of the Berkshires, Stockbridge is best known for being the former home and source of inspiration for the iconic American artist Norman Rockwell.
Visitors can tour Rockwell's former art studio, now part of the Norman Rockwell Museum. In addition to an extensive collection of Rockwell's original works and related artifacts, the museum is home to exhibits featuring artists inspired by Rockwell, including the Reinventing Rockwell collection by artist Pops Peterson. Overall, museum collections include over 14,000 pieces by over 200 artists.
Stockbridge is also known for the grand Naumkeag Estate, a 19th-century mansion, which features 44 rooms and numerous gardens, all of which can be toured.
This town is also home to the Berkshire Botanical Gardens, an expansive 24 acres that include a variety of native plants, as well as a topiary garden featuring animal shapes.
Accommodation: Best Resorts in the Berkshires