12 Top-Rated Beaches in the Boston Area
Like to enjoy a slice of beach with your city vacay? You're in luck. Boston's coastal locale is ideal for those who like to mix a little sand with the hustle and bustle of a historically vibrant city. While the best beaches in the Boston area may take a backseat to those in popular Cape Cod, Nantucket, and Martha's Vineyard, visitors will find plenty of hidden beachy treasures right within (or just outside) the city limits.
The best part about these beaches is their convenient location. Lying so close to the downtown core, travelers can reach the soft sand and bright blue waves of the Boston area's top beaches by merely jumping on public transportation or hopping in a car for a quick (less than an hour) drive. Easy, peasy!
As always, when the weekend approaches, parking fills up early, so be prepared if you're driving, and arrive before 10am. Beaches near Boston offer a wide variety of options for visitors that include warm waters, a front-row seat to jumbo jets taking to the skies, forts to explore, and, of course, easy access to some good old New England seafood.
For a relaxing day along the coast, browse our list of the best beaches in the Boston area.
1. Spectacle Island: Boston Harbor Islands National Recreation Area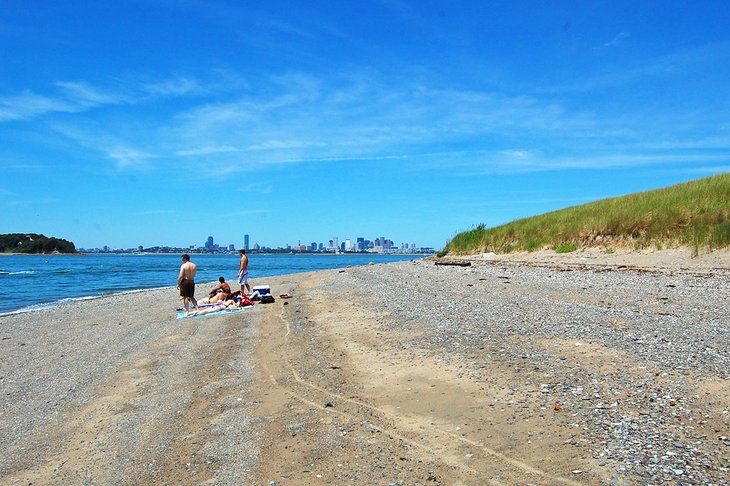 Just offshore from Boston proper, and about 20 minutes by ferry from downtown, Spectacle Island offers visitors one of the few sandy beaches found among the Harbor Islands. Open from May through Columbus Day, the beach is supervised by lifeguards during the summer months. The eco-friendly visitor center provides a timeline on the evolution of the island, as well as changing exhibits. It's by far one of the best beaches around Boston.
On a clear day, views of the city skyline are excellent. A small marina attracts boaters. Hikers will delight in the five-mile loop around the island, which offers exciting panoramas of the city. Ferries run regularly from Long Wharf during the high season.
Tourists will find Spectacle Island's central location an excellent starting point for visiting the city's top attractions, and the nearby Boston Harbor Hotel and InterContinental are luxurious waterfront accommodation options.
2. Nantasket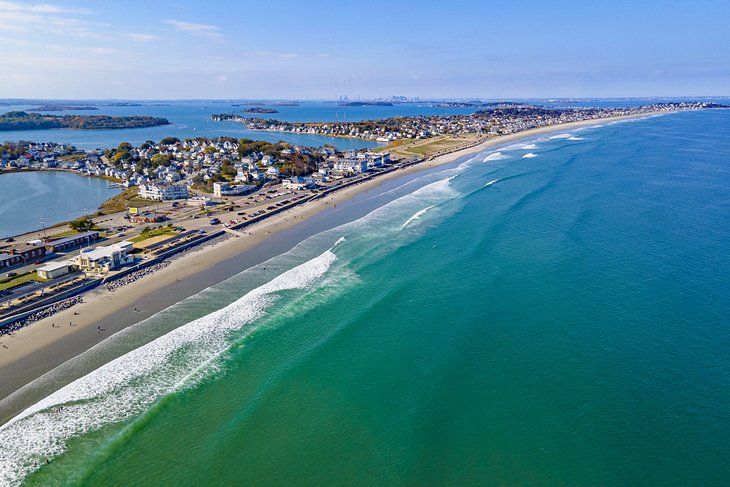 Nantasket Beach lies on the south shore of nearby Hull. A popular spot for sun-seeking weekenders from the big city, this pretty, mile-long beach is a great place to enjoy a summer day.
Its Wampanoag Indian name reflects the sandy shores "where tides meet" location. The Atlantic shore is lined with pale grey sand, with tide pools revealing themselves, and a whole lot of extra sand to explore at low tide. Kids of all ages love to spend time looking for sea creatures in the shallow waters, making this a popular beach for families.
You'll find athletic fields, volleyball courts, a playground, and restrooms here. Summer concerts and public dance lessons make for great early evening activities.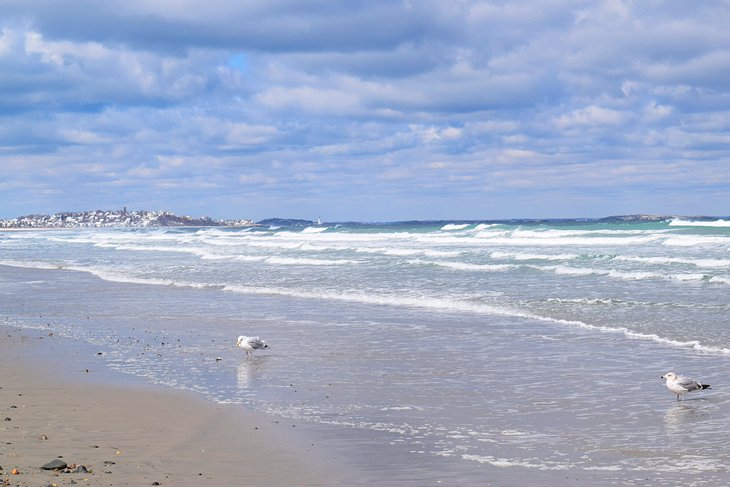 Parking is available for a fee and it is highly recommended to arrive early on peak summer weekends. Nearby, World's End is a hiker's dream set on 250 acres of conservation land.
Offering panoramic views of the sea, the Nantasket Beach Resort has rooms with spectacular views. The Beach Shack is full of any necessities guests might need for fun in the sun.
Traveling à deux? Up the romance with a plush stay at The Beacon Luxury Waterfront Inn. Only a short walk to the beach, this high-end, boutique B&B is both decadent and charming.
Address: 212 Nantasket Ave., Hull, Massachusetts
3. Castle Island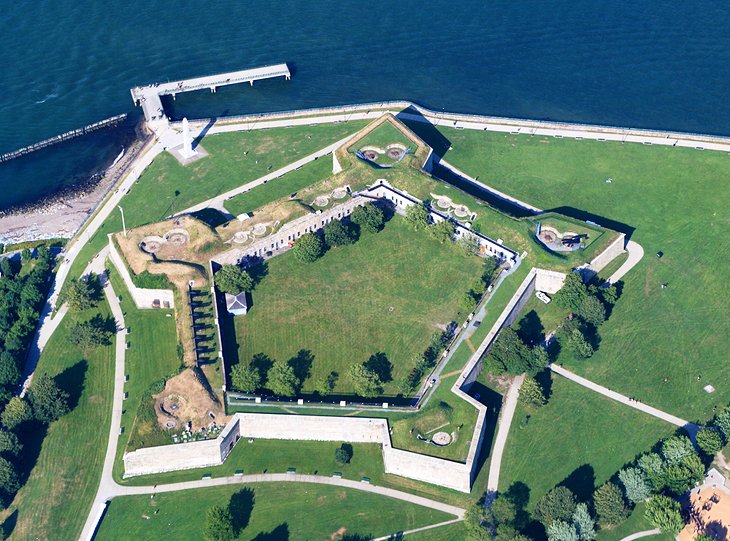 Castle Island offers spectacular city views and a cool breeze on even the most humid of summer days. Although the island is now connected to the mainland by a spit of land, walking out to the historic Fort Independence will still have you surrounded by water. Tours of the Fort are available along with added information about all the Harbor Islands from the knowledgeable guides.
Along the shore, Pleasure Bay beach offers access to the water. Visitors will find it best at low tide, when more beach is revealed, along with tide pools. There are also plenty of benches and shaded areas of grass perfect for picnicking.
Didn't pack a picnic? No worries. Stop at the infamous Sullivans for a burger or fish and chips. Top it off with summer's ubiquitous ice cream cone. The wait can be long, so plan accordingly. Early risers can get breakfast there as well; perhaps after a jog around the trails.
You can get to Castle Island by bus, and there is street parking lining the shore drive.
Continue the water experience by staying at the Boston Seaport Hotel. At night, the fire pits offer warmth when the temperature starts to drop.
Address: 2010 William J Day Blvd, Boston, Massachusetts
4. Wollaston Beach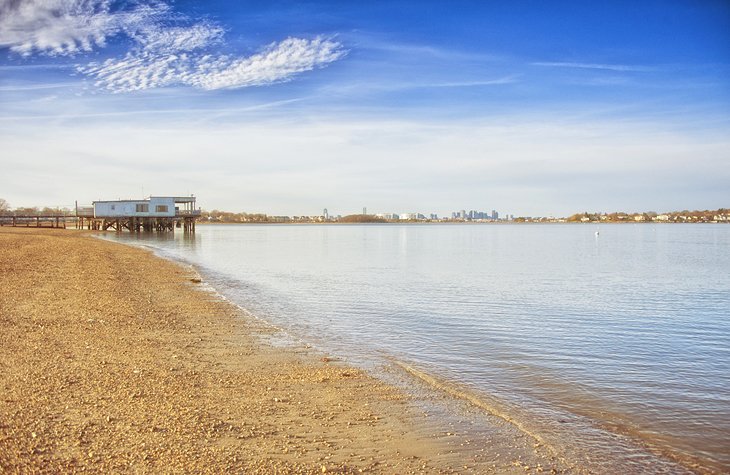 A 30-minute ride south of the city will take you to Quincy, a destination known for its historical landmarks. After touring and brushing up on your presidential knowledge, make your way to Wollaston Beach.
This popular spot is located on Quincy Bay and boasts a two-mile continuous walkway, perfect for those who like their exercise venue served with a water view. The crowd is mixed and family-friendly.
The beach runs along Quincy Shore drive, which boasts street parking. You'll also find concessions stands placed in sporadic locations. Across the street are several well-known seafood shacks, where you can get your fill of fresh New England fish. Views from the beach include Boston, several of the Harbor Islands, and nearby Hull. Be sure to charge your camera.
The reliable Marriott Boston Quincy has a pool and great breakfast spread in a convenient location from Wollaston Beach.
Address: 970 Quincy Shore Drive, Quincy, Massachusetts
5. Walden Pond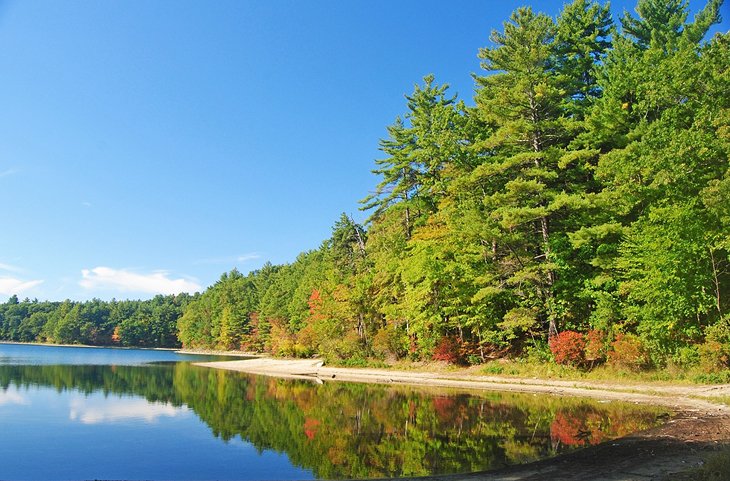 For a beach of a different kind, visit Walden Pond in Concord. Quiet, small, and stunning, this pondside beach transports tourists back in time to the days of Henry David Thoreau's famous writings. Surrounded by towering trees of all shapes and sizes, this is a fab spot to connect with nature. While you're here, make sure to visit the replica of Thoreau's intriguing, small writing cabin.
Park hours change with the seasons, but in summer, the spots get filled quickly. Make the effort to get there early and take a hike around the peaceful trail (after staking your claim on a perfect spot for your beach chair, of course). Your reward will be cooling off in the glacier lake rumored to be more than 100 feet deep.
Walden Pond is home to the sandy beach that tops our list of the best beaches near Boston, as well as plenty of picnic areas, restrooms, and a visitor center. In addition, there is a boat ramp for kayaks. You'll find the refreshing water very clean, as the park service works hard to keep invasive plants at bay. Take note that inflatables are not allowed.
The historic Concord's Colonial Inn gives tourists a slice of New England charm in the center of town. The Residence Inn by Marriott Boston Concord is a great spot for families, with a kitchenette and pool.
Address: 915 Walden Street, Concord, Massachusetts
6. Crane Beach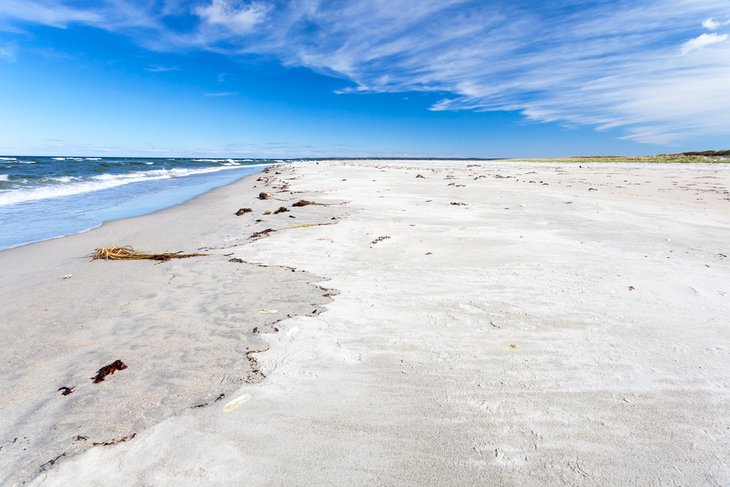 In less than an hour, sun worshippers can get from Boston to the idyllic Crane Beach in Ipswich. Visitors are greeted by four miles of sugar-white sand so soft, it massages each toe. Also on offer at this top beach in Massachusetts are over five miles of trails that guide guests through ecosystems ranging from maritime forests to coastal dunes. It's almost impossible to feel stressed here.
Doubling as a nature sanctuary, this serene spot comprises over 1,200 acres and serves as home to a variety of creatures, including captivating shorebirds. This area has been deemed one of the "world's most important nesting sites for piping plovers."
Dogs are allowed on the beach from October 1st to March 31st, and horses can visit during this time as well, with a city permit.
Speaking of permits, you'll need one (or a day pass, to be exact) to park at this beach. Buy an advance pass online to ensure your access to the beach even if it reaches capacity on the day you choose to visit.
A bathhouse (including restrooms), concession stand, and beach store are on-site, and lifeguards are on duty during the summer. Waterproof beach wheelchairs are available.
When you're bored of the sand, head to nearby Castle Hill, the spectacular estate home also located on the vast Crane Estate.
Address: 310 Argilla Road, Ipswich, Massachusetts
7. Nahant Beach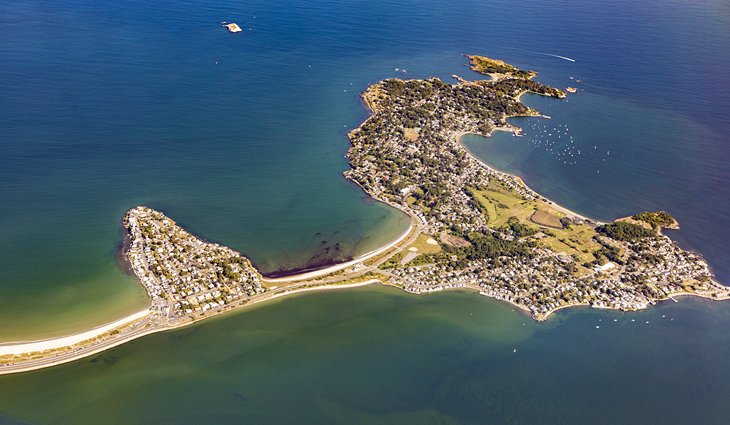 If you favor serenity and seclusion in your beach escapes, Nahant Beach is for you. Sometimes referred to as Big Nahant and Little Nahant, this 67-acre protected area lies 15 miles north of Boston and served as a popular summer retreat for wealthy Bostonians in the early 1900s. Its Indian name means "two things united."
Nahant beach lies on a quiet peninsula, buffered by the Atlantic and jutting into Massachusetts Bay. Nahant is one of the few towns in the state to only be touched by one other municipality. The rest is surrounded by water.
The protected reserve includes a ramp that gives boaters access to Lynn harbor, athletic fields, parking for a fee, and a bath house. Additional amenities include seasonal lifeguards, a restaurant, and snack bar. With so much on offer, and so much beauty on display, this is easily one of the top beaches in the Boston area.
Numerous bike paths add another element of interest. Shade is scarce, so bring your own umbrellas and enjoy a beach that gently slopes into the water and remains shallow and calm for quite a distance. The two-mile walkway is great for jogging or a stroll to take in the scenery.
Address: 1 Nahant Road, Nahant, Massachusetts
8. Revere Beach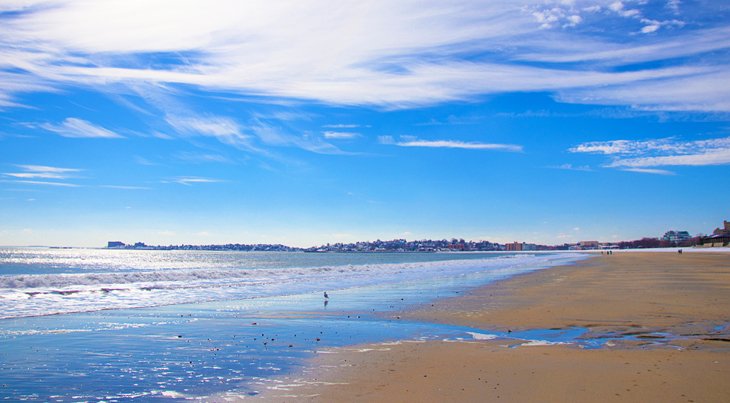 The roller coasters and carousels might be attractions of the past at Revere Beach, but that doesn't mean there isn't plenty of action on this stretch of sand that lies five miles north of Boston.
Pavilions with a Victorian flair, food vendors, and a heavy beat from the radios of passing cars all contribute to the ambience of what is known as the first public beach in America. This two-mile crescent is an ideal swimming beach, with gentle waves curling into shore. Views in the distance of lighthouses and passing boats add depth to the horizon. v
Athletic fields, a bandstand, restrooms, and seasonal lifeguards make this a spot where people are likely to spend all day. Told you there was still plenty of action! Well known for its Sand Sculpting Festival in July, the popular beach can attract as many as 100,000 visitors on a busy weekend.
Easily accessed from Boston via the T's Blue Line, there is also metered parking along the boulevard, which is populated with walkers all day long. Dogs are not allowed from April to mid-September.
The Comfort Inn & Suites Boston Logan International Airport is a great spot for families to rest their heads after a busy day spent at the beach. Kitchenettes and a pool along with the colorful Mexican restaurant makes this a popular destination close to Revere Beach.
Address: 350 Revere Beach Blvd, Revere, Massachusetts
9. Constitution Beach Park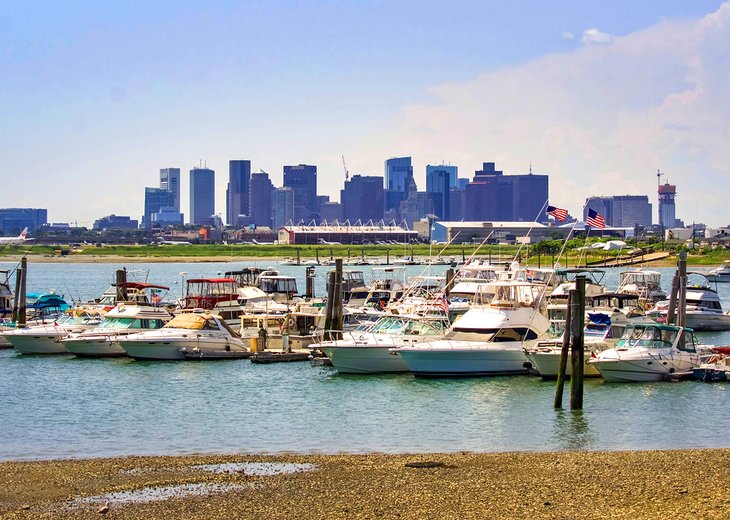 It will take less than 15 minutes to drive to Constitution Beach, one of the closest beaches to downtown Boston, or only a few minutes longer if you choose to take public transportation: Take the blue line to Orient Heights or the MBTA bus to Bennington Street.
Located in the Orient Heights neighborhood of East Boston, this is a popular spot to cool off with a dip in the Atlantic and watch planes flying into and taking off from Logan Airport while admiring the pretty view of Boston Harbor. Don't expect to be alone on this stretch of sand.
While the sand feels more gritty than soft, it still serves its purpose - as a base for lounging, sunning, sandcastle-building, and walking. Plus, parking in the main lot and access to this beach are free. Yay!
Lifeguards are on duty during the summer, and restrooms, a bathhouse, concession stand, playground, tennis courts, baseball diamond, and basketball courts are also available.
The Hilton Garden Inn Boston Logan Airport lies just over a half mile from the beach, offering guests an easy 14-minute commute by foot to the soft, sandy shore. It boasts a fitness center, indoor pool, and a free airport shuttle.
10. Devereux Beach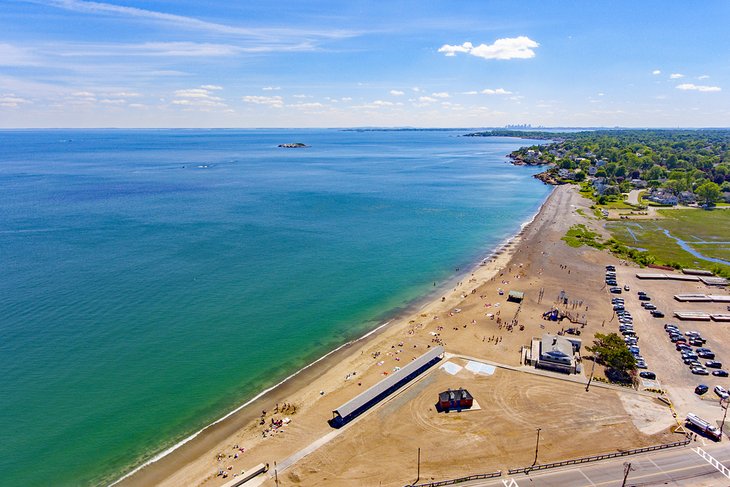 Devereux Beach may be a bit out of the way, but this top Marblehead beach is considered one of the best beaches within easy reach of Boston. A 45-minute jaunt northeast will reward visitors with a scenic coastal journey, as well as an enjoyable sandy beach to lounge upon during a warm, sunny day.
Summer is the best time to visit Devereux Beach for numerous reasons: the temperature is much better, of course, but this is also the point at which lifeguards go on duty. You'll find them watching the surf between 9:30am and 3:30pm.
On-site, you'll find a concession stand and picnic pavilion. The restrooms are open from early morning (about 7am) to late afternoon (about 4pm) during the summer season, as long as the weather cooperates.
An access mat makes it easy for those in wheelchairs or pushing strollers to get right on the sand.
11. Good Harbor Beach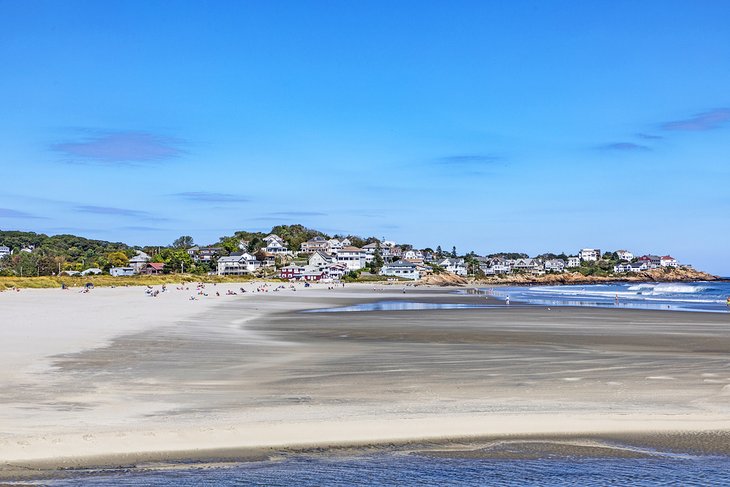 The stunning Good Harbor Beach is located over 40 miles northeast of Boston. Less than an hour's drive away, in nearby Gloucester, its location alone makes it worth a visit, not to mention the pristine conditions.
This is deemed one of the best beaches in Gloucester for good reason. Sugar-white sand massages your feet as you walk along the beach's soft base, while the captivating kaleidoscopic sunsets are unforgettable. Lifeguards are on duty during summer, and there are restrooms, showers, and a concession stand on offer.
If you're hoping for more space to explore, visit the beach during low tide. A land bridge unveils itself at this time, linking Good Harbor Beach to Salt Island. Don't stay too long, though, or you could get stuck in high tide.
Those who'd rather spend their day getting wet should time their visit for high tide. This is when you can enjoy more water-based fun, like boogie boarding. Note: surfboards and inflatable rafts are banned between Memorial Day and Labor Day.
12. Esplanade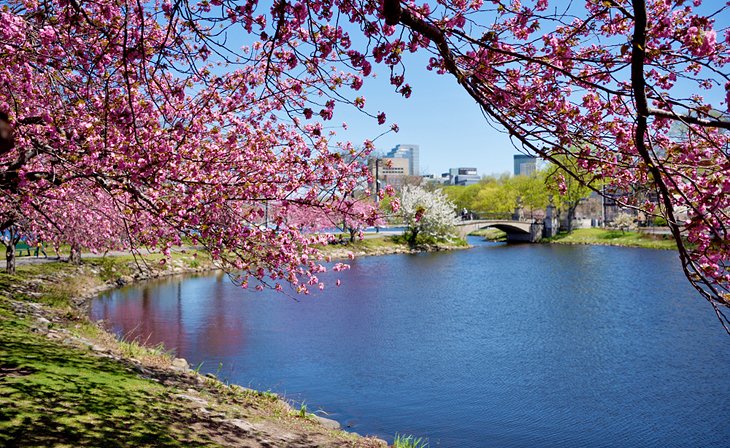 With the abundance of waterfront property surrounding much of Boston, residents stretch the term "beach" to include the beautiful Esplanade, summertime home to the Boston Pops. This grassy stretch of park lining the Boston side of the Charles River is filled with activity year-round.
The 18-mile paved path is busy throughout the day and early evening with runners and joggers. Kayaking, sailing, and stand up paddleboards are all available for those wanting to get on the water. Adirondack chairs are strategically placed on floating wooden docks for the ultimate sunset perch. A lagoon and canals invite further exploration, and several playgrounds, some with water features, provide plenty of kid space.
Restaurants and cafés are just a few blocks away, no matter where you might choose to place yourself along the inviting space. Food trucks are often found near the river. While visiting Boston, if you have limited time and want to quickly get to a relaxing place on the water, the docks and green beaches of the Esplanade will likely call your name. Access is by one of the eight footbridges crossing over to the road.
The elegant Fairmont Copley Plaza, Boston is located within walking distance of the Esplanade. Nearby is shopping and a myriad of restaurants. For a more boutique experience, the Revere Hotel Boston Common has an excellent Boston Common location and the added benefit of a pool.
Address: Charles River Esplanade, Boston, Massachusetts