15 Top-Rated Things to Do in Old Saybrook, CT
While small in size, Old Saybrook overflows with enough quintessential New England charm to make it a go-to vacation destination, especially in the summer. One of the oldest and most beautiful towns in Connecticut, Old Saybrook offers a slew of fun things to do in a lovely and serene setting.
Situated just over 100 miles from both New York City and Boston, Old Saybrook is one of the best places to visit in Connecticut. A pretty village rich in colonial history, it boasts a stunning shoreline along the mouth of the Connecticut River where it meets the Long Island Sound.
Whether you're a fan of lounging on a soft, sandy beach (hello, Harvey's Beach), dining on an outdoor patio overlooking the Long Island Sound (yum, Fresh Salt), or soaking up history in famed mansions (nothing beats the Florence Griswold House), you're in for a treat.
Have children in tow? Great. All of the tourist attractions in Old Saybrook are family-friendly, so you won't be at a loss for exciting things to do with kids.
Before you leave, plan your trip with our list of the top things to do in Old Saybrook.
1. Get Inspired at the Katharine Hepburn Cultural Arts Center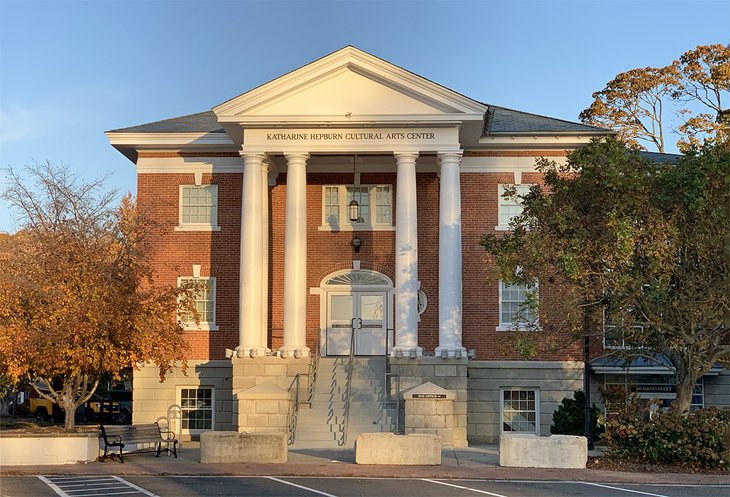 Known locally as The Kate, the Katharine Hepburn Cultural Arts Center serves as the town's artistic heart. Opened in 2009 to honor the multiple Academy Award-winning actress and famous former resident, The Kate is the most popular tourist attraction in Old Saybrook.
The Kate is housed in what was once Town Hall, the original home of the Old Saybrook Musical and Dramatic Club (circa 1911). Today, visitors are treated to a wide variety of performances. Everything from films to concerts to dance performances to plays can be enjoyed here.
Fans of the iconic film star will enjoy the center's small museum featuring photographs; awards, which include an Emmy; and a self-portrait. It's open Tuesdays through Fridays from 10am to 4pm and one hour prior to performances. It is free to enter.
Address: 300 Main Street, Old Saybrook, Connecticut
Official site: https://www.katharinehepburntheater.org/
2. Appreciate Impressionist Art at the Florence Griswold Museum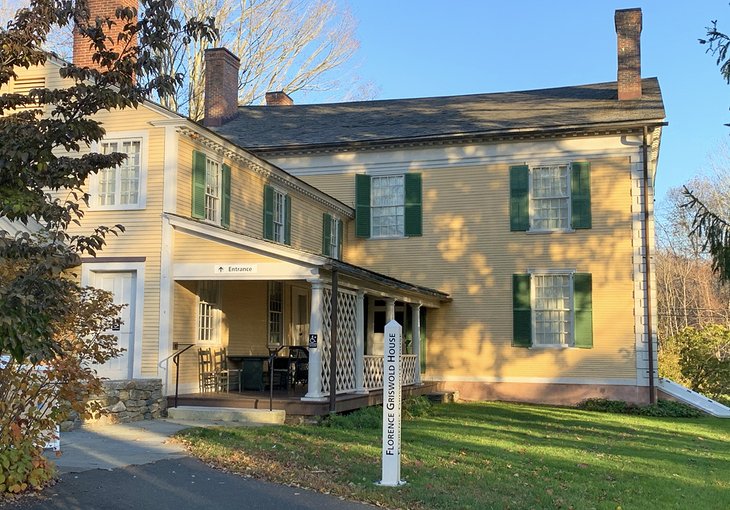 The next-biggest attraction in Old Saybrook lies just outside its borders. The Florence Griswold Museum is set about five miles northeast in the attractive town of Old Lyme. It stretches across 12 acres and is highlighted by the sparkling Lieutenant River.
A Georgian masterpiece designed by Samuel Belcher in 1817, the bright yellow Florence Griswold House is the star attraction of this museum compound. Once a boarding house run by its namesake, this structure hosted numerous artists who later founded the American Impressionist Old Lyme Art Colony.
More than 130 artists boarded in this pretty home between 1899 and the 1930s, some of whom were invited to paint panels on the house's walls and doors. Today, over 40 uniquely painted panels can be found on display.
Artworks created by over 200 acclaimed artists like American Impressionists Matilda Browne, Childe Hassam, and Willard Metcalf are also on display.
Insider's tip: Ask for a "Scavenger Hunt." This fun list, which provides visitors with objects to find throughout the house, is a great way to keep kids interested.
Address: 96 Lyme Street, Old Lyme, Connecticut
Official site: https://florencegriswoldmuseum.org/
3. Glimpse Life in the Revolution Era at General William Hart House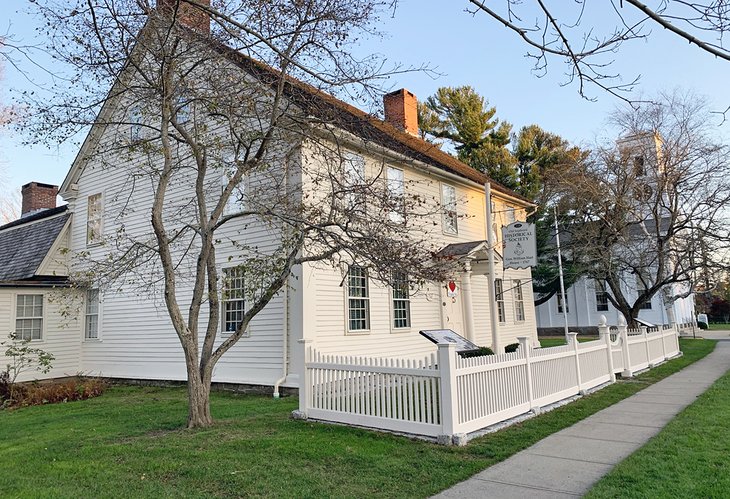 A remarkably preserved example of Georgian colonial architecture, the General William Hart House dates to 1767 and currently houses the Old Saybrook Historical Society.
This beautiful building is listed on the National Register of Historic Places and contains many features that exemplify the wealth of its past owner, General William Hart. A Revolution-era political and military figure, General Hart originally built the house for his then-bride, Esther Buckingham.
Inside, visitors are greeted by memorabilia from multiple eras, including the Saybrook/Guilford Chest, sealskin-covered Cromwellian Chair, and a detailed outfit worn by Governor John Winthrop Jr.
Insider's tip: Don't miss the 18th-century-style Hart House Heritage Gardens located behind the house. They feature shrubs, roses, fruit trees, and flowers that are particularly spectacular in the spring and summer.
Address: 350 Main Street, Old Saybrook, Connecticut
Official site: https://saybrookhistory.org/hart-house/
4. Build a Sandcastle at Harvey's Beach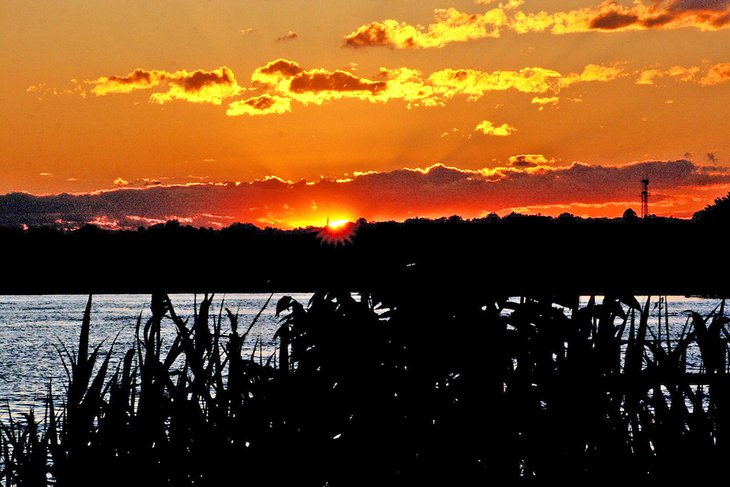 Soft white sand and the most remarkable sunsets reward visitors to Harvey's Beach. A wonderful spot to relax, this lovely beach has been deemed one of the best beaches in Connecticut. This shore boasts the calm, shallow water of the Long Island Sound, making it a family-friendly beach popular with those toting young kids.
One hundred yards of pristine shoreline; a playground; and clean, clear water welcome visitors looking for a fun day out at this sandy beach. If you are hoping for more space, visit during low tide, when even more sand is revealed, as well as amazing marine creatures. You'll want to bring a bucket and shovel for the kids.
Lifeguards are on duty from Memorial Day weekend through Labor Day and seasonal amenities include restrooms, outdoor showers, changing rooms, and a concession stand. During this time, the town's parks and recreation department puts on fun programs such as movie nights and beach yoga.
Address: 29 Plum Bank Road, Old Saybrook, Connecticut
5. Steep Yourself in History at Fort Saybrook Monument Park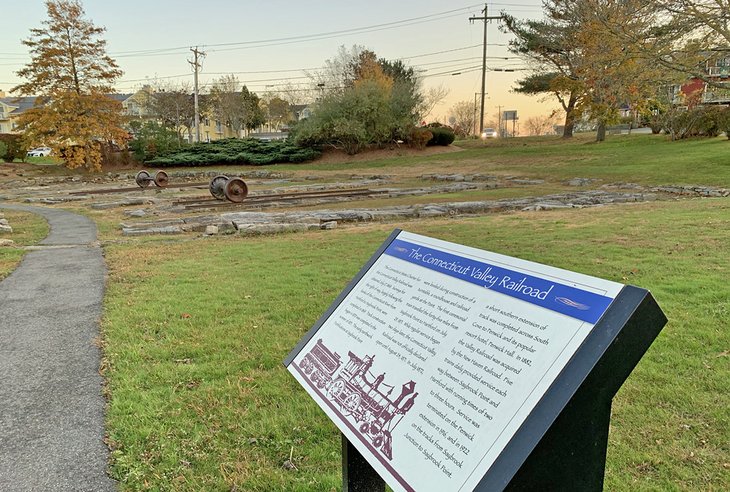 Fort Saybrook Monument Park stretches across nearly 18 acres to the mouth of the Connecticut River. Found at the end of Saybrook Point, this impressive area, 11 acres of which are marshland, is home to one of the least-developed large river tidal systems in the United States.
In addition to its natural wonders, this park offers visitors a history lesson in the form of informational signs spanning the area's development in the late 1500s to the Fort's leveling and transformation into a track and roundhouse for the Connecticut Valley Railroad.
The original fort, which included a windmill, was built in the 1630s in honor of Connecticut Viscount, Saye & Seale and Lord Brooke–the town's namesakes. It was sold in 1808 and renamed Fort Fenwick in 1812.
In 1981, high school students purchased the land for $1.27 and deeded it to the Town of Old Saybrook who continues to run it as a park today.
Nearby lies the popular Mini Golf at Saybrook Point, which is open from Memorial Day weekend through Columbus Day Weekend.
Address: 150 College Street, Old Saybrook, Connecticut
6. Take a Hike at Rocky Neck State Park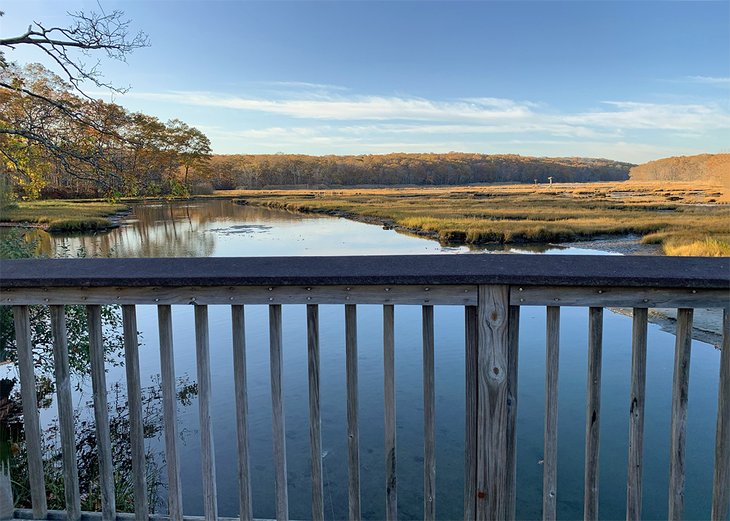 A quick, 10-mile drive east will get you to Rocky Neck State Park in East Lyme. Most popular for its soft, sandy beach, this vast park gets busy on warm summer days. Build a sandcastle, cool off in the water, or enjoy a picnic on the beach at this popular Connecticut state park.
In addition to offering visitors a pristine place to soak up some rays, you'll also find access to fishing, hiking, and camping on-site. With 710 acres at your disposal, there are plenty of places to adventure and varied terrain to explore.
Visit Baker's Cave, look for blue crabs in the salt marsh, or head to Tony's Nose. Love to fish? Cast your rod in Bride Brook, which brims with mackerel, flounder, and striped bass.
Don't want to leave? We don't blame you. Set up a tent at one of 160 campsites. Rocky Neck State Park is deemed one of the best places for camping in Connecticut for good reason.
Address: 244 West Main Street, East Lyme, Connecticut
Official site: https://portal.ct.gov/DEEP/State-Parks/Parks/Rocky-Neck-State-Park
7. Soak up Nature in The Preserve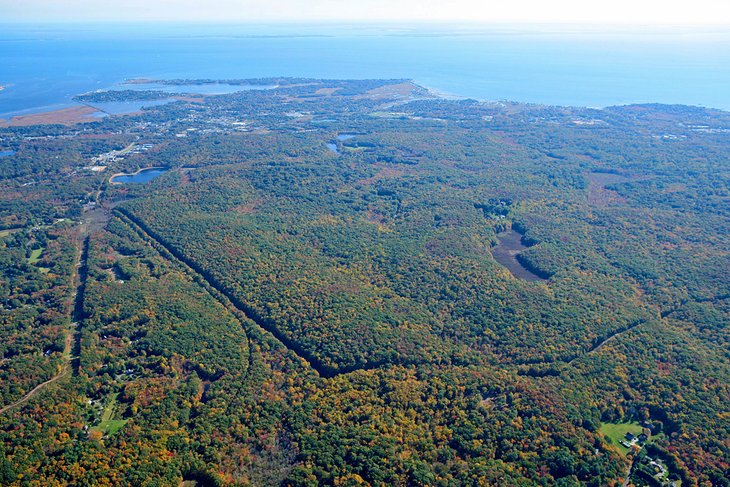 There's nothing better than a hike to clear your head. And, there's no better place to wander in Old Saybrook than the nearly 1,000-acre coastal forest known locally as The Preserve. Its vast expanse blankets a large section of land in this quaint town, as well as Essex and Westbrook.
Up until the spring of 2015, this natural wonderland was deemed the largest remaining area of unprotected coastal forest lying between Boston and New York. Since then, it has become a protected environment well loved by locals and tourists alike.
This massive preserve is home to a variety of flora and fauna that are on full display within its densely canopied forest, freshwater seeps, wetlands, and ponds. Over 57 types of birds, 30 species of mammals, and 25 breeds of amphibians and reptiles have been spotted in this area, making it one of the best places to visit with kids and animal lovers.
Multiple trails wind their way through The Preserve, leading hikers past Oyster River, as well as the Mud and Trout Brook Rivers, which are both tributaries of the Long Island Sound.
Parking can be found at 1278 Essex Road in Westbrook, or there are five spaces available on Ingham Hill Road in Old Saybrook.
Official site: https://portal.ct.gov/DEEP/State-Parks/Forests/The-Preserve
8. Go Shopping on Main Street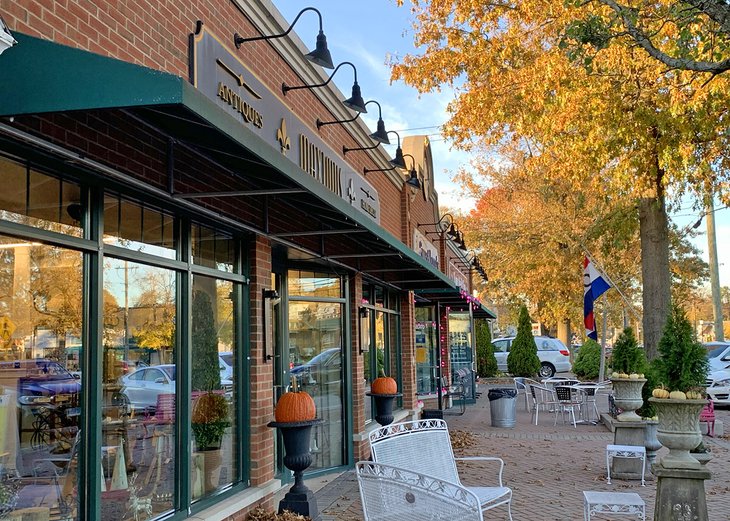 Old Saybrook boasts a wide, easily walkable Main Street. This is the town's retail center, and it's the most popular place to shop. Whether you're searching for freshly made fudge, a watercolor painting, or a kayak, you'll find it all on this cute street.
A haven for lovers of all things vintage, Old Saybrook is home to a bevy of antiques stores. Maximus Antiques features a large (4,500-square-foot) showroom bursting with a wide variety of carefully selected finds. You'll find everything from jewelry to dishes to old chairs on display.
Cottage Flair offers rustic home décor, including hand-painted furniture and unique clothes and accessories. Love the shabby chic look? This eclectic store brims with newly repurposed vintage finds and unique gifts.
9. Enjoy Art and the View at The Robert and Nancy Krieble Gallery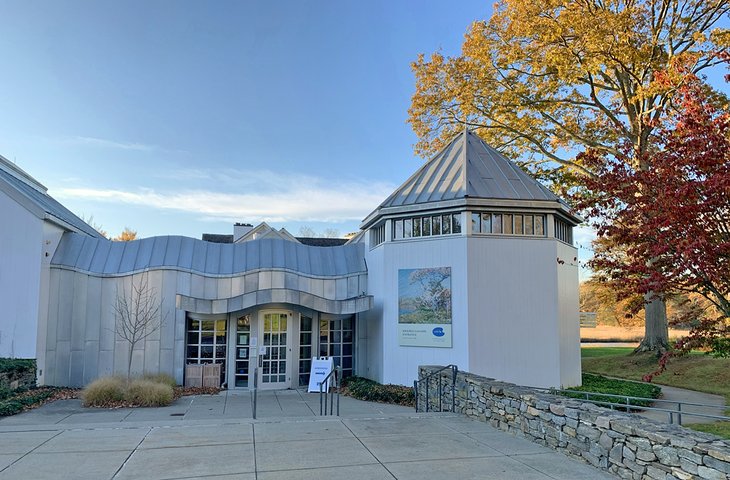 The magnificent Krieble Gallery sits on the Florence Griswold Museum campus, just past the Historic Barn and Hartman Education Center. Behind it, the Lieutenant River sparkles in welcome, inspiring guests to relax. Waves of aluminum greet visitors at its entrance, evoking watery ripples from the neighboring river.
A welcome addition to the museum, the Krieble Gallery opened in 2002. Inside this 10,000 square-foot state-of-the art building lies a vast collection of American art that changes with new exhibits three or four times each year.
Special skylights allow natural light to highlight the works on display. This gallery is also home to the museum shop; restrooms; collection storage; and Café Flo, a quaint restaurant featuring a veranda with a picturesque river view.
Insider's tip: Ask for a "Can You Find Me?" card in the gallery. A family-friendly activity, kids will love finding the noted details in exhibited paintings.
Address: 96 Lyme Street, Old Lyme, Connecticut
Official site: https://florencegriswoldmuseum.org/visit/museum-campus/#Krieble_Gallery
10. Stay at the Saybrook Point Resort & Marina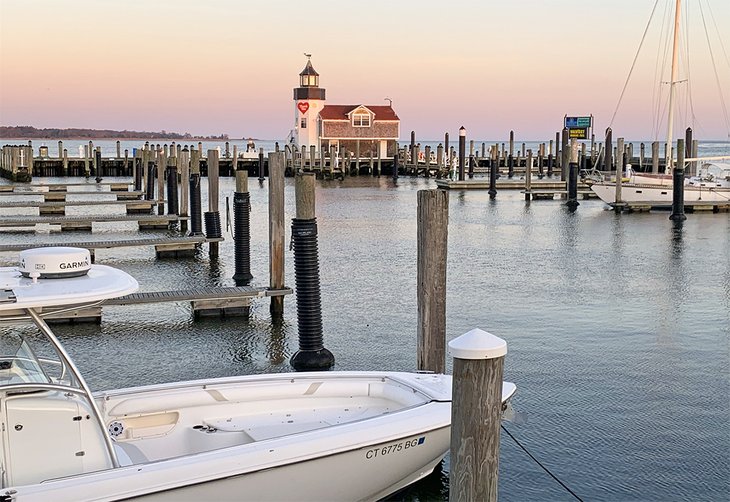 If you're looking to lap up some luxury during your stay in Old Saybrook, you'll want to book a night (or three) at its most raved about hotel: the Saybrook Point Resort & Marina. Home to unbeatable views, this gorgeous spot is easy to love.
A bright yellow blip on Saybrook Point, this captivating hotel boasts 82 comfortable rooms in its Main Inn, as well as two large, historic guesthouses across the street. Pamper yourself at the lavish spa or enjoy a scrumptious meal on the outdoor patio at Fresh Salt.
For those hoping for a truly memorable experience, opt for a stay in the Lighthouse Suite. Dubbed the "Most Romantic Place to Stay," this picturesque spot provides incredible vistas of the Sound from its optimal location on the main dock.
Address: 2 Bridge Street, Old Saybrook, Connecticut
11. Grab a Bite in Town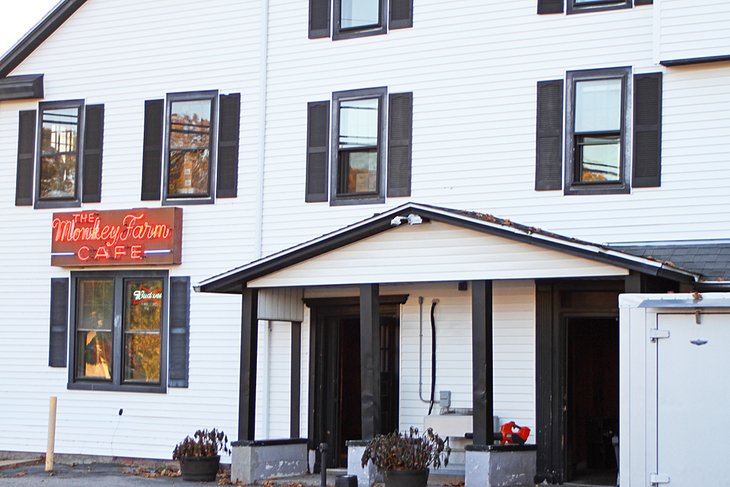 There is no shortage of good restaurants or cafés in Old Saybrook. Whether you're hankering for a fresh taco or hope to devour a tasty treat, you'll find a bevy of good eateries to choose from in town.
Housed in what used to be the Saybrook Inn, the Monkey Farm Café (571 Boston Post Road) is a hot spot for comfort food like soups, sandwiches, and pizza. It was renamed in 1978 to pay homage to a diner from the early 60s.
Upon hearing the innkeeper tell another customer to "watch over the place" until he returned from a trip, the diner said, "they'll let anyone work here; this place is nothing but a Monkey Farm."
Liv's Shack is a real treat for seasonal seafood lovers. Set in the Harbor One Marina on Bridge Street, this beloved summer spot offers up the freshest of fish in the dreamiest of settings. Enjoy your tasty meal on a picnic table overlooking the water.
This small "shack" began as a weekend stand operating at the Durham Fair and Connecticut Farmer's Market. Their food was so divine, they were asked to open a restaurant, so they did.
12. Get Creative at the Lyme Art Association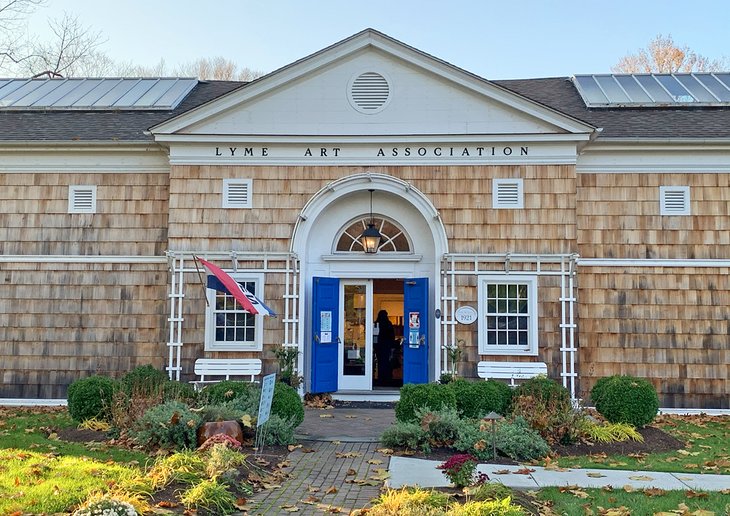 A vibrant gallery lies next door to the Florence Griswold Museum, inviting visitors to marvel at its impressive works. Inside its walls, you'll find creations made by artists of all talents–from full-on beginners to experienced professionals.
Incorporated in 1914, the Lyme Art Association has been exhibiting the works of its members since 1902, when Lyme Impressionist paintings were put on display each summer. These shows were held in the Phoebe Griffin Noyes Library until the current gallery space opened in 1921.
Today, the building hosts seven annual exhibitions and displays close to 1,500 works every year. Looking to up your artistic talents? Book a class or workshop. You can learn everything from beginner oil painting techniques to portrait drawing to figure painting.
Address: 90 Lyme Street, Old Lyme, Connecticut
Official site: https://lymeartassociation.org/
13. Cruise to the Lynde Point Lighthouse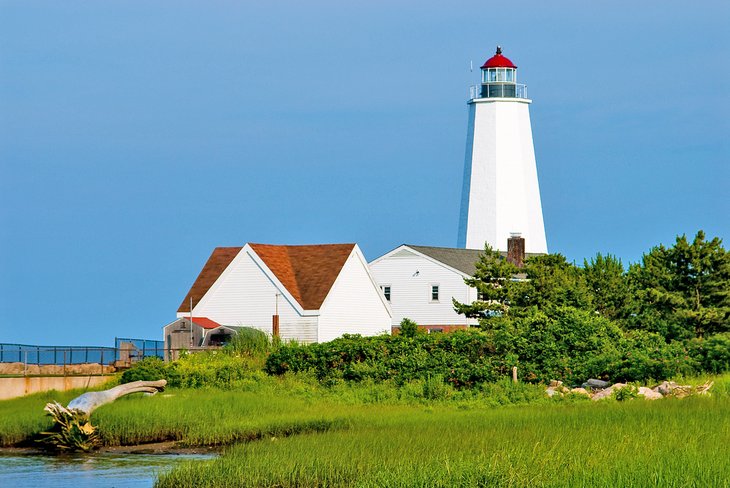 Built in 1803, this beacon has guided ships through the mouth of the Connecticut River into the Long Island Sound for centuries. The original building, which towered 35 feet above the harbor entrance, was replaced in 1838 by the 65-foot, octagonal brownstone tower seen today.
The best (and basically only) way to see the Lynde Point Lighthouse is by boat, so rent a kayak or book a cruise for an optimal view. Getting there by car is virtually impossible, as the light is situated on private property in Fenwick.
The Lynde Point Lighthouse lies at the end of a secluded road in an exclusive community that once was home to Katharine Hepburn. Cars are allowed to drive through the winding neighborhood, which includes a golf course, but there's no access to the light, or any place to park.
Address: 102B Sequassen Avenue, Old Saybrook, Connecticut
14. Visit St. John Catholic Church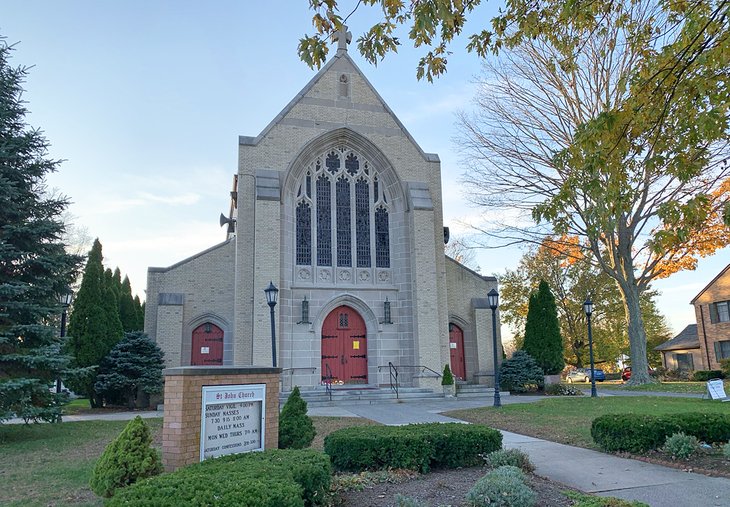 Built in the early 20th century, St. John Catholic Church is a tranquil spot to collect your thoughts and unwind. Highlighted by three red, domed doors, as well as a large and intricate stained-glass window, this pretty building adds an extra level of charm to Main Street.
Whether you choose to attend a weekly mass (Monday, Wednesday, and Thursday mornings at 7:15) or a weekend service, you will always be welcome at St. John Catholic Church. For locals, they offer confessions by appointment.
Those hoping to poke their heads in the door to admire the gorgeous wooden pews and elaborate arches and sculptures within won't be disappointed.
Address: 161 Main Street, Old Saybrook, Connecticut
Official site: https://www.saintpioct.org/
15. Clark Community Park
Known locally as Town Park, Clark Community Park is a treasure for nature lovers looking for a quiet escape. Boasting 180 acres and the pretty Crystal Lake, it's easy to find peace during a visit to this natural attraction.
Wander the numerous trails (or ski along them during winter), fish in the lake (but no swimming is permitted), or let the kids loose in the playground while you enjoy a well-deserved breath of fresh air. A basketball court and playing fields are also on-site if you're looking to be a bit more active.
Designated picnic areas make it easy to enjoy a meal while you're out, which you'll deserve after a morning spent hiking along the red, blue, or yellow trails.
Have a fluffy friend you'd like to bring along? Clark Community Park is dog-friendly, which means they're allowed to enjoy a stroll on leash throughout the park.
Address: 170 School House Road, Old Saybrook, Connecticut
Map of Things to Do in Old Saybrook, CT
Old Saybrook, CT - Climate Chart
Average minimum and maximum temperatures for Old Saybrook, CT in °C
J
F
M
A
M
J
J
A
S
O
N
D

3

-4

4

-4

8

-1

13

4

19

10

23

15

27

19

26

18

23

15

17

9

12

4

6

-1

PlanetWare.com
Average monthly precipitation totals for Old Saybrook, CT in mm.

104

89

102

104

88

95

80

117

90

95

103

100
More Related Articles on PlanetWare.com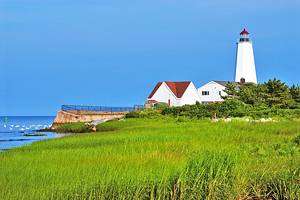 More Things to Do in Connecticut: Whether you're a fan of golden-sand beaches, sparkling lakes, or thundering waterfalls, the Nutmeg State offers a bevy of wonderful open-air adventures. Once you've finished sightseeing and exploring the great outdoors, stay in one of these adorable beach towns.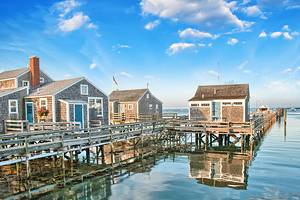 Explore New England: One of the most charming regions in the country, New England provides visitors with quaint towns, friendly locals, and magnificent natural beauty. Book a weekend getaway in Massachusetts or strap on comfy shoes and spend a day on one of the best hiking trails in New Hampshire.