14 Best Beaches near Mystic, CT
Mystic is a small Connecticut town oozing New England charm. Once a booming seaport, this maritime gem boasts an impressive Seaport Museum, an incredible aquarium, and fabulous shops and restaurants. Featuring beautiful vistas, its lovely area beaches are also worthy of a visit, especially during the summer.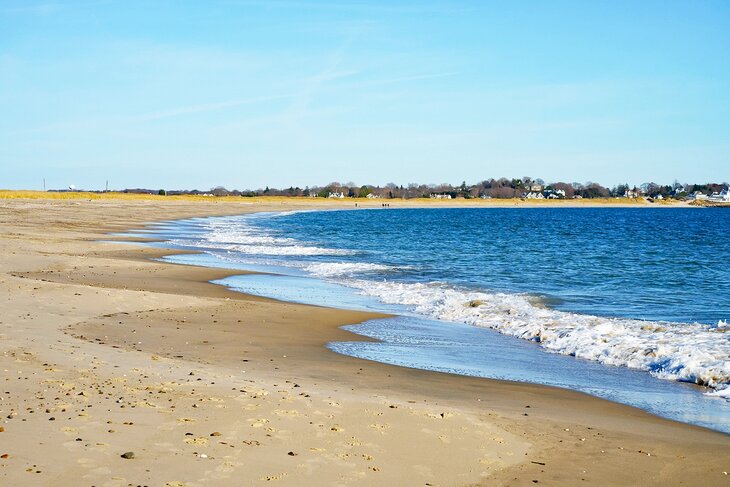 A popular spot for a Connecticut weekend getaway, Mystic's pretty local beaches attract visitors craving that vacay feeling of sand between their toes while also offering up the fun amenities found in this adorable seaside town.
While technically only one beach lies within Mystic, visitors enjoy other sandy strands located only a few miles away. Whether you're looking for a family-friendly beach boasting amusement park rides or a secluded spot to fish, you'll find a beach to love on our list of the best beaches in Mystic.
1. Williams Beach Park, Mystic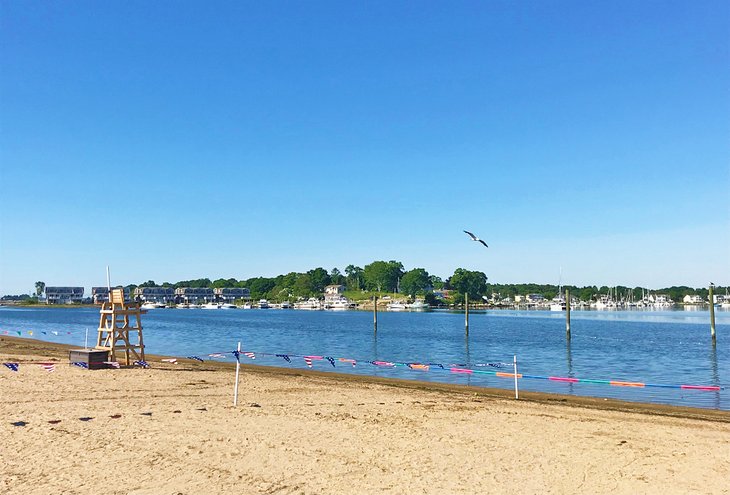 Williams Beach Park is the only public beach in Mystic. You'll find this sandy shore, featuring a soft tan base, at the Ocean Community YMCA. Kids will love chasing each other into the waves at Williams Beach Park. Being quite small (the strand is only 120 feet long), there's no risk of them getting lost at this beach in Mystic.
Beside the sand lies another kids' fave: a colorful playground welcoming them to swing, climb, and jump their way through the day. The area also boasts spacious fields and a picnic area to add a little variety to your beach day. Another bonus: parking is free!
The surf at Williams Beach Park is most often calm, making it a fun spot for families to visit. That said, there are no lifeguards on duty, so you should be extra vigilant around the water, especially if you're traveling with kids.
Insider's tip: Ensure an uber-fun day by packing a picnic, paddleboard, kayak, sand toys, and a beach ball.
Address: 1 Harry Austin Drive, Mystic, Connecticut
2. duBois Beach, Stonington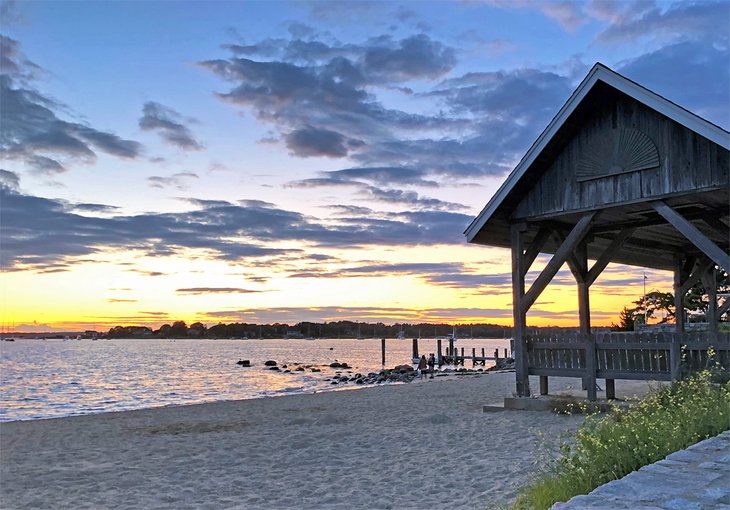 Don't miss the sunset at duBois Beach. Located at the tip of Stonington Point, across from the Stonington Harbor Lighthouse, this small sandy strand boasts an impressive watery vista of Fisher's Island Sound, Stonington Harbor, and Little Narragansett Bay. Technically, this beach lies in Stonington, a quintessential suburb of Mystic.
Enjoy shade from the wooden gazebo, build a sandcastle, or watch the kids splash in the calm water. During the summer, lifeguards are on duty but a small fee is requested to help maintain the beach, which is owned by the Stonington Village Improvement Association. Parking is free.
DuBois Beach's close proximity to the shops and restaurants of Water Street make it easy to grab takeout for a tasty picnic.
Insider's tip: Use the restroom before heading back to the beach, as you won't find amenities here. Also, be sure to take your garbage when you leave.
Address: 5 Water Street, Stonington, Connecticut
3. Napatree Point Conservation Area, Westerly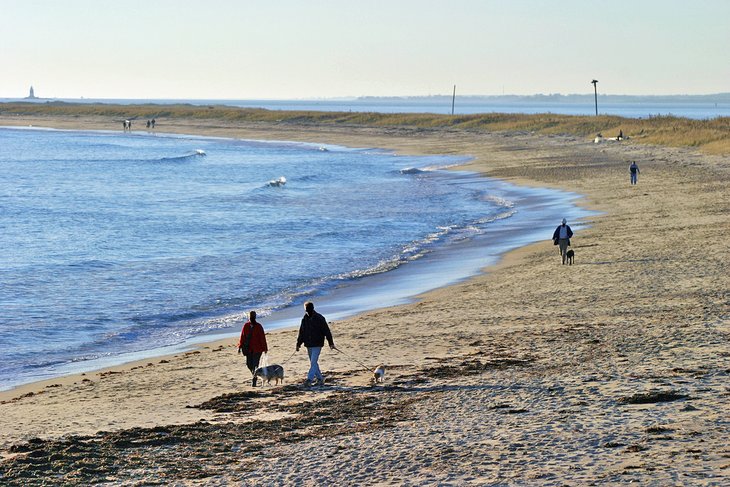 If you time it right, you may catch sight of vibrant butterflies flittering about the goldenrod lining the path to this pretty Rhode Island beach located in Westerly. It's a mere 14 miles from Mystic, but you'll want to set out early to get the most out of your day at this utopia.
A quiet wonderland of natural beauty, the vibrant blue waves and soft, sandy shore aren't the only attractions in Napatree Point Conservation Area. Birds, crabs, and other wildlife are known to roam the 86 acres. In fact, this spot has been designated as a "Globally Important Bird Area." Pack a camera.
The area was originally named "Nap of Trees" to pay tribute to the dense forest covering the ground. Storms (especially those in 1815) have destroyed most of the trees in the area, leaving sand dunes and an unobscured view of Little Narragansett Bay.
You won't find amenities or even trash cans in this protected area, so bring what you'd like to eat and drink, and remember to take it with you when you leave.
Insider's tip: Street parking is set at a two-hour maximum, so look for a lot if you're planning to spend longer. Their fees can be anywhere from $20 to $35 for the day.
Address: 99 Fort Road, Westerly, Rhode Island
4. Esker Point Beach, Groton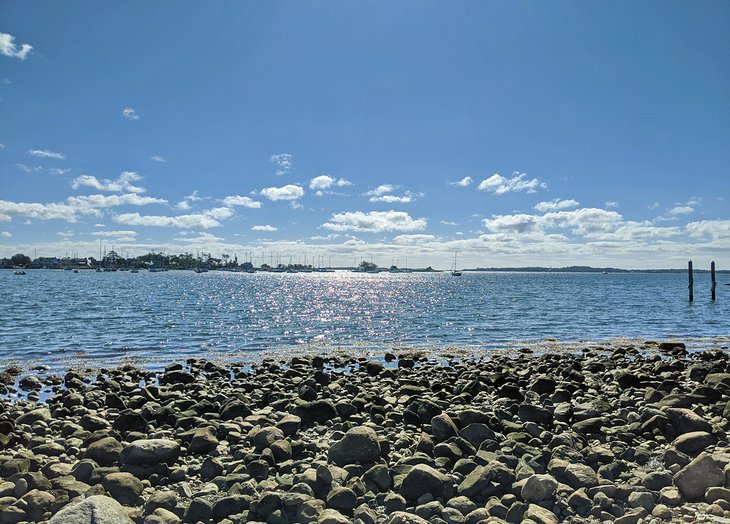 A quick, seven-minute drive will get you to the public Esker Point Beach, near the interesting attractions found in Groton. Although this beach also lies outside the Mystic lines, it's close enough (just over three miles) to visit easily. It boasts a boat launch, grassy picnic area, concession stand, and grills. Parking is free.
In addition to the sand (which is quite rocky in parts), visitors can enjoy six volleyball courts (bring your own ball) and amenities, including outdoor showers and restrooms at this pretty beach near Mystic.
Be careful near the water, as there are no lifeguards on duty. This shouldn't be a problem since the surf is basically nonexistent in quiet Esker Bay. Don't miss the Summer Soundwaves Beach Concert Series on Thursday nights from 6 to 8pm. They start mid-June, are family-friendly, and are free to attend! Sadly, dogs aren't allowed to attend, so you'll have to leave Fido at home.
Another bonus: Esker Point Beach allows dogs.
Address: 900 Groton Long Point Road, Groton, Connecticut
5. Bluff Point State Park, Groton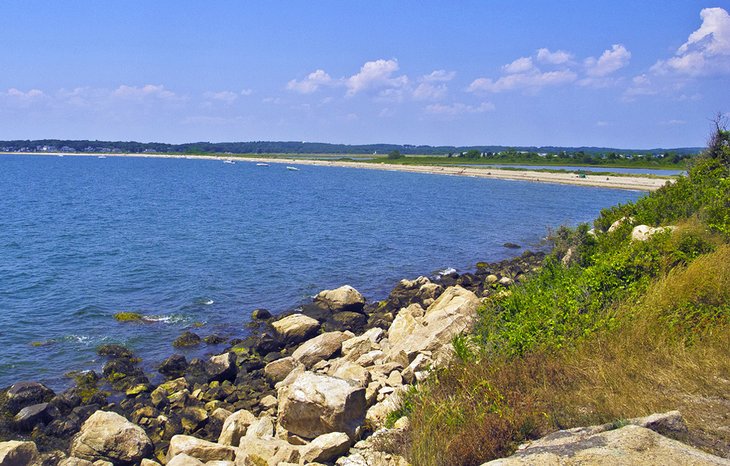 Pretty Bluff Point State Park stretches into the Long Island Sound. An undeveloped natural wonderland, this forested peninsula (measuring 1.5 miles long by one mile in width) offers visitors a chance to get up close and personal with some of the area's most incredible plant and animal species in one of Connecticut's loveliest state parks.
An easy trip from Mystic, the drive will only take about 10 minutes. A long dirt trail takes visitors to the beach, which is rocky enough to require shoes. It's also filled with shells, a treat for collectors everywhere.
It's a bit of a trek to get here, so you'll want to pack water and snacks. As with most beaches near Mystic, there aren't trash cans, so take the garbage with you.
The main reason people visit this park can be found at the top of the bluff. The view from here is spectacular, especially if you time your visit for sunset. Insider's tip: Bring a flashlight for your hike back to the car and binoculars to spy the captivating wildlife who call this area home.
Address: 55 Depot Road, Groton, Connecticut
6. Ocean Beach Park, New London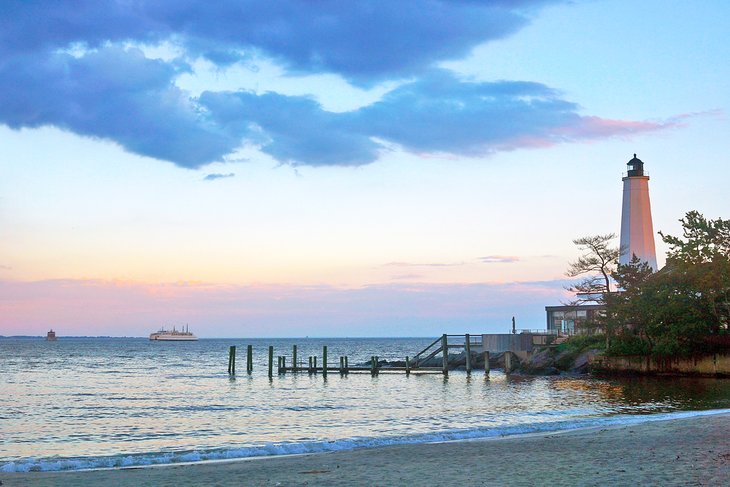 Ocean Beach Park is one of the best beaches in Connecticut. Kids will beg to stay all day, thanks to its slew of entertainment options (we're talking a waterslide, carousel, playground, water park, mini golf course, and Olympic-sized pool). The soft white sand and calm water make it easy for parents to agree.
The park covers 50 acres and includes a lovely half-mile boardwalk, winding nature trail, and enough fun to keep the whole family happy. Another great part about this Atlantic Ocean strand? It's located in New London, another cute waterfront town packed with fun things to do a quick 13-mile drive southwest of Mystic.
Ocean Beach Park is a popular place to spend the day. You'll find plenty of amenities, including restrooms, locker rooms, a picnic area, and gift shop. Grab lunch at the Sandbar Café or one of the on-site concession stands.
Daily passes (which include parking) cost $25 for weekdays and $30 on weekends. You'll have to pay an additional fee to use the pool and play mini-golf. Visit at night for a cheaper deal — passes only cost $15 for those entering after 6 pm. Those who are close enough to walk to the beach will only have to pay an $8 entry fee.
Insider's tip: The beach is just as nice when visited off-season, but there won't be lifeguards on hand. Plus, parking passes only cost $10 when people arrive before Memorial Day or after Labor Day.
Address: 98 Neptune Avenue, New London, Connecticut
7. Misquamicut State Beach, Westerly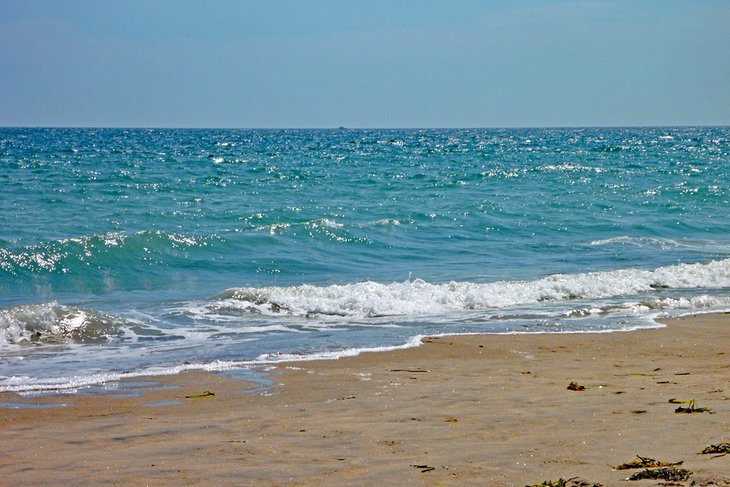 Just over the border in Rhode Island lie seven miles of sugary soft sand and super clear water. A 28-minute drive gets Mystic visitors to the most popular beach in Westerly and one of the best beaches in Rhode Island.
A perfect spot for families, Misquamicut State Beach boasts a mild surf and more than half a mile of shore to explore. Amenities at this lovely beach include a pavilion, outside showers, restrooms, a gift shop, concessions, and gazebos for shade.
More shops, restaurants, and water sports equipment rentals can be found a short walk from the beach. Another bonus: if you're visiting between September 30th and April 1st, you can bring your dog along to this beach near Mystic.
Non-residents pay $20 to visit on a weekday or $30 on a weekend. You'll want to spend the entire day here, so the fee is more than worthwhile. If you visit during the off-season, parking is free.
Insider's tip: The beach often reaches capacity during the summer, so arrive early.
Address: 257 Atlantic Avenue, Westerly, Rhode Island
8. Eastern Point Beach, Groton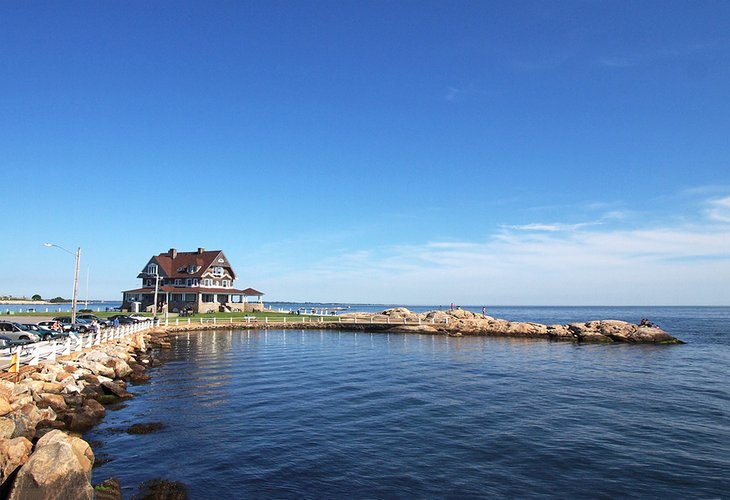 Eastern Point Beach lies just under 10 miles southeast of Mystic in Groton. Housed at the mouth of the Thames River, right where it joins the Long Island Sound, the water here is calm and cool. It's also guarded by lifeguards.
As for amenities, you'll find the usual suspects: restrooms, a snack bar, showers, and picnic tables. This is a fun place to spend a day — you'll also find basketball and volleyball courts, as well as a playground on-site. Trust us, your kids won't want to leave.
Non-residents will have to fork out $20 for a weekday and $30 to park for the day on a weekend during high season (Memorial Day to Labor Day). To make it worthwhile, head out early and plan to spend the whole day. With so much to do, that should be easy!
Address: 1 Beach Pond Road, Groton, Connecticut
9. Watch Hill Beach, Westerly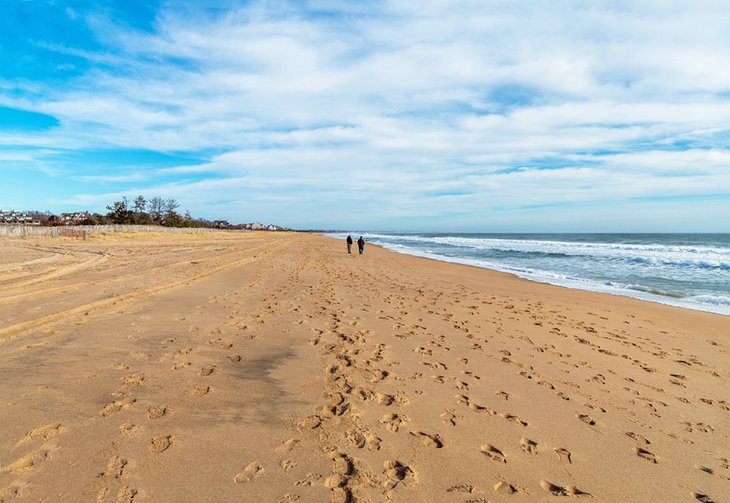 Another popular beach in Westerly, this sparkling gem graces the shores of the upscale neighborhood of the same name. While sunset is perhaps the most picturesque time to visit, this beach is pristine at all times of the day. And it's a short, 27-minute drive southeast of Mystic.
An antique carousel ups the charm factor of this sandy spot, which is dubbed Carousel Beach by locals. It's conveniently located near the town's shops and restaurants, and a short walk will get you to the Watch Hill Lighthouse.
Watch Hill Beach boasts restrooms, showers, changing rooms, and lifeguards. Rentals of beach umbrellas, chairs, and boogie boards, as well as lockers, are also available. And if you visit during the summer, you might just catch sight of its famous neighbor, Taylor Swift.
Insider's tip: Parking can be a nightmare, so arrive early if you're hoping to snag a good spot.
Address: 151-153 Bay Street, Westerly, Rhode Island
10. Soundview Beach, Old Lyme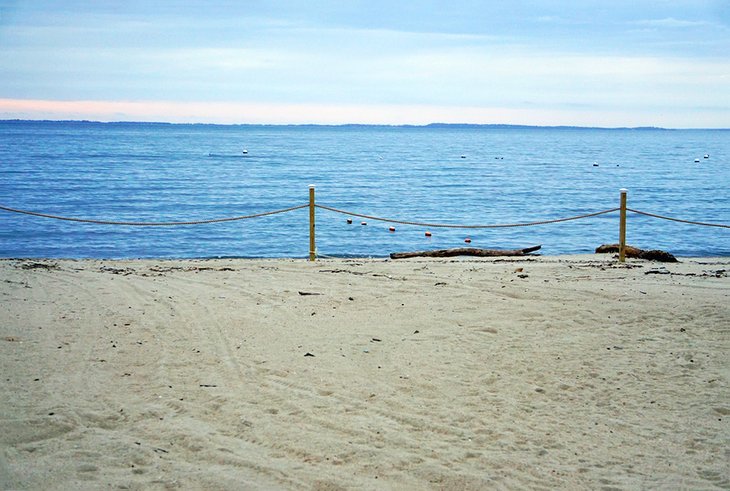 A 25-minute, almost 22-mile drive southwest from Mystic will lead you to a small community beach in Old Lyme. You'll find concessions, portable toilets, and a picnic area (in the parking lot) at this 100-foot sandy strand. Shops and restaurants are only a short walk from the shore.
Open-air concerts are held at various points throughout the summer, which attract a larger crowd of young adults, so arrive early to ensure you have a good spot.
While swimming is a popular activity in the quiet surf of the Long Island Sound, there are no lifeguards on duty, so splashing about is at your own risk. As a result of this, and the fact that balls aren't allowed, this isn't the best beach for kids.
Address: 88 Hartford Avenue, Old Lyme, Connecticut
11. Rocky Neck State Park, Niantic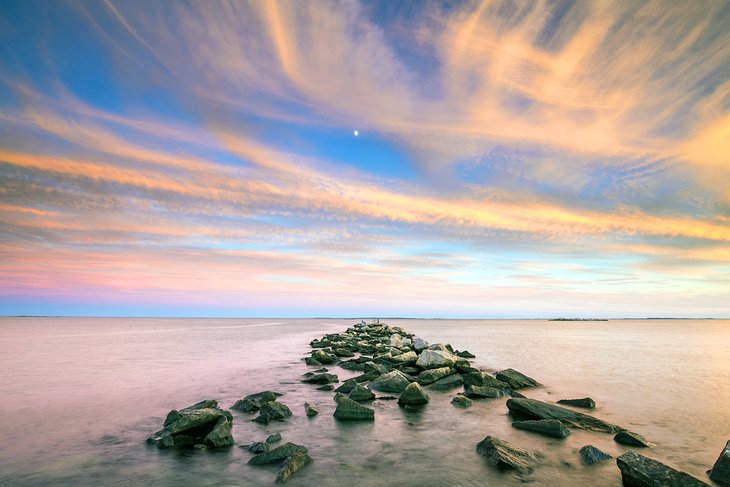 It's not surprising that Rocky Neck State Park's beach is so breathtaking—it resides in one of the best state parks in Connecticut. In addition to five miles of hiking and biking trails, Rocky Neck State Park boasts a half-mile of silky soft, crescent-shaped sandy beach. It's also quite rocky (hence the name), so be sure to pack good walking shoes.
Known as West Beach, this lovely spot is home to a boardwalk and facilities that include a bath house with restrooms and showers and a large concession area. In addition to these, the beach is clean and serene, nestled on the edge of the 710-acre park. It has been deemed one of the top beaches in Connecticut for good reason.
It lies just under 20 miles from Mystic, in Niantic, about a 21-minute drive away.
Can't tear yourself away? We don't blame you, and luckily, this beach is home to one of the best places for camping in Connecticut.
Address: 244 W. Main Street, Niantic, Connecticut
12. Harvey's Beach, Old Saybrook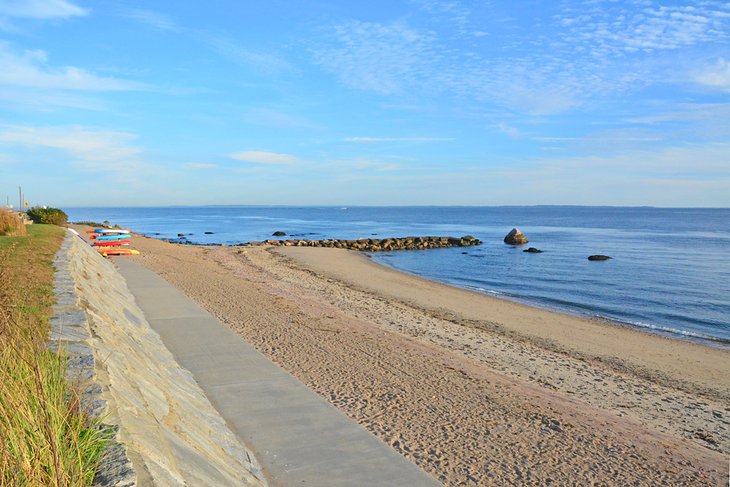 Watching the sun set at Harvey's Beach is one of the best things to do in Old Saybrook. A 31-minute drive (28 miles) from Mystic, this charming spot is a perfect place to spend a day at the shore.
Another of Connecticut's best beaches, this white sand wonder is a popular place for families to settle in for some summertime fun. The calm, shallow water of the Long Island Sound makes it easy for little ones to splash about for hours without the risk of being toppled by giant waves.
The soft, sand is another big draw, enticing kids and adults alike to build a sandcastle, dig a giant hole, or simply wiggle their toes down until they've buried their feet.
As if that wasn't enough to make you want to visit this top beach near Mystic, Harvey's Beach is home to a playground, facilities (like restrooms, showers, and a concession stand). Another plus: they have lifeguards on duty during the summer months.
Keep an eye on the town's website for updates on fun events like beach yoga and movie nights, which take place during the high season (a.k.a. summer).
Address: 29 Plum Bank Road, Old Saybrook, Connecticut
13. Harkness Memorial Park, Waterford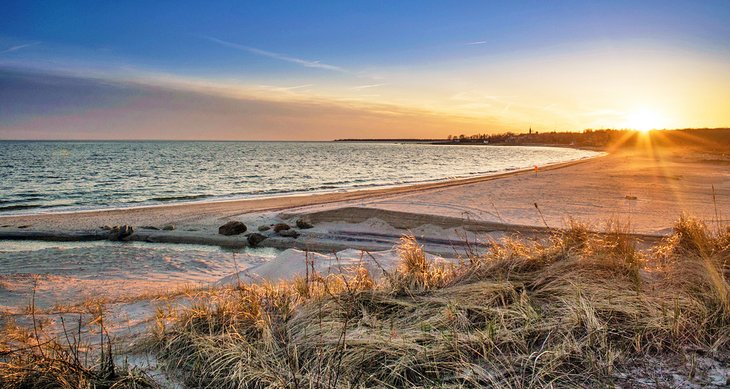 The former estate of philanthropists Edward and Mary Harkness lies within the sprawling 200 acres of Harkness Memorial Park. There, too, you'll find impeccably kept gardens bursting into bloom throughout the spring and summer, as well as a small sandy beach.
Pack a picnic and settle in to enjoy a lovely view of the Long Island Sound from this pristine shore. Don't expect water sports or volleyball games, though. This isn't that type of beach. In fact, swimming is not permitted here either. That said, anglers will be more than happy to fish.
Those who visit come to enjoy the peace and quiet offered in this Nature Preserve, as well as a chance to see some of the area's most impressive wildlife.
Address: 275 Great Neck Road, Waterford, Connecticut
14. Avery Point Beach, Groton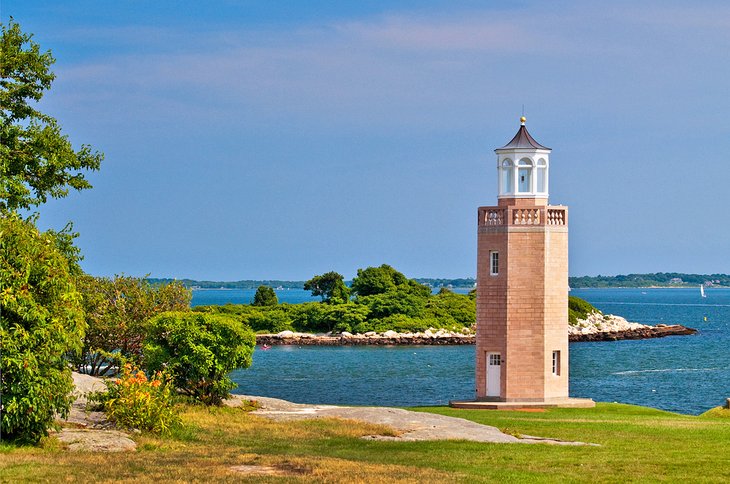 If you're hoping to lay your towel on soft, white sand and catch rays while watching the kids jump through the surf, Avery Point Beach isn't the beach for you. If you enjoy wiggling your toes in tiny slivers of sand, traipsing over rocks, and gazing at lighthouses, you're in luck.
Technically located on the Avery Point Campus of the University of Connecticut (UCONN), this small patch of sandy beach (we're talking less than 0.06 of a mile) lies just under 2,000 feet from the Avery Point Light in Groton.
Swimming is not permitted here, but you can fish if you bring your own equipment.
Address: 1084 Shennecossett Road, Groton, Connecticut
Map of Beaches near Mystic, CT
The Best Time To Visit Beaches Near Mystic
The best time to visit the beaches near Mystic is between Memorial Day and Labor Day. Although parking and day passes will be more expensive during the high season, this is also when the beaches offer the most amenities.
Lifeguards are on duty during the summer months, the restrooms are open, concession stands are up and running, and there are plenty of outdoor concerts, movie nights, and fireworks shows on the calendar.
Those who'd rather enjoy the beach without crowds can head there after Labor Day and before Memorial Day. They'll enjoy either free or reduced entry fees. Also, some beaches allow dogs to accompany visitors during the off-season.
More Related Articles on PlanetWare.com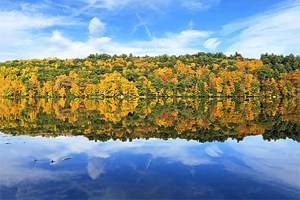 Natural Beauties to Visit in Connecticut: The Nutmeg State boasts some of the most impressive scenery on the East Coast. From sparkling lakes to thundering waterfalls, there are a slew of gorgeous spots to enjoy during every season. While you're visiting, don't miss these beautiful beaches.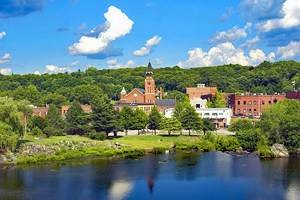 More Places to See in Connecticut: While Mystic has plenty of things to do and is adorable, you'll kick yourself for missing out on these other fantastic small towns in Connecticut. If you've only got a couple of days to explore, check out these amazing weekend getaways.