From Washington, D.C. to New York City: 4 Best Ways to Get There
From the heart of the U.S. government to the cultural capital of America, there are many ways to travel. Getting from Washington D.C. to New York is a breeze, thanks to planes, buses, and trains. The easiest mode still remains flying, but if you are looking for a more leisurely or affordable way to travel between these two big Eastern cities, there are many ways to do so.
Catch an early morning flight to reach NYC in time for lunch, followed by sightseeing and dinner and a Broadway show in the evening. Travel through states like Maryland, Delaware, Pennsylvania, and New Jersey by way of train, bus, or car for a weekend in New York City. Allocate at least a few days if you are visiting for the first time to explore its world-class museums and cultural attractions, catch sports games and concerts, and dine at fine restaurants.
Start planning your trip to New York City from Washington D.C. with our list of the four best transportation options, along with things to keep in mind with each choice. The ideal way will ultimately depend on your comfort level, budget, and personal preferences, but keep your itinerary in mind when picking the right mode of transportation.
1. From Washington, D.C. to New York by Train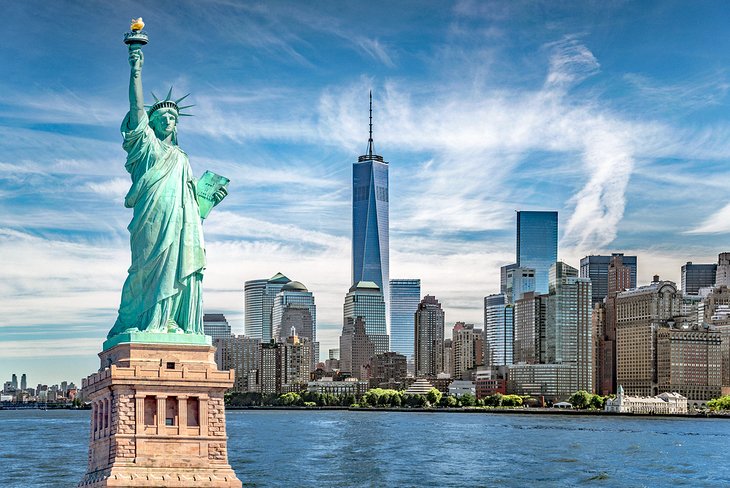 Highlights: Enjoy fast, comfortable travel to the city center, reliable off-season choice
Whether you are traveling for business or pleasure, train travel is a reliable and easy way to go from Washington D.C. to New York City, especially during the winter months, when other means experience extensive delays. Travel aboard the Amtrak Acela express train from Union Station to reach the Moynihan Train Hall at NYC's Penn Station in just over three hours, comparable to the time it may take you to get to and from the airport, go through security, and fly. The trains leave as early as 5am, reaching NYC around 8am.
More importantly, the train connects you to the centers of both cities; arriving at Manhattan's Penn Station makes it easier to get on with your day of sightseeing right away with help from connecting trains. Some of New York City's attractions, like Times Square and Broadway, are within walking distance of Penn Station; Central Park, the Museum of Natural History, and the Met are accessible via the subway.
While the Acela offers nonstop service with Business and First classes, the Northeast Regional train is a bit cheaper and only adds 30 minutes to the overall commute. Both trains have quiet cars and cafés and provide free basic Wi-Fi, so you can stay connected.
2. From Washington, D.C. to New York by Car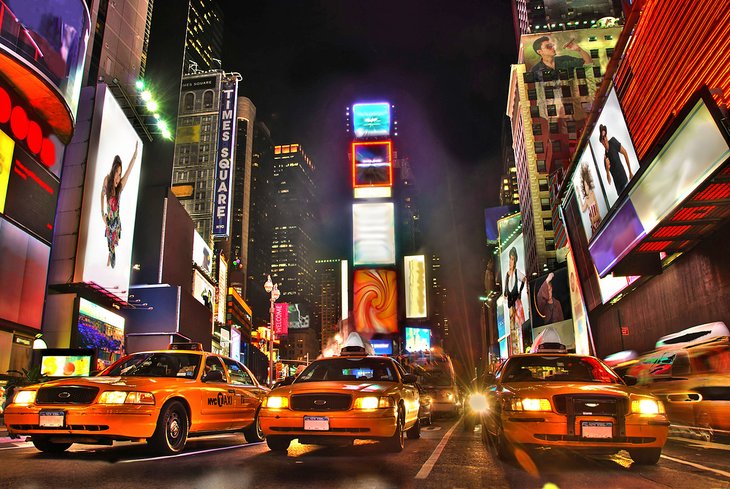 Highlights: Provides many sightseeing opportunities, good choice if traveling with pets
When you have the time and desire to drive, the ride from Washington D.C. to New York City can be done in four to six hours, depending on traffic and road conditions due to weather. Driving is advisable if you are traveling with family or friends, or if you are bringing pets (Amtrak only allows small companion animals). Driving also gives you an opportunity to stop wherever, for a meal or to add a bit of sightseeing. Highlights along the way include Philadelphia's historic sites and attractions, Baltimore's National Aquarium, and the Jersey shore beaches.
The best route to take is I-95 North through Maryland, Delaware, and Pennsylvania, connecting to the New Jersey Turnpike and entering the city via the George Washington bridge, Lincoln Tunnel (for Midtown), or Holland Tunnel (for Downtown).
Keep in mind that there are several tolls along the way; an E-ZPass makes passage through toll plazas quicker. E-ZPass is a cashless toll device used by 19 northeast U.S. states. If you are renting a car and already have an E-ZPass, bring it with you to use, otherwise rental companies charge a daily fee to use their own transponders, or bill you later with an administrative fee.
In New York State, you can use tollsbymailny.com to pay your bridge, tunnel and road tolls online via credit card within 48 hours of the transaction (even without an E-ZPass). International travelers should make sure to pay online before leaving the U.S., as the site does not accept international payments.
If you want to rent a car to drive from Washington to New York City, companies like National, Hertz, and Avis are all good options. At Reagan Airport (DCA), the rental car companies are on-site, located on the ground floor of Terminal Garage A. At Dulles Airport (IAD), you will need to take a free shuttle bus from the terminal to the rental car center a few minutes away.
If you're not flying in, consider picking up your rental car at a non-airport location as it can be cheaper. Large rental car companies like Enterprise, Alamo, and Budget have numerous locations in and around Washington.
3. From Washington, D.C. to New York by Bus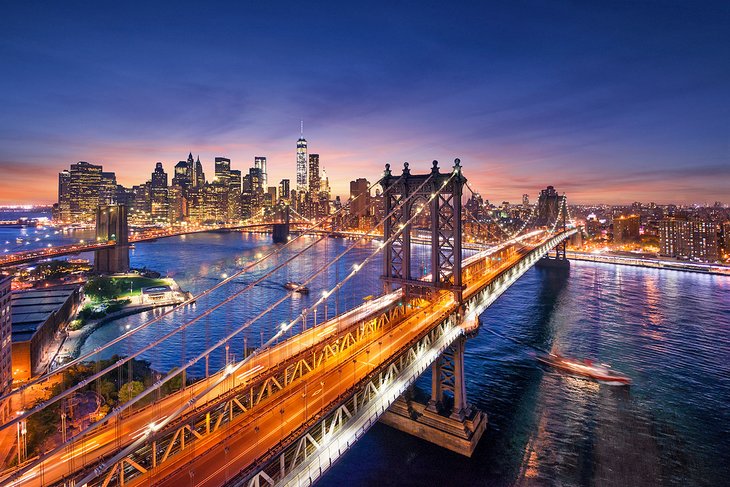 Highlights: Cheap and stress-free, some green or carbon-neutral travel options are available
Avoid the hassle of driving and save money otherwise spent on gas and tolls by opting for a bus ride, which takes approximately five to six hours. Catch a Greyhound bus from Washington's Union Station to Port Authority Bus Terminal in New York City.
Buses from other companies like Megabus and Peter Pan also leave from Union Station and offer curbside drop offs in Midtown, while the Chinatown Bus has a few departure points in D.C. and leaves you in Chinatown. Most bus companies offer free Wi-Fi onboard, power outlets, reserved seating, and onboard entertainment.
FlixBus has about 15 buses running between Washington and Manhattan throughout the day. Their departure point is New York Ave. and 6th Street NW, and they drop off in Midtown right next to Penn Station. They also have a few buses each day that drop off in Chinatown.
The FlixBus routes are direct and take between four and five hours. FlixBus is also a green way to travel between DC and NYC, with buses that emit less CO2 per mile than passenger cars. You can even travel carbon-neutral by buying compensation credits used to offset the emissions of your personal journey.
Bus lines have buses leaving regularly daily, with Greyhound leading the charge with double the number of buses. If you are looking to travel in more comfort, opt for the Washington Deluxe bus, which has fewer passengers, larger seats, extra legroom, and provides complimentary Wi-Fi, a bottle of water, and movies on your mobile device. The Washington Deluxe bus picks up at Dupont Circle, DC Union Station and Pentagon City. In NYC, it stops near Penn Station and Times Square (36th between 7th and 8th), in Chinatown (Allen Street between Grand and Broome), and in Brooklyn. They even offer a LUX service on a smaller bus a few times a day, with individual captain's chairs and a more Business Class-like experience.
4. From Washington, D.C. to New York by Plane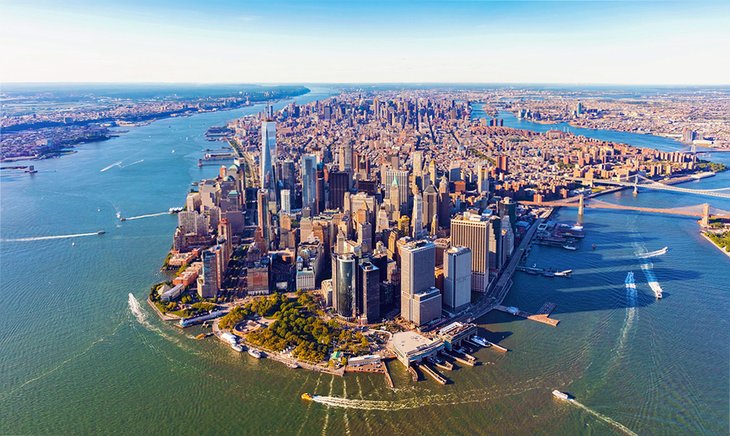 Highlights: Frequent direct flights with many airline choices
A convenient way to travel between Washington D.C. and New York is by plane. Major airlines like Delta, JetBlue, and American Airlines have non-stop shuttle service daily. Although the actual flying time is around an hour, time getting to and from the airport and clearing security could easily add two to three hours to your commute.
The airport closest to Downtown D.C. is Reagan National (DCA), which is accessible by a short cab or Uber ride or Metro. However, a shuttle to Dulles International (IAD) or Baltimore/Washington International Airport (BWI) can also get you to NYC airports with more flight options. Flights depart as early as 6am. Passengers can fly to any of the NYC area airports, John F. Kennedy International Airport (JFK), LaGuardia (LGA), or Newark International Airport (EWR), all of which have connections to public transit.
Take the AirTrain to connect to Long Island Rail Road (LIRR) or the MTA subway from JFK to reach various points in the city; the M60 bus from any terminals at LaGuardia brings you to 125th street in Manhattan, where you can connect to local trains with the free transfer; the AirTrain New Jersey Transit trains from the Newark airport will get you into Penn Station in the heart of New York City. NYC Airporter or Go Airlink NYC (the official airport shuttle partner) also offer shuttle buses and vans you can use to transfer from any of the area airports to major transportation hubs in the city.
Rideshare apps like Uber and Lyft are also options to get from the airports into Manhattan, as are regular taxi cabs. Visitors should be aware that cabs have rates set by the government for the trip from the airport to the city, most are around $60. This is per car not per person but does not include a gratuity or bridge/tunnel tolls, which are the responsibility of the rider.