10 Top-Rated Beaches in Delaware
The majority of Delaware's most popular beaches sit south of Delaware Bay along the coast and barrier regions facing the Atlantic. Each summer, hundreds of thousands of locals and tourists flock to the shore to enjoy the sun and sand, water sports, and attractions in the seaside towns.
Big tourist areas like Rehoboth and Bethany are popular with families and couples, while seclusion-seekers enjoy the more peaceful setting of the many state parks and small-town beaches.
Beyond the beaches, visitors can explore the wonders of the natural world, take advantage of tax-free shopping, and dive into the rich maritime history of the Delaware coast. Choose a scenic spot for your day in the sun with our list of the best beaches in Delaware.
1. Rehoboth Beach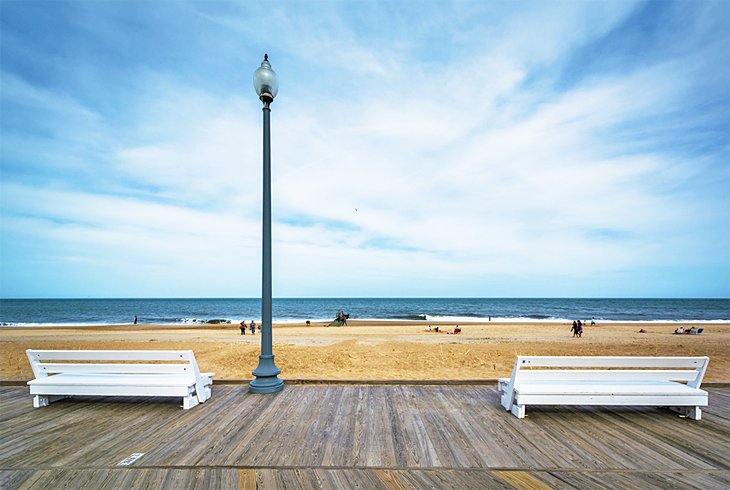 Rehoboth Beach is one of the state's favorite beach resort towns, known for its beautiful boardwalk and ambience that is simultaneously old-fashioned and modern. The Boardwalk is the center of the action along the beach, home to numerous eateries, candy stores, and souvenir shops, as well as the Beach Arcade and the Funland amusement park.
Funland has rides and games with ticket-style admission, including kiddie rides, favorites like bumper cars, a haunted house, and thrill rides. The amusement park also includes a carnival-style midway and a video game arcade. Rehoboth is also a shopping paradise, known for its tax-free outlets, chic boutiques, and numerous galleries.
The beach itself is free and open to the public, and lifeguards are on duty during the summer.
Rehoboth Beach has several large hotels along the beach, such as the Boardwalk Plaza Hotel, which combines Victorian-era décor with modern luxury. There is an excellent on-site restaurant with ocean views, and couples looking for a kid-free getaway will love the concierge level, which includes a private spa and rooftop sun deck.
2. Bethany Beach
The wide wooden boardwalk that stretches a half mile along Bethany beach looks down over grass-spotted dunes above the sand and shore. Foot-washing stations are located along the boardwalk, and it is lined with shops and food vendors who sell everything from seafood to ice-cream.
Local shops include Bethany Surf Shop, where you can get anything you need for a day on the beach; a bicycle rental shop; and even a boutique just for dogs (although unfortunately, dogs are not allowed out on the sand).
You can also find Jet Ski rentals nearby, as well as family-friendly recreation like mini-golf. Surfers should note that this activity is only allowed during allotted times.
Each summer, June through August, the town of Bethany Beach hosts weekly events for both locals and visitors, including Bonfires on the Beach each Thursday evening at 8pm and Movies on the Beach each Monday at dusk.
Bethany Beach Ocean Suites Residence Inn by Marriott not only has beach access but also indoor and outdoor pools, an on-site spa, a self-serve laundry, and complimentary breakfast.
3. Cape Henlopen State Park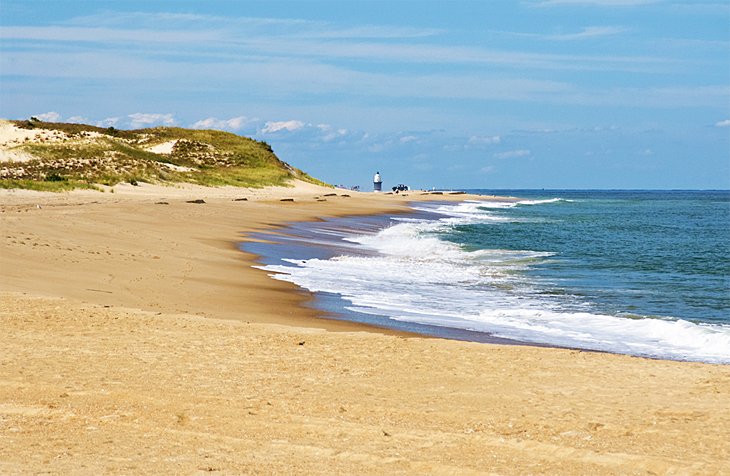 The designated swimming beach at Cape Henlopen State Park is staffed with lifeguards from Memorial Day weekend through Labor Day, and is equipped with several conveniences. There is a full bathhouse with restrooms and showers, a concession area, and umbrella rentals are available.
In addition to swimming, park visitors can enjoy the surrounding area, which includes a disc golf course, basketball courts, a three-mile paved bike trail, and miles of hiking and walking trails along the seashore.
Visitors can also climb to the top of an old WWII observation tower or explore an old bunker at the Fort Miles Historic Site. Others may want to take advantage of the educational programs at the Seaside Nature Center.
Many parts of the park are wheelchair accessible, including beach access. Boat and kayak rentals are also available, and there is a fishing pier for public use.
Although it is housed in an elegant 1914 brick Victorian, the Savannah Inn welcomes families. It is just two minutes to the beach, rooms each have private baths and include a gourmet breakfast.
4. Lewes Beach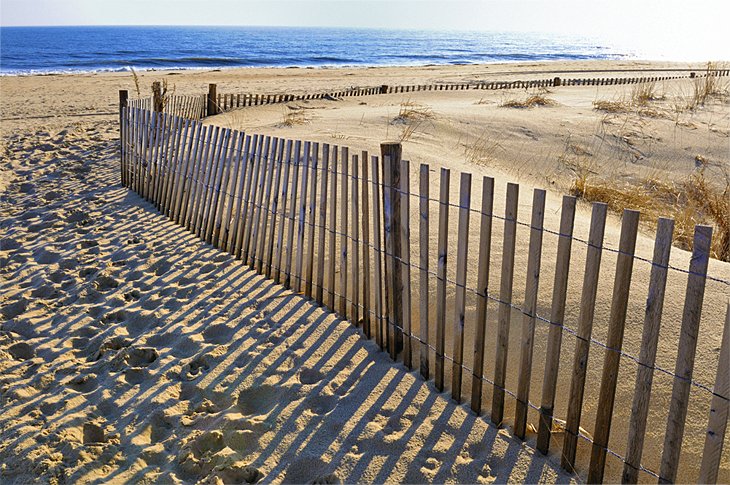 Lewes beach is a favorite of families with younger children because of its gentle surf and gradual slope, with little to no undertow, which make it easy for kids to stay safe. There are lifeguards on duty during the summer and a bath house with clean toilets and showers. There is also a small concession stand, and an ice-cream shop within walking distance, as well as vendors who sell refreshments.
Another advantage of this beach is its reasonable parking rates, which are at metered spaces, especially handy for those who are not planning on spending the entire day here. From the beach, visitors can see the Delaware Breakwater and Harbor of Refuge, a historic beacon in the bay.
In the quiet town of Lewes, you will find several good restaurants, boutiques, and interesting shops near the Inn at Canal Square, which includes a homemade breakfast.
5. Dewey Beach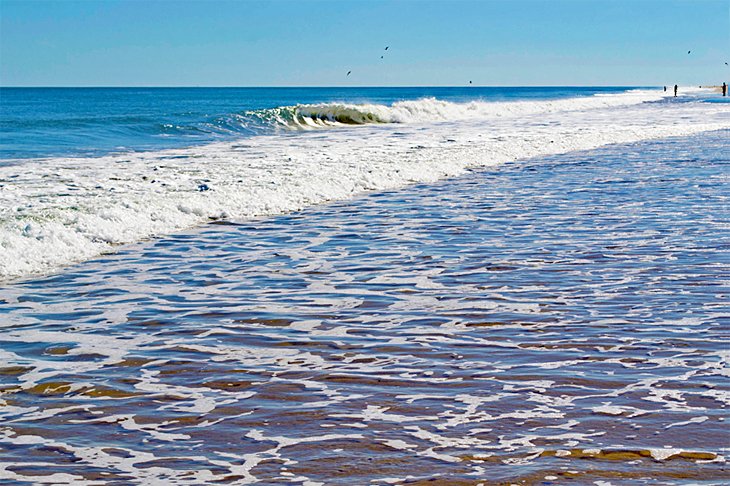 On Rehoboth Bay, adjacent to Rehoboth Beach, Dewey Beach is a smaller but equally popular seaside destination in a town known for its dining and boutiques.
Special events and entertainment are the highlights here, and Dewey Beach hosts many music festivals each year, including the Elvis Festival and the Fiddler's Festival. There is also nightly live music during the summer, as well as weekly free movie nights and bonfires on the beach.
Regular beach activities also include seaside yoga, a junior lifeguard program, and environmental education programs. Water sports are also popular at Dewey Beach, and visitors can rent paddleboards, kayaks, Jet Skis, pontoon boats, and more to enjoy a day out on the water.
Visitors should be especially careful to note the parking regulations here, as it is strictly enforced and spots are hard to come by. Staying at the Surf Club Oceanfront Hotel & Beach House will secure you a spot you don't have to worry about; it's right on the water and within walking distance of all the local attractions, offering kitchenettes and self-serve laundry facilities, as well as babysitting services.
6. Fenwick Island State Park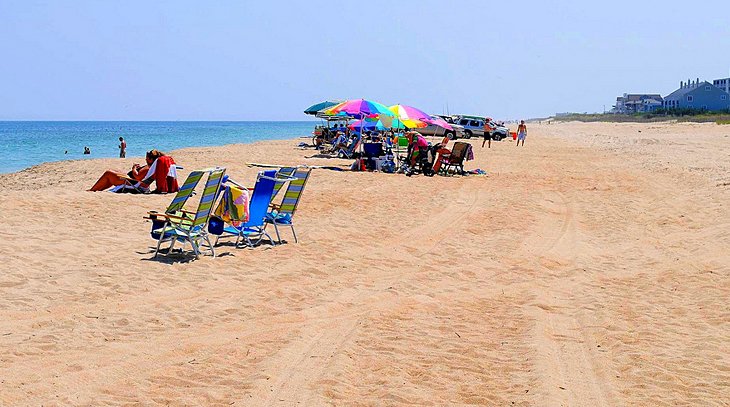 Located on a barrier island, this state park's beach spans three miles along the coast of the Atlantic. Lifeguards patrol the swimming areas during the summer season, and on this designated swimming beach you will find changing rooms, showers, and bathroom facilities.
There is also a concession area as well as a gift shop where you can get last-minute beach paraphernalia, and you can rent chairs and umbrellas on the beach. Parts of the beach area are wheelchair accessible thanks to Mobi-Mat equipment.
Those who would like to try their hand at surf fishing can purchase a permit at the gift shop. Just outside the state park area, you will find water sports shops where you can rent kayaks and stand up paddleboards, as well as sailboats with sailboat instruction. There are also several local programs that offer eco-tours of the park's dune system and the surrounding waters.
7. Delaware Seashore State Park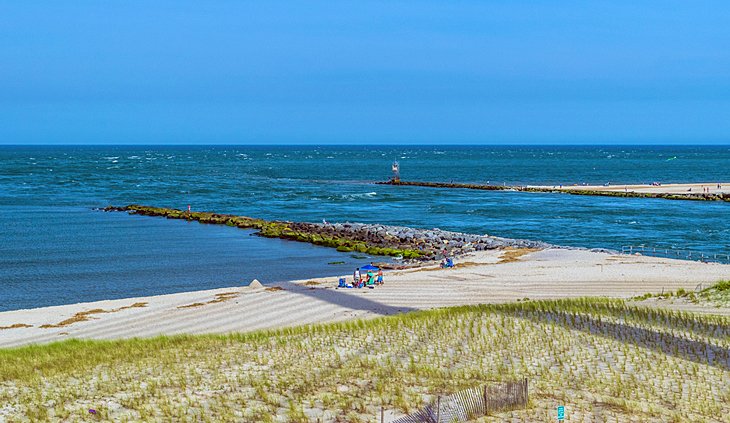 There are multiple beaches at the Delaware Seashore State Park, two of which have lifeguards on duty and convenience facilities for beachgoers. Each have bathhouses with restrooms and showers, as well as snack bars. For those who don't want to carry in their equipment, you can rent chairs and umbrellas right on the beach.
This park's beaches are also popular with surfers, and several of them are reserved for this sport. Other areas have been set aside for fishing, and there is also a boat launch for non-motorized craft.
There are several nature trails throughout the 2,825-acre park, as well as special educational programs throughout the summer. Families are welcome at the Bethany Beach Ocean Suites Residence Inn by Marriott, a large all-suite seaside hotel featuring private balconies, a pool, and bicycle rental. For visitors age 21 and older, the Addy Sea is a top-notch bed-and-breakfast that also serves afternoon tea for guests.
Location: Rehoboth Beach, Delaware
Official site: www.destateparks.com/park/delaware-seashore/
8. Slaughter Beach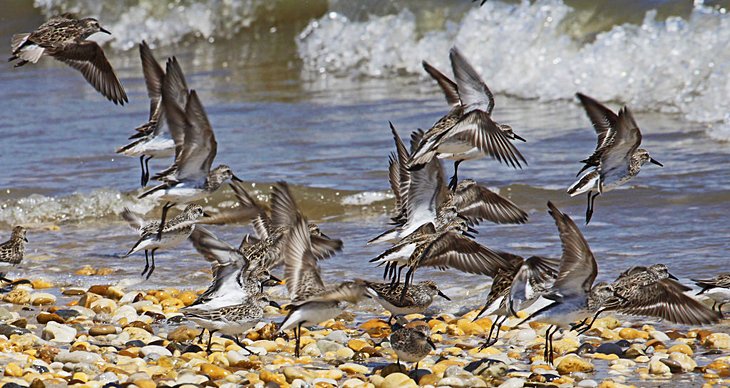 Despite its unfortunate name, Slaughter Beach is a peaceful and lovely spot on the shore of Delaware Bay. It is especially popular for its large population of birds that come to feed on horseshoe crabs stranded on the shore. Slaughter Beach is one of Delaware's official horseshoe crab sanctuaries, and their importance has resulted in the horseshoe crab being the town symbol.
Visitors may want to bring water shoes due to pebbles and the numerous crab shells, especially if you are visiting at low tide. There are basic facilities here, including a shaded picnic area and bathhouse, and it is perfect for those who are looking for a low-key day by the water.
A good local hotel is the Hampton Inn Milford, which provides dependable service and amenities like a pool, fitness center, and complimentary breakfast.
9. Broadkill Beach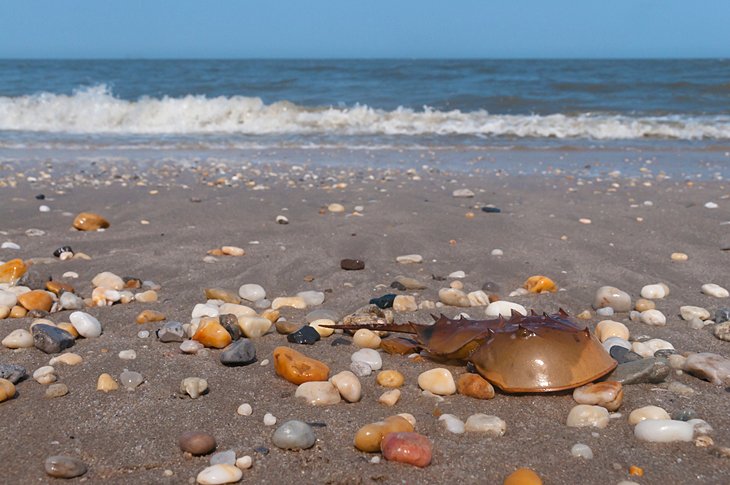 Broadkill Beach has become increasingly popular as a low-key alternative to the area's bigger, more crowded beaches. It is also one of the few beaches that does not have an entrance or parking fee, but as a result the facilities are at a minimum, with only a few portable toilets.
There is a small store at the edge of the beach that carries cold beverages, snacks, and the basics. Because of limited parking, it is advisable to arrive as early as possible during mid-summer.
In nearby Georgetown, the Brick Hotel On The Circle is a lovely historic property with a gourmet breakfast and live music in its full-service restaurant.
10. Holts Landing State Park
Holts Landing State Park is the ideal location for nature lovers, offering not only a sandy beach but also plenty of space to explore over 200 acres of coastal park land. Habitats include salt marsh, freshwater regions, grassy fields, and marine forests, which are home to osprey, herons, and hawks, among other birds. There are numerous hiking and walking trails throughout the park, and an ADA accessible trail that allows anyone to enjoy the scenery.
Holts Landing is also home to a public boat access ramp that is open 24 hours a day, allowing boaters to time their trips with the tide and also take advantage of night fishing. Kayaking, windsurfing, and stand up paddleboarding are also popular water sports here.
The park also offers a large pavilion with a fire pit, and during the summer there are free evening concerts and Outdoor Family Fun Nights with activities for all ages. Park amenities also include picnic areas, restrooms, and a horseshoe pit. Dogs are permitted in many areas of the park on-leash.
Address: Inlet Road, Dagsboro, Delaware
Official site: https://destateparks.com/holtslanding