15 Best Things to Do in Wilmington, DE
We may earn a commission from affiliate links ()
Wilmington is the most populated city in America's second smallest state. Located by the picturesque Delaware and Christina Rivers, this bustling town is peppered with enough tourist attractions and fun things to do to make it a top weekend destination from New York City, Philadelphia, and Washington, D.C.
The Riverwalk makes the best use of Wilmington's waterfront locale, winding its way downtown from the elysian DuPont Environmental Education Center, with plenty of restaurants to tempt your palate along the way.
The Nemours Estate is unforgettably enchanting and so vast, you'll need an entire day to explore its grounds, while tiny Brandywine Zoo is a family-pleasing attraction for kids of all ages.
But that's not all! From nature preserves to sculpture gardens to children's museums, there's no end to the fun you can have in Wilmington.
Not sure where to begin? Use our list of the top attractions and things to do in Wilmington to decide what to see first.
1. Enjoy the Scenery and Grab a Bite on the Riverwalk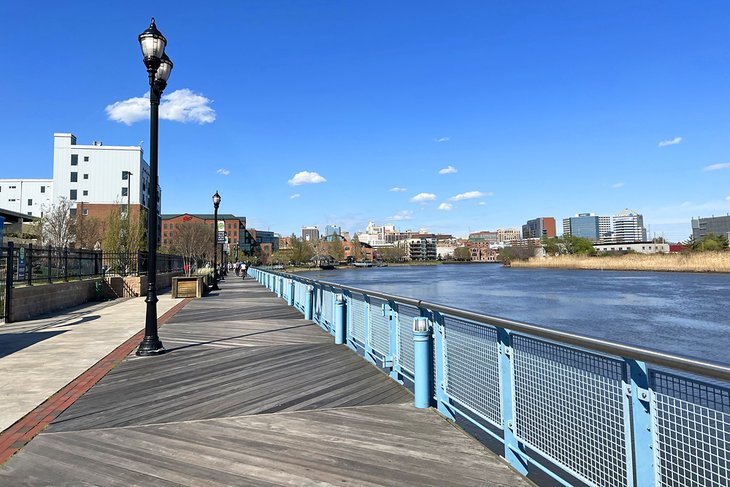 Wilmington's Riverwalk is a 1.75-mile path that follows the bank of the Christina River, right in the heart of Wilmington. Providing easy, walkable access to the city's best attractions, this pretty path is also lined with restaurants, which makes it easy to spend an entire day strolling its length. Don't miss a meal at the always bustling Big Fish Grill.
The Riverwalk runs from Wilmington Youth Rowing club in the north to the DuPont Environmental Education Center in the south. It boasts the best of both worlds–from the quiet Russell Peterson Wildlife Refuge to the busy downtown core. Keep your eyes peeled for the statues and intricate birdhouses that are placed sporadically along the path.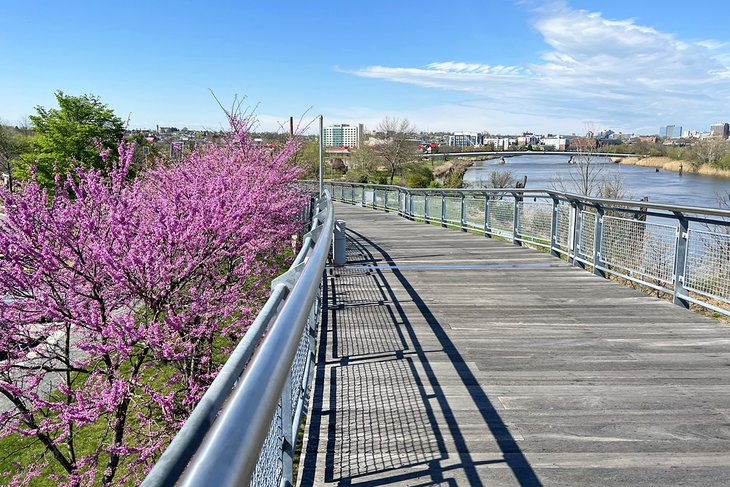 With so much to do in the area (including mini golf, traipsing through the Tubman-Garrett Riverfront Park, and enjoying a cruise on the Wilmington Riverboat Queen), this has become one of the best places to visit in Wilmington.
Rest your head at the Hyatt Place Wilmington Riverfront. This modern hotel is perfectly located on the bank of the river, right on the River Walk. It boasts large rooms with seating areas and giant windows to better appreciate the view. Breakfast is included, as is access to the fitness center and parking. It's also within walking distance of the Delaware Children's Museum and numerous restaurants. Plus, the staff are uber friendly and helpful.
2. See How the Other Half Live at Nemours Estate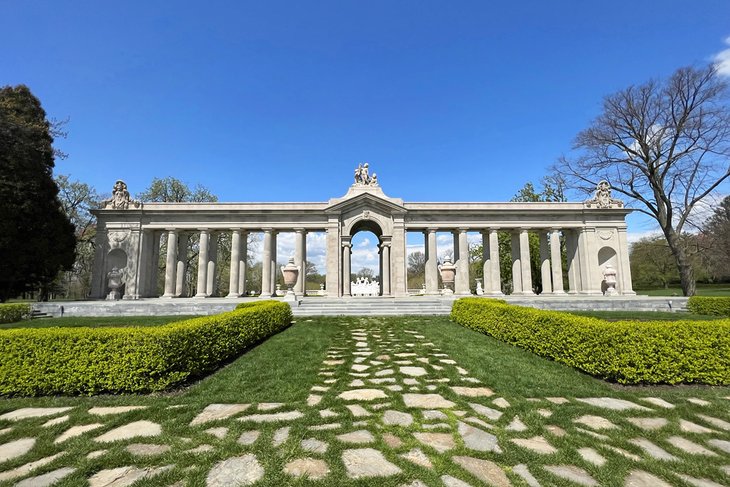 You'll be hard-pressed to find a more unique and ornate mansion than Nemours Estate. Once home to industrialist Alfred I. duPont, this historic estate is both vast (it's set on 200 acres) and opulent.
The gardens are breathtaking and perfect in every way. Tree-lined walkways, budding flowers, and over a dozen inspired fountains bring life to the dramatic structures that pepper the magnificent grounds. Between the beauty of the Estate Woodlands and the French inspired Gardens, you're in for a treat.
While it can be tempting to spend the entire visit outside, don't! The interior of the Nemours Mansion is not to be missed. The Conservatory is spectacular, with its giant bird cage, black and white checked flooring, intricately carved wall coverings, floral drapes, and floor-to-ceiling windows.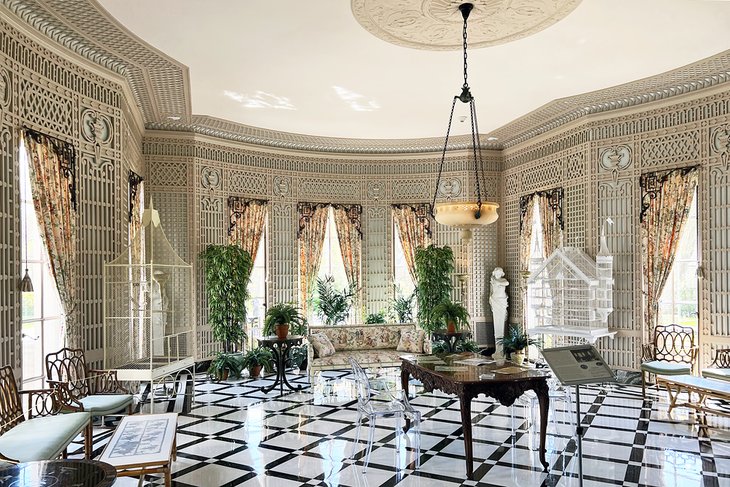 The kitchen features "modern" appliances such as fridges and freezers, and the basement is intriguingly eclectic. This is where you'll find a bowling alley, trophy hall, shuffleboard room, and duPont's shower and exercise rooms, complete with a very early version of an electric sauna.
With so much to see, we suggest planning at least a half day, if not more, to visit this brilliant attraction.
Insider's tip: While the estate is open from April through December, the best time to visit is during the late spring and summer, when the gardens are in full bloom. Also, don't worry if it looks as if you're driving to a hospital instead of an estate. The entrance lies just beside the Nemours Children's Hospital and can be seen behind the property's Horseshoe Fountain and Water Tower.
Address: 1600 Rockland Road, Wilmington, Delaware (on the campus of Nemours Children's Health)
Official site: http://nemoursestate.org/
3. Unwind in the Gardens at Mount Cuba Center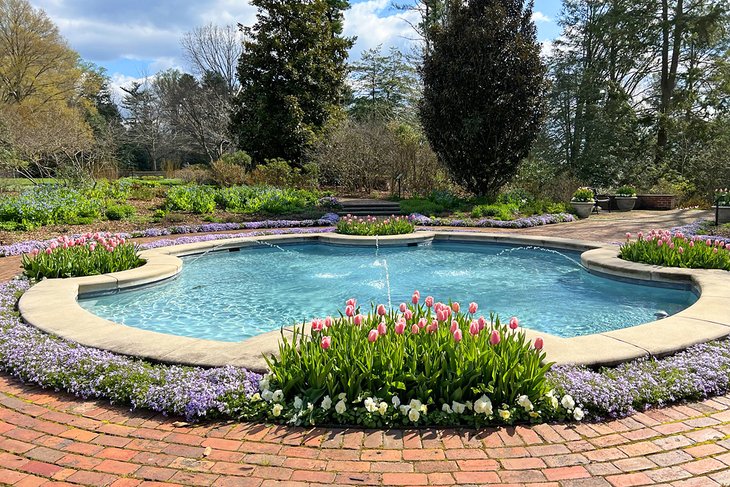 It's impossible to feel stressed when visiting Mount Cuba Center, especially if you arrive on a warm, sunny day. A 600-acre preserve located 20 minutes northeast of downtown Wilmington, this elysian spot is a haven for nature lovers.
Mount Cuba Center is a must-see for avid horticulturists. With a wide variety of flora and fauna to appreciate, you'll want to schedule at least a few hours to truly enjoy this hidden gem. Pack a picnic to make a day of it, and eat while enjoying the shade of mature native trees.
Don't miss a visit to Copeland House, the estate once lived in by Pamela Copeland, and be sure to save time to visit the Trillium, Trial, Round, and South gardens, as well as Bluey's woods, the Dogwood Path, and the sparkling ponds.
While you're here, why not sign up for one of the multiple programs on offer, many of which continue throughout the year. Family yoga, story-time sprouts, guided welcome walks, tai chi, art, and gardening classes are only a few examples of the enticing options available. The gardens are open from 10am to 6pm Wednesday through Sunday from April to November.
Insider's tip: If you're hoping to add some spark to your own garden, pick up one of the cuttings or seedlings on sale here. The friendly and knowledgeable staff will tell you everything you need to know to give your new addition the best start at home.
Address: 3120 Barley Mill Road, Hockessin, Delaware
Official site: https://mtcubacenter.org/
4. Become One with Nature at the DuPont Environmental Education Center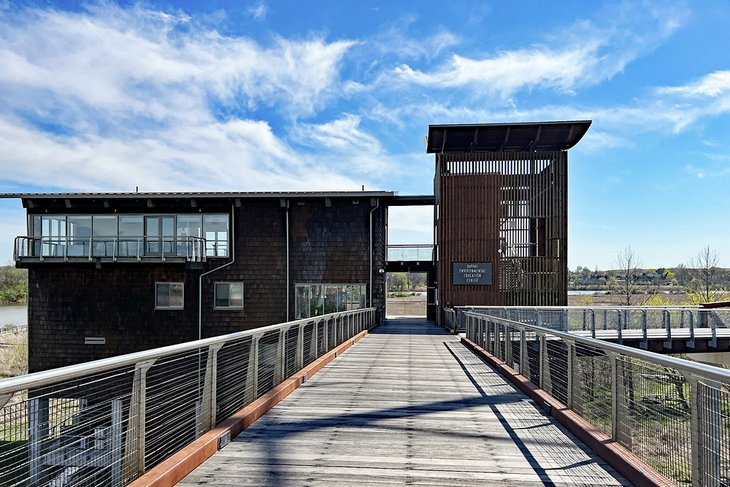 The DuPont Environmental Education Center (DEEC) lies at one of the most interesting intersections in Wilmington. Set at the point where the city, Christina River, and freshwater tidal marsh meet, this unique center offers visitors an optimal view of the Russell W. Peterson Urban Wildlife Refuge. In fact, the DEEC acts as the refuge's centerpiece, but more on that below.
The DEEC is operated by the Delaware Nature Society in partnership with the Riverfront Development Corporation of Delaware, which built the center in 2009. Their goal is to connect visitors to the natural world; educate them about the environment; and encourage them to advocate for a cleaner, better world.
Inside the four-story, 13,500-square-foot center, you'll find multiple exhibits on the surrounding flora and fauna in addition to other natural topics, as well as plenty of interactive exhibits and special programming.
Outside lies an extensive, raised boardwalk that is highly accessible (there are elevators on hand as well). It connects to the Jack A. Markell Trail (a.k.a. JAM), which is a popular seven-mile trail to walk and bike that extends from Wilmington to New Castle. Visitors can access the DEEC and refuge year-round at no cost, and bikes can be rented on-site.
Address: 1400 Delmarva Lane, Wilmington, Delaware
Official site: https://www.delawarenaturesociety.org/centers/dupont-environmental-education-center/
5. Spot Wildlife at the Russell W. Peterson Urban Wildlife Refuge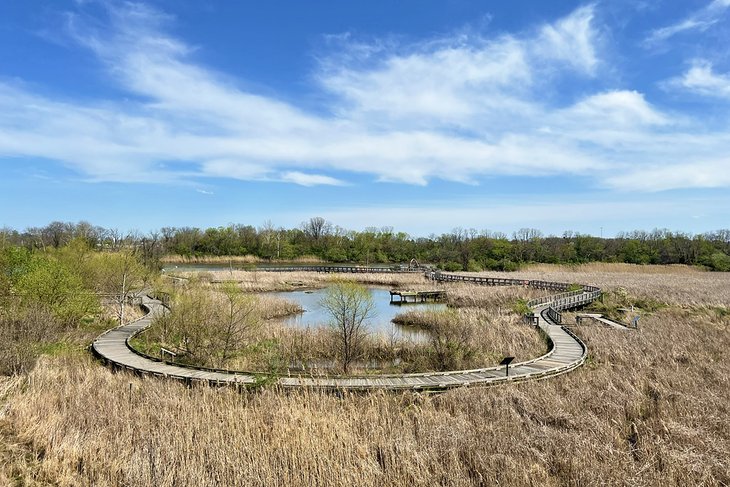 A welcome respite in the middle of a busy city, the Russell W. Peterson Urban Wildlife Refuge boasts 212 acres of a natural wonderland and over 400 species of plants and animals.
The best view of this marsh and its interesting tenants (i.e., American bald eagles, ospreys, American beavers, and river otters) can be had from the DuPont Environmental Education Center. Bring binoculars to see the creatures up close.
The Refuge consists of an urban freshwater tidal marsh named after Russell Peterson, an environmental activist and former governor of Delaware. It includes a quarter-mile elevated boardwalk loop around the pond, which can be easily accessed by strollers and wheelchairs. There's an elevator in the DEEC that connects visitors to the path.
The refuge also links to a stunning ornamental garden and the Wilmington Riverwalk.
Address: 1400 Delmarva Lane, Wilmington, Delaware
6. Ride a Train at the Wilmington & Western Railroad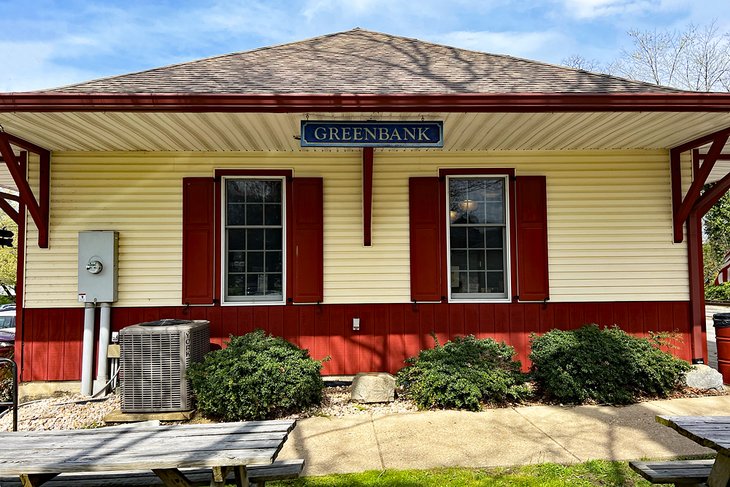 The Wilmington & Western Railroad opened on October 19, 1872. Over the years, it served as an important mode of transport for both people and products between towns in the region. As time went on and other methods of transport became more prevalent, the railroad's position changed.
It became listed as a "heritage railroad" in the early 1960s, transporting passengers of all ages for fun. Today, visitors can climb aboard Delaware's oldest steam railroad to enjoy a relaxing and scenic journey through the valley of Red Clay Creek.
All aboard for a fall leaf peeping journey, a princess or superhero express trip (complete with the most beloved of characters), or a Christmas ride with Santa.
Sightseeing tours begin at Greenbank Station and pass the historic Greenbank Mills & Philips Farm, former Brandywine Spring Park (once an amusement park), and the Sharpless Dam, among other captivating sights.
Address: 2201 Newport Gap Pike, Wilmington, Delaware
Official site: https://www.wwrr.com/
7. Experiment with Science at the Delaware Children's Museum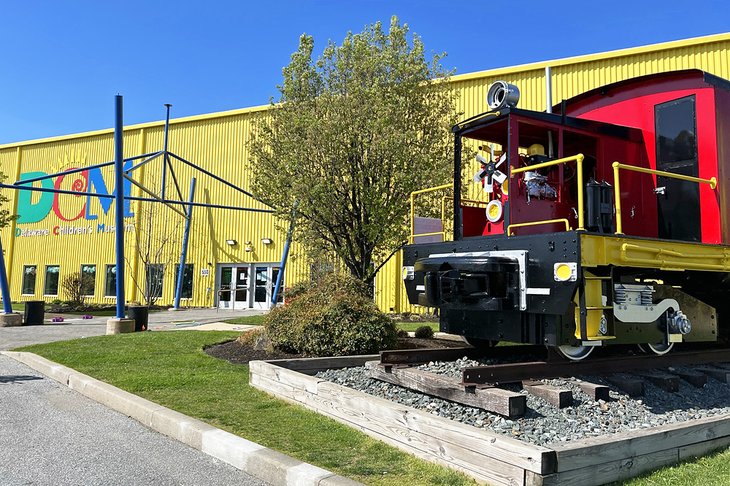 The Delaware Children's Museum goes above and beyond to make learning fun. You can't miss this top family attraction, set in a blindingly bright yellow building just off the Riverwalk. Inside, you'll find interactive exhibits geared at children of all ages, including tweens, as well as parents and grandparents.
With over 37,000 square feet of space dedicated to teaching visitors to love math, science, and technology, you could easily spend a couple of hours here. The Stratosphere Exhibit is a must-see. At 30 feet in diameter, this climbing structure is impossible to miss. Kids can climb through it from the lobby.
The Tree Pavilion Exhibit is another gem. A preserved 250-year-old sycamore tree teaches kids (and adults) the importance of trees in our environment, all while allowing them to climb through it. Don't miss the S.T.E.M Room, an area dedicated to hands-on experiments and activities.
Note: The museum is closed on Mondays and Tuesdays, so plan your trip accordingly.
Address: 550 Justison Street, Wilmington, Delaware
Official site: https://delawarechildrensmuseum.org/
8. Get Historical at Winterthur Museum, Garden & Library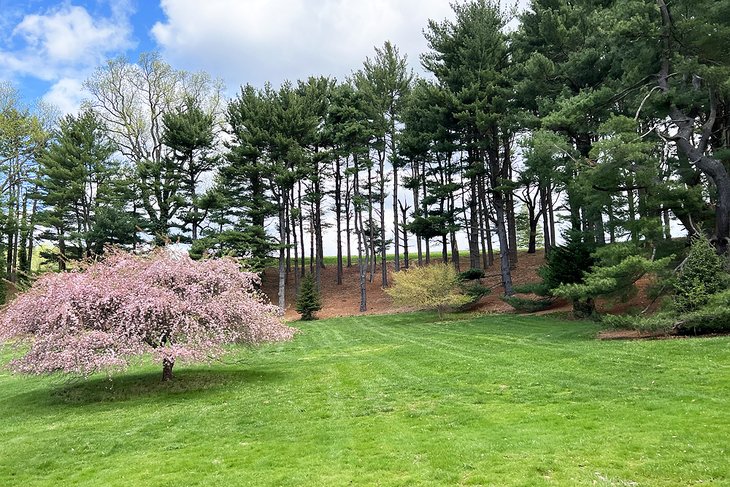 Winterthur Museum, Garden & Library is located an easy 15-minute drive northeast of Wilmington. The museum houses a collection of close to 90,000 artifacts dating back as far as 1640 in its 175 rooms. Yes, you read that right. This is a big house!
The goal of this museum, as stated by former Winterthur inhabitant, Henry Francis DuPont, is to educate the public about American culture, especially as it relates to design, art, and history. His furnishings and other collected works are on display in both the changing galleries and permanent collection.
The Winterthur Library is an impressive research library focusing on American history between the 17th and 20th centuries, especially as it relates to art, cultural, and social events.
Outside, you'll find 1,000 acres of rolling hills, lush gardens, meadows, and vast woodlands. It would take hours to explore it all. If your feet are tired, hop aboard the tram for a narrated ride between March and December.
Address: 5105 Kennett Pike, Winterthur, Delaware
Official site: https://www.winterthur.org/
9. Wander through the Sculpture Garden at the Delaware Art Museum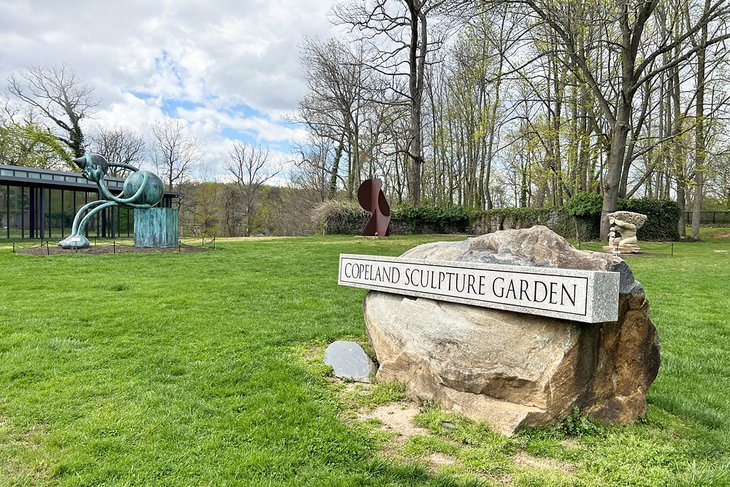 Walking through the Copeland Sculpture Garden is one of the best things to do at the Delaware Art Museum. Giant works are peppered throughout the area behind the museum, inspiring even the most unartistic of visitors. The outdoor labyrinth is a favorite with younger visitors.
Set in a quiet, historic neighborhood, this isn't the place you'd expect to find an art museum. Its out of the way locale only adds to its allure.
Inside, you'll find a wide variety of artistic pieces. The permanent collection holds nearly 12,000 works of art from across the globe and spanning many different eras. That means there's plenty to enjoy during your visit.
There's also the Kaffeina at Thronson Café and a museum store on-site. Grab a bite and enjoy it on one of the outdoor picnic tables that front the sculpture garden. Multiple events and classes are held here throughout the year, including live music during the Sculpture Garden Happy Hours.
Admission is free on Thursdays between 4 and 8pm.
Address: 2301 Kentmere Parkway, Wilmington, Delaware
Official site: https://delart.org/
10. See Dinosaurs at the Delaware Museum of Nature and Science
The newly renovated Delaware Museum of Nature and Science is a hit with kids of all ages. Founded in 1957 as the Delaware Museum of Natural History, this educational wonderland boasts impressive programs, events, and exhibits to peak any visitor's curiosity.
Whether you're interested in learning about the diverse ecosystems that cover Delaware or the ancient giants that roamed the area in the Cretaceous Period (i.e. dinosaurs), you'll find a bevy of artifacts to keep you entertained.
The Skylight Atrium is particularly enjoyable. It boasts the "Tree of Life," an exhibit that demonstrates the way in which over 1.6 million species are connected to each other on Earth. The Alison K. Bradford Global Journey Gallery is home to the African Savanna, Arctic Tundra, and Tropical Rainforest exhibits, as well as a section devoted to ocean life.
There's a café to provide snacks and a museum store on hand to trigger the "please, can I have..." mantras from your little ones.
Address: 4840 Kennett Pike, Wilmington, Delaware
Official site: https://delmns.org/
11. Visit the Red Panda at Brandywine Zoo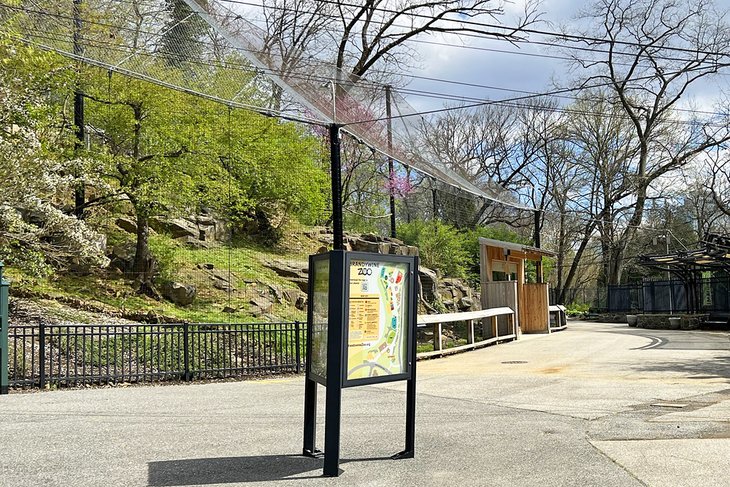 Brandywine Zoo is located in the park of the same name. A small, five-acre gem, this palatable spot is a perfect place to take younger children.
Here, they can be safely introduced to creatures that hail from tropical and temperate regions of North and South America, as well as Asia and Africa. And their little legs won't get tired from running from one animal's enclosure to the next.
Despite its small size, visitors are granted the opportunity to see a wide variety of animals ranging from domesticated goats to black-and-white ruffed lemurs to a red panda.
The zoo is open from 10am to 4pm, with the last admission at 3:30. It has a restroom, concessions for sale, and a few picnic tables, as well as a nature playground.
Insider's tip: The best time to visit Brandywine Zoo is during spring, summer, or fall. Some animals can't take the cold, so they're moved inside during the winter.
Address: 1001 North Park Drive, Brandywine Park, Wilmington, Delaware
Official site: https://brandywinezoo.org/
12. Enjoy a Picnic in Brandywine Park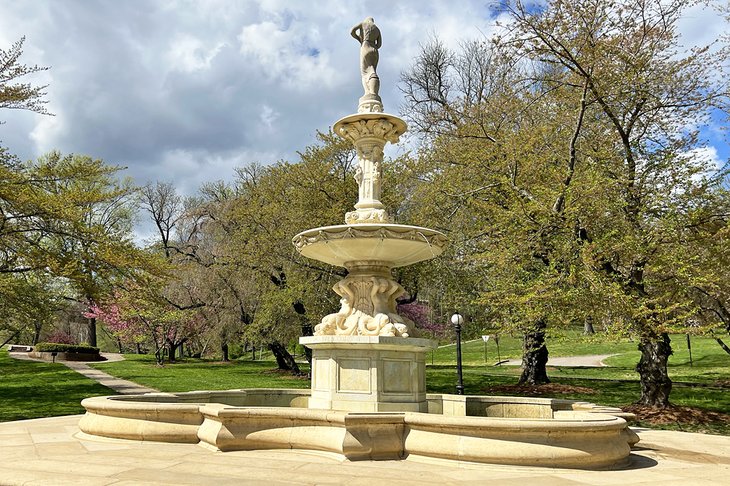 Brandywine Park is Wilmington's version of New York's Central Park, but with a river that runs through its center. This picturesque nature space is a haven for locals and visitors looking for a relaxing spot to unwind.
The largest urban park in the state, Brandywine Park boasts 178 acres of varied terrain for everyone to enjoy. Peppered with lush gardens, the ornate Josephine Fountain, and multiple statues, the backdrop is stunning and vast enough to host family picnics and pick-up ball games.
The Jasper Rose Garden is a must-see, as are the Vietnam Memorial, Swinging Bridge, and Sugar Bowl. This park is also where you'll find the Brandywine Zoo. If you're into sports, head to the Barnyard Stadium.
Looking to get active? You're in luck. There are fitness stations set along the 0.9-mile fitness trail that loops the park, as well as plenty of wooded paths to bike or run.
Address: 1080 North Park Drive, Wilmington, Delaware
13. See a Restored Mill at the Hagley Museum & Library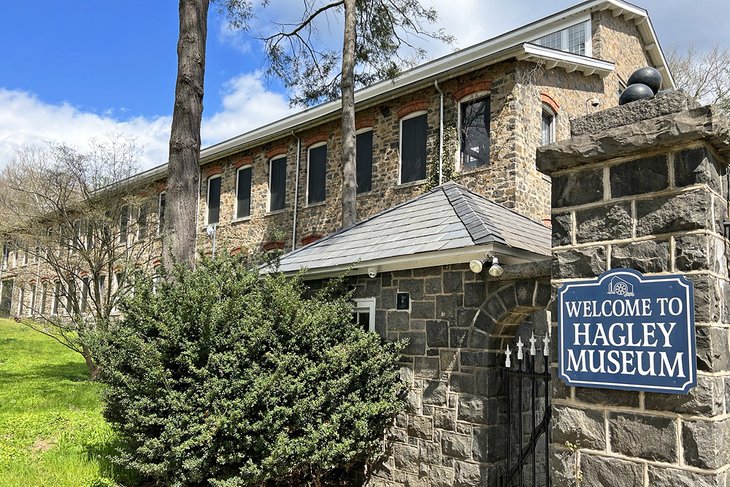 The Hagley Museum & Library boasts an exceptionally beautiful setting. Located on 235 acres that line the Brandywine River, this picturesque spot was once the site of a gunpowder mill founded by E. I. du Pont.
Today, visitors are treated to a historic trip through the Worker's Hill Community; the home and gardens of the du Pont family (a.k.a. the Eleutherian Mills residence); and restored mills like the charming Breck's Mill, a former cotton spinning mill, which lies in the Henry Clay Village Historic District. This mill once housed 1,600 spindles and 30 looms. Many years later, it was used as a post office.
While you're here, learn how the "black powder" was made in 1804 with a tour through Powder Yard, and visit the du Pont family's lovely Georgian home and its captivating gardens.
Address: 200 Hagley Creek Road, Wilmington, Delaware
Official site: https://www.hagley.org/
14. Admire the Plantings at Read House & Gardens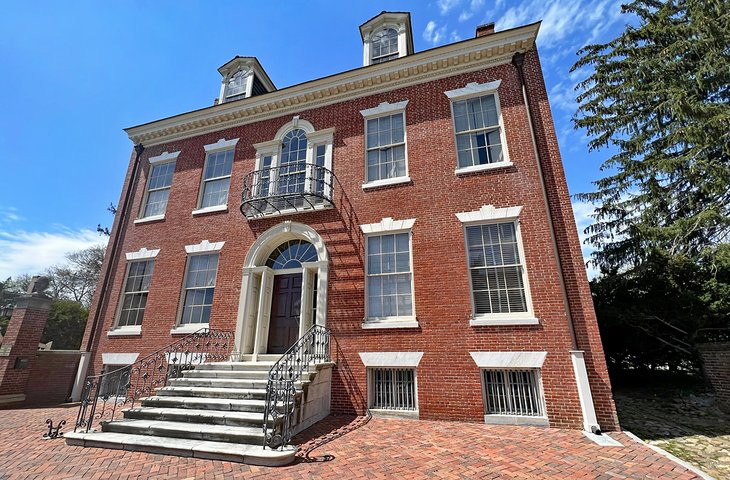 Although not technically in Wilmington, the Read House and Gardens rank among the city's best attractions. A mere 6.4 miles southeast of the city, in New Castle, this historic house is set in a town so charming, you may never want to leave.
The house itself is 14,000 square feet, a grand mansion when it was built in the early 19th century. There's no lack of space in this pretty spot, which was originally built for George Read II. It is an impeccably preserved example of architecture in the grand federal period.
Inside is peppered with intricate details on fireplace mantles, as well as impressive furnishings and other artifacts. Be sure to visit the roof while you're here. The panoramic views are spectacular. To peek behind the doors, you'll have to visit between 11am and 4pm on a weekend. Tours begin on the hour, with the last one starting at 3pm. The gardens, however, can be enjoyed between dawn and dusk year-round.
Speaking of the gardens, you must make time to see them. The landscaping at this pretty spot is both romantic and idyllic, spotted with winding pathways and gazebos.
Address: 42 The Strand, New Castle, Delaware
Official site: https://readhouseandgardens.org/
15. Feel the History at Amstel House and Museum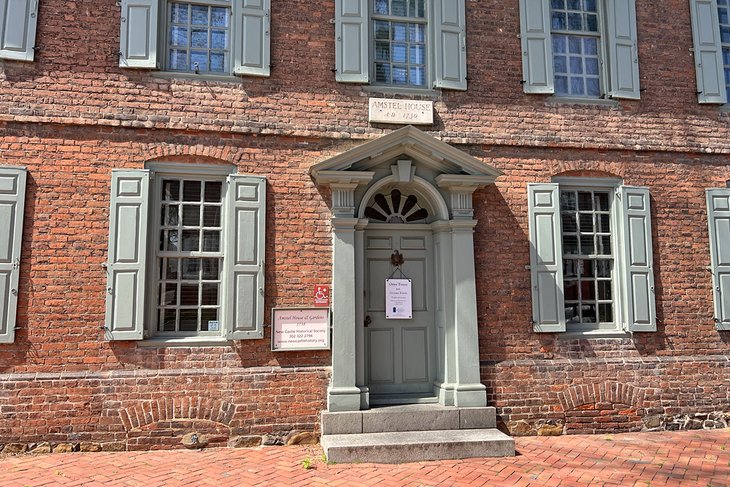 Cobblestone streets, historic houses, and lush parks make New Castle a must-visit destination for those based in nearby Wilmington. Like Read House & Gardens, this charming colonial home has been around for a while–since the late 1730s, to be exact.
Amstel House is run by the New Castle Historical Society, along with other worthy attractions like Dutch House and the Old Library. Guided tours are available From April 1st through December. It is closed on Mondays and Tuesdays.
Sometimes referred to as the Dr. Finney House (in honor of its former owner), this home features a lovely brick façade. Inside, you'll see the central hall, parlor, kitchen, pantry arc, and multiple remnants of furnishings and artifacts from its heyday.
Address: 2 East 4th Street, New Castle, Delaware
Official site: http://newcastlehistory.org/