15 Top-Rated Things to Do in Allentown, PA
You'd need several days to accomplish all the things to do in Allentown, PA. This city is home to a fantastic array of attractions for every type of tourist, from the sports enthusiast to the history buff, along with kids.
You can cheer on the IronPigs in the spring and summer (and even try to catch a foul ball!) at Coca-Cola Park. Shop for locally grown fruits and veggies from more than 65 vendors at the impressively large farmers market.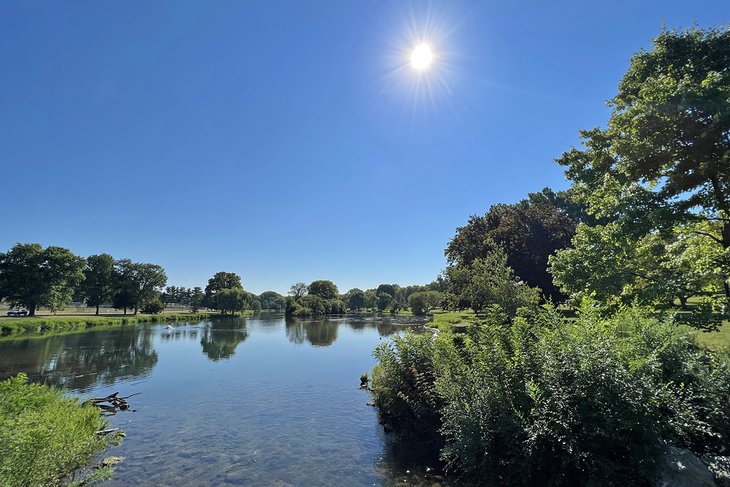 Enjoy the scenery at several local parks and Allentown's beloved rose garden. See classic cars on display at the America On Wheels Museum. Or spend a thrilling day riding the roller coasters at Dorney Park & Wildwater Kingdom. This is a city that caters to families as much as couples and solo travelers.
Start planning your trip to this historic city with our list of the top things to do in Allentown.
1. Catch a Baseball Game at Coca-Cola Park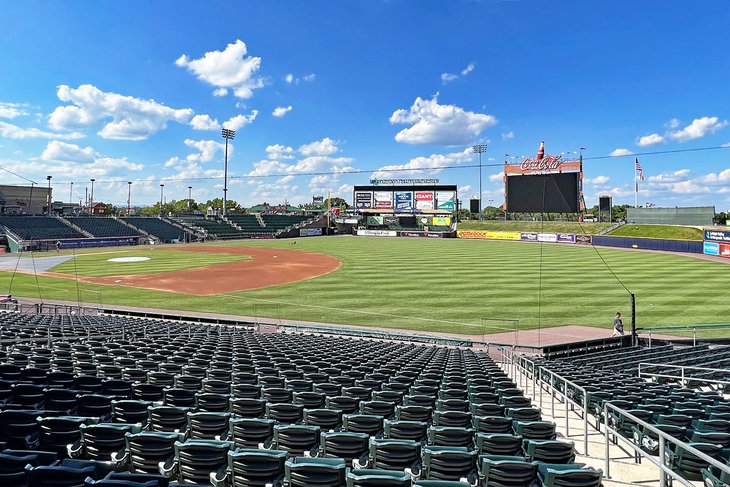 Coca-Cola Park is the hottest place to be in Allentown when its Minor League Baseball team, the IronPigs, take on opponents at home. The 8,089-seat ballpark frequently sells out its regular season games and averages more than 9,000 attendees per contest.
Since opening in 2008, it has earned accolades for its fan-friendly vibe and architectural design, offering expansive views of the field. The season typically runs from early April through mid-September. And while tickets to top games may sell out in advance, they typically come at a much lower cost than those at major league ballparks. Score!
Address: 1050 Ironpigs Way, Allentown, Pennsylvania
Official site: www.milb.com/lehigh-valley/ballpark/coca-cola-park
2. Shop at the Allentown Fairgrounds Farmers Market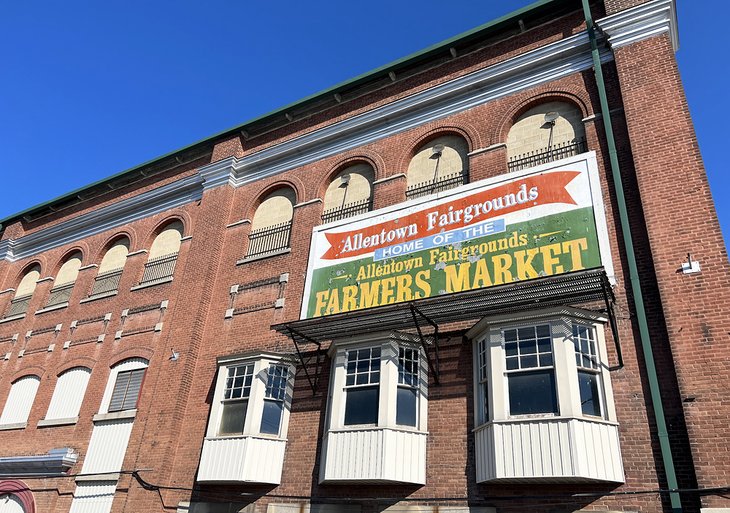 Open since 1953, the Allentown Fairgrounds Farmers Market is sometimes thought of as a "community within a community." More than 65 vendors, several of whom have been a mainstay at the indoor farmers market for more than six decades, pack their stalls with fresh produce, meats, dairy, and ready-made foods Thursday through Saturday, creating a lively atmosphere.
The market itself is impressively large. It occupies an expansive building with nine separate entrances around its perimeter that connect to a spacious parking lot.
Beyond farm-fresh fruits and veggies, there's a lot of food available to enjoy on-site, as well. Highlights include getting a pickle on a stick from New York Pickle, shoo-fly pie at the Amish Village Bake Shop, and old-fashioned sweets from Mink's Candies.
Hot tip: Vendors typically have peak inventory on Thursday night, making it the best time to shop. But if you're looking for a deal, visit in the late afternoon on Saturday, when vendors are trying to sell whatever they have left before the market closes that week.
Address: 1825 Chew Street, Allentown, Pennsylvania
Official site: www.allentownfarmersmarket.com
3. Cheer on the Lehigh Valley Phantoms at the PPL Center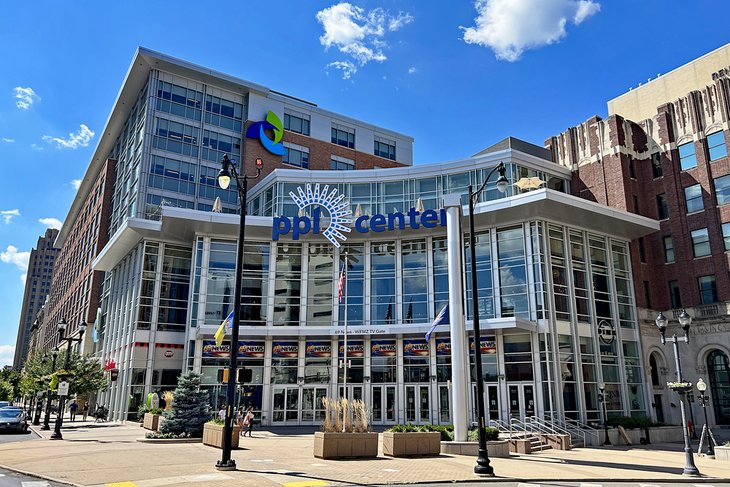 Located right next to the Soldiers and Sailors Monument, the PPL Center is a sports arena that's home to Allentown's professional ice hockey team, the Lehigh Valley Phantoms. The 8,500-seat indoor arena typically hosts season games from mid-October through mid-April.
The PPL Center is more than just a hockey arena, though. It offers more than 150 events every year, ranging from monster truck races and wrestling championships to political conventions and kid-friendly entertainment. The venue also hosts major concerts, counting big names like Elton John, Neil Diamond, and Cyndi Lauper among the performers who've graced its stage.
Address: 701 Hamilton Street, Allentown, Pennsylvania
Official site: www.pplcenter.com
4. Feed the Trout at Allentown Fish Hatchery
One of the top free things to do in Allentown is visit the Li'l-Le-Hi Trout Nursery. Also known as the Allentown Fish Hatchery, this nearly 140-year-old attraction is one of the country's oldest continuously operated trout nurseries. Its 12 ponds, which have been covered to protect the fish from predatory birds, contain trout at all different stages of development, giving tourists the chance to learn about their life cycle.
Fish food is available for purchase (and feeding the trout can be particularly fun for kids). You can also go fly fishing (for catch and release only) in the creek on the eastern side of the park.
Address: 2901 Fish Hatchery Road, Allentown, Pennsylvania
Official site: www.allentownpa.gov/Department-of-Parks-and-Recreation/Parks-Bureau/Park-Inventory/Lil-Le-Hi-Trout-Nursery
5. See Rare Cars at the America On Wheels Museum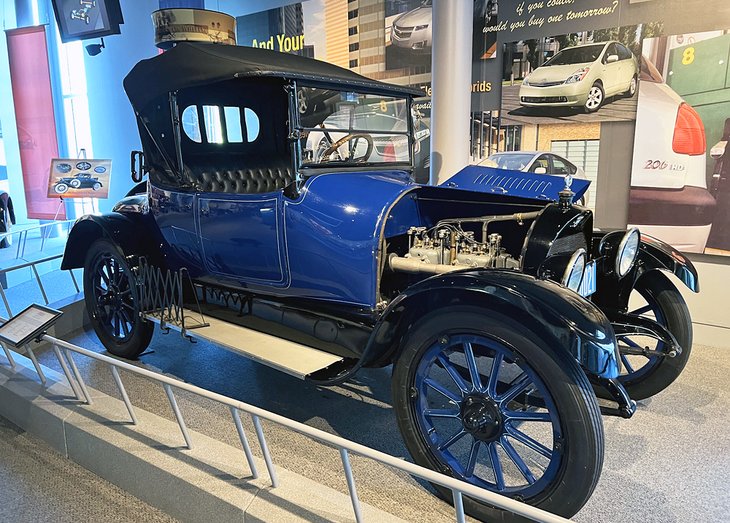 The America On Wheels Museum can turn just about anyone into a car enthusiast. This 43,000-square-foot museum aims to preserve and share the historical, social, and cultural impact of on-road transportation in the U.S.
The attraction's exhibit spaces showcase an amazing collection of dozens of rare vehicles that have been restored to their prime glory, including a 1949 Chevrolet 380 Canopy Express, 1914 Metz Model 22, 1976 CitiCar (which sold better than any electric car in history), and a 1961 Chevrolet Corphibian (a one-of-a-kind vehicle that could travel by land and over the water).
There's a description next to each displayed vehicle that explains its specifications and describes its importance. In addition to cars, you'll also get to see bikes, motorcycles, trucks, campers, and more.
If you love this museum, you may also find it worthwhile to check out another Allentown attraction focused on vehicles: Mack Trucks Historical Museum. It's located about four miles southwest of the America On Wheels Museum. It closed during the pandemic, but is planning a reopening. Check the website for details.
Address: 5 North Front Street, Allentown, Pennsylvania
Official site: www.americaonwheels.org
6. Take a Romantic Stroll at the Malcolm Gross Rose Garden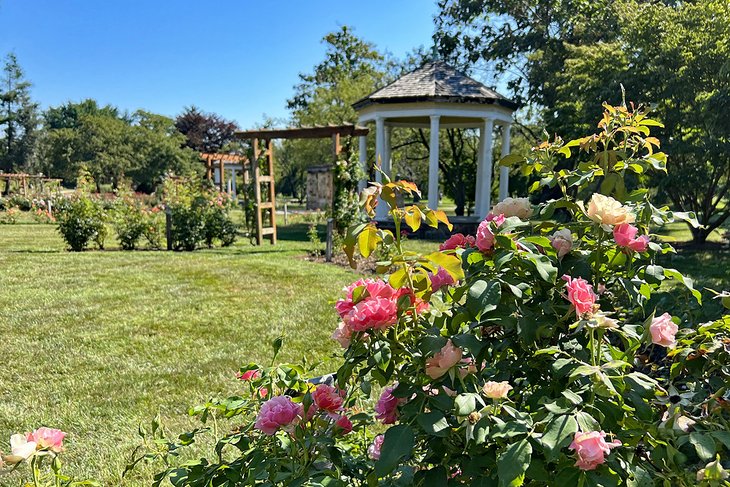 Roses in nearly every color of the rainbow bloom at the Malcolm Gross Rose Garden. Known to tourists as the Allentown Rose Garden, this exquisite outdoor space features several classic rose gardens with quaint trellises and ponds with water lilies, along with a 1.3-mile walking loop that's perfect for a romantic stroll.
The garden peaks in June and July, but you can usually still see some lovely blooms in August, as well.
Another pretty old-fashioned garden can be found right next to the rose garden. That one has flower beds filled with a wide variety of flowers
Address: Between Hamilton St. & Linden St., off of Ott St., Allentown, Pennsylvania
7. Ride the Roller Coasters at Dorney Park & Wildwater Kingdom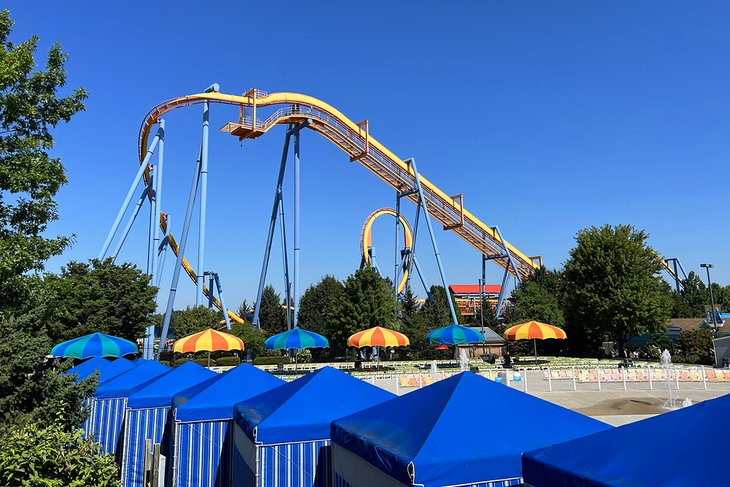 Spending the day at Dorney Park & Wildwater Kingdom is one of the most fun things to do in Allentown.
This historic amusement park, which has been in business since 1884, boasts more than 60 world-class rides. Experience what it's like to free fall 60 feet in just two seconds on the Demon Drop. Go upside down a total of seven times on the Hydra, Pennsylvania's only floorless roller coaster.
Splash into a pool at the end of an enclosed waterslide. Or have fun on classic attractions, like an antique carousel, Ferris wheel, and bumper cars.
If you need a sugar fix, you can also build your own funnel cake at the park.
Address: 4000 Dorney Park Road, Allentown, Pennsylvania
Official site: www.dorneypark.com
8. Let Kids Experiment at the Da Vinci Science Center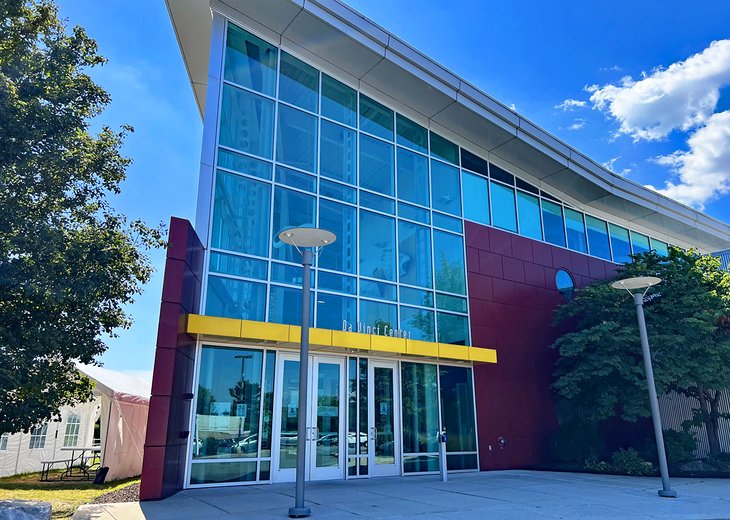 Kids can get hands-on with science at the Da Vinci Science Center, an interactive museum just south of Trexler Memorial Park.
The educational attraction has a range of exhibits primarily geared for children up to age 12. They can try building their own vehicle out of plastic parts at the Invent-a-Car station, hone their observational skills as they crawl through a pitch-black tunnel that stretches 72 feet, create a stop-motion film, and step inside a category 1 hurricane simulator, among other fun experiences.
The attraction can be particularly busy on weekday mornings due to field trips, so consider planning your visit for later in the day.
Address: 3145 Hamilton Blvd. Bypass, Allentown, Pennsylvania
Official site: www.davincisciencecenter.org
9. See a Rembrandt Painting at the Allentown Art Museum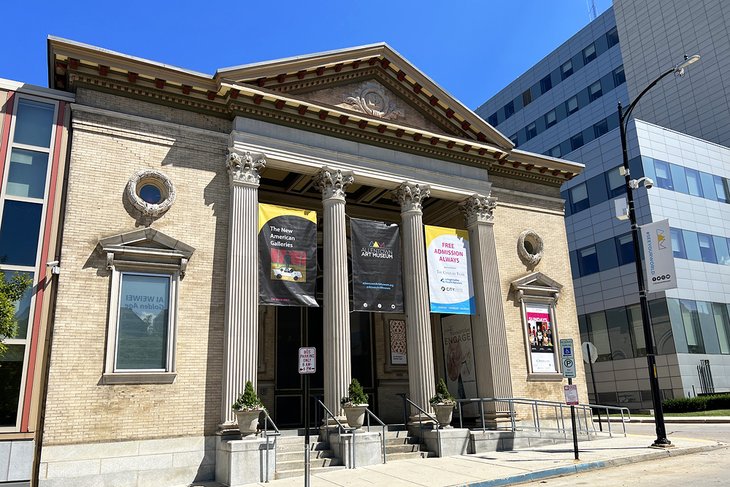 The Allentown Art Museum has a mix of renowned fine art and quirky collections. The museum showcases a strong core of paintings, including Renaissance, Baroque, and American works. One of its crown jewels is Rembrandt's "Portrait of a Young Lady."
There's also a variety of decorative arts, ranging from 18th-century British silver to Tiffany Studios pieces from the 20th century.
In its rotating galleries, the museum occasionally highlights unexpected treasures from its collection. This has included displays of vintage shoes, antique decorative wreaths woven from human hair, and scottie and poodle dog pins.
The combination of world-class art with personality-rich temporary exhibits makes the attraction fun to visit again and again.
Address: 31 North Fifth Street, Allentown, Pennsylvania
Official site: www.allentownartmuseum.org
10. Ring a Replica of the Liberty Bell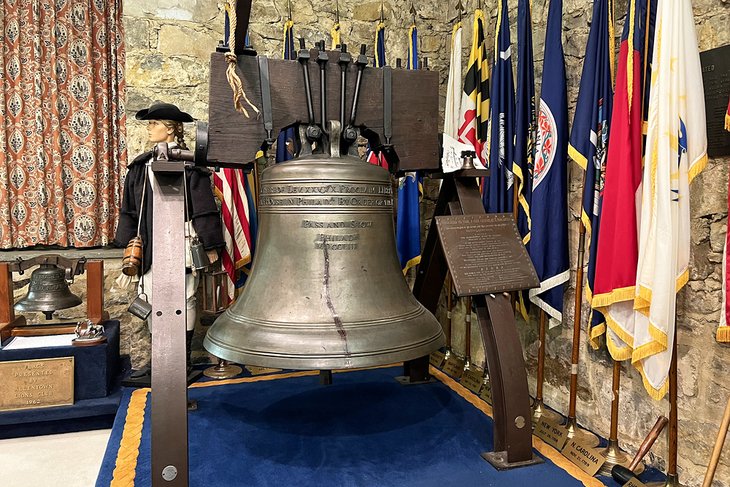 Zion's Church was once the hiding place for Philadelphia's State House bell (now known as the Liberty Bell) when officials feared that the British would attack the revolutionary capital in 1777. This fascinating piece of Allentown history is now celebrated at the Liberty Bell Museum, located within that very church.
Tourists who visit the attraction can ring an exact replica of the iconic bell and see artist Wilmer Behler's hand-painted mural depicting the hiding of the State Bell, as well as several other bells that were taken out of Philadelphia for safekeeping.
Address: 622 Hamilton Street, Allentown, Pennsylvania
Official site: www.libertybellmuseum.org
11. Have a Picnic at Trexler Memorial Park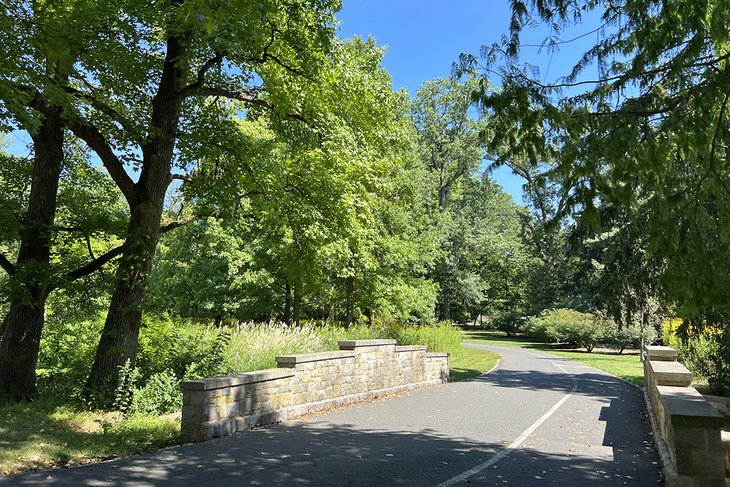 Once you've stocked up on goodies from the Allentown Fairgrounds Farmers Market, consider heading to Trexler Memorial Park. This park has expansive grassy areas that make prime picnic spots, especially in the shade of the large trees.
Afterward, you can walk off an afternoon slump on the park's 1.25-mile pathway, some of which is adjacent to Little Cedar Creek.
Address: 155 Springhouse Road, Allentown, Pennsylvania
12. Play on a High-Tech Playground at Cedar Creek Park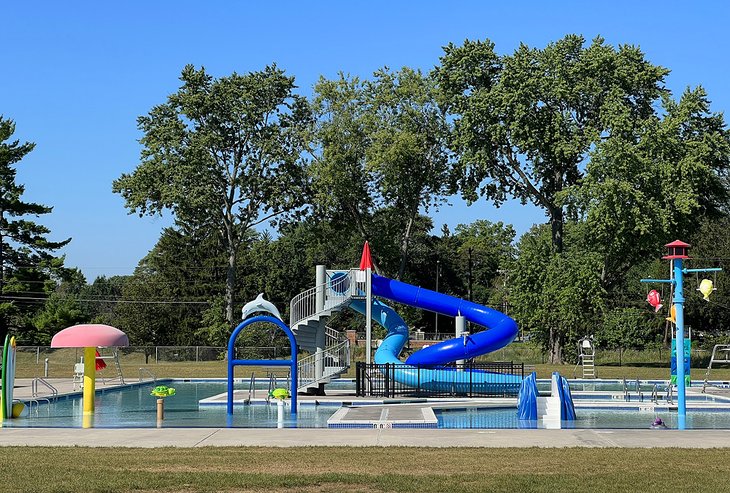 Cedar Creek Park is another picturesque place to visit to enjoy the outdoors in Allentown. This park brims with amenities, including a municipal pool (complete with a waterslide!), four volleyball courts, four lighted basketball courts, and 2.3 miles of trails.
There's also a 1,900-square-foot playground with equipment that lights up and emits sounds–perfect for enticing kids away from their screens for a little while.
Throughout the summer, the park hosts a mix of special events, such as charity walks, the annual 4th of July celebration, and a water lantern festival.
Address: Between Hamilton Blvd. & Linden St. (Parkway Blvd,), on Ott St., Allentown, Pennsylvania
13. Learn about Native American Traditions at the Museum of Indian Culture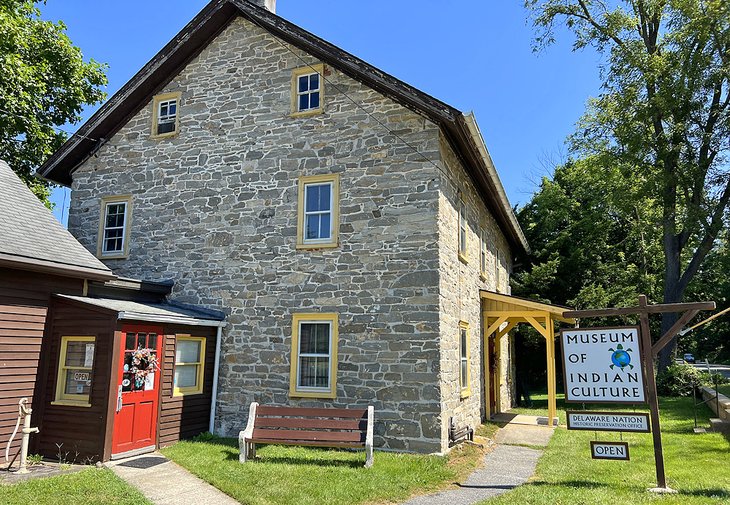 For more than 40 years, the Museum of Indian Culture has been the go-to place to visit in the Lehigh Valley to learn about the history and traditions of Native American groups.
The small, volunteer-run museum boasts a surprisingly robust collection of artifacts, including war clubs, arrowheads, animal skins, and a beaded purse that's believed to have belonged to a daughter of Sitting Bull.
Don't miss the exhibit on women warriors and the contributions of Native Americans to the U.S. Military. There's an incredibly detailed outfit on display that depicts American motifs (like the bald eagle) with a couple of million beads threaded onto the garment by hand. It's truly impressive.
Address: 2825 Fish Hatchery Road, Allentown, Pennsylvania
Official site: www.museumofindianculture.org
14. Visit the Soldiers and Sailors Monument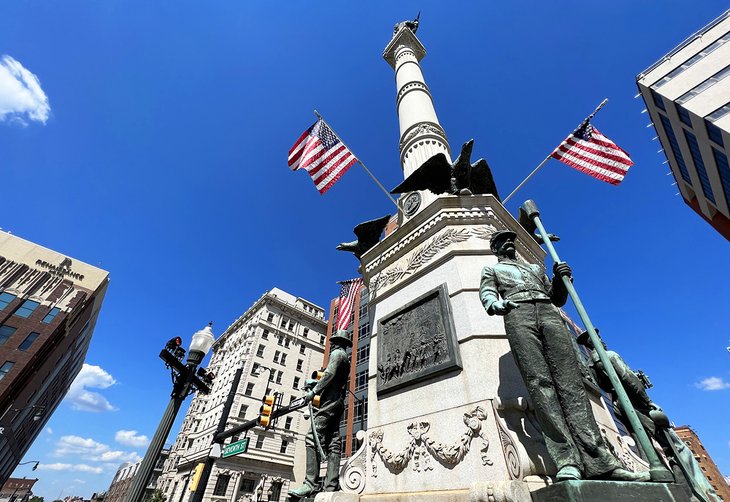 Just outside the PPL Center is one of Allentown's most iconic monuments: the Soldiers and Sailors Monument. Erected in 1899, it honors American Civil War veterans from the 47th Regiment Pennsylvania Volunteers.
It features several life-size soldiers surrounding a 78-foot-high granite shaft. A 21-foot-tall Goddess of Liberty was placed on top in 1964 to replace the original statue after it was damaged by acid rain and a hurricane.
15. Hear the Allentown Symphony Orchestra at Miller Symphony Hall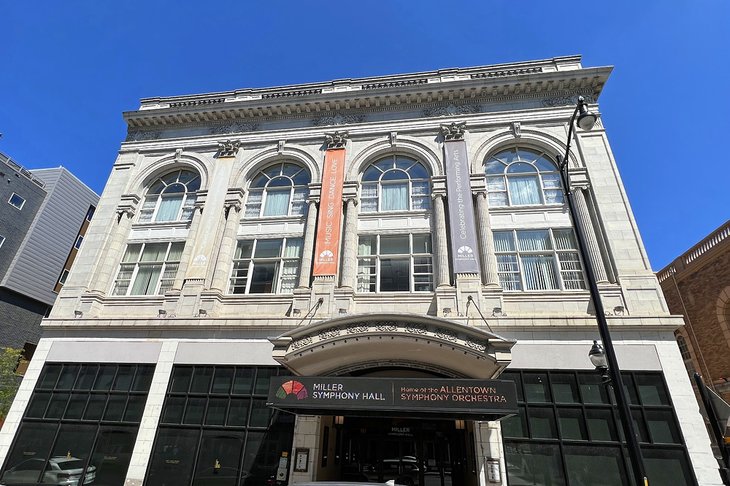 Miller Symphony Hall is the go-to attraction for performing arts in Allentown. The 1,200-seat venue is home to the Allentown Symphony Orchestra, the only professional orchestra in the Lehigh Valley.
In addition to hosting more than 20 concerts in the award-winning orchestra's classical and pop series every year, this historical attraction also stages dance recitals, artist discussions, jazz performances, family-friendly entertainment, and holiday shows.
Check the events calendar on the venue's website to see what's happening during your visit to Allentown.
Address: 23 N. 6th Street, Allentown, Pennsylvania
Official site: www.millersymphonyhall.org
Map of Things to Do in Allentown, PA
Allentown, PA - Climate Chart
Average minimum and maximum temperatures for Allentown, PA in °C
J
F
M
A
M
J
J
A
S
O
N
D

2

-7

4

-6

9

-2

16

3

22

9

26

14

29

17

28

16

23

12

17

5

11

1

4

-4

PlanetWare.com
Average monthly precipitation totals for Allentown, PA in mm.

89

70

90

89

114

101

109

111

111

85

94

86

Average monthly snowfall totals for Allentown, PA in cm.

25

26

12

2

0

0

0

0

0

0

4

16
Average minimum and maximum temperatures for Allentown, PA in °F
J
F
M
A
M
J
J
A
S
O
N
D

35

19

39

21

49

29

60

38

71

48

79

58

84

63

82

61

74

53

63

41

51

33

40

24

PlanetWare.com
Average monthly precipitation totals for Allentown, PA in inches.

3.5

2.8

3.6

3.5

4.5

4.0

4.3

4.4

4.4

3.3

3.7

3.4

Average monthly snowfall totals for Allentown, PA in inches.

9.7

10

4.7

0.9

0

0

0

0

0

0.1

1.6

6.2