12 Top-Rated Things to Do in Reading, PA
Reading, PA, is a small city brimming with sightseeing opportunities and surprising experiences for tourists. It has all the attractions you'd expect to find in a Pennsylvania city, including a popular baseball stadium, a farmers market, historical sites, and scenic nature preserves.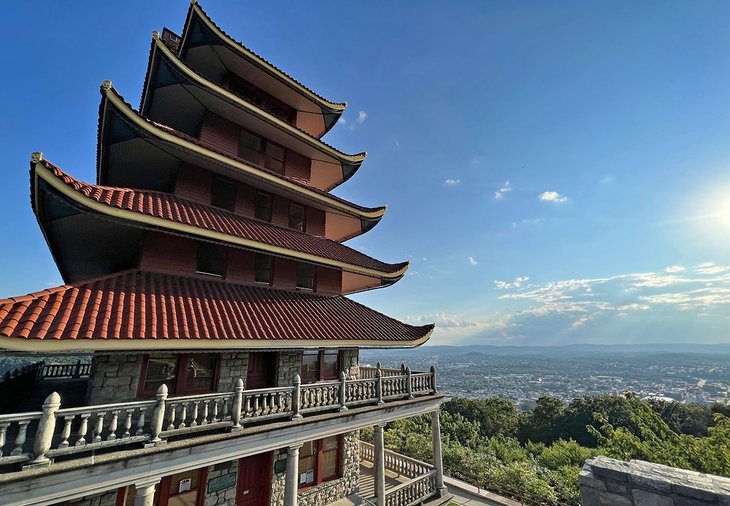 But some of the top things to do in Reading are much less predictable. Soak up views of downtown from an authentic pagoda (like the ones seen in Japan) that's more than a century old. Marvel at a mummy in the Reading Public Museum (and see it come back to life as a hologram!). And get up close to one of the world's best collections of vintage military aircraft at the Mid-Atlantic Air Museum. This is a destination that will leave you charmed.
Make the most of your trip with our list of the top things to do in Reading, PA.
1. Root for the Reading Fightin Phils at FirstEnergy Stadium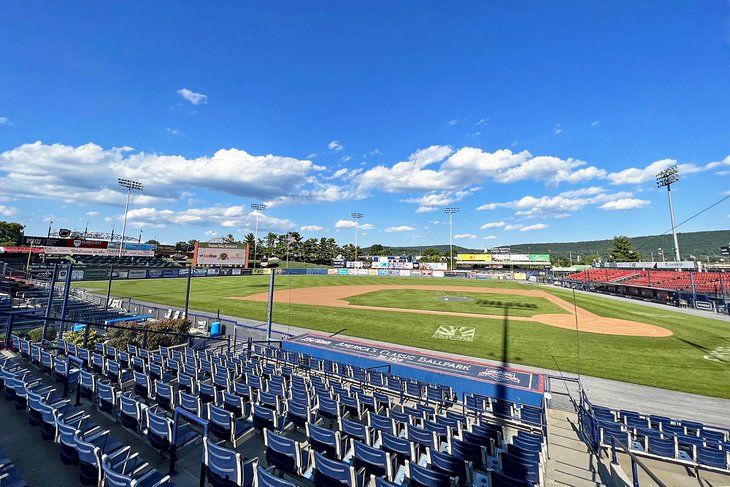 The Reading Fightin Phils have earned a reputation as one of the 100 greatest teams in Minor League Baseball, so when it's game day, you can bet on big crowds at FirstEnergy Stadium.
The 10,000-seat stadium, which hosted its first baseball game more than 70 years ago, has earned awards for its attendance levels and soaring views of baseball games. You can regularly catch games here from early April through mid-September.
While this attraction is technically a baseball-only stadium, it also has a variety of concession stands and a state-of-the-art stage, where fans can see concerts before and after roughly 30 games each season. Check the website for the most up-to-date game and event schedule.
Address: 1900 Centre Ave., Reading, Pennsylvania
Official site: www.milb.com/reading/ballpark/firstenergystadium
2. Watch the Sunset at the Reading Pagoda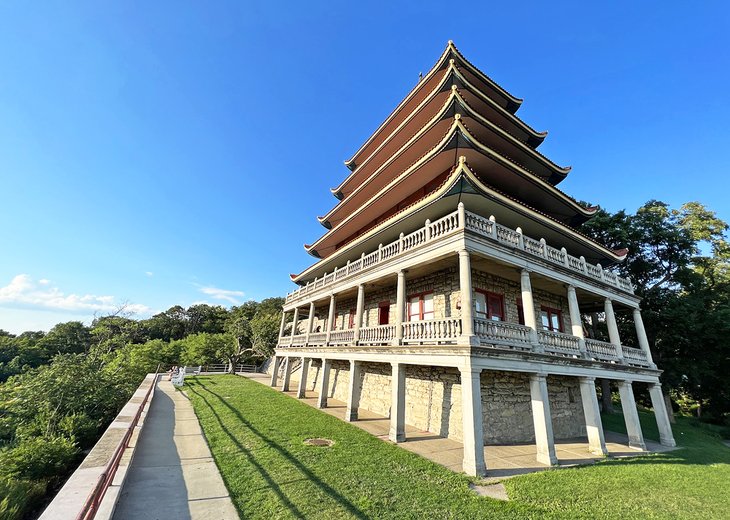 One of the last things you'd expect to see in Southeastern Pennsylvania is a pagoda, but that's exactly what you'll find atop Mount Penn in Reading. T
he seven-story tiered structure was built in 1908, and was initially slated to become a luxury resort. But when those plans failed, it was donated to Reading as a public observatory. The Reading Pagoda was added to the National Register of Historic Places in 1972 and is broadly considered a symbol of the city.
Visiting the architectural novelty is one of the top things to do in Reading, and the best time to go is around sunset. That's when each tier of the pagoda twinkles with red LED lights, and you can soak up a panoramic city view that stretches for 30 miles.
A grassy area just below the Reading Pagoda makes a great spot for an evening picnic. Grab some local treats at Boscov's Fairgrounds Farmers Market, or look for food trucks that occasionally pop up in the pagoda parking lot.
Address: 98 Duryea Drive, Reading, Pennsylvania
Official site: www.readingpagoda.com
3. Marvel at the Reading Public Museum's Mummy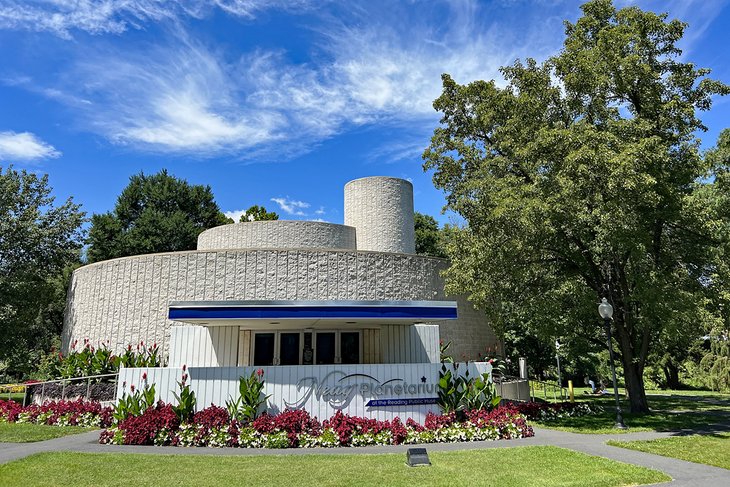 Open in the present location since 1929, the Reading Public Museum rivals major metropolitan museums with a collection of some 300,000 objects.
Its two floors of exhibition space showcase impressive works of Impressionist art, an arms and armor gallery, dinosaur bones, more than 75 taxidermy animals from five continents, decorated pottery from ancient civilizations, and exquisite quillwork and beadwork from Native Americans. There's even an animatronic of museum founder Dr. Levi Mengel, who greets visitors as they enter.
But it's the ancient civilizations gallery that houses the crown jewel of this storied institution: a mummy of Nefrina. She has lied in this preserved state for some 2,300 years and made her way from the ancient Egyptian city of Akhmim to the Reading Public Museum in 1930.
But in recent years, Nefrina has been brought back to life in a ghostly hologram form, projected in a semi-transparent haze in the gallery. The roughly four-minute-long video gives Nefrina (or, in this case, an actress who closely resembles her) the chance to describe her life and the mummification process that has kept her so well preserved. It's worth watching the clip in its entirety.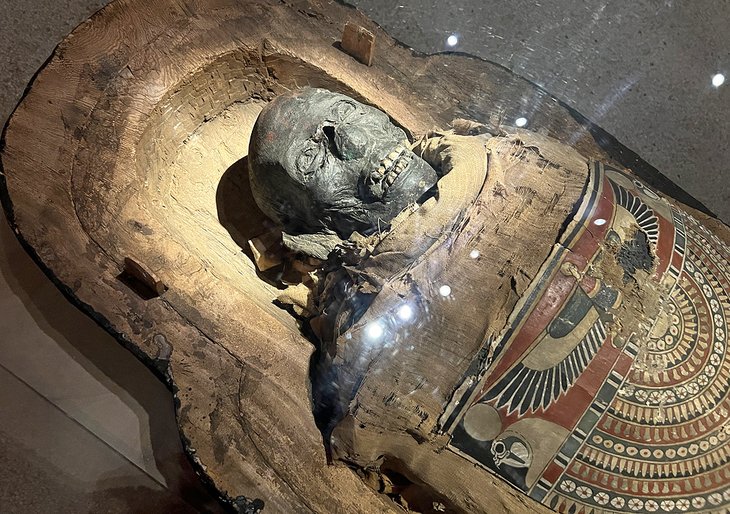 Just outside the museum, you can stretch your legs at the adjacent arboretum, which has a range of indigenous and exotic trees. You can also catch star shows throughout the week at the Neag Planetarium, just across from the museum.
Address: 500 Museum Road, Reading, Pennsylvania
Official site: www.readingpublicmuseum.org
4. Feast on Local Fare at Boscov's Fairgrounds Farmers Market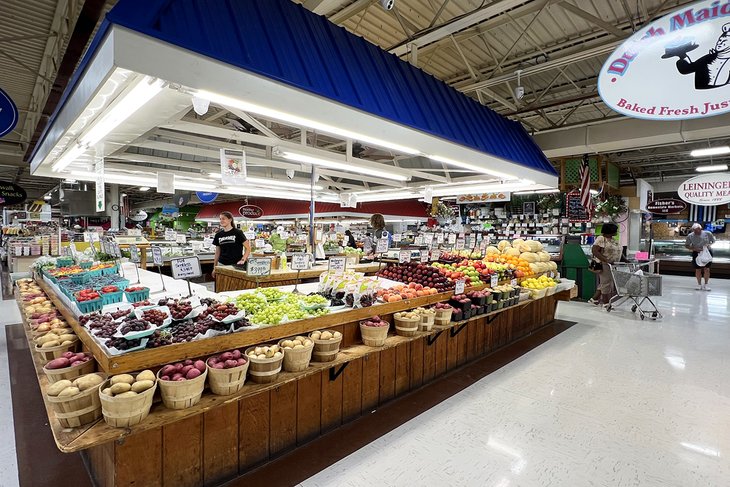 Boscov's Fairgrounds Farmers Market has served the city of Reading in one form or another since the late 1940s, starting in a wooden market building in the Reading Fairgrounds Complex.
Today, the award-winning farmers market and food hall offers space for 65 family-owned merchants to sell their produce and ready-to-eat treats all year-round. It's a great place to enjoy a hearty lunch and stock up on fresh fruits, veggies, meats, and edible souvenirs to take home.
Don't miss the Stoltzfus Soft Pretzels stand just inside the Bellevue Avenue entrance. Its soft buttery pretzels come in a range of flavors, including salt, cinnamon-sugar, and everything bagel seasoning, and make the perfect afternoon pick-me-up. End the visit with a cupcake, whoopie pie, or doughnut from the Pennsylvania Dutch bakeries on the opposite end of the market.
Address: 2934 North 5th Street Hwy., Reading, Pennsylvania
Official site: www.fairgroundsfarmersmarket.com
5. Get Up Close to Rare Planes at the Mid-Atlantic Air Museum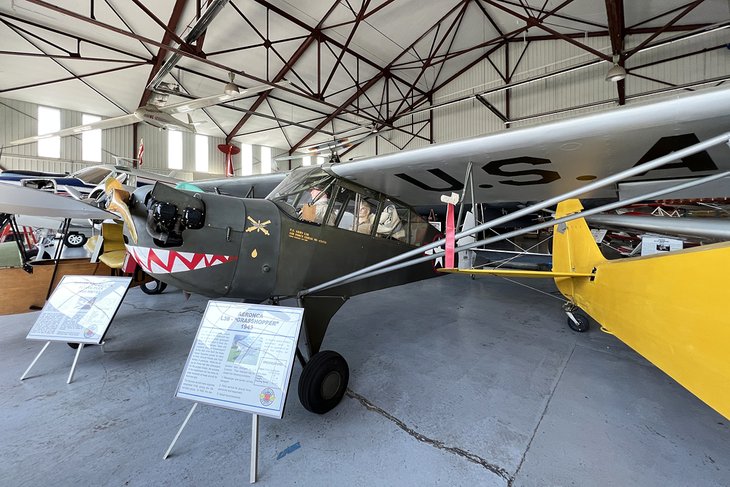 Tourists can get up close to historic war planes, classic airliners, and rare aircraft at the Mid-Atlantic Air Museum. Located at the Reading Regional Airport, the museum restores and showcases aircraft from its incredible collection in hangars and on an outdoor ramp.
During a guided tour, you can see restoration work on one of just four remaining World War II-era P-61 Black Widows, along with several bombers (including the B-25 "Mitchell" and TBM-3 "Avenger"), a Sikorsky HH-52A rescue helicopter, and the world's only Zuck "Plane-Mobile 1," which was designed to be a flying car.
The aircraft enthusiast guides may even let you stick your head inside the cockpit of some aircraft to get a sense of what it might have been like to fly them.
Hot tip: Every June, more than 1,700 World War II military and civilian re-enactors gather at the museum for its annual World War II Weekend festival. Get your tickets well in advance, especially if you want to experience a joy ride in one of the legendary World War II planes that take flight that weekend.
Address: 11 Museum Drive, Reading, Pennsylvania
Official site: www.maam.org
6. Watch Artists at Work at GoggleWorks Center for the Arts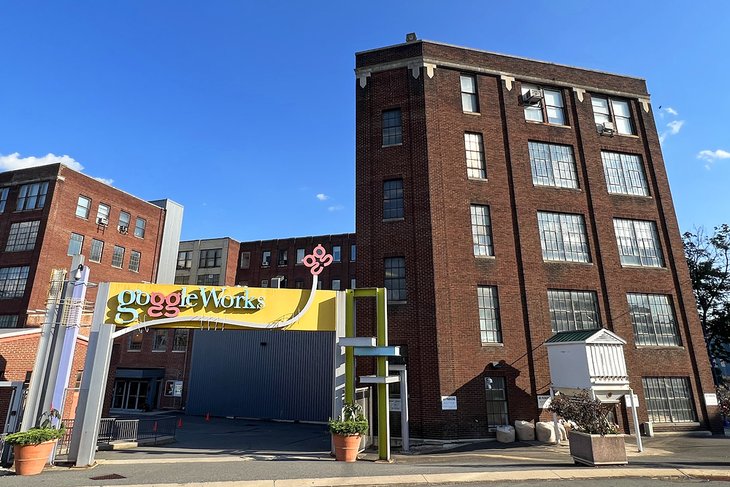 GoggleWorks Center for the Arts is one of the country's largest interactive art centers of its kind. Housed in a former factory that produced goggles and optical lenses for more than 125 years, the non-profit attraction offers art classes (including drawing, ceramics, glassblowing, photography, and printmaking) in on-site workshops.
Even if you don't have time to take a class, it's still worth wandering around the main building's five floors, where you can peek inside resident artists' studios and watch the creators at work. Art is displayed throughout the property.
There's also a well-curated gift shop with creations from local artists on the first floor.
Address: 201 Washington Street, Reading, Pennsylvania
Official site: www.goggleworks.org
7. Catch a Live Performance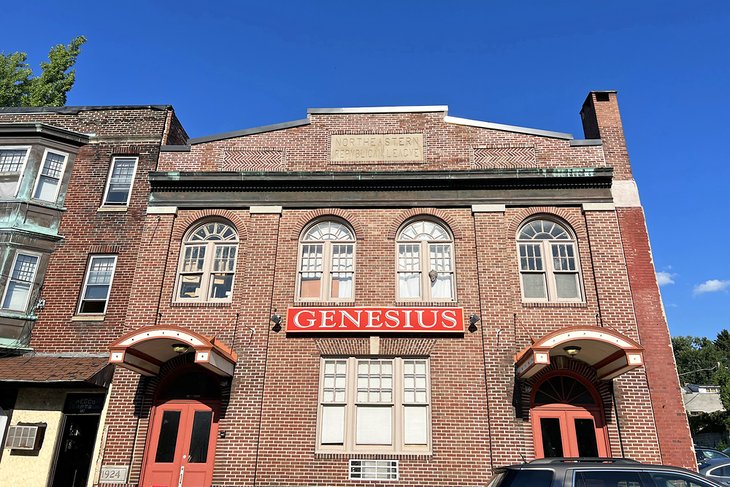 Performing arts lovers are spoiled for choice in Reading. The city is home to several venues, both large and small, that regularly host live entertainment.
The Santander Arena anchors Reading's performing arts scene. Since opening in 2001, the 8,800-seat concert hall has hosted performances by mega stars, including Taylor Swift and Elton John. Nearby, the Santander Performing Arts center also draws major acts to its historic auditorium, including comedians Dave Chappelle and Jerry Seinfeld.
For musical theater with professional live orchestras, look no further than the Genesius Theatre. This non-profit performance venue offers 10 productions each year, three of which are from children and teens. Performances regularly sell out, so get your tickets in advance.
Another venue, the Miller Center for the Arts, can be found at the Reading Area Community College. The 509-seat theater offers concerts, theatrical performances, and dance recitals.
8. Hike in Nolde Forest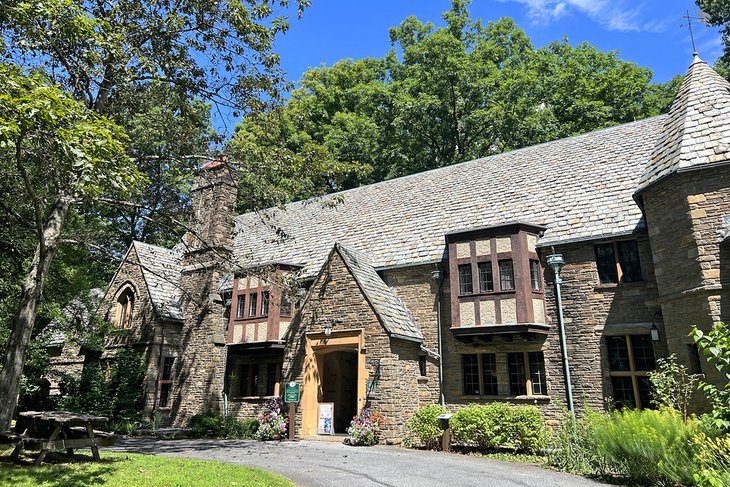 Lace up your hiking shoes and head out for an afternoon in the woods at Nolde Forest. The Pennsylvania state park has more than 725 acres of land filled with deciduous trees, coniferous plantations, streams, and ponds, all easily explored through a network of trails.
Look out for the Tudor-style mansion, which was built by the son of the hosier baron who bought this land in the early 1900s. You can tour the historic property during its open house days on the first Sunday of each month. The native wildflower garden just outside the mansion attracts hundreds of butterflies in the summertime.
Address: 3025 New Holland Road, Reading, Pennsylvania
9. Step Back in Time at Berks County Heritage Center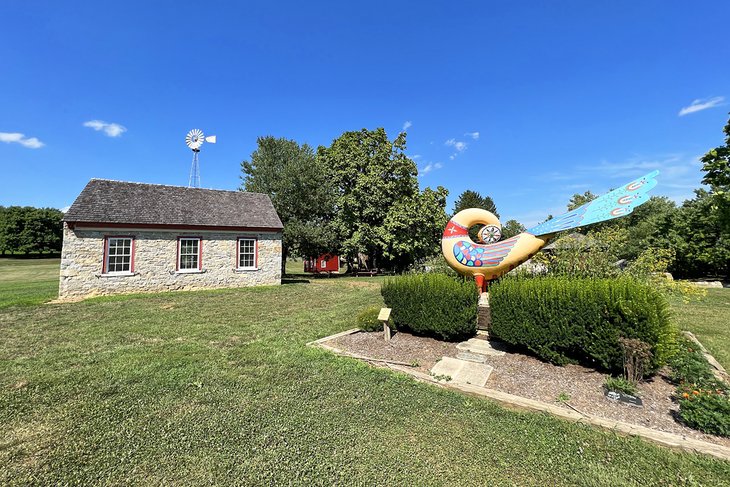 Tourists can visit several historic sites at the Berks County Heritage Center. Upon parking, you'll immediately see a brightly colored "Distelfink" (or "thistle-finch") sculpture, which is a traditional motif of Pennsylvania German Folk Art.
Then, you can make your way around to various buildings scattered throughout the park. The buttercup-yellow building is Gruber Wagon Works, a 140-year-old building that's considered one of the country's most complete examples of integrated rural manufactory.
Other important structures include Epler's One Room School House, Wertz's Covered Bridge (the longest single-span covered bridge in Pennsylvania), the C. Howard Hiester Canal Center, and Melcher's Grist Mill.
Guided tours are available on weekends in the spring and fall.
Address: 1102 Red Bridge Road, Reading, Pennsylvania
10. Meet Veteran Firefighters at the Reading Area Firefighters Museum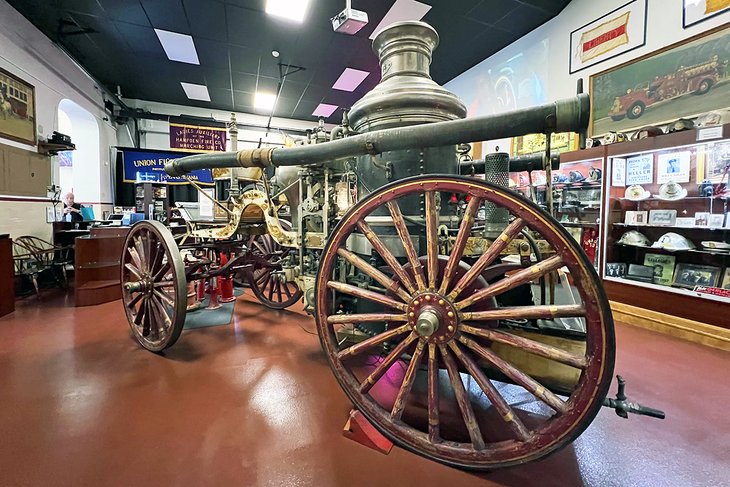 The Reading Area Firefighters Museum traces the city's firefighting heritage from the early 1770s bucket brigade through the present day. Visits are through guided tours only, and hearing the stories told by guides (often retired firefighters themselves!) is a truly rewarding experience.
The ground floor contains a number of fascinating artifacts, including a hand-drawn pumper from 1812, several glistening fire trucks that have been hand decorated with gold leaf, and antique helmets from various local fire departments. There's also a telegraph fire alarm system that still works–your guide may even let you pull the fire alarm lever and see it in action for yourself.
Tours continue upstairs, where you can see the crown jewel of the museum: the Wannamaker Room. This lounge space houses some of the most precious items in the museum's collection, including a working scale model of a steam engine that dates to 1895, a hand-carved Canadian maple fireplace, and rare stovepipe hats emblazoned with Americana art.
Address: 501 South Fifth Street, Reading, Pennsylvania
Official site: www.readingareafirefightersmuseum.com
11. Get Outside at Gring's Mill Recreation Area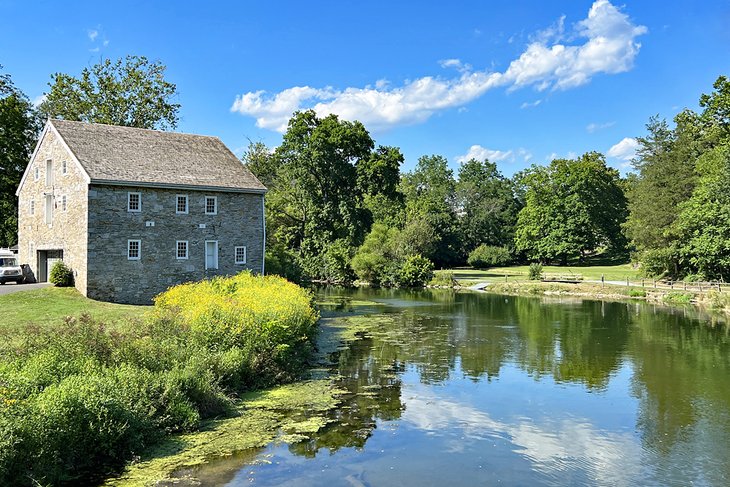 Gring's Mill Recreation Area is a pretty park with historic buildings that now house various administration and maintenance offices. Throughout its 33 acres, the park offers an 18-station exercise course, sand volleyball, tennis, horseshoe pits, and a ranch-themed play area for kids.
The park hosts concerts at its amphitheater on evenings during the summer. It's also a fun place to visit in December, when holiday lights brighten up the parkway.
Address: 2083 Tulpehocken Road, Wyomissing, Pennsylvania
12. Take a Historic Train Ride at Reading Blue Mountain & Northern Railroad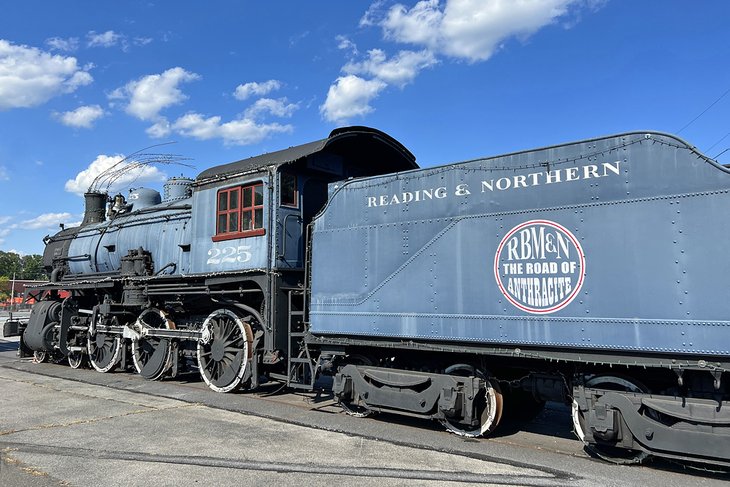 Take in the scenery of Pennsylvania's pastoral landscape with a train ride on the Reading Blue Mountain & Northern Railroad. It offers excursions to the town of Jim Thorpe on vintage-style locomotives.
In the warmer months, you can feel the breeze from the refurbished open-air cars. Or, opt for a seat in the Vista Class Dome Car, which offers panoramic views from giant, curved windows. There's also a Parlor Car with an embossed copper ceiling and plush armchairs that give travelers a Victorian-inspired experience.
Trains can be boarded at Reading Outer Station.
Address: 3501 Pottsville Pike, Reading, Pennsylvania
Official site: www.rbmnrr-passenger.com
Map of Things to Do in Reading, PA
Reading, PA - Climate Chart
Average minimum and maximum temperatures for Reading, PA in °C
J
F
M
A
M
J
J
A
S
O
N
D

3

-6

5

-5

10

-1

17

4

22

11

27

16

29

18

28

17

24

13

18

6

12

2

6

-3

PlanetWare.com
Average monthly precipitation totals for Reading, PA in mm.

95

70

91

94

115

111

103

92

111

83

90

84