14 Top-Rated Things to Do in York, PA
Located in bucolic southern Pennsylvania, York is a city steeped in history. It was an early capital of the United States, and its downtown area is still filled with centuries-old attractions, like the Colonial Complex and the Provincial Courthouse.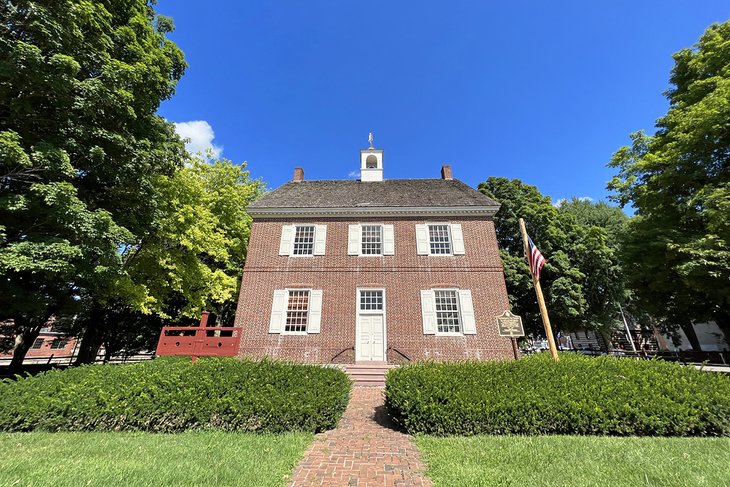 But sightseeing is just the beginning of the things to do in York. You can cheer on York's pro baseball team, the Revolution, at PeoplesBank Park. Spend time outdoors at Rocky Ridge Park or Samuel S. Lewis State Park (a perfect place to visit for a picnic!). See a show at the Appell Center for the Performing Arts. Or go on a self-guided tour of colorful murals in the Royal Square District. York has an attraction for just about any type of tourist.
Check out our list of the top things to do in York, PA to make the most of your trip.
1. Cheer on the Revs at PeoplesBank Park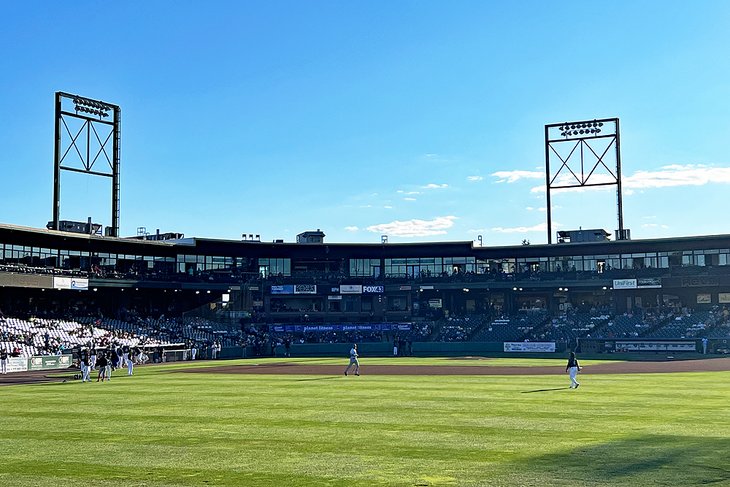 Baseball is big in York, and few things draw out the crowds quite like game day at PeoplesBank Park. The 7,500-seat baseball stadium is home to York's professional baseball team, the Revolution (also known as "the Revs"). They face off against others in the Atlantic League of Professional Baseball from May to September. Check the website for the most up-to-date game schedule.
The park is also an attraction unto itself. The city of York had been trying to build a baseball stadium for many years before PeoplesBank Park (then called Sovereign Bank Stadium) opened in 2007.
The "Arch Nemesis," the park's left field wall, towers at 37 feet 8 inches high, making it taller than any other professional baseball fence, including Fenway Park's "Green Monster." Tourists can also see a full-color electronic scoreboard, an old-fashioned manually-operated scoreboard, and a statue of legendary third baseman Brooks Robinson at this beloved attraction.
Address: 5 Brooks Robinson Way, York, Pennsylvania
Official site: www.peoplesbankpark.com
2. Get Nature Therapy at Rocky Ridge Park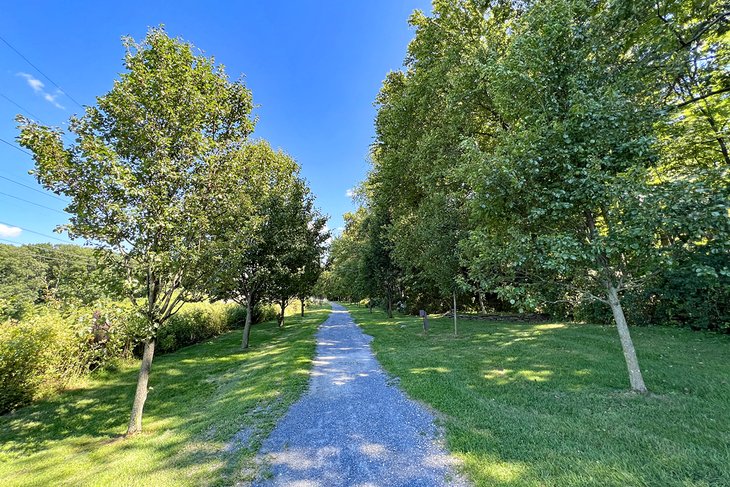 Perched on a hilltop studded with rocks, Rocky Ridge Park contains 750 acres of protected land, most of which is mature oak forest.
York County's first-ever county park was acquired in 1968, but its history can be traced back for centuries as the place where the original settlers of this area built their initial homes. The park now has more than 12 miles of trails for hikers, mountain bikers, and horseback riders.
You can also enjoy expansive views of the Susquehanna Valley and York Valley from two scenic observation decks, both within an easy walk from the large parking lot.
Warmer months aren't the only time to visit Rocky Ridge Park, though. From the day after Thanksgiving until December 30, the park features a half-mile walking trail with a spectacular multicolored light show for its annual "Christmas Magic: A Festival of Lights" event.
Address: 3699 Deininger Road, York, Pennsylvania
Official site: www.yorkcountypa.gov/691/Rocky-Ridge-Park
3. Explore York's Old Town Historic District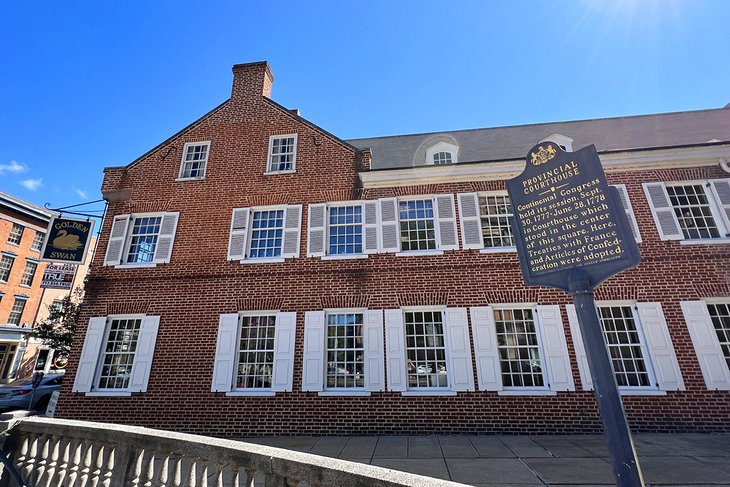 In York's Old Town Historic District, tourists can see buildings that symbolize three centuries of American history, from the colonial era through the modern day.
One of the main attractions in this neighborhood is the Colonial Complex: a collection of three buildings that date back to the mid-18th century. Guided tours are available through the York History Center from April through November.
On the corner of South George Street and East Market Street, you can see the square that once contained the Provincial Courthouse, where the Articles of Confederation were adopted.
Other noteworthy spots in the area include Trinity United Church of Christ, which was founded in 1742; the site of the first printing press west of the Susquehanna River, which printed continental currency; the headquarters of General Anthony Wayne, a Founding Father; the former residence of General Horatio Gates, who served as the President of the Board of War in the 1770s; and the historic York Water Company, the oldest business in York.
These and other historic sites are marked by distinctive navy and yellow signs, so keep your eyes peeled as you stroll the area.
4. Treat Yourself to a Sundae at Perrydell Farm and Dairy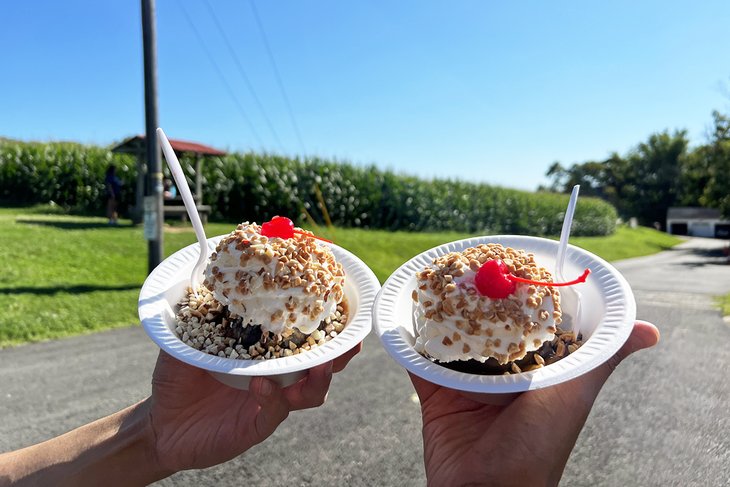 Tourists can see a working dairy farm up close (and with an ice cream in hand!) at Perrydell Farm and Dairy. The farm, which was purchased by Howard Perry in 1923, relies on the milk from just 120 cows to support the three families who run it. Tourists can take self-guided tours around the property, where you can see the milking station and bottling plant, and even pet adorable calves.
After your tour, treat yourself to one of Perrydell Farm's famous ice-cream sundaes. There are nearly a dozen different versions on the menu, which come with your choice of creative ice-cream flavors, like chocolate-covered cherry, lemon cookie, peanut butter swirl, and raspberry cheesecake.
You can also take home an assortment of milk, butter, and locally made sandwiches and treats from the small store on-site (perfect for a picnic at Samuel S. Lewis State Park!).
Address: 90 Indian Rock Dam Road, York, Pennsylvania
Official site: www.perrydellfarm.com
5. Marvel at Murals in the Royal Square District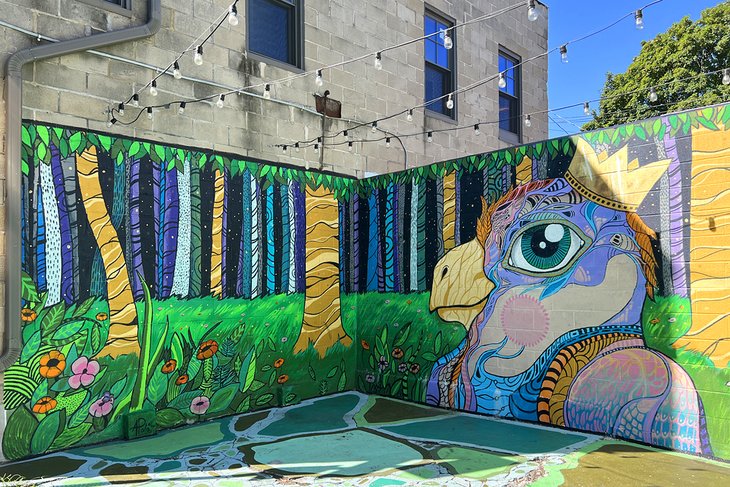 Perhaps the most artistically inspiring place in York is its Royal Square District, which has been turned into an outdoor art gallery with more than a dozen murals, all within a single-block radius of one another.
This is where you can find the scripted "York" lettering set against colorful geometric shapes that has become a popular place for visitors to take Instagram photos (artist Chelsea Foster, a York native, cleverly arched the middle letters so the entire word can still be seen when people stand in front of it).
Stunning as it is, it's far from the only mural you'll want to snap a photo of. Look out for other fan favorites, like the kissing couple on South Howard Street and the popsicle that resembles SpongeBob Squarepants on the back of the City of York Offices, just to name a few.
Address: 101 South Duke Street, York, Pennsylvania
Official site: www.royalsquaredistrict.com/murals
6. Ride the Heritage Rail Trail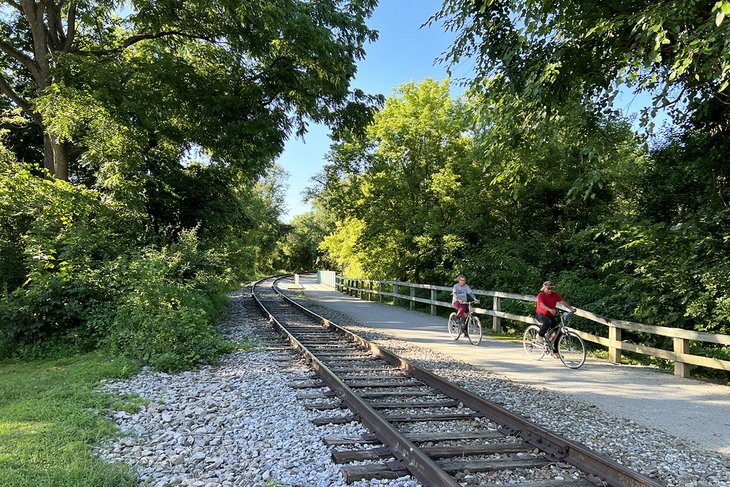 Riding on the Heritage Rail Trail is one of the top things to do in York for cyclists. Converted from historic railroad tracks that once linked Washington, D.C. to Lake Ontario, this 21-mile linear park runs from York's Colonial Courthouse to Maryland's Torrey C. Brown Trail.
The trail rewards visitors with opportunities to see a few historic sites, including the Hanover Junction Train Station, which is listed on the National Register of Historic Places.
Not into biking? You can also use the trail for jogging and walking in the warmer months, as well as snowshoeing and cross-country skiing in the winter.
Official site: www.yorkcountypa.gov/1004/York-County-Heritage-Rail-Trail-Park
7. Feast on Local Foods at York Central Market House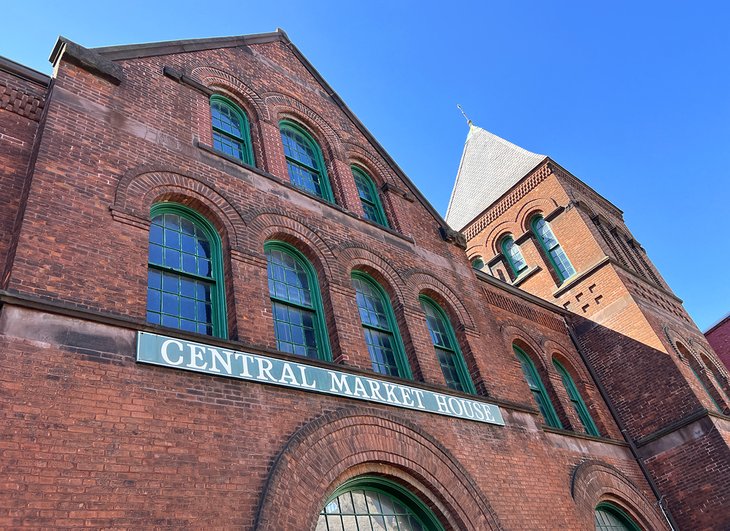 Dig into some of York's tastiest foods and freshest produce at York Central Market House. Located in a historic Romanesque Revival-style building, this thriving market has been in business since 1888.
Come hungry–this food hall's 50-plus vendors offer something for everyone, including cupcakes, coffees, barbecue meat sandwiches, pretzels, waffles, overstuffed hoagies, and Amish pastries. It's also a great place to shop for souvenirs and specialty goods, such as handmade soaps, candles, pottery, aprons, heirloom wooden birds, and decoy fish, and even natural dog treats.
Address: 4 West Philadelphia Street, York, Pennsylvania
Official site: www.centralmarketyork.com
8. Visit the York County Historical Society Museum and Library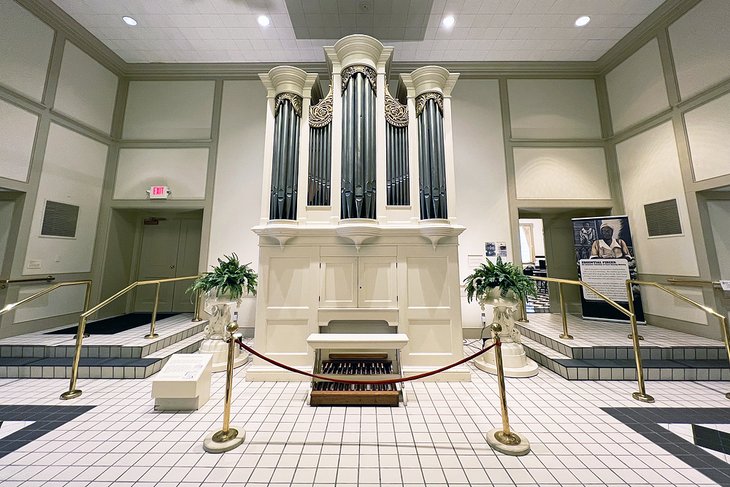 Generations of local history come to life at the York County Historical Society Museum and Library. Visits to this well-curated museum kick off right in its lofty lobby, which still retains the original tile floor of the automobile dealership showroom that existed here in the 1920s. It also displays an impressive David Tannenberg organ from 1804, which contains 622 pipes.
The main exhibits can be found upstairs, where visitors can see a range of artifacts from the early colonial years through the modern day. Antique kitchenware, furniture, children's clothing, and recreated historical rooms give a sense of how everyday York residents lived in previous centuries. There are also displays on Native Americans, as well as a collection of grandfather clocks and handmade quilts.
Address: 250 East Market Street, York, Pennsylvania
Official site: www.yorkhistorycenter.org/york-pa-museums
9. Picnic at Samuel S. Lewis State Park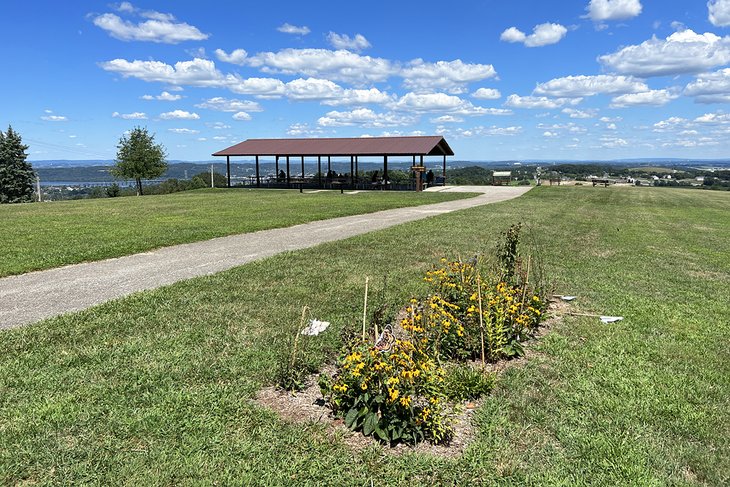 No place in York offers a better place for a picnic than Samuel S. Lewis State Park. This 85-acre expanse features an idyllic grass lawn atop a slope with gorgeous views of East Prospect Valley and Kreutz Creek Valley.
Pop a few coins into the viewing scope for a closer look at this stunning landscape. The park also makes the perfect spot to fly a kite on windy days.
Address: 6000 Mt. Pisgah Road, York, Pennsylvania
10. Catch a Show at the Appell Center for the Performing Arts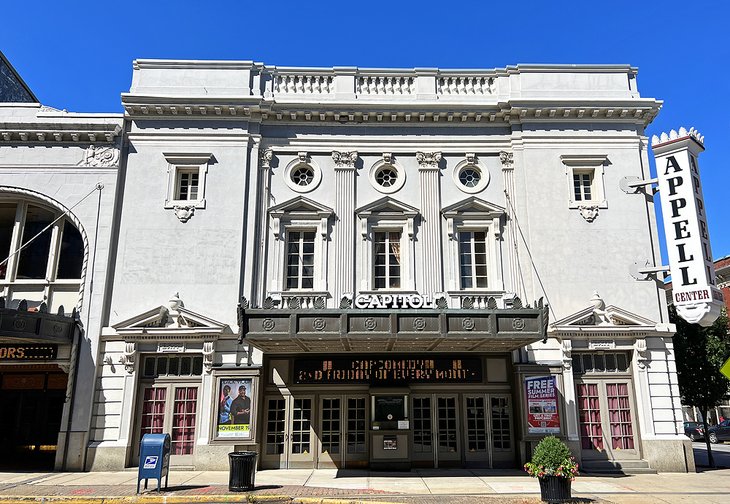 Appell Center for the Performing Arts consists of a duo of historic theaters: the Strand Theater, a 1,262-seat Italian Renaissance theater decked out with gold leaf and murals, and the Capitol Theater, a dance hall turned movie theater.
The popular venue hosts a range of events and entertainment, such as Broadway-style shows, concerts, video festivals, film screenings, and stand-up comedy. Check the events calendar on the website to see what's planned during your visit.
Address: 50 North George Street, York, Pennsylvania
Official site: https://www.appellcenter.org/
11. Get Active at John C. Rudy Park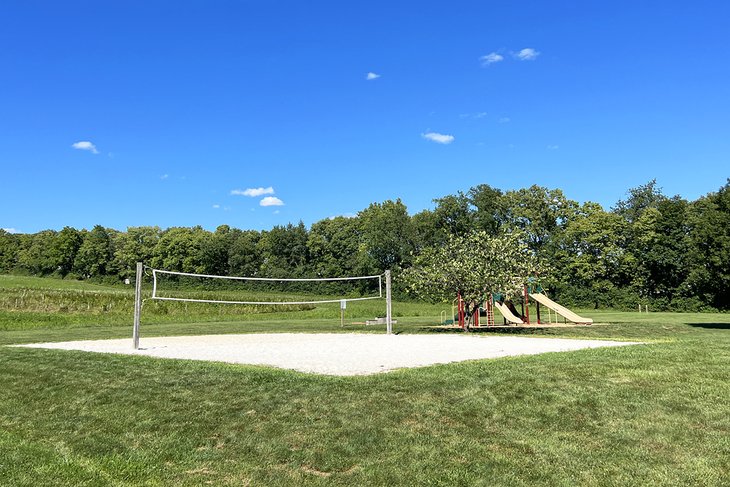 With 150 acres of land and a large array of recreational facilities, John C. Rudy Park offers locals and tourists a beautiful place to get some exercise and soak in the scenery. You can stretch your legs on a two-mile paved loop trail, enjoy friendly competition on the sand volleyball court or soccer fields, ride on the BMX track, and see a display of plants from master gardeners in Pennsylvania.
If you're traveling with your dog, you can let them run wild at Canine Meadows, an off-leash dog area.
Address: 400 Mundis Race Road, York, Pennsylvania
12. Explore the Agricultural and Industrial Museum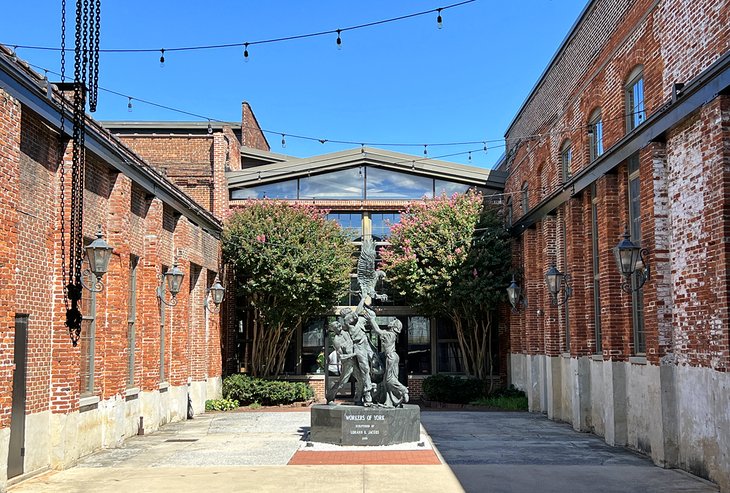 Housed in an old factory, the Agricultural and Industrial Museum focuses on York's contribution to these key areas over 300 years.
This isn't a museum where you'll just read descriptions of artifacts kept behind glass–the attraction completely immerses tourists in this important part of local heritage through hands-on exhibits. You can step inside a trolley car from 1916, try using a rotary phone through a nearly 100-year-old switchboard, and see antique cars and firetrucks up close.
Don't miss the museum's Hall of Giants Gallery, where you can check out a 72-ton ammonia compressor that produced ice in the early 1900s. Look up to see a large crane that was used continuously from 1895 to 1950.
Address: 217 West Princess Street, York, Pennsylvania
Official site: www.yorkhistorycenter.org/york-pa-museums
13. Paddle around Lake Redman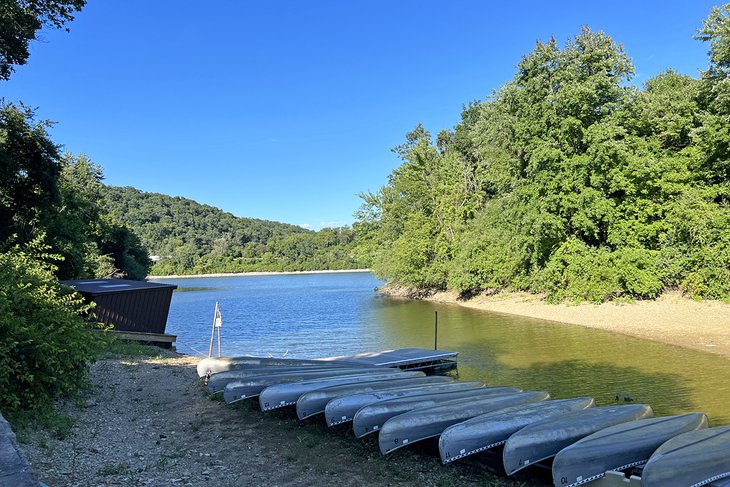 York isn't on the coast, but you can still get out on the water at Lake Redman, part of William H. Kain County Park. The activity area at this pretty lake offers rowboats, kayaks, paddleboats, canoes, and hydro-bikes for rent by the hour.
Anglers are welcome to fish for bass from Lake Redman and the nearby Lake Williams. The 350-foot-long dock at the Iron Stone Hill Parking Lot also makes a great spot for bird-watching.
Address: 274 Hess Farm Road, York, Pennsylvania
Official site: www.yorkcountypa.gov/704/William-Kain-Park
14. Check Out the Weightlifting Hall of Fame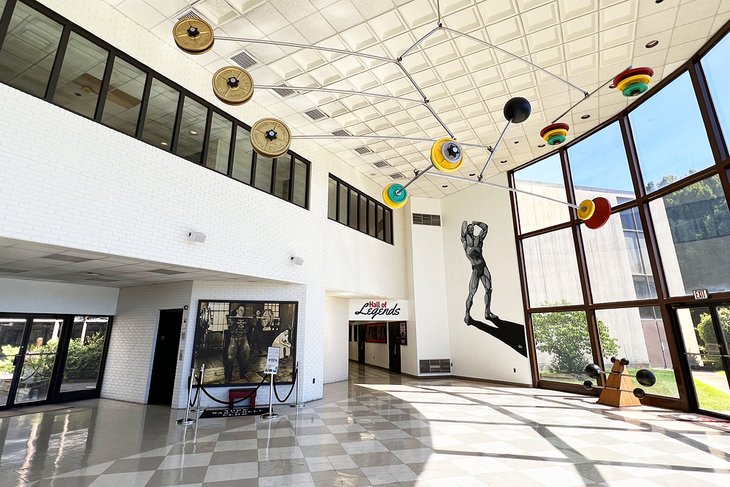 Fitness products manufacturer York Barbell pays tribute to its founder, Bob Hoffman (considered the "Father of World Weightlifting"), as well as the history of powerlifting, at the Weightlifting Hall of Fame. The quirky attraction is one of the best free things to do in York and will no doubt give you a new perspective on professional weightlifting and bodybuilding.
The lobby greets visitors with life-size bronze busts of Hoffman and bodybuilder Steve Stanko next to dumbbells and barbells that are more than 100 years old. As you make your way around the circular exhibition hall, you'll see displays on the history of these sports (complete with biographies of famous bodybuilders, like Arnold Schwarzenegger), trophies and medals awarded to pro weightlifters, a letter from former U.S. President Ronald Reagan commemorating the opening of the hall of fame, and all kinds of exercise equipment.
You can also see decks of cards ripped in half and wrenches bent by these athletes–evidence of their supreme strength and grit.
Address: 3300 Board Road, York, Pennsylvania
Official site: www.yorkbarbell.com/our-location/weightlifting-hall-of-fame
Map of Things to Do in York, PA
York, PA - Climate Chart
Average minimum and maximum temperatures for York, PA in °C
J
F
M
A
M
J
J
A
S
O
N
D

4

-6

6

-5

12

-1

18

4

24

9

28

14

31

17

29

16

26

12

19

6

12

1

6

-3

PlanetWare.com
Average monthly precipitation totals for York, PA in mm.

87

70

93

89

108

110

95

85

104

80

88

82

Average monthly snowfall totals for York, PA in cm.

26

26

10

1

0

0

0

0

0

0

4

13
Average minimum and maximum temperatures for York, PA in °F
J
F
M
A
M
J
J
A
S
O
N
D

39

21

43

23

53

31

65

39

75

49

83

58

87

63

85

61

78

54

67

42

54

34

43

26

PlanetWare.com
Average monthly precipitation totals for York, PA in inches.

3.4

2.8

3.7

3.5

4.3

4.3

3.8

3.3

4.1

3.2

3.5

3.2

Average monthly snowfall totals for York, PA in inches.

10

10

4.0

0.5

0

0

0

0

0

0.1

1.5

5.3