12 Top-Rated Attractions & Things to Do in Hershey, PA
We may earn a commission from affiliate links ()
Hershey, Pennsylvania is known for chocolate but the city has plenty of things to do besides satisfying your sweet tooth. From state-of-the-art roller coasters at Hersheypark and concert entertainment venues to the more subdued Hershey Gardens and The Spa at The Hotel Hershey, your visit can be as action-packed or relaxing as you choose.
One of the main attractions of Hershey is its ties to the nostalgic candy that takes you back to childhood. When you drive past the streetlamps in town that are all shaped like Hershey's kisses, you know you are someplace magical. This is just one of the subtle touches in town that pay homage to the Hershey Brand.
A visit to Hershey requires saving your appetite for the many chocolate samples that will complement your stay. Mini chocolate samples are the signature accent to a number of places you'll visit, like the Trolley Tours in town and the post-tour treat at Hershey's Chocolate World.
For more ideas on things to see and do, see our list of the top attractions in Hershey.
1. Hersheypark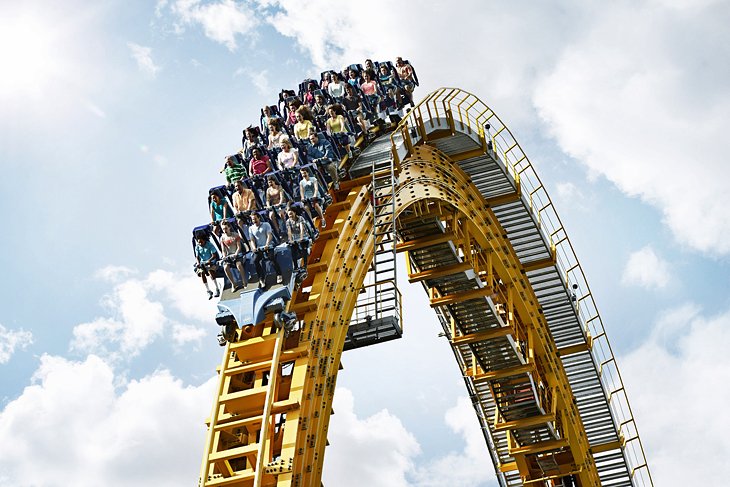 One of the top things to do in Hershey is experience the thrill of Hersheypark. This popular tourist attraction was built in 1907 as a park for Hershey employees and green space for the town. Today, the park includes a water park, roller coasters, and more than 70 rides and entertainment attractions.
The Boardwalk at Hersheypark is a favorite for visitors because it is like one-stop shopping for water fun, with waterslides, a children's area, a tidal wave pool, and a seven-story water attraction. When you need a break from the action, attend one of the singing and dancing performances taking place in venues throughout the park.
Included in your Hersheypark ticket is access to ZooAmerica, which is open year-round and a good deal for families traveling with children. There are hundreds of animals to see. You can book special behind-the-scenes tours for an additional fee to see the zoo after hours with a naturalist.
Address: 100 West Hersheypark Drive, Hershey, Pennsylvania
Official site: http://www.hersheypark.com/
2. Hershey Story Museum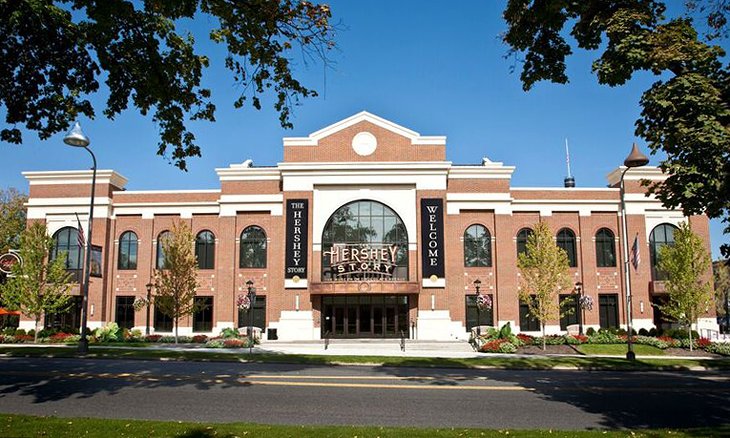 The Hershey Story Museum is located in the heart of quaint downtown Hershey and pays homage to Milton Hershey, the man behind the chocolate. The museum showcases the life and legacy of Hershey, his contributions to business, and his philanthropic endeavors.
The museum has some unique collectibles related to the Hershey Brand that are on display. Most visitors enjoy the interactive Chocolate Lab, where you can take classes to learn how to properly mold and dip chocolate.
The delicious part of the museum is the Tastings room, where you get a geography lesson on the world's best growing regions for cocoa beans and taste drinking chocolate from different countries. If you need to balance the chocolate tastings with food, stop by the Pantry Café for lunch or a snack.
Address: 63 West Chocolate Avenue, Hershey, Pennsylvania
Official site: https://hersheystory.org/
3. Hershey Gardens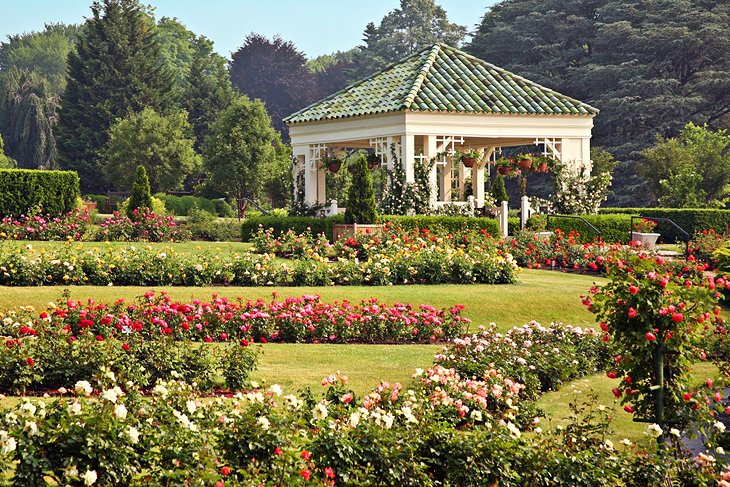 The only scene in Hershey more impressive than the chocolate treats at every turn is the beauty of Hershey Gardens. The 23-acre botanical gardens welcome you with the stunning Milton & Catherine Hershey Conservatory, which sets the tone for your visit. The potted palm trees and stained-glass butterflies are your preview to an elegant presentation of hundreds of plant species.
Visit some of the themed gardens, including The Children's Garden; Hershey Rose Garden; Ornamental Grass Garden; and the Seasonal Display Garden, which changes focus throughout the year. Be sure to visit the Butterfly Atrium, which is one of the only such atriums open year-round in the US.
Another highlight of the Hershey Gardens is the Hoop House with examples of sustainable gardening. There is a beehive with a working colony of 10,000 European honeybees. Learn about why honeybees are essential to the environment, how the hive works, and the sustainability efforts related to the honeybee.
Address: 170 Hotel Road, Hershey, Pennsylvania
Official site: http://www.hersheygardens.org/
4. ZooAmerica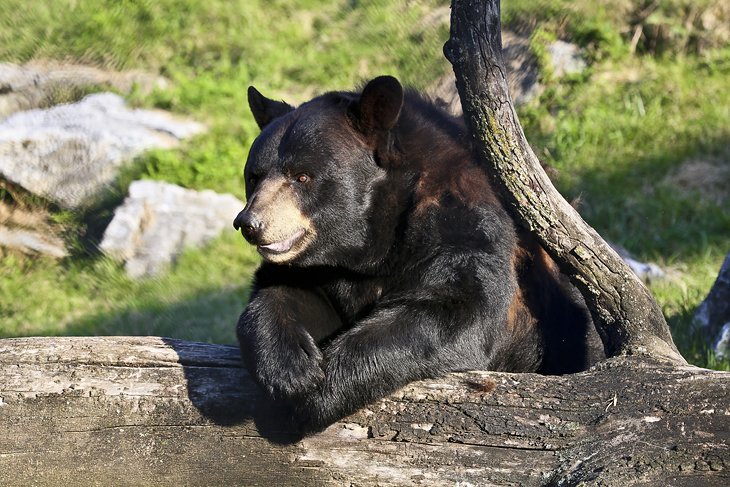 The ZooAmerica venue is a pedestrian-friendly animal park that focuses on species from North American regions. Get up close to more than 200 animals, from bears and bats to wolves and lizards. There are a number of regular events at ZooAmerica throughout the year and behind-the-scenes tours that you can book with naturalists after closing hours.
As you stroll through the 11-acre park, you will experience habitats that support the native species, including Eastern Woodlands, Big Sky County, and Southern Swamps. Explore ZooAmerica's conservation programs, including raising regal fritillary butterflies to release in the wild and habitat protection efforts for barn owls and kestrels.
Admission to ZooAmerica is included with a ticket to Hersheypark, so it's a great way to check out both in one visit to Hershey.
Address: 201 Park Avenue, Hershey, Pennsylvania
Official site: http://www.zooamerica.com/
5. Hersheypark Stadium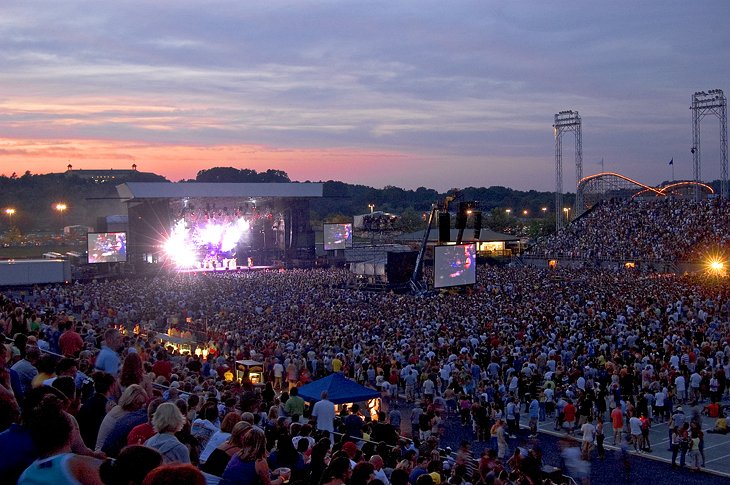 The music and sports venue of Hersheypark Stadium hosts concerts, soccer, football, and a variety of entertainment that could supplement your stay in Hershey. The venue is one of the largest outdoor stadiums for entertainment between Pittsburgh and Philadelphia. Hersheypark Stadium is popular for outdoor summer concerts but it also hosts special events and major sporting games throughout the year.
Address: 100 W. Hershey Park Drive, Hershey, Pennsylvania
Official site: http://www.hersheyentertainment.com/hersheypark-stadium/
6. Hershey's Chocolate World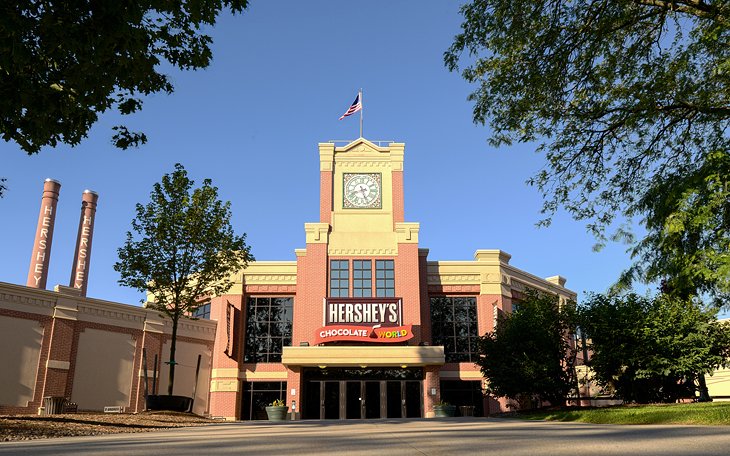 A visit to Hershey is not complete without a stop at Hershey's Chocolate World. It is one of the best places to visit in Hershey because of the in-depth exploration into everything chocolate, with an indulgent ending of free samples. Learn about the evolution of chocolate from the cocoa bean to candy on the Hershey's Chocolate Tour, complete with the sights and smells you might expect.
You can arrive hungry and take part in the popular Chocolate Tasting Experience, where food experts teach you how to discern the tastes of various kinds of chocolate. Hershey's Chocolate World has an interactive 4D Chocolate Movie, where you can help solve a mystery with a chocolate theme.
You can also take part in the Hershey's Unwrapped experience, where you taste your way through the candy-making journey, from the cocoa bean to the delicious chocolate creations that made Hershey famous.
One of the most exciting things to do at Hershey Chocolate World is to create your own candy bar. You select your ingredients, taste test, and design your own candy packaging.
Address: 101 Chocolate World Way, Hershey, Pennsylvania
Official site: https://www.hersheys.com/chocolateworld/en_us.html
7. Hershey Theatre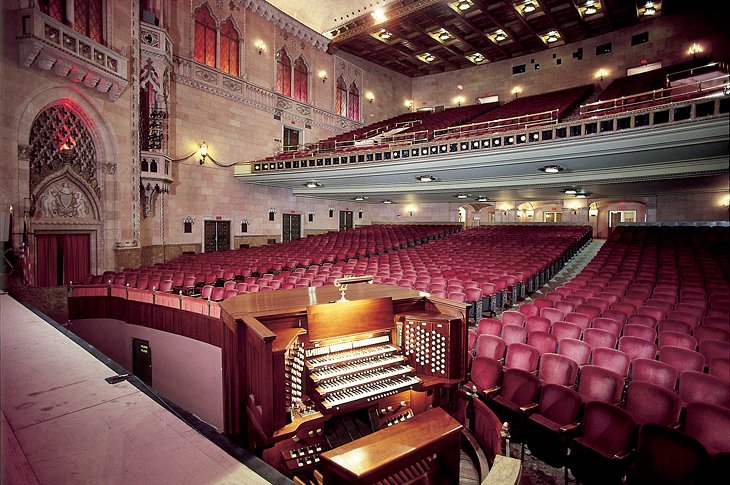 The Hershey Theatre is an elegant entertainment venue and a perfect place for a night out during your visit. The Hershey Theatre brings in dance and musical acts, as well as touring Broadway productions. The restored performing arts theater was built in the early 1900s and still has the same charm today.
For a special visit, plan to take a 90-minute walking tour that gets you behind the scenes of this restored 20th-century theater. You will find out details, like the four kinds of marble used in the extravagant entrance, that are easy to miss during a casual visit.
Check out the touring shows before your visit and plan for an evening out. There are a dozen restaurants near the theater, so it is easy to grab a bite within walking distance before the show.
Address: 15 E. Caracas Avenue, Hershey, Pennsylvania
Official site: http://www.hersheyentertainment.com/hershey-theatre/
8. Antique Automobile Club of America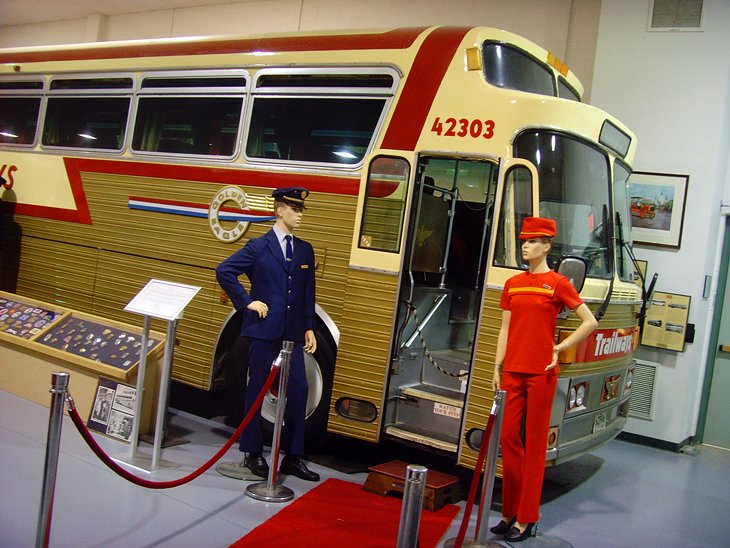 Get your vintage car fix at the Antique Automobile Club of America, affiliated with the Smithsonian Institution. This museum is fun for both kids and adults, and it's one of the best places to visit for car enthusiasts as you walk through interactive exhibits covering the automobile industry from the 1890s to the 1980s.
The museum features nearly 100 vehicles on display, ranging from classic cars to trucks and buses. Some of the most interesting exhibits include an 1896 Ford Quadricycle and a 1905 Cadillac Model E Runabout. The museum has several interactive experiences, like a hands-on assembly line, where you can get a feel for how automobile production has evolved through the decades.
True antique car enthusiasts can take a four-hour course with an expert on how to drive the Model T. You can also plan a behind-the-scenes tour to see even more historic cars that are not on display to the general public.
Address: 161 Museum Drive, Hershey, Pennsylvania
Official site: http://www.aacamuseum.org/
9. Hershey Trolley Works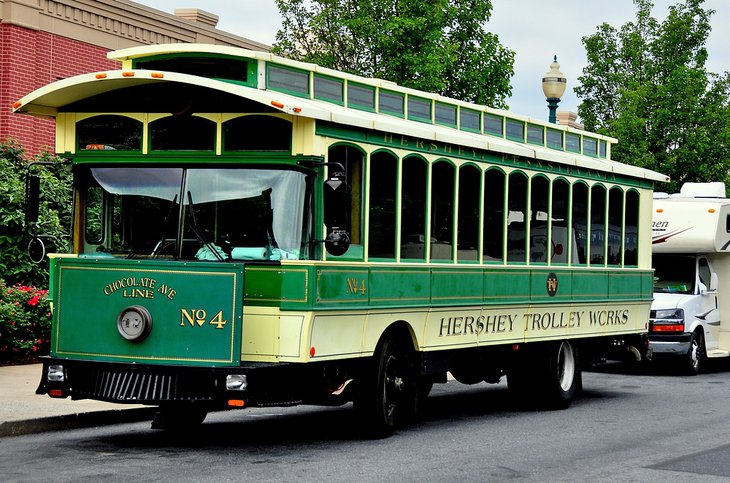 One of the most relaxing ways to explore the town of Hershey and its history is on a trolley tour with Hershey Trolley Works. The ride is entertaining, with a conductor who has likely been in the area for many years (most of them have). You pass through the town of Hershey and many of the main sites in the area.
You will see the original Hershey Chocolate factory, drive through the iconic Hershey Kiss streetlights downtown, and see the birthplace of Milton Hershey. This is a great starting option for your trip to get an overview of the history and the town, so you know the layout for other entertainment stops.
You might find themed trolley trips throughout the year tied in with the seasons. Conveniently, you start and end at Hershey's Chocolate World, so it is easy to combine this sightseeing tour with a visit to the museum.
Address: 251 Park Boulevard, Hershey, Pennsylvania
Official site: http://www.hersheytrolleyworks.com/
10. The Spa at The Hotel Hershey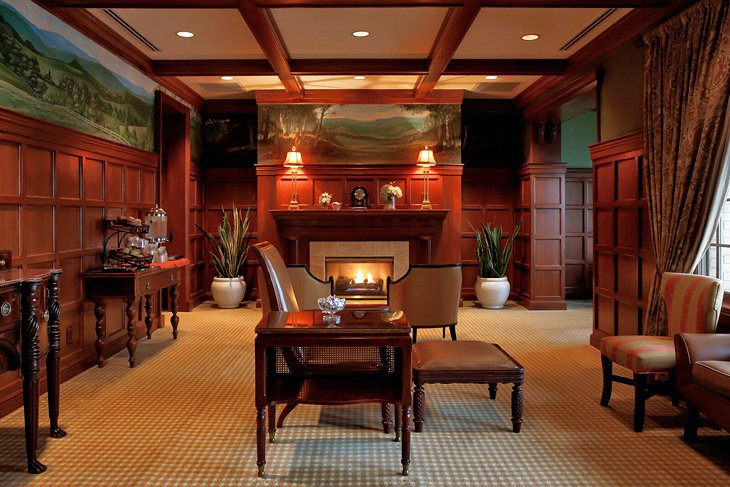 The Spa at The Hotel Hershey is one of the most indulgent experiences of your life. Take a day to be lathered in chocolate-inspired treatments, from massages to facials and hydrotherapy. Your visit outside of the spa rooms is also indulgent.
The quiet sitting room has fresh chocolate bread and refreshments while you wait for your next treatment, and the aromatherapy waiting room will clear your senses as you de-stress in the peaceful environment. While the Spa has a signature chocolate collection of products and treatments, seasonal and customized treatments are also available. For the most relaxing visit, plan a day at the spa combined with a healthy and relaxing lunch.
Address: 100 Hotel Road, Hershey, Pennsylvania
Official site: http://www.chocolatespa.com/
11. Founders Hall at Milton Hershey School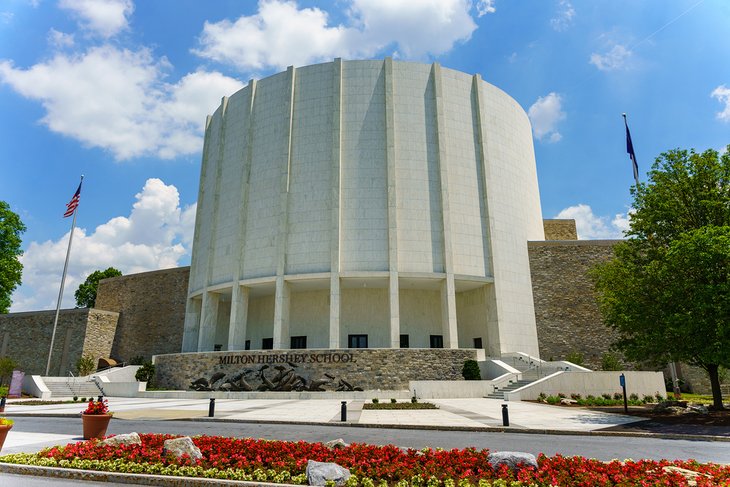 One of the most prominent landmarks in Hershey is the Milton Hershey School, which has been operating as a boarding school for more than a century, with the Founder's Hall Visitor Center in the heart of it all. The school was founded by chocolate mogul Milton Hershey and his wife for orphaned children. They used their wealth for good since they could not have their own children.
The Founder's Hall Visitor Center shares the philanthropic story of the Milton Hershey School through vintage albums and interactive exhibits. Visitors can get an intimate knowledge of the commitment Milton Hershey had to breaking the cycle of poverty for families in the community.
Some of the highlights of Founder's Hall include the stunning 74-foot-high interior dome, mosaic floor, and the picture-worthy fish fountain at the entrance designed by award-winning sculptor Aristides Demetrios.
Address: 1201 Homestead Ln, Hershey, Pennsylvania
Official site: https://www.mhskids.org/locations/
12. Giant Center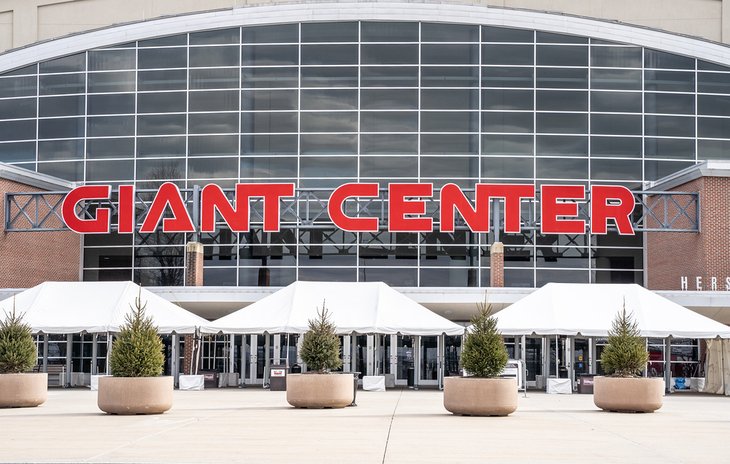 If you're looking for something to do in the evening in Hershey, catch a Hershey Bears ice hockey game or evening concert at Giant Center. It is the city's other major event venue and regularly hosts sporting events and entertainment. It is worth looking at the schedule of upcoming events before your trip to Hershey to plan an evening out after your day exploring the town.
Address: 550 E. Hershey Park Drive, Hershey, Pennsylvania
Official site: www.giantcenterhershey.com
Where to Stay for Sightseeing in Hershey
Hershey is not a big town, so no matter where you stay, you will be close to all the main attractions. Here are a few of our recommendations:
More Must-See Places to Explore in Pennsylvania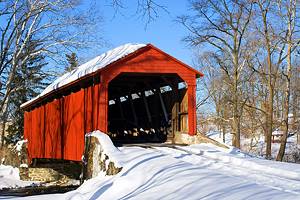 Weekend Getaways: It's easy to tackle a weekend getaway in Pennsylvania whether you want to explore a novelty town like Hershey or more prominent cities like Pittsburgh, Philadelphia, or Harrisburg. Discover the historic side of Pennsylvania on a Civil War battlefield in Gettysburg, where you can visit several prominent battlefields and even take a battlefield tour.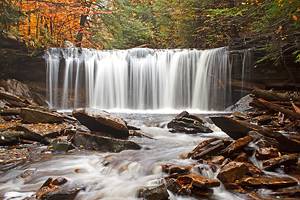 Pennsylvania's Outdoors: There are many ways to enjoy the outdoors in Pennsylvania since the state has more than 121 national and state parks. Some of the best hiking trails in Pennsylvania are located in the state parks and wilderness areas, like the great Allegheny Passage that you can access from Ohiopyle State Park.
There are also fantastic whitewater rafting and kayaking waters that run through the state, like the Youghiogheny River and water trails connecting riverfront towns throughout the state. And, with more than 15,000 miles of designated trout streams in Pennsylvania there are many great regions for fly fishing to get your fill of the outdoors.