12 Top-Rated Tourist Attractions in Delaware
Delaware, the home state of President Joe Biden, may be small—only Rhode Island is smaller—but it packs a lot into a small space.
Historic homes date from the mid-1600s, and three estates that you can tour chronicle the rising fortunes of one of America's wealthiest industrialist families. One of these, Winterthur, is now America's premier museum of decorative arts, and another outstanding collection is not far away, in Wilmington's excellent Delaware Art Museum.
The state's tourist attractions are not all history and culture: you can find plenty of things to do year-round. Some of the finest beaches on the Atlantic coast stretch almost the entire length of the Delaware coast, providing summer playgrounds for residents of Washington, D.C., Wilmington, and Philadelphia.
Discover fun and interesting places to visit with our list of the top attractions in Delaware.
1. Rehoboth and Delaware Beaches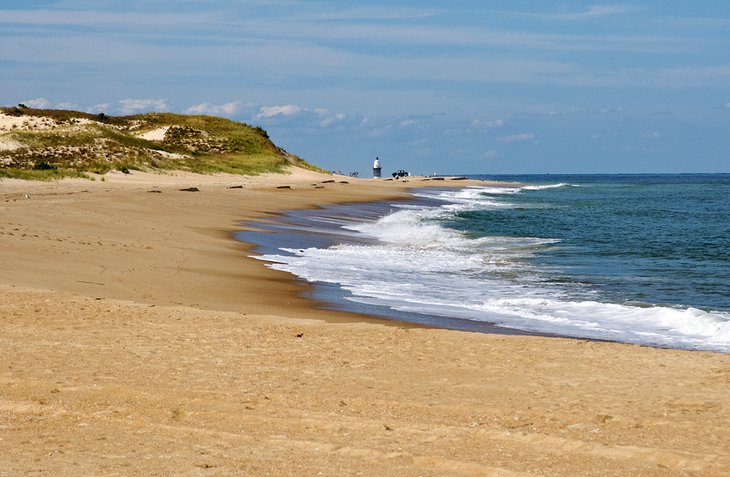 Stretching much of the length of the state's 28 miles of Atlantic coastline are Delaware's white-sand beaches. If you're looking for a beach close to Washington, D.C., these are within a reasonable drive.
Rehoboth Beach is consistently listed among the best vacation spots on the East Coast thanks to its laid-back atmosphere, boutiques, restaurants, and wide stretch of white sand. It's also home to some of Delaware's best resorts, which makes it ideal for a weekend getaway.
One of the most popular attractions at Rehoboth Beach is Funland, a local institution since 1962. This amusement park is perfect for families with its rides of varying scariness, suitable for children of all ages, and a midway with games.
To the south is action-packed Dewey Beach, then the Delaware Seashore State Park (with water access on the ocean side and the bay side of a long barrier island), then the family-friendly Bethany Beach and Fenwick Island. North of Rehoboth is Cape Henlopen State Park and the charmingly old-fashioned Lewes.
2. Nemours Estate, Wilmington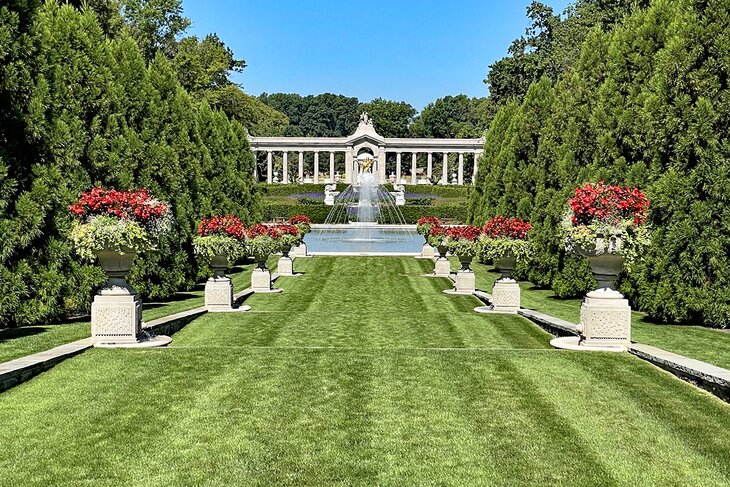 Built in the early 1900s, Nemours Estate in Wilmington was a gift from Alfred du Pont to his wife Alicia. This beautiful 77-room home is complemented by equally impressive gardens, the largest formal French gardens in North America.
This is one of Wilmington's top tourist attractions, offering nearly 200 acres of lawns, meadows, and woodlands to explore. Follow the Long Walk to the Reflecting Pool, where intermittent jets of water shoot into the air. The Chauffeur's Garage holds a collection of vintage automobiles, and the stunning conservatory is a must-see, with its ornate walls, parquet floors, and giant windows.
Address: 1600 Rockland Road, Wilmington, Delaware
3. Winterthur Museum and Gardens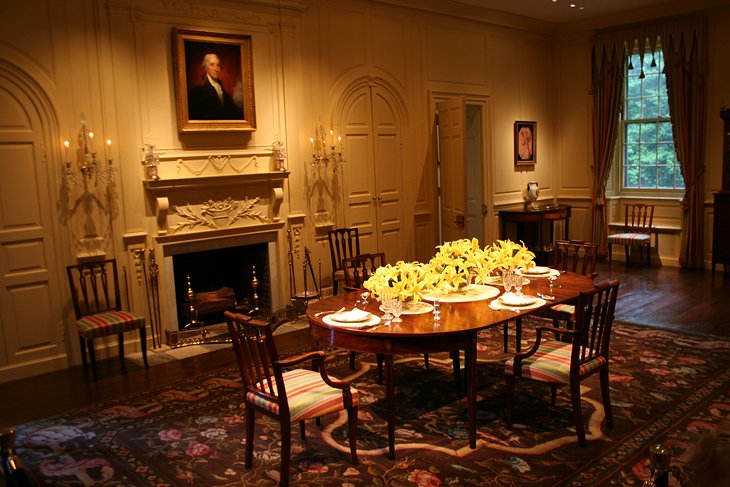 Founded by Henry Francis du Pont, Winterthur was built as a showcase for his collections of priceless antiques and art, and also as a place to use, and entertain family and friends. Winterthur is considered America's finest museum of decorative arts.
The 175 rooms were designed to be as historically accurate as possible, with antique furniture, needlework, textiles, silver, glass, paintings, prints, and ceramics appropriate to specific periods.
With nearly 90,000 objects to choose from, curators can not only furnish the rooms authentically, but mount special exhibits in the galleries to follow themes such as artistic mediums, techniques, and decorative styles and influences. Because of the house's size, no tour covers more than small sections; you will need to return several times to see everything.
Surrounding the house is a 1,000-acre park, where du Pont indulged another passion — plants. Here, he created a botanical garden of plants and trees from all over the world, planning their arrangement with a mind to colors and blooming season, so that the garden would be beautiful from late winter through late fall.
Fern-bounded woodland paths lead to grand vistas of lawns and flower beds and to the Enchanted Woods, a three-acre children's garden where kids can step into the world of woods fairies.
Address: 5105 Kennett Pike, Winterthur, Delaware
4. Air Mobility Command Museum, Dover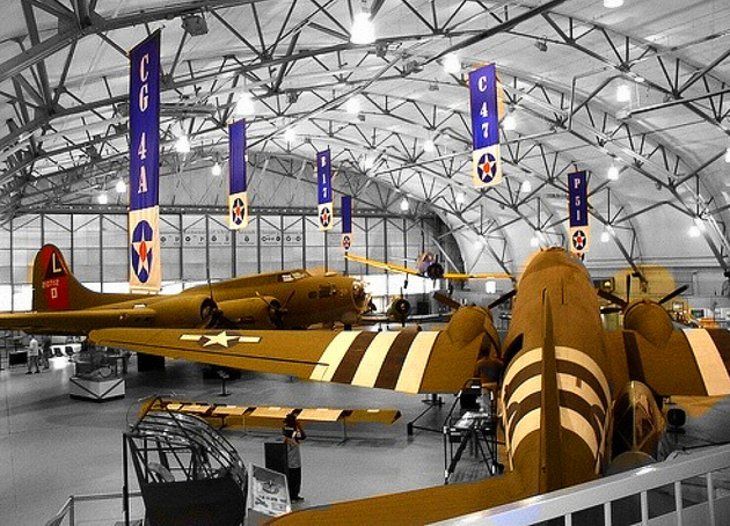 Aviation buffs will want to visit the Air Mobility Command Museum to view its fine collection of vintage aircraft.
The collection of over 30 retired military craft includes early biplanes, World War II legends like the B-17 Flying Fortress, helicopters, and even an F-101 Voodoo fighter jet. For many of them, you can climb the stairs and explore inside to get a feel for what the planes are truly like.
Wander the hangar and lot out front to see the artifacts that reflect airlifting, air refueling, and the history of the Dover Air Force Base. Exhibits include an in-depth look at how a control tower works, as well as insights into airlift operations during the Vietnam and Korean wars.
Address: 1301 Heritage Road, Dover, Delaware
5. Hagley Museum and Library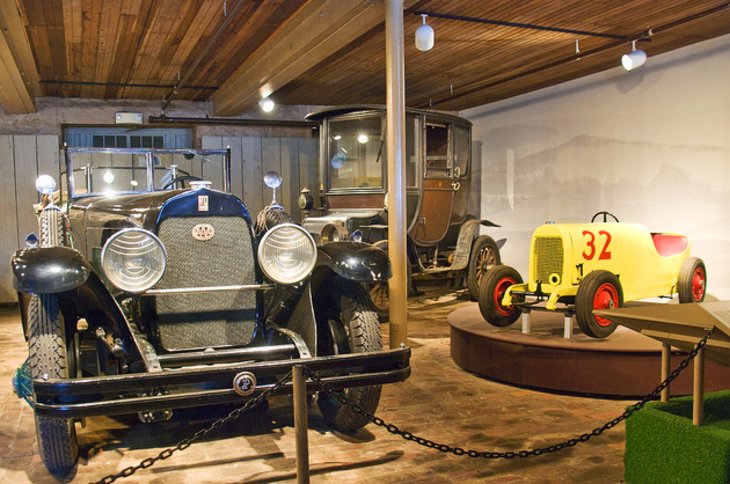 The Hagley Museum and Library in Wilmington encompasses the site of the original du Pont gunpowder mills, as well as an estate and gardens. The first du Pont family home, Eleutherian Mills, was built by E. I. du Pont in 1803 and sits overlooking a restored French-style garden.
Five generations of du Ponts lived in this Georgian-style home, and their family business grew around them. In the visitor center (and the library if you're interested in further research), you can learn how the industry developed along the Brandywine River as the technology for using water power evolved.
You can also see a collection of vintage vehicles in the barn, including a Conestoga Wagon that was used to transport black powder to the port of Wilmington. In the Science & Discovery Center, you can try on a space suit and learn about the du Pont materials that went into making it.
Address: 200 Hagley Road, Wilmington, Delaware
6. Delaware Art Museum, Wilmington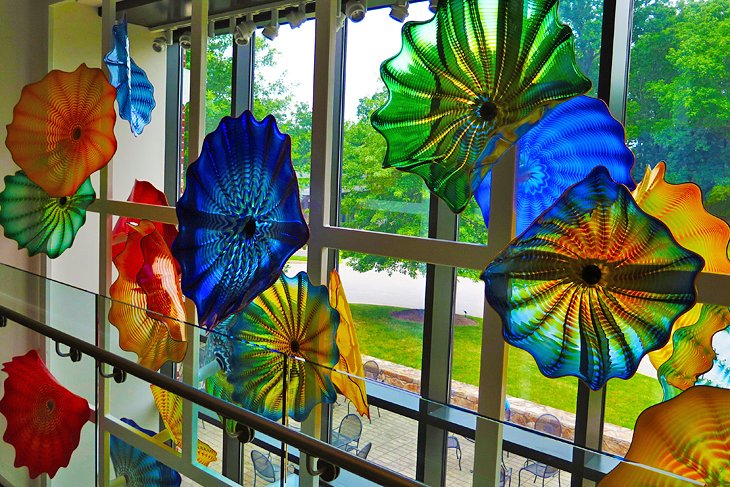 Located in Wilmington, the collection at the Delaware Art Museum focuses on American Art of the 19th through the 21st centuries and English Pre-Raphaelite art of the mid-19th century. The museum is especially known for the premier collection of the works and papers of American artist Howard Pyle, who illustrated books by Mark Twain and Robert Lewis Stevenson.
Pyle is best known for his ethereal mystical etchings, drawings, and paintings of mythological and medieval chivalry scenes, and for the images of pirates for Treasure Island. You'll see the originals of his works alongside those of Maxfield Parrish, Norman Rockwell, and other familiar illustrators.
A highlight of the collections is the complete cycle of murals Pyle painted for the dining room of their home in Wilmington, displayed as intended in an intimate room of paneled walls. Other special collections at the Delaware Art Museum include posters from American poster designers and jewelry and metalwork made by English craftsmen in the Arts and Crafts style.
As you approach the building, you can't help seeing the Dale Chihuly arrangement of brilliant glass flowers, each several feet across. Displayed in front of a large window and visible from below in the museum's atrium, the flowers are also visible close-up from a walkway between the two wings of the building.
Outside on the lawns is the Copeland Sculpture Garden, with nine works, highlighted by Tom Otterness' 13-foot Crying Giant and Three Rectangles Horizontal Jointed Gyratory III by George Rickey, which moves in the least breeze.
Address: 2301 Kentmere Parkway, Wilmington, Delaware
7. John Dickinson Plantation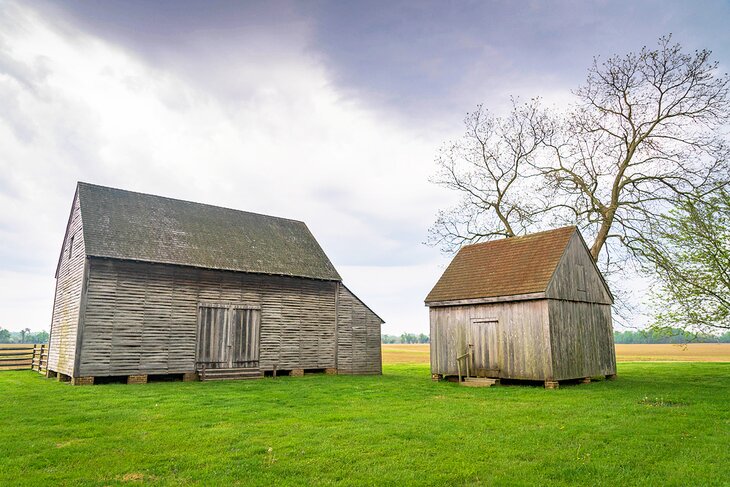 John Dickinson was known as the "Penman of the American Revolution," and he was attributed with drafting the Articles of Confederation in 1778. His 1740s brick house, outbuildings, and slave/tenant house in Dover are part of the farm complex at the John Dickinson Plantation.
The farm makes for an educational family outing, with costumed interpreters roaming about the property performing duties that would have been commonplace in the 16th century.
One of the most interesting buildings to visit is the granary. Here, six intact historical machines (an inclined plane, a wedge, a screw, a pulley, a lever, and a wheel and axel) are explained in great detail. In the welcome center, the life and times of five residents of the plantation are chronicled on display panels and provide excellent insight into what life would have been like back then.
Address: 340 Kitts Hummock Road, Dover, Delaware
8. Brandywine Creek State Park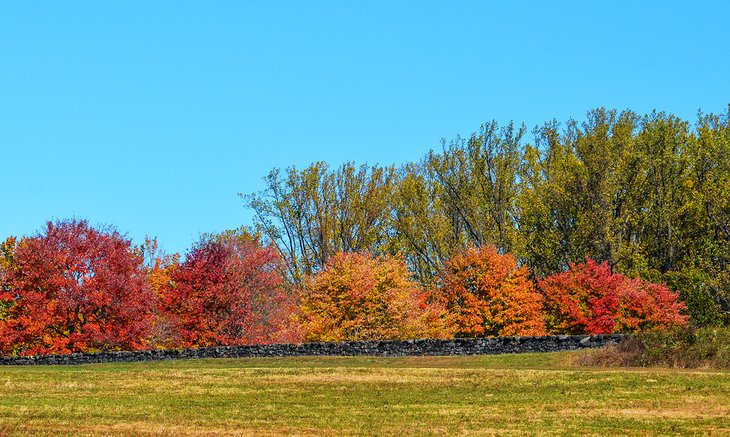 Brandywine Creek State Park encompasses 933 acres and is among Delaware's most beautiful places to photograph. The park's most popular feature is the Brandywine Zoo, which specializes in North and South American endangered species, and the park's habitat is an important area for birds and other wildlife.
Be sure to bring your fishing rod and get your recreational fishing license — a variety of species, including bluegill, smallmouth bass, and crappie, can be found in Brandywine Creek. Other popular things to do on the creek include canoeing, kayaking, and tubing. If you don't have your own gear, local outfitters will get you set up and on the water in no time.
Hiking, walking, and running are all popular pastimes in the park, and two of the best trails are the Rocky Run trail and the Brandywine trail, which winds its way along the creek. Brandywine is ideal for visually impaired visitors, who can enjoy nature by walking the Sensory Trail.
Brandywine Creek State Park is especially known for its majestic stand of tulip poplar trees that are close to 200 years old. A level, loop trail meanders under these giants, and leaves from the Nature Center. While you stroll along, keep an eye out for songbirds, deer, and other forest critters.
Address: 41 Adams Dam Road, Wilmington, Delaware
9. The Nanticoke Indian Museum
The Nanticoke Indian Museum, in Millsboro, is housed in a former one-room schoolhouse and is listed as a National Historic Landmark. The museum's collections include a variety of Nanticoke artifacts, from arrowheads and spears to pottery and textiles, with some items dating back to 8000 BCE. One of its most impressive items is a traditional wooden canoe.
In addition to these displays, there is a section that demonstrates daily life for the Nanticoke before their land was colonized, and more information about their heritage. You will also see examples of Nanticoke art, and you can purchase authentic handcrafts and other items at their gift shop.
Address: 27073 John J. Williams Highway, Millsboro, Delaware
10. Delaware's Old State House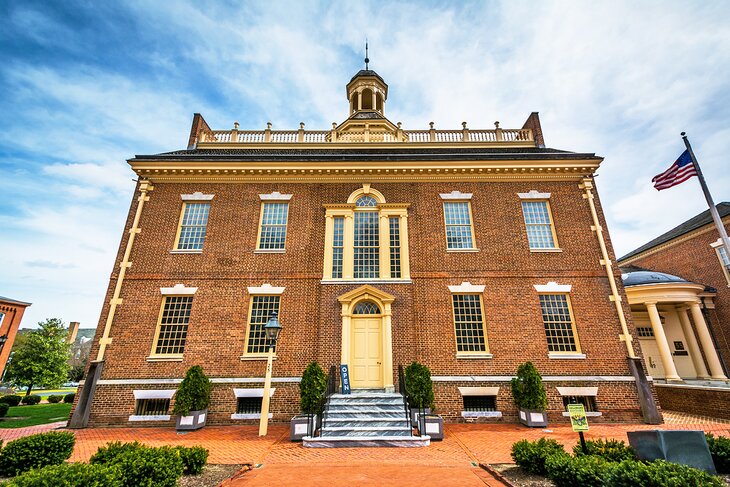 The Georgian-style Old Delaware State House in Dover was completed in 1792. It contains the Governor's presentation and ceremonial office, as well as the 18th-century courtroom and legislative chambers on the first floor.
Various artifacts, historical photographs, and documents are on display and detail the 224 years of usage the building has seen. One of the most interesting paintings is of George Washington, painted by Denis A. Volozan. This massive painting measures seven feet by five feet and dates from 1802.
Address: 25 The Green, Dover, Delaware
11. Grand Opera House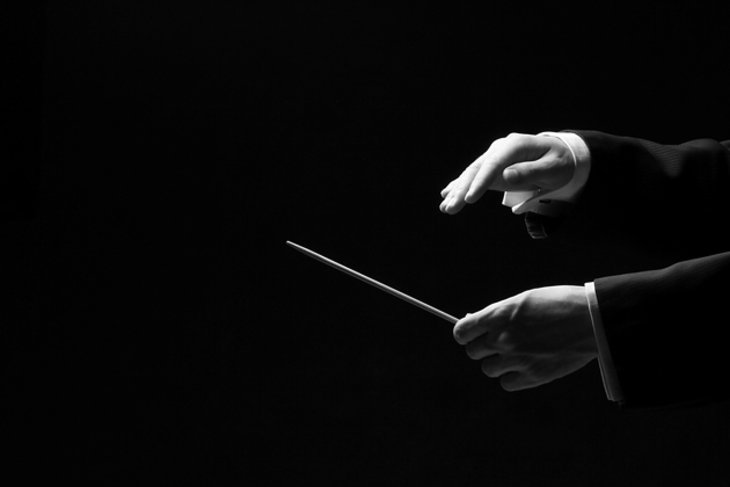 The Grand Opera House in Wilmington is a restored 1871 Victorian theater with a cast-iron façade. Over the years, the Grand has hosted Victorian melodramas, burlesque, vaudeville, variety shows, musical recitals, symphonies, and operas. This gem of a performing house seats 1,140 people comfortably with excellent sight lines.
The Grand is the hot place to visit for culture and performances in town, with over 75 shows a year. Classical concerts and dance are the focus of today; the Grand Opera House is home to the Delaware Symphony, Opera Delaware, and First State Ballet Theatre.
Address: 818 North Market Street, Wilmington, Delaware
12. Cape Henlopen State Park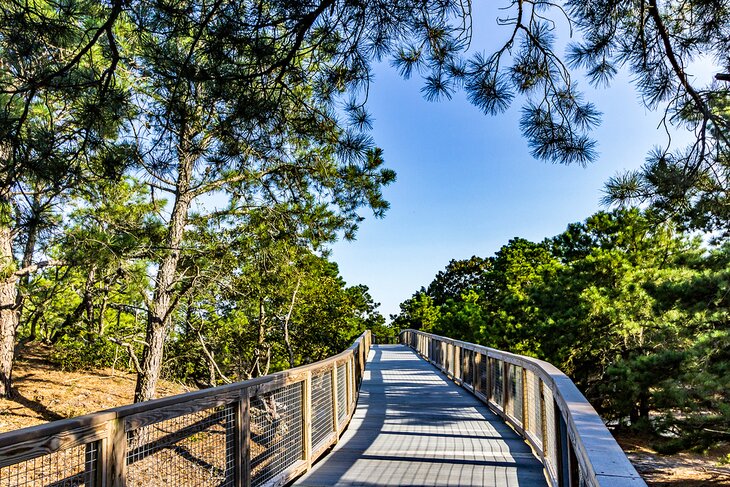 Cape Henlopen State Park occupies over 5,000 acres along the Delaware shore, situated just north of Rehoboth Beach. If you want to know more about the area's diverse wildlife and ecosystems, make a stop at the Seaside Nature Center, where you can also sign up for guided walks and even dolphin-watching and seal-spotting programs.
Kids especially love the 300-gallon touch tank, but if you're there in the summer, they will likely want to head to the swimming beach. It's staffed with lifeguards from Memorial Day through Labor Day, and Mobi-Mats are available at the Lewes entrance.
The water off Cape Henlopen is also a popular spot for kayaking, paddleboarding, and windsurfing.
If you want to do some sightseeing inland, you can hike or cycle the Gordons Pond Trail, which offers 3.2 miles of fully accessible boardwalk that traverses the park's varied habitats, from coastal dunes to forests. If you didn't bring your own bike, don't worry — visitors can borrow a bike for free to explore the park.
Military history buffs will also enjoy a visit to the Fort Miles Historic Area, a former WWII defense base.
Address: 15099 Cape Henlopen Drive, Lewes, Delaware
Map of Tourist Attractions in Delaware