6 Best Beaches in St. Augustine, Florida
We may earn a commission from affiliate links ()
The city of St. Augustine, Florida is most famous for its historical significance as the oldest city in the United States, but its pristine beaches are just as worthy of attention. St. Augustine is located between Jacksonville to the north and Daytona Beach to the south. Besides the soft white sands of St. Augustine's 42 miles of beaches, the less populated oceanfront compared to other Florida destinations provides a tranquil day in the sun along the Atlantic Coast.
The beach backdrop for St. Augustine adds an elegance to the city defined by its 450-year-old history. When visitors are not heading down to the oceanfront to relax by the waves or stroll along St. Johns County Ocean Pier, they are browsing boutique shops along the brick-lined streets or riding in the horse-drawn carriages that are iconic in the city square.
Plan your time along the Atlantic coast with our list of the top beaches in St. Augustine.
Note: Some businesses may be temporarily closed due to recent global health and safety issues.
1. Ponte Vedra Beach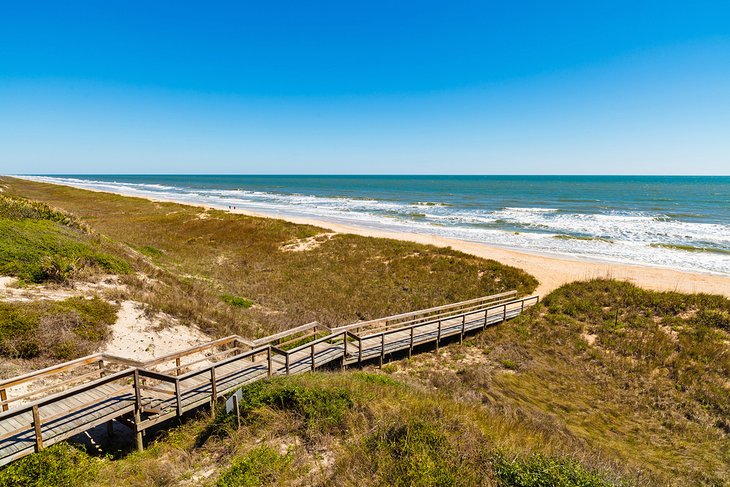 Ponte Vedra Beach is one of the most popular in St. Augustine, especially for visitors hoping to find shark's teeth or who want to explore the GTM Reserve. Ponte Vedra got its name from an early European explorer who charted the destination on his map. In fact, the most notable marker at the beach is a 15-foot statue of Ponce de Leon with a display depicting his travels in 1513, when he sighted land at this spot.
The Ponte Vedra Beach area is popular for its luxury resorts, and it's the home of the PGA Tour. Increasingly, though, Ponte Vedra is gaining traction for its natural beauty, namely because of the GTM Reserve. The Guana Tolomato Matanzas National Estuarine Research Reserve has eight miles of tranquil beachfront and nine miles of nature trails. It is one of 29 National Estuarine Research Reserves in the United States. The visitor center is a great way to learn about the nature in the area, and there are walkovers to the beach from the main building.
Recreation at Ponte Vedra Beach is a mix of surfing, kayaking, and stand up paddleboarding, along with birding and fishing in the area's estuaries and marshes. Besides sun and sand, Ponte Vedra Beach is a perfect spot to find shark's teeth, some of them dating back to the Ice Age. The best access point for combing the beach for shark's teeth is at Mickler's Landing. Stroll close to the waterline and look for shark's teeth, which can range in color from grey, brown, and black to red.
Lighter teeth are from living sharks, while the sought after darker teeth are fossilized and can be 15 to 25 million years old. The best time to search for shark teeth is after a storm, when the waves stir up the sand on the beach.
Picnicking is a great way to enjoy a day at the beach by utilizing the grills and picnic tables that are available at the South Ponte Vedra Beach recreation area, or you can stroll to one of the nearby beachside dining restaurants. Ponte Vedra Beach has off-beach parking and restroom facilities, and dogs are permitted as long as they are on a leash.
Where to Stay: Ponte Vedra is surrounded by luxury seaside resorts that feature world-class resorts and spas. The Lodge & Club at Ponte Vedra Beach and the Ponte Vedra Inn & Club are both seaside accommodations with upscale lodging.
Address: 2993 S. Ponte Vedra Blvd., St. Augustine, Florida
2. St. Augustine Beach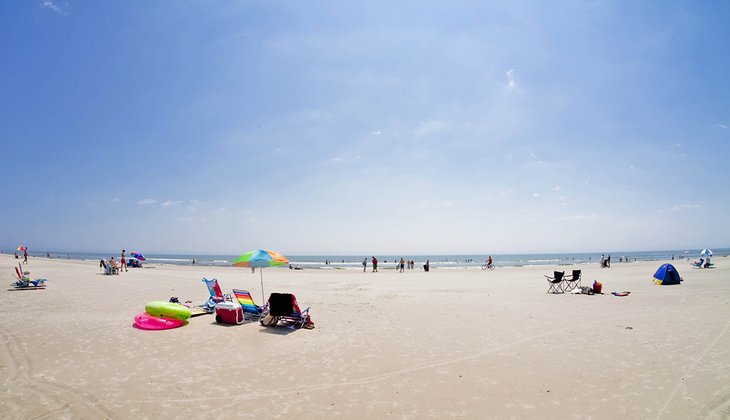 Most visitors to the beach enjoy long walks along the shoreline with the Atlantic water brushing against their feet, or just relaxing beneath a large shade umbrella from one of the nearby beach rental companies, like Anastasia Watersports inside the Anastasia State Park. If you bring a bike on vacation, the packed sand of St. Augustine Beach is ideal for an oceanside bike ride. If you want to play the day by ear, you can always jump in on a sand volleyball game.
Four miles of St. Augustine Beach is in Anastasia State Park. There is an entrance fee for vehicles, but visitors can access the beach for swimming, dunes, tidal marshes, a campground, and rentals for offshore activities like kayaking and stand up paddleboarding. The park is a nice diversion from swimming and sunbathing if you want to enjoy some of St. Augustine's natural side.
Anastasia State Park has a protected wildlife area, which features part of the Florida Birding and Wildlife Trail. The park attracts birders, who look for species like warblers, painted buntings, and laughing gulls.
Stroll along the wooden boardwalk, and you might just spot dolphins in the water or gopher tortoises near the dunes. The park has a nice trail system for walkers and bicyclists, or you can rent a kayak or paddleboard to explore the Salt Run lagoon that runs through the park. You can also walk up the historic St. Augustine Lighthouse located inside the park for a panoramic view of the beach and Matanzas Inlet.
The other main draw of St. Augustine Beach is St. Johns County Ocean Pier. It's a popular spot for fishing and watching beach activities, which is accessible for a small fee. The visitor center at the pier is a great place to get general information on the area and recommendations of things to do and places to eat and to pick up coupon books to use for discounts in the area. The visitor center is a nice first stop for a day at the beach to pick up snacks and sunscreen.
There are six volleyball courts and two bocce courts near the pier for public use. There is also an area designated for children near the pier with a playground and splash park that overlooks the ocean.
St. Augustine Beach is one of the most convenient beaches in the area as far as access and amenities. There is ample parking with beach access. Driving is permitted on the beach at certain times with a permit. Restrooms and showers are available near the pier.
There are a number of seaside dining options at St. Augustine beach and quick casual dining options. There are even some pet-friendly restaurants, as pets are allowed on the beach as long as they are on a leash.
Where to Stay: There is various lodging around St. Augustine Beach, from condominiums and hotels to private home rentals. The Castillo Real An Ascend Hotel is a family-friendly hotel with beach access, and La Fiesta Ocean Inn & Suites is located on St. Augustine Beach, with balcony rooms and Jacuzzi suites.
Address: 350 A1A Beach Blvd., St. Augustine, Florida
3. Vilano Beach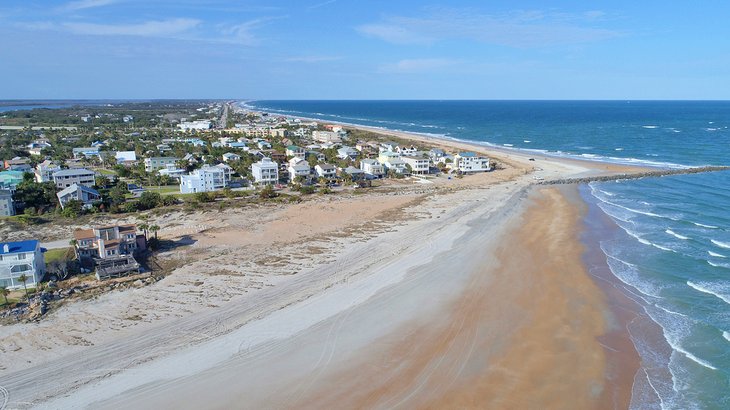 Water sports recreation is diverse at Vilano Beach, from fishing and skimboarding to jet skiing. By far the most popular recreation at this beach is the surfing, which is the best in the area due to the heavy surf and current created by the steep drop-off in the water. There is a splash park at the entrance to the beach ramp, which is popular for kids.
The modern Vilano Beach Pier is a fun place to sit and people-watch. Its design mimics the rest of the artsy feel of Vilano Beach, with a dolphin designed archway spanning the pier and various statues along the walkway, including the Bluebird of Happiness, which is a favorite backdrop for selfie photos. The free pier is a popular spot for fishing and for unobstructed views of the St. Augustine skyline.
There are plenty of public beach access points along Vilano Beach, from footpaths and walkovers to a few 4WD vehicle paths, which can be used with a permit. A day visit to the beach is convenient, with easy public parking, picnic tables, restroom facilities, and showers available. The beach is pet-friendly, so dogs are allowed as long as they are on a leash.
Since Vilano Beach is always active with surfing and spectacular sunsets, it has some of the best oceanside dining in the area. Outdoor dining at small eateries and cafés extends beyond the main beachfront and into the Intracoastal Waterway, where you can choose views from the water or the sand dunes as the backdrop for your dinner ambience.
Where to Stay: Vilano Beach lodging ranges from campgrounds and RV parks to motels, beach home rentals, hotels, and lodges. The Hampton Inn & Suites Vilano Beach is just steps from the beach and has ocean-view rooms and suites.
Address: 2750 Anahma Drive, St. Augustine, Florida
4. Butler Beach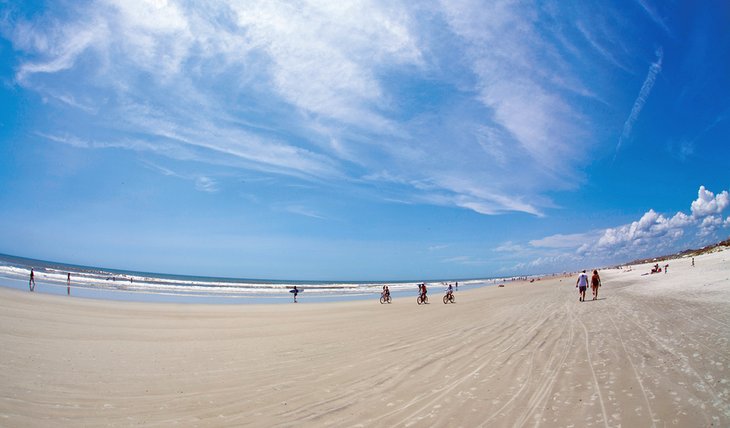 The attraction of Butler Beach goes beyond just its beautiful scenery and picture-perfect sands. The beach has both historical and ecologically important storylines behind it. The beach is popular with locals and visitors and is located between St. Augustine and the Crescent Beach.
Butler Beach is popular for swimming, horseback riding, and beachside leisure. Some people visit the beach just for the history surrounding its name. A local businessman named Frank Butler was an important African-American figure in St. Augustine's civil rights movement in the 1960s. Butler fought against the injustice of the local whites-only beaches and purchased enough property on Anastasia Island to eventually open a small stretch of beach for African-Americans.
Other visitors come to Butler Beach for the protected ecosystem that can be observed at the Frank Butler County Park at nearby Anastasia Island. The island sits between St. Augustine and Butler Beach and protects a delicate dune ecosystem and animals like the gopher tortoise and the Anastasia Island beach mouse that inhabit the area.
Butler Park East is a beachside park with picnic pavilions, public restrooms, parking, and a boardwalk for beach access. Butler Park West is a park space on the Intracoastal side, with parking, restrooms, boat ramps, and a playground.
Dogs are allowed on Butler Beach with a leash, and there are a number of beachside dining options within walking distance.
Where to Stay: Similar to other beach lodging in St. Augustine, there are several types of options near Butler Beach, from home rentals and condos to hotels. The Hibiscus Oceanfront Resort is a beachfront option on Butler Beach, or if you prefer to stay closer to Anastasia Island, the St. Augustine Island Inn is a nice option, with walkable access to Anastasia Island and St. Augustine.
5. North Beach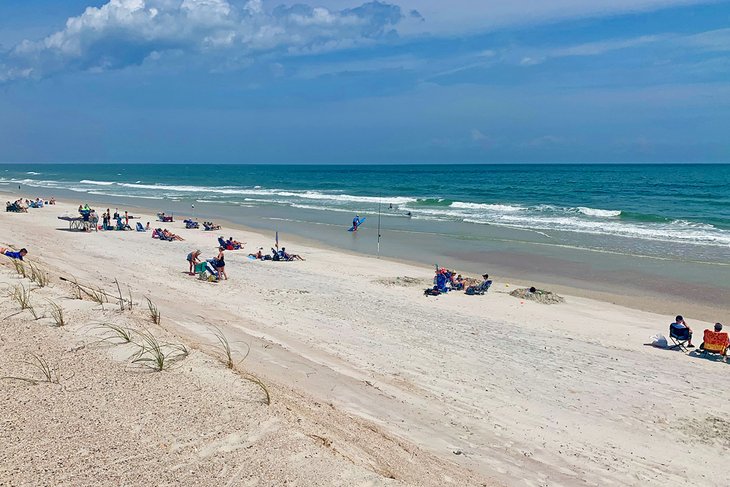 St. Augustine's North Beach is an ideal family beach for swimming and spending a day on the sand. There are several beach access points, including a highway walkover at North Beach County Park. The park also has conveniences like public restrooms, showers, parking, grills, and a playground.
North Beach has some of St. Augustine's finest dining options, including Aunt Kate's, The Reef, and Cap's on the Water.
Where to Stay: There are many vacation home rentals near North Beach, but if you want to camp in St. Augustine, the North Beach Camp Resort has full amenities, dining, and an oceanside deck for those staying on the property.
Address: 3721 Coastal Highway, St. Augustine, Florida
6. Crescent Beach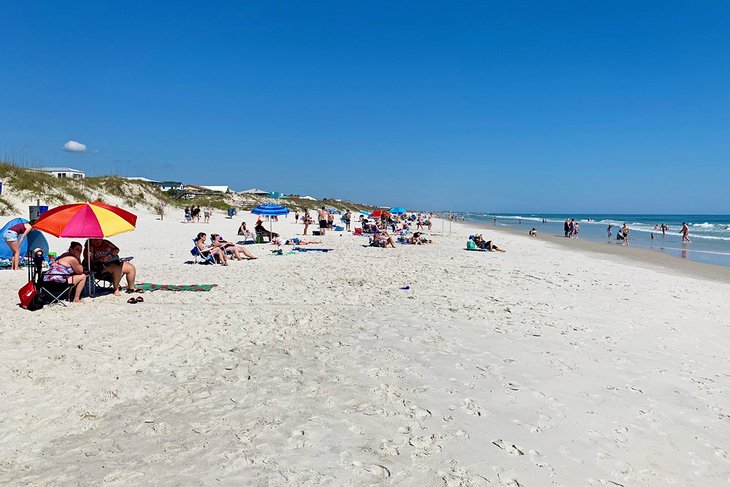 The appeal of Crescent Beach is its wide-open space and pure white, soft sand. The name of Crescent Beach comes from its crescent shape along the shoreline, which runs from the area south of St. Augustine to Matanzas Inlet. It is located on the southernmost end of Florida's Historic Coast about 10 miles from St. Augustine, so it is a bit out of the way compared to other beaches, but that is part of its appeal. Crescent Beach has unspoiled natural beauty that calls to beachcombers.
This beach is popular for relaxing and soaking up the Atlantic Coast sunshine, but the inlet allows for other water recreation, like paddleboarding. You can book fishing trips and dolphin watching tours out of Crescent Beach and fit in a bit of history at the Fort Matanzas National Monument, located just south of the beach.
Crescent Beach is a friendly beach that is popular with the locals. It is a bit quieter than other beaches because it is located in a residential area versus a touristy location. The park in front of the beach is a perfect spot for a picnic lunch in a shaded gazebo. There is convenient parking and restrooms. Vehicles are permitted on the beach with a permit during the spring and summer season.
Crescent Beach is an authentic beach town with small local restaurants and open-air dining.
Where to Stay: For great views of Crescent Beach and easy access, Beacher's Lodge has condominium units with uniquely decorated suites and full kitchens.
Address: 6930 A1A South, St. Augustine, Florida
More Related Articles on PlanetWare.com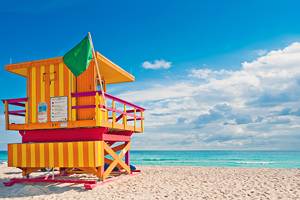 Fun Florida Beaches: If a beach vacation is what you are after, you will want to review our top beaches in Florida article and look at cities with popular beaches, like Miami or Key West. Where to go may depend on the time of year you are planning to visit Florida. Beaches in the north are best enjoyed during the warmer months, and some months are better than others when it comes to the high tourist season or hurricane season.