Best Time to Visit Florida
Florida offers something for every type of traveler. Whether you're old or young, a couple or a family, a golfer or a swimmer, you'll find something exciting among the state's best attractions. And if you organize your trip during the best time to visit Florida, you're in for a holiday you'll dream about long after you've returned home.
Known widely as the "Sunshine State," Florida is also lauded for its amenable weather and vast amounts of the bright stuff so many of us pine for during the dark, cold winter months. Visiting the southern cities during the unbearably hot and humid summer or anywhere during hurricane season, though, could quickly turn the "yay" from your holiday into an "aah!" That's why it's important to do your research and choose the best time to visit Florida before you head out to its soft, sandy shores.
Wondering when it's best to go south? Depending on where you're headed (i.e. the Florida Panhandle and northern, cooler part of the state or the sunny Florida Keys) and what you're hoping to do during your vacation (i.e. soak up warm rays or ride roller coasters), the best time to visit Florida is twofold: between February and May and October and December.
Best Month to Visit Florida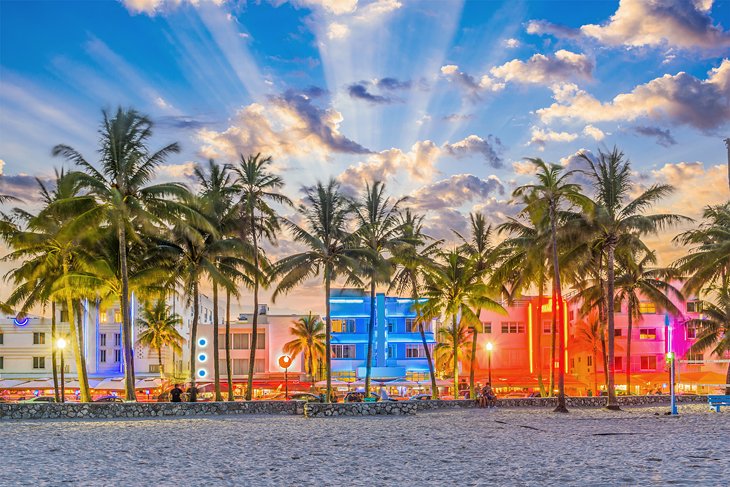 If you've ever been unlucky enough to be in Florida when it snowed (yes, that's actually happened), you'll understand why it's important to get your vacation timing right. Let's face it, most of us head to the Sunshine State for, well, sunshine. And we're not looking for that cold bright sun that sometimes peaks from a winter cloud. We're talking about luxuriously hot rays that warm our bodies from the outside in.

With that in mind, the best month to visit Florida is any month between February and May. At this time, you'll avoid the coldest months of the year (November through January), as well as those which are so stifling you'll wish for a blizzard (namely July and August). Oh, you'll also miss out on hurricane season, which runs from June to November (peaking between mid-August and mid-October). Here's a rundown of why you should visit during these months:
February: This early month sees highs that average around 75 degrees Fahrenheit in Miami and its lows dip to about 61. These temperatures will, of course, get warmer the farther south you go and colder for those heading north. The sun will shine on average for eight hours a day, and the sea temperature will be a refreshing 75 degrees. Rain only falls about six days of the month, so it's pretty dry and mild in February.
March: The highs are higher during this popular travel month, hitting about 77 degrees with lows of 64. Again, you won't see much rain, but you'll get an extra hour of sunshine over that found in February. Tourist numbers are on the up and up during this Spring Break month, which means you'll see more crowds. The popularity of March vacations in Florida also means you should be prepared for higher prices on everything from flights to hotel rooms to restaurants to attractions, especially if you're visiting during a school break.
April: This beautiful month offers warm temps (a high of 82) and even less rain (about 5 days) than its two predecessors. It's a busy travel month due to Easter, but once that's over, you'll see the crowds and inflated prices dissipate.
In terms of tourists, you won't have to fend them off since this is a shoulder month (a.k.a. that time between peak and off-peak seasons). In the case of Florida, the shoulder seasons can be found between April and May and September through November.
May: If you're looking for warmth, soak it up with the average highs of 87 degrees during this low-key month. You can enjoy low prices, lots of hotels to choose from, and much shorter lines at attractions, not to mention plenty of unimpeded space to stretch out on the silky soft beaches.
Best Time of Year to Go to Florida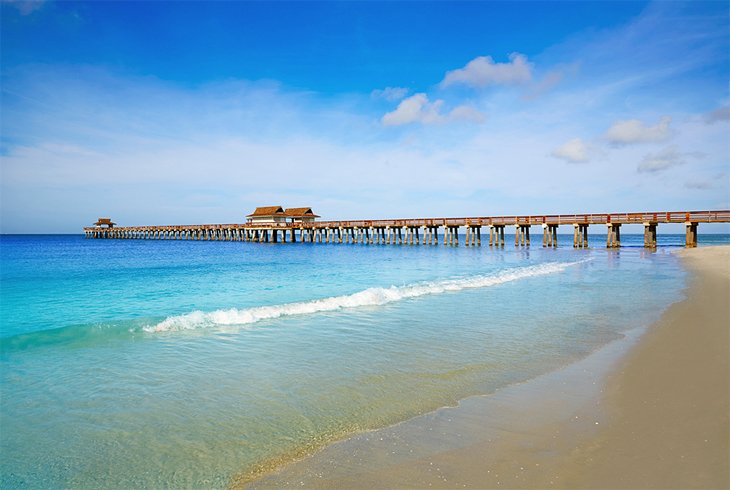 The best time of year to visit Florida is during the spring or fall. While most hop on a plane bound for the sunshine coast during the winter school holidays and Spring and Easter Breaks, you'll experience the best the state has to offer when traveling at these off-peak times. In addition to warm weather and lower humidity, you'll also face thinner crowds at amusement parks and more affordable accommodations.
Those heading to the northern parts of Florida will want to visit during the summer. At this time, the weather is reliably warm, and you won't face the cold temperatures (or possible flurries) that hit during the winter months. This is a great time to visit the white sand beaches of places like Panama City Beach, Pensacola, and Destin.
Cities with the Best Weather in Florida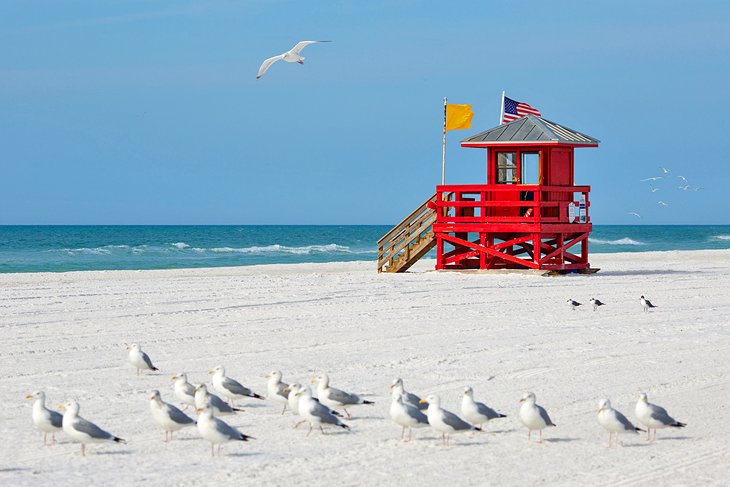 Want to ensure you have the best weather during your Florida vacation? We don't blame you. While the state boasts an average of 237 days of sunshine each year, you may not reap the benefits of these bright skies in all Floridian locales.
Topping the list of cities with the best weather in Florida are: Bonita Springs and Fort Myers (both boast nearly 271 sunny days), Lehigh Acres and Punta Gorda (both have about 267 days of sun), and Immokalee and Iona (both have an average of 266 sunny days)
Sarasota, which lies just south of Tampa on Florida's Gulf Coast experiences a mild temperature and plenty of sun year-round. As such, it's another great contender for one of the best cities for weather in Florida.
Following close behind are Cape Coral (also on the Gulf Coast) and Key West (the southernmost city in the US), which are hot (90 to 92 degrees) in the summer and mild (about 65 degrees) during the winter months.
Best Time to Visit Miami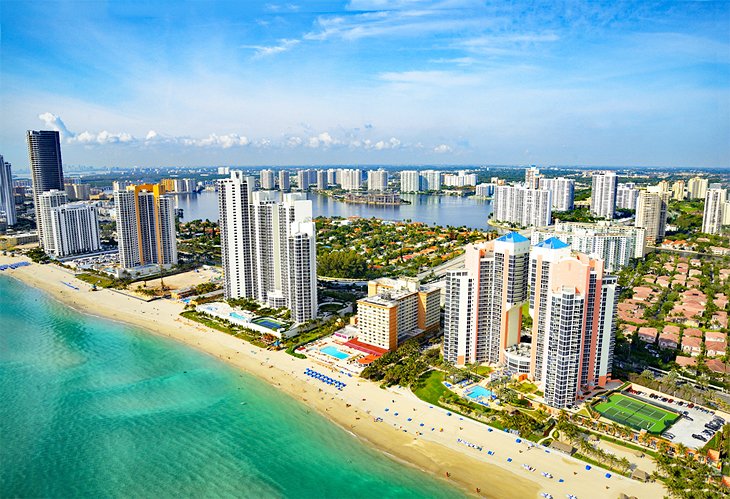 A long, beautiful beach, eclectic shops, award-winning eateries, fabulous hotels, a vibrant nightlife, and various other attractions await Miami visitors at all times of the year. No matter when you go, you'll have a great stay. For an exceptional vacation, though, you'll want to choose your timing carefully. Avoiding high crowds (Spring Break is pure chaos), ensuring lots of sunshine, and avoiding hurricanes are all key things to consider when booking your Miami trip.
The best time to visit Miami is between mid-February and the end of May. This springtime window offers tourists the warm (but not too hot and humid) weather that makes visiting Miami's numerous top beaches a pleasure. It also helps them to avoid hurricane risks and super big crowds.
To narrow things even further, try booking your trip between March and May. You'll luxuriate in temps that won't burn (between high 70s and low 80s) and prices that won't gouge your wallet. There is a caveat, though: avoid the super packed (and expensive) Spring and Easter Breaks!
Best Time to Visit Orlando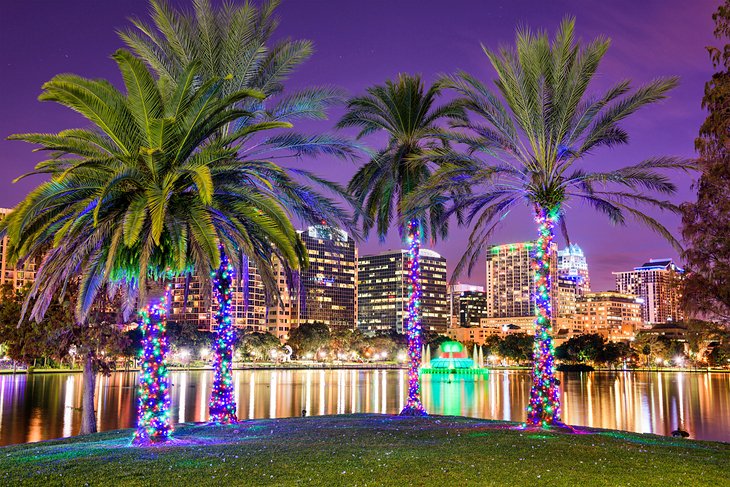 Orlando is one of the top-visited cities in Florida, and for good reason. The main appeal for heading to this non-stop locale is for its theme parks. Home to Walt Disney World, Sea World, and Universal Studios, this is the place where the term "fun" was coined. That may not actually be true, but it totally makes sense!
There's nothing worse than visiting a theme park on a cold, rainy, or stormy day. Well, to be honest, there is. Add a massive crowd of a gazillion people lining up for two hours to ride a roller coaster that lasts two minutes to the sour weather. That's much worse!
That said, the best time to visit Orlando is between January and May. You'll avoid the holiday crowds (with the exception of Spring and Easter breaks, which should be avoided) and enjoy mild temperatures (highs between mid-50s to high 80s) and typically dry weather. Since this season isn't as popular, you'll also enjoy better prices on everything from airfare to hotel stays.
Looking for the best time to go to Disney World? Early fall is where it's at. Time it right, and you'll not only reap the benefit of cheaper accommodation and park rates, but you'll also enjoy mildly warm temperatures that won't leave you dripping while standing in (much shorter) lines.
Best Time to Visit Key West and the Florida Keys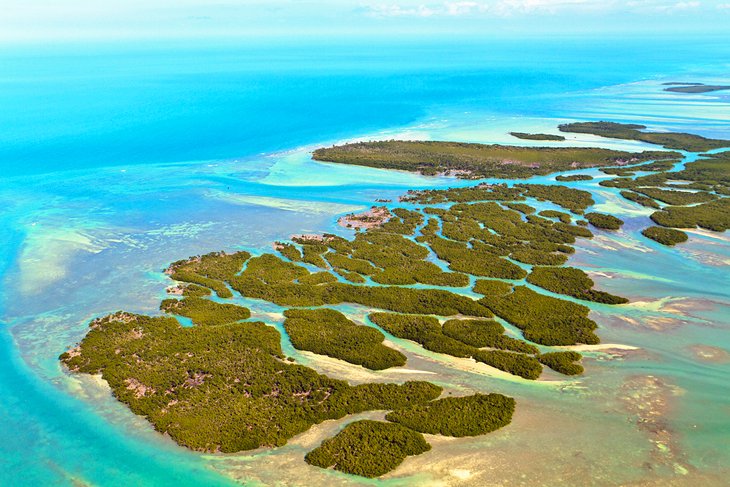 The best time to visit Key West and the Florida Keys is between March and May. Booking a flight and hotel room during this time will be a less stressful experience (except for the Spring and Easter break times). You'll also notice more options at much better prices.
Plus, you'll reap the most important reward that accompanies Florida travel during springtime-bright, sunny skies offering highs between the high 70s and high 80s. There's little worse than spending a week shivering on your tropical vacation, so you'll be happy you visited between March and May. You won't need an umbrella, nor will you run the risk of bumping into a hurricane during this time.
Cheapest Time to Visit Florida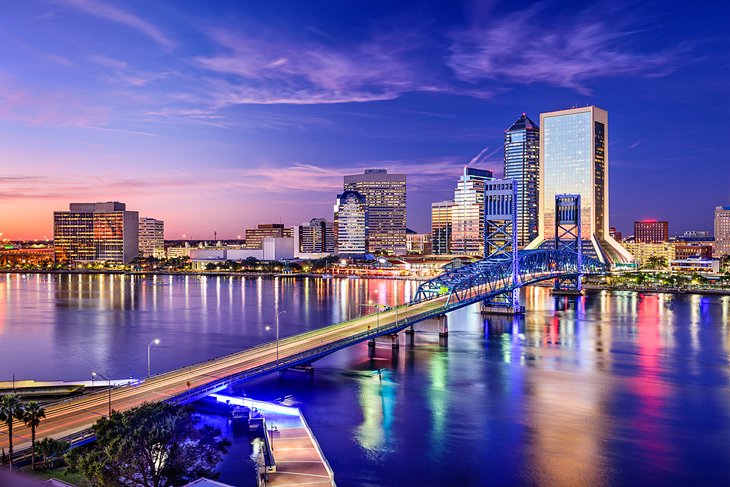 The cheapest time to go to Florida is during the late spring and early fall. Luckily, you'll experience mild weather and stay mostly dry during these shoulder seasons, extra perks that make your savings even more worthwhile. You may run the risk of a possible hurricane in the fall.
The off-peak months of July and August are also easy on the pocketbook, but be prepared to battle bugs, insane heat, humidity, and a ton of rain, especially in the southern part of the state. If you're traveling to Florida at this time, we'd suggest heading north.
Fewer people want to travel to Florida during the shoulder season for multiple reasons (i.e. school is in session and the weather can be iffy). That works well for those of us who aren't bothered by these factors.
The cheapest time to go to Key West is between September and November. Not many people want to brave the area during this time due to its increased hurricane risk; hot, sticky weather; and propensity for monsoon rains. The upside: you'll notice fewer crowds, score the best hotel deals, and get breaks on restaurant meals.
Best Time of Year to Visit Central Florida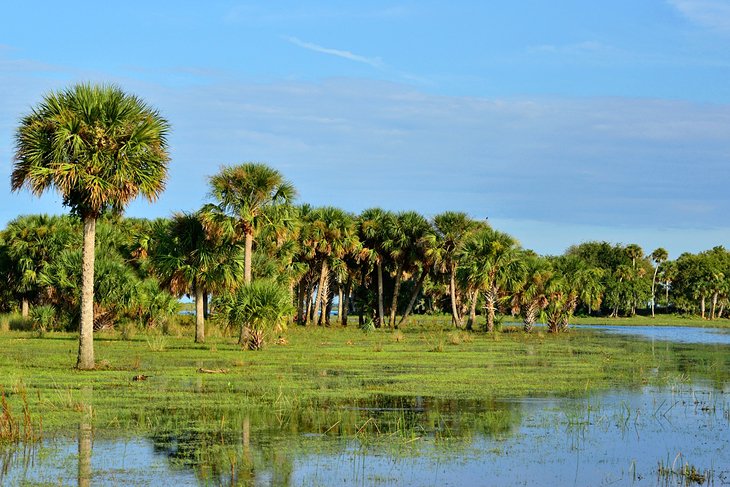 Central Florida includes Floridian heavyweights: Orlando, Kissimmee, and Tampa. As its name implies, this region comprises the central part of the state. The best time of year to go to Central Florida is between January and early May. That's when you'll notice the warmest (but not scorching, humid, or unbearably hot) temperatures and driest days. If you avoid high travel holidays, you'll also be privy to great deals and slimmer crowds.
Best Time of Year to Visit Southern Florida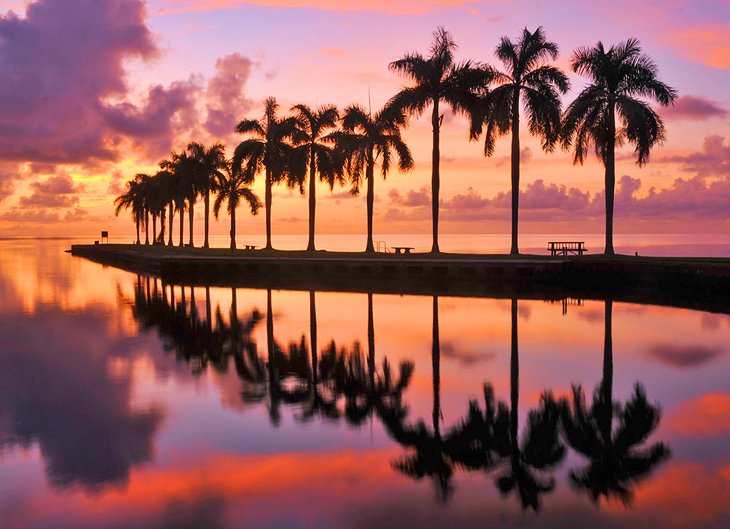 Southern Florida, not surprisingly, comprises the southern region of the state. Travel hot spots like Miami, West Palm Beach, and Fort Lauderdale make up this popular vacation spot. Due to its southerly locale, this has become a hub for travelers chasing the sun.
In terms of finding optimal weather, fewer tourists, and better deals, the best time of year to go to Southern Florida is between late winter and spring (mid-February through May).
Best Time of Year to Visit Northern Florida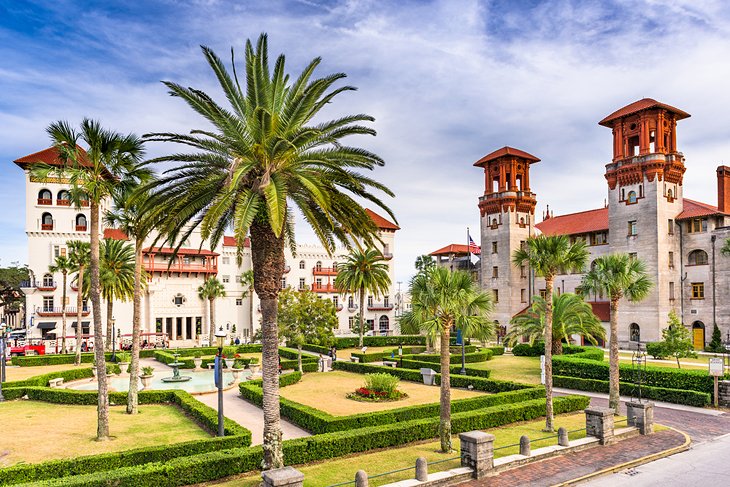 Northern Florida isn't as popular a vacation destination as its warmer, more southern cousins. Made up of cities like historic St. Augustine, pretty Jacksonville, and fun Tallahassee, this section of the state is a beautiful place to spend a holiday, as long as you time it right!
Considering the fact that it's been known to snow in the northernmost towns during the winter months, you'll want to choose your timing wisely.
The best time of year to go to Northern Florida is during its shoulder months – between March and May and September through November. Temperatures are ideal, weather is generally good, and prices are reasonable.
If you're hoping for ensured warm temps, head here during the hot summer months. Be warned, though, summertime is the region's peak season, so expect to find higher prices and bigger crowds along with the higher temps.
Worst Time of Year to Visit Florida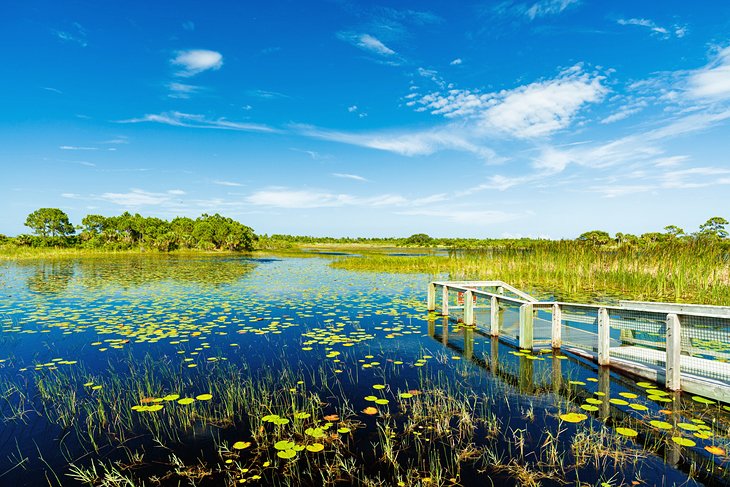 The worst time of year to visit Florida is between June and October. First, you'll have insane amounts of monsoon rains to deal with. Then, you'll have to survive the nauseatingly humid heat that sticks to your every crevice. Also, insects abound, especially during July and August. Oh yeah, you're also likely to witness a hurricane or two since the peak season for these deathly mega storms runs from mid-August to mid-October.
Yes, you'll experience lower prices during this time, but that's only because no one else wants to suffer through the horrible weather. Not surprisingly, the hotels and restaurants are so desperate for tourists they often offer intoxicatingly low rates.
If you're hoping for a cheap vacay with little to no lines at attractions (ahem, Disney World), and you don't mind sweating through three outfits a day, or running the risk of seeing a hurricane first hand, this time of year may be right for you. Just pack an extra water bottle or two and don't forget a raincoat!
More Related Articles on PlanetWare.com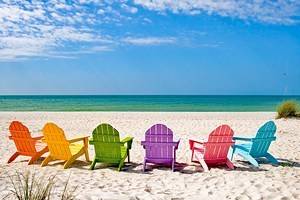 An Insider's Tour of Florida: Miami and Key West are two of Florida's most popular tourist destinations. If you're looking for something with more of a local vibe, check out these adorable small towns. Next, head to a few of these super fun attractions in Islamorada. Finally, take your crew to hang out on one of these best Florida beaches for families.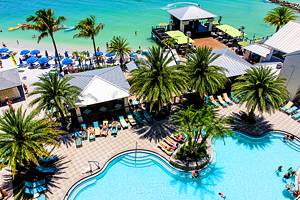 Where to Stay in Florida: It can be tough to decide which hotel (or resort) to choose when visiting Florida. Whether you're looking for 5-star luxury or a budget option close to the beach, these best resorts in Naples, and Clearwater can help narrow your search.