19 Top-Rated Things to Do in Florida
We may earn a commission from affiliate links ()
You can do pretty much anything in Florida. The state has it all: national parks, theme parks, and glamorous cities, along with natural and man-made wonders. From riding roller coasters at an Orlando theme park to kayaking through mangrove forests in Sarasota to playing golf on a championship course on Marco Island, there's literally something for every type of traveler to the "Sunshine State." Add to that sun-bleached, soft, sandy beaches and jungle-like forests to the mix, and this East Coast wonderland is a true holiday winner.
Looking for adventure? Hop on an airboat tour of the Everglades. Craving an animal encounter? Pet a sloth at Busch Gardens in Tampa. Hoping for a higher education? Learn the science of space at the Kennedy Space Center in Cape Canaveral.
With so many activities on offer, Florida has earned its spot as one of the best places to visit in the United States. For more ideas on creating an action-packed vacation, read our list of the top things to do in Florida.
1. Take the Family to Walt Disney World, Orlando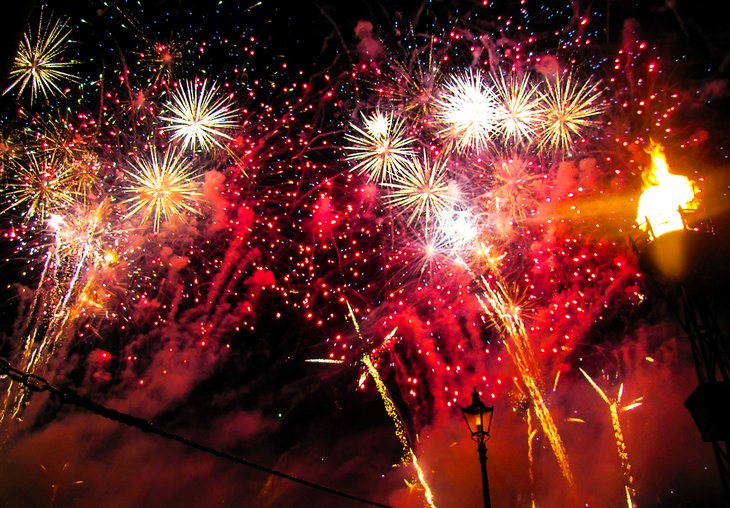 Without a doubt the number one family attraction in Florida is the Magic Kingdom at Walt Disney World. If your kids didn't believe in magic before heading to Walt Disney World, they certainly will after spending a day in this top Orlando attraction. From a visit to Cinderella's castle to meeting their favorite characters to a thrilling ride on Space Mountain, this epic theme park brings out the child in us all.
Prefer a trip around the world? Head to Epcot Center, where you can dine in multiple "countries" and cruise around a lagoon. Catch a stunt show in Hollywood Studios or go on safari in Animal Kingdom.
Cool down at one of the two main water parks: Blizzard Beach and Typhoon Lagoon. There's something to please everyone in this iconic park.
Insider's Tip: It's impossible to see it all in one visit, so be sure to book at least three days to truly enjoy all that Disney has to offer. Also, the lines can be insanely long, so it's best to invest in a Fast Pass option to try to preserve your sanity.
Accommodation: Top-Rated Resorts in Orlando
2. Learn about Space Exploration at the Kennedy Space Center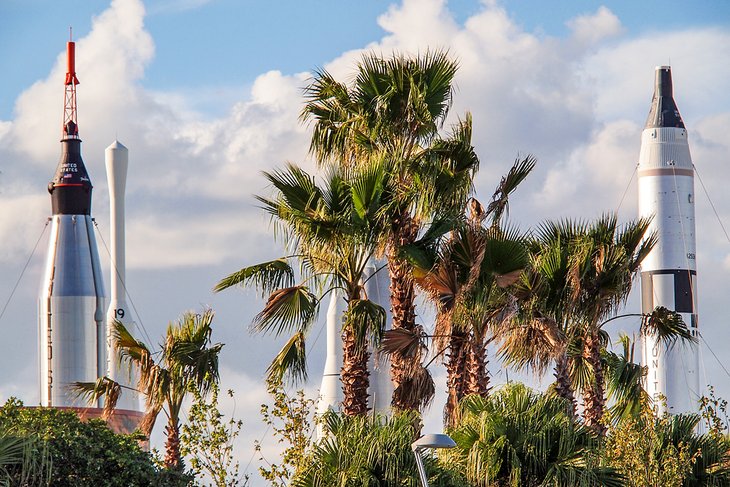 Blast off to worlds unknown on a tour of the Kennedy Space Center in Cape Canaveral. In addition to learning all there is to know about an astronaut's life in space (including how they eat, sleep, and use the bathroom), guests of the main visitor center are treated to an in-depth look at the history of the space program. The Heroes & Legends and Astronaut Hall of Fame exhibits can also be found here.
It's hard not to feel small when wandering the Rocket Garden, filled with towering vessels that once ventured into space. Another must-do: hop on a 90-minute tour to the Apollo/Saturn V Center. It's here that you'll find the Apollo 14 command module and massive Saturn V rocket. Insider's tip: The café in this locale is your best bet at keeping hunger pangs at bay. Try the freeze-dried ice-cream, it's much better than you'd think.
If you hit the center on the right day, you may get lucky enough to witness a shuttle launch. The crowds are much thicker on these days but being able to watch history is worthy of jostling for a little elbow room.
Address: SR 405, Kennedy Space Center, Florida
Official site: www.kennedyspacecenter.com
3. Climb aboard the Rides at Universal Studios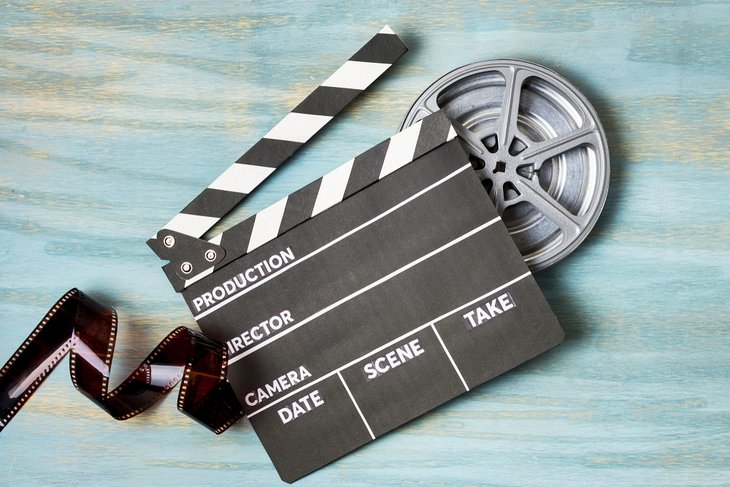 Close on the heels of the Magic Kingdom is Universal Studios. This theme park has some of the most advanced and amazing thrill rides featuring past movies put out by the studio. A couple of the most notable include the new Harry Potter and the Escape from Gringotts complete with a fire-breathing dragon, Despicable Me Mayhem, and Fast and Furious - Supercharged.
It's not all about rides here. Be sure to catch the Universal Superstar Parade, the Horror Make-Up show, and the Bourne Stuntacular. Or, swing by the arcade, grab an Interactive Wand, or hop on the Knight Bus. The options are many and varied, so just go with the flow from one fun thing to another.
The park can get busy, so investing in an Express Pass, which will allow you to skip the lines, is well worthwhile.
Address: Universal Blvd, Orlando, Florida
Official site: www.universalorlando.com
4. Spend a Day at Busch Gardens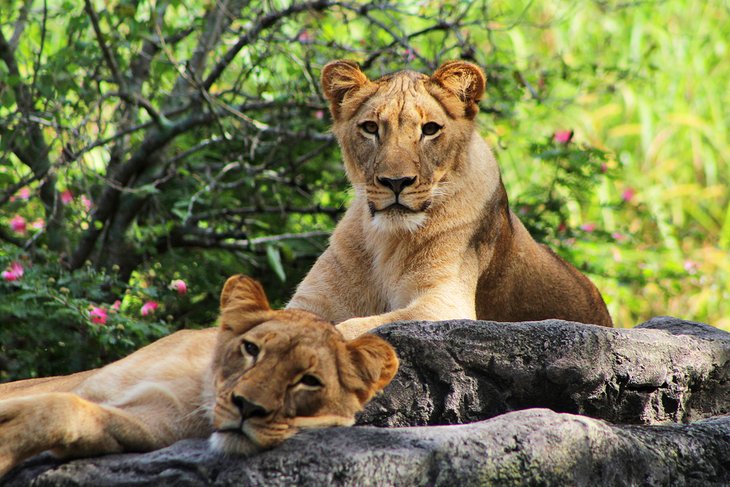 Can't get enough of Florida's theme parks but want more than just rides? Well, fortunately you can find this at Busch Gardens in Tampa. A bit different from all the rest, Busch Gardens layers on the natural elements of our world with incredible animal exhibits, including a train ride across a recreated Serengeti.
Busch Gardens is like a zoo on steroids. In addition to playing host to over 200 species, this wildlife mecca boasts close encounters of the animal kind. Ever wanted to see a sloth up close? How about touch one? You can do both by booking a 30-minute sloth encounter. Special access is also granted for up-close interactions with cheetahs, rhinos, elephants, and penguins, among others.
Once you've had your fill of furry friends, hop on one of the African- and animal-themed roller coasters. Worried they won't live up to Florida's more famous theme parks (ahem, Walt Disney World and Universal Studios)? Don't. They have thrilling rides as well, with Florida's best roller coasters and a water flume ride.
One of the latest, greatest, and most advanced roller coasters in Florida is the Iron Gwazi. This new ride features a 206-foot drop at 91 degrees (almost straight down!) and over a dozen moments where you will be floating off your seat in mid air.
5. Explore the Everglades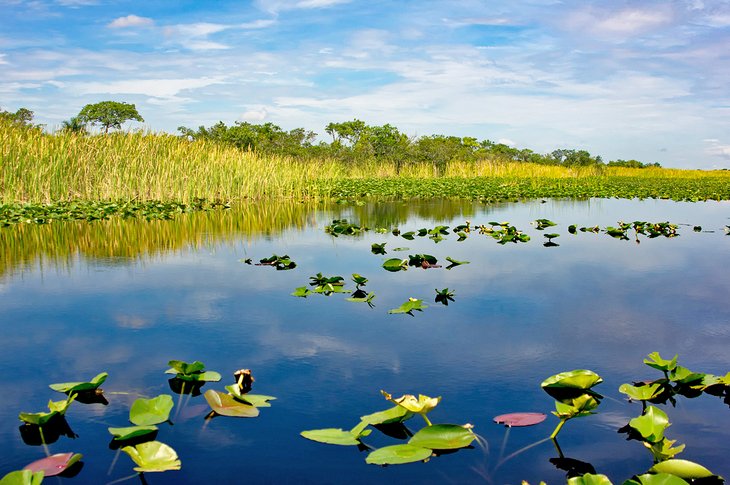 Florida isn't all about theme parks and man-made excitement. The state also has an amazing assortment of natural attractions. One of the most popular is Everglades National Park, just an hour's drive from Miami. Spanning over 1.5 million acres of wetlands, the Everglades cover much of south and central Florida.
Fed from Lake Okeechobee, most of the Everglades is comprised of a long, winding, and shallow (less than one-foot-deep) saw grass marsh often referred to as the River of Grass. It's home to multiple endangered plants and species, including the American alligator, American crocodile, West Indian manatee, Florida panther, wood stork, and snail kite.
One of the best ways to see the Everglades is to take a Florida Everglades Airboat Tour. Climb aboard these shallow boats and race down waterways through swamps and marshes. On these tours, you can expect to see a variety of wildlife, but one of the things you'll definitely see are alligators.
If you're more interested in seeing the Everglades from the land, hike to the Observation Tower at Shark Valley or wander the wooden boardwalks in Mahogany Hammock.
Official site: https://www.nps.gov/ever/index.htm
6. Ride the Coasters at SeaWorld Orlando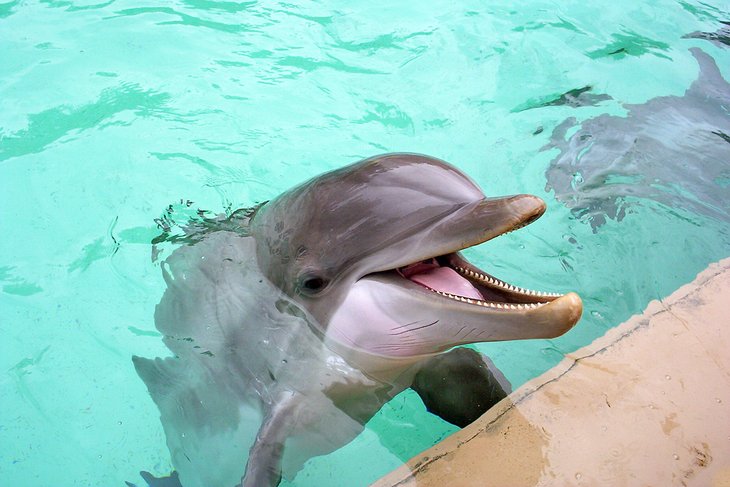 SeaWorld Orlando may be famous for its animal shows (we're looking at you orcas, dolphins, and sea lions), but this popular venue is also beloved for its thrills. From mild adventures like Elmo's Choo Choo Train and Slimey's Slider in Sesame Street Land to more heart-pumping experiences on Kraken, Manta and Infinity Falls, there's something for every type of ride lover.
Hop on a Flamingo Paddle Boat, let the kids loose in Rubber Duckie Waterworks, or ride the Sea Carousel as a family to round out your day. Then, wander through the many animal exhibits, including an aquarium dedicated to manta rays, the Empire Penguin habitat, and manatee rehabilitation area.
Address: 7007 SeaWorld Drive, Orlando, Florida
Official site: https://seaworld.com/orlando/
7. See Manatees in the Wild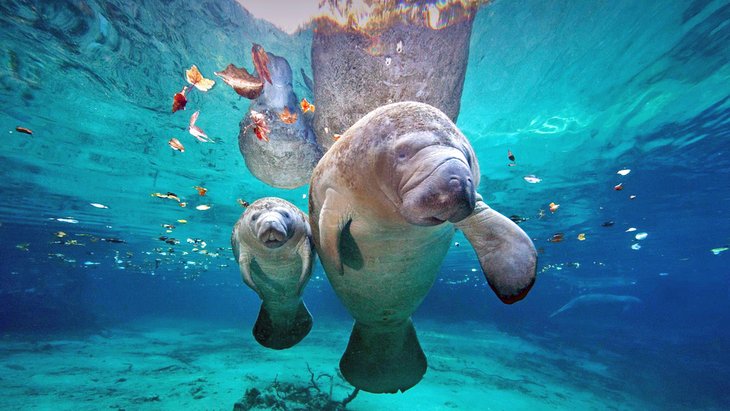 The endangered West Indian manatee is one of Florida's most treasured creatures. Sometimes referred to as sea cows, these laid-back creatures spend up to eight hours a day grazing. Sounds like a pretty good day to us!
While they don't leave the water, manatees can be spotted from above, sticking their noses out for a breath of fresh air. Explorer Christopher Columbus first spotted three of them in 1493 but mistook them for mermaids.
If you're hoping for a close-up view of these slow-moving beauties, head to Three Sister Springs in Crystal River, one of the best springs in Florida. Kings Bay, also in Crystal River, is home to over 800 manatees that swim within its Crystal River National Wildlife Refuge and the Kings Bay Manatee Refuge.
If you want to see them close up, try a three-hour Swim with the Manatees Adventure, which includes all the gear (wetsuit, mask, snorkel, 5mm wetsuit, and towels), hot chocolate, coffee, tea, water, and guides.
Blue Spring State Park in Orange City also offers a great opportunity for manatee watching. At last count, there were almost 500 manatees in their waters. Insider's tip: Winter is your best bet to see a sea cow up close. Aim to visit between November 15th and March 31st.
8. Book a Deep-Sea Fishing Adventure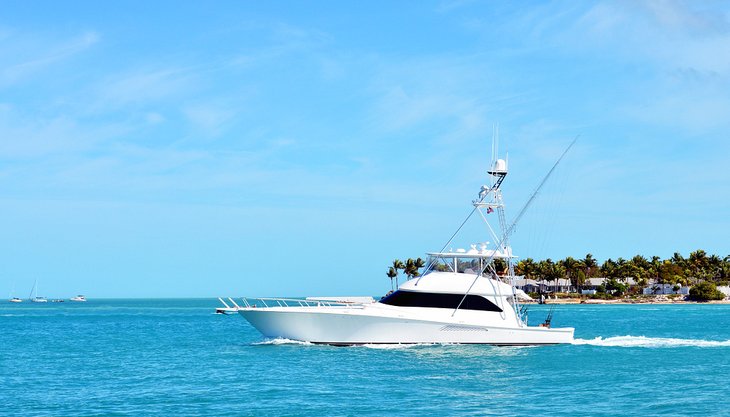 Florida is one of the best places to visit in the United States to go deep-sea fishing. The state is full of charter boat captains who know where the big ones are lurking. Depending on the time of year, you might hook into a blackfin tuna, mahi-mahi (dolphin fish), sailfish, and wahoo. If you want to go way offshore, you'll have a shot at jumbo swordfish.
Where the best fishing takes place in Florida is a question that will set off a discussion among anglers that could last for hours, if not days. However, Marathon Key is generally at the top, or near the top, of most anglers' lists of places to head out from. Most of the true deep-sea fishing, 30 or more miles offshore, takes place in the summer, when seas tend to be calm.
Marco Island lies in the Gulf of Mexico in southwest Florida and is another excellent place to go fishing. A quiet, upscale spot, this pristine island boasts sugar-white sandy beaches teeming with magnificent shells.
Depending on when and where they head out, anglers can catch a big one (or many) in species ranging from king mackerel to barracuda to amberjack. Boating farther from shore (over 20 miles) ups your chance of reeling in a winner, like tuna, wahoo, and mahi-mahi. Unreel Fishing Charters and Native Guided Fishing Charters, both out of Marco Island, are two excellent options.
Other popular areas to try your luck deep-sea fishing are in Panama City Beach and St. Augustine.
9. Snorkel or Dive in the Florida Keys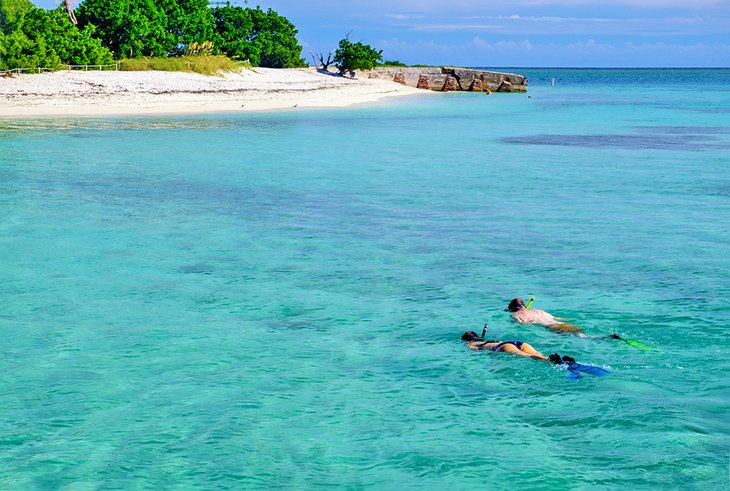 Getting to Dry Tortugas National Park takes a little effort – you'll need to access it by boat or plane. That said, a visit is definitely worth your time. Seventy miles off the coast of Key West, this nirvana boasts some of the best snorkeling in the state. The crystal-clear water in this pristine spot ranges from five to 10 feet, a perfect depth for getting face to fin with some spectacular marine life, especially for beginners.
More seasoned divers can snorkel or dive around the old moat walls of Fort Jefferson at night – an unbeatable experience. The vibrant fish become more passive at dark, making it easier to get a close-up view.
Not feeling at ease with the thought of swimming in the ocean at dark? The fort, a 19th-century coastal brick stronghold, is spectacular during the day, offering incredible vistas and intimate views of everything from trumpet fish to eels to stingrays.
Insider's tip: Book in advance if you're planning to arrive by the Yankee Freedom III ferry from Key West; it fills quickly.
Accommodation: Top-Rated Resorts in Key West
10. Go Kayaking in the Mangroves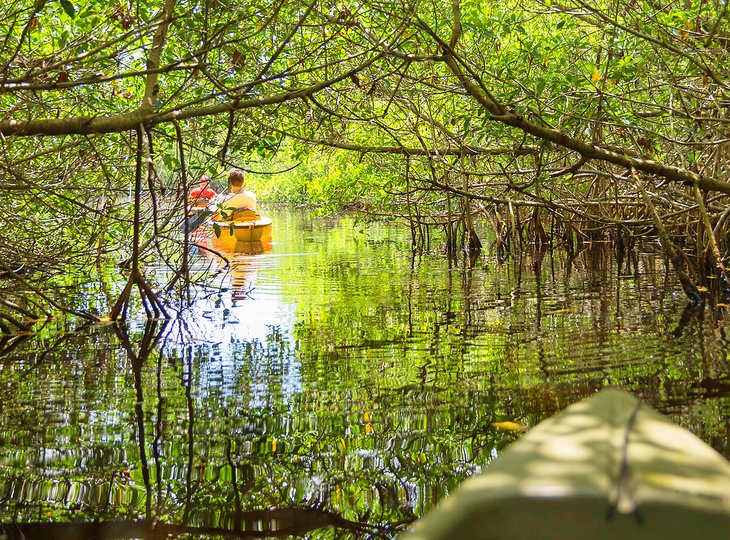 There's something magical about kayaking through mangrove tunnels. Sun filters through the thick trees lining the waterway, its rays splintering before they bounce off your boat, paddle, and the azure water below. Look closely, and you'll spot a crab, egret, or night heron. This is a great way to see one of Florida's most unique ecosystems and a good opportunity to spot all kinds of wildlife, both above and below the water.
Wondering where to go? Some of the most popular areas for paddling through mangroves are in the Florida Keys, particularly Key West, which offers a number of popular mangrove kayaking tours.
Sarasota is another great place for this experience. Two of your best bets for lush mangroves here are South Lido Park and Ted Sterling Park. Both are found on Lido Key, a barrier island off Sarasota. Insider's tip: Whether you rent a kayak on-site at Ted Sterling Park or bring your own, follow the signs that read "Nature Trail" to find the launch site.
If you're hoping for true serenity, head out late in the afternoon. You'll be more likely to have the place (and its resident creatures) to yourself, which means the wildlife might come out of hiding.
11. Soak Up the Sun on South Beach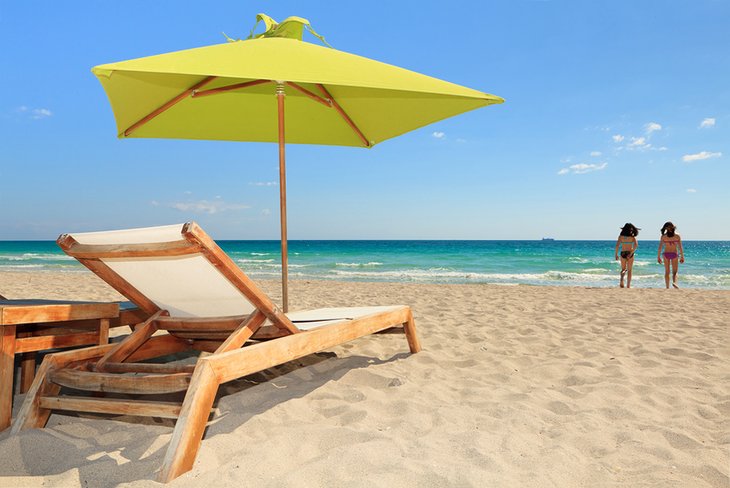 One of the best beaches in Miami, South Beach offers a lively backdrop for all your sun bathing needs. Drop a towel on the soft sand, sip a soda, and prepare to be entertained while soaking up the rays.
From people-watching on the boardwalk to volleyball spectating, there's never a dull moment on this famous stretch of sand. Take a dip in the ocean, jump on a boogie board, or head out for an SUP when you're feeling scorched.
When you've had enough of the heat, wander around South Beach's vibrant shopping district. It's bursting with eclectic boutiques and impressive galleries set within the funkiest Art Deco buildings.
Accommodation: Where to Stay in Miami Beach: Best Areas & Hotels
12. Take a Sunset Cruise in Key West & Stroll Duvall Street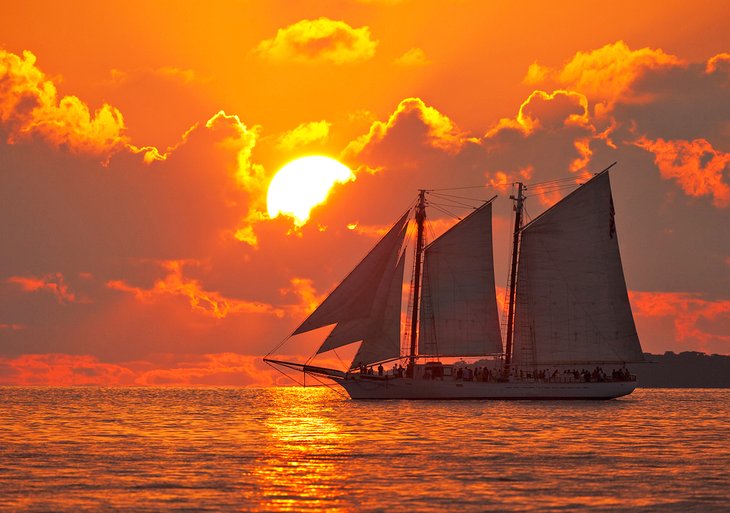 A visit to charming Key West is not complete without a stroll up and down Duvall Street, and a sunset cruise. Over its one mile length, Duvall Street is packed with restaurants, most with patios, and shops selling all kinds of things you thought you'd never need. Duvall Street is listed on the National Register of Historic Places.
Time your strolling to catch a sunset cruise. Heading out to sea a bit before sunset, these cruises have a fun atmosphere and are always one of the top things to do in Key West. The captain will sail out from the harbor and find the best location to capture Key West's famous sunsets. Warm sea breezes will lull you into a relaxed state of mind as the sun gently sets over the Gulf of Mexico.
Accommodation: Top-Rated Resorts in Key West
13. Play Golf on Amelia Island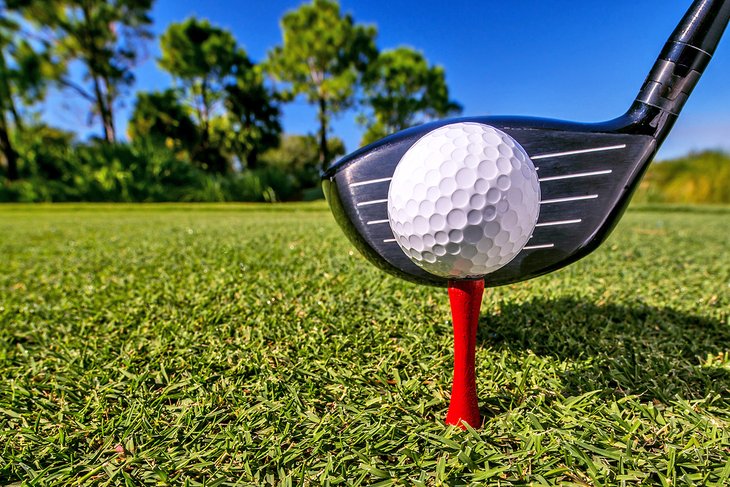 A playground for the wealthy, Amelia Island boasts an impressive array of shops, restaurants, and golf courses. Due to its high-end clientele, it's no surprise that most of the island's golf courses are pricey, and many are private.
The 18-hole Royal Amelia Golf Links Golf Course on Buccaneer Trail, however, is open to the public. The municipal course at Fernandina Beach Golf Course offers 27 holes to play at a very reasonable price for both members and the public.
Golf aficionados should tee off at Long Point, Omni Amelia Island Resort's championship course. While open to Amelia Island Club members, guests of the Omni Amelia Island Resort can reserve a tee time a day in advance.
Insider's tip: Traveling with children? Sign up for a round at the uber-fun Island Falls Adventure Golf in Fernandina Beach. This mini putt course is sure to keep kids of all ages entertained.
14. Go Shelling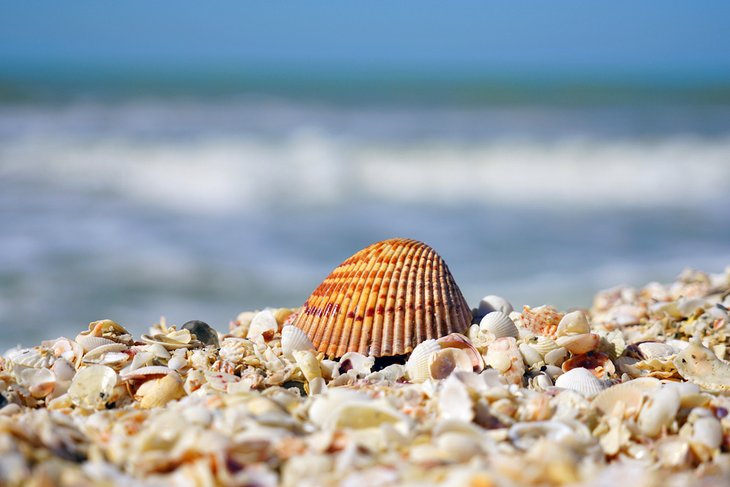 It takes a certain kind of willpower (or apathy) to walk by a beautiful shell without picking it up. Even the most novice of shellers won't be able to "let a good one get away." Luckily for shell lovers, Florida is peppered with incredible beaches chock full of iridescent treasures.
Whether you're hunting for the oft elusive junonia, fragile sand dollars, or an intricate Florida spiny jewel box, you'll find them in abundance on Florida's shores, especially those located on the Gulf Coast.
Your best bets for a good haul include, the Ten Thousand Islands, Captiva Island, Caldesi Island State Park, Cedar Key, Tigertail and South Beaches on Marco Island, and Sanibel Island.
Insider's tip: We're not the only ones who know about Sanibel Island's shelling. Head out early or late to avoid crowds.
15. Take an Airboat Tour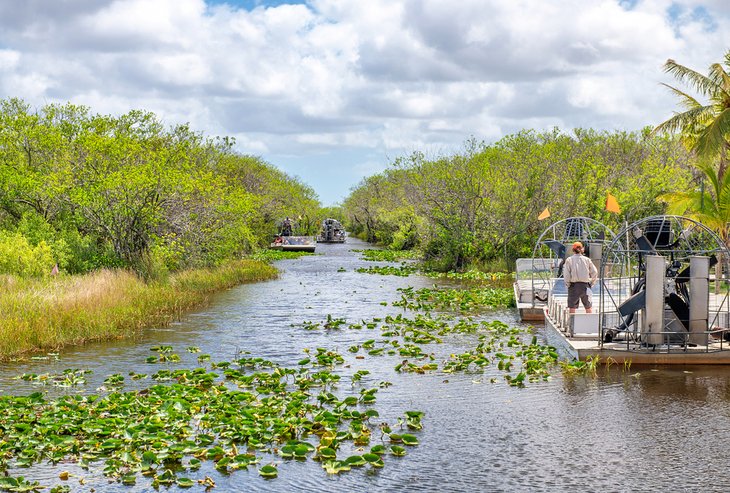 Want to score major points with the kids? Book an airboat tour. The most thrilling way to experience Florida's natural beauty, a ride on one of these unique boats is something you'll never forget. Ever done a doughnut on water while traveling at 40 miles per hour? It's exhilarating!
Zipping through winding waterways on a flat-bottom boat propelled by a giant airplane engine-driven fan, airboat riders are transported through a unique wonderland filled with the state's most prized creatures and vegetation.
A few of the best spots to book a tour include, Lake Tohopekaliga, just south of Orlando; Everglades National Park; Palm Beach; Crystal River; and Biscayne Bay.
Insider's tip: Our fave is Everglades Swamp Tours near Fort Lauderdale.
16. Lounge on the Beaches around Clearwater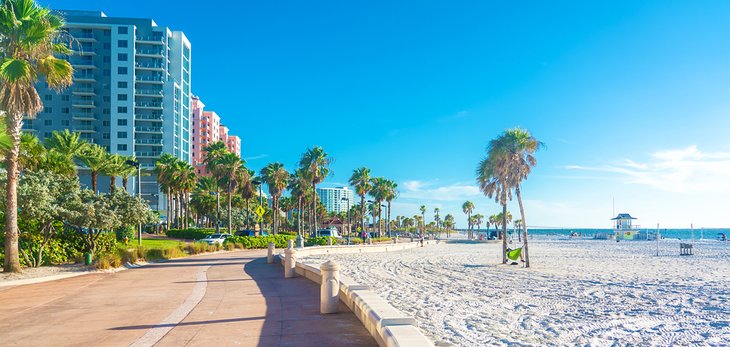 Clearwater Beach is one of the best beaches in Florida. Wonderfully white sands are lapped by the calm, warm waters of the Gulf of Mexico. The beach stretches for three miles, and a promenade runs along the back, a perfect place for a stroll, bike ride, or jog.
One of the highlights of the beach area is Pier 60. Stretching out nearly 1,100 feet into the Gulf of Mexico, Pier 60 is an ideal place to try your luck fishing for one of the 10-plus species that lurk in the waters below. Each evening, free live performances of various types take place from 6 to 10pm, making this a great place to catch the sunset.
Clearwater Beach is well set up for visitors, with a range of accommodations, from standard hotel rooms right through to luxury resorts. The prices increase accordingly as you get closer to the water. However, don't worry about staying off the beach. The area is not large, driving to the beach is easy, and ample parking is usually available.
17. Catch a Race at the Daytona Speedway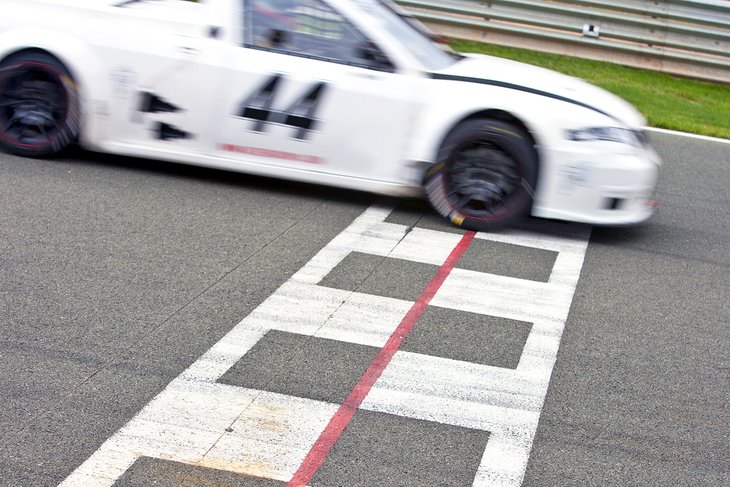 If you enjoy the beach and you love cars (especially ones that go really, really fast), Daytona Beach is the place for you. Twenty-three miles of beach stretches along the Atlantic Coast, allowing you to find your perfect patch of sand. In some areas, finding that perfect patch of sand can be accomplished by driving to it. No need to haul all your beach gear, just drive to your spot, walk a few feet, and settle in.
The speed limit on the beach is limited to 10 miles per hour, but there's no speed limit at the Daytona International Speedway. Home to the famous Indy 500, the Speedway holds crowds upwards of 100,000 people on race days. Race fans will want to plan ahead for the big days and book accommodation early, as nearby hotels and in-field campsites go fast.
Outside of race days, swing by the Motorsports Hall of Fame to see the collection of race paraphernalia. Really keen fans can take a 45-minute tour of the race track, available every day starting at 9:30am.
After a full day of touring, perhaps on the Ormond Loop, or lying on the beach, grab a bite to eat, and if you are lucky, a performance will be taking place at the Daytona Beach Bandstand.
Official site: https://www.daytonainternationalspeedway.com/
18. Take a Summer Vacation to the Beaches of the Panhandle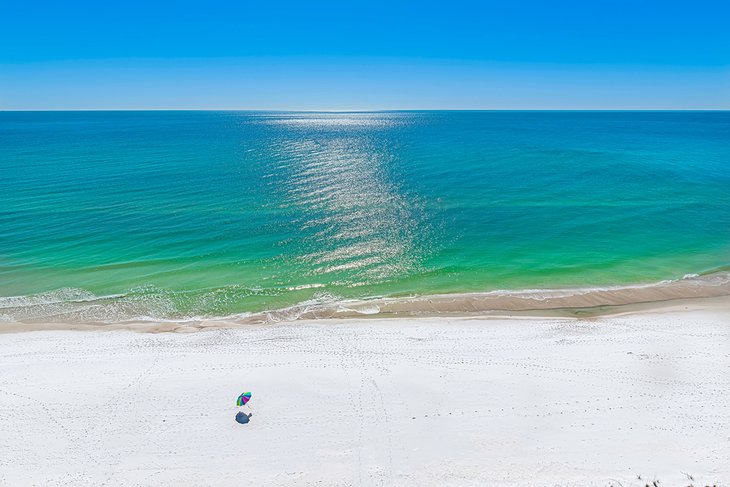 When planning your summer trip, don't overlook the Florida Panhandle in the northwest of the state. Stretching from the border of Alabama east towards Gainesville, FL, this area has stunningly white beaches, great beach towns, and plenty of things to do.
This area of Florida offers an affordable getaway, with extensive accommodation options available in places like Panama City Beach. This city is a popular family destination, with amusements of all kinds for kids, and hotels with lazy rivers. Adults can check out the deep-sea fishing off Panama City Beach on a charter, or simply lounge on the beaches.
Pensacola is another fun destination worth checking out, with a great array of restaurants and a full calendar of events and festivals. Other popular destinations along here are Destin and Fort Walton Beach.
Keep in mind, for a beach vacation, this is primarily a spring to fall destination, with cooler weather during the winter months.
19. Shop and Dine in Fort Lauderdale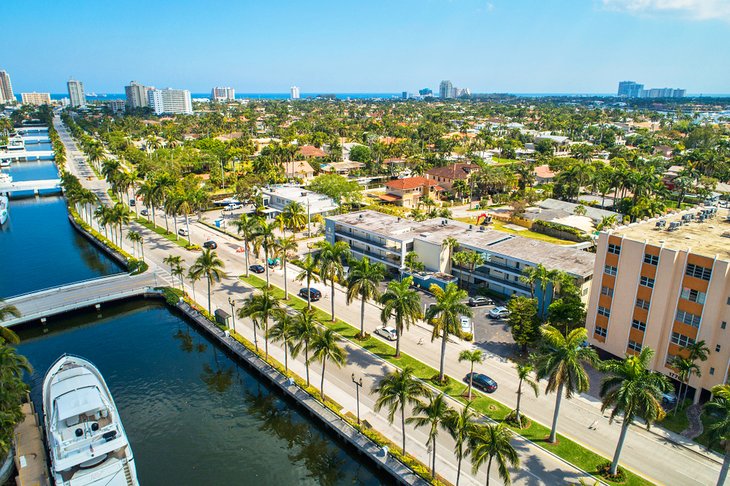 Looking to refresh that summer wardrobe with the latest fashions or perhaps a new piece of art for that feature wall? Look no further than Las Olas Boulevard in Fort Lauderdale. Lined with exclusive and fabulous shops and boutiques, this pedestrian-friendly shopping street is the place to break in that new platinum credit card.
More Related Articles on PlanetWare.com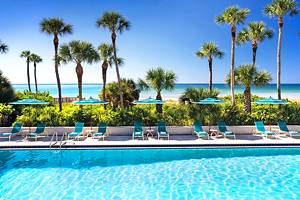 Where to Stay in Florida You've chosen your destination, now it's time to pick a hotel. But which one? Choosing the wrong accommodation can ruin your trip. Don't worry, these top-rated resorts will put the "yay" in your vacay. Hoping to stay at a beach resort in the Florida Keys? There are a ton of great options to suit every budget.