15 Top-Rated Attractions & Things to Do in the Florida Keys
We may earn a commission from affiliate links ()
To the south of Miami, the Florida Keys are a chain of coral islands that extend for more than 110 miles between the Atlantic and the Gulf of Mexico. Until a devastating hurricane in 1935, they were linked by a rail line extending to Key West, from which there were boats to Havana, Cuba.
Today, the Florida Keys are accessed by the boldly engineered Overseas Highway, US 1. This spectacularly scenic route runs over 42 bridges and numerous artificial causeways, all of them leading to the southeastern tip of the continental United States.
Many people immediately think of Key West when they ponder the best places to visit in the Florida Keys, but there is so much more to see along the way. The little islands of Sands Key, Elliot Key, Cotton Key, and Old Rhodes Key, lying off Biscayne Bay, for example, are now part of the Biscayne National Underwater Park, established in 1980. And just off Key Largo are the John Pennekamp Coral Reef State Park and the Key Largo National Marine Sanctuary, two popular destinations for those who enjoy outdoor activities such as snorkeling and wildlife spotting.
The Florida Keys are filled with wildlife, scattered beaches, beautiful resorts, and plenty of water adventure opportunities, including diving and swimming with the dolphins. Tourists can find plenty of interesting history here, too, especially thanks to pirates and smugglers who used to call the Keys home.
Plan your trip to the islands with our list of the top attractions in the Florida Keys.
1. Stroll Down Duval Street, Key West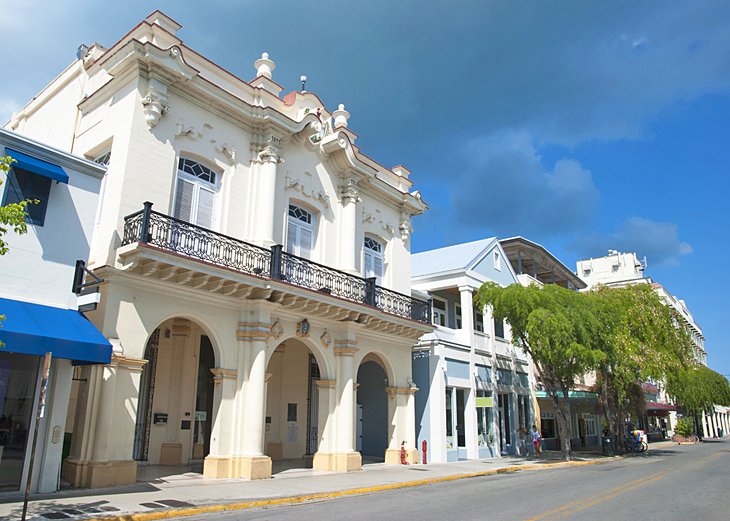 Duval Street, which stretches a distance of one-and-a-quarter miles from Mallory Square on the Gulf coast down to the Southernmost Point marker on the Atlantic, should definitely top your list of must-see attractions in Key West.
This fascinating, always bustling thoroughfare is home to numerous museums, souvenir shops, galleries, and cafés, and can take a few hours to stroll. It all depends on your interests, whether you are shopping, dining, or sightseeing, and just how often you want to stop and gawk at the many unique sights along its length.
An excellent place to people-watch while sightseeing, Duval Street hosts several annual events and parades that are well worth attending. Of these, the best-known are the Hemingway Days festival held each summer and the fascinating Fantasy Fest, a 10-day costume party held here each October.
Duval Street is also home to some of Key West's most historic attractions. These include the Southernmost House, St. Paul's Episcopal Church, and the former Strand Theater.
Location: Duval Street, Key West, Florida
2. Enjoy the Beach at Bahia Honda State Park, Big Pine Key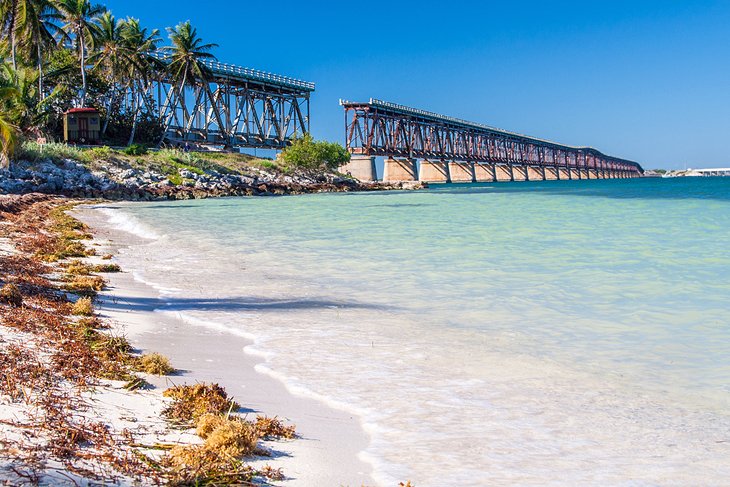 Bahia Honda State Park is home to what is undoubtedly the nicest beach in the Keys, and one of the most beautiful beaches in Florida.
The park actually has two separate beach areas: one large stretch that faces the open ocean, and another smaller beach area that looks across to the old railroad bridge. Whichever side you opt for, you won't be disappointed by the impressive views.
All told, the park covers approximately 400 acres and offers snorkeling adventures, boat tours, beach equipment rental, and concessions. There is also a campground area, as well as picnic sites.
Address: 36850 Overseas Highway, Big Pine Key, Florida
Official site: www.bahiahondapark.com
3. Take the Ferry to Dry Tortugas National Park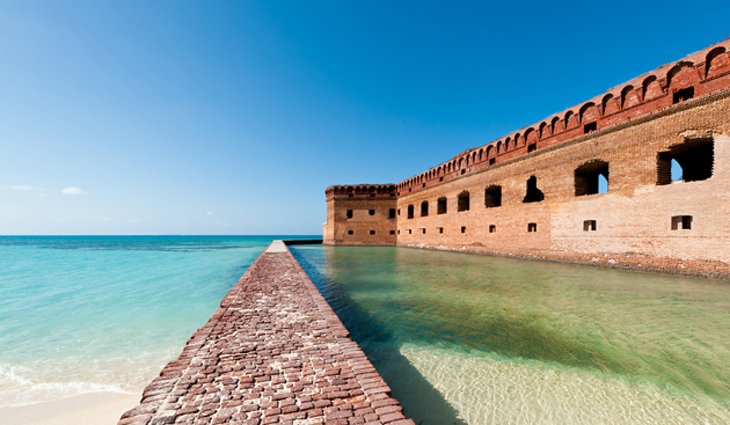 Located in the turquoise waters of the Gulf of Mexico 70 miles from Key West, Dry Tortugas National Park is accessible only by boat or seaplane. Given its remoteness, most travelers tackle the journey as part of a tour, one of the best being the Dry Tortugas National Park Day Trip by Catamaran from Key West.
This beautiful archipelago of seven beach-ringed islands is also home to Fort Jefferson, a massive 19th-century fortification that takes up one island in its entirety. The park is a favorite among snorkelers and divers for its coral and seagrass, as well as the numerous shipwrecks that can be easily spotted under the surface.
Popular snorkeling spots are the Historic Coaling Pier, Fort Jefferson's moat wall, and Garden Key's coral heads. Those with their own boat can explore around Loggerhead Key's Little Africa Reef and the Windjammer Wreck.
4. Visit the Ernest Hemingway Home and Museum, Key West
Located in Key West, this former home of author Ernest Hemingway is an important piece of Florida's cultural history. Visitors can tour the home, which is furnished with many of the original pieces, including Hemingway's prized collection of 17th- and 18th-century Spanish furniture.
The gardens surrounding the home are a main attraction here as well, famous not only for the many species of flowers but for the 60-plus cats who reside here. All of them are descendants of Hemingway's original pet cats, and are famous for their six toes.
Address: 907 Whitehead Street, Key West, Florida
Official site: www.hemingwayhome.com
5. Snorkel and Swim at John Pennekamp Coral Reef State Park, Key Largo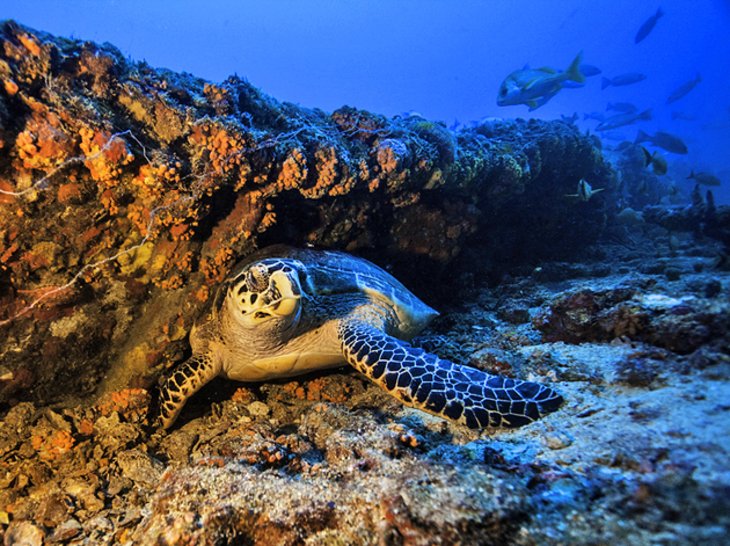 Located just off Key Largo, John Pennekamp Coral Reef State Park and the Florida Keys National Marine Sanctuary are home to a rich abundance of marine life, as well as a number of old shipwrecks. Together, these natural and man-made features attract many snorkelers and scuba divers.
Despite the fact that most people come here to snorkel or dive, the park also has a small swimming area with a safe, shell-covered beach that's perfect for families traveling with younger children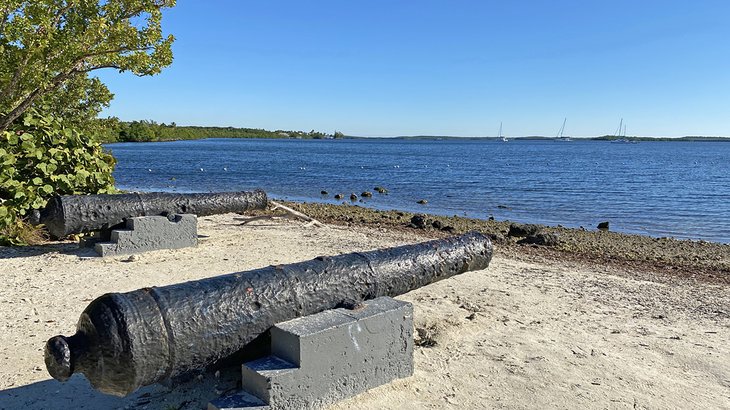 Picnic areas and an information center with displays on the habitats and marine life provide fascinating insight into the marine environment. A variety of tours are available, including glass-bottom boat tours for a close-up look at the world beneath the ocean surface.
6. Be Entertained at Mallory Square, Key West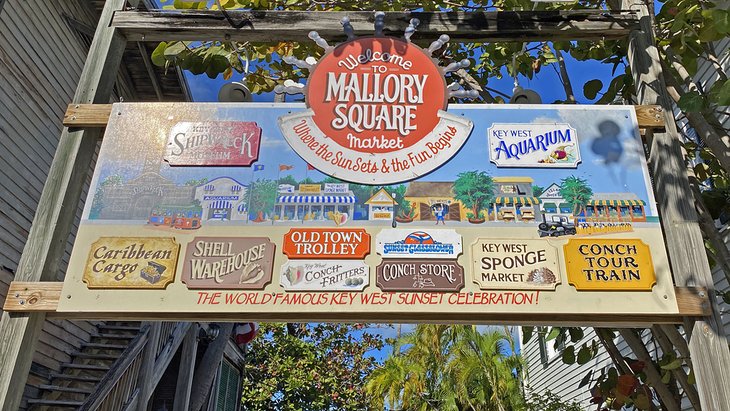 Located at the north end of Duval Street, Mallory Square is a lively area in Old Town Key West that is best known for its nightly sunset celebration. Each evening, entertainers and vendors gather to create a festive atmosphere while tourists admire the iconic sunsets over the Gulf of Mexico. If you're fortunate to witness this unforgettable spectacle, you'll experience an interesting mix of performances, from tightrope-walking cats and dogs on unicycles to sword swallowing and fire juggling.
Mallory square is also home to several shops, including the Key West Sponge Market, a place where you can enjoy their small museum dedicated to the sponge-harvesting industry that supported Key West in years past. You'll also find several surf shops, a treasure-hunting store, and other specialty boutiques.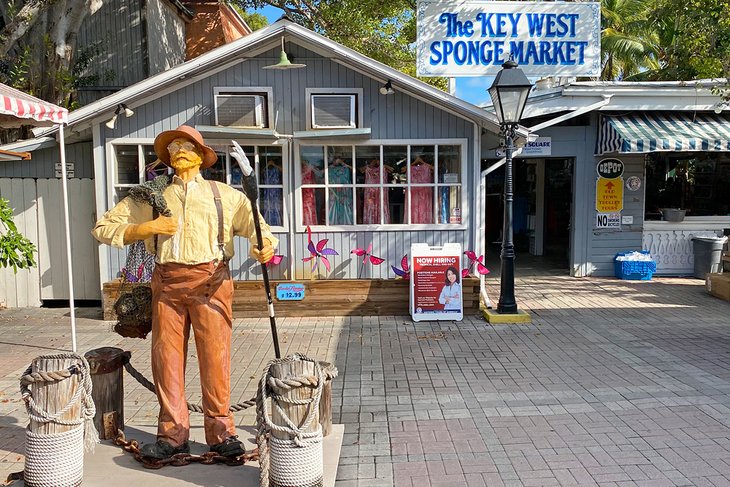 Mallory Square is also the last stop on the Conch Tour Train route, which takes tourists on a 90-minute sightseeing tour of the Old Town. It features stops at Truval Village, near Duval Street, where you can hop off to explore some of the area's attractions and popular things to do.
Address: 400 Wall Street, Key West, Florida
Official site: www.mallorysquare.com
7. Key West Butterfly & Nature Conservatory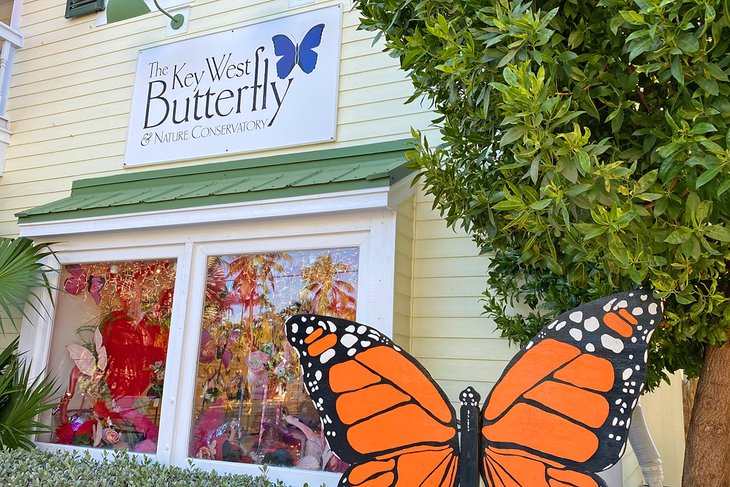 The Key West Butterfly and Nature Conservatory provides you with the unique opportunity to wander a glass-enclosed conservatory where nearly 60 species of butterflies soar freely among the plant-filled habitat. In addition to the butterflies, more than 20 species of exotic birds are also kept here.
You can also learn about the butterfly life cycle in the Learning Center, where a 15-minute educational film loops continuously. Other exhibits showcase the different types of butterflies, and you can view live caterpillars in all stages of the life cycle.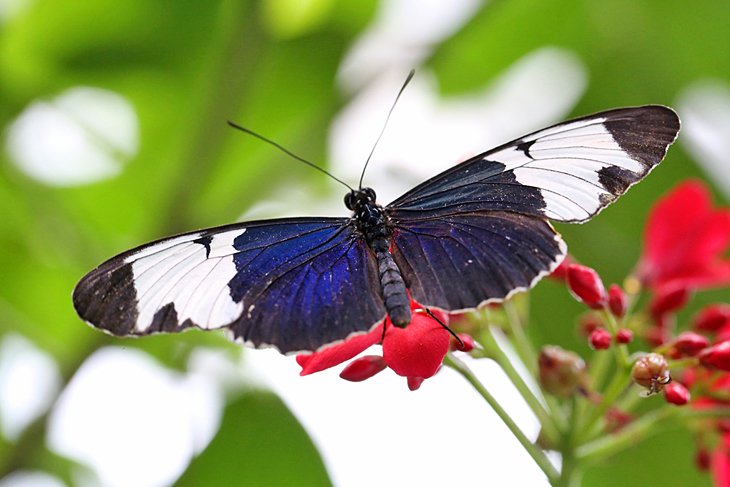 Stop in at the Butterfly Gallery on your way out. Here, you can view specimens and artwork, and wander through the gift shop.
Address: 1316 Duval Street, Key West, Florida
Official site: www.keywestbutterfly.com
8. National Key Deer Refuge, Big Pine Key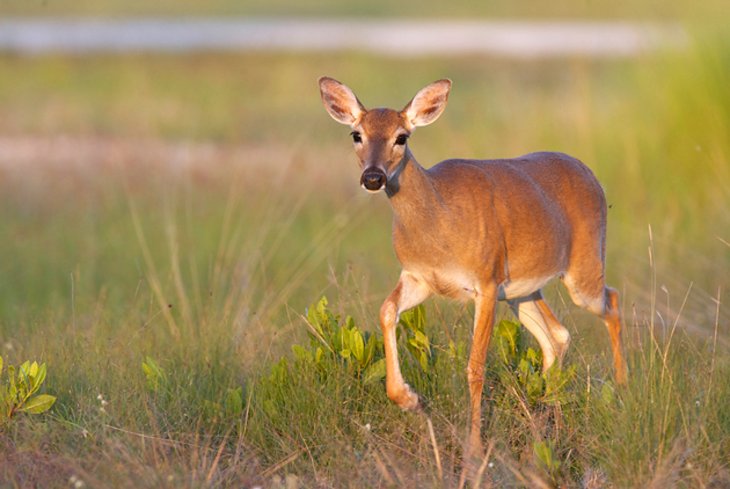 Located between Marathon and Key West (if driving, you'll pass right through it), Big Pine Key is home to Key deer and the National Key Deer Refuge.
This miniature species reaches the size of a large dog when fully grown. The refuge was established in 1957 and was created as a sanctuary for the endangered Key deer, which were almost non-existent by the 1950s due to hunting.
Also on Big Pine Key is Blue Water Hole. This freshwater pond is located in a former quarry that attracts turtles and alligators.
Address: 179 Key Deer Blvd., Big Pine Key, Florida
Official site: www.fws.gov/refuge/national_key_deer_refuge
9. Spend Time at the Dolphin Research Center, Grassy Key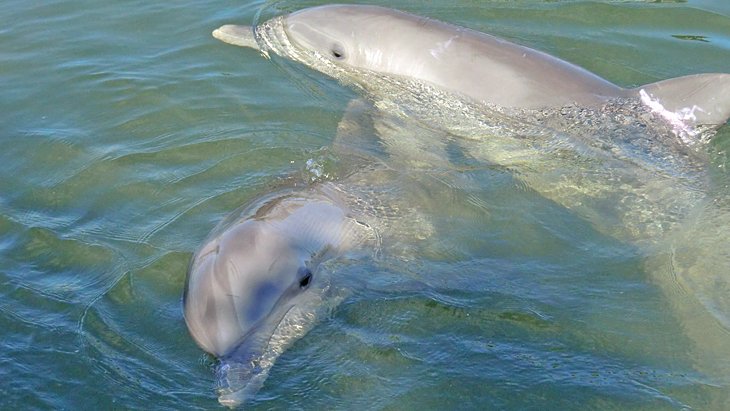 The Dolphin Research Center allows visitors to learn about Atlantic bottlenose dolphins and California sea lions. Experience the different "dolphinalities" during narrated sessions and watch the trainers interact with the dolphins. You can also participate in interactive programs that include swimming with the dolphins.
Dolphin-lovers will also enjoy a tour of Island Dolphin Care on Key Largo, a facility that teams up with dolphins to provide unique therapy for people with various health conditions. Tours include an overview of the programs, dolphin viewing, and a touch-tank.
Address: 58901 Overseas Highway, Grassy Key, Florida
Official site: www.dolphins.org
10. Visit the Turtle Hospital, Marathon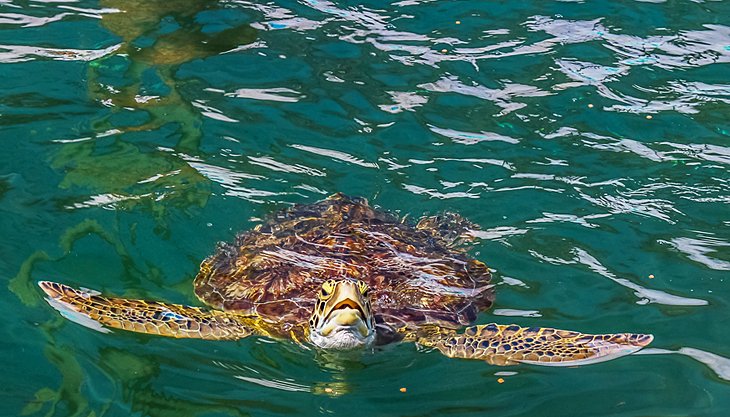 A visit to the Turtle Hospital in Marathon will give you the unique opportunity to learn about the process of rehabilitating injured sea turtles at one of the state's top rescue facilities.
The Education center is open daily. Your behind-the-scenes visit and learning experience consists of a 90-minute guided tour, available hourly. Tours allow you to see the sea turtle rehabilitation tanks, the hospital area, and even feed the permanent residents who cannot be released back into the wild.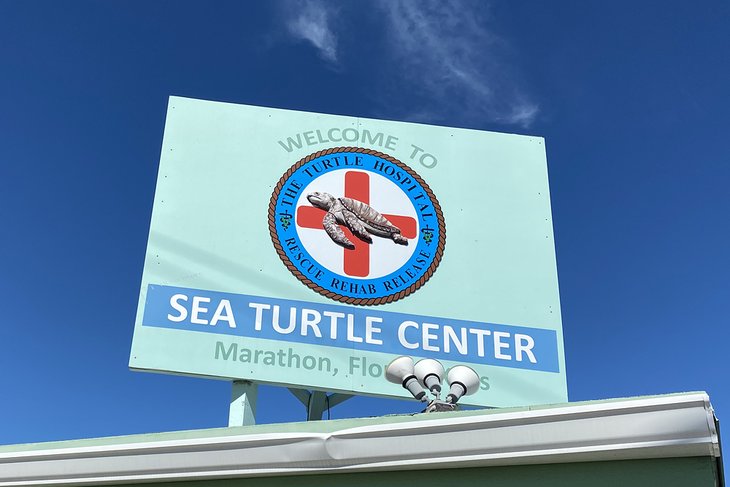 The center performs medical treatment for sea turtles and emergency rescue for turtles stranded by tropical storms and has rehabilitated and released more than 1,500 since the hospital was founded in 1986. Reservations for this must-visit Florida Keys attraction are recommended.
Address: 2396 Overseas Highway, Marathon, Florida
Official site: www.turtlehospital.org
11. Explore the City of Marathon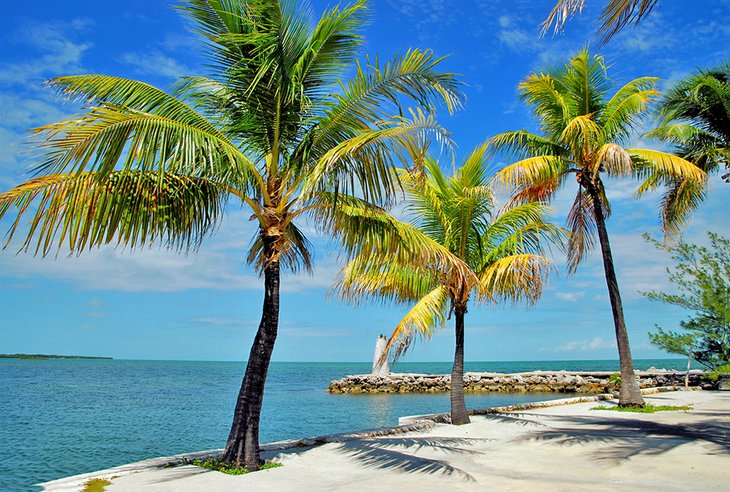 The City of Marathon is the commercial and sportfishing center of the Middle Keys, and charters are easily arranged from here for deep-sea, reef, and flats fishing. Tourists also enjoy the numerous water sports available, including paddleboarding, kayaking, and jet skiing, not to mention the excellent beaches and waterfront restaurants.
Marathon is the starting point if you want to walk along the Old Seven Mile Bridge. This newly restored and reopened stretch of bridge was left in place after the rail line to Key West was disbanded, and the walkway is now available for walkers, joggers, and cyclists to enjoy for free.
Marathon is also where you'll find top Florida Keys attractions, like the Turtle Hospital and Aquarium Encounters. It's also home to several top resorts that are popular with couples and families.
12. Island Dolphin Care, Key Largo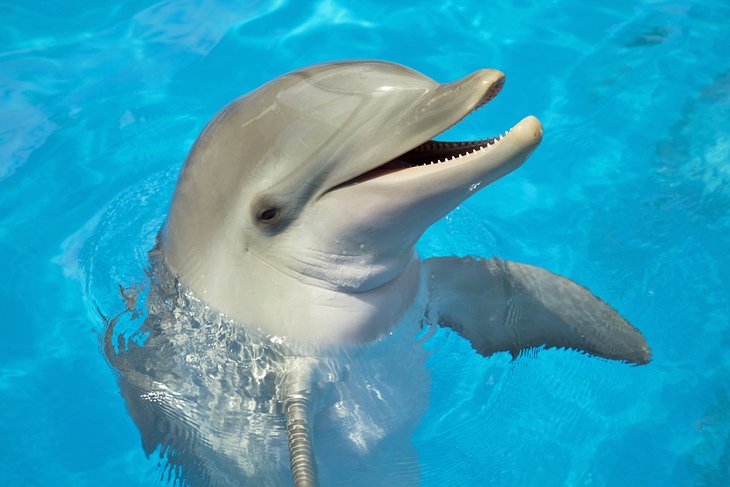 Located in Key Largo, Island Dolphin Care is another wildlife experience you don't want to miss. This family-friendly attraction focuses not just on the rescue and rehabilitation of these remarkable creatures, but also on educating we humans about them.
Admission includes the services of a personal guide, with various program options depending on your preferences and budget. Those wanting to scratch the surface can sit dockside and watch the dolphins swim and interact with one another, as well as their human guardians. You can also opt for a variety of interactive experiences, including full-day adventures that include feeding and caring for them.
Also available and worth checking out are the raft experiences, where you float about in the dolphin pool, and a unique dockside yoga experience.
Address: 150 Lorelane Pl, Key Largo, Florida
Official site: https://islanddolphincare.org
13. Dagny Johnson Key Largo Hammock Botanical State Park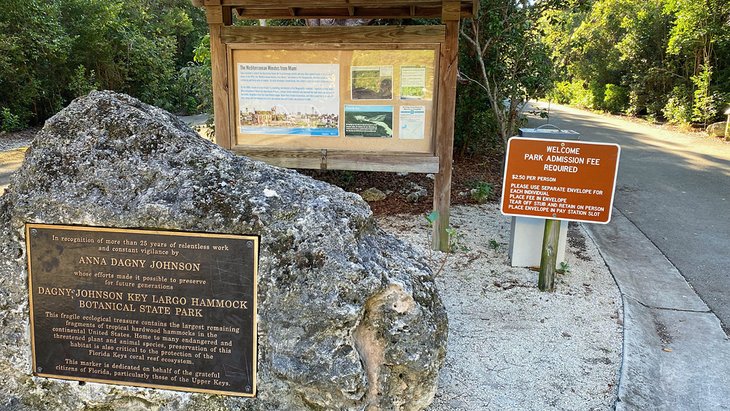 Covering an area of 84 acres, Dagny Johnson Key Largo Hammock Botanical State Park is a perfect place to visit in the Keys for those who enjoy nature. Set amid preserved stands of rare native plant species and West Indian hardwood hammock is a six-mile network of pleasant walking trails, most of them paved and easily accessible for those in wheelchairs.
In addition to the fauna, you'll enjoy spotting wildlife such as crocodiles, rare snails, and butterflies, as well as a bounty of birdlife, some full-time residents and others migratory. Bring a picnic for lunch and make use of the sheltered pavilion, or stop for a rest on one of the many well-positioned benches to soak up the birdsong.
Address: County Rd 905 & Mile Marker 106, Key Largo, Florida
Official site: www.floridastateparks.org/parks-and-trails/dagny-johnson-key-largo-hammock-botanical-state-park
14. Key West Lighthouse and Keepers Quarters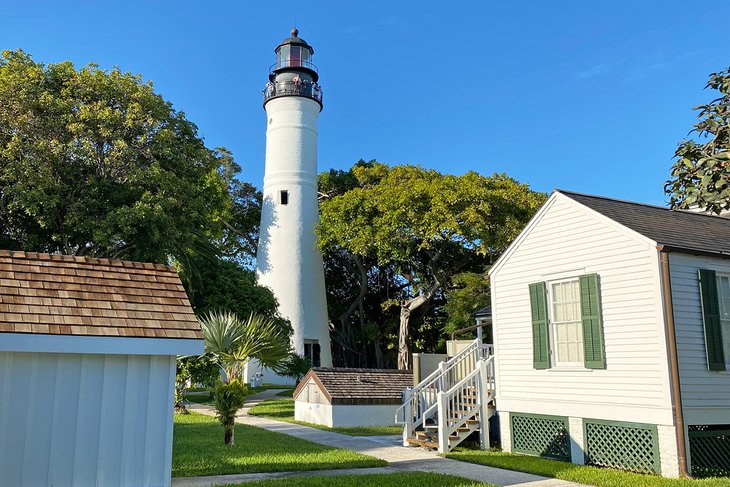 Built in 1848, the Key West Lighthouse and Keepers Quarters was mothballed in 1969 but has, in recent years, become one of the most visited (if not the tallest) attractions in the city. Both the lighthouse and the original keepers' quarters have been restored to look just as they would have in the 1900s.
Highlights of a visit include seeing period furniture and household items, along with displays relating to the lives and work of the lighthouse keepers over the years. Although a steep climb, the 88 steps leading to the top of the building are well worth the effort for the spectacular views over Key West.
Address: 938 Whitehead Street, Key West, Florida
Official site: www.kwahs.org/museums/lighthouse-keepers-quarters/visit
15. Key West Museum of Art & History at the Custom House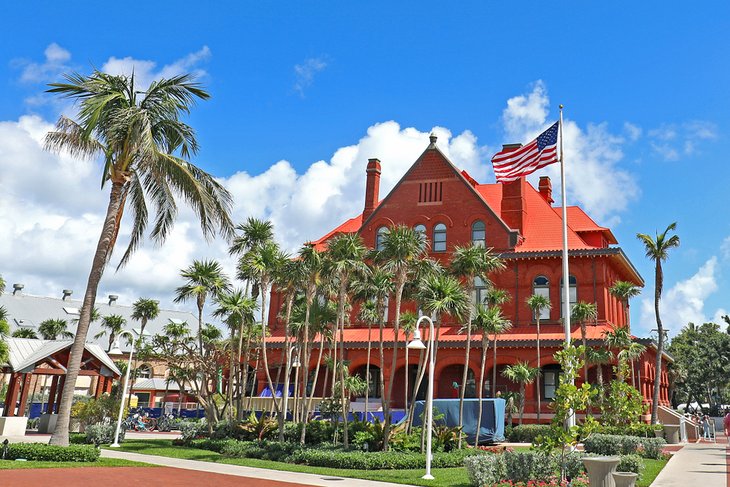 Perched at the north end of Key West, just a few steps from Mallory Square, is one of the city's most attractive historic buildings: the Custom House. Built in 1891 and for years used in a number of different municipal roles, it's now home to the Key West Museum of Art and History, and should be visited.
Not only is this elegant building a peaceful refuge from the hustle and bustle going on around it (Duval Street's just a block away), it's chock-full of fascinating art displays, as well as exhibits dealing with the city's history and people. In addition to exhibits relating to Ernest Hemingway, perhaps Key West's most famous resident, there are displays dealing with the building's history, as well as Mallory Square and the historic naval yards and buildings, many of which are still standing.
Address: 281 Front St, Naval Air Station Key West, Florida
Official site: www.kwahs.org/museums/custom-house/visit