10 Best Beaches in the Florida Keys
The string of islands that make up the Florida Keys are known for their tropical feel. Consequently, the beaches here are different than on the mainland.
The main differences are that the beaches are small in comparison, have less waves, and are much narrower than their mainland counterparts. That said, if you're looking for warm, shallow turquoise-colored water with few waves and good snorkeling – not to mention a distinctly Caribbean feel – you've definitely come to the right place.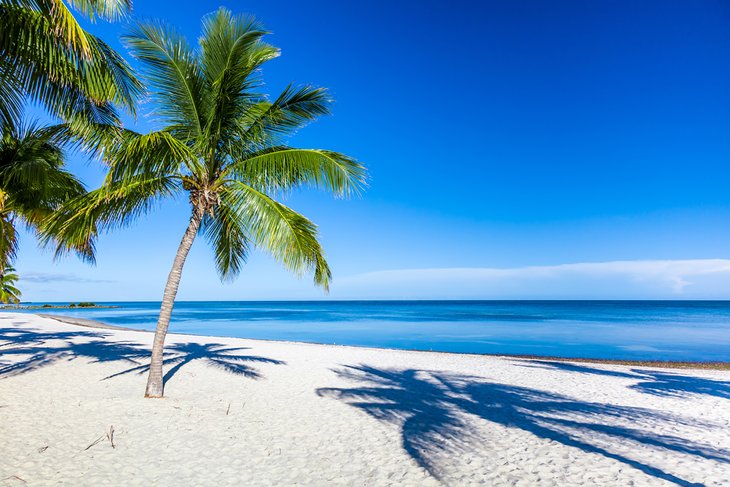 Why are the beaches here so good? Well, for starters, the Florida Keys are coral islands and as such are protected by offshore reefs. As a result, they don't develop large beaches due to wave action.
These offshore reefs do, however, provide excellent snorkeling opportunities. A trip to the beach in the Keys is different than what you might be used to, but the laid-back atmosphere more than makes up for it.
While most of the beaches found in the Keys are natural, those in Key West tend to be man-made with imported sand. The natural beaches are protected by offshore reef and grassy areas and, as a result, seagrass is frequently found washed up on the shoreline or in the water.
The Florida Keys stretch for 125 miles from their northern end near Miami all the way down to fun and funky Key West. Geographically, the Keys can be divided into the Lower, Middle, and Upper Keys, with the greatest number of beaches to be found in the middle and lower keys. They are, with only a few exceptions, located in state or national parks.
Beaches in the Keys should be something you do as part of a wider trip; they would not be considered by many to be a destination in themselves.
If you find yourself in this beautiful and unique part of the USA, be sure to read our list of the best beaches in the Florida Keys.
1. Bahia Honda State Park Beaches, Big Pine Key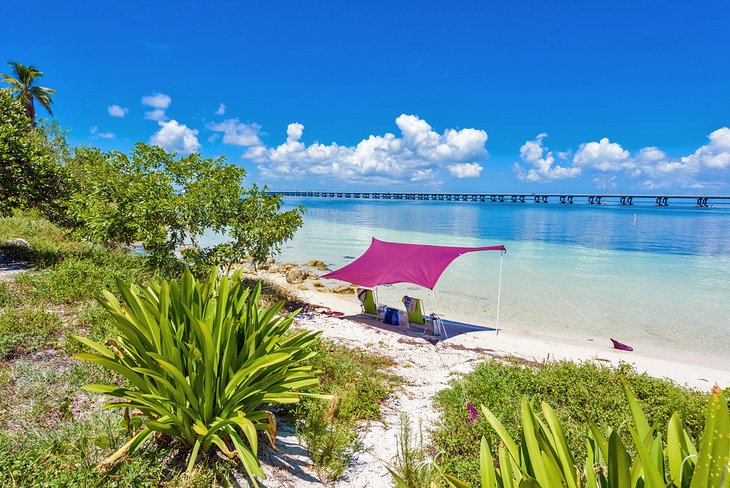 The sandy shores of Bahia Honda State Park are, far and away, the best beaches in the Florida Keys. These natural beaches are absolutely stunning. Of the three beaches in the park, the most spectacular used to be Sandspur Beach. This 2.5-mile-long stretch of natural sand had shallow water and that extended out an incredible distance into the ocean.
During low tide, sand islands would appear, and you could experience your very own desert island experience. However, in 2017 Hurricane Irma devastated the beach and campground. As of 2022, Sandspur Beach is still closed for rehabilitation, and while progress is being made, it's not known as yet when it will reopen.
Although Sandspur is closed, two other beaches, Loggerhead and Calusa, are open. Of the two, Calusa Beach is the more famous and the one you frequently see in the foreground of photographs of the historic Old Seven Mile Bridge. The water here is shallow, and the beach is set in a pleasant cove. Just back from the sand, you'll find a concession stand, picnic tables, restrooms, and plenty of parking.
Loggerhead Beach is much larger and has a wonderful sandy bottom that extends a long way out into the ocean. It's an ideal place for wading and lazing about. The best time to visit is at low tide, when the water recedes and the beach grows dramatically in size. The view out from the beach is spectacular, with an uninterrupted view to the horizon.
Address: 36850 Overseas Hwy, Big Pine Key, Florida
Official site: www.floridastateparks.org/BahiaHonda
2. John Pennekamp State Park, Key Largo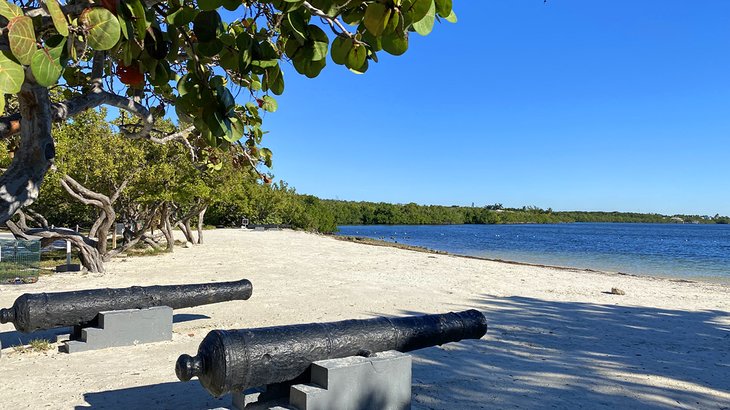 A trip to the beach at John Pennekamp State Park is more about what is in the water than what is at the water's edge. The park has several beaches; the most popular is Cannon Beach. This small beach is set between mangroves with a few palm trees farther back in the sand. You'll know you are in the right spot when you see the cannons at the back of the beach.
This area is okay for swimming; however, it is a hot spot for snorkeling. Just offshore in the shallow waters are all kinds of colorful fish and some interesting sponges. Be sure to swim a bit offshore and see the cannon and anchor from a wreck dating from 1715.
If you don't like snorkeling, and many people don't, John Pennekamp State Park is an excellent place to go stand up paddleboarding. As you glide along, you'll be able to look down through the clear water and see the fish and corals below without getting wet.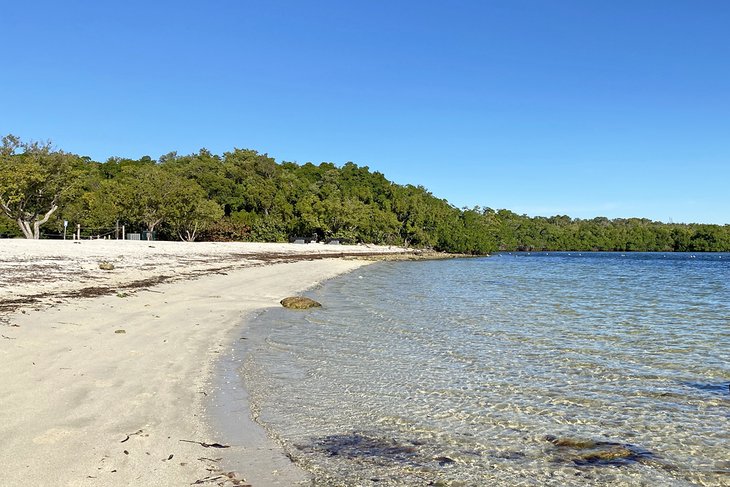 In the grassy area back from the beach are picnic tables and sun shelters. Nearby is a concession stand and the visitor center, which is well worth a visit. Inside are interesting exhibits, the most spectacular of which is a 30,000-gallon fish tank.
Park staff have a map that highlights other areas for snorkeling and swimming. If the beach snorkeling piqued your interest in further exploring the underwater delights of this park, boat tours to offshore reefs are available and highly recommended.
Address: 102601 Overseas Hwy, Key Largo, Florida
Official site: www.floridastateparks.org/parks-and-trails/john-pennekamp-coral-reef-state-park
Read More: Top-Rated Attractions & Things to Do in Key Largo, FL
3. Dry Tortugas National Park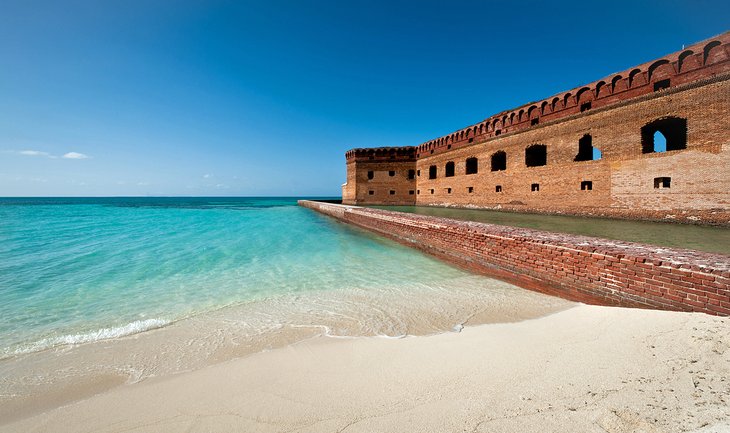 One of the most spectacular beaches in the Florida Keys is only accessible via a scenic boat ride to Dry Tortugas National Park. The beach here is a long arc of sand backed by the impressive stone wall of the fort. The ocean is a beautiful turquoise color, and the shallow water is perfect for floating peacefully under the warm Florida sun.
In addition to the beach right at the fort, it's worth a trip over to Loggerhead Key, three miles from the fort. The key has amazing beaches on several sides and is completely uninhabited. If you've had enough sun and sand, consider walking over to the lighthouse. This impressive structure dates from 1858 and once housed the most powerful light in the United States.
The Dry Tortugas are one of the top snorkeling and diving locations in Florida. Due to their location, 70 miles offshore, they attract a different set of aquatic life than the keys closer to the mainland. Amazing snorkeling can be enjoyed just off the barrier wall, by the former coal docks; at Little Africa Reef; and at the Windjammer wreck.
One of the easiest ways to reach the area is on a Dry Tortuguas National Park Day Trip by Catamaran from Key West. This is a full-day trip and includes a 45-minute tour of the fort, as well as plenty of free time to relax on the beach, snorkel, or explore the island.
Official site: www.nps.gov/drto/index.htm
4. Smathers Beach, Key West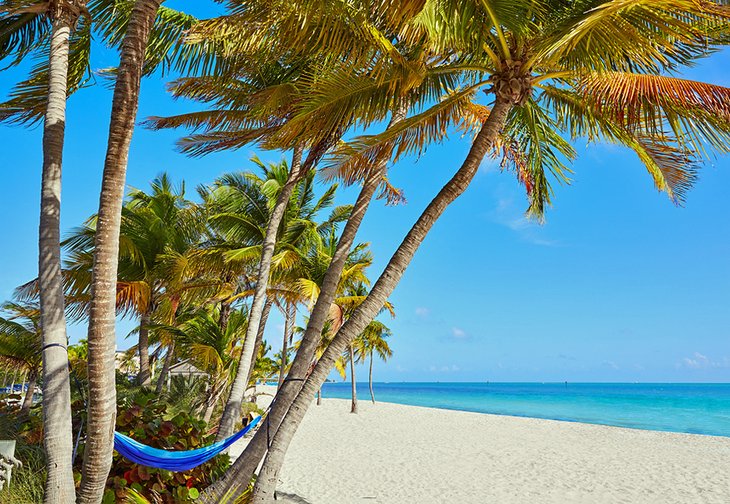 Considered by many to be the best beach in Key West, Smathers Beach is a two-mile strip of white sand lapped by blue waters. This beach has some of the best sand in Key West and as a result, can be busy. This shouldn't be taken as a negative, though – the fun vibe created by people having a good time in a beautiful location is infectious.
Off the beach are volleyball courts, and folks are almost always keen to have new players join in. Palm trees line the beach in some areas and provide some much-needed shade. Restrooms and showers round out the amenities. Parking in Key West can be a challenge, but at Smathers Beach this is not the case – ample parking is available on the boulevard.
Address: 2601 S Roosevelt Blvd, Key West, Florida
Read More: Top-Rated Attractions & Things to Do in Key West, FL
5. Sombrero Beach, Marathon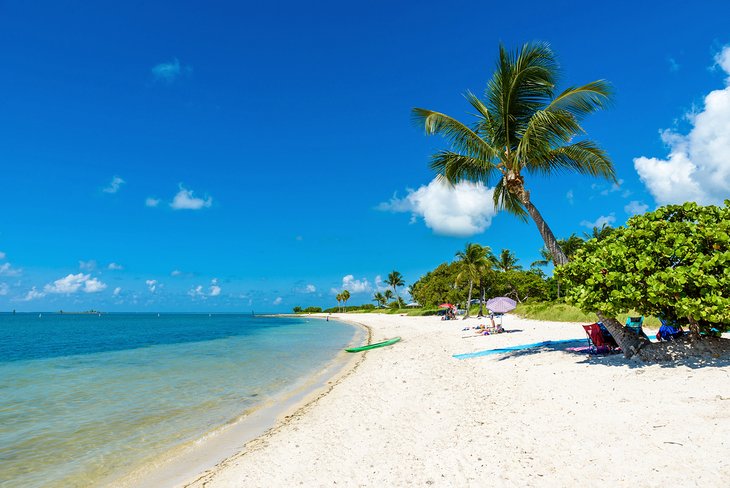 Located on Marathon Key, Sombrero is one of the best beaches in the Florida Keys. The beach is long, wide, and backed by swaying palms. The views out over the Atlantic are sublime. The water is shallow and warm and ideal for families with small children or for those looking to laze about in the shallows and work on their tan.
This is one of the few beaches in the Florida Keys where you can stroll along the beach for a fair distance. The beach faces south, but if the waves are up a bit, another area of the beach faces west and offers protection from the rough water.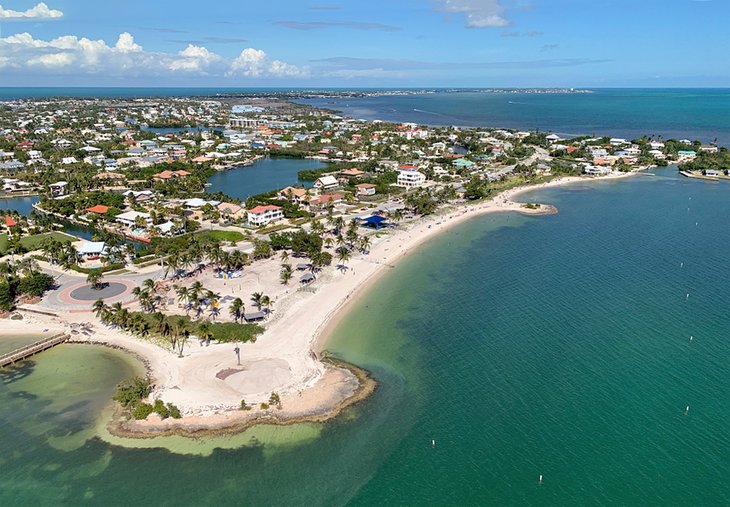 Sombrero beach is also a good spot for visitors with pets. It's one of the few beaches where dogs are allowed (leashed). The beach is in front of a large park with picnic tables, complete with sun shelters, showers, a foot rinse station, and restrooms. Some picnic sites have charcoal grills and power outlets for your electronic gear.
Depending on the day, you may be able to join in an impromptu beach volleyball game at the permanent courts set in the sand. Just back from the beach is a walking trail and a large grassy area, perfect for tossing a Frisbee or a football. Ample parking is available, and it's a short walk from the parking lot to the beach.
Address: Sombrero Beach Road, Marathon, Florida
Official site: www.ci.marathon.fl.us/parksrec/page/sombrero-beach
6. Fort Zachary Taylor Historic State Park, Key West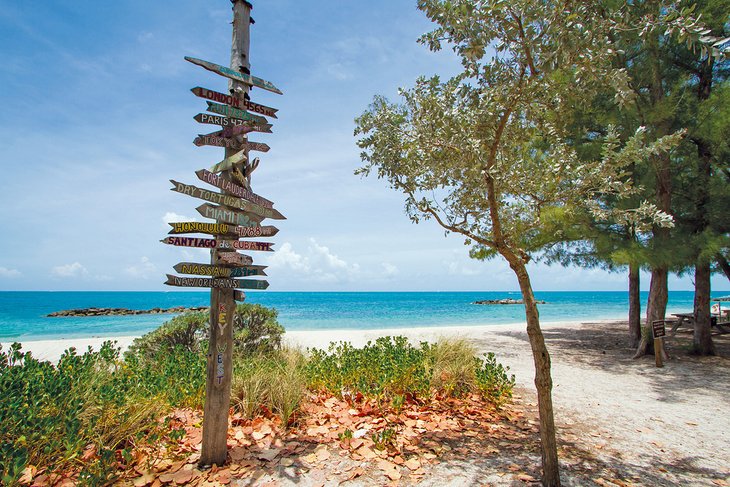 For a bit of history with your beach day, head to Fort Zachary Taylor Historic State Park. This impressive park spread out over 54 acres at the tip of Key West not only has a good beach, but a huge stone fort dating from the mid-19th-century. The sand here is not as soft as other beaches, but it's decent nevertheless.
The swimming here is excellent, and due to prevailing water currents the visibility makes for fantastic snorkeling with large numbers of colorful fish swimming about. If you need beach gear, the concession stand located in the bamboo hut rents chairs and umbrellas, along with snorkeling gear. A small café offers local delicacies, snacks, and cold drinks.
Take a break from your beaching activities and tour the fort. Narrated tours are available at 11 am, and the fort is well worth a wander. As you stroll about, be sure to check out the extensive collection of Civil War-era cannons. Climb up the stairs to the top of the wall; the views from the fort walls out over the Key West area are wonderful.
Address: 601 Howard England Way, Key West, Florida
Official site: www.floridastateparks.org/parks-and-trails/fort-zachary-taylor-historic-state-park
7. Clarence S. Higgs Memorial Beach, Key West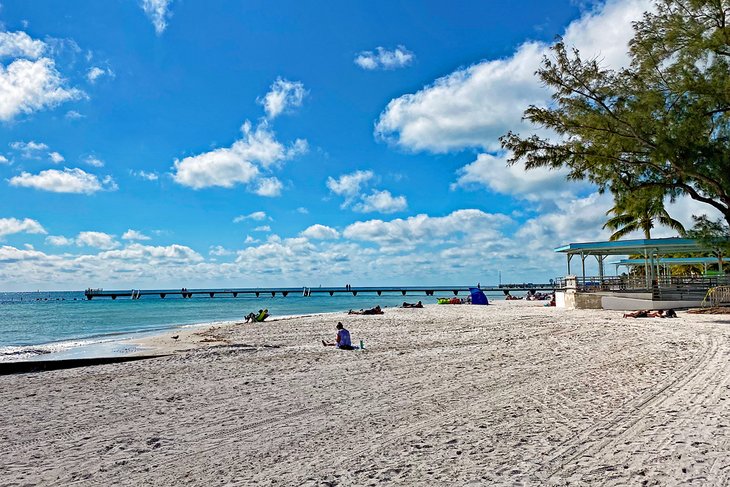 The vibe at Clarence S. Higgs Memorial Beach, known locally as Higgs Beach, in Key West is laid-back and quiet. Unlike its more vibrant and busier neighbor, Smathers Beach just up the way, here, people are less busy and more focused on the latest popular novel, or just happy to gaze out at the ocean or take a long stroll out on the adjacent fishing pier.
This beach park has a bit of everything, including a Civil War-era fort, a separate small and large off-leash dog area, a historical cemetery, and walking trails. Bring your tennis racket or pickle ball equipment to make use of the courts to work up an appetite that you can satiate at the pleasant café. Lounge chair and umbrella rentals are available, along with kayaks, stand up paddleboards, and other beach gear at the concession stand.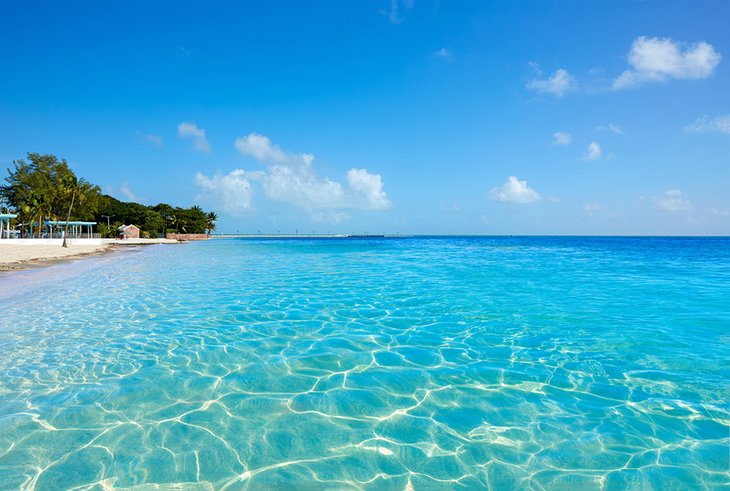 If you are traveling with children, an extensive playground area features the latest innovative structures designed to elicit shrieks of joy from little ones. Be sure to walk through the ruins of the Civil War-era fort known as West Martello, home to the Key West Garden club. The flowering plants inside are colorful, fragrant, and truly spectacular.
Address: 1000 Atlantic Blvd, Key West, Florida
8. Curry Hammock State Park, Marathon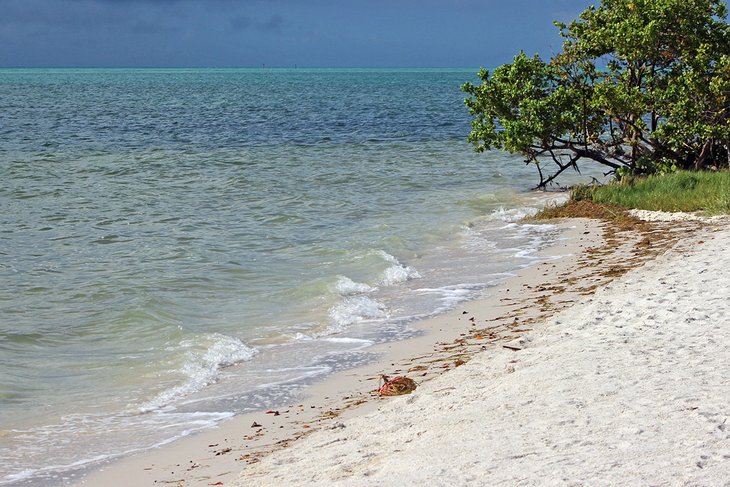 Curry Hammock State Park has one of the few beaches in the Keys that is out on its own, with no development around. Located just a few miles past the southern end of the Seven Mile Bridge on Little Crawl Key, this 1,000-acre park has a pleasant beach area with picnic tables, restrooms, and showers nearby.
The beach stretches for 1,200 feet along the Atlantic Ocean. Be sure to bring all your beach gear with you; no rentals are available. A children's playground is located near the picnic area.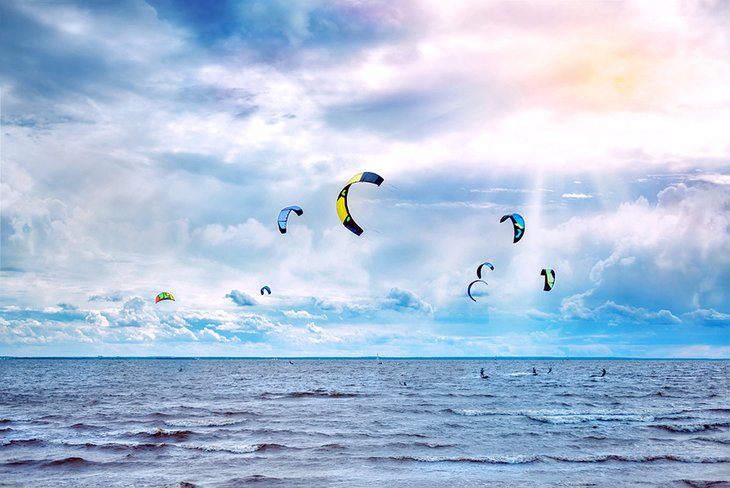 This beach is one of the hot spots for kiteboarding in the Florida Keys. The colorful kites provide a spectacular non-stop entertainment show for beachgoers. Kiting is restricted to an area 300 feet offshore, and the launch and landing area is a defined location at one end of the beach. Unless you are a kiter, it's not recommended that you venture into this area for safety reasons.
Camping is available in Curry Hammock, but competition is fierce for one of the 28 sites, especially in the winter months. Sites can be booked online 11 months in advance.
Address: 56200 Overseas Hwy, Marathon, Florida
Official site: www.floridastateparks.org/parks-and-trails/curry-hammock-state-park
9. Harry Harris Beach Park, Tavernier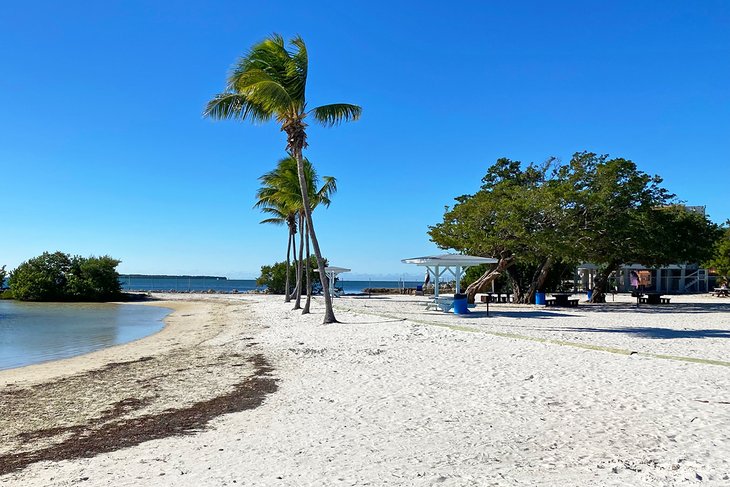 Undoubtedly one of the top beaches in the Florida Keys for those traveling with children, Harry Harris Beach Park in Tavernier is a great spot for families to spend time together. Located mid-way between Key Largo and Islamorada, this large park boasts a soft sandy beach and a shallow, rock-free entry. It's suitable for youngsters of all ages.
The swimming here is excellent given the calm waters, which are protected from the Atlantic by an extensive rock seawall. For non-swimmers, there's also plenty of space to lounge around and sunbathe. And for those wanting out of the sun (or if the weather changes), there are 11 sheltered pavilions dotted around the property. Other amenities on-hand include plenty of picnic tables, no less than 12 barbecues, as well as clean restrooms with showers and change rooms.
The fishing from the breakwater and jetty is also worth a mention, too. For older kids that might still need to burn off some energy, there's a basketball court and baseball diamond. Younger kids can spend time exploring the large playground.
Address: 50 E Beach Road, Tavernier, Florida
Official site: www.monroecounty-fl.gov/facilities/Facility/Details/250
10. Rest Beach & County Beach, Key West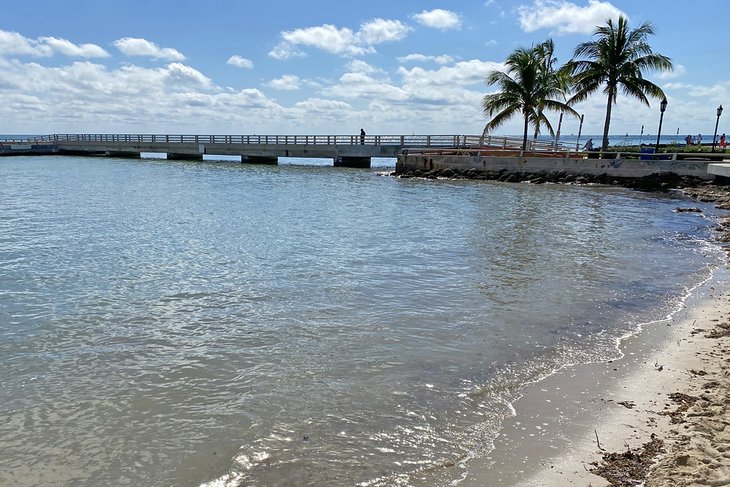 Just a short stroll away from the usually bustling Higgs Beach, you'll find two quite different beach experiences: Rest Beach and County Beach. Located either side of White Street and separated by a memorial park dedicated to AIDS victims, these two stretches of sand are actually quite small, but each have plenty to offer beachgoers.
Situated on the east side of the memorial, Rest Beach is the busier of the two, and features a pleasant though narrow stretch of sand leading out into shallow turquoise waters. While County Beach doesn't have direct access to the water, it's perfect for those only wanting to soak up the sun.
Both have direct access to the lengthy Edward B. Knight Pier. Not only is the pier a great fishing spot, it's also perfect for those wanting to witness a Key West sunset, without the crowds.
Location: C.B. Harvey Rest Beach Park, Key West, Florida