18 Best Places to Visit in Florida
We may earn a commission from affiliate links ()
At least a dozen images spring to mind at the mention of Florida, one of the most popular tourist destinations in the United States. For many, it is Orlando's world-famous theme parks at Disney World and Universal, while others may think of the nearly endless number of championship golf courses that are scattered throughout the Sunshine State.
Waterbugs and sun-worshippers have hundreds of beaches to choose from, and retail connoisseurs will find luxury stores and quirky boutiques in abundance in each city. If your trip is based around a beach vacation or specific activity, you may want to consider the climate and best time of year to visit Florida.
Beyond the entertainment and recreation, Florida has a rich historic and cultural past featuring peaceful natives, Spanish conquistadors, swashbuckling pirates, and generations of Caribbean influences that make it an incredibly interesting and diverse place to visit.
Florida is also home to some of the most unique and special natural places, including Everglades National Park and the scores of barrier islands with precious ocean ecosystems.
Plan your adventures in the Sunshine State with our list of the best places to visit in Florida.
1. Miami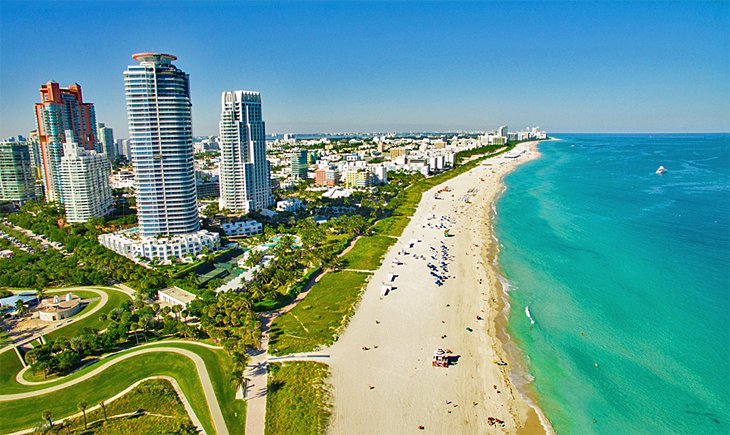 Located in southern Florida, Miami is one of the state's hippest and most popular cities. Miami and nearby Miami Beach showcase the old and new side of Florida. The thriving modern city center stands in contrast to the much more laid-back atmosphere of Miami Beach.
South Beach is the most exciting of Miami's beaches, known for its Art Deco District and ultra-trendy pedestrian mall that stretches out parallel to the beach, full of water-facing outdoor restaurants, entertainment, and plenty of things to do. It's also a popular honeymoon destination in Florida.
Downtown Miami's Flagler Street has a good number of historic attractions, while the Brickell neighborhood and the Design District are home to a plethora of high-end stores and posh eateries. Caribbean influences are found in Miami's lively ethnic neighborhoods of Little Haiti and Little Havana, and the Overtown neighborhood is known for its rich African-American history and hearty soul food.
The Vizcaya museum and historic homes made of coral rock are found in Coconut Grove, an area where peacocks strut unfenced among numerous street entertainers and sidewalk cafes.
Accommodation: Top-Rated Resorts in Miami
2. Orlando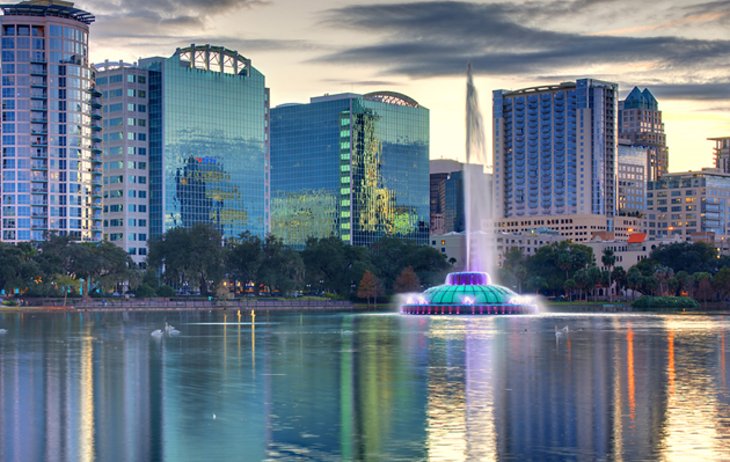 At the heart of Florida's tourist industry is the city of Orlando, home to internationally known theme parks like Walt Disney World, Universal Studios, and SeaWorld. These have expanded over the years to include large themed water parks, like Discovery Cove, Typhoon Lagoon, and Volcano Bay.
Families descend on the amusement parks in large numbers during school holidays, but the city is a popular destination year-round. This constant influx of tourists has brought a full range of recreational activities and services to the Orlando area, from championship golf courses and chic spas to restaurants and huge shopping centers.
Orlando isn't all about family time, it's also about getting dressed up and heading out for a fine meal. The city also has four one-star MICHELIN-rated restaurants that are sure to please the most discerning of palates.
Other nearby attractions can be a refreshing change of pace and are easily visited on day trips from Orlando. Some of these include the Kennedy Space Center on Cape Canaveral and seeing the manatees on the Crystal River.
Accommodation: Top-Rated Resorts in Orlando
Read More:
3. Key West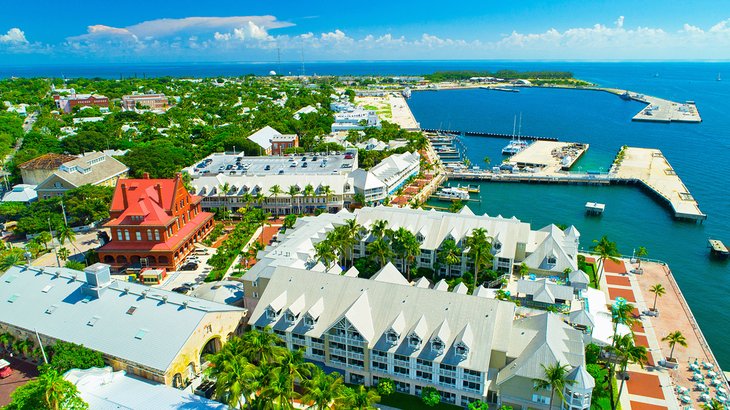 Historic Key West, at the far southern tip of the continental USA, has a distinctly island feel, with old architecture and a slow pace. This picturesque and laid-back city is famed for having been home to several well-known authors, including Robert Frost, Tennessee Williams, and Ernest Hemingway.
Its location has led to a rich cultural mix that includes influences from many Caribbean islands, which have brought a relaxed attitude, interesting architecture, and culinary variety to the region. Key West is also a popular cruise ship port, full of entertainment options and things to do.
Duval Street is the main tourist area, home to boutiques, souvenir shops, restaurants, and even some historic homes. Some of the city's top attractions include a shipwreck museum that explains the area's long history of salvaging, and the Key West Aquarium. Those interested in ocean ecology will want to visit Dry Tortugas National Park, which consists of seven reef islands that form an archipelago.
Although the Florida Keys aren't known for their beaches, Key West has a number of beaches. These can be a nice break from sightseeing.
4. Naples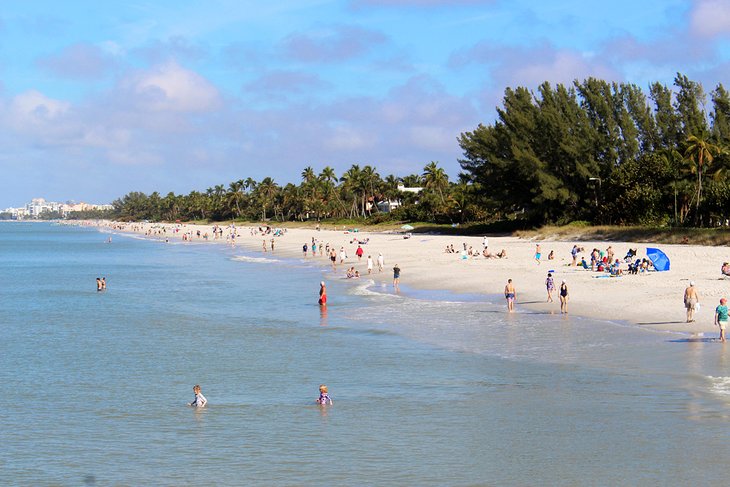 The southernmost city along Florida's Gulf Coast is Naples, an upscale area with a quaint city center and lovely stretch of beach. A mix of elegant houses, a few luxury resorts, and condo towers line the ocean, but the downtown has maintained a small-town feel.
Naples' Third St. South and 5th Avenue South are home to its trendiest restaurants, art galleries, and boutiques.
The beaches in and around Naples are some of the best in the entire state. The warm, shallow waters here are generally calm with small waves, making them ideal for swimming and playing. The white sand is soft and perfect for laying out on your towel and soaking up some of that famous Florida sunshine while you gaze out over the Gulf of Mexico.
A visit to Naples Pier, the city's most beloved historic landmark, is a must for tourists and the perfect place for spotting dolphins without getting on a boat. Despite its reputation as a high-end golf resort town, Naples has several historic attractions, as well as unique nature parks.
The historic Smallwood Store trading post is now a museum that remembers the days of fur trading, and the Museum of the Everglades explores 2,000 years of the region's history back to the Calusa Indians. Both properties are on the National Register of Historic Places.
The Gulf Coast Everglades Visitor Center is the park's only admission-free center, and visitors can take a boat tour or rent a canoe or kayak to explore the mangrove estuaries and see the region's amazing wildlife.
Other nearby parks are the Corkscrew Swamp Sanctuary, known for its ancient cypress forest, and Fakahatchee Strand State Park, home to the ghost orchid and other rare and endangered plants and animals.
5. Tampa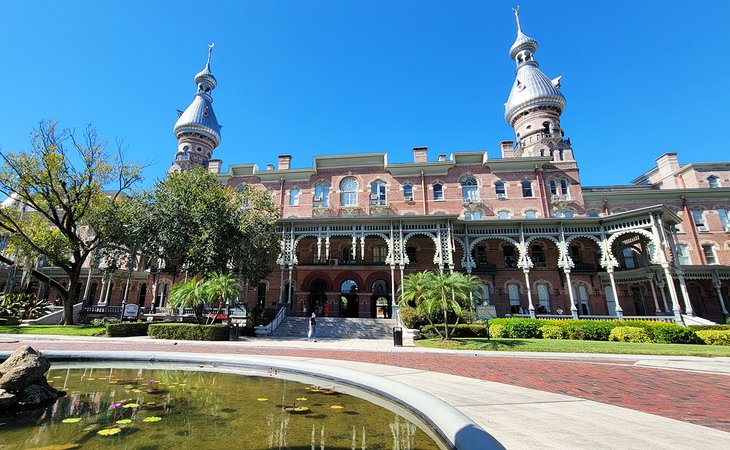 The city of Tampa sits on an inlet on Florida's west coast, just across the bay from St. Petersburg. Tampa is especially popular with families, who come to enjoy its many wildlife-filled attractions. Busch Gardens is the best-known, a giant amusement park combined with a zoo that has endless things to see and do.
Animal-lovers can also visit the Tampa Zoo at Lowry Park; the Florida Aquarium; and the TECO Manatee Viewing Center, located in Apollo Beach south of Tampa.
Families with younger kids will love the Glazer Children's Museum, which focuses on learning through creative play, and the whole family will enjoy the Museum of Science and Industry, where you can explore the world of technology with hands-on exhibits.
Tampa's Ybor City is one of its most historic areas and the center of the city's Latin community, where a meal at the famous Columbia Restaurant is a must. The Columbia is the oldest restaurant in the state of Florida; it opened its doors way back in 1905.
The lively and funky Sparkman Wharf is well worth checking out in the afternoon and evening. Here, you'll find unique and interesting restaurants housed in shipping containers, along with more traditional establishments. From here, you can walk along the Tampa Riverwalk enjoying the waterfront until you eventually end up at the fun and vibrant Armature Works area.
Accommodation: Where to Stay in Tampa: Best Areas & Hotels
6. St. Petersburg & St. Pete Beach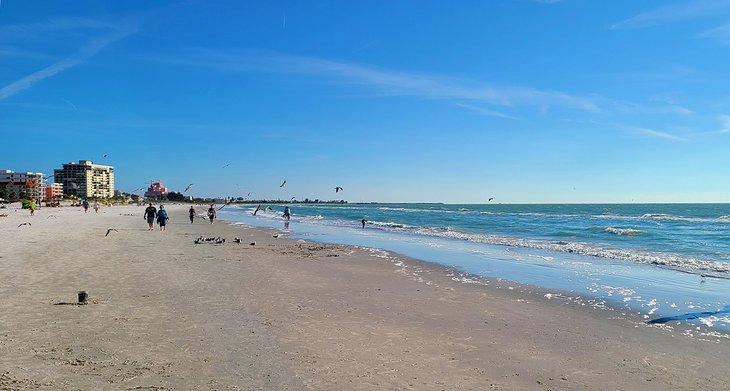 Across the bay from Tampa is neighboring St. Petersburg. Visitors, particularly travelers from northern states, come here to escape cold winters and enjoy the oceanfront beaches and mild climate.
Some unique areas to explore include the St. Petersburg Pier, the dockside shops and restaurants of Johns Pass, the quaint atmosphere of historic Pass-a-Grille, and the soft sand of Indian Rocks Beach.
St. Petersburg has many cultural tourist attractions, including several theaters and prominent art museums, like the Dali Museum and the Morean Art Center.
One of the most popular things to do when visiting St. Petersburg is taking boat tours that range from dolphin-spotting and eco-tours to recreational cruises. Nature lovers will appreciate the abundance of peaceful spots, like Caladesi Island State Park, which has remained undeveloped thanks to its offshore location and is full of beaches and nature trails.
St. Pete Beach is a fun and funky beach area with miles and miles of soft sand, just perfect for lazing about in the sun, splashing in the warm Gulf of Mexico waters, or settling in under your umbrella with the latest paperback thriller.
Located just offshore from St. Petersburg, this area is a mix of condos, hotels, and private homes. It's a popular spot that draws in beach lovers from all across the United States. All these people in a positive state of mind give the town a lively feel.
The beach is ideal for those who love beach walking; there's more beach here than you'll have legs to walk.
Accommodation: Best Resorts in St. Petersburg
7. Marco Island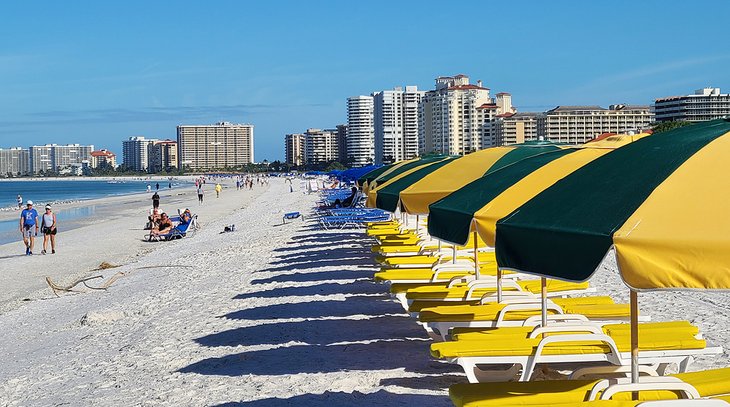 If you are looking for some of Florida's most consistently warm weather, even in the darkest days of February, head straight to Marco Island. Located near the southern tip of Florida on the Gulf of Mexico, this resort island is almost always warm, while places like Fort Myers or Orlando are shivering.
Fine weather is not the only draw. The incredible beach is another. Stretching for roughly four miles, this long, exceptionally wide beach is one of the best in southern Florida. Accommodation options here are extensive, ranging from first-class resorts through to small hotels catering to boaters.
8. Fort Myers and Fort Myers Beach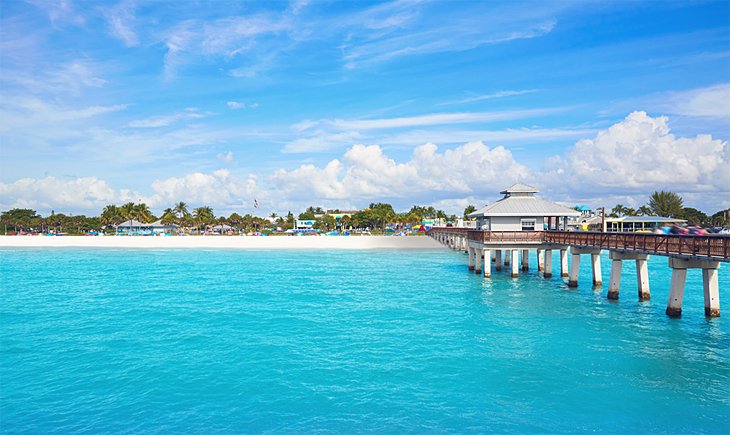 Downtown Fort Myers, also known as the River District, is full of things to do, from plentiful shopping options to a wide variety of dining choices, as well as sightseeing in this historic area.
Families will enjoy the IMAG History & Science Center, which includes dozens of hands-on exhibits; exciting wildlife interactions, including the chance to touch an alligator; and even the opportunity to see the original fort at Fort Myers in a 3D virtual reality experience.
Fort Myers Beach is on the shores of Estero island, separated from the mainland by a narrow inland waterway and connected by bridges. The expansive beach is known for being an ideal place to see dolphins playing in the water and is full of top-notch resorts that are popular with families, couples, and celebrities.
Fort Myers also attracts many New England baseball fans, who come to watch Red Sox spring training games and hope for chance sightings of their favorite sports heroes around town.
9. Sanibel Island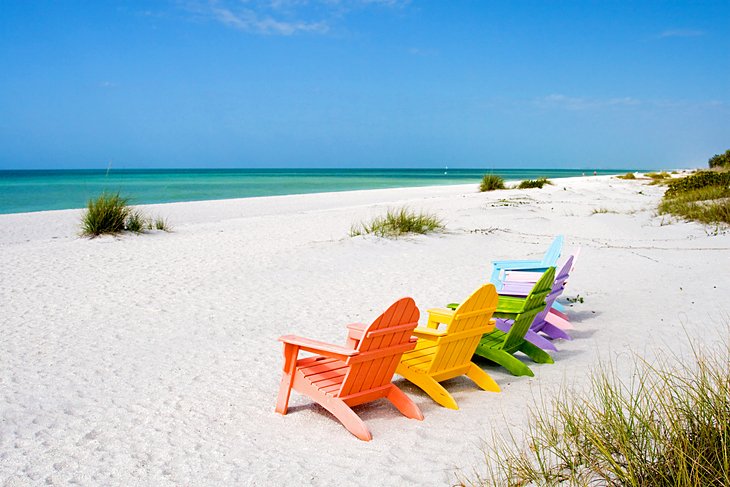 Sanibel Island sits off the west coast of Florida as an important barrier island, connected to Fort Myers by a causeway. Sanibel is best known for its high-end resorts, which are popular with families, celebrities, and couples. Beyond each resort's generous amenities, tourists will find no lack of things to do, from ocean adventures to leisurely shopping at Sanibel's numerous boutiques and galleries.
One of the most appealing aspects of Sanibel and Captiva is the dedication to conservation, a mission that has resulted in the protected status of half of the island's land and the establishment of organizations like the Sanibel Sea School and the Sanibel-Captiva Conservation Foundation.
Many resorts also have their own programs led by naturalists to educate tourists about the delicate ecosystem and amazing wildlife. Some of the island's most treasured wildlife includes the loggerhead sea turtle, which nests on the pristine beaches; manatee and dolphins, which play in the water nearby; and hundreds of bird species, including the bald eagle.
10. Clearwater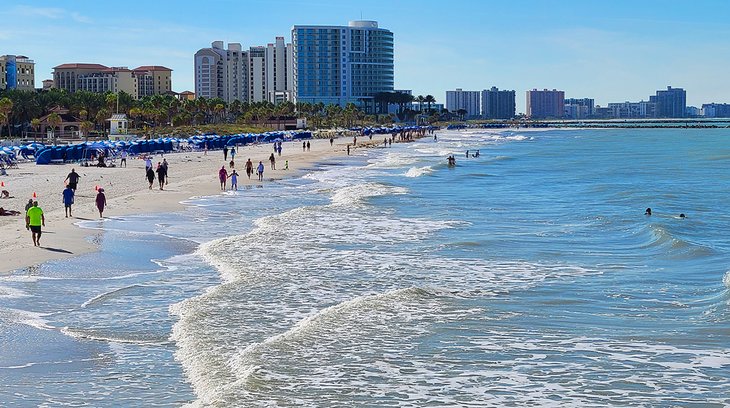 One of Florida's longtime favorite beach destinations, Clearwater has been attracting beachgoers for generations. Located offshore from the main city is a three-mile stretch of soft white sand, lapped by the clear, warm waters of the Gulf of Mexico.
A wide variety of accommodation is on offer at the beach, from fantastic resorts right through to smaller, cozy hotels and inns. This makes Clearwater's beach area a lively spot, with an abundance of great restaurants and excellent people watching. One of the best places to practice this pastime is by taking a stroll out on Clearwater's famous fishing pier while the sun is setting.
11. Anna Maria Island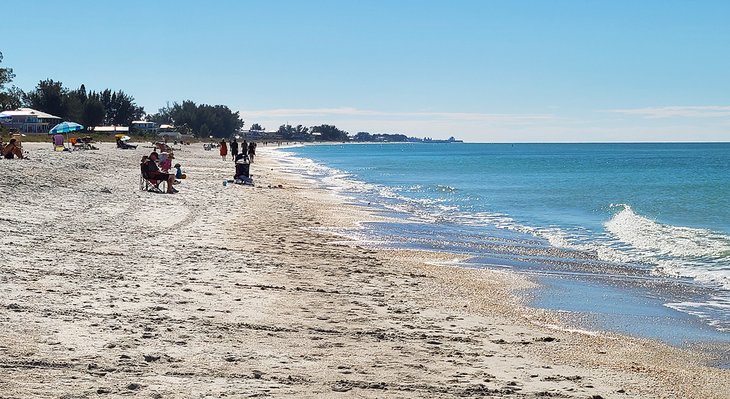 Just offshore from Bradenton, Anna Maria Island is a wonderful slice of "Old Florida." Strict building regulations have ensured that many of the original homes and hotels remain while new towers and huge developments have been blocked. However, that said, Anna Maria Island does have some vacation resorts, many that will take good care of you without beating up on your pocketbook.
The far-sighted vision of the town planners has ensured that Anna Maria Island has a relaxed vibe not found in many other parts of Florida. This coupled with seven miles of incredible beaches makes Anna Maria Island a must visit for beach enthusiasts.
12. Venice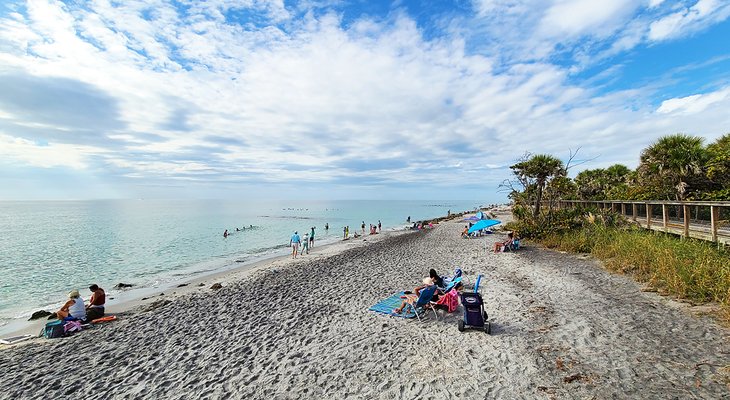 Venice, often overlooked as a destination in Florida, is a place where you'll find lots of things to do without the crowds of other Gulf side destinations. This small city has a delightful downtown that is very walkable, with a wide variety of shops selling everything from dresses right through to bathing suits. Also located here are several small and funky restaurants and bakeries, all ideal places to grab a spot on a patio and watch the world go by.
A short drive from downtown are Venice's famous beaches. Condos and homes line the waterfront near town, but a short distance south is the Venice Fishing Pier and the iconic Sharky's on the Pier restaurant. Those interested in searching for shark's teeth should head a bit farther south to Caspersen Beach and keep their eyes peeled on the sand as they stroll the shoreline.
13. Panama City Beach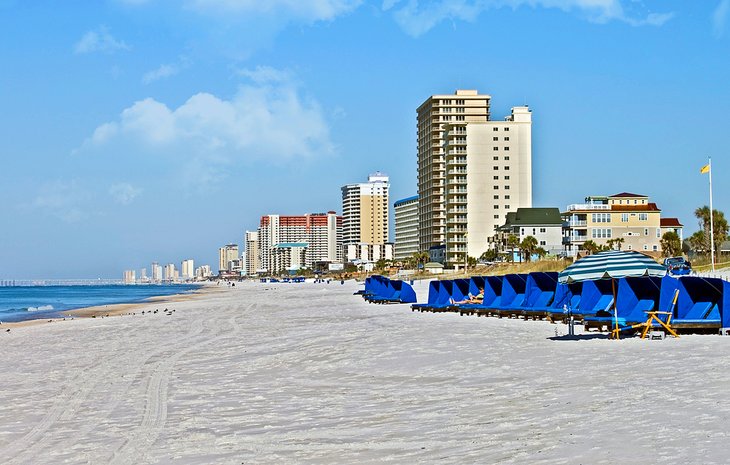 One of the most popular places to visit in Florida's Panhandle region is Panama City Beach. Famed for its blindingly white sand and emerald waters, Panama City Beach is the easiest place to get to if you are traveling from the north. The beaches here are fantastic and busy during the summer season.
The city boasts quite affordable waterfront accommodation compared to destinations farther south. Off the beach, the fun at Panama City Beach doesn't stop. Other things to do in Panama City Beach include visiting the giant Skywheel, Pier Park, and Gulf World Marine Park. More kitschy attractions include Ripley's Believe it or Not and Wonderworks.
14. St. Augustine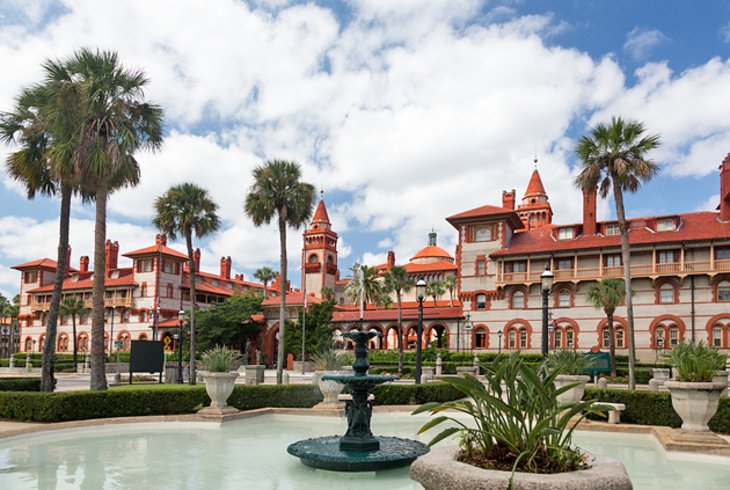 St. Augustine is often referred to as the oldest city in the USA. Pedro Menéndez de Avilés landed here on September 8, 1565 and claimed the territory in the name of King Philip II of Spain. Colonial architecture and old homes line the streets of the historic center, which has become a popular tourist attraction.
The Colonial Quarter is a living history museum that introduces visitors to life in St. Augustine from the 1500s through the 1700s, including the construction of the replica of a 16th-century boat and a working blacksmith shop.
St. Augustine is proud to be home to several of Florida's most significant historic attractions, including the Ximenez-Fatio House Museum, Ponce de Leon's Fountain of Youth Archaeological Park, and the Castillo de San Marcos. Mariners can learn more and admire exhibits at the St. Augustine Lighthouse and Maritime Museum.
Accommodation: Top-Rated Resorts in St. Augustine
Read More:
15. Pensacola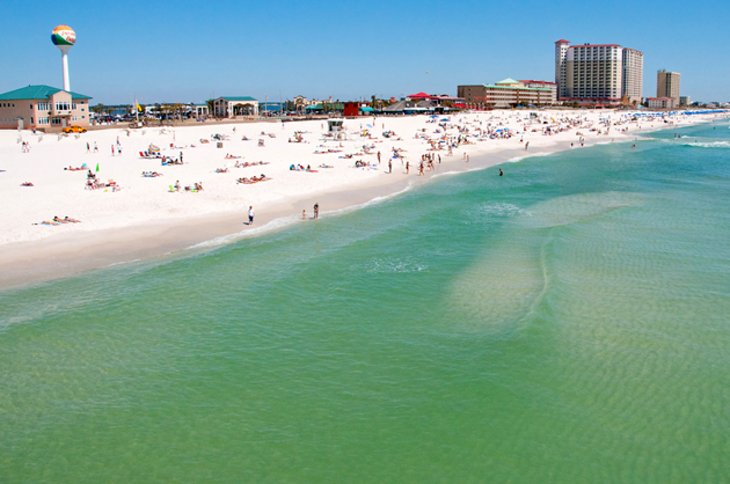 The port of Pensacola, situated on the best and largest natural harbor in Florida, is the economic center of the western edge of the Panhandle. Its history goes back more than 460 years, and the carefully restored Historic Village contains buildings of the Spanish, French, and British colonial periods.
Features of interest in the surrounding area are the U.S. Naval Aviation Museum; Fort Pickens (1834) at the west end of Santa Rosa Island; Pensacola Beach, with its expanses of sugar-white sand; and Perdido Key, with its mix of busy beaches and wide-open natural areas. Visitors will find that Pensacola has less of the Floridian resort-town atmosphere and more of the down-home influences of the deep south.
Here, you will find plenty of grits, a slight Southern drawl, and a slower pace. Despite its smaller size, Pensacola is home to plenty of things to do, including family activities, museums, and several performing arts companies. Couple this with a lively and charming downtown complete with shaded sidewalks, inviting patios, and interesting shopping not found in other northwest Florida cities, and it's no surprise Pensacola is popular with visitors from across the United States and around the world.
Accommodation: Top-Rated Resorts in Pensacola
Read More: Best Beaches in Pensacola
16. West Palm Beach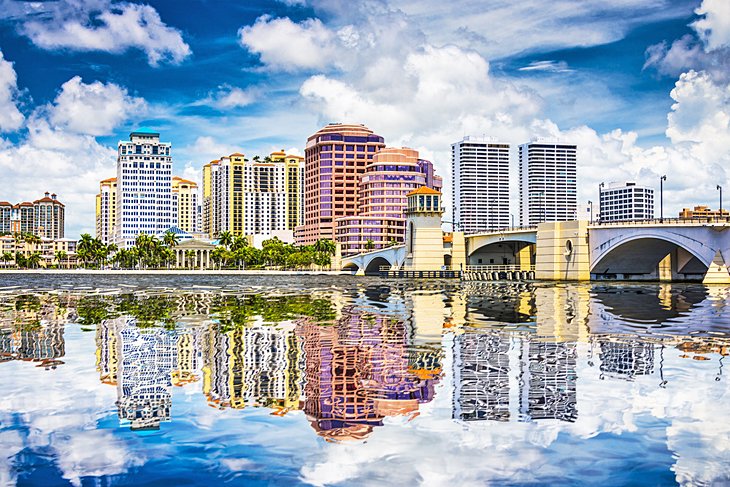 West Palm Beach on Lake Worth, inland from Palm Beach, has a number of interesting museums and many trendy and fine dining restaurants. As the city's name suggests, it is often defined by its amazing miles of soft, sandy beaches, and many tourists come primarily to soak up the sun and enjoy the water.
West Palm Beach is also home to plenty of other attractions, many of them family-friendly animal encounters. The Cox Science Center and Aquarium is popular for its numerous exhibits and underwater residents, and the Manatee Lagoon gives visitors the chance to see these gentle giants up-close and free of charge.
Sea creatures don't get all the attention, though - the Palm Beach Zoo & Conservation Society is home to 700 animals from habitats around the world, and Lion Country Safari gives visitors an opportunity to ride through the park to see some amazing African animals, as well as interact at the petting zoo and giraffe feeding station, and cool off in the water playground.
Accommodation: Top-Rated Resorts in West Palm Beach
Read More: Top Attractions & Things to Do in West Palm Beach
17. Daytona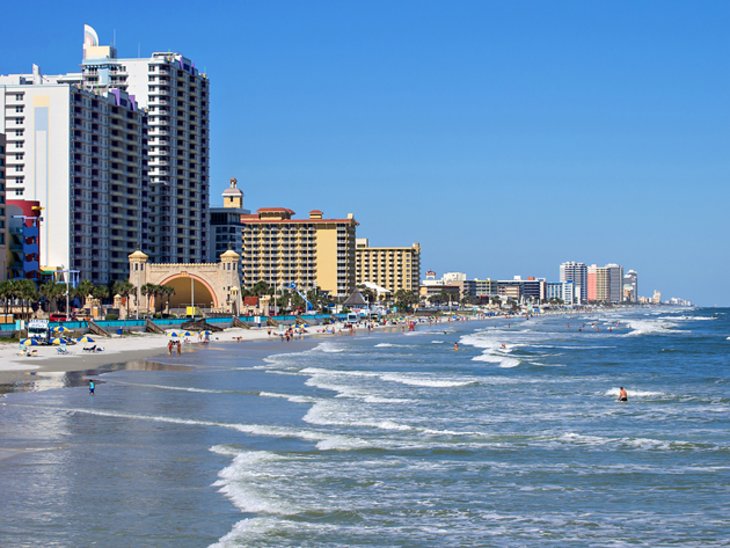 Daytona's main claim to fame is the Daytona 500 Nascar Race held here each February, but the beaches also draw visitors year-round. Daytona Beach, once known as a spring break hot spot, has become more of a family-oriented destination that also attracts seniors.
Daytona's beaches stretch along 23 miles of Atlantic Ocean coastline and feature an activity-filled boardwalk that is home to amusement rides, games, restaurants, special events, and a long pier.
Cultural attractions include the Cici and Hyatt Brown Museum of Art, which houses the largest collection of Florida art in the world, and the Stetson mansion. Visitors can also admire Florida's tallest lighthouse, the Ponce de Leon Inlet Lighthouse, which reaches 175 feet tall.
Accommodation: Best Hotels in Daytona Beach
18. Tallahassee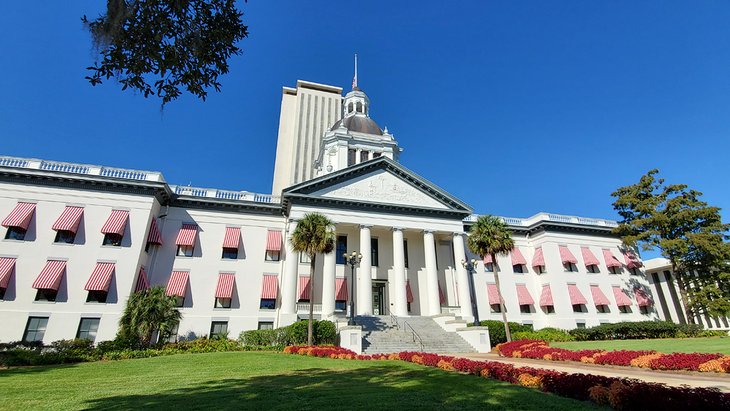 Florida's capital city, Tallahassee may not be on most people's radar as a place to visit when in the northern part of the state. However, it's definitely worth a stop for its fine collection of museums, interesting attractions, and history.
Most of the things to do in Tallahassee are located downtown near the State Capitol building, so park the car and walk around this pleasant area. Top sights include the Historic Capitol Museum, the new Capitol Building (especially the incredible views from the 22nd floor), and the Museum of Florida History.
Just back from downtown is the sprawling campus of Florida State University, and in front of downtown is the delightful Cascades Park. A bit of a drive from downtown but not far from Interstate 10 is the famous Tallahassee Automobile Museum with over 160 rare and classic cars on display (along with many other eclectic items).
Accommodation: Where to Stay in Tallahassee