12 Top-Rated Weekend Getaways in Florida
We may earn a commission from affiliate links ()
As one of the top vacation spots in the US, Florida offers no end of options when it comes to planning memorable weekend trips. Whether they're seeking luxury all-inclusive weekend getaways or a romantic couples retreat (or longer Florida vacations, for that matter), some 125 million people visit the state each year.
The big draw? Well, for starters, Florida offers plenty of sunshine and warm temperatures throughout the year. Then there are the state's many beaches. Florida beach vacations can be enjoyed pretty much anywhere, from the Panhandle to the North and along the sweeping stretches of both the Gulf and Atlantic coastlines – even in the tiny tropical paradise of Key West.
Whether you prefer to stay at luxury resorts in ritzy places like Palm Beach or Naples, or prefer a cheap Florida beach break in popular (and affordable) destinations such as Daytona, fun weekend getaways can be enjoyed pretty much anywhere in the Sunshine State.
Find the best places to visit with our list of the top weekend getaways in Florida.
1. Orlando and the Theme Parks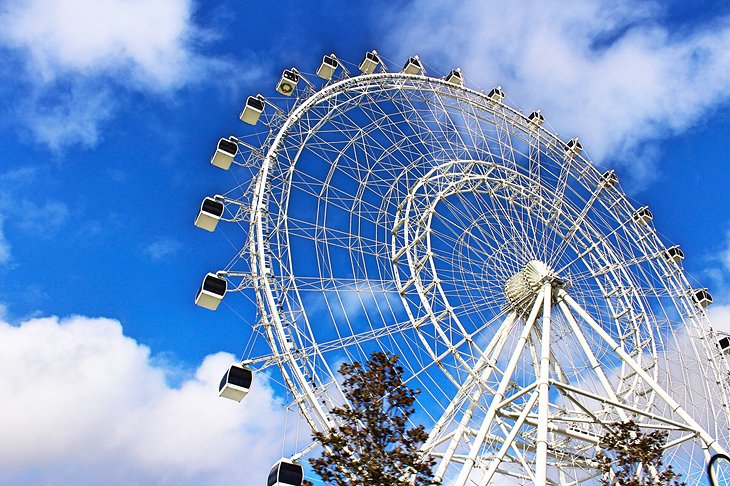 When it comes to travel with kids, there's little doubt Orlando is one of best family vacation spots in Florida. Even if you are looking for a couple's weekend, Orlando is also a great choice. Spend your time in downtown Orlando, enjoy a view over the area on the Wheel at ICON Park, or relive your youth at one of the famous theme parks.
It's here that the great Walt Disney built what has become the planet's most-visited-and most popular-theme park: Walt Disney World. Really four parks rolled into one great Florida destination, Walt Disney World offers everything needed for a great Florida trip: thrilling rollercoasters and rides, wet-fun water parks, superlative casual and fine-dining experiences, plenty of shopping, sports activities (golf is big here), entertainment and festivals, and some of the top Florida resorts in which to crash after all that excitement.
All this – along with other big-name theme parks, such as Universal Studios and SeaWorld, to name but two – can be enjoyed in a few days. And thanks to Orlando's superb international airport, are easily accessible for those seeking fun-filled weekend getaways.
Accommodation: Where to Stay in Orlando: Best Areas & Hotels
2. The Conch Republic: Key West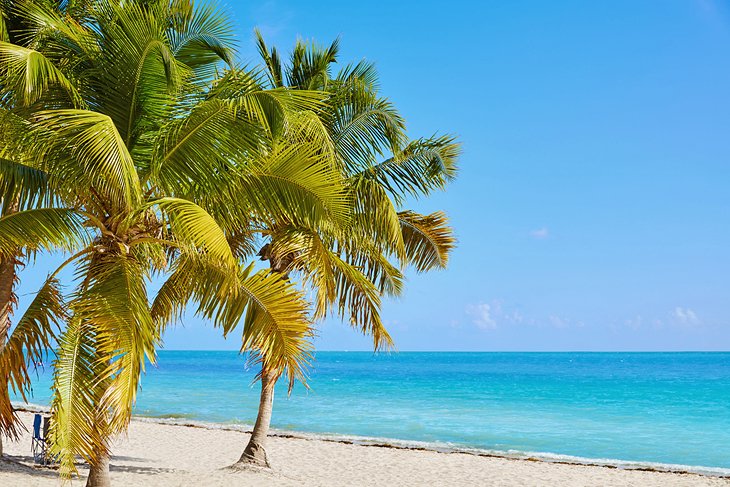 Key West-one of the best places to visit in Florida for adults seeking a fast-paced weekend getaway is, once experienced, not easily forgotten. Not only is this small tropical island the country's southernmost city, it's also one of the most fascinating in terms of its diversity. A heady mix of Caribbean and European influences – along with a large dose of the South for good measure – here, you'll find an endless array of things to do that titillate the taste buds and entertain the senses.
Much of the excitement is centered on lively Duval Street, a 1.25-mile-long road that allows pedestrians to walk from the shore of the Gulf of Mexico to the Atlantic. Along the way, there's more than enough to keep you busy during your weekend getaway, from Cuban-inspired music and cuisine to shopping in chic art galleries and boutique shops (or, for that matter, tacky souvenir stores).
Then there are the amazing sunsets, celebrated enthusiastically each evening in Mallory Square with displays of acrobatics and busking. Add to this top Key West attractions such as the Southernmost Point marker and Ernest Hemingway's House, and you're guaranteed a weekend getaway you won't soon forget.
Accommodation: Top-Rated Resorts in Key West
3. The Beaches of Miami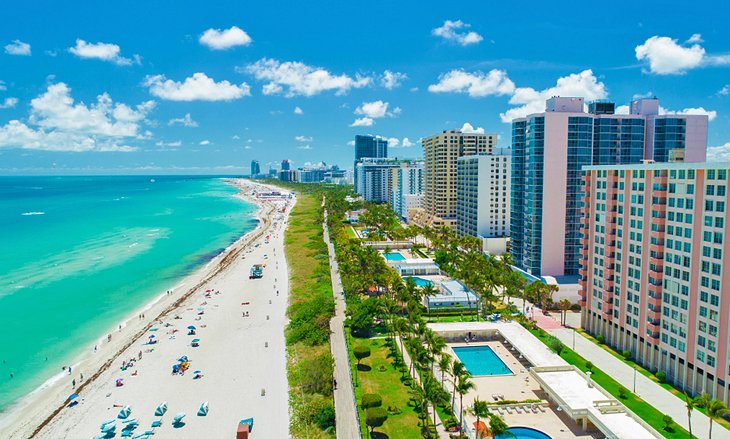 Of the many top beaches in Florida, the sands of Miami Beach have much to commend them to sunseekers and weekend travelers. You'll find no end of excuses to kick-back and relax here. Lined with hotels and high-end homes, and an easy shuttle ride from Miami International Airport, the beaches straddle a narrow barrier reef and are accessible from the mainland via numerous bridges (or even by water taxi).
The beach itself is seemingly endless, offering plenty of space to spread out and sunbathe or on which to walk and soak up the sights. Strolling the many bustling streets with their shops and great dining experiences is a very popular pastime here, especially along Ocean Drive, which separates the shoreline from the many fine examples of colorful 1930s and 1940s architecture that lines the route.
You'll see even more fine architecture in the Art Deco Historic District in South Beach, a popular tourist area that's fun to explore on foot. Here, you'll not only find many great hotels and resorts (some offering tempting Florida vacation packages and deals) worth checking into, but also some excellent dining and entertainment opportunities, too. Then, of course, there's the rest of Miami to explore.
Accommodation: Top-Rated Resorts in Miami
4. Driving the Florida Keys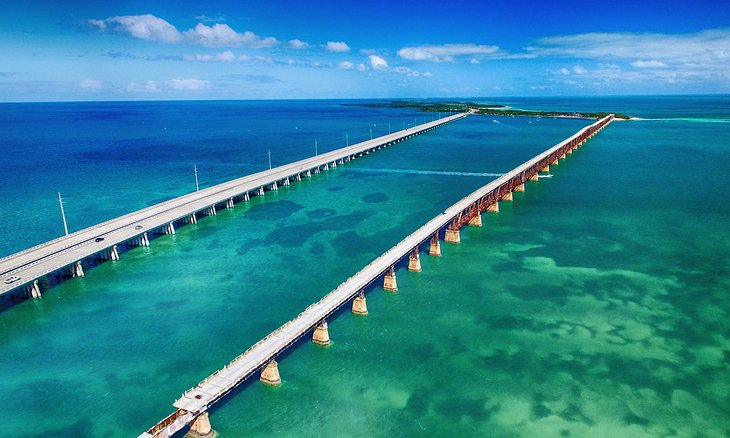 Whether you're driving into the state or planning to pick up a rental car at the airport (and there are plenty), a road trip along the Overseas Highway linking the Florida Keys is an adventure that needs to be experienced at least once.
Miami is a great place to start. From here, you have the option to travel the entire 113 miles in a single three-hour journey (including a few stops to admire the incredible ocean views) to Key West. You can also break it up with a stay in a beachfront hotel or resort in Key Largo, near the top, or Marathon, perhaps a better option as it's close to the halfway mark.
Wherever you camp down for the night-and camping's an option, too- you should spend at least a day (or evening) in Key West. Known for its laid-back, Caribbean vibe, it offers no end of fun things to do, especially along bustling Duval Street. Other fun to be had in the Keys includes superb diving and boating, grabbing a fishing charter (or casting a line from a pier), and visiting top Florida attractions such as the excellent Dolphin Research Center in Marathon.
Accommodation: Top-Rated Resorts in Key West
5. Life's a Circus in Sarasota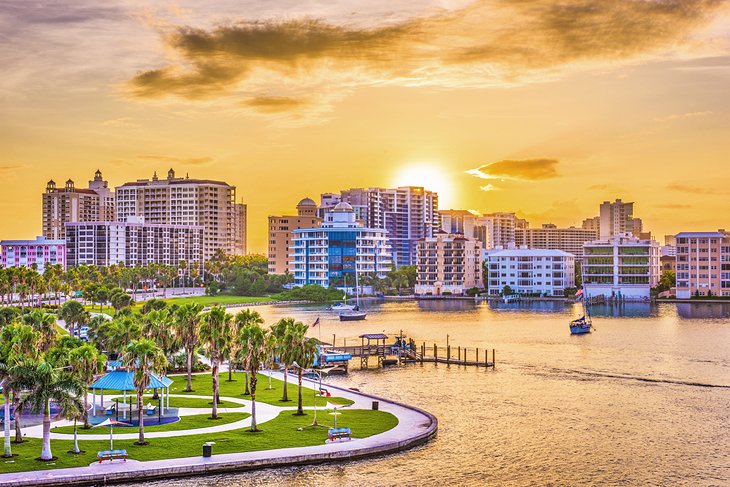 Served by the Sarasota-Bradenton International Airport, the former circus town of Sarasota makes a fun-filled weekend getaway for families looking for a great beach destination. In addition to its plentiful sun and sand, Sarasota is famous as the home-town of Ringling Brothers Circus, with a legacy that lives on to this day.
Most notable among the many references to the Ringlings is the stunningly attractive Ca d'Zan mansion. This palatial former home of John Ringling is now a fascinating museum chock full of interesting artifacts and furnishings, and is a central part of The Ringling, a group of attractions that also includes museums dedicate to the family's art collection and the history of the circus. It's a fascinating experience, as suitable for kids as it is adults... but be prepared to spend at least the better part of a day here.
Accommodation: Top-Rated Resorts in Sarasota
6. Naples: Beaches & 5th Avenue Living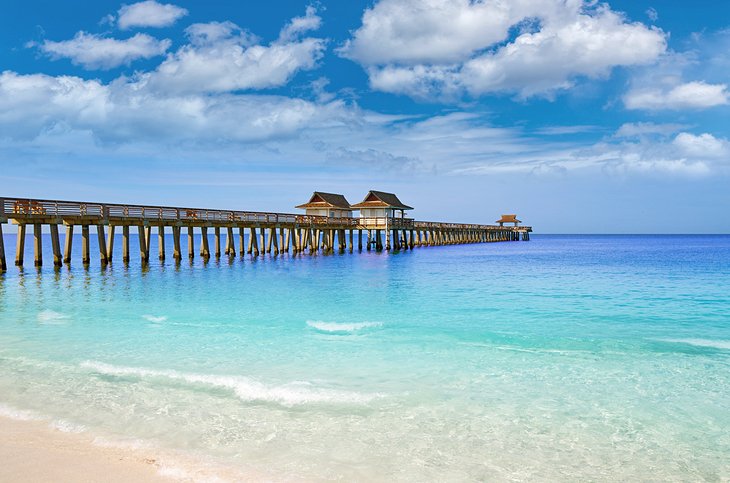 One of the ritziest of many ritzy destinations in Florida, the Gulf Coast city of Naples has much to offer those seeking a great weekend getaway. Like its Italian namesake, it's a very romantic place for couples, particularly along lovely 5th Avenue-and especially at night.
The street is home to luxury boutique stores and art galleries, but it's the food that really draws the crowds. Here, you can sample delicious menus from award-winning chefs from around the world, including fresh, local-caught seafood served in fine-dining establishments or served up as fish and chips in a casual eatery-both even better if you're dining al fresco. By day, relax on the beautiful beaches, see dolphins cruising just off shore, or enjoy a swim in the calm waters. At sunset head out on the pier to watch the sunset.
This prestigious part of town is also home to the top luxury hotel known as the Inn on Fifth, a delightful place to hole up for the weekend. From here, you can easily enjoy the very best Naples has to offer, including Naples' beach and pier, an easy 10 or so minutes' walk away.
Accommodation: Top-Rated Resorts in Naples, Florida
7. Luxury in the Palm Beaches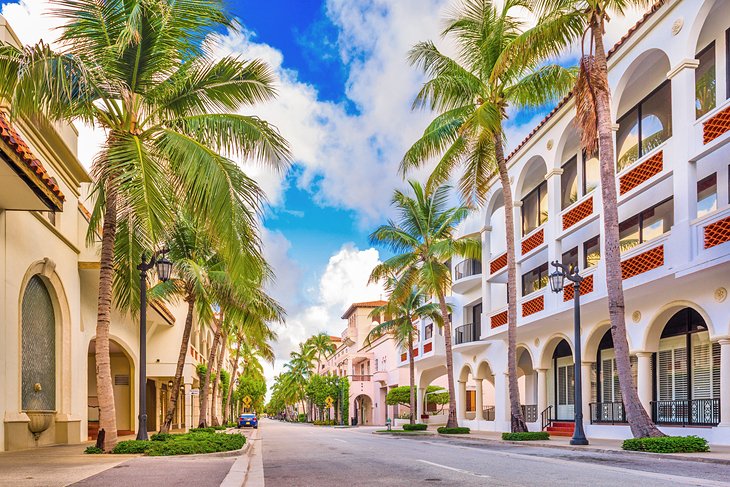 The Palm Beaches area – comprising West Palm Beach and Palm Beach proper – offer no end of opportunities for those seeking a luxury weekend getaway. Although known as an area of second homes for billionaires (and presidents), there's much here to appeal to those with more modest budgets.
For the most part, the most luxurious resorts are located on Palm Beach, an island that's connected to the bigger, sprawling West Palm Beach at multiple crossing points. Here, you'll find the posh Worth Avenue, home to an array of luxury shopping opportunities, from the latest fashions to the grandest yachts.
Palm Beach is where you'll also access some 47 miles of superb sandy beaches. And there's plenty of parking here, too, making a stay in the more affordable hotels and motels-along with its own collection of shopping, dining, and entertainment opportunities-in West Palm Beach even more appealing.
Accommodation: Top-Rated Resorts in West Palm Beach
8. The Romance of St. Augustine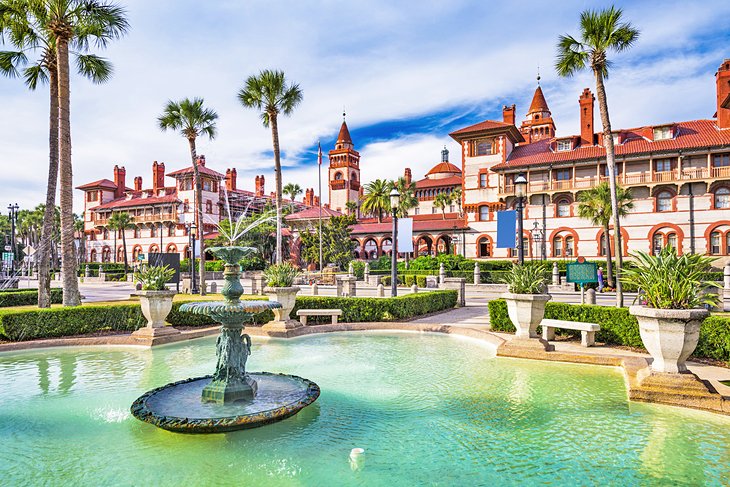 Those looking for a memorable, romantic getaway in Florida couldn't do better than visit historic St. Augustine. One of the most northerly cities on the east coast of the Sunshine State, St. Augustine is also one of the oldest. Less than an hour's drive south of Jacksonville, this pretty walled city was founded in the mid-16th century by the Spanish and has managed to retain its European flare.
The historic district is also home to a number of delightful romantic hotels, inns, and guesthouses, and is especially pleasant to visit in the lead up to Christmas. During this festive season, the streets are lit up to charming effect – so pleasant, in fact, that they've helped cement St. Augustine's reputation as the "best Christmas town in Florida."
It's a delightful place to explore on foot (you'll want to park your car in one of the parking areas on the fringes and take a bus if it's busy), especially around the old Colonial Quarter. Preserved much as it would have been in the 17th and 18th centuries, this fascinating area paints a very vivid picture of life back in the day. There are numerous points of interest to see here, in particular the well-preserved fortress of Castillo de San Marcos. Here, you can enjoy historic military displays and exhibits of old trades, as well as explore the old fort's walls.
But it's not all about indoor, urban fun things to do in St. Augustine. The town is also well-known for its excellent beaches, including Ponte Vedra Beach, popular for its high-end oceanfront resorts.
9. Daytona Beach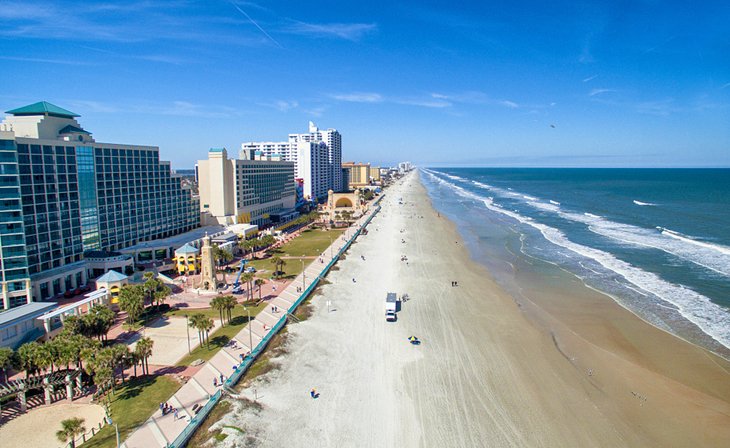 While Daytona has a reputation as an affordable travel destination, there's much more to this Atlantic coastal city than simply cheap Florida vacations. In fact, discerning travelers interested in the many attractions located on this side of Florida have a number of luxury hotels and resorts to choose from, such as the hip Hard Rock Hotel Daytona Beach.
Wherever you stay, you'll find no end of fun things to do to fill your weekend. Topping most people's list is paying a visit to Daytona International Speedway, home of NASCAR racing and fun to explore even on non-race days.
Equally fun-especially for families traveling with teens-are the many amusement arcades and attractions along the waterfront, which is lined with souvenir shops, restaurants, and other entertainment venues. A particularly fun thing to do in Daytona at night is to walk along the lengthy Boardwalk, when the colorful lights from the rides and attractions light up the sky.
Accommodation: Best Hotels in Daytona Beach
10. The Everglades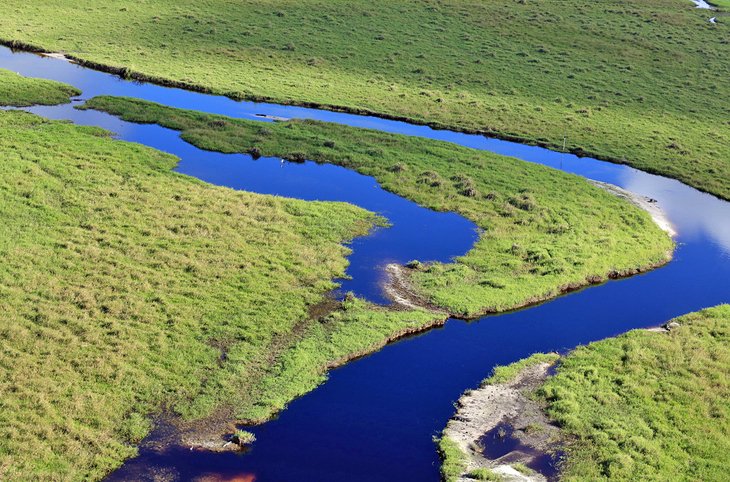 The Everglades are well-known as Florida's top natural attraction. Best explored from either Miami to the east or the Naples and Fort Myers areas to the west, this huge region covers some 1.5 million acres of ecologically important wetland and is home to abundant wildlife. While you can drive through the Everglades National Park or stop and enjoy a pleasant boardwalk experience at the main visitor center in Homestead, by far the best way to experience it is to take a tour aboard an airboat.
The real excitement comes as you spot some of the native wildlife. While a typical trip might result in you seeing creatures such as manatees, crocodiles, and alligators, visitors have, on occasion, been known to spot Florida panthers, a rare and elusive animal.
If you've got plenty of time on your hands, consider taking a kayak tour. These fun excursions are tailored to suit all ages and experiences and provide a much quieter and more laid-back experience. Try it and see.
11. Fort Lauderdale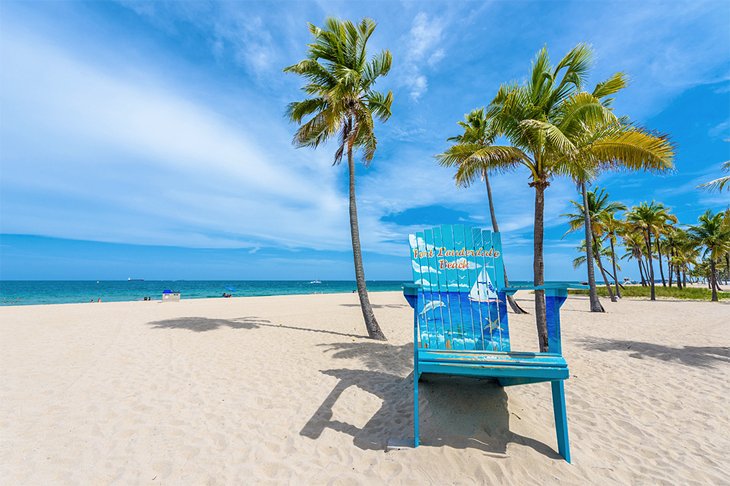 The equal of its posh Palm Beaches neighbors to the north and quieter than Miami to the south, Fort Lauderdale offers plenty of great reasons to spend a weekend here. Served by the Fort Lauderdale-Hollywood International Airport, its star attraction-its beautiful seven-mile-long beach-offers plenty of affordable accommodation options just steps away from the water.
Flanked by the attractive pedestrian pathway lining Las Olas Boulevard, a stretch of road connecting the beach to the downtown area, are endless opportunities to shop, dine, be entertained, and explore. Be sure to allot some time to explore the canals and Intracoastal Waterway. This can be done simply by grabbing one of the frequent and affordable water taxis, or hopping aboard a cruise boat or charter, which is especially fun if dolphin watching or fishing is included.
Accommodation: Top-Rated Resorts in Fort Lauderdale
12. Panama City Beach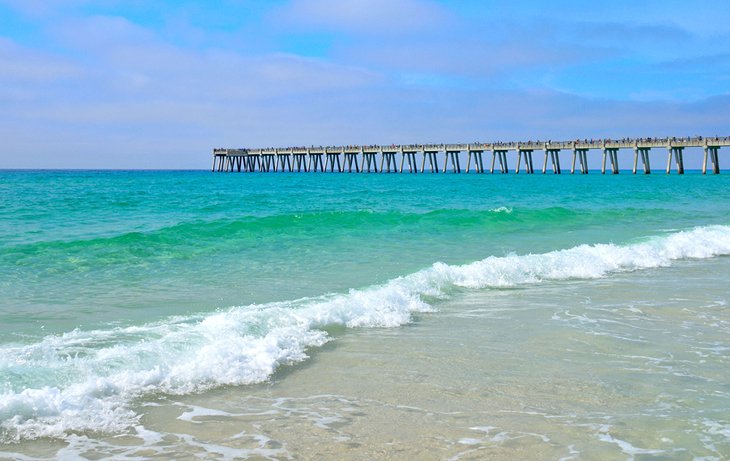 Be sure to consider Florida's Panhandle for your weekend getaway, especially if you are planning a trip in the summer. Located on the topmost eastern corner of the Gulf of Mexico, Panama City Beach has pretty much everything its counterparts to the south can offer: great white-sand beaches, parklands and nature reserves, plenty of water-based activities and adventures, and top resorts to choose from.
The beaches of Panama City Beach are where you'll likely want to spend most of your stay. And for good reason. They stretch as far as the eye can see east and west. All told, you'll have access to some 27 miles of sandy heaven. Most of the beaches here are extremely wide, offering safe swimming and snorkeling experiences for all ages. And for those who enjoy traveling with their pooch, there's even a dog-friendly beach here, too. In fact, the on-leash Dog Beach at Pier Park is considered one of the best dog-friendly beaches in all of Florida.
If you enjoy casting a line, bring your fishing rod for a spot of angling off the City Pier. Better still, why not go whole hog and indulge a little in an exciting deep sea fishing experience in Panama City Beach? If you do, you'll find your repertoire of potential catches expands enormously in the deeper waters of the Gulf.
Other fun things to do here include renting a Jet Ski, doing some paddleboarding, sea kayaking – or simply lounging poolside. Either way, you're guaranteed a first-rate Florida weekend getaway.
Accommodation: Top-Rated Resorts in Panama City Beach