9 Top-Rated Day Trips from Miami
We may earn a commission from affiliate links ()
Miami makes a great base from which to explore the southernmost tip of Florida. From here, you're an easy drive from other smaller resort towns in the Sunshine State, including ritzy West Palm Beach – just over an hour due north and a lovely drive along the Atlantic shoreline – and the equally posh Naples, two hours due west on the Gulf of Mexico.
And for those wanting to get away from the beach crowds, Miami is a hop, skip, and a jump to the famous Florida Everglades. This important natural resource covers an area of over 1.5 million acres of wetland and is home to a diverse variety of wildlife.
Miami also sits above another must-visit area: the Florida Keys. An easy drive around Biscayne Bay will take you on one of the most memorable roads anywhere: the Overseas Highway. This stunning 113-mile route starts more or less in Key Largo and follows the gently curving keys all the way to Key West, a tourist destination that is as famous for its tropical climate as it is for its liberal attitudes and lifestyles.
You'll find the best places to visit near the city with our list of the top day trips from Miami.
1. Explore Everglades National Park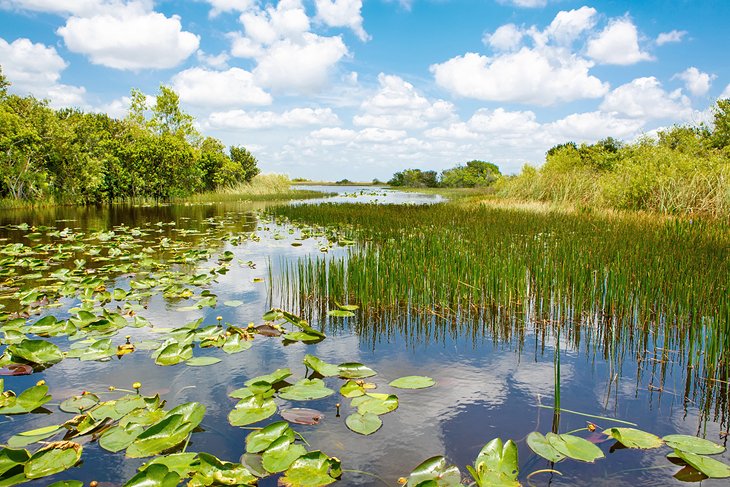 Until you drive through it - or, better still, explore it via an airboat ride or kayak - it's pretty difficult to comprehend the scale of the Everglades National Park. Covering an area of more than 800 square miles, the park, like most of Florida, is completely flat, making it even trickier to grasp its size.
Just an hour's drive from downtown Miami, here you'll experience one of the country's most important (and fragile) habitats, and the country's largest subtropical wilderness. Consisting almost entirely of swampland and marshes - which in turn serves as the state's reservoir - here wildlife enthusiasts are drawn for the chance to spot animal species such as egrets, manatees, alligators, and crocodiles, as well as rarer beasts including Florida panthers.
Any everglade adventure should start with a visit to one of the park's visitor centers, with the main one being the Ernest F. Coe Visitor Center in Homestead. In addition to fascinating details of the park's unique ecosystem, including its flora and fauna, you can enjoy fun walks along a number of easy boardwalks set up for animal viewing, along with longer walking trails.
One of the top things to do in the Everglades, however, is to take a high-speed airboat tour. These thrilling vessels can whisk you deep into the wilderness. One of the best such tours for those traveling from Miami are the shared (and therefore less-expensive) Florida Everglades airboat tours for small groups. These fun family-friendly private adventures last anywhere from one to two hours and include the airboat ride, the services of a professional guide, and plenty of wildlife spotting.
Address: Ernest F. Coe Visitor Center, 40001 State Hwy 9336, Homestead, Florida
Official site: http://www.nps.gov/ever/index.htm
2. Beautiful Biscayne National Park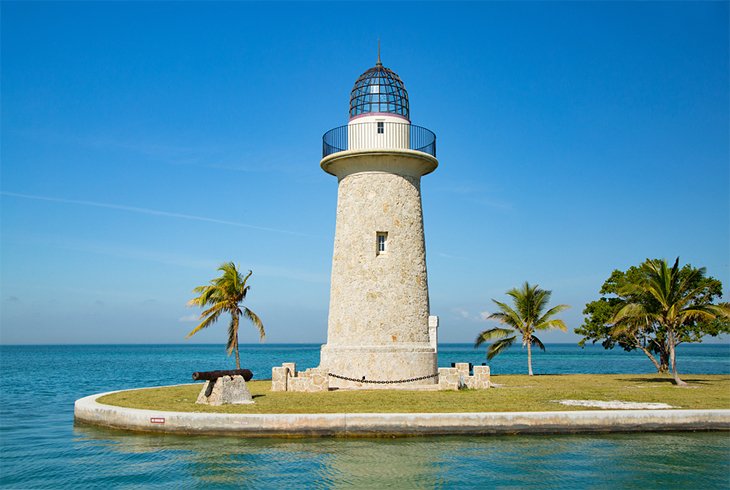 One of the top day trips from Miami for outdoor enthusiasts is to Biscayne National Park. It's located a fun boat ride away from downtown Miami, and although it's only accessible by water, it's close enough that you can view the city from here. The park covers an area of over 173,000 acres and is home to a series of small islands that protect important mangrove forests and coral reefs. It also harbors diverse species of wildlife, including turtles and pelicans, along with larger creatures like dolphins in Biscayne Bay Lagoon itself.
The park is also a popular spot for divers, drawn by the excellent opportunities along the Maritime Heritage Trail. This underwater adventure involves a number of excellent dive sites around old shipwrecks.
For landlubbers, walking trails can be enjoyed that lead to sites like Boca Chita Lighthouse on Boca Chita Key, built in the 1930s and popular for its spectacular views. Other highlights include the Dante Fascell Visitor Center gallery and museum, which offers a variety of programs, including guided eco-tours and art workshops, and the historic (and picturesque) Jones family home. Also of interest are the raised homes (they're built on stilts over the water) in Stiltsville, and camping on and hiking around the park's largest island, Elliott Key.
Official site: www.nps.gov/bisc/index.htm
3. Key West: A Tropical Island Paradise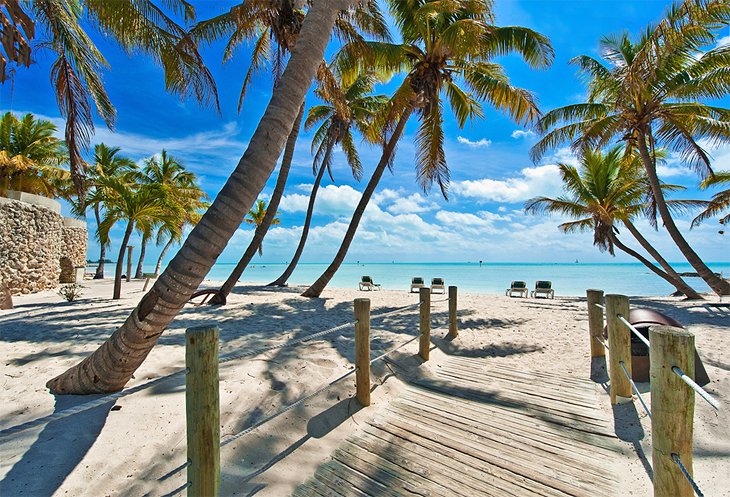 The drive along the Overseas Highway to Key West – a journey of some 113 miles, much of it on spectacular stretches of bridges – is definitely worth the 3.5 hours it takes, and only makes the time spent in the final destination all the more memorable. There are of course a variety of other great ways to get from Miami to Key West, including by boat or by plane, or as part of an organized tour of this popular destination.
If you do drive, a word of advice: While it's possible to find parking near famous Duval Street, where much of the entertainment and touristy activities occur, it can be hit and miss. If possible, plan on parking in any one of the larger parking areas outside Key West proper and make use of the frequent shuttle buses, or splash out (as so many do) and rent one of the fun electric buggies you'll see zipping about the downtown core.
Start your Key West adventure by exploring the quirky delights of Duval Street and grab a bite at one of the many restaurants and food shacks along this famous stretch of road – Frenchie's Café on United Street (just off the south end of Duval and not far from the famous Southernmost Point marker) do the best breakfasts and pastries.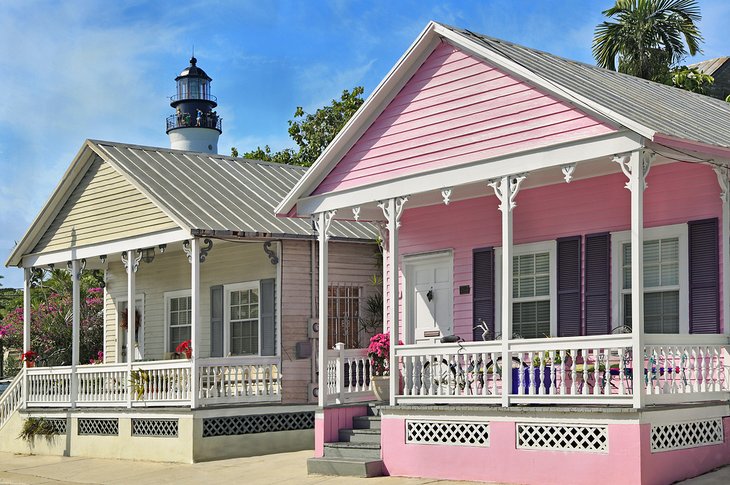 Other fun things to do in Key West include visiting Ernest Hemingway's former home (now a great museum), the Key West Aquarium, the excellent Key West Butterfly and Nature Conservatory, or possibly even spending time at one of the many great beaches close by.
Best of all, it's possible to catch each of these top points of interest on foot, with the added benefit that you'll find yourself exploring the colorful Caribbean-inspired architecture that dominates Key West. Finally, be sure to make your way to Mallory Square in time to catch the sunset and the always entertaining street performers on hand to celebrate the occasion, something that's done here 365 days a year.
For those wanting to experience Key West while letting someone else do the driving, consider joining an organized Miami to Key West Day Trip. Highlights, in addition to being able to enjoy the scenery along the way (including the Famous Seven Mile Bridge), include hotel pickup and transportation aboard an air-conditioned bus with tour guide and commentary, plus a variety of fun optional activities available as upgrades. These include parasailing, a glass-bottom boat tour, or snorkeling. You'll also get plenty of free time (five hours all told) to explore Duval Street on your own.
Accommodation: Top-Rated Resorts in Key West
4. Ritzy Palm Beach & the Palm Beaches Area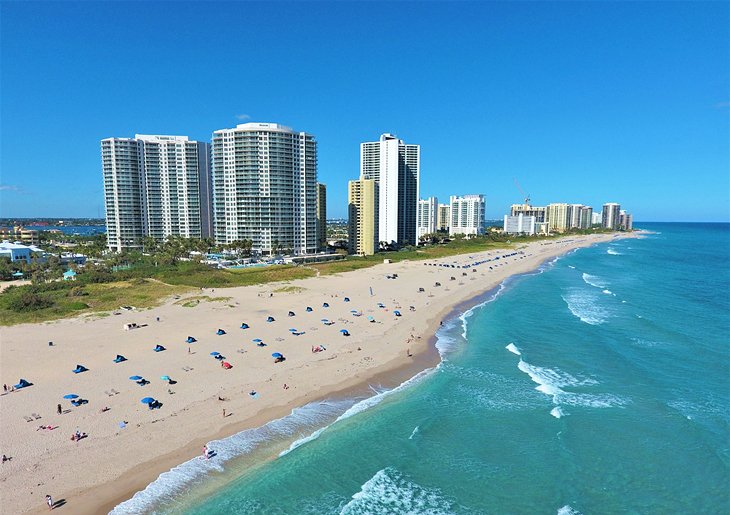 An hour's drive due north of Miami (a little longer if you take the A1A scenic route and linger a little at any of the viewpoints along the way), Palm Beach makes a fun day trip. Although home to many of America's social elite – at last count, some 43 or so billionaires own leisure properties here, including a former President – there's no end of fun things for the rest of us to enjoy (including gawping at their ultra-luxury vacation homes).
For starters, the beaches here are superb, stretching for miles along the Atlantic. Lined with great resorts and hotels (as well as an excellent promenade), there's plenty of space to stretch out and claim a spot for yourself.
After getting your fill of the seafront and attractions, such as Ragtops Motorcars, exploring the nearby Jonathan Dickinson State Park and Hobe Sound National Wildlife Preserve, or taking a DivaDuck Amphibious Tour, it's time to explore the great shopping and entertainment available here. For a taste of real opulence, head to Worth Avenue on Palm Beach, a ritzy enclave of boutique shops, art galleries, excellent restaurants, and yes, luxury yacht showrooms.
5. Bimini, The Bahamas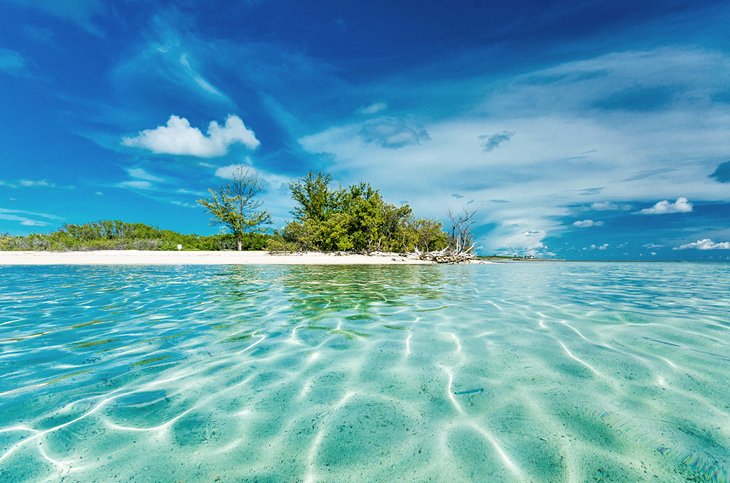 For those prepared to spend a full day (or possibly an overnight stay) on a tropical island, an expedition to Bimini is a superb option. One of the top places to visit in The Bahamas, the Bimini islands are just 50 miles off Miami – closer, in fact, than they are to the Bahamian capital of Nassau – and can be reached in just under two hours aboard a high-speed Bimini ferry from Miami. It's a delightful journey that's certainly affordable and allows for a full-day's exploration and is well worth it for the fun that awaits when you arrive at the docks at Resorts World Bimini.
Highlights of a visit to Bimini include getting in some deep sea fishing, something the islands have earned a reputation for among sport fishermen, drawn here from afar for international tournaments. Other fun things to do include joining a guided snorkeling adventure or honing your diving skills, with the chance to observe sea life such as dolphins up close.
Another interesting attraction is the fascinating Bimini Sharklab, a marine biology facility that provides public access through guided tours. Admission is via a donation, and be sure to call or connect in advance to ensure availability.
6. Key Largo
Another extremely popular diving spot, Key Largo is just over an hour's drive south of Miami at the north end of the Florida Keys. The big draw for divers here are the extremely shallow waters and the abundance of coral reefs to explore, many within easy reach of the shore, with some area resorts having direct access to prime diving spots (and offering diving instruction packages).
One of the top points of interest for serious divers is the John Pennekamp Coral Reef State Park. Along with the Florida Keys National Marine Sanctuary, it offers numerous old wrecks and plentiful sea life to experience (these locations are also good for snorkelers, too).
If you're making a day of it, take a picnic lunch and spend some time on dry land enjoying the pleasant beaches, as well as the visitor center with its interesting displays related to area fish habitats. For those who prefer keeping dry, glass bottom boat tours are also available from Key Largo.
Accommodation: Top-Rated Resorts in Key Largo
7. Marathon and the Middle Keys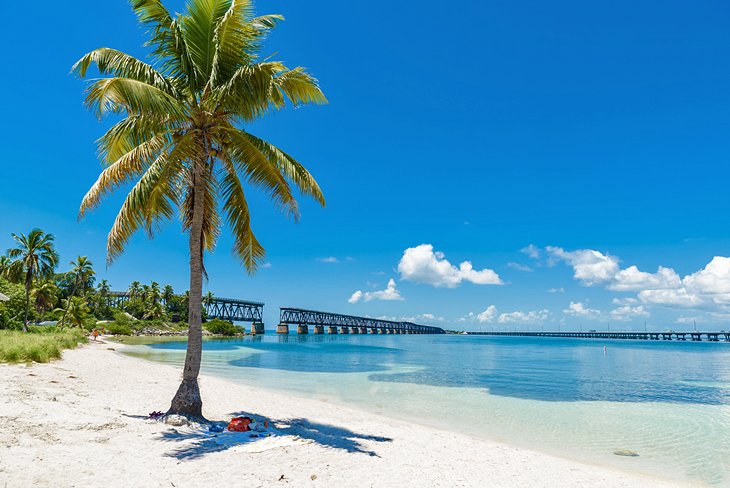 Whether you travel a little farther south during your Key Largo day trip or squeeze in a visit on your way to Key west, Marathon in the Middle Keys is worth a stop. In fact, it'd be easy spending the best part of a day exploring its top wildlife-related attractions: the Dolphin Research Center, the Turtle Hospital, and Aquarium Encounters.
The Dolphin Research Center is probably the facility you'll want to spend the most time at as there's so much to see here. In addition to its importance as a rehabilitation center for injured Atlantic bottlenose dolphins, the center does a superb job of educating the public about these incredible creatures through informative talks, question-and-answer sessions, and, perhaps best of all, unique opportunities to interact with them through feedings and even swim sessions.
And while the dolphins are encouraged to put on displays of their agility, their trainers are quick to point out that they do so voluntarily for a reward, making no two visits quite the same. A number of sea lions are also housed here, along with a great stingray touch tank, and times for displays and feedings are posted clearly, so you can plan your stay.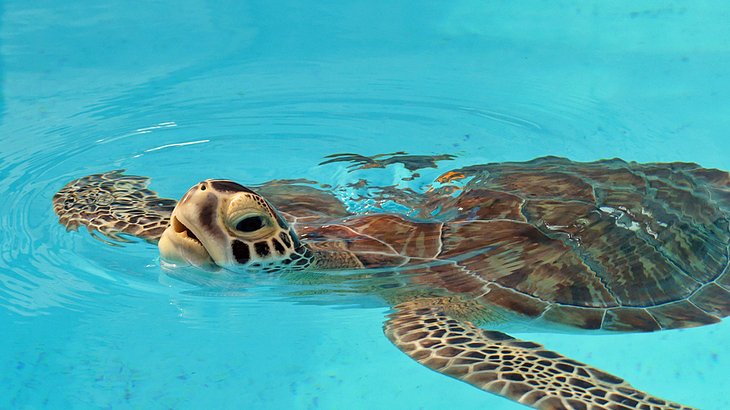 Founded in 1986, the fascinating Turtle Hospital has saved well over 1,500 turtles and is well worth a visit. In addition to learning more about the care and rehabilitation programs, guided tours take you behind the scenes to the hospital with the chance to feed some of its patients.
Afterwards, head over to the nearby Aquarium Encounters attraction for a chance to experience a variety of activities, including feeding and snorkeling tours. Marathon is also a popular sport fishing center, so consider booking an excursion while here. If possible, pay a visit to Bahia Honda State Park for its spectacular natural beaches.
8. Naples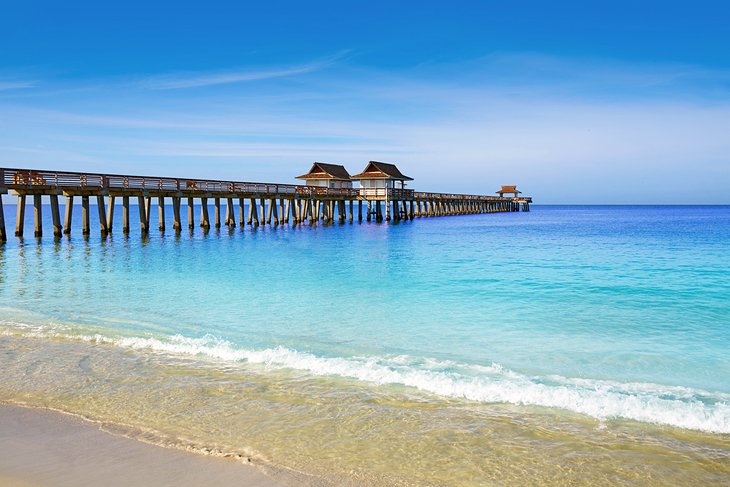 Like Palm Beach on the Atlantic side of Florida, the Gulf Coast town of Naples has made a name for itself as a center of luxury lifestyles. An easy two-hour drive through the Everglades from Miami, its beaches, though, are certainly less busy, but equally attractive. Top things to do on the many excellent beaches in Naples include sunbathing, swimming, paddleboarding, sea kayaking, or simply walking along the golden sands. A variety of parks (with parking) provide change facilities, picnic areas, and, in some cases, pleasant gardens to explore, and the town also boasts a nice pier.
The real fun, though, is dressing up a little as night falls and heading to fancy 5th Avenue. The town's downtown strip, 5th Avenue is a delight to explore as the sun sets over the Gulf of Mexico. You'll find many fine designer clothing stores, boutique shops, art and home décor galleries, and plenty of excellent al fresco dining options.
Also worth a visit if there's time in your day (and you may want to do this first, before ending your day in Naples), is to visit Marco Island. Just 30 minutes' drive south of Naples, Marco Island is known for its superb beach, a six-mile stretch of perfect sand that's extremely wide in parts, making it a great place to relax awhile without the crowds. You'll also find many excellent hotels and resorts on Marco Island that offer great vacation packages.
Accommodation: Top-Rated Resorts in Naples, Florida
9. Fort Lauderdale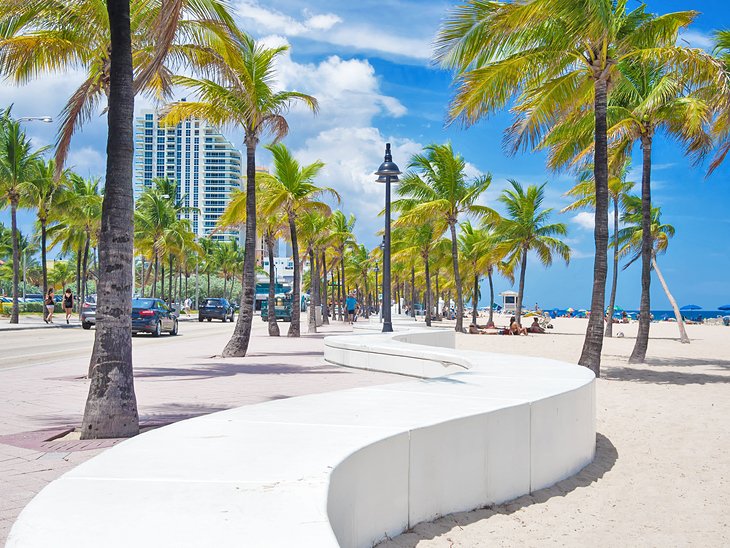 Located just 23 miles to the north of Miami, Fort Lauderdale makes a pleasant day trip from always busy Miami. Part of the attraction here is the unique network of waterways and canals that dissect the town, which can be explored simply by hopping aboard one of the water taxis that regularly ply the waters, moving people from place to place – a particularly fun experience at nighttime.
The city's beaches, though, are the big draw. All told there are some 14 beaches to explore and enjoy in and around Fort Lauderdale, including the main beach with its wonderful promenade. And, having shed its one-time reputation as a place for college students to congregate during Spring Break, you're now more likely to bump into families and retirees as you wander the superb (and lengthy) boardwalk.
You can certainly walk a long way, breaking up the journey with a stroll along the surf line or a sit-down on the sand. Also fun to explore on foot is the trendy Las Olas area. This attractive neighborhood is known for its art galleries, museums, boutique shops, and galleries.
Accommodation: Top-Rated Resorts in Fort Lauderdale