15 Top-Rated Attractions & Things to Do in Hollywood, FL
In recent years, Hollywood has become one of the best places to visit on Florida's east coast. While movie stars don't grace the palm-lined streets of this downtown, you'll find glistening beaches and a vibrant nightlife worthy of any A list celeb. Take that Hollywood, California!
This south Florida gem covers 27 square miles of the Atlantic coast, enticing visitors to while away a day on sand so soft, it soothes. When they're not busy sunning themselves on Hollywood's best beaches, guests are presented with a wide variety of things to do – from walking the gorgeous brick boardwalk to shopping at eclectic boutiques to catching a live show at ArtPark at Young Circle.
No matter what you're hoping to garner from your holiday in this Sunshine State gem, be it a romantic couples' vacation or a thrilling family retreat, you're bound to find it, and so much more in Hollywood.
And when you're not sure where to start, check out our list of the top attractions and things to do in Hollywood, Florida.
1. Hollywood Beach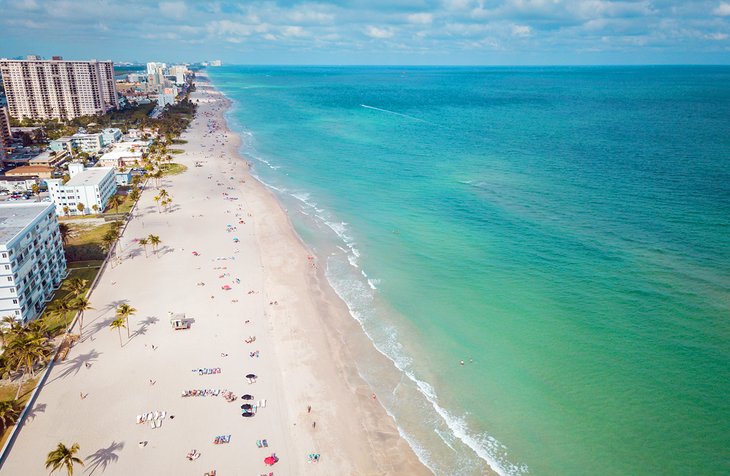 Most people come to Hollywood for its phenomenal beach – an oasis of soft, sugar-white sand, turquoise water, and towering palms that wave quietly in the breeze. Add to that the incessantly bright blue sky, and you'll see why so many visitors don't make it past this remarkable attraction. Not surprisingly, it's been dubbed one of the best beaches in neighboring Fort Lauderdale.
While you won't find the glitz or glam of its more famous Californian counterpart, this Hollywood beach is a definite crowd pleaser, and it boasts a ton of great opportunities for people-watching.
The beach is home to a lengthy paved boardwalk, which attracts visitors of all types (from bikini-clad rollerbladers to well-dressed dog walkers). It's lined by shops, restaurants, and quaint oceanfront cafés.
Set almost directly between the popular Fort Lauderdale (to its north) and Miami beaches (to its south), this lovely spot is a much quieter, more tranquil place to spend a day at the ocean. Its wide, vast expanse makes it easy to find a place to stretch out, throw a frisbee, or practice yoga on the sand.
2. Hollywood Beach Boardwalk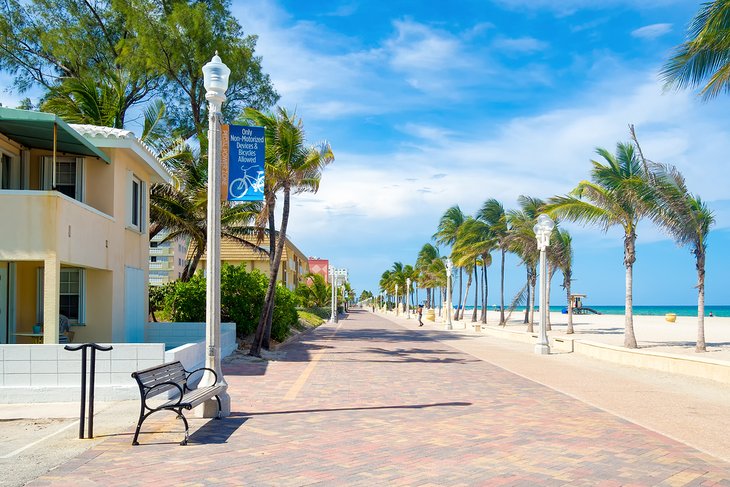 The immaculate Hollywood Beach Boardwalk stretches nearly 2.5 miles along the town's shore of the same name. A bright blip of bricked walkway, this expansive promenade welcomes exercisers of all sorts. Runners, walkers, stroller pushers, rollerbladers, scooters, and bikers all make their way along this popular tourist attraction and thoroughfare.
Remember when we told you about people-watching at Hollywood Beach? The boardwalk's winding stone wall is the perfect place to sit while you partake in this supremely entertaining pastime. If you catch it at the right time of day, you may even be able to rest in the shade of the neighboring palms.
When feeling peckish, you won't have to wander far. A variety of oceanfront restaurants and cafés line this strip, as do stores and bike and water sports rental companies.
3. Anne Kolb Nature Center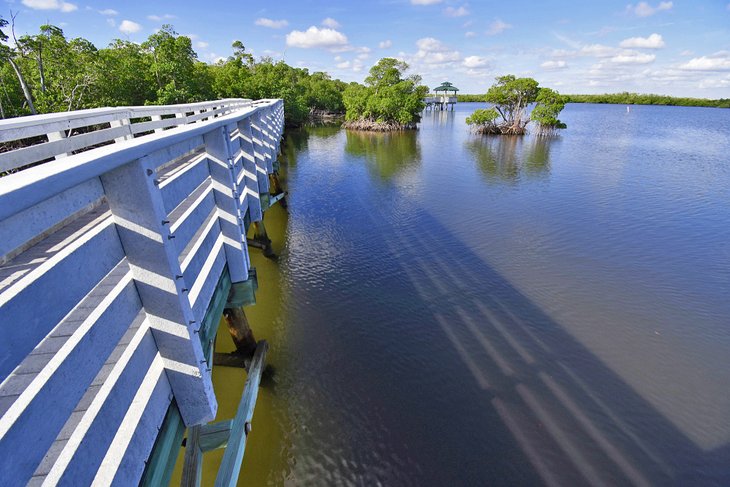 The Anne Kolb Nature Center boasts 1,501 acres of protected coastal mangrove wetlands. Within these wetlands lie an impressive array of native plants and animals, some of which are either threatened or endangered. If you're extra quiet while wandering along the wooden walkways, you may be able to spot some of them. In all, the center offers four main trails to explore: South Trail (2.3 miles), Mud Flat Trail (0.3 miles), Fishing Pier Trail (783 feet), and Lake Trail (0.2 miles).
If you'd prefer to see the area by boat, you're in luck! There are five vast boat trails to adventure through and fish in during the center's guided boat tours. On land, a large exhibit hall is home to a saltwater aquarium and plays host to a variety of traveling nature-themed exhibits by local artists.
Address: 751 Sheridan Street, Hollywood, Florida
Official site: http://www.friendsofannekolbnaturecenter.org/
4. ArtsPark at Young Circle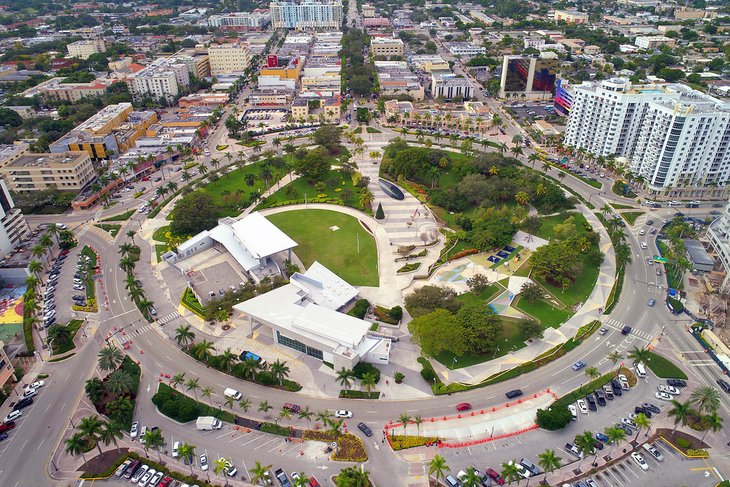 So many wonderful things happen at ArtsPark at Young Circle. From art festivals to open-air concerts, to dance shows to movie nights, there's always something to do in this 10-acre circle. Even better, it's all free!
Named after Hollywood's founder, Joseph Wesley Young, this popular tourist attraction is filled with an array of structures to keep kids and adults entertained. A 2,500-guest amphitheater, playground, walking paths, and a Splash Pad are just a few of the amenities on offer.
The Visual Arts Pavilion is another draw, beckoning guests to come in for a look at an artistic demonstration (i.e. glass blowing) or to attend a class (i.e. martial arts).
Insider's tip: If you're a fan of food, you won't want to miss out on Food Truck Monday. A local fave, this weekly event brings a ton of tasty food to this central spot.
Address: 2600 Hollywood Boulevard, Hollywood, Florida
Official site: https://www.hollywoodfl.org/65/ArtsPark-at-Young-Circle
5. Hollywood North Beach Park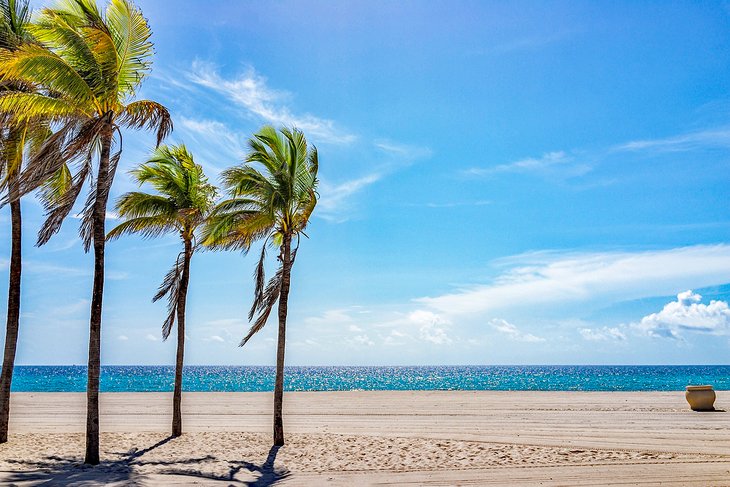 There's a whole lot to love about Hollywood North Beach Park. A whopping 56 acres of sand; walking paths; picnic tables; and tall, skinny palms greet visitors to this vast nirvana. You'll also find access to the public Hollywood Beach and the Boardwalk.
Parking, located at the A1A and Sheridan Street, is a breeze. Plus, you won't need to worry about constantly feeding the meter, as there's a set daily fee.
Bring lunch or dinner, and make use of the grills to cook your meal and prolong your stay. Or grab a bite at one of the many restaurants close by. You'll also find plenty of facilities (including showers), an observation tower, and a fishing pier.
Address: 3601 North Ocean Drive, Hollywood, Florida
6. Topeekeegee Yugnee Park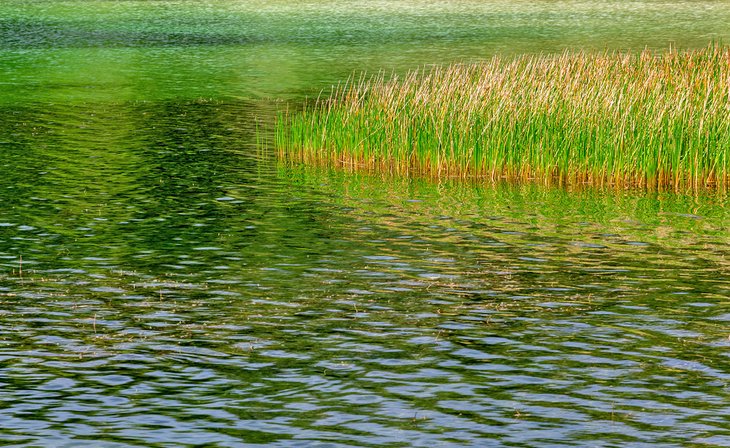 Known by locals as TY Park, this lovely urban spot will entertain kids and adults of all ages. Boasting a wide variety of activities (from racquetball to fishing), TY Park is one of the best places to visit in Hollywood. And it's impossible to get bored while you're here.
From Seminole, Topeekeegee Yungee means "meeting or gathering place," which describes the park perfectly. In addition to multiple bike and walking trails lined by large, shade-giving trees, this attraction's over 138 acres is also home to campgrounds and Castaway, a fun, palatable-sized water park loved by families. Its tennis and volleyball courts, playground, picnic area, and fitness facility beckon people to come together to play.
Prefer to be on the water? No worries, TY Park is also home to a giant swim lagoon and marina. Feel free to splash about to your heart's content or hop on a Swan Boat for a relaxing ride. Oh yeah, there's also a fishing pier and lake, which features a huge fountain. Told you there's no chance of getting bored.
Address: 3300 North Park Road, Hollywood, Florida
7. Yellow Green Farmers Market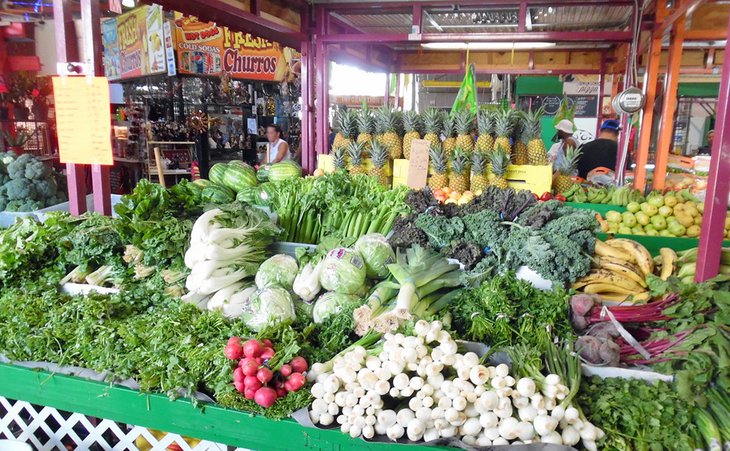 There's a lot to love about farmers markets. Scores of fresh fruit and veggies are heaped upon tables; the scent of freshly baked bread wafts through the air; bright flowers burst from pots, begging visitors to take them home. Hollywood's uber-popular Yellow Green Farmers Market takes this love to a whole new level.
The largest market of its kind in South Florida, this weekend event is held within a 100,000-square-foot area and features over 200 booths. So large it can at times seem overwhelming, you're guaranteed to find what you're looking for (be it raw honey, purple cauliflower, or kombucha) at this extensive locale.
More good news: Dogs are welcome here, so bring along your favorite four-legged friend. You'll surely find homemade doggy treats.
Insider's tip: An invigorating yoga class is held at the market every Saturday morning at 8:30.
Address: 3080 Sheridan Street, Hollywood, Florida
Official site: http://ygfarmersmarket.com/
8. Seminole Hard Rock Hotel, Hollywood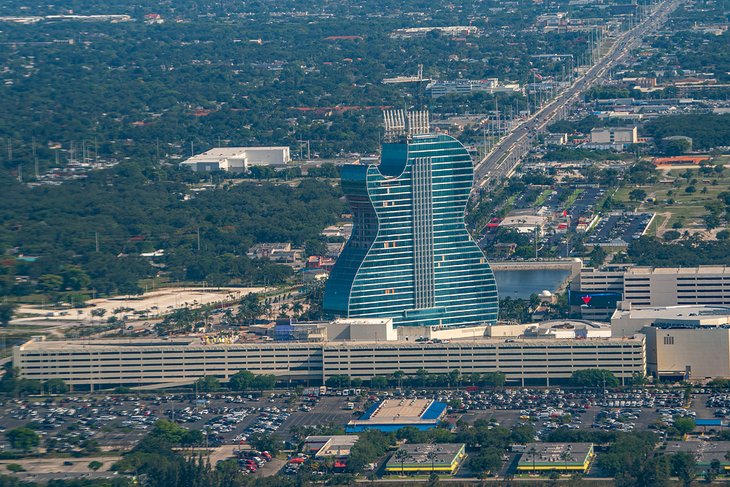 Once you've settled at the Seminole Hard Rock Hotel, you'll find it difficult to leave. This massive resort has pretty much everything you'd ever need for a fantastic vacation.
Whether you're traveling as a couple looking for romance, or with children who need to be constantly entertained, you'll find everything you need right here! Amenities include a fabulously relaxing spa, entrance to multiple area golf courses, and a long strip (26,000 square feet to be exact) of boutique shops. No wonder it's been dubbed one of the best places to visit in Hollywood.
The resort also boasts pools aplenty! With over 13.5 acres of pool area, guests can choose between a man-made beach section, tropical lagoon-style pool complete with waterfalls, or a massive water feature (we're talking the size of three football fields) that boasts canoeing, SUPing, paddle boating, and other activities. The hotel also offers a massive waterslide and Jacuzzis.
Being a Hard Rock Hotel, you know there'll be music. You also know that music is guaranteed to be good. Featured acts include the entertainment industry's hottest musicians – from Rod Stewart to Adam Sandler to The Who. The stage is also graced by hilarious comedians (i.e. Jerry Seinfeld), speakers, and giant screens broadcasting sporting events from across the globe.
Don't worry, you don't need to stay at the hotel to enjoy these fun facilities, but you will likely need to book events and rent a cabana in advance.
Address: 1 Seminole Way, Hollywood, Florida
Official site: https://www.seminolehardrockhollywood.com/
9. Downtown Hollywood Mural Project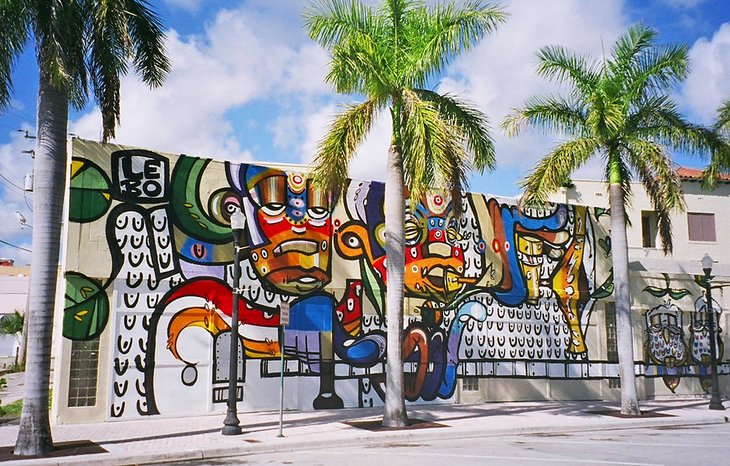 With the brightest of blue skies and shimmering sun, Hollywood didn't need extra brightening. Luckily no one told that to the artists in charge of the Downtown Hollywood Mural Project. A spectacular sight, this unique collection of outdoor murals serves to heighten the city's charm.
From giant whales to robots and the requisite pink flamingos, these incredible curated murals are worthy of every visitor's time. Each one is so fantastic, you'll just have to take photos. So, be sure you have enough storage space on your camera roll.
Spread throughout the downtown core, these murals are organized by the Hollywood Community Redevelopment Agency and created by artists from across town, the country, and the globe. Their goal is to "enhance and enrich the existing cultural fabric of our community." They succeed in doing just that.
10. Anniversary Park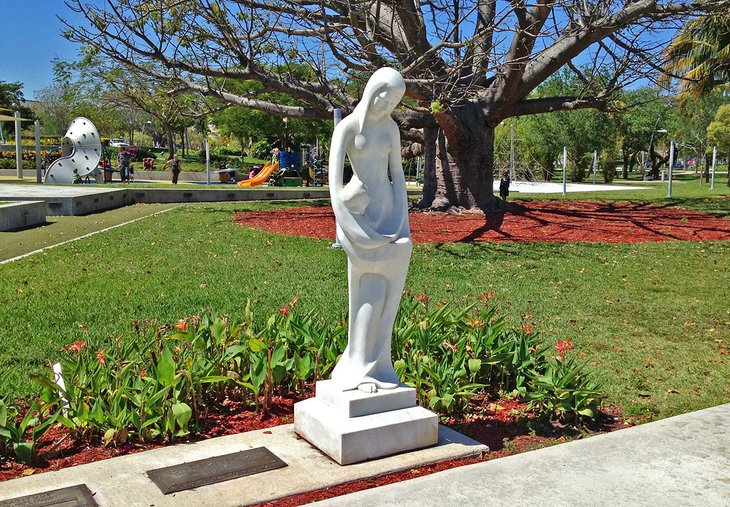 Anniversary Park is set within the heart of Hollywood's historic downtown. A welcome respite from the town's hustle and bustle, this small slice of nature provides big rewards for those looking to unwind. Majestic magnolia and oak trees line the pathways, drooping shade onto those in need of a break from the heat. Visiting this quiet spot is one of the best things to do in Hollywood.
A popular place for local families, the park also offers a small, well-shaded playground. Try your hand at a chess on one of the park's numerous games tables or drop onto one of its benches for an enjoyable breath of fresh air. When your bellies start to rumble, great food can be found at restaurants just steps away.
Address: 123 North 20th Avenue, Hollywood, Florida
11. Charnow Park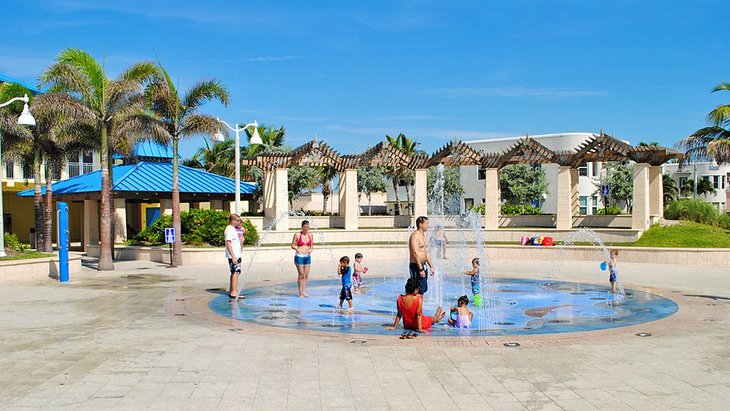 What better way to keep kids happy than by setting them loose in an oceanfront playground? Charnow Park is a fantastic beachside venue complete with a rock-climbing structure, sprinklers, pavilions, and picnic tables. Right next to these is a paddleball complex boasting six courts. These were established in the 1930s and have recently been refurbished.
The park lies just north of Hollywood Boulevard and is technically part of the Hollywood Beach Boardwalk. It boasts restrooms and an entertainment pavilion, which often hosts musicians playing everything from live jazz to pop classics.
At the edge of the park lies Florio's Restaurant of Hollywood, an Italian staple with some of the tastiest pizza in town.
Address: 300 Connecticut Street, Hollywood, Florida
12. West Lake Park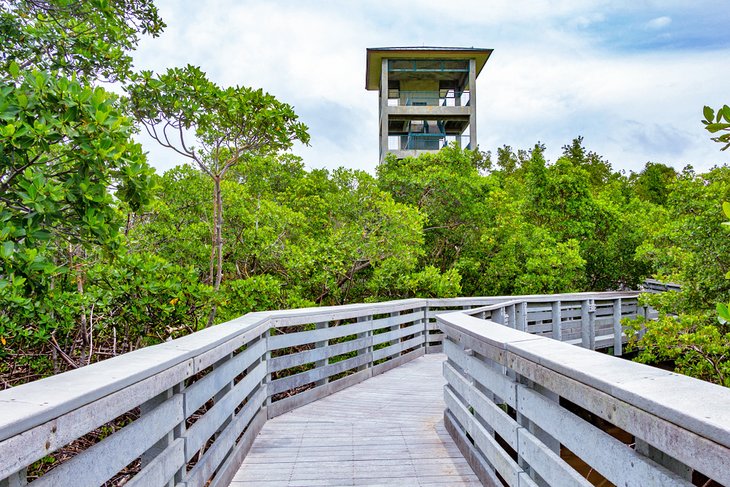 Mangroves abound in this lovely park, which is best explored by water. Home to about three miles of estuary, West Lake houses several of Florida's most prized creatures including, alligators, iguanas, and herons. The park is connected to the Anne Kolb Nauture Center and boasts a picnic area, tennis courts, and a marina.
Insider's tip: Rent a kayak from the marina to explore the watery pathways through the mangroves. You can also travel along in a canoe or on a paddleboard. The trails are labeled with colors: red, white, and green, to help you keep track of where you're going.
Address: 1200 Sheridan Street, Hollywood, Florida
13. Marine Environmental Education Center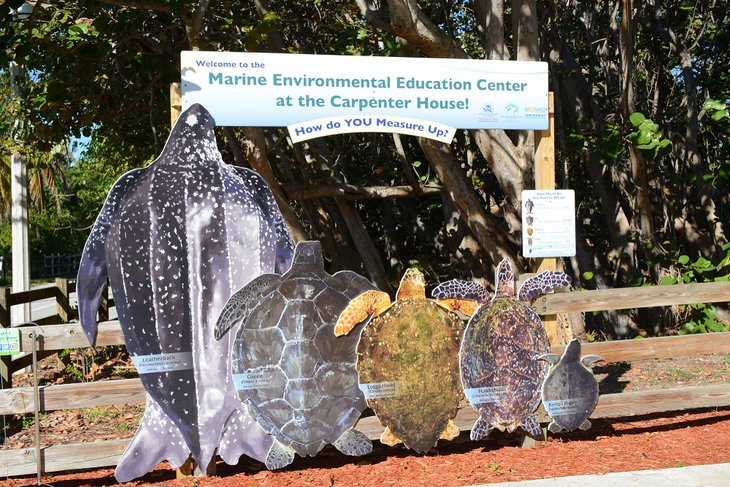 The Marine Environmental Education Center is housed in the historic, two-story Carpenter House at Hollywood North Beach Park. In an effort to increase awareness about the plight of endangered sea turtles and other creatures in the South Florida region, the house is also home to a sea turtle education center.
In addition to rehabilitating sick or injured turtles, the Marine Environmental Education Center hosts public feeding times, lectures, hatchling release programs, and other special events to help encourage tourists and locals to do more to aid these beautiful, and endangered, creatures.
A fabulous place to visit with kids in Hollywood, this educational haven uses murals, sculptures, interactive exhibits, and interesting stories to help make learning fun. The center is small, so you won't need to carve out too much time for a visit, but its message is large, and important.
Address: 4414 North Surf Road, Hollywood, Florida
Official site: https://hcas.nova.edu/carpenter-house-meec/index.html
14. Holland Park
Tucked away at the end of a street in a residential neighborhood lies the beautiful Holland Park. It's much larger than it looks from its inconspicuous entrance and expands along the shores of the Intracoastal Waterway. Walking along the winding trails and wooden boardwalk, it's easy to forget you're in a city. Climb up to the observation deck for a spectacular view.
Then, take a load off on one of the park's many benches, perfectly poised to offer you the most beautiful water views. Keep your eyes peeled for an iguana. You won't have to wait long to spot one, as the park is teeming with these adorable creatures.
Insider's tip: There are multiple boat launches on-site – perfect venues for dropping your kayak or canoe in the water. They're primed for larger crafts as well if you're hoping to head out further afield.
Address: 801 Johnson Street, Hollywood, Florida
15. Art and Culture Center/Hollywood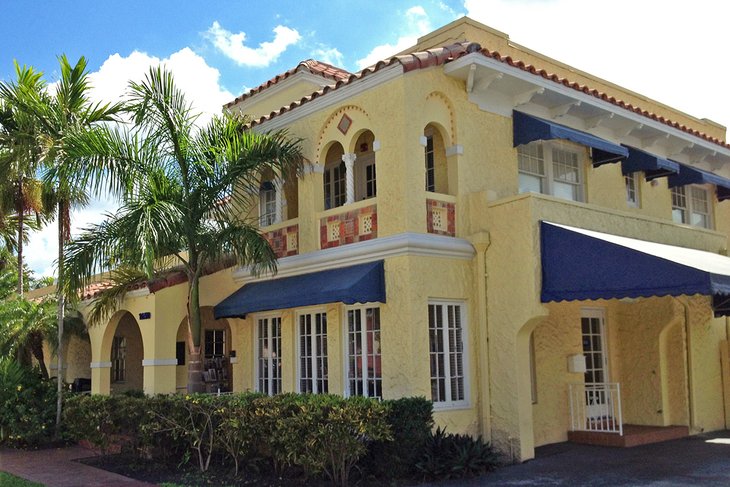 There's more to Hollywood than its spectacular beaches, and the Art and Culture Center/Hollywood gives visitors the perfect excuse to break for some shade.
A contemporary gallery is housed in the Kagey Home, a bright yellow mansion dating back to 1924. Inside, you'll find rotating exhibits of visual arts spanning four ground floor galleries. Upstairs exhibition spaces highlight creations crafted by school-aged students from kindergarten through grade 12.
Next door to the center's main building lies the Arts School, where guests can sign up for award-winning programs. Downtown is home to the center's third building, a 500-seat theater that puts on live performances, ranging from dance to music to plays.
Address: 1650 Harrison Street, Hollywood, Florida
Official site: https://www.artandculturecenter.org/
Map of Attractions & Things to Do in Hollywood, FL
Hollywood, FL - Climate Chart
Average minimum and maximum temperatures for Hollywood, FL in °C
J
F
M
A
M
J
J
A
S
O
N
D

24

15

25

16

26

17

28

19

30

22

31

23

32

24

32

24

32

24

30

22

27

19

25

17

PlanetWare.com
Average monthly precipitation totals for Hollywood, FL in mm.

75

69

71

99

161

254

170

175

210

164

116

67
More Related Articles on PlanetWare.com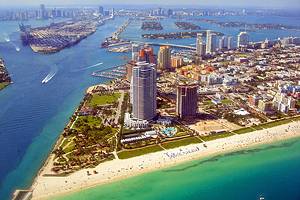 Get to Know Florida: The Sunshine state is one of the top vacation destinations in the U.S. It provides snowbirds with a ton of UV rays and soft, sandy strands. Beachin' isn't the only thing to do in Florida. From massive theme parks to a tour through the Everglades, check out these popular attractions. Still unsure of where to visit? This list of the best places to visit in Florida is sure to help.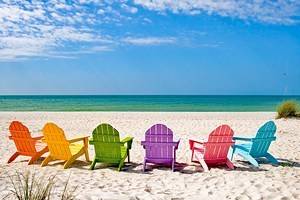 Best Beaches in Florida There are so many phenomenal beaches in Florida, that it can be difficult to decide which one to visit first. Check out our list of the best beaches to help whittle down your list. Traveling with kids? These Florida beaches are popular with children of all ages – from one to 100.