10 Top-Rated Things to Do in Lauderdale-by-the-Sea, FL
Lauderdale-by-the-Sea may be tiny, but what this quaint town lacks in size it more than makes up for in sheer beauty and a slew of visit-worthy attractions and things to do. Serenely fronted by lusciously soft golden sand, this seaside village is the perfect spot for visitors hoping to enjoy a quiet day at the beach.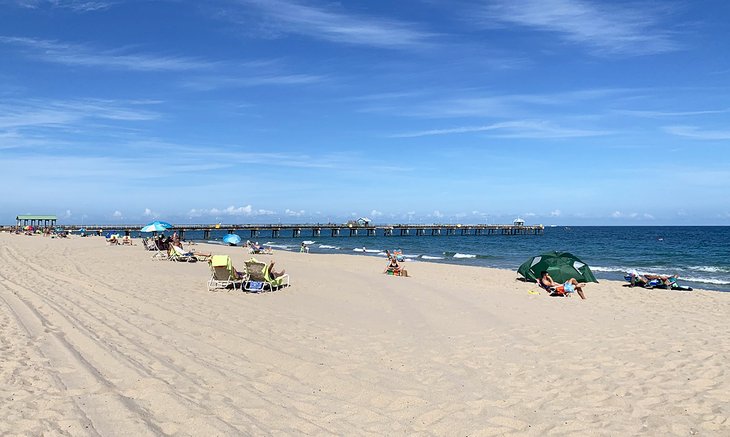 Located just over 34 miles north of Miami and 10 miles north of Fort Lauderdale, this pretty spot boasts ample opportunities for visitors to shop, eat, fish, lounge, sunbathe, and play in the waves without having to fight the crowds found at Florida's larger, more popular destinations.
The town's adorable sidewalk cafés and abundant live music make it easy to slip into vacation mode, while local parks allow visitors to appreciate the natural beauty found in this part of the state.
Whether you're looking to relax on the beach, or hope to scuba dive offshore, plan your trip with our list of the top things to do in Lauderdale-by-the-Sea.
1. Pull Up an Adirondack Chair in Anglin's Square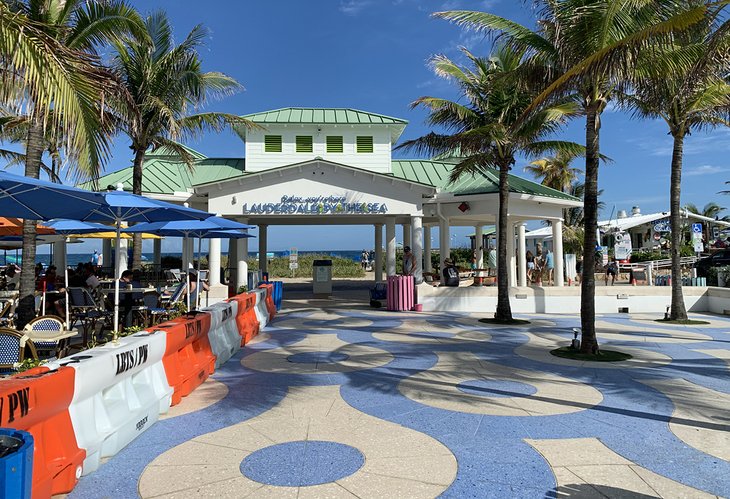 Colorful Anglin's Square serves as the heart of Lauderdale-by-the-Sea's oceanfront district. A hub of activity, this buzz-worthy spot is the place to be if you're hoping to enjoy a refreshing ocean breeze with a delectable meal. Not only will you find a slew of fantastic restaurants catering to every price range, but this beachfront hot spot boasts enough funky stores to tempt your inner shopaholic.
You can't go wrong with guac and chips from TacoCraft Taqueria, and Mulligan's Beach House offers everything from breakfast delights to fresh seafood mains. Plus, they have live music every Wednesday and Thursday, and a DJ plays on Fridays and Saturdays at 7pm. Reward your sweet tooth with a treat from 4D Gelateria.
Dunes Plaza is lined by colorful Adirondack chairs flanked by bright umbrellas. A perfect spot to enjoy a break from the sun's powerful rays, this central area is a great place to visit for people watching. And if you time it right, you may be witness to a live outdoor concert.
Connie Hoffmann Ocean Plaza lies just ahead of Dunes Plaza; its shady Beach Pavilion is as close as you can get to the sand without touching it. This is where you'll find fun outdoor games like Cornhole or Jenga.
Not sure the Anglin's Square vibe is right for you? Check out its live web cam and decide for yourself. At the very least, you'll be well entertained; after all, this webcam was voted the "winner of EarthCam's 25 Most Interesting Webcams" in 2018.
Address: 1 Commercial Boulevard, Lauderdale-By-The-Sea, Florida
2. Snorkel the Shipwreck Snorkel Trail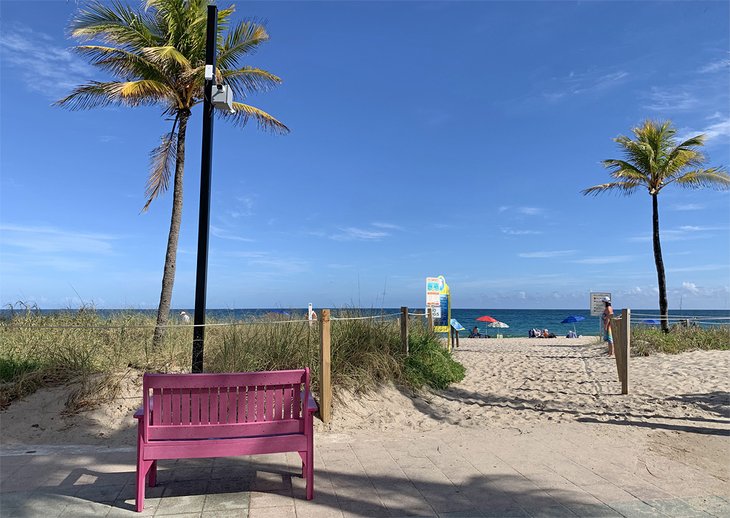 The Shipwreck Snorkel Trail can be found nearly 15 feet below the water near the Datura Avenue Portal, which provides easy access to the beach. Dedicated by Jean-Michele Cousteau in 2002, this artificial reef was created by the Marine Archaeological Council. It boasts concrete cannons, a ballast pile, and a vibrant coral reef.
The area is teeming with marine life, and snorkelers can expect to get up close and personal with some of Florida's most treasured residents, including lobster, tarpon, eels, stingrays, parrotfish, and nurse sharks.
It's best to pack your own gear, but there are some shops in town that will rent equipment like masks, fins, and snorkels. Fort Lauderdale Paddle Sports also rents paddleboards, and organizes guided snorkel/paddleboard tours.
To find the right spot, stand near the pier and look out. You'll see a white buoy anchored just offshore. The coral reef lies about 150 feet east and 150 feet south of this marker.
Insider's tip: The current can be strong in this area, so snorkeling and diving are only suggested for very competent swimmers. Low tide offers a calmer experience, but less visibility. Also, be sure to use a dive flag, so you can be spotted easily by other beachgoers and boaters. Visibility is best at high tide when divers can see up to 25 feet below them.
Address: Datura Avenue Portal, Lauderdale-by-the-Sea, Florida
3. Dive Down to the SS Copenhagen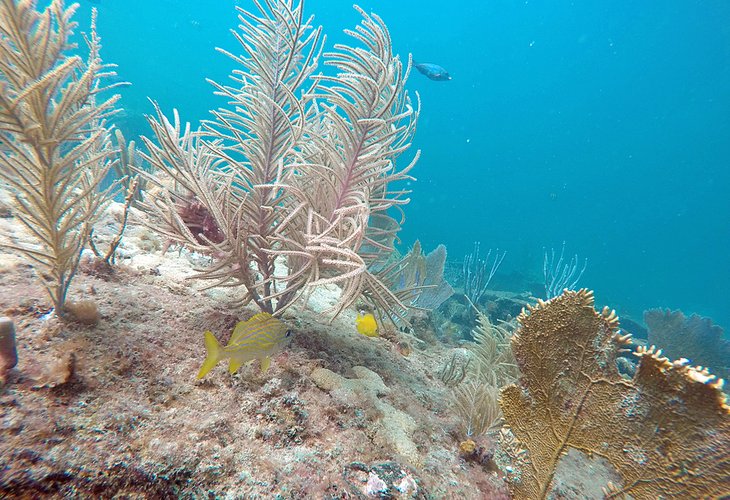 Another exciting underwater wreck popular with snorkelers and scuba divers, the SS Copenhagen is best visited with a local dive charter. These depart from nearby Fort Lauderdale, Deerfield Beach, and Pompano Beach.
In 1900, this late-19th century British cargo steamer crashed into a reef and sunk less than a mile off the coast of Lauderdale-by-the-Sea. Listed on the National Register of Historic Places since 2001, this attraction is a prime spot for viewing some of the area's most interesting underwater creatures.
The SS Copenhagen is located about 25 feet deep, in the Pompano Drop Off Reef snorkeling area. Visitors are encouraged to grab a plastic map from Town Hall or Gold Coast Scuba to take with them on their dive. It outlines major places of interest such as the anchor, donkey boiler, and cargo boom.
4. Access the Beach from El Prado Park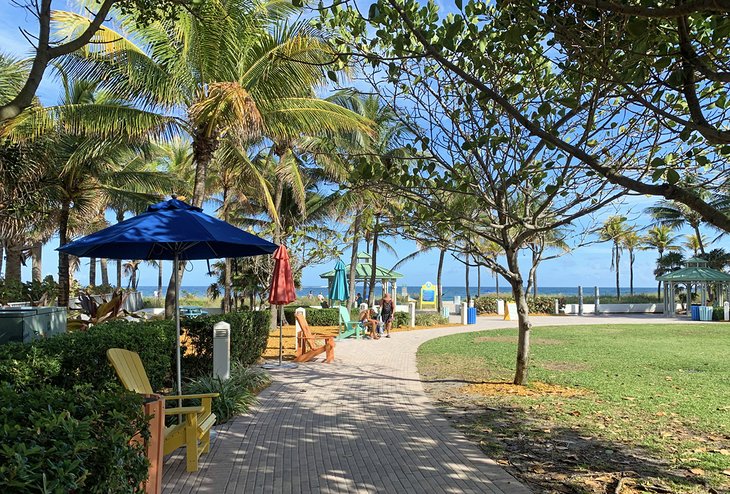 El Prado Park caters to those who enjoy a laid-back experience, and it's conveniently located close to both Town Hall and the beach. This pretty oceanfront haven boasts a thick carpet of grass, perfect for picnicking, and a curved brick pathway ideal for a jog or rollerblade. Hanging out here for a couple of hours is a fun free things to do in Lauderdale-by-the-Sea.
The multicolored Adirondack chairs and their accompanying bright umbrellas add a vibrant pop of color against a backdrop of azure ocean waves. They beg to be sat upon, if only for a few moments spent toweling off or people-watching. If you're lucky, you can score a spot in the shade, which will be a welcome respite from the hot afternoon sun.
It's a few minutes' walk from nearby Laura Ward Washingtonia Avenue Portal. You can access the shore from either place, but this pretty spot is more popular and inviting.
Join an early morning yoga class or stop by on a Sunday to enjoy the Farmer's Market, which is open year-round from 9am to 2pm.
Address: 4500 El Mar Drive, Lauderdale-by-the-Sea, Florida
5. Reel in a Big Catch at Anglin's Fishing Pier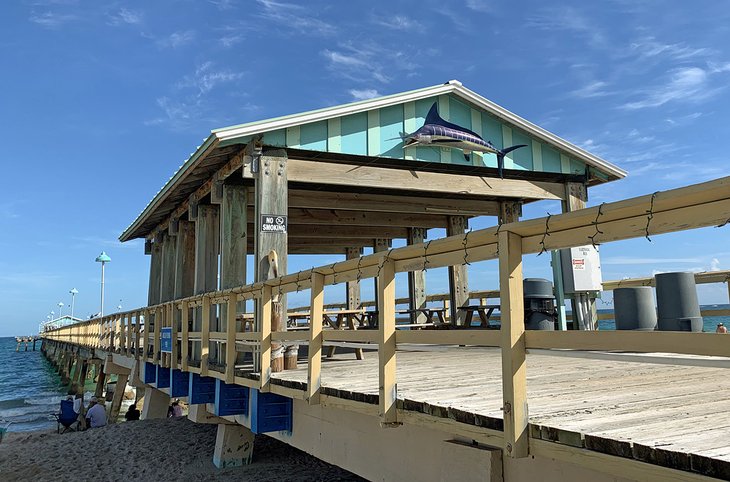 The original Anglin's Fishing Pier was built in 1942. Damaged by storms, it had to be rebuilt in 1963. It also boasts the most magnificent view of Lauderdale-by-the-Sea's beautiful waterfront, not to mention the sparkling Atlantic Ocean.
An early morning visit here rewards guests with an Instagram-worthy sunrise. If the water is calm, they'll easily catch sight of some of the local marine life (including turtles) swimming by. The long, wooden pier offers anglers an ideal spot to reel in a good catch whether they're fishing in the sand or reef section.
To walk the pier, visitors are asked to pay a nominal fee. Those wishing to fish will have to pony up a bit more. Fishing equipment and bait can be purchased (or rented) from a store at the entrance.
Insider's tip: Part of the pier was damaged in a hurricane, so guests aren't permitted to use the whole length. It's been only half accessible since 2017.
Address: 2 Commercial Boulevard, Lauderdale-by-the-Sea, Florida
6. Museum of Discovery and Science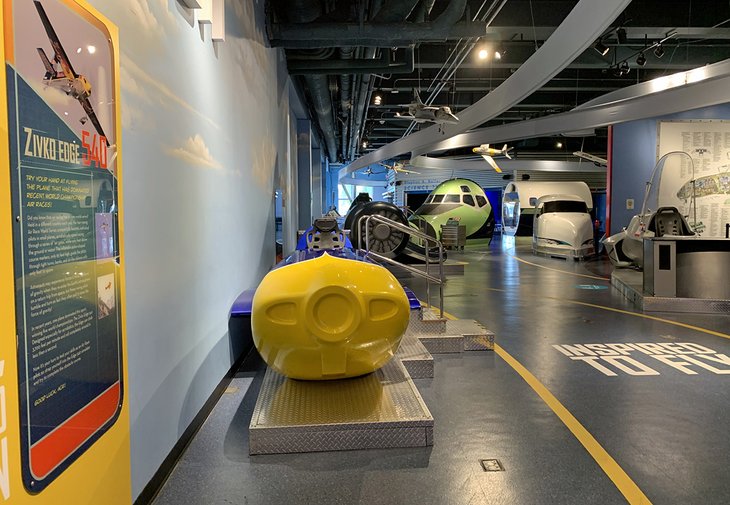 If you have children in tow, you absolutely must visit the Museum of Discovery & Science. This stellar attraction resides in nearby Fort Lauderdale, which is less than eight miles away, and it is chock full of interactive exhibits so exciting, both you and your kids will beg to stay longer. Trust us, this museum is epic and is one of the best places to visit with the family.
Don't believe us? Consider this: where else can you fly a Lockheed Martin F-35 (in a simulator), ride an airboat through the Everglades (virtually), hike through Florida's diverse ecosystems (indoors), watch otters play, and get smashed by a hurricane (in a simulator)? Told you it was epic.
Did we mention that guests can also watch science presentations that feature everything from exciting chemical reactions (read, explosions) to live animal shows? Oh, and there is a giant IMAX® 3D theater on-site.
Plus, there are loads of informative exhibits designed to intrigue your minds on topics ranging from the human brain to animal nature to dinosaurs to the science of flight. Be sure to partake in at least one experiment while you're there.
You're bound to get hungry during your visit. If you can't tear yourself away, grab a bite at Elements Café. Otherwise, bring a picnic and enjoy it either in the Grand Atrium or across the street in the riverfront Esplanade Park. Also across the street are Pizza Craft Artisan Pizzeria.
Insider's tip: Bad weather days and holidays often correlate with large crowds at this popular tourist attraction, so be sure to arrive early.
Address: 401 SW 2nd Street, Fort Lauderdale, Florida
Official site: https://mods.org/
7. Tour the Eccentric Bonnet House Museum & Gardens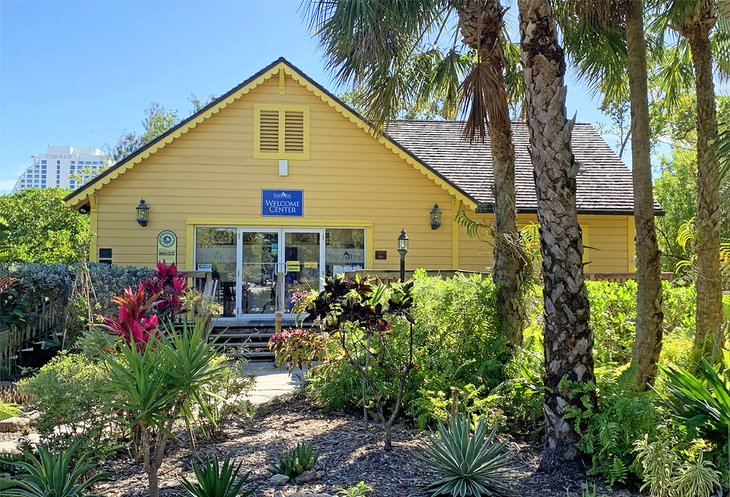 The canary yellow Bonnet House Museum & Gardens is an artistic marvel. Your eyes are in for a treat at this remarkable waterfront estate in Fort Lauderdale. This attraction is filled with intricate and unique wonders, ranging from blooming gardens to bubbling fountains to vibrant paintings.
Upon his 1919 wedding, Chicago attorney and naturalist, Hugh Taylor Birch, gifted 35 acres of land to his daughter, the poet, Helen Birch, and her husband, Chicago artist, Fredric Clay Bartlett. Birch then helped supervise the building of Bonnet House, the newlyweds' magnificent home.
Helen died of breast cancer just six years later, and Frederic stopped visiting the beautiful home until he eventually remarried in 1931. Frederic's new wife, Evelyn Lilly, loved the home and continued to winter here until her death (at the age of 109!) in 1997.
Today, thanks to Lilly's efforts to preserve Bonnet House, which was named after a type of water lily, the massive estate can be enjoyed in all its original splendor. Tour the personal art collection of the Birch and Bartlett families, peek in their art studio, ogle the orchids, or grab a snack at The Little Café.
Address: 900 North Birch Road, Fort Lauderdale, Florida
Official site: https://www.bonnethouse.org/
8. Chase the Kids around Friedt Family Park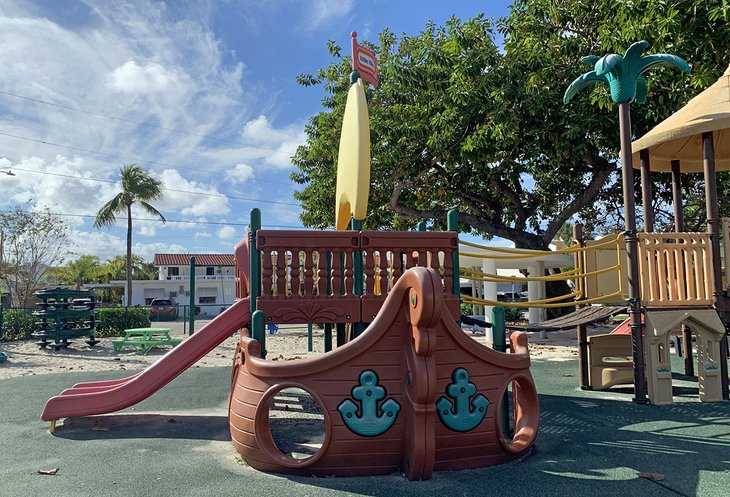 True to its name, Friedt Family Park packs a slew of fun into its grassy expanse. A welcome respite set behind Town Hall in the heart of downtown, this lovely community park is a perfect place for all members of the family, especially those who enjoy running across a rope bridge to a giant plastic pirate ship.
Challenge each other to a game of tennis or basketball, try your skills at shuffleboard, or roll a bocce ball around. You won't believe how many activities they pack within the borders of this relatively small park. There are restrooms on-site as well, which is a blessing for those traveling with young kids. Speaking of kids, the playground is a popular spot for family fun.
Insider's tip: The courts are only available to "keyholders," so you'll have to rent a property nearby for access. The rest of the park is free to the public.
Address: 4500 Bougainvilla Drive, Lauderdale-By-The-Sea, Florida
9. Take a Hike at Hugh Taylor Birch State Park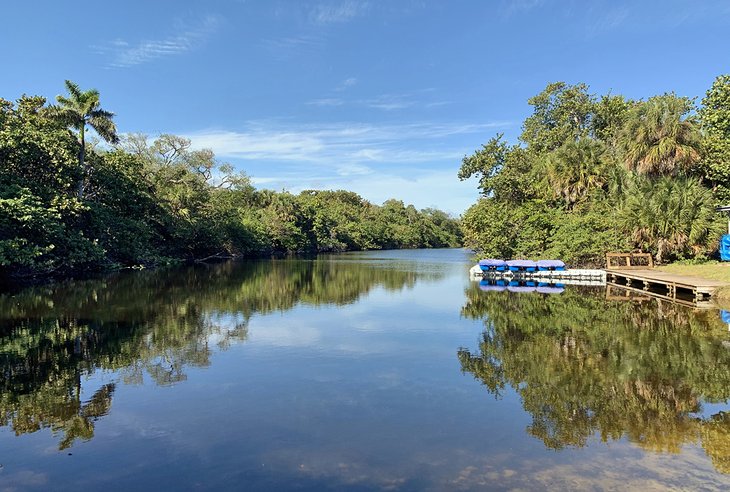 The serene Hugh Taylor Birch State Park exudes calm. Boasting a sparkling lagoon, pristine beach, and multiple tropical-tree-lined walking trails, this is the place busy people come to unwind. Dubbed "Central Park" by locals, this vast landscape provides visitors with a well-deserved break from the hustle and bustle of city life.
There's no limit to the fun that can be had in this relaxing place to visit. Whether you're hoping to chillax beachside or work up an appetite by running or biking the trails, there's something for everyone at Hugh Taylor Birch State Park. Wear appropriate shoes if you're hoping to bike or hike, and pack sandals if you're planning to head to the water.
While here, guests can rent a kayak, canoe, or stand up paddleboard to steer through the lagoon; strap on rollerblades to skate along the paved paths; or head out fishing – there's boat access from the Intracoastal Waterway.
Park & Ocean is the on-site, well-shaded restaurant, which serves up delicious fare right near the tunnel under the A1A that leads to the beach. Grab food to go and enjoy it on your sun lounger for a beach picnic. Not a fan of sand in your sandwich? Eat your meal on the outdoor patio, or head to one of the park's many picnic tables.
If you're looking for more to do, head to the Terramar Visitor Center where you can learn about the area's most interesting wildlife and say "hi" to the giant turtle who lives in a tank outside the front door. Book a Ranger Tour on a Friday or Saturday to learn even more about South Florida's diverse wildlife and ecosystems.
Address: 3109 E. Sunrise Boulevard, Fort Lauderdale, Florida
Official site: https://birchstatepark.org/
10. Laura Ward Washingtonia Avenue Portal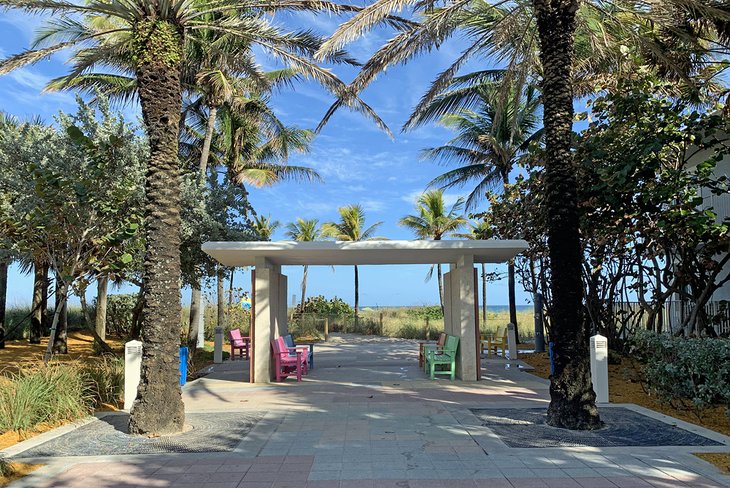 The Laura Ward Washingtonia Avenue Portal envelopes a tiny park in the El Mar neighborhood. Its main purpose is to grant visitors easy access to the lusciously soft, sandy beach. Unlike other, larger local parks, this natural space is a quiet area to take a load off, enjoy the pretty scenery, and cool off in the shade of its tall, waving palm trees.
If you're hoping to kick a ball around, enjoy a picnic on the grass, or eat a picnic in a pavilion, this isn't the place for you. If you're looking for a place to park your bike, shower off the sand trapped in your swimsuit, or just sit quietly on a shaded bench overlooking the ocean, you're in luck.
Address: The intersection of El Mar Drive and Washingtonia Avenue, Lauderdale-By-The-Sea, Florida
Map of Things to Do in Lauderdale-by-the-Sea, FL