12 Top-Rated Things to Do in Coconut Creek, FL
A pretty little enclave located on the outskirts of Pompano Beach, Coconut Creek is a quaint and quiet place to enjoy a South Florida vacation. A 12-square-mile sliver of land welcomes visitors to this upmarket area, which was considered part of Pompano Beach until the 1960s. Despite its small size, there are plenty of fun things to do in this upscale destination.
While the nearest beach is about half an hour east of town, travelers will be well and truly entertained with a good variety of places to visit in Coconut Creek. They won't even miss the ocean!
Coconut Creek has been dubbed "Butterfly Capital of the World" in homage to its star tourist attraction, Butterfly World, which houses thousands of butterflies in eye-catching aviaries. Looking for excitement? Don't worry! Watching beautiful insects flutter around isn't the only way to stay busy.
From wandering thorough nature reserves to flexing their shopping muscles to racing through giant playgrounds, there's something to keep tourists of all ages entertained while visiting this sweet spot on Florida's East Coast.
Plan your sightseeing and find the best places to visit with our list of the top things to do in Coconut Creek.
1. Soak Up the Serenity at Butterfly World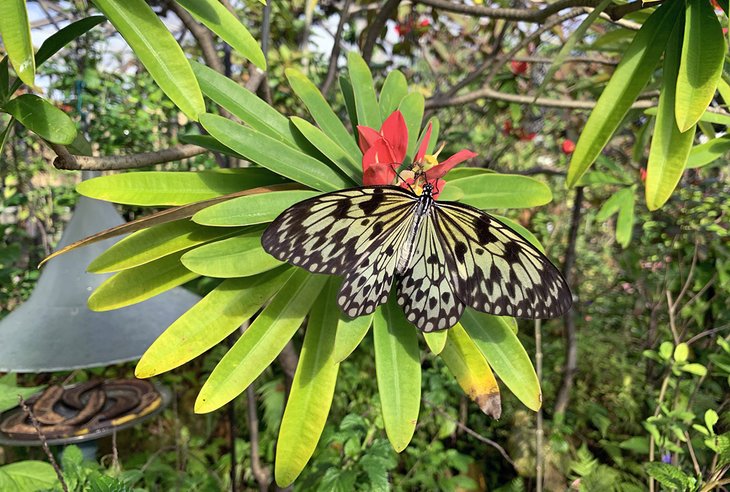 Visiting Butterfly World is the best thing to do with families in Coconut Creek. Set deep within the massive Tradewinds Park, this serene locale is the perfect place to forget your worries and recharge.
Classical music is piped in through lush aviaries scented by the flowering plants used to attract the main stars: butterflies. If the music doesn't soothe your soul, the peaceful sound of trickling fountains and waterfalls certainly will.
The first butterfly house in the United States, this sprawling sanctuary was opened in 1988 and remains the largest of its kind worldwide. Over the years, the staff have raised more than one million butterflies, and visitors get a chance to watch them emerge from their cocoons on-site.
A wave of amazement passes through guests the moment they enter Paradise Adventure Aviary. Tiny, colorful butterflies dart through the air, zipping from plant to plant so quickly, it's easy to think your eyes are playing tricks on you. Trying to follow just one is almost impossible.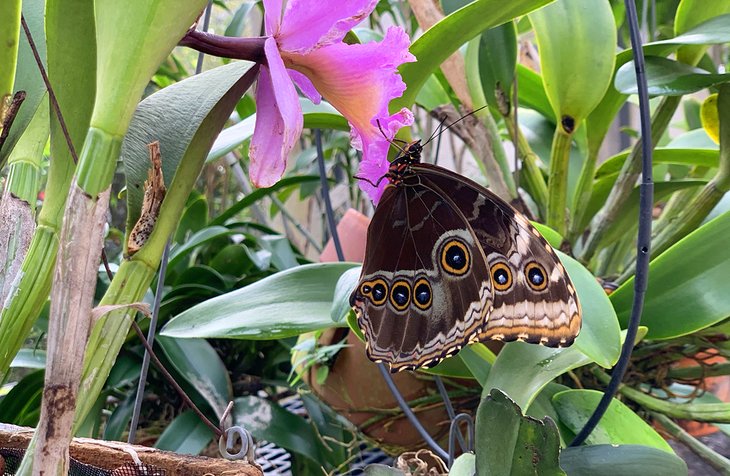 Butterfly World contains multiple outdoor aviaries, including one devoted to tropical birds. You'll also find a Bug Zoo (complete with a massive tarantula, scorpions, and cockroaches), a wibbly wobbly suspension bridge stretching across Butterfly World Lake, and a Lorikeet Encounter where guests can feed birds from tiny cups.
Relax with a cuppa at the on-site Mariposa Café, or buy a butterfly-friendly plant at the garden center or a butterfly-themed souvenir at the gift shop on your way out.
Insider's tip: Take time to sit on one of the many benches provided in each aviary. You'll be amazed by the number of different butterflies that flutter past. If you're lucky (and still enough) one may even land on you.
Address: Tradewinds Park, 3600 West Sample Road, Coconut Creek, Florida
Official site: https://www.butterflyworld.com
2. Enjoy a Walk at Fern Forest Nature Center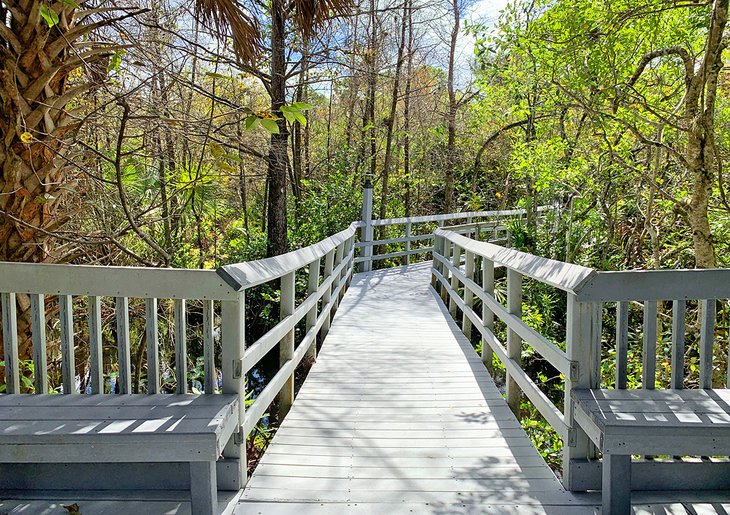 Named after the abundant plants in this vicinity, Fern Forest Nature Center is home to over 30 species of ferns. A designated Urban Wilderness Area, this verdant forest covers 244 acres of Broward County and contains remains of the Cypress Creek floodway. Wandering through its vast trails, visitors are lulled by the calming sound of leaves rustling in the breeze and birds chirping from tree branches above.
Four varied nature trails can be accessed from a trailhead located behind the area's nature center, which houses a restroom; amphitheater; store; and Royal Fern Hall, which is located upstairs.
The winding trails lead guests through the lush grounds, which have become a refuge for local wildlife. Keep your voices low and footsteps light — you might just spot a gopher tortoise, indigo snake, coyote, or even a fox in this captivating tourist destination. Watch where you step, as tiny lizards often scurry underfoot.
Cypress Creek Trail is the most accessible. It consists of a half-mile wooden boardwalk that turns into Butterfly Bridge as it crosses the Rewatering Channel.
The Wetland Wander Trail leads from the Rewatering Channel to Prairie Overlook, a one-mile ground trail with a 300-yard loop. Maple Walk is a half-mile-long trail, which can get wet and slippery in inclement weather.
Traveling with a pet? Head to the new Windmill Dog Park, located just four minutes away.
Address: 201 Lyons Road South, Coconut Creek, Florida
3. Shop 'Til you Drop at Promenade Coconut Creek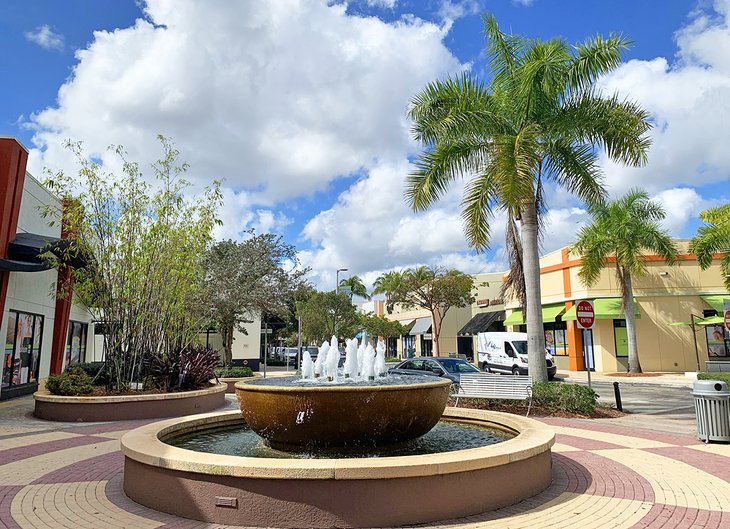 Shopping rarely looks as good as it does at Promenade Coconut Creek. An upscale, open-air mall, this lovely retail center makes it easy to empty your wallet. Shoppers are serenaded by trickling fountains as they wander the palm-lined streets and lush alleyways of this swanky spot, at times forgetting they're in the heart of a mall.
Feeling truly relaxed by the luxurious ambience, retail lovers are more inclined to part with their hard-earned cash; and an abundance of parking makes it easy to settle in for a while. Unique shops like Apricot Lane Boutique mix with well-known chains such as Lane Bryant, Lenscrafters, and Chico's, serving up a vast array of selections perfect for any shopaholic.
Whether they dine at one of the 12 restaurants and cafés (Carrot Express is a trendy, health-conscious eatery while Saito's offers Japanese fare), grab a bag of candy for the kids at It'Sugar, or enjoy a tasty treat from Cold Stone Creamery, guests will leave feeling well sated.
Address: 4443 Lyons Road, Coconut Creek, Florida
Official site: https://www.promenadeatcoconutcreek.com/
4. Inhale the Fresh Air at Hillsboro Pineland Natural Area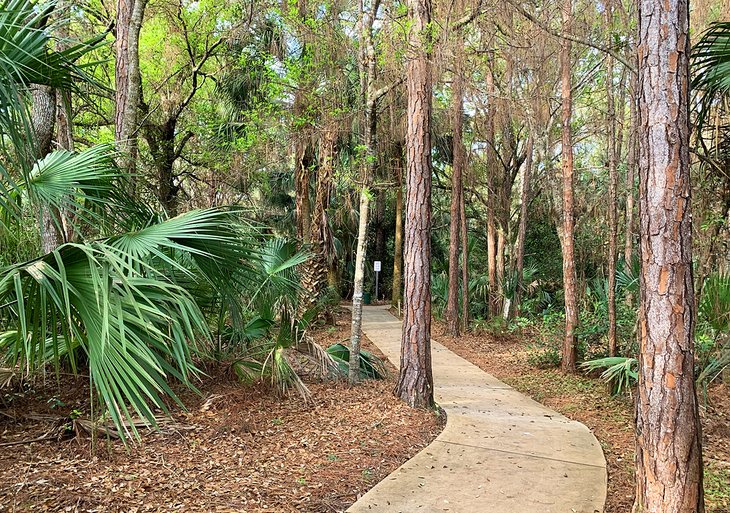 It's easy to feel at one with nature at the 44-acre Hillsboro Pineland Natural Area. Visitors are surrounded by some of South Florida's most treasured plant life within these borders in the pine flatwoods and isolated wetlands.
Saw palmetto, slash pine, swamp fern, Sabal Palm, and Cypress are just a few of the remarkable examples of vegetation found here. Wildflowers bloom brightly, adding color to the trails and attracting butterflies. Corkystem passionflower, ironweed, and blue curis can all be found along the two main trails.
The Prairie Trail runs 700 feet from the parking lot, past the Cypress Dome Swamp to Prairie Overlook. From here, visitors are treated to picturesque views over Wet Prairie to the verdant Pine Flatwoods beyond. Douse yourself in bug spray before heading out, as it can get buggy.
The 1,000-foot Pineland Trail leads to a loop, which includes the Pineland Overlook, providing views over the Pine Flatwoods. On the way, you'll pass seating areas to better enjoy a peaceful moment. A wooden boardwalk guides visitors over particularly marshy areas, while signs (some with PVC codes) educate guests about the flora and fauna before them.
Address: 5591 NW 74th Place, Coconut Creek, Florida
5. Take a Break at the Winston Park Nature Center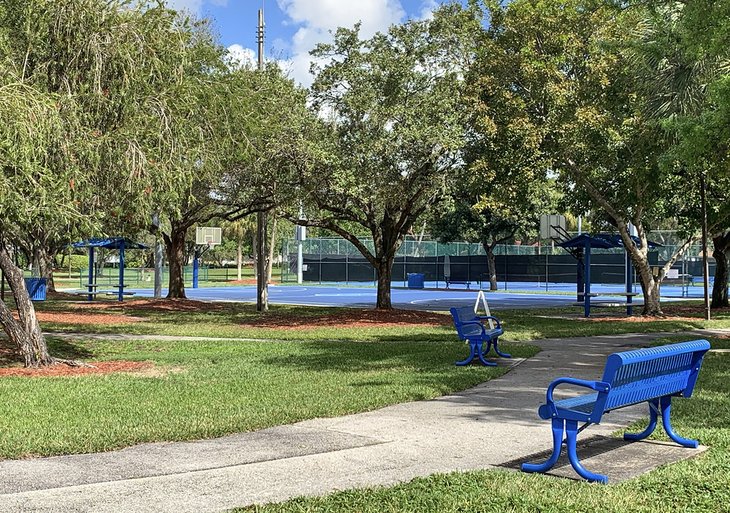 Winston Park Nature Center is a well-used recreation area set in the middle of a residential neighborhood. It has everything visitors look for in a park — a space-themed playground; tennis, racquetball, volleyball, and basketball courts; covered picnic tables; and a giant pavilion that makes hosting outdoor parties a breeze. Spending a day here is one of the best free things to do with the family.
Looking for a more natural experience? You'll find that, too. In addition to its 1,005-foot-long boardwalk, which sweeps through and around the area's native vegetation, the Nature Center boasts a long trail and nature preserve, which attracts interesting wildlife (we're talking iguanas and a bevy of birds) to the area.
The Promenade at Coconut Creek is a mere five minutes away, offering a perfect spot for lunch.
Insider's tip: This center can be tricky to find, as GPS often sends visitors to NW 49th Court, so be careful. The playground and basketball court entrance lies at NW 49th, just off Winston Park Boulevard.
Address: 5201 NW 49th Avenue, Coconut Creek, Florida
Official site:https://www.coconutcreek.net/parks-and-recreation/park-locations-hours-and-features/winston-park
6. Play All Day at Tradewinds Park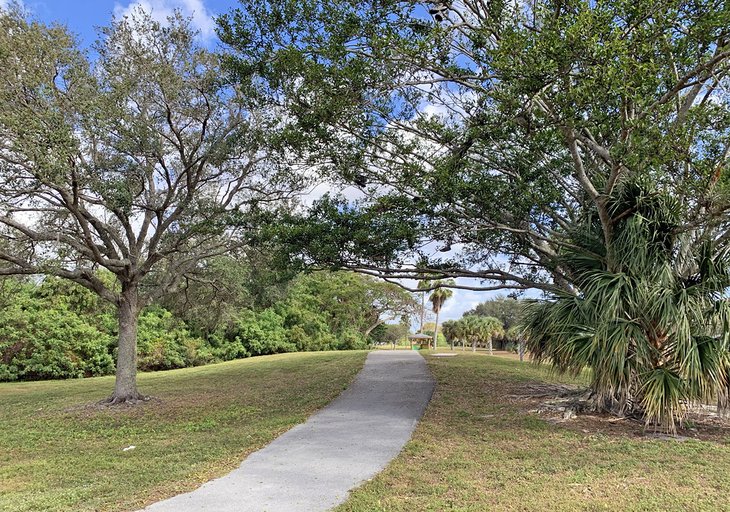 It's impossible to get bored in Tradewinds Park. Whether you're hoping to picnic by the lake, run along the paved paths, or throw a frisbee, you'll find plenty of space to enjoy your favorite activities at this South Florida attraction.
Tradewinds Park spans over 600 acres on either side of Sample Road and is home to horse stables, a model steam train, Butterfly World, two disc golf courses, playgrounds, volleyball courts, baseball diamonds, and soccer fields, just to name a few.
This is the largest park in Broward County, and visitors are welcome to fish in the lake, ride horses, or soak up the sun on a bench. Told you there was no chance to get bored. This park offers a little of everything.
Address: 3600 W Sample Road, Coconut Creek, Florida
7. Tradewinds Park's Disc Golf Courses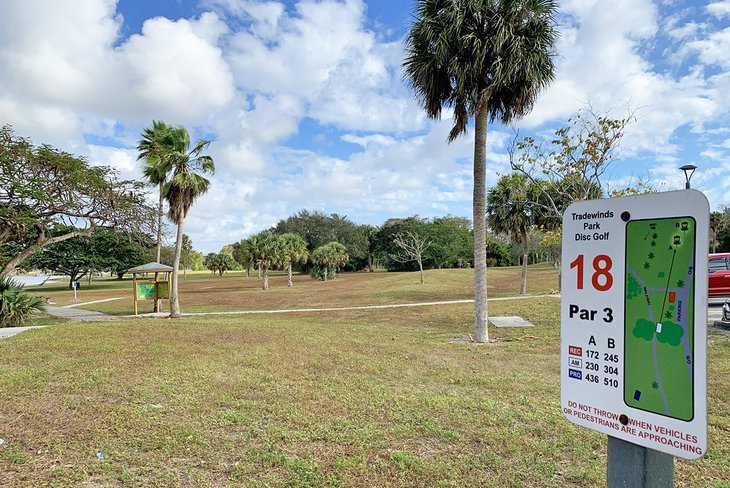 Disc Golf is an up-and-coming sport popular with frisbee lovers of all ages, making it one of the most fun things to do with the family. Always ahead of the trends, expansive Tradewinds Park is home to two disc golf courses.
Tradewinds Disc Golf is an 18-hole course that runs over wide, open fields on the south side of Sample Road, just past Butterfly World. There is plenty of throwing space here and only a few obstacles, making it a perfect locale for those easing themselves into the game.
On the north side of Sample Road lies the popular Tradewoods Disc Golf Course. Created in 2019, this course is more challenging than its neighbor, offering players a vast array of throwing paths and a variety of challenges, including water hazards. It's much easier to lose your disc here. Also, beware of the fire ant hills.
Insider's tip: You'll find disc golf's office near the main entrance to Tradewinds Park on the south side of Sample Road. You can purchase additional equipment here if you're in need.
Address: 3600 W Sample Road, Coconut Creek, Florida
Official site: https://www.pdga.com/course-directory/course/tradewoods-disc-golf-course
8. Go for a Ride at Acts 2 Acres Equestrian Center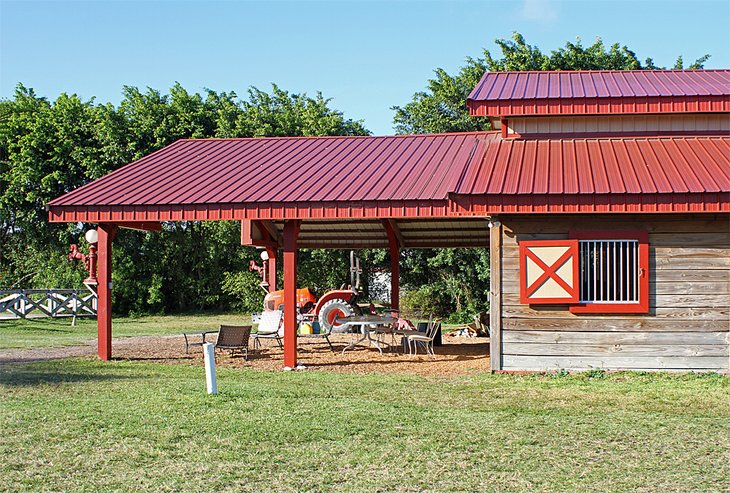 Horse lovers won't want to miss a visit to Acts 2 Acres Equestrian Center, a Coconut Creek staple offering English-style riding lessons to children and adults. Whether you're hoping to become a professional jumper or merely gain enough confidence to trot horseback, you'll be rewarded by a visit to this adorable venue.
Smiles abound as you walk around the property, which consists of two riding arenas, an oversized barn, a lounge, and gorgeous horses, of course. Run by Michelle Pickard since 2007, Acts 2 Acres offers horse camps for kids over winter, spring, and summer holidays.
You may think you're lost while driving up to Acts 2 Acres — it's set just a block north of busy W Hillsboro Blvd, and there doesn't appear to be any farmland in this neighborhood, but the stables are set far back from the road. Follow the long driveway, and you'll come across the arenas. If you're hoping to tour the barn, call in advance to book a time.
Address: 4280 NW 71st Street, Coconut Creek, Florida
Official site: https://acts2acres.com/
9. Aim for Par at Oriole Golf Club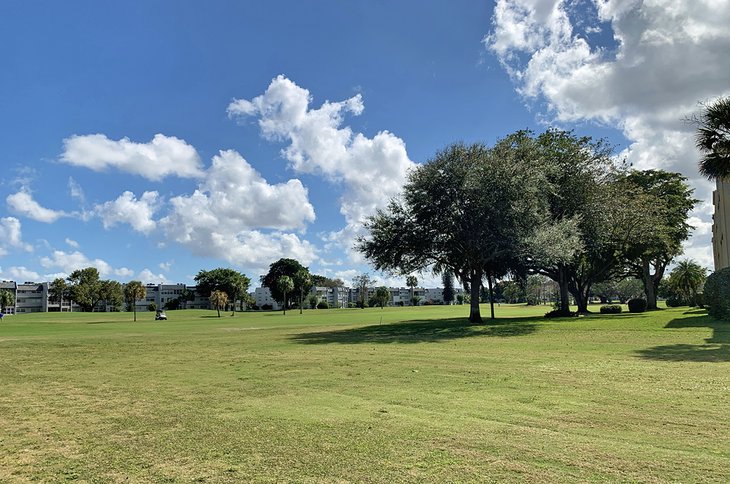 Visiting Florida without golfing is like touring Italy without eating pasta. While many of the state's flawlessly groomed courses are reserved for members, Oriole Golf Club is a semi-private establishment open to those who'd like to improve their swing in a serene yet affordable setting.
A par 72, this scenic course opened in 1971 and lies just six miles southwest of Coconut Creek in Margate. It's located in a 55+ community and surrounded by three-story-tall condos.
The course currently presents enough challenges (including a few par 3s) to entice those who lean more towards the intermediate side of the spectrum. A wonderful place for beginners, the fairways are quite open and spacious, granting new golfers a bit of an advantage on their opening shots.
Consider yourself more advanced? You're sure to enjoy the "relatively quick" greens and random challenges throughout. When you've finished your game, settle in for a tasty meal at the on-site restaurant. The wraps are particularly light and delicious.
Address: 8000 Margate Blvd, Margate, Florida
Official site: http://www.oriolegolfclub.com/
10. Race a Cheetah at Sugar Sand Park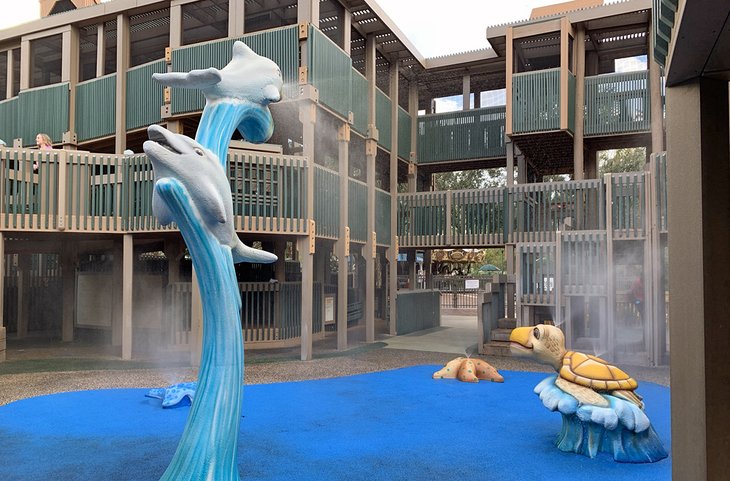 If you're traveling with kids in tow, you'll want to visit Sugar Sand Park, a top thing to do in nearby Boca Raton. Just 10 miles northeast of Coconut Creek, it's easy to reach and is a great place to visit with kids, especially on a super hot day.
Sugar Sand Park is home to everything you never knew you needed for a fun family day out. From watching plays at the Willow Theater to learning how things work at the Children's Science Explorium to riding an old-fashioned carousel, you'll be well entertained.
An animal racing station in the extravagant playground allows kids and parents to race along a track in competition with various animals — don't worry, they're represented by lights, not actual creatures. We dare you not to jump on this playground's super squishy floor, perfect for tumbling toddlers.
The colorful splash zone is a wonderful place to visit to cool off, and kids can spend hours playing hide and seek among the giant play structures. Luckily, there are picnic tables and pavilions nearby, as well as grills on hand to make cooking lunch (or dinner) a cinch.
Hoping for a more peaceful experience? Hit the nature trails. There are 132 acres to explore, which means there's plenty of space to wander.
Address: 300 Military Trail, Boca Raton, Florida
Official site: http://www.sugarsandpark.org/
11. Water-Ski or Fish at Quiet Waters Park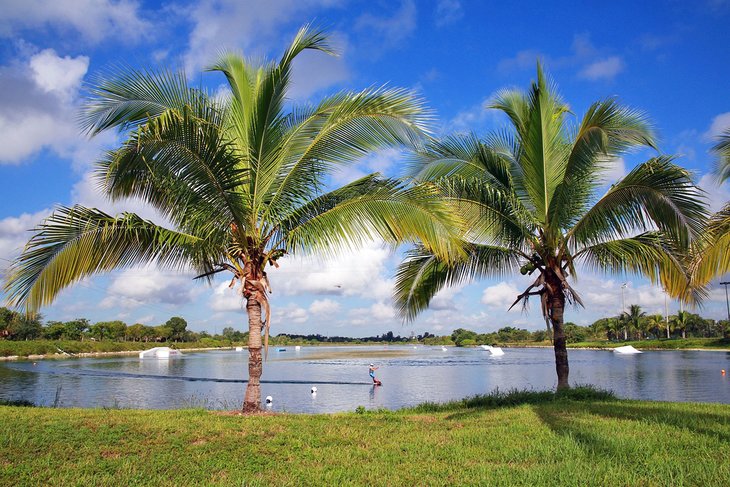 One of the top things to do in nearby Deerfield Beach, uber fun Quiet Waters Park is less than five miles from Coconut Creek. You'll definitely want to reserve a day or three to explore this exciting spot, home to a campground and more than 430 acres of natural wonderland.
Sparkling lakes invite visitors to boat or fish, while multiple trails are primed for walking, biking, and running through the verdant landscape. Kids will adore the Splash Adventure water park while their grownups may prefer to try their hand at a game of basketball, volleyball, or disc golf.
The park is also home to popular Ski Rixen USA, a unique take on waterskiing where guests are pulled by a cable across a lake while donning water skis. A large inflatable obstacle course also takes up residence on this super smooth lake.
Address: 401 South Powerline Road, Deerfield Beach, Florida
Official site: https://www.broward.org/parks/Pages/Park.aspx?=28
12. Helene Klein Pineland Preserve
Ever seen wild coffee up close? You'll see that, and so much more on a hike through the Helene Klein Pineland Preserve. Walking the quick, 0.5-mile loop at this preserve is one of the best free things to do with families in Coconut Creek.
The paved paths are wide and easily accessible for wheelchairs and strollers, as are the boardwalks. Keep your eyes peeled during your walk. While the area is small, it is peppered with over 50 species of wildlife. You could spot a snowtail butterfly, spotted skunk, or pileated woodpecker during your wander.
A small, hidden gem known as the "marl prairie" can be also found here. These wet prairies are unique and consist of sparse vegetation poking out from thin soil that lies on limestone. You'll also spot the slash pines that lend the preserve their name.
While there aren't any restrooms on-site, you will find a picnic area to enjoy some refreshments.
Address: 4701 W. Hillsboro Blvd, Coconut Creek, Florida
Official site: https://www.broward.org/Parks/Pages/park.aspx?park=16
Map of Things to Do in Coconut Creek, FL
Coconut Creek, FL - Climate Chart
Average minimum and maximum temperatures for Coconut Creek, FL in °C
J
F
M
A
M
J
J
A
S
O
N
D

24

14

25

14

27

17

28

19

31

22

32

23

33

24

33

24

33

23

31

22

28

19

26

16

PlanetWare.com
Average monthly precipitation totals for Coconut Creek, FL in mm.

71

70

76

86

146

186

151

176

178

146

108

63