12 Top-Rated Things to Do in Coral Springs, FL
Coral Springs may not be the first place you think of when planning a Florida vacation, but it certainly shouldn't be the last. This small, family-friendly city borders upscale Coconut Creek and boasts a variety of attractions, ranging from serene wilderness preserves to eclectic art museums.
Coral Springs is a great place to visit with the family. You'll find a variety of fun things to do with kids, including visiting parks, playgrounds, and a Sportsplex packed with activities to keep children of all ages busy.
Set about 20 miles northwest of Fort Lauderdale, Coral Springs was one of the first planned cities in Florida. The town resides next to the Everglades Wildlife Management Area, making it a perfect base for those who'd like to explore the croc-infested waterways.
Coral Springs contains the lovely gated communities that have become synonymous with Florida living and is peppered with towering palm trees, sparkling lakes, and trickling fountains, which add to its overall charm. It's an easy place to love.
Plan your trip with our list of the top things to do in Coral Springs.
1. Tall Cypress Natural Area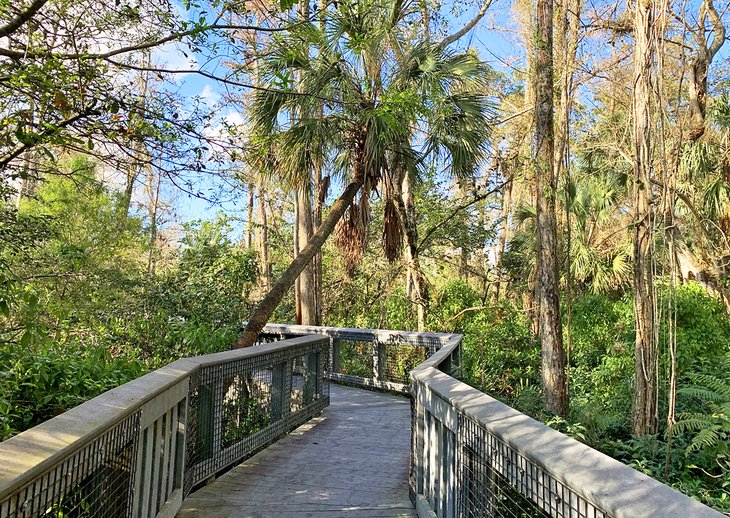 Over 66 luscious acres welcome visitors to the Tall Cypress Natural Area, one of the last remaining spots featuring cypress basin swamp and pine flatwoods in Broward County. Although it appears small from the parking lot, keep walking, and you'll be amazed by the area's vast expanse.
Those looking to escape the hustle and bustle of city life will enjoy its quiet trails and more than 2,000-foot-long elevated boardwalk. A cacophony of rustling leaves and chirping birds are the only sounds you'll hear as you wind your way along the path, far beneath a lush canopy of pine, palm, and cypress trees.
Bird-watchers flock here, loaded down with binoculars and giant-lensed cameras. They're hoping to catch sight of some of the area's most prized residents: birds, like great horned owls, woodpeckers, and egrets. Two outlooks allow for extended vistas across the flatwoods.
Where birds go, other animals follow, so you can also expect to spot lizards, snakes, and turtles in this natural attraction. Stay quiet and look carefully; you will be amazed at how well the wildlife can blend into the background.
There are plenty of parking spaces, picnic tables, benches, and restrooms on-site, as well as a small play area.
Insider's tip: No food, drink (other than water), or pets are allowed in the preserve, and it is open from 8am to 6 or 7:30pm, depending on the season.
Address: 3700 Turtle Run Blvd., Coral Springs, Florida
2. Coral Springs Center for the Arts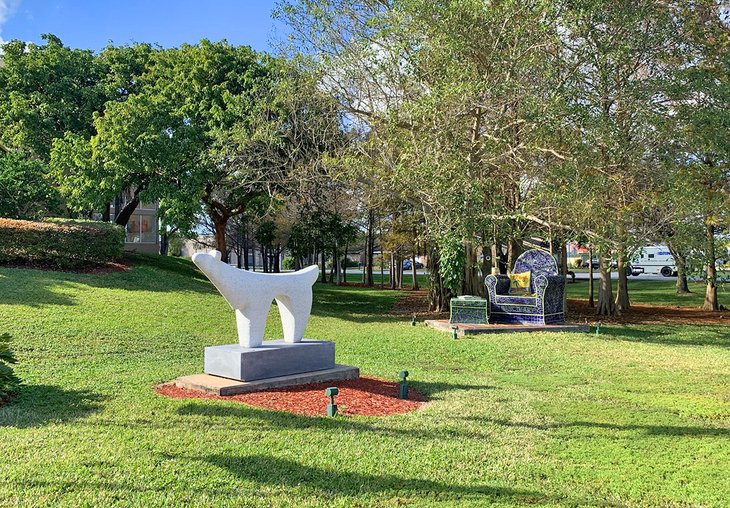 You'll know you've arrived at the Coral Springs Center for the Arts when you spot large statues on a perfectly manicured lawn. If you think you've seen giant orange slices, rest assured – your eyes are not playing tricks on you!
A community staple, The Center, as it is called by locals, prides itself on presenting a multitude of arts, including dance, music, theater, sculptures, and paintings in one vibrant 30,000-square-foot space. Seeing a performance here is one of the best things to do at night.
Park in the lot by the sports fields and take a moment to walk along the path to the left of The Center. It, too, is peppered with sculptures and passes through the International Peace garden.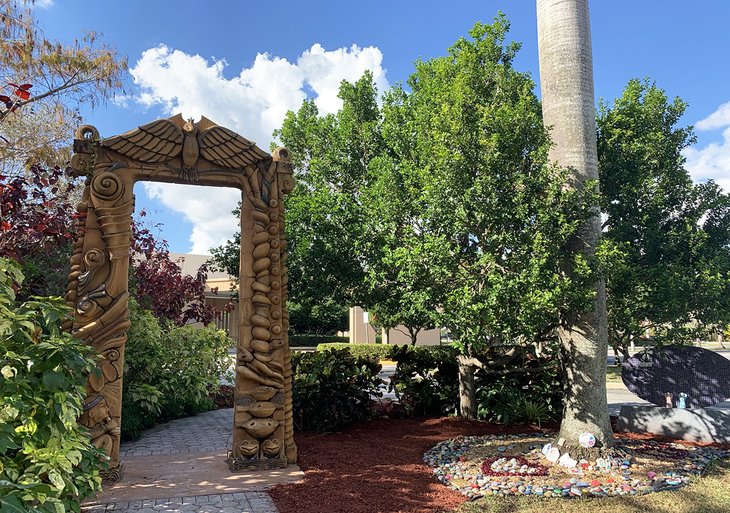 While smaller than the sculpture garden, the International Peace Garden is just as compelling and perhaps more serene. This pretty spot sits beside a pond, and features a mosaic boasting an egret, as well as an intricately carved archway leading visitors to the main entrance.
Behind the building's tan façade, you'll find both the Coral Springs Museum of Art and its large, 1,471-seat theater, which hosts performances of all types (i.e. musical, comedy, and dance). The Center is also home to a dance studio.
Address: 2855 Coral Springs Drive, Coral Springs, Florida
Official site: https://www.thecentercs.com/
3. Sawgrass Nature Center & Wildlife Hospital
Looking for a way to entertain the kids that doesn't involve getting sand stuck in your bathing suit? Head to the Sawgrass Nature Center & Wildlife Hospital. Located on five acres in the Sportsplex complex, this expansive refuge is the perfect place to visit with kids. Plus, they'll learn important lessons about protecting wildlife.
The orchid garden is magical. Lush vegetation surrounds the path, which winds around like a maze. Miniature gnomes and toadstools are peppered throughout, upping the fun-factor when children spot their adorable faces. The garden lies beside the Cypress Swamp, just in front of the main building.
Also near the entrance is an enclosed area housing beehives. Safely stowed behind wooden walls and windows, visitors can watch the bees hard at work with little chance of getting stung. Aviaries house animals that are unable to be released back into the wild. You'll see everything from fancy pigeons to Florida box turtles to eastern screech owls.
The Nature Center provides educational programs for kids and adults, as well as wildlife camps. The hospital portion takes in wild animals that are injured or lost. Look out for the Backyard Wilderness Mural, an impressive work of art that's proudly displayed on the side of the main building near the aviaries.
Address: 3000 Sportsplex Drive, Coral Springs, Florida
Official site: https://sawgrassnaturecenter.org/
4. Play All Day at Sportsplex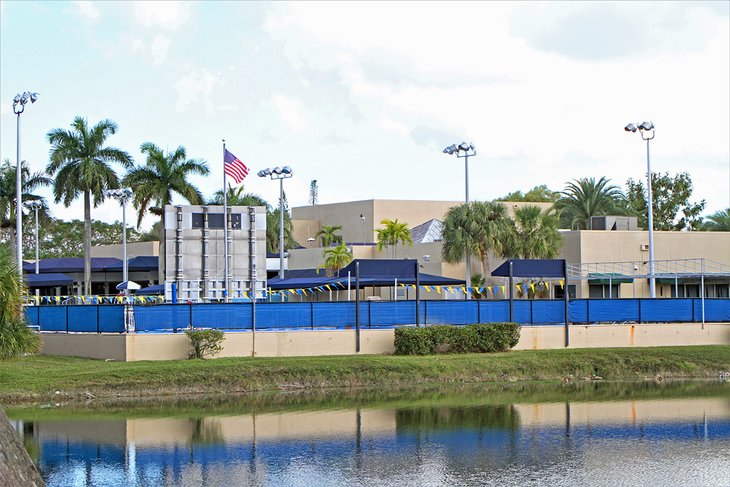 If you prefer being active to lying prone on a beach, head to Sportsplex. A giant 180.8-acre park, this expansive green space has everything you need to stay fit and have fun. Four swimming pools and a water playground welcome visitors to the Coral Springs Aquatic Complex, the perfect place to visit for a refreshing dip.
The Tennis Center of Coral Springs is also located on the Sportsplex grounds and boasts 12 Har-Tru and 4 Deco Turf courts. Book a court, take a class, or enroll the kids in a holiday camp.
If it turns out Florida's a bit too hot for you, head inside to the Florida Panthers Ice Den, where visitors can skate on a full-sized ice rink. No need to lug your skates, as there are plenty to rent.
Guests can also practice their swing in the batting cages; play a game of pickup basketball, soccer, or football; or jog along the paved paths. Feeling hungry after all that exercise? You'll find picnic tables, pavilions, grills, and concession stands on-site.
Don't miss the Sawgrass Nature Center & Wildlife Center, located just past Dr. Paul's Pet Care Center Dog Park. Home to rescued animals, gardens, and a bee colony, it's a lovely place to learn about nature's gifts.
Address: 2800 Sportsplex Drive, Coral Springs, Florida
5. Take a Dip at Cypress Park & Pool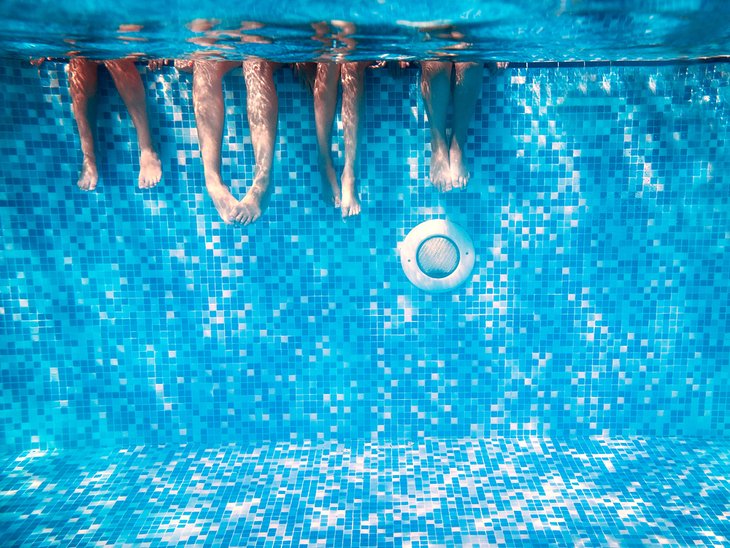 Coral Springs is home to a multitude of parks. Interestingly, three of the city's best, and more diverse, parks lie within mere feet of each other. Cypress Park stands out as a haven for water lovers.
You won't overheat in this fun spot with a large water park featuring everything from slides to waterfalls to sprinklers to a lazy river that takes 10 minutes to wind along. Just remember to slather on the sun cream before jumping in.
Lounging around more your thing? No worries, there are plenty of sun loungers available for relaxing on the deck with a bunch of oversized umbrellas to protect you from the sun's powerful rays. Shaded picnic areas offer a cool spot for a snack, and the splash pad will occupy little ones as you watch from the sidelines.
Restrooms, concessions, and swimming and diving lessons are offered on-site, while tennis courts are available next door at the Cypress Park Tennis Center.
Address: 1300 Coral Springs Drive, Coral Springs, Florida
6. Unwind at Orchid Park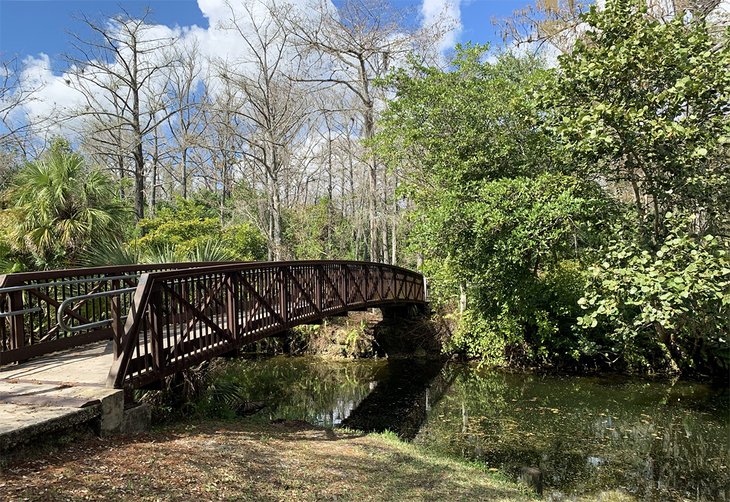 Cypress Park and Orchid Park are so close, you can park at one and walk to the other. While often lumped together when discussing the area's best parks, these two points of interest are so different, they should be considered separately.
While Cypress Park may do a better job at entertaining the kids (hello, super fun water park), smaller and much quieter Orchid Park will help their adult chaperones recover from all that splashing and screaming.
Orchid Park has its own parking lot, restroom, a large picnic pavilion, and grills to make organizing lunch a cinch. A picturesque bridge transports visitors across the lake, where they can wind their way through trails lined with verdant trees and bushes.
As for orchids, there aren't many around, but every once in a while, one mysteriously appears in or near a tree for everyone to enjoy.
Address: 1300 Coral Springs Drive, Coral Springs, Florida
7. Betti Stradling Park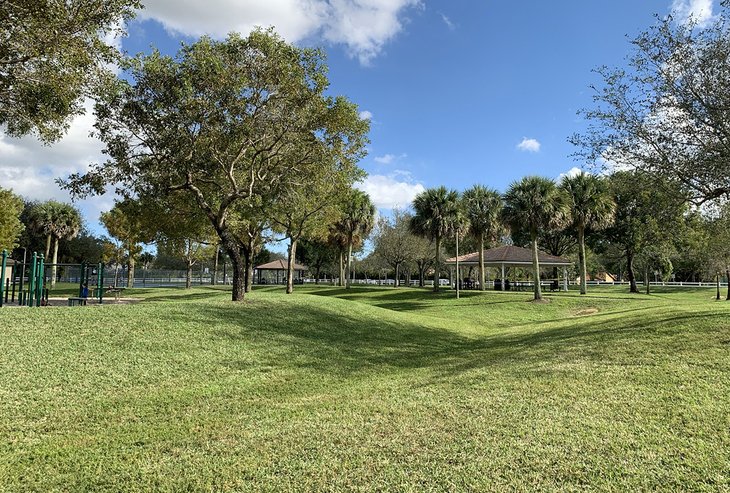 Betti Stradling Park is another of Coral Springs' well-appointed green spaces. Among the 21 acres that make up this lush area, guests will find a skate park, athletic fields, beach volleyball court, basketball court, and exercise stations. Plenty of picnic tables and pavilions to make it easy to spend a while on the grounds of this popular place to visit on a sunny day.
Kids will gravitate towards the Princess Meadows Playground. A large play area featuring tall, swirling slides and climbing structures of all types, sizes, and colors, this fun space is a haven for little ones.
The playground lies just beyond the skate park and was built to honor the memory of 18-year-old Meadow Jade Pollack and other victims of the February 14, 2018 school shooting at the Marjory Stoneman Douglas High School.
Address: 10301 Wiles Road, Coral Springs, Florida
8. Take a Walk at Cypress Hammock Park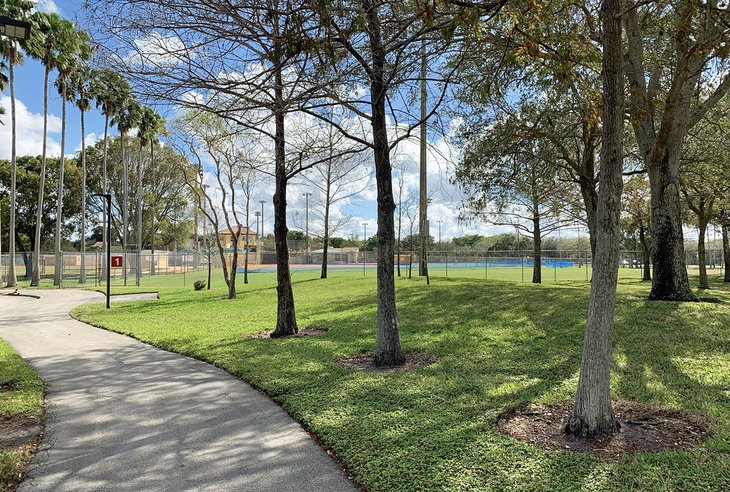 The massive Cypress Hammock Park likes just across the street from Cypress Park, on the other side of busy Coral Springs Dive. If you include Cypress Park & Pool and Orchid Park within its boundaries, which many do, this vast space covers 16 acres.
A community staple, Cypress Hammock Park contains everything you'd look for in an outdoor space. Walking and biking paths, baseball diamonds, basketball courts, pavilions, restrooms, picnic tables, and grills are all found here.
Tennis courts are located across the street at the Cypress Park Tennis Center. Access to a pool and water park can also be found across the street, in Cypress Park.
Plenty of benches provide resting spots for those who'd like to soak up the atmosphere and enjoy a little people watching with their fresh air. A massive parking lot makes it easy to ditch the car in favor of watching your kid play soccer or lounging beside the lake. Grab a snack at the concession stand when hunger strikes.
Address: 1300 Coral Springs Drive, Coral Springs, Florida
9. Helena Ramsay Memorial Garden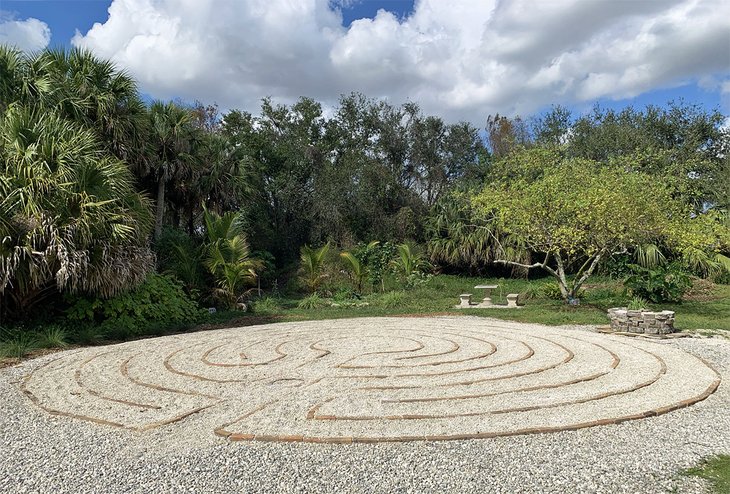 A small sanctuary has been carved out of land that lies just a few feet from the Rotary Community Garden and Food Forest of Coral Springs and Dr. Paul's Pet Care Center Dog Park in the Sportsplex complex.
In 2018, one of the community's gardeners, Anne Ramsay, lost her daughter, Helena, in the shooting at Marjory Stoneman Douglas high school. The lovely Helena Ramsay Memorial Garden was created to honor Helena's life, as well as those of the other 16 victims.
In November of 2018, 17 bamboo trees, Helena's favorite, were planted in memory of the victims. A year later, the community gardeners added a serene labyrinth, which is surrounded by sustainable plants. A small sandbox sits off to the side, home to rocks painted and left by other visitors.
This is a peaceful place to sit back, pay homage to those we've lost, and enjoy a quiet moment in beautiful surroundings.
Address: 2915 Sportsplex Drive, Coral Springs, Florida
10. Ditch Stress at Butterfly World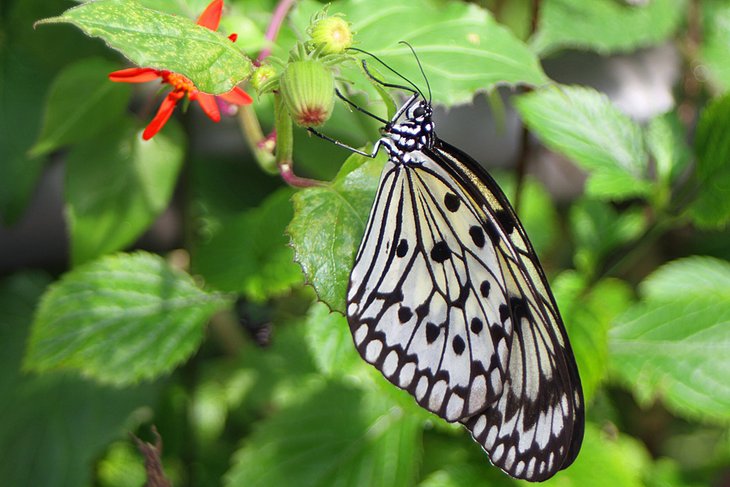 Visiting Butterfly world is one of the best things to do while you're in Coral Springs, even though it's technically one of the attractions in neighboring Coconut Creek. It's also one of the area's most popular attractions for families.
Less than four miles east of the Tall Cypress Natural Area, in the heart of the massive Tradewinds Park, Butterfly World is a treat for visitors of all ages. Trust us, even the most pessimistic and grumpy traveler will find a smile (or three) while wandering though the serene aviaries at this unique tourist attraction.
Classical music serenades visitors, while the scent of fresh flowers and the calming sight of butterflies in flight soothes any worries. Wander past waterfalls, through a misty tunnel, and across a wobbly suspension bridge on your journey through the attraction. Told you it was peaceful.
Catch sight of colorful budgies and other birds in the Jewels of the Sky and Tropical Bird Aviaries. Then, visit the Bug Zoo to see insects like tarantulas, snakes, and scorpions up close. Or head to the Lorikeet Encounter to purchase a small cup of food to feed birds that will perch on your head, shoulder, arm, or hand.
The Mariposa Café offers sweet treats, while the gift shop sells every butterfly-themed item you never knew you wanted. A serene wonderland, this unique place is so calming, you won't want your visit to end.
Address: Tradewinds Park, 3600 West Sample Road, Coconut Creek, Florida
Official site: https://www.butterflyworld.com
11. Cool off at the Panthers Ice Den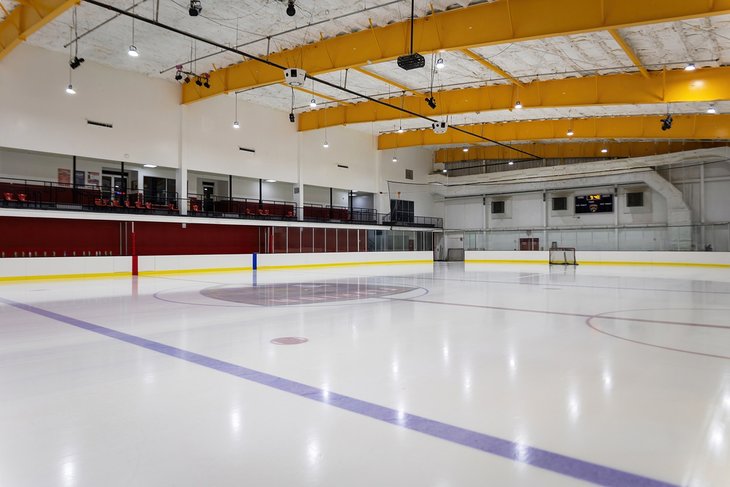 There are so many fun things to do in the Panthers Ice Den that it deserves its own section. Found within the Sportsplex Complex, this popular attraction will keep visitors of all ages happily entertained, and feeling comfortably cool, for hours. If you're looking to escape the humidity, this is the perfect place to visit.
Whether you're hoping to learn to skate at one of the multiple classes, show off your sit spins during public skating time, or watch the experts give it their all at a hockey tournament or figure-skating competition, you won't be bored. Plus, you can brag to those at home that you skated on the same ice as the Florida Panthers.
The Ice Den features three skating rinks and a pro shop so large, it's been deemed the "largest full-service hockey and figure skating store in the Southeast United States." There's also a gym and café on-site.
Address: 3299 Sportsplex Drive, Coral Springs, Florida
Official site: https://www.panthersiceden.com/
12. Dr. Paul's Pet Care Center Dog Park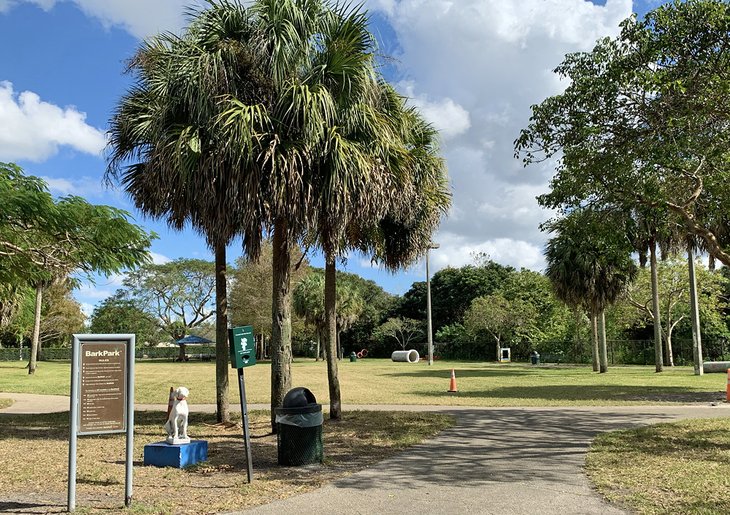 There are a lot of things to love about Dr. Paul's Pet Care Center Dog Park, especially if you walk on four legs. Fake fire hydrants to lift a leg on, tunnels to run through, rods to jump over, showers to cool off under – the fun never ends at this pup-friendly park.
An off-leash pup play area with pretty lake views and plenty of benches, Dr. Paul's Pet Care Center Dog Park is a fun place to let your furry friend run free for hours.
With three separate sections to make socializing easier for dogs of all sizes, large plastic pools to fill with cool water, and an agility course on offer, you'll be hard-pressed to find a better dog park in the area, let alone the state. Forgot your poop bag? No worries. There are plenty on hand.
Insider's tip: The dog park is located in the Sportsplex Complex, beside the Rotary Community Garden and Food Forest of Coral Springs.
Address: 2915 Sportsplex Drive, Coral Springs, Florida
Map of Things to Do in Coral Springs, FL
Coral Springs, FL - Climate Chart
Average minimum and maximum temperatures for Coral Springs, FL in °C
J
F
M
A
M
J
J
A
S
O
N
D

24

14

25

14

27

17

28

19

31

22

32

23

33

24

33

24

33

23

31

22

28

19

26

16

PlanetWare.com
Average monthly precipitation totals for Coral Springs, FL in mm.

71

70

76

86

146

186

151

176

178

146

108

63