14 Top-Rated Things to Do in Lake Worth Beach, FL
Lake Worth Beach may be lesser known than its larger, more glamorous South Florida cousin, Miami, but that doesn't mean it's boring. Formerly known as Lake Worth, this up-and-coming gem boasts plenty of attractions and fun things to do.
Lake Worth Beach lies quietly on the Lake Worth Lagoon, just 10 miles south of glitzy Palm Beach and boasts a bohemian vibe perfect for those with a penchant for all things artsy. Quirky shops, a playhouse, creative arts center, music venues, and multiple galleries add zest to the area, encouraging visitors to unleash their inner Picasso, Van Gogh, or Beethoven.
It's impossible to visit this oceanfront town without soaking up some of its artistic vibe. The free annual Street Painting Festival attracts 100,000 visitors each February. Guests gather downtown to watch artists turn asphalt into a temporary canvas.
In addition to its creative outlets, Lake Worth Beach boasts a soft silky-sand beach, 18-hole golf course, and lush natural areas worthy of a hike. There are so many places of interest here, you'll never be short of adventures, especially if you enjoy the beach.
It's easy to find something fun with our list of the top things to do in Lake Worth Beach.
1. Catch Some Rays at Lake Worth Beach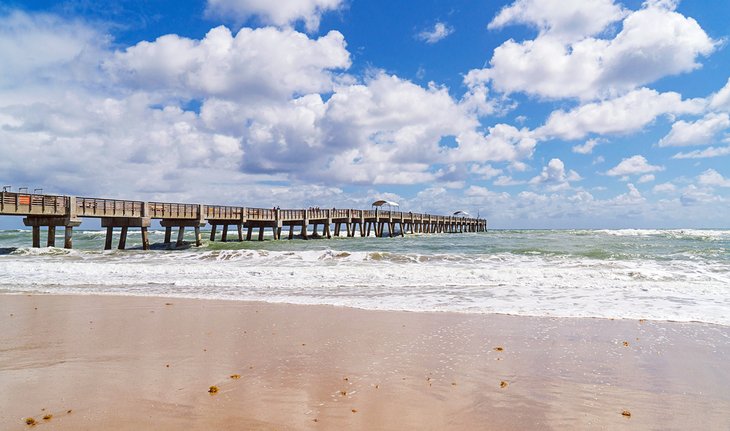 It's not really a Floridian vacation until you hit the beach. Luckily, Lake Worth Beach offers some seriously soft white sand, a picturesque wooden fishing pier, and plenty of space to park your beach chair. The waves can get a bit intense at certain times of the year, which makes it a haven for surfers.
The Lake Worth Beach Casino and Beach Complex offers all the amenities required for a beach day. We're talking shops selling beach wear, trinkets, and sunblock; restaurants; and a large municipal pool just steps from the sand. This is a fun place to visit with the family while you're at the beach.
If the food at the complex doesn't tickle your tastebuds, you're in luck. The beach is located close to downtown, which makes it easy to find other options nearby. Whether you're hoping for takeout to enjoy on the sand or an oceanfront meal from a patio, there are plenty of great places to visit, many of which lie just across the street.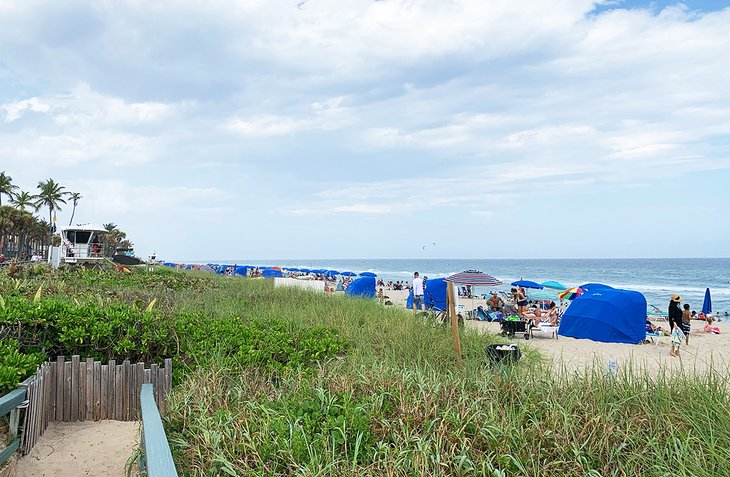 Ever roasted marshmallows on the beach? You can at the beach bonfires hosted every Friday between 6pm and 10pm from November through February. Lifeguards who guard the beach by day remain on duty to ensure the fires go smoothly, meaning kids are more than welcome to attend. This popular event is one of the top free things to do at night and also includes concerts and other activities. It can get busy, so arrive early.
Insider's tip: Head north, away from the pier, if you're looking for a less crowded area to stretch out.
Address: 10 South Ocean Boulevard, Lake Worth Beach, Florida
2. Visit the Lake Worth Beach Casino and Beach Complex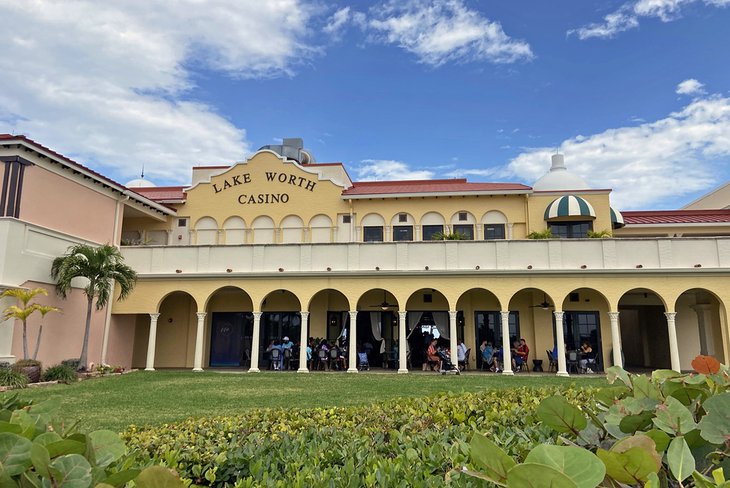 Despite its name, the Lake Worth Beach Casino isn't actually a casino. Built in the early 1920s as a gambling and bathhouse, the building ceased to be used in that capacity when gambling was outlawed in the 1930s. Revamped in 2013, it now serves as the heart of Lake Worth Beach.
It's in this gorgeous, wraparound-terrace-hugged building that you'll find shops, restaurants, and even a massive, 3,000-square-foot, second-floor ballroom boasting unsurpassable beach and ocean views. Need to rent a beach chair and umbrella? You can do that here, too.
Just down the street, on the opposite side, you'll find the Beach Complex's shining star: a large municipal pool. Slightly farther along here, the long William O. Lockhart Pier juts into the Atlantic Ocean, offering anglers a spot to try their luck. There's also an oceanfront park and plenty of picnic facilities.
With so many different offerings, the Lake Worth Beach Casino and Beach Complex is the best place for those who love to hang out by the sand. Be warned, it gets super crowded, especially on winter weekends, so arrive early to grab a parking spot. There are plenty of spaces, but you may have to be patient to find one.
Address: 10 South Ocean Boulevard, Lake Worth Beach, Florida
Official site: https://lakeworthbeachfl.gov/casino-and-beach-complex/
3. Spot a Manatee at Snook Islands Natural Area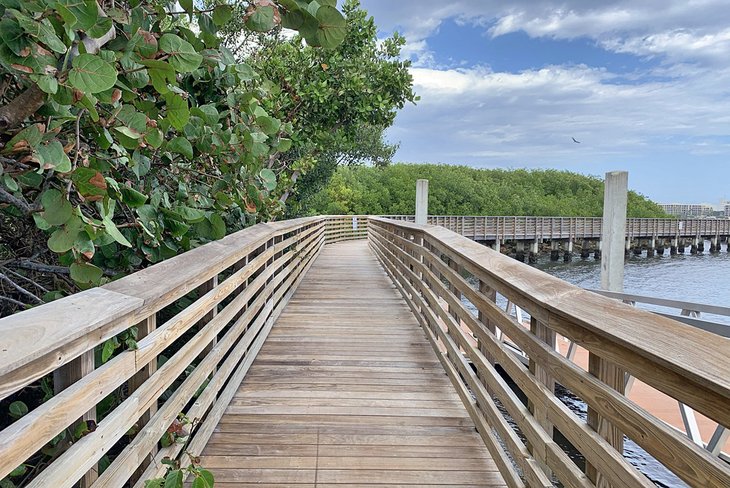 If you've ever wanted to explore the Lake Worth Lagoon without getting wet, this is the place to do it. Featuring 118 acres of protected wetland, this serene tourist attraction is a wonderful place to see Florida's exciting wildlife in its natural habitat.
Numerous West Indian manatees call this area home. They are drawn here because of the two acres of oyster beds, which work to both clean the lagoon (by filtering water) and feed manatees.
Walk along the raised boardwalks that run between the mangroves and the lagoon for your best chance at spotting hundreds of bird species, including the American oystercatchers, as well as birds and, of course, the resident manatees.
Hop in a kayak for a more up close and personal experience. Didn't pack a boat in your suitcase? You can rent one for two hours up to a full day at Kayak Lake Worth.
Insider's tip: Parking can be problematic, as there are only three spots on-site. For additional spaces, try nearby Bryant Park.
Address: 100 North Golfview Road, Lake Worth Beach, Florida
Official site: https://discover.pbcgov.org/erm/NaturalAreas/Snook-Islands.aspx
4. Attend the Lake Worth Street Painting Festival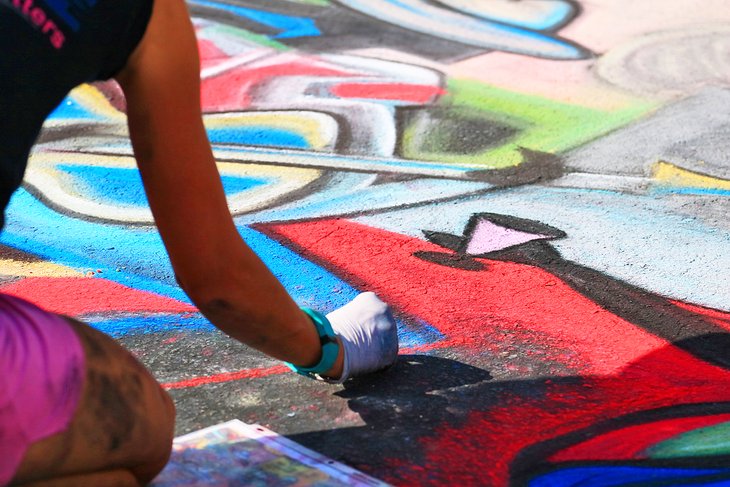 If you haven't booked your trip to Lake Worth Beach, you may want to consider choosing a date in February. Time it right, and you'll be able to catch the city's most famous event, the Street Painting Festival, which takes place annually over three days near the end of the month.
During this popular festival, more than 600 artists take to the pavement to create a spectacular outdoor museum. There are so many incredible works on display during this event that you'll want to set aside at least a couple of hours to explore them all.
While it's impressive to see the finished product, half the fun is found in watching the artists create their masterpieces in person. It's magical to watch a drab piece of asphalt turn into a vibrant painting.
Be sure to schedule your visit well, as the artwork only survives until the first rainfall. This is one of the most well attended free things to do in Lake worth Beach, so don't miss out!
5. Fish from William O. Lockhart Municipal Pier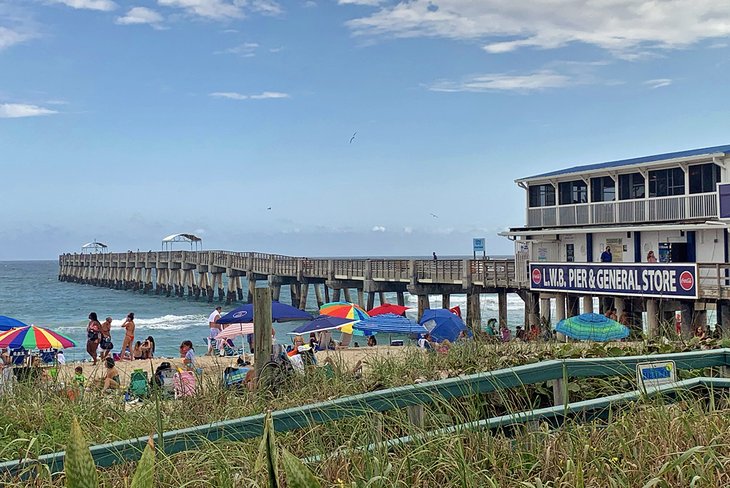 What do snapper, pelicans, and picturesque views have in common? They can all be witnessed from the William O. Lockhart Pier. A long, wooden boardwalk that's been rebuilt numerous times due to the effects of hurricanes, this iconic attraction is the heart of Lake Worth Beach.
A multitude of fish can be caught in these waters, prompting anglers of all experience levels to try their luck. Rent a pole and buy bait from the nearby shop or bring your own and pay the nominal fee to fish off the pier.
Fishing not really your thing? Not to worry. Enjoying the vista from the pier's tip is one of the best things to do in Lake Worth Beach. Whether you spend your time ogling sea creatures that frolic in the water below, watching anglers reel in their catch, or posing for photos set against a dramatic backdrop, you'll be happy you took the time to visit.
Stop for a refreshment or grab a bite at the town's most famous restaurant: Benny's on the Beach. It's conveniently located at the start of the pier. Benny's gets uber crowded, so arrive earlier than you think you should.
Address: 10 South Ocean Boulevard, Lake Worth Beach, Florida
6. Grab a Bite Downtown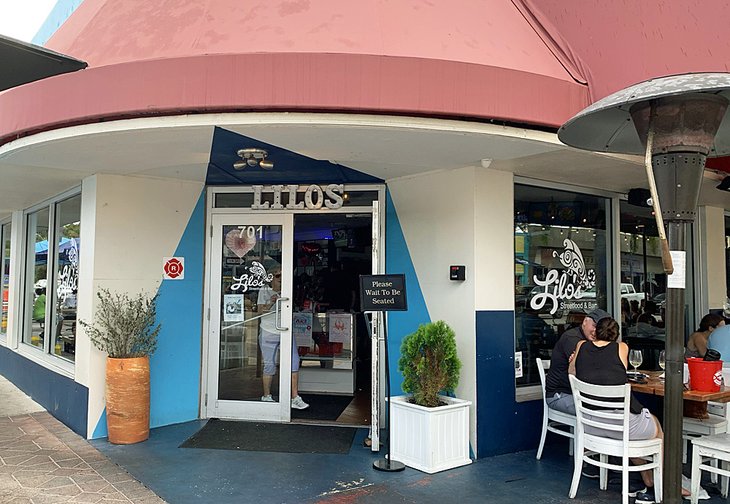 Park on the street near Lake Avenue and K Street for easy access to the area's best dining options. Almost outnumbering the art galleries and eclectic shops found in this downtown core are a slew of fantastic options for fans of every type of cuisine.
Lilo Streetfood sits on the corner of Lake Ave and K Street, serving up food so delicious, just the thought of it will elicit strong cravings. This local fave is beloved for its mouthwatering tacos made with a variety of unique flavors. You won't be able to stop at one, trust us.
Across the street is Dave's Last Resort & Raw Bar, a laid-back eatery featuring super fresh seafood. The appetizers are a huge hit and include non-fishy fare, such as deliciously spiced fried potatoes with wing sauce and quesadillas.
Mario's on Lake is an extension of Mario's 225 Ocean Ave, an Italian restaurant serving authentic dishes that taste like mamma made 'em. The snapper oreganata melts in your mouth, while the pasta cavatelli's fresh tomatoes explode with flavor. Insider's tip: Opt for the three-course meal to enjoy even more of their tempting dishes at a great price.
7. Catch a Show at the Lake Worth Playhouse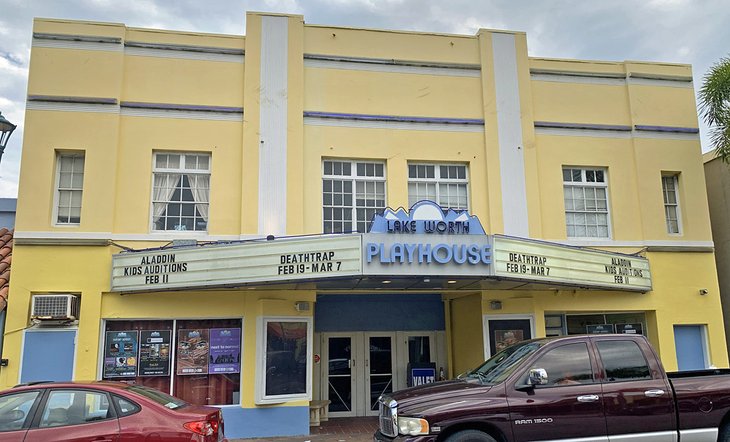 A bright yellow building brightens downtown Lake Street. Behind its banana walls lies a large theater that plays host to numerous productions throughout the year. From showing foreign films to airing movie classics to showcasing bands at live concerts, there are a slew of ways to be entertained in this historic building. Don't forget the Broadway musical, theater, and dance productions.
First opened in 1924 as the Oakley Theatre, the Lake Worth Playhouse is housed in the oldest building registered with the Art Deco Society of Palm Beach. It's been rebuilt over the years to repair hurricane damage, but this iconic theater refuses to close its doors.
Today, it is run as a non-profit community theater with the goal of bringing art to the local masses. They also offer classes in everything from tap dancing to acting to musical theater for kids and adults.
Insider's tip: Book tickets to a show in the Playhouse Black Box Series. These are performed in the intimate, 60-seat Stonzek Studio Theater, which brings theater back to its roots by emphasizing the play's story and the actors' performances more than things like lighting and technical production.
Address: 713 Lake Avenue, Lake Worth Beach, Florida
Official site: https://www.lakeworthplayhouse.org/welcome/
8. Get Artsy at the Benzaiten Center for Creative Arts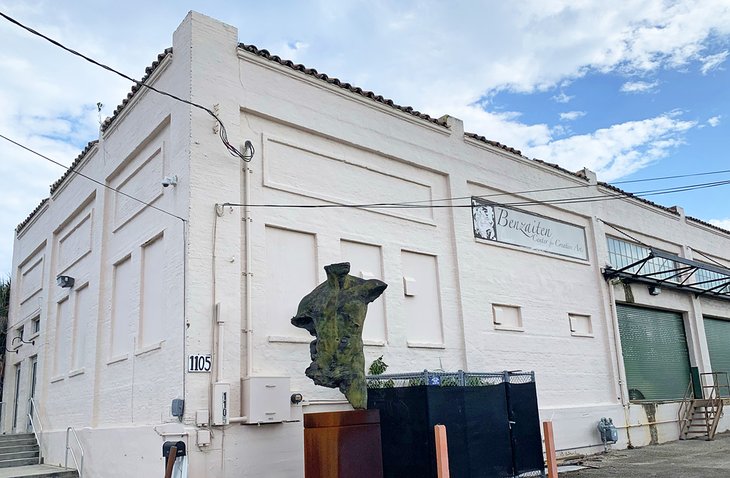 The Benzaiten Center for Creative Arts seems a little off the beaten path. It's set in a historic train depot not far from downtown, but you'll have to curl your way through neighborhood streets to find it.
Once you arrive at the long, white building, you'll likely think you're in the wrong place. You aren't. The entrance is here, at the rear of the building, right off the large, industrial parking lot. Don't rely on GPS, as it often steers people in the wrong direction.
Inside, you'll find 14,500 square feet of artistic nirvana. This is essentially a giant studio used by multiple local glass and metal artists for a reasonable fee. Here, the creators have access to a glassblowing shop, fusing studio, welding center, and flameworking studio.
Visitors are invited to watch the artists work and attend workshops to learn how to blow glass and make beads, among other artistic endeavors.
A "working" sculpture garden is set to open in 2022, offering guests a covered area from which they can watch artists work on their giant sculptures.
Address: 1105 2nd Avenue South, Lake Worth, Florida
Official site: https://www.benzaitencenter.org/
9. Eat Fresh Berries at the Lake Worth Beach Oceanside Farmers Market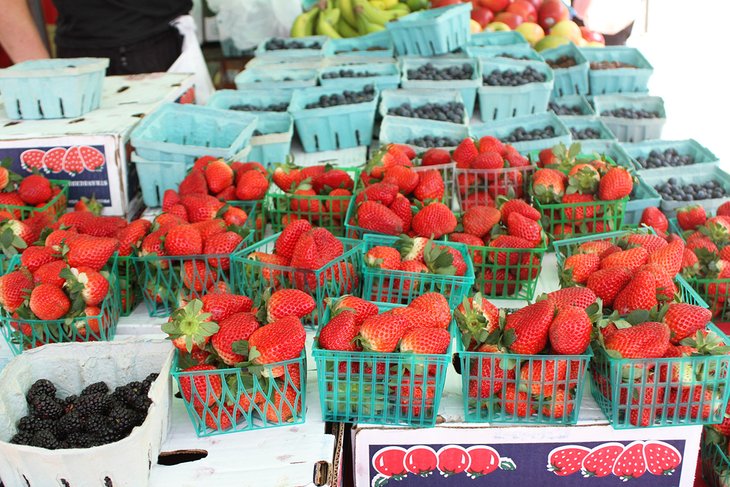 There's something very special about visiting a farmers market. Serenaded by live music, food lovers can wander between booths, striking up conversation with local farmers about their fresh offerings, sampling their tasty wares, and buying vibrant flowers to brighten their homes.
The Lake Worth Beach Oceanside Farmers Market is an especially wonderful event held every Saturday from 9am to 1pm early October through April. Eighty vendors arrive at this pet-friendly market held under the overpass at A1A and Lake Avenue, the salty sea air mixing with the scent of freshly baked bread.
You'll find everything you could hope would tempt your palate: the freshest of veggies, ripest of fruit, and sweetest honeys. Food isn't the only thing on offer at this fun venue. Local craftspeople sell their handmade candles, soaps, and jewelry as well. And you'll find loads of lovely flowers.
Enjoy a breakfast scone or sausage or enjoy a gyro for lunch. You certainly won't go hungry.
Address: Under the overpass at A1A and Lake Avenue, Lake Worth Beach, Florida
Official site: https://www.greenhouseeventsmanagement.com/lake-worth-beach-farmers-market
10. Dine by the Ocean at Benny's on the Beach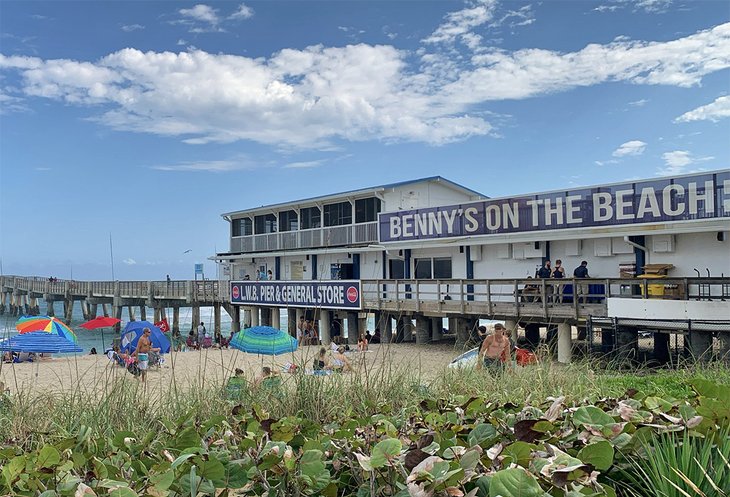 Benny's on the Beach is an iconic Lake Worth Beach staple situated at the start of the William O. Lockhart Pier. Offering breakfast, lunch, and dinner since 1986, the restaurant's epic location is the main reason people visit - it's hard to be closer to the Atlantic Ocean without getting wet.
On the menu, you'll find the freshest of seafood, as well as tempting appetizers and Floridian dessert staples like Key Lime Pie. It's Benny's scrumptious breakfast, though, that won the hearts and tastebuds of so many locals. The seaside skillet is uber tasty and perfectly filling, while the French toast will leave you begging for seconds.
After your meal, stake your claim on a prime piece of beach near the pier. The earlier you arrive, the better your chance of beating the crowds.
Address: 10 Ocean Boulevard, Lake Worth Beach, Florida
Official site: https://www.bennysonthebeach.com/
11. Take a Break at Bryant Park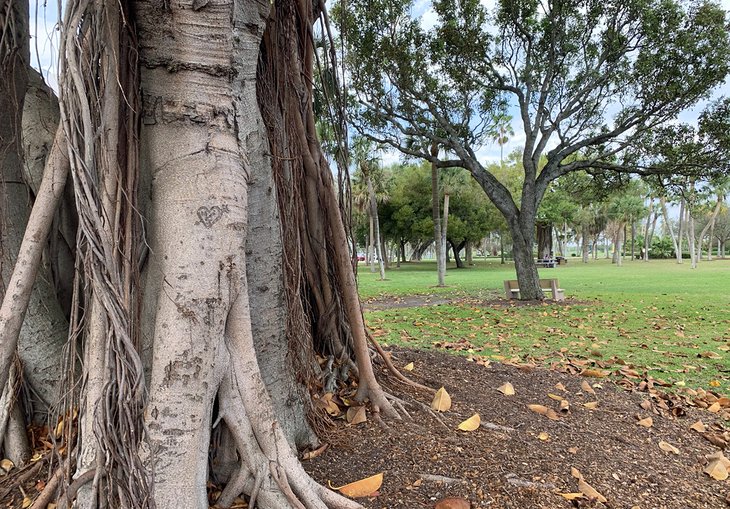 Bryant Park is conveniently located on the shores of the Lake Worth Lagoon, just off Lake Avenue. A quiet sliver of grassy space with plenty of room to spread your picnic blanket, this is a nice place to spend a couple of hours. Large trees pepper the area, offering enough shade for everyone to enjoy, and on-site grills make it easy to prepare a hot meal.
When you aren't eating, play a game at the horseshoe pit or set your kids loose in the playground. Many choose to walk along the pretty waterside path, while others use this park as a base to explore the town's nearby historic district.
The bandshell is a key attraction that hosts events like concerts and other fun performances year-round. Benches are set up to host the audience more comfortably. The metered parking lot is a good size and offers a free library for avid readers. You'll also find a boat launch on-site.
Address: 30 South Golfview Road, Lake Worth Beach, Florida
12. Bike around John Prince Memorial Park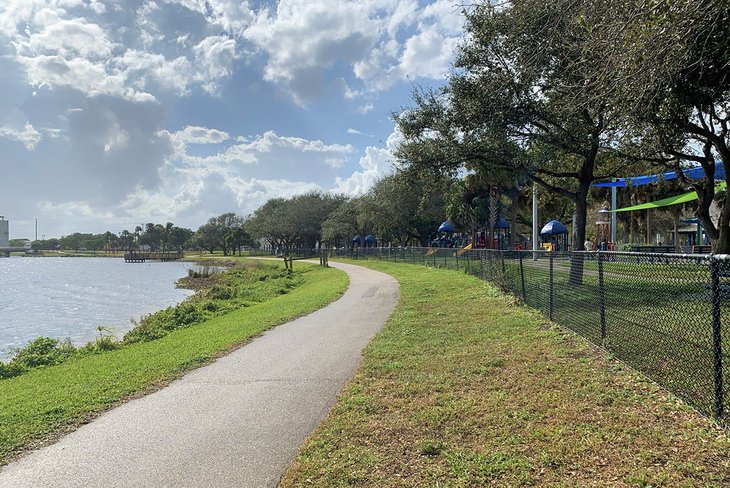 John Prince Memorial Park is much larger than it appears when you first drive in. Covering 726 acres of land, this expansive space has a lot to offer those looking for a beach-free way to spend a day. Visitors are given plenty of options to stay active.
With basketball, volleyball, and tennis courts, bike paths, a 20-station exercise course, nature trails, and an outdoor fitness section with 17 pieces of exercise equipment, it's easy to stay in shape. Multiple boat launches provide access to the area's 338 acres of sparkling lakes, which are perfect places to fish, kayak, or canoe.
Traveling with kids? They'll love the playgrounds peppered throughout the park, as well as the splash park. Lake Woof Dog Park features pet washing stations; drinking fountains for dogs and their owners; and two segregated sections for large dogs, one for medium canines, and another for small pups, as well as covered gazebos and shaded benches.
Those who can't get enough of the park's vast offerings can spend the night in the 48-acre campground.
Address: 2700 6th Avenue South, Lake Worth Beach, Florida
Official site: https://johnprincepark.com/
13. Get Entertained at Lake Worth Cultural Plaza
The Lake Worth Cultural Plaza is the hub for all things entertainment. Set between Lake and Lucerne Avenues downtown, this vast open area is home to a large outdoor stage and enough grassy space to find a comfy spot during an event.
If you're a fan of listening to live music under the stars; eating a meal from a food truck; and grooving to tunes on a warm, sunny day, this is the ideal place to visit.
The best time to visit Lake Worth Cultural Plaza is during the fall or winter. First, you'll reap the benefits of cooler nights and drier days. Next, you'll have an array of events to choose from.
Whether you're a fan of open-air concerts, dance performances, or live theater, you're bound to find something to keep you entertained at this popular outdoor attraction.
Address: 414 Lake Avenue, Lake Worth, Florida
14. Get Your Groove on at Bamboo Room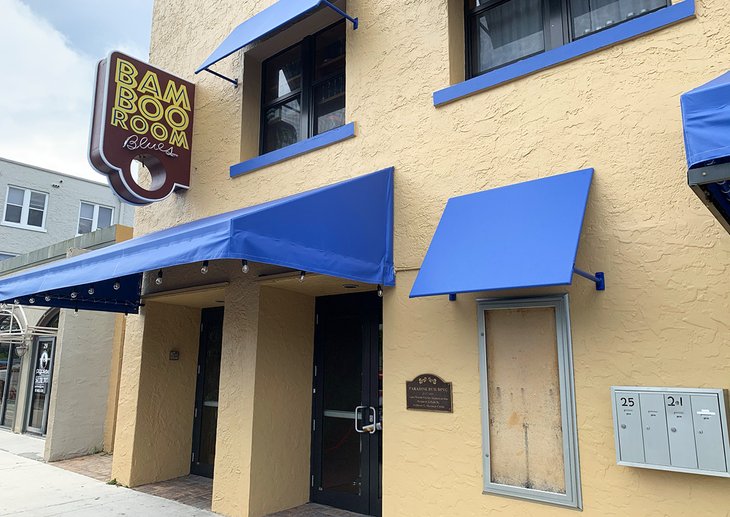 Get up and boogie at downtown's popular live music venue, the Bamboo Room. Featuring performances of all genres (we're talking everything from blues to folk to indie rock), this eclectic attraction serves up a whole lotta entertainment within its walls, and the acoustics are on point.
With a 1,025-square-foot tropical outdoor space, you'll be able to tap your toes and wiggle your bod in the nighttime breeze as well. Insider's tip: R&B Fridays are particularly soulful.
Comfy chairs and tables are set up for those who prefer to enjoy dinner (or snacks) with a show, and large leather couches encourage comfy lounging. Planning an event? This funky space is often hired out as a venue for weddings, bar and bat mitzvahs, birthday parties, and more.
Address: 25 South J Street, Lake Worth Beach, Florida
Map of Things to Do in Lake Worth Beach, FL