14 Top-Rated Things to Do in Deerfield Beach, FL
While Deerfield Beach isn't the most well-known Floridian destination, it is one of the quietest and most family-friendly places to visit for a sun-drenched holiday. Set within Broward County, this serene gem lies just over 45 minutes north of Miami and 21 minutes from Fort Lauderdale. If you're looking for fun, you're in luck. Deerfield beach is packed with attractions guaranteed to keep tourists of all ages happily occupied.
It's easy to fill your days in Deerfield Beach. Build sandcastles on a silky soft beach, body surf in the Atlantic Ocean, or fish off a giant pier. Then, grab lunch at a waterfront restaurant, shop in nearby Mizner Park, or water-ski at America's first cable wake park.
Named for the many deer that once roamed the area, Deerfield Beach protects its plants and wildlife in nature centers and parks throughout the region. Rent a kayak and glide through a mangrove forest, walk trails surrounded by hammocks, or spot an alligator in the swamp.
Plan your sightseeing with our list of the top things to do in Deerfield Beach.
1. Soak Up the Rays at Deerfield Beach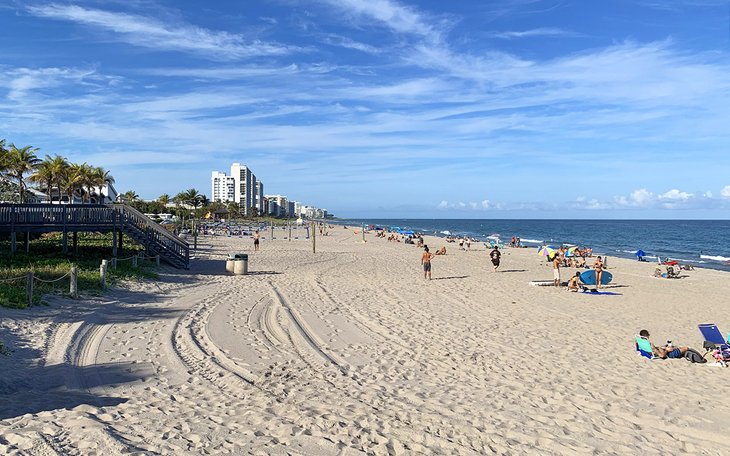 Not surprisingly, the star attraction at Deerfield Beach is found at the shore. Lusciously soft golden sand lines this pristine stretch, which is aptly named after the town. A Blue Flag award winner, it boasts excellent water quality and clean conditions, making it one of the best beaches in Fort Lauderdale, which lies only 16 miles away.
One of the area's best beaches for families, this pretty beach boasts a long fishing pier and boardwalk. Plus, lifeguards are on duty from 9am to 5pm daily. Grab a shovel, pitch a sun tent, or jump in the waves; it's easy to be entertained at this beach.
Volleyball fans should arrive early on busy weekends, as there are nine first-come, first-served courts available just north of the pier. They are used by the city when it hosts the Olympic Sand Volleyball Trials, so you know they're legit.
Spending a day on this stunning beach is one of the best free things to do in Deerfield (if you don't count the parking fee, that is).
Insider's tip: Hoping to surf? Head north of the pier and south of lifeguard tower 7.
2. Fish Off the Deerfield Beach International Fishing Pier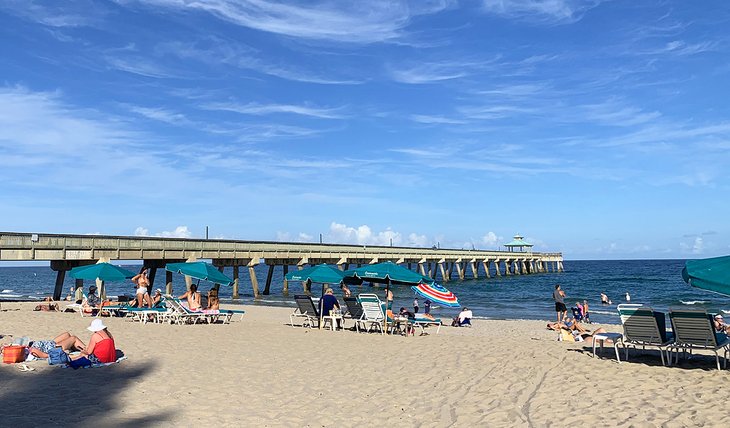 While most tourists visit Deerfield Beach for its silky sand and azure ocean, it's the International Fishing Pier that really draws their attention. Stretching 976 feet into the Atlantic, this is the most beloved gem at the beach. For a small fee, visitors can fish, walk, sit, or merely gaze out to sea.
There's never a bad time to visit the International Fishing Pier. If you're hoping for postcard-worthy photos, get up early and catch the remarkable sunrise. An evening visit will proffer an unbeatable view of the stars, and the sound of water lapping the shore at night is especially relaxing.
Anglers spend hours on the pier, often making a catch within minutes. At the start of the pier, you'll find the Deerfield Beach Shop, which rents fishing gear, and sells bait of all types (live, fresh, and frozen), as well as touristy tchotchkes, so don't worry if you arrive empty-handed.
Insider's tip: Look down! On calm days, amazing marine animals can be seen from above, including stingrays and turtles. Observing the marine life from this pier is a perfect activity for families.
Feeling peckish? Deerfield Beach Café sits mere steps from the sand and offers plenty of outdoor tables with umbrellas for shade.
Official site: https://www.deerfield-beach.com/1420/International-Fishing-Pier
3. Play All Day at Quiet Waters Park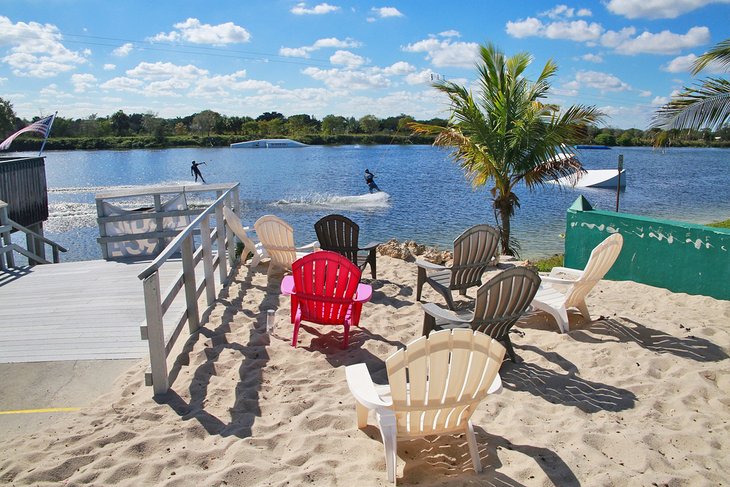 You'll have to beg your kids to leave Quiet Waters Park, by far the most fun place to visit for families in Deerfield Beach. Luckily, it boasts a campground with tents and teepees for rent, so you can sleep comfortably under the stars if they refuse to go home.
While in the park, you'll have access to over 430 acres of nature's best playground. Multiple lakes offer great boating and fishing opportunities, and you can rent a vessel at the marina. Bikes are also available for a fee. With so many trails on offer, the small price is worthwhile.
Kid-fave Splash Adventure is an interactive water park filled with slides, tunnels, sprinklers, dumping buckets, and a large splash pool. You can also play disc golf, volleyball, basketball, or visit the butterfly garden. Told you the kids won't want to leave.
Deerfield Beach has plenty of dog-friendly places, too. Woofing Waters Dog Park & Marina is a must if you have a four-legged pal. This phenomenal two-acre dog park offers separate sections for large and small dogs, which include sprinklers, showers, and plenty of space to run around.
Address: 401 S. Powerline Road, Deerfield Beach, Florida
4. Lose Yourself at Deerfield Island Park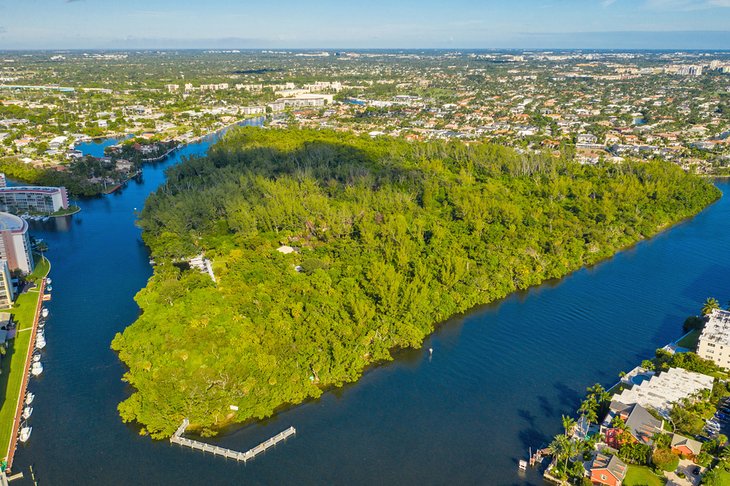 A triangular-shaped haven for nature and wildlife, the lovely 43-acre Deerfield Island Park is a wonderful place to get away from it all. Feel your worries melt away as you walk the jungle-like trails, spot a turtle on the boardwalk, and look for alligators among the mangrove swamps.
The only way to reach this tranquil wonderland is by ferry, which is free from neighboring Sullivan Park. It only runs on Fridays, Saturdays, and Sundays between 10am and 3pm, so plan your trip accordingly. Those arriving by private boat can park in one of the island's six slips.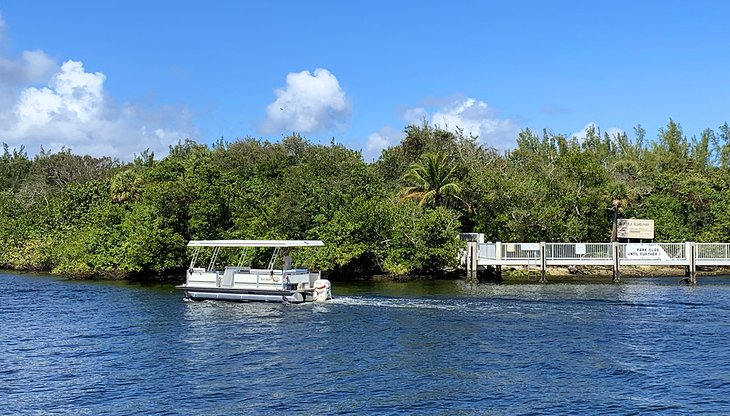 There's a playground on-site, as well as a shaded pavilion with running water and electricity. Bring binoculars if you want a closer look at the area's most interesting birds and reptiles. Also, be sure to pack water, snacks, sunscreen, and bug spray, as there are no amenities on-site.
Address: 1720 Deerfield Island Park, Deerfield Beach, Florida
5. Arboretum at Constitution Park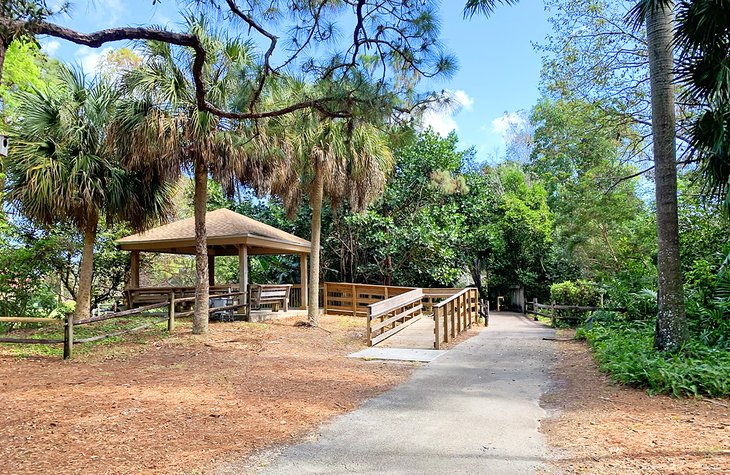 Another natural beauty, the Arboretum at Constitution Park features stunning grounds blanketed by more than 200 species of trees (including the Zombie Palm) and hundreds of flowers. If your favorite sightseeing adventures involve natural wonders, you'll love it here.
Dubbed the area's "tree zoo," this picturesque property protects its plants within nine acres. It's set within the Deer Creek neighborhood, and you'd never know it was there if you weren't looking.
In addition to the traditional palms, visitors are introduced to bamboo, flowering tropical fruit, and other exotic species. Head to the H.W. "Zeke" Landis Nursery for a close look at interesting plants, some of which you can purchase and take home.
If you're hoping to learn more about the flora and fauna found within this sanctuary, book a free tour. They're available between September and May at 10am on Fridays and the first Saturday of each month.
Parents will love the large playground on-site, as well as the outdoor fitness equipment peppered throughout the grounds.
Address: 2841 W. Hillsboro Boulevard, Deerfield Beach, Florida
Official site: https://www.deerfield-beach.com/83/Arboretum
6. Ski the Calm Waters of Ski Rixen USA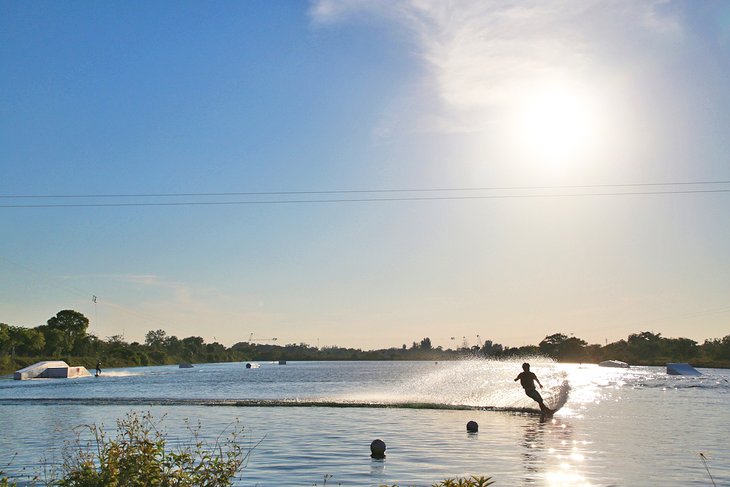 A unique take on water fun, Ski Rixen USA is set within Quiet Waters Park. It's here that water sport beginners and experts alike can throw themselves around an inflatable obstacle course or be pulled across a lake while donning water skis.
Ski Rixen USA is the first cable park in the country to allow tourists to water-ski, wakeboard, and kneeboard while being pulled by a cable across smooth-as-glass water. No boat necessary, and you won't have to fight giant waves while you ride.
Book a lesson to learn the basics or up your skill level by mastering new tricks - the lake boasts jumps for adventure seekers. Fees are charged by the hour, with two- and four-hour passes, as well as full day permits available. The cost includes a life jacket, helmet, and equipment.
Address: 401 S Powerline Road, Deerfield Park, Florida
Official site: https://skirixenusa.com/
7. Walk the Deerfield Beach Boardwalk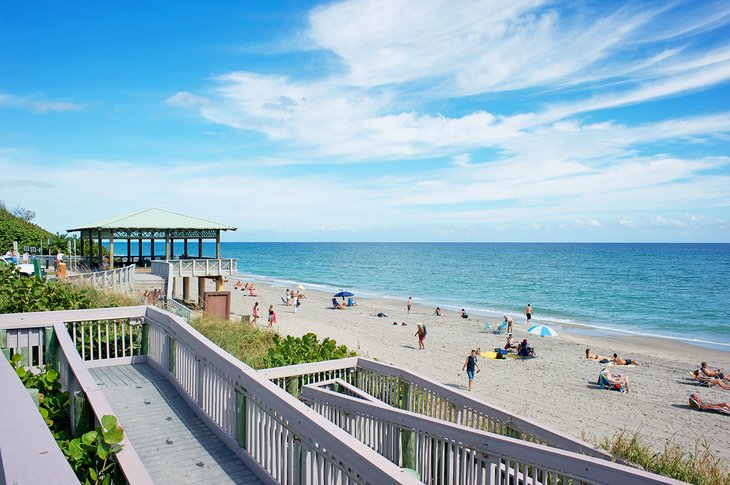 Most of the best beaches in Florida boast a boardwalk, and Deerfield Beach is no different. Home to a mile-long walkway popular with bikers, walkers, and rollerbladers, this is the place to be and be seen. Plus, it allows you to walk the beach without getting sand in your shoes.
The walkway is wide, perfect for those in wheelchairs or pushing strollers. Nearby buildings and some streetlamps provide light, making it safe for those who enjoy a romantic stroll under the stars. No matter what time of day (or evening) you wander along this boardwalk, you'll appreciate the scenery, and the fact that it's one of the free things to do in the city.
Take a load off on one of the benches lining the boardwalk and enjoy a bit of people-watching with your view. Tall, waving palm trees offer some sought-after shade. When hunger hits, pop into one of the waterfront restaurants for a bite.
Address: Deerfield Beach, 200 NE 21st Avenue, Deerfield Beach, Florida
8. Tour the Historic James and Alice Butler House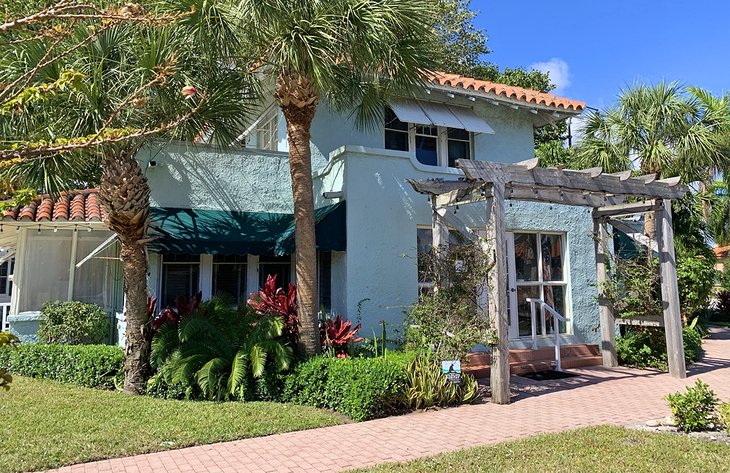 The quaint James and Alice Butler House is perhaps the most iconic home in Deerfield Beach. Listed on the National Register of Historic Places in 1995, this pastel Mediterranean Revival-style building was erected in 1923. Its bright terra-cotta-tiled roof is particularly eye-catching.
Originally, the house, which takes up four of today's city lots on a residential street, belonged to James and Alice Butler. Both pioneers and civic leaders, they left the home to the Deerfield Beach Historical Society upon their death. Today, it is run as a museum.
Inside, visitors are rewarded with a history lesson about life in the pioneer days. Tourists can glimpse the couple's original furnishings and other artifacts from the time. Tours are available between 9am and 4pm on Mondays through Fridays.
Address: 380 E. Hillsboro Boulevard, Deerfield Beach, Florida
Official site: https://www.broward.org/History/NationalRegister/Pages/ButlerHouse.aspx
9. Kick Back and Relax at Sullivan Park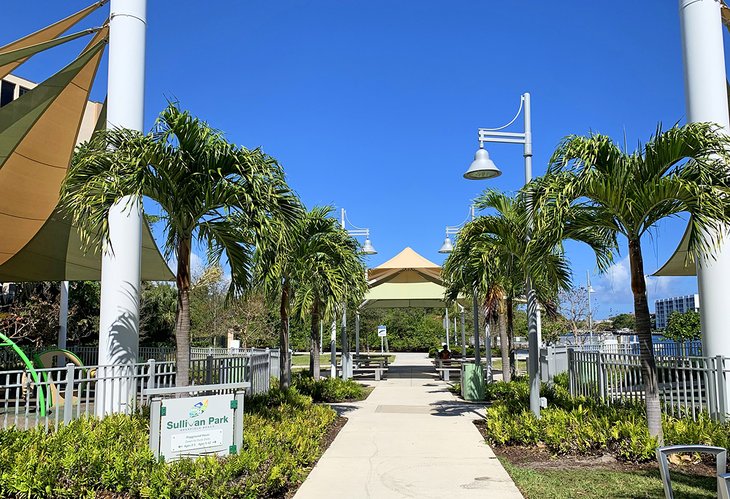 Sullivan Park is a favorite family attraction featuring a splash pad and multiple shaded play areas. Just over three acres in size, this quiet spot lies on the Intracoastal Waterway, offering visitors a pretty view as well as an optimal spot to fish.
In the 1920s, this location served as home to a packinghouse before being turned into a gambling club and finally an eatery called the Riverview Restaurant. In 2017, the area was transformed into the tranquil park that is seen today.
Sullivan Park lies across from Deerfield Island Park, a nature sanctuary reachable only by free ferry from this spot. It runs every hour on the hour from 10am to 3pm.
Insider's tip: Parking is free for the first four hours, but don't back in. It's against the rules.
Address: 1633 Riverview Road, Deerfield Beach, Florida
Official site: https://www.deerfield-beach.com/1966/Sullivan-Park
10. Dine at Sunset at JB's on the Beach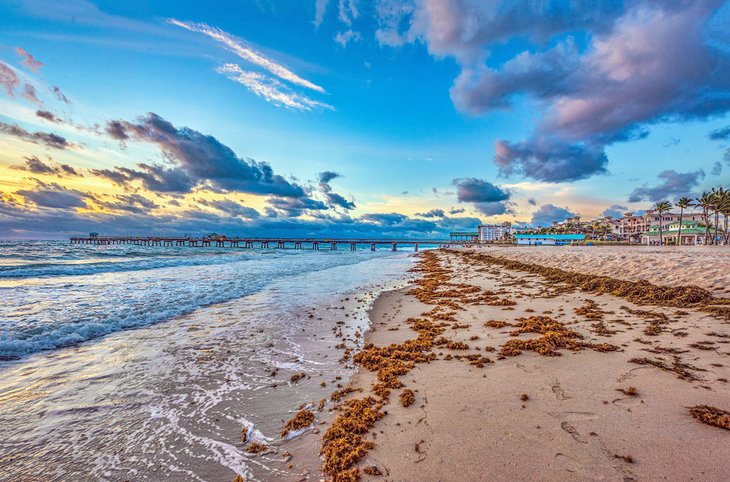 It's easy to see why JB's on the Beach is one of the best restaurants in Deerfield Beach. First, it has a great location: on the beach, obviously. You'll even be rewarded with a view of the International Fishing Pier. Secondly, the food is so mouthwateringly delish, you'll want seconds.
Be prepared to wait if you visit near sunset, as this is the optimal time to dine at JB's. It's worth the wait, so don't give up. The bocce balls (pesto-marinated mozzarella fried in panko breadcrumbs) will make you drool, while the salmon ramen bowl is refreshingly healthy and unique.
The best spot to sit is outside, especially while live music is on offer. The veranda is covered, which helps protect you from the sun's hot rays, and the ocean breeze is entirely relaxing.
Address: 300 NE 21st Avenue, Deerfield Beach, Florida
Official site: https://www.jbsonthebeach.com/
11. Flex Your Shopping Muscle at Mizner Park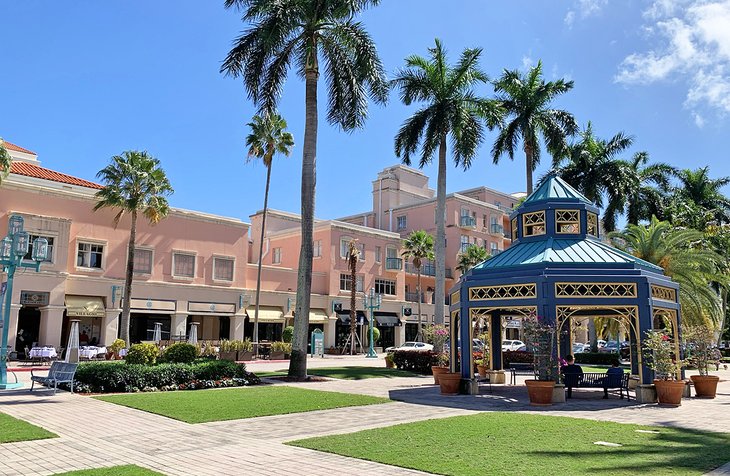 A seven-minute drive will get you to the luxurious Mizner Park, one of the best attractions in posh Boca Raton. Chock-full of restaurants, a variety of shops (many of which are boutique), and a movie theater, this pretty park is more than just an outdoor shopping destination; it's an experience, and an essential place to visit during your trip to Deerfield Beach.
Old Florida charm meets modern day luxury at Mizner Park. Wide sidewalks line the streets while outdoor patios offer visitors a chance to enjoy the lovely scenery - tall, waving palms; a gazebo; elaborate lampposts; and pristine pink buildings - while they dine.
A majestic stone water fountain graces the center of the park, making it easy to pretend you're in Italy. It's surrounded by perfectly manicured grass and charming gardens. The attention to detail is impressive. Shops range in price and sell everything from candy to spa products to jewelry to clothes.
Address: 327 Plaza Real, Boca Raton, Florida
Official site: https://www.miznerpark.com/en.html
12. South Florida Railway Museum
The South Florida Railway Museum is a hidden gem set at the south end of the Amtrak Station on West Hillsboro Boulevard.
A must-see attraction for train buffs, this small space is filled with railway memorabilia and a working model railroad. The museum's volunteers are dedicated to their craft of fixing and building model railroads, and they're not shy about sharing their knowledge with visitors.
The museum's association with the Deerfield Historical Society allows volunteers to share not only their love of all things railway, but to explain the railroad's important past both in Florida and the nation as a whole.
If getting up close and personal with a model train tops your list of fun things to do, be sure to plan your visit wisely. The museum is only open Wednesdays from 6pm to 9pm and Saturdays from 12pm to 4pm. You'll want to organize your schedule accordingly, and be sure to bring the kids.
Address: 1300 W. Hillsboro Blvd, Deerfield Beach, Florida
Official site: https://sfrm.org/
13. Gumbo Limbo Nature Center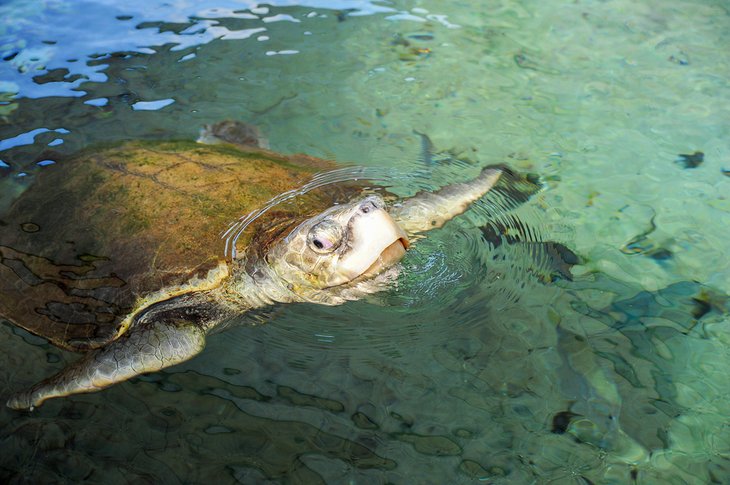 The Gumbo Limbo Nature Center is also found in nearby Boca Raton. Founded in 1984, this special spot sits on a barrier island among tropical hardwood hammock trees. It's home to 20 acres of land and protects a variety of plant and animal species indigenous to South Florida.
Wander through the butterfly garden, take a peek at the adorable residents of the Sea Turtle Rehabilitation Facility, or wander the Ashley Trail. The Boardwalk Trail transports visitors through the hammock forest and eventually leads them to nearby Red Reef West Park.
Gumbo Limbo, a popular South Florida tree with distinctive copper-colored bark, can also be seen from the trails. The on-site Nature Center includes a sea turtle container garden and butterfly nursery, as well as solar and gopher tortoise exhibits.
Address: 1801 North Ocean Boulevard, Boca Raton, Florida
Official site: https://www.gumbolimbo.org/
14. Satisfy Your Curiosity at The Museum of Discovery and Science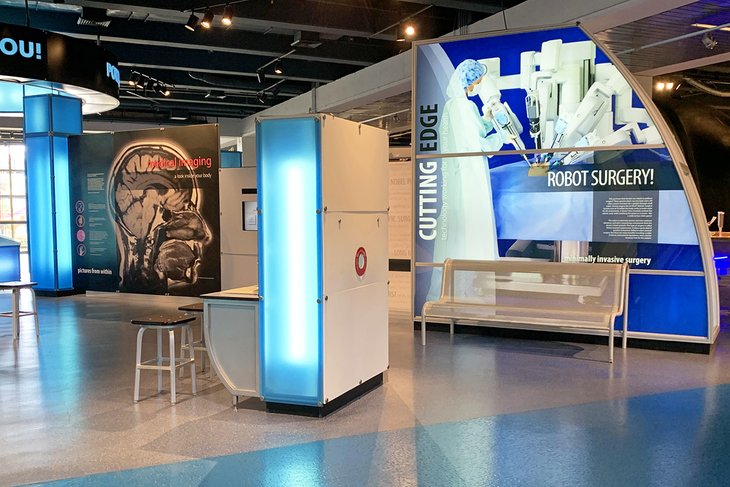 While not technically in Deerfield Beach, the intriguing Museum of Discovery & Science lies a quick 30-minute drive south, in Fort Lauderdale.
An unmissable point of interest for those traveling with kids, this fun attraction is packed with interactive exhibits guaranteed to put a smile on everyone's face. And it's a perfect destination for a rainy day.
Inside, tourists can have adventures so real, they'll forget they're at a museum. Ride a virtual airboat through the Everglades, fly a Lockheed Martin F-35 (in a simulator), or hop in a hurricane tank to feel insane winds.
The entire family will learn about everything from dinosaurs to the importance of recycling. Catch a live demonstration in the Keller Science Theater, ogle the adorable otters, or catch a film at the IMAX. You won't get bored, we promise.
Address: 401 SW 2nd Street, Fort Lauderdale, Florida
Official site: https://mods.org/
More Related Articles on PlanetWare.com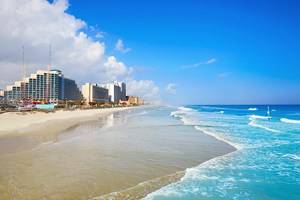 Hit Florida's Best Beaches: Most people visit Florida in hopes of spending their time beachside, soaking up the sun while frolicking in the warm water. If you fit into this category, be sure to check out these beautiful beaches in Jacksonville and don't miss the best beaches near Orlando.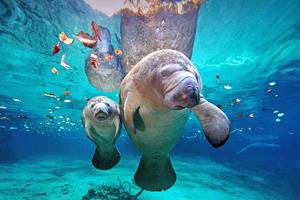 More Places to Visit in Florida: Whether you love amusement parks, museums, beaches, or fine dining, you'll find something to keep you happy in the Sunshine State. If you like to explore, visit these top tourist attractions. Then check out these fun things to do to round out your trip.