11 Top-Rated Things to Do in South Haven, MI
Author Meagan Drillinger visited South Haven in the fall of 2022 while on assignment for PlanetWare.
Perched at the mouth of the Black River, overlooking Lake Michigan, South Haven is a historic port town with history, outdoor beauty, and interesting things to do year-round.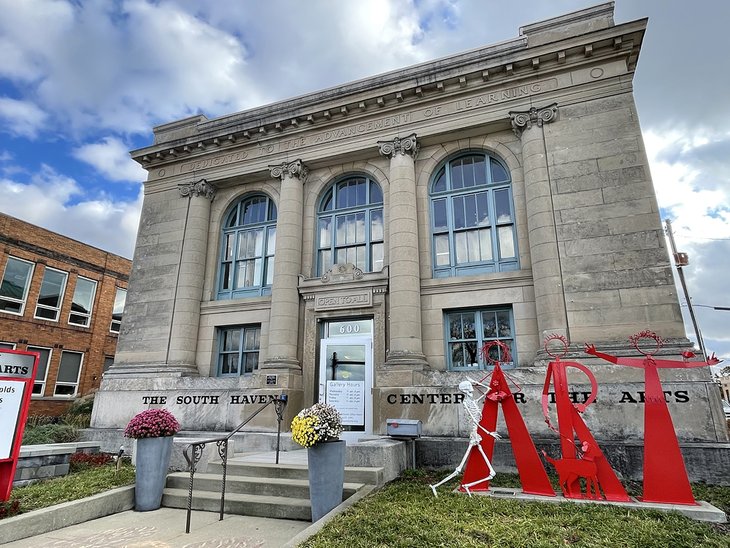 South Haven is a cultural and outdoor paradise. It's been named one of the Trail Towns of Michigan. If you're looking for fun activities, look no further than the 48-plus miles of hiking and biking trails, 91 miles of kayaking and canoeing trails, and 770 acres of nature preserves.
A few of the town's other attractions include some of the most historic architecture in the state, a center for performing arts, and fantastic cafés and restaurants. Agriculture is one of the historic industries of South Haven, and still exists today. The fresh produce of South Haven is legendary and one of the top draws of a visit.
Get ready to discover the very best things to do in South Haven, and learn why this is one of the best towns in Michigan.
1. View the South Haven Lighthouse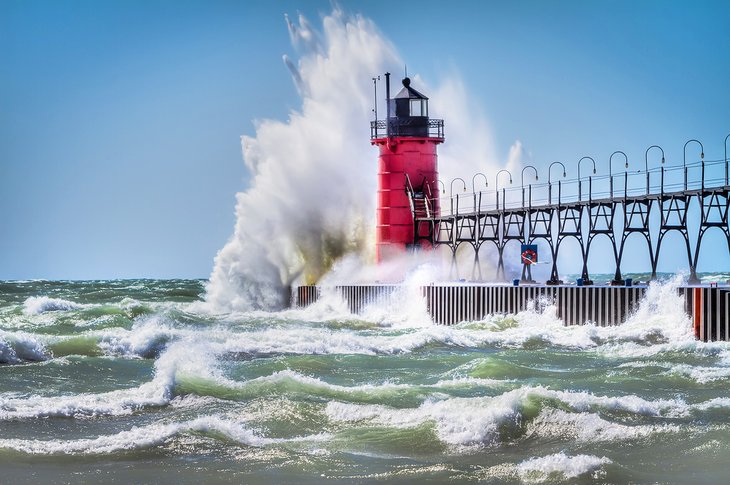 More than just a beacon for ships on Lake Michigan, the South Haven Lighthouse is an iconic landmark of the city. The current historic South Haven lighthouse dates back to 1903 and is a testament to South Haven's maritime heritage. While this lighthouse dates back to the early 20th century, earlier iterations of it have existed since the mid 19th century.
The original lighthouse opened in 1872, with a dwelling and a tower that was home to a fixed red light. Over the years, the lighthouse was moved to different spots on land until finally a metal tower was erected in 1903.
Today the lighthouse sits at the western end of the South Pier, where the Black River flows into Lake Michigan. Visitors are not allowed inside the lighthouse, but you can walk out on the catwalk and sit in its shadow, watching the boats float by. The former keeper's house has been renovated and turned into a research library.
Address: 60 Water Street, South Haven, Michigan
2. Bike the Kal Haven Trail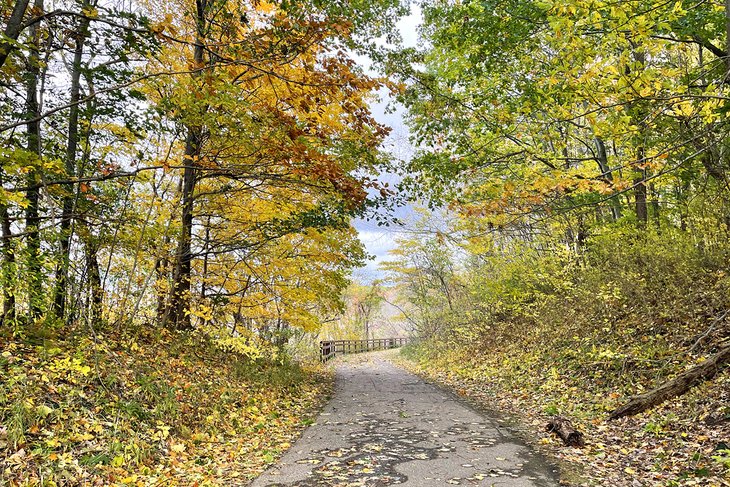 No matter the time of year, the Kal Haven Trail is a fantastic way to get to know the natural beauty of southwestern Michigan. Originally a railroad bed, today the trail is a multi-use path that runs for 34 miles linking South Haven with Kalamazoo. It's considered to be one of the top recreation spots in Michigan.
Back in the 19th century, the Kalamazoo-South Haven Railroad was used to transport lumber between the two cities. The rail route was in operation for a little more than 100 years before the line was abandoned. It took years before plans for a public nature trail were put in motion. Eventually a plan passed, and the Kal Haven Trail opened in 1989. It is one of the oldest trails in the state and helped to serve as a model for future trails in Michigan.
Today it is great for running, biking, walking, or cross-country skiing. The trail winds its way through towns and villages, open farmland, over a glacial moraine, and through wetlands, before ending on the coast of Lake Michigan.
3. Lounge on North Beach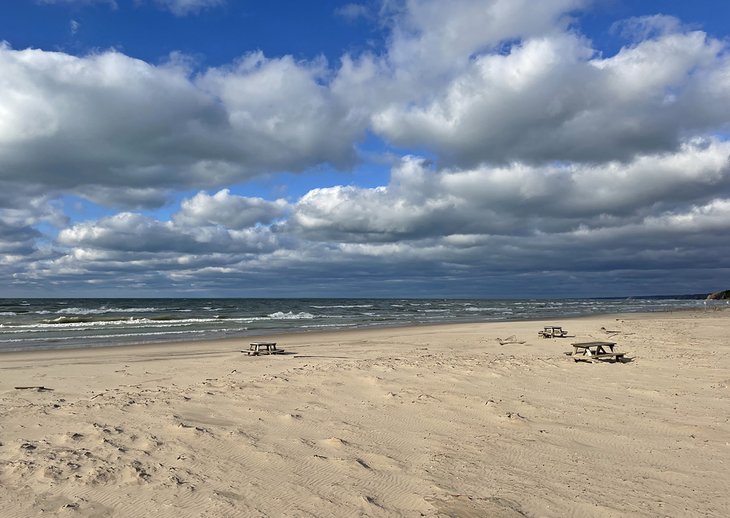 South Haven has quite a few beaches within the city limits – seven to be exact. But of all the beaches around South Haven, North Beach is the largest and most popular. The sprawling stretch of sand is on the north side of the city (as the name suggests), and offers so many things for visitors to see and do.
Apart from swimming and sunbathing, the seven-acre North Beach has a playground, pier, picnic area, concessions in the warmer months, restaurants, and easy parking. It's also an ADA accessible beach.
The community of North Beach is one of the most popular in South Haven, with its stately homes, parks, and close proximity to downtown.
4. Michigan Maritime Museum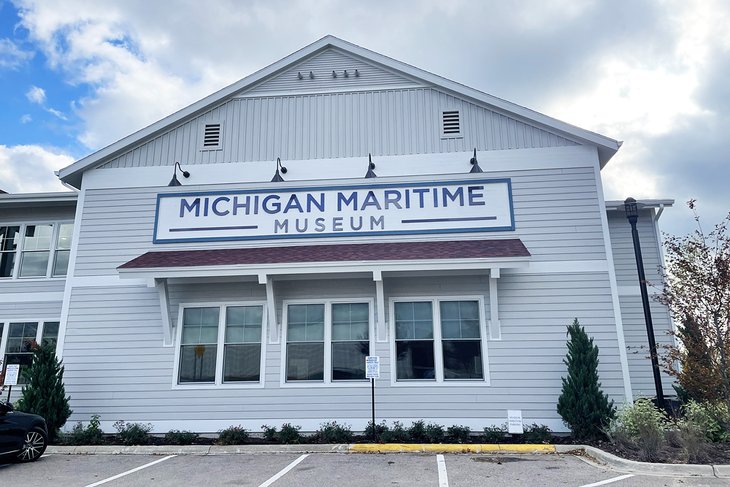 Michiganders are proud of their maritime heritage, and South Haven is no exception. When exploring South Haven, a stop at the Michigan Maritime Museum is a must to help give a sense of place and history to this Lake Michigan town.
The museum is open year-round and features many exhibits and self guided tours, as well. The museum has recently opened a new exhibit – Full Steam Ahead: The Golden Age of Great Lakes Passenger Steamships. It tells the stories of the luxury passenger steamers that traveled the Great Lakes in the early 20th century. Learn all about daily life on board from both the perspectives of the passengers and the crew.
While visiting the museum, guests can step aboard a 19th-century replica tall ship and actually sail out into Lake Michigan. The Michigan Maritime Museum has five on-water exhibits that are made up of replica and historic ships. All five are available for public sailings.
Address: 260 Dyckman Ave, South Haven, Michigan
5. Hike Van Buren State Park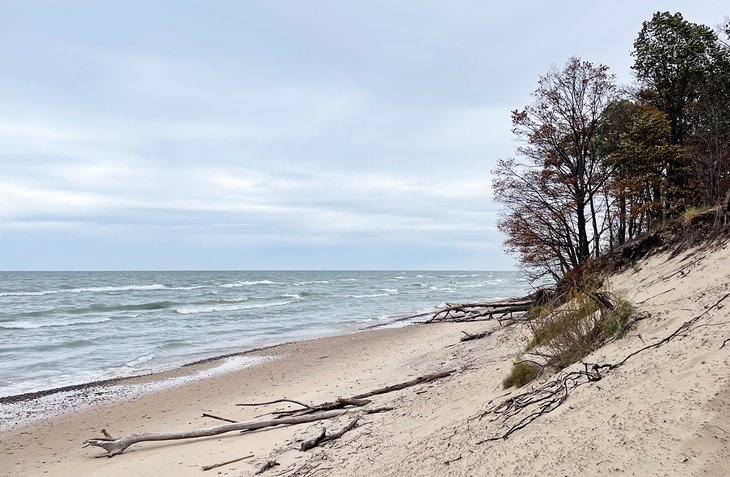 Just a few miles from South Haven is one of Michigan's loveliest state parks. Van Buren State Park occupies 400 acres on the shores of Lake Michigan. Among its features is a mile of sandy beach, but what it's best known for are its undulating sand dunes.
Come summer time, Van Buren State Park is one of the most popular spots in South Haven for swimming or lounging at the beach, surrounded by the gorgeous, naturally formed sand dunes.
But the park is popular in all months, whether visitors are camping, picnicking, grilling, or walking along the wooded trails. The campground has more than 200 campsites that are within a short walk of the Lake Michigan shoreline. Each site has electricity, a fire ring, and a picnic table. The campground also features restrooms and showers.
The number one trail in the park is the Van Buren Trail, which runs for 5.5 miles. The trail is paved or gravel and is popular among bikers and hikers.
Address: 23960 Ruggles Road, South Haven, Michigan
6. Visit Bumbleberry Acres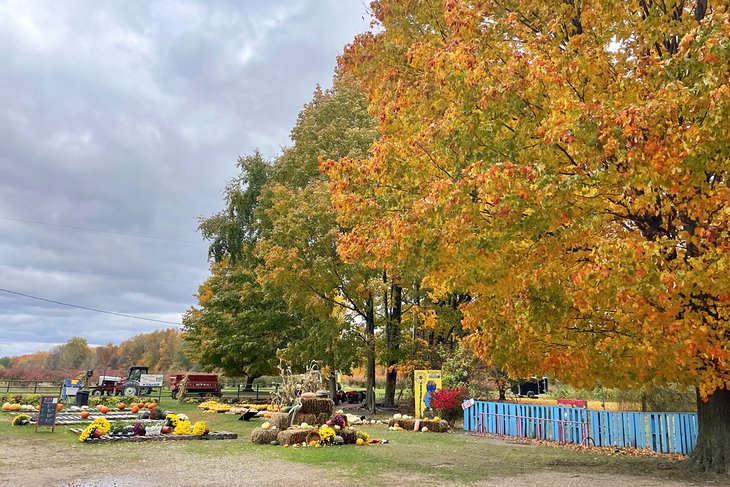 South Haven's farming heritage is one that dates back decades. If you're visiting South Haven in spring, summer, or fall, then a stop at Bumbleberry Acres is a must. The family-friendly working farm is a great spot to get in touch with South Haven's agricultural roots, support a local business, and taste some truly fresh produce.
Bumbleberry Farms is known for its blueberries, which you can pick yourself. It also has pick-your-own pumpkins and sunflowers.
If you're visiting with kids, the farm has a small petting zoo with goats, donkeys, bunnies, and other cuddly creatures. Stop by the Farm Market to browse their collection of sauces, syrups, preserves, pickles, and much more.
Don't forget to bring the camera. The farm has so many adorable photo opportunities for families, from the whimsical farm decorations to the quaint market and, of course, the cuddly animals.
Address: 6785 Baseline Road, South Haven, Michigan
7. Learn about Michigan's History at the Michigan Flywheelers Museum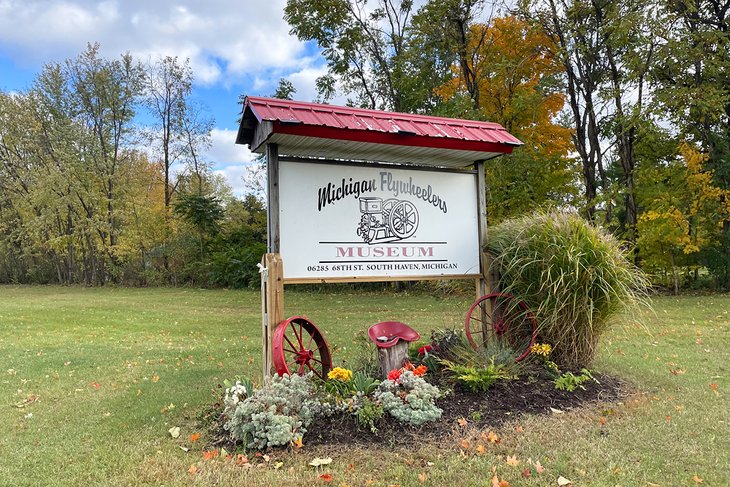 Among the many unique things to do in South Haven, the Michigan Flywheelers Museum is one of the best. What exactly is a flywheel? A flywheel is a metal disc in a manual transmission vehicle that helps to keep the car running and to balance the engine. In a state rich with automotive history, of course there would be a museum dedicated to flywheels.
The Michigan Flywheelers Museum sits on 80 acres and has a massive display of old farm machinery; a saw mill; and "Olde Town," which is a 1920s-era recreated community that has everything from a blacksmith shop to a historic jail.
With so much maritime history on the coasts of Michigan, it's easy to forget its farming and automotive past, and the Michigan Flywheelers Museum is a great place to get acquainted with that part of Michigan's history.
Address: 06285 68th Street, South Haven, Michigan
8. Pick Apples at Overhiser Orchards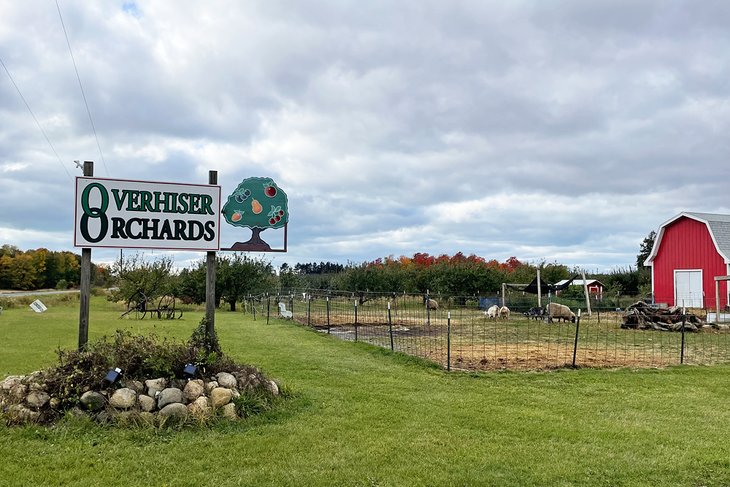 Speaking of South Haven's agricultural industry, a visit to Overhiser Orchards is a must. It's another iconic spot in South Haven to get in touch with the city's roots. In operation since 1863, this historic farm is still one of the best places to visit in Michigan for fresh produce and other homemade goodies.
The farm allows for U-Pick fruit throughout the year, from cherries and peaches to plums, pears, and apples. The farm also has a petting zoo, home to rabbits, goats, kittens, and even a few alpacas.
You can stroll the sunflower trails in the summer and weave your way through the corn maze in the fall. Other fun things to do include wagon rides, food trailers, a picnic area, and a children's play zone.
Overhiser Orchards has always been a family business and now is in its sixth generation of farming.
Address: 6405 109th Ave, South Haven, Michigan
9. Visit the Liberty Hyde Bailey Museum & Gardens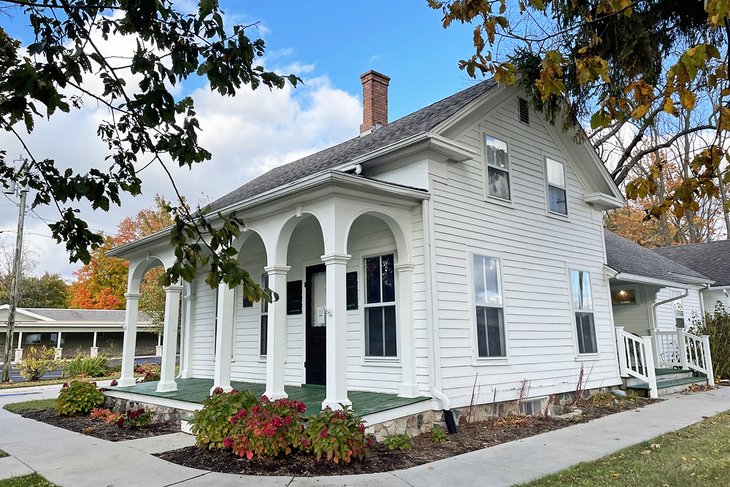 Liberty Hyde Bailey was a famous horticulturist, botanist, and past resident of South Haven, Michigan. He was one of the cofounders of the American Society for Horticultural Science, and visitors to South Haven can learn all about his life and work with a visit to the museum dedicated in his honor.
The Liberty Hyde Bailey Museum tells the story of Bailey's life. It is situated in the childhood home of Dr. Bailey, set within a park and highlighted with various gardens that illustrate his research over his lifetime.
The museum also happens to be a National Historic Site. The home was built between 1853 and 1856. Today the gardens and grounds reflect the original history, including the Bailey Farm's old smokehouse, the South Haven Blacksmith Shop and Carriage Barn, and a nature trail.
Address: 903 S Bailey Ave, South Haven, Michigan
10. See a Performance at South Haven Center for the Arts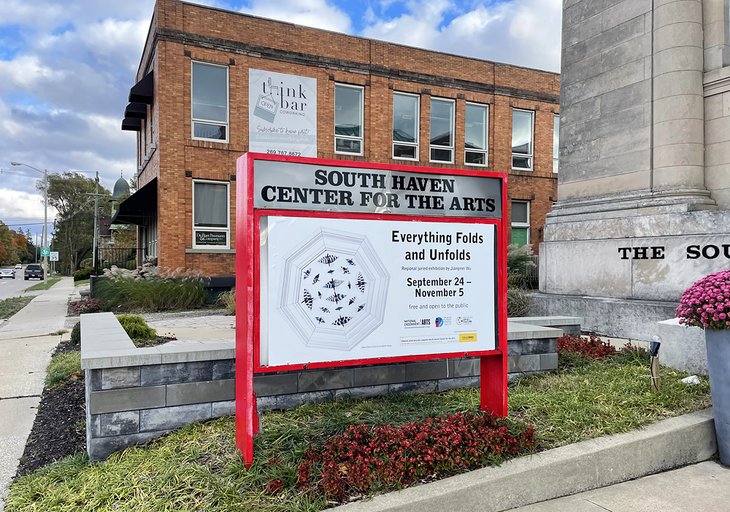 The South Haven Center for the Arts is the leading cultural institution for South Haven, Michigan. Housed in the stately former Carnegie Library downtown, the center is known for its artistic and cultural exhibitions that feature work from both Michigan and around the world.
It has been a mainstay of the community for more than seven decades and is free to the public. In addition to exhibitions, the center also showcases art shows, classics, and workshops for all ages, as well as concerts and lectures. It frequently calls out for artists to submit their work to be featured at their many art markets throughout the year.
The center rotates exhibits on a monthly basis, and local artists are selected to headline each exhibit. Annual events include the South Haven Art Fair in the summer, and the Mistletoe Market in November and December.
Address: 600 Phoenix Street, South Haven, Michigan
11. Stroll along the Black River in Downtown South Haven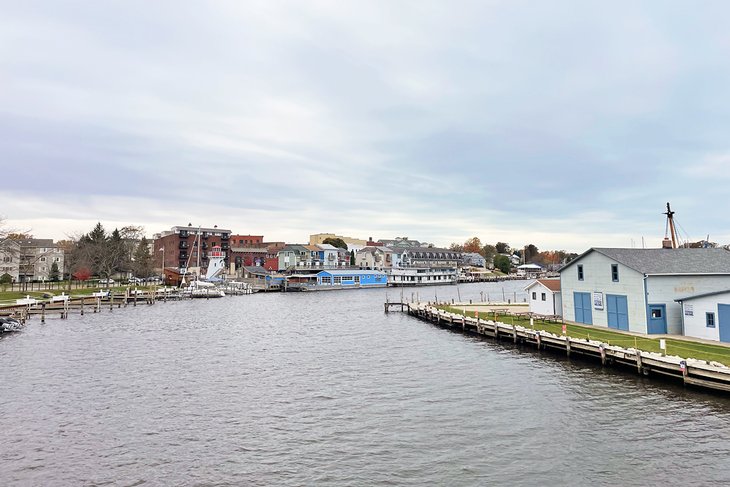 South Haven has many layers, from its Lake Michigan beaches to the long history of agriculture. But the beating heart of South Haven can be found in its historic downtown along the banks of the Black River.
The Black River runs right through downtown South Haven. Its shores are flanked with docks, seafood restaurants, and historic buildings, all of which contribute to its heritage and identity. Downtown South Haven is where you will find the town's cultural core, from its lively restaurants and cafés to its boutiques for shopping.
The Black River empties out into Lake Michigan, which means that South Haven has long been an important port city. It used to be a major timber shipping town sending timber out to other parts of the Midwest.
The recreational harbor is still a massive draw for tourists today, with sailing, day cruises, and other aquatic activities and attractions being the main draw.
The Michigan Maritime Museum sits right downtown just a few steps from the Black River, which is where visitors can learn all about the waterfront history of South Haven.
Map of Things to Do in South Haven, MI
South Haven, MI - Climate Chart
Average minimum and maximum temperatures for South Haven, MI in °C
J
F
M
A
M
J
J
A
S
O
N
D

-1

-7

2

-5

7

-1

13

4

19

9

23

15

26

18

26

18

22

13

16

8

9

2

2

-3

PlanetWare.com
Average monthly precipitation totals for South Haven, MI in mm.

53

40

53

83

79

80

88

90

104

71

83

70

Average monthly snowfall totals for South Haven, MI in cm.

43

30

18

5

0

0

0

0

0

1

10

45
Average minimum and maximum temperatures for South Haven, MI in °F
J
F
M
A
M
J
J
A
S
O
N
D

31

20

35

23

44

30

55

39

66

49

74

59

78

64

78

64

72

56

61

46

48

36

36

26

PlanetWare.com
Average monthly precipitation totals for South Haven, MI in inches.

2.1

1.6

2.1

3.3

3.1

3.2

3.5

3.6

4.1

2.8

3.3

2.8

Average monthly snowfall totals for South Haven, MI in inches.

17

12

6.9

2.1

0

0

0

0

0

0.4

3.9

18