12 Top-Rated Things to Do in Kalamazoo, MI
Author Meagan Drillinger visited Kalamazoo in the fall of 2022 while on assignment for PlanetWare.
Kalamazoo, Michigan, is one of the most important modern crossroads in the Midwest. Halfway between Chicago and Detroit, it has played a vital role in helping the development of the region throughout the decades. Packed with history, Kalamazoo is today a thoroughly modern city with a range of things to do for both visitors and residents.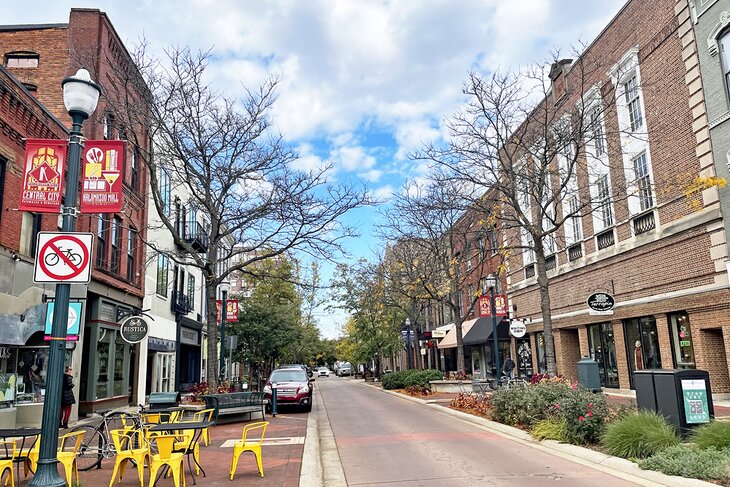 The city sits on the Kalamazoo River and was first settled by fur traders in the late 18th and early 19th centuries. Since then it has grown to become one of the top cities in Michigan, home to great restaurants, parks, entertainment, culture, and tourist attractions.
One of the highlights of Kalamazoo is the Kalamazoo Mall, which was one of the first outdoor pedestrian shopping malls in the United States. Visitors to Kalamazoo can learn all about the area's history at the Kalamazoo Valley Museum, the Kalamazoo Nature Center, and many other places in between.
The city has many worthwhile places to visit both within its downtown and in the many acres of parkland that surround it. Read on to discover the best things to do in Kalamazoo, Michigan.
1. See the Exhibits at the Kalamazoo Institute of Arts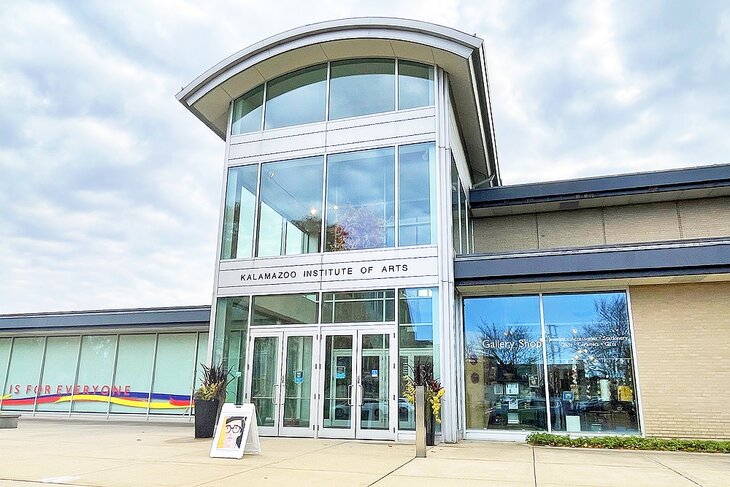 Since 1924, the Kalamazoo Institute of Arts has been a cultural hub of the community. Home to a permanent collection that has nearly 4,700 pieces, the museum is one of the top art institutes in the state. In addition to exhibits, the museum hosts weekly programs and classes, as well as annual events, which makes it a true center for cultural education in Kalamazoo.
Today the museum spans 72,000 square feet with a two-story lobby gallery, library, interactive gallery for children, and an auditorium. The collection includes a massive display of ceramics and paintings, photographs, prints, and sculptures, as well as up to 15 temporary exhibits each year.
The permanent collection focuses on 29th-century American art, with artists like Ansel Adams, Alexander Calder, Edward Hopper, Norman Rockwell, Cindy Sherman, and many others.
Address: 314 S Park Street, Kalamazoo, Michigan
2. Visit the Kalamazoo Valley Museum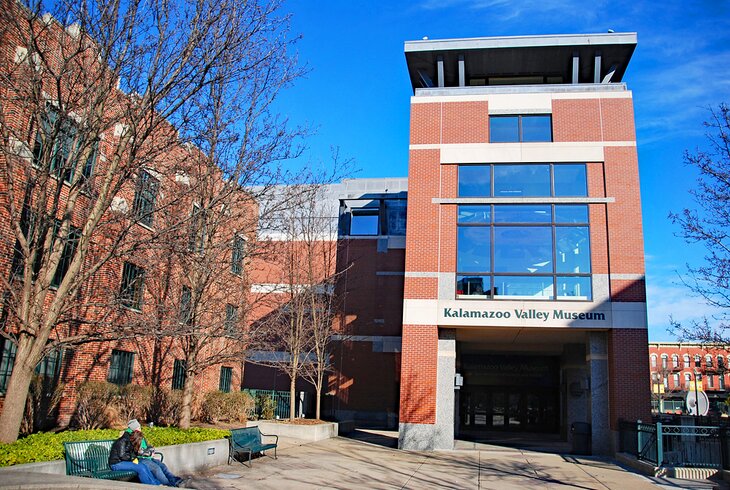 A great introduction to Kalamazoo is a stop at the Kalamazoo Valley Museum. Designed for children and families, the museum gives a hands-on overview of the local history of Kalamazoo, as well as its automotive past.
Among the permanent exhibits is the Atrium of Artifacts. This three-story display has more than 55,000 artifacts that are an important part of the Kalamazoo Valley.
A Rain Garden is also growing at the museum. Rain gardens collect rainwater from a rooftop and allow it to soak into the ground while simultaneously filtering it. The museum has a mummy exhibit, as well, which has the real mummy of Tjenet-Nefer, as well as artifacts and forensic reconstruction of how she looked.
The Kalamazoo Valley Museum also has a planetarium that features several shows and exhibits that explore the universe and time.
Address: 230 N Rose Street, Kalamazoo, Michigan
3. Explore the Kalamazoo Nature Center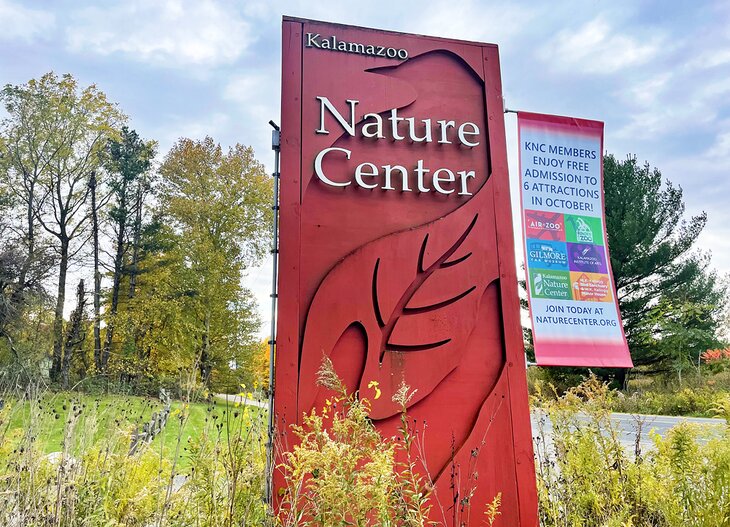 Among the many places to get outside in Kalamazoo, one of the best is the Kalamazoo Nature Center. Home to 14 miles of trails, the nature center features a variety of different landscapes packed with a diverse array of wildlife, flowers, and trees.
The park's trails weave their way through several types of landscapes, including wetlands, forest, and prairies. Visitors can explore the hummingbird and butterfly garden, as well.
For some of the best views in the county, try the Raptor Ridge trail. This half-a-mile loop trail climbs to one of the highest points in the area and gives sweeping views over the Kalamazoo River valley.
You can also explore the exhibits hall for a variety of rotating exhibits that discuss the landscape, wildlife, and history of the region. It also displays art from local artists.
Address: 7000 N Westnedge Ave, Kalamazoo, Michigan
4. See a Performance at the Kalamazoo State Theatre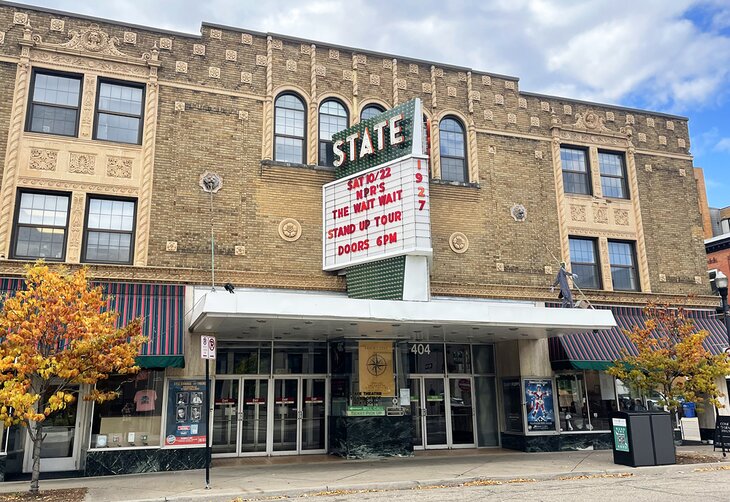 Take a glimpse back at one of the golden ages of Kalamazoo, Michigan, with a visit to the Kalamazoo State Theatre. Opened in 1927, the theater is one of the last remaining grand movie theaters in the country.
These "atmospheric picture palaces" were built in the first half of the 20th century. The building is listed on the National Register of Historic Places.
The Kalamazoo State Theatre was originally built as a picture palace where it would host silent films and vaudeville performances. Today it's the city's main performance space for live music, comedy shows, and more.
Some of the largest names in entertainment have graced the stage of the Kalamazoo State Theatre, from the Temptations to Britney Spears and everyone in between. It has a calendar of events, as well as an artist spotlight series.
Address: 404 S Burdick Street, Kalamazoo, Michigan
5. Visit Gene the Pumpkin Man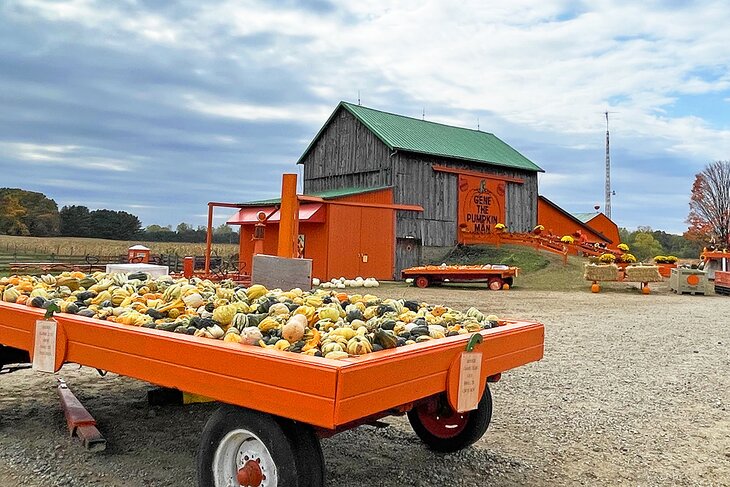 For more than six decades, Gene Rhodes has been known as "The Pumpkin Man" of Kalamazoo. He's been harvesting pumpkins from his farm and selling them at his orange-splashed barn farm stand just outside the city for years. To this day, he is considered by residents of Kalamazoo to be an absolute institution.
You can't miss Gene's farm. It sits like an explosion of orange along the side of M-43, complete with a bright orange car right out front. In a good year, Rhodes is able to churn out about 40 tons of pumpkins and squash, and he has them all for sale along with other produce like corn, squash, and gourds.
Nothing sets the scene for fall quite like a stop at Gene's to pick your favorite pumpkin, take a tour through the corn maze, and stock up on locally made products like decadent pumpkin butter.
Address: 22637 M-43, Kalamazoo, Michigan
6. Wander around Al Sabo Preserve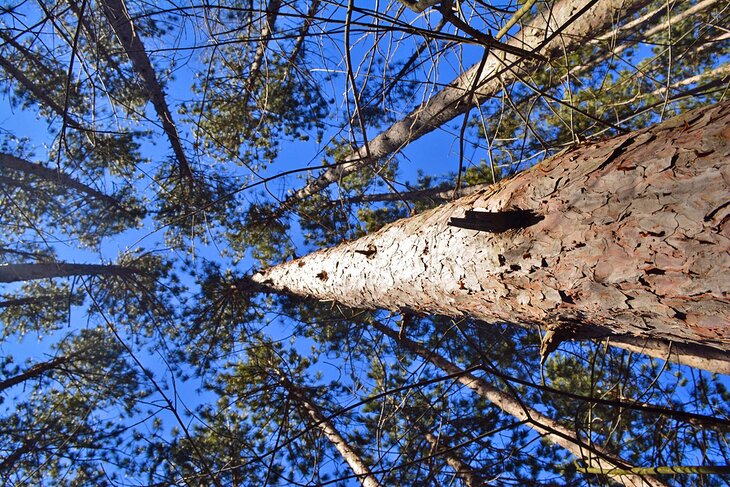 Get out and explore the wild, naturally beautiful Al Sabo Preserve. This protected natural area is 741 acres of marsh and forest, veined with babbling streams and 25 miles of lovely walking trails.
Wandering around the Al Cabo Preserve will take visitors through a variety of landscapes, from open meadows and wetlands to hardwood forests. Many miles of pathways weave throughout the preserve, which are primarily reserved for walking.
If you want to explore on two wheels, the preserve has trails that are specifically dedicated to cycling. That said, mountain biking is a big sport at the Al Cabo Preserve. Those paths that are reserved for mountain biking are especially popular.
If you're interested in wildlife, this is a great place to bring binoculars. More than 160 species of animals have been identified in the preserve, including birds, deer, coyote, turtles, and fish.
Address: 6310 Texas Drive, Kalamazoo, Michigan
7. Unlock Your Creative Side at Kalamazoo Book Arts Center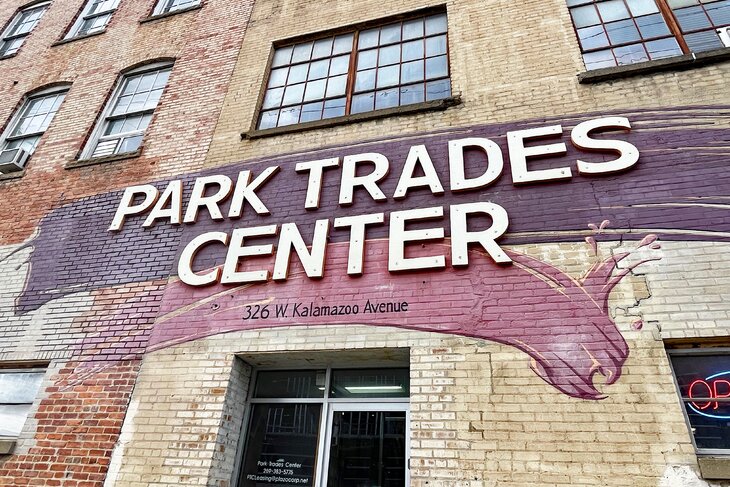 Parts of downtown Kalamazoo may look gritty and hardened, but if you know where to look, you can find its soft, cultural core.
Artists and writers unlock their creative energy at the Kalamazoo Book Arts Center, a non-profit community organization that is dedicated to bringing the art of bookmaking to life. The space was founded in 2005 to educate creatives on the ins and outs of book design, printing, paper making, and creative writing.
Located in downtown Kalamazoo, KBAC hosts a series of events and exhibits, classes, artists in residence, a library, and a book arts store.
Workshops can be done in person or online. Students can also opt for private workshops if they are organizing an event.
Address: 326 W Kalamazoo Ave #103A, Kalamazoo, Michigan
8. Explore Downtown Kalamazoo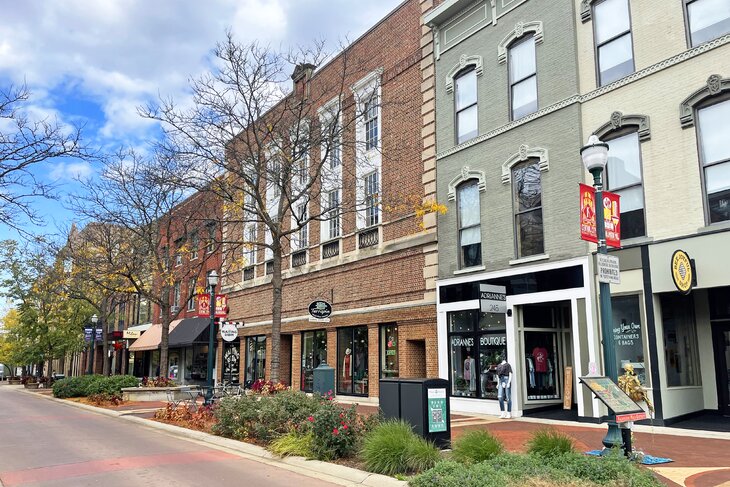 Kalamazoo, Michigan, is one of the oldest areas in the state of Michigan. It was originally occupied by the Potawatomi Native Americans until the European settlers arrived in the late 18th and 19th centuries. It was officially named Kalamazoo in 1836 and has been an important crossroads for Michigan ever since.
Today the history, culture, and activity can all be found in the historic downtown, which is a must when discovering all the things to do in Kalamazoo. Downtown Kalamazoo is where you'll find many of the historic buildings, art galleries, restaurants, and entertainment.
While strolling downtown, you'll be able to visit the Kalamazoo Institute of Arts, the Kalamazoo Valley Museum, or roam the pedestrian-friendly Kalamazoo Mall — one of the first in the U.S..
Downtown has plenty of green space, as well as a portion of the Kalamazoo River. Catch a performance by the symphony orchestra or hit the galleries during the monthly Art Hop.
9. Visit Henderson Castle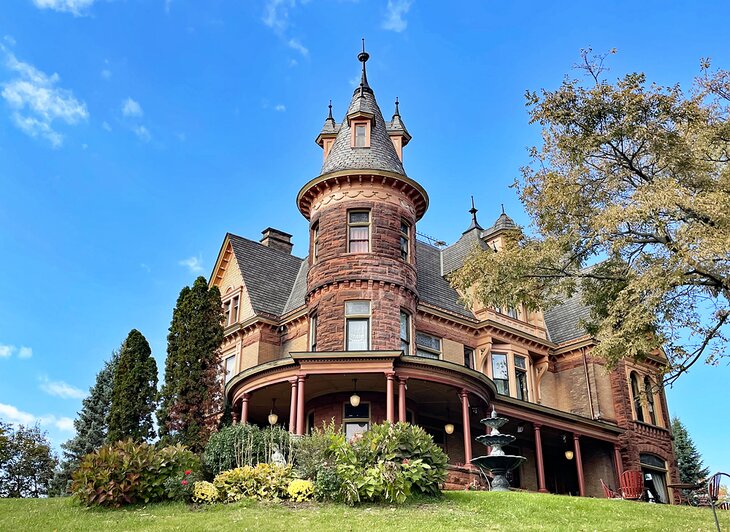 Perched high on a hill overlooking downtown Kalamazoo, Henderson Castle is a gorgeous historic property that has been turned into a swanky bed and breakfast, and is a beloved landmark for residents of Kalamazoo. Originally built in 1895, the stately Queen-Anne-style house is a work of art, and its hilltop location gives it an inherent sense of importance.
Today Henderson Castle is a bed and breakfast and is open to the public. Its features include seven bathrooms, a third-floor ballroom, and a rooftop hot tub. Prior to it becoming a chic place to stay, it was originally the home of Frank Henderson, a resident of Kalamazoo in the 19th century. Since the Hendersons, the castle has changed hands nine different times.
The gorgeous structure is built of Lake Superior sandstone and brick. Inside you'll find mahogany, birch, and American sycamore. It has been featured in three horror films throughout its history.
Address: 100 Monroe Street, Kalamazoo, Michigan
10. Bike through Markin Glen Park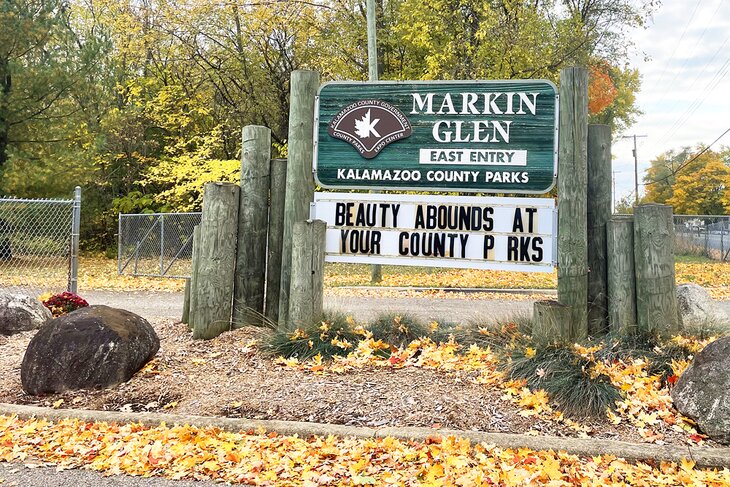 When Kalamazoo wants to get outdoors, it heads to Markin Glen County Park. This expansive outdoor paradise is brimming with activity and is one of the most popular places to visit in the city to spend time in nature.
The grounds of the park were originally the estate of Morris Markin and opened as a park in 1994. It spans 160 acres and is veined with many hiking and walking paths through forests of beech maple trees.
It also has a swimmable beach and 38 campsites.
Mountain biking is big in Kalamazoo, and Markin Glen County Park is no exception. A top destination for mountain bikers, the Maple Hill Trail is a dedicated mountain bike trail that runs through the park and has five miles of single track. Features include jumps, rock features, and tabletops.
Address: 5300 N Westnedge Ave, Kalamazoo, Michigan
11. Stroll Milham Park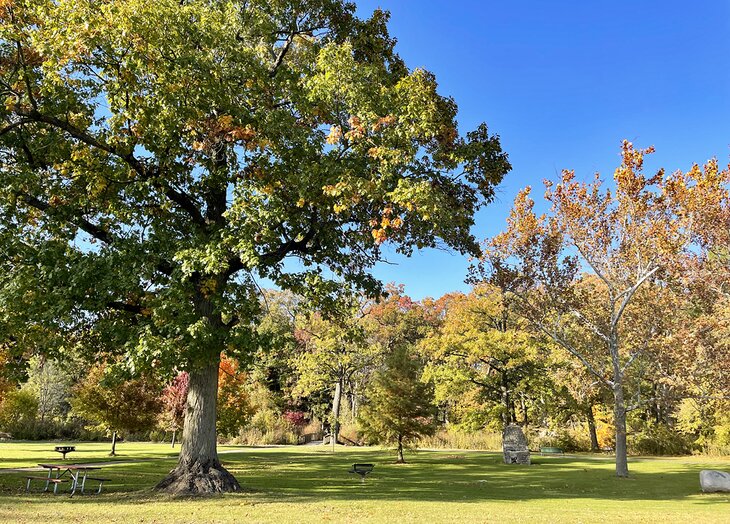 If you need another example of beautiful outdoor space in Kalamazoo, Milham Park is a perfect one. Cut by the picturesque Portage Creek, Milham Park is another tranquil park to explore. Its 49 acres feature a series of natural paths that weave across the landscape, including three bridges that cross over Portage Creek.
The land on which Milham Park sits was once part of the estate of John Milham, who lived in Kalamazoo in the 19th century. Today it's a community hot spot for families and friends to get together.
Amenities: It is outfitted with grill stations, picnic areas, a playground, and plenty of paved and natural walking trails.
The park is south of downtown and creates an easy escape when you want a break from the hum of buzzing downtown.
Address: 607 E Kilgore Road, Kalamazoo, Michigan
12. See a Performance at the Miller Auditorium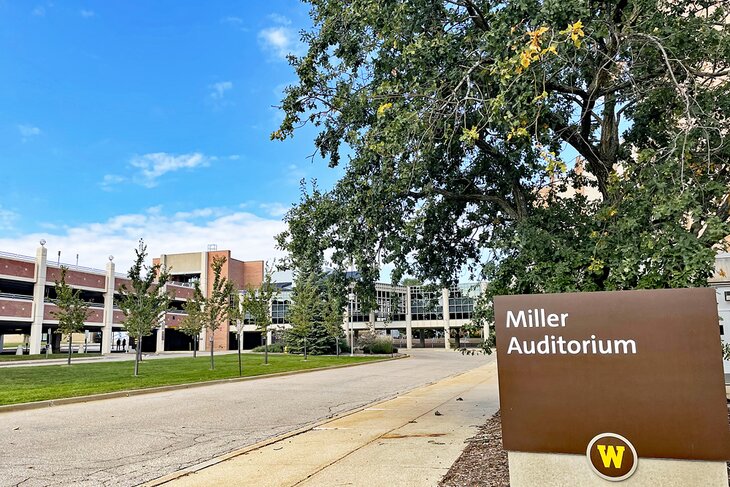 If you're interested in seeing a live performance, you're going to want to check the calendar for the James W. Miller Auditorium. Part of Western Michigan University, the Miller Auditorium is one of the largest theaters in Michigan. It has a capacity of nearly 3,500 people and is the top spot in Kalamazoo for the performing arts.
The venue is equipped to host all sorts of performances, from Broadway-style productions to live music, comedy, and family-friendly shows. It's the home theater for the Kalamazoo Symphony Orchestra, as well.
Address: 2200 Auditorium Drive, Kalamazoo, Michigan
Map of Things to Do in Kalamazoo, MI
Kalamazoo, MI - Climate Chart
Average minimum and maximum temperatures for Kalamazoo, MI in °C
J
F
M
A
M
J
J
A
S
O
N
D

0

-8

2

-7

8

-3

16

3

22

9

27

14

29

17

28

16

24

12

17

6

9

1

2

-6

PlanetWare.com
Average monthly precipitation totals for Kalamazoo, MI in mm.

56

45

62

89

90

94

97

98

104

74

75

67