8 Best Campgrounds in Penticton, BC
Penticton has a climate tailor-made for campgrounds. It is reputed to be the fourth driest city in Canada. In summer, Penticton is also known to be one of the least cloudy places in the country.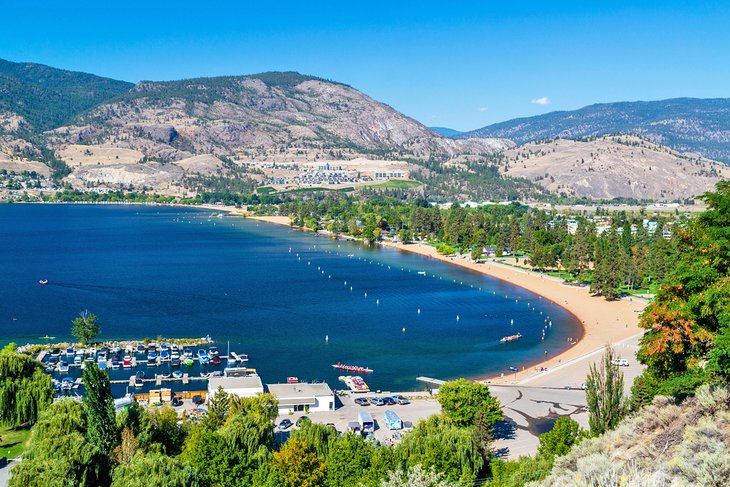 Plan your camping trip to Penticton during the growing season (May to October), and you'll be in time for fruit that is synonymous with the Okanagan Valley. First available are cherries, then apricots, peaches, pears, and apples. Pick your own, or enjoy the bounty from roadside fruit stands. Fresh fruit is the perfect snack to munch on while exploring this popular holiday destination and camping in Penticton.
With two lakes to choose from, water activities are popular: Swimming, paddling a canoe or kayak, water-skiing, sailing, sailboarding, kiteboarding, stand up paddleboarding, and fishing. Okanagan Lake is 135 kilometers long and five kilometers wide, with sandy beaches and warm water, so there is plenty of space for fun-loving families to spread out. Smaller Skaha Lake is the quieter option.
To avoid disappointment, reserve your summer camping vacation at one of the following best campgrounds in Penticton, BC.
1. Banbury Green RV and Camping Resort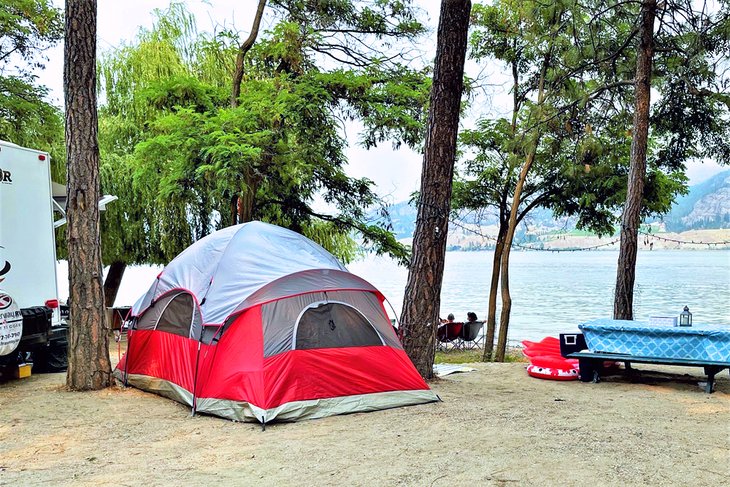 Banbury Green is a historic property on the west shore of Skaha Lake that dates back to the 1940s. The private home and outbuildings (such as the Big House, Dog House, and Band Box) survived the years when it was an orchard and are part of its current incarnation as a campground.
If you are thinking of staying at Banbury Green, make sure to book a reservation as early as possible (bookings typically open in early October for the upcoming season). The property offers 67 sites, most of which can accommodate either an RV or a tent. Sewer connections are available in 26 of the RV sites. There are fire pits at all lakefront sites.
Because the property is historic, expect mature ponderosa pines and cottonwood trees to keep you shaded. The cottonwoods have thoughtfully been pruned of their lower branches, so lakeside campers have a view.
Water activities are popular here, and to serve campers who want to get out and about in a boat, there's a boat launch (no moorings). Canoes and paddleboards are available for rent. A swimming dock is located nearby between east and south camps.
There's a common area for playing outdoor games such as volleyball and badminton, and if you want to go hiking, biking, or walking, the KVR trail runs right through the campground. Even when it's stinkin' hot, there are many options to exercise, then refresh yourself with a cool swim or hot shower. Laundry facilities are available to keep your clothes clean.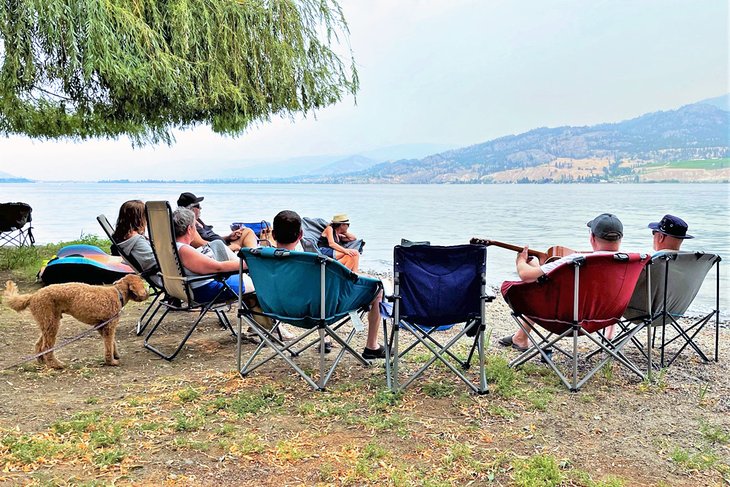 Wi-Fi is available at the office, where the friendly and knowledgeable manager can answer any questions you might have. She'll keep you informed about occasional music nights and let you know when the "pie lady" delivers.
Address: 930 Pineview Drive, Kaleden (Penticton), British Columbia
2. Oxbow RV Resort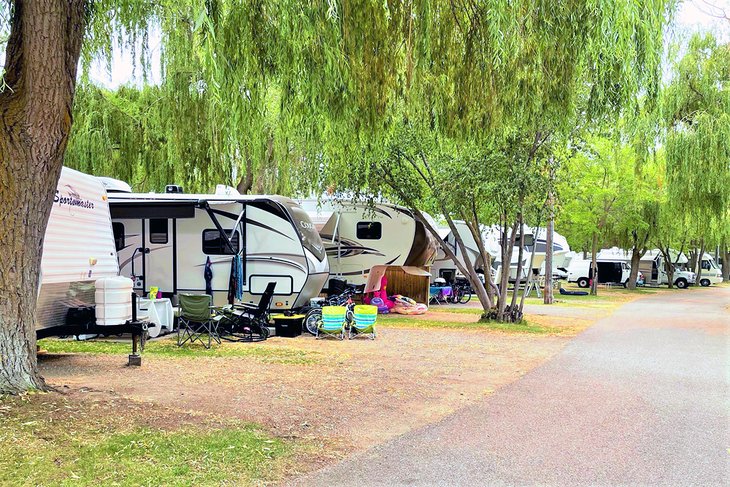 Oxbow RV Resort is named for the curve in the Oxbow River, and some of the campsites on this property back onto this waterway. These sites have a scenic view of water lilies across the creek to the neighboring campground (South Beach Gardens). A water feature always enhances options for viewing birds, so don't be surprised if you see California quail traipsing about or a pair of mallards with fuzzy-headed offspring.
RV campers and tenters can set up on 68 sites at Oxbow. Full service is available (30-amp power, water, and septic), and six of the sites are pull-throughs for longer rigs up to 12 meters. The sites offer ample grass and shady willows for comfort when the thermometer is moving up.
If you wish to reserve a site during the peak season in July and August, there's a five-day minimum. If you're amazingly lucky, you might show up and score a site for a night or longer. Amenities include Wi-Fi, laundry, hot showers, and clean bathrooms. The manager underscores that "everyone likes a clean bathroom," so you can have high expectations in that regard.
A privacy fence separates the resort from Skaha Lake Park, conveniently located across the road. Take the kids to cool down at the splash park, play some tennis, shoot a few basketballs, and hit the in-line hockey courts. Boats and Jet Skis can be rented at the marina.
Address: 198 Skaha Place, Penticton, British Columbia
3. Camp-Along Tent & Trailer Resort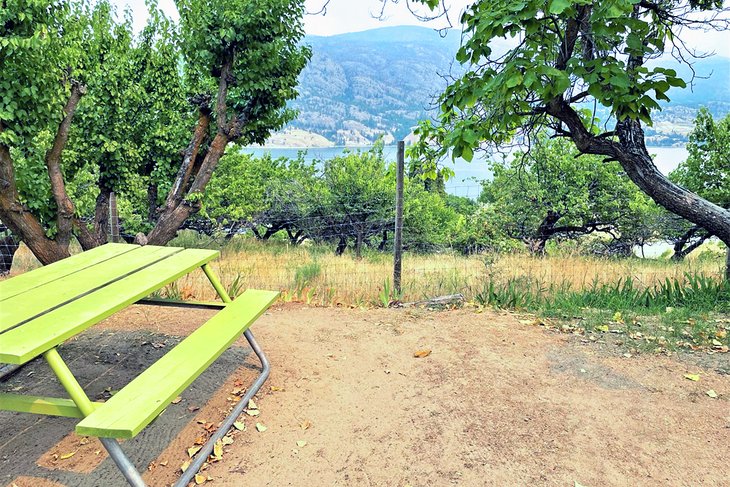 Campers at Camp-Along Tent and Trailer Resort between Okanagan Lake and Skaha Lake not only get to sleep under the stars, but also apricot and pear trees. If you time your visit with the ripening of the organic fruit, you can pick it right from the trees. Now you're not just camping at Camp-Along but a Garden of Eatin' — only 15 minutes away from the hubbub of downtown Penticton.
Over 30 years ago, Camp-Along was an orchard. One good thing deserves another, so the decision was made to put all the local sunshine and terraced layout to good use. Fruit pickers' cabins became office space for the campground, and campers got to enjoy idyllic views of apricots ripening on the trees. You won't find a better panorama of Skaha Lake.
Of the 100 sites, nearly half are designated RV sites (15- and 30-amp power service available), with the rest for tenters. The layout is flexible according to who shows up and what they need. Given the popularity of this campground, it's not recommended that you arrive and hope for the best. Make a reservation early, and if you're lucky, you'll snag a site with a view — this enhancement applies to 20 percent of the sites.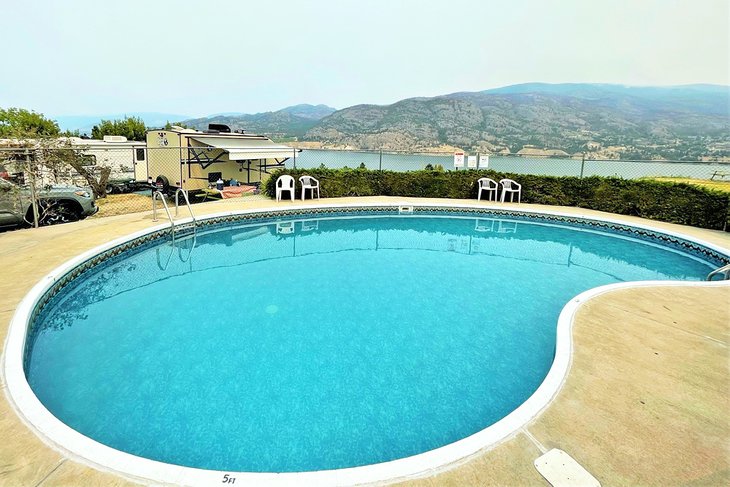 When it's time to cool off from a day of activities, you've got options. Swim in the warm waters of Skaha Lake, or enjoy a dip in the warmer water of the heated pool. Kids can also burn off steam at the on-site playground.
Camp-Along has clusters of clean, modern washrooms and laundry facilities, as well as Wi-Fi. Purchase basics at the small store in the office, and pre-order (the night before) croissants and cinnamon buns for breakfast. Books and DVD movies are also available at the office if you fancy a bit of entertainment and summertime reading.
Address: 100 Ash Street, Kaleden, British Columbia
4. South Beach Gardens Campground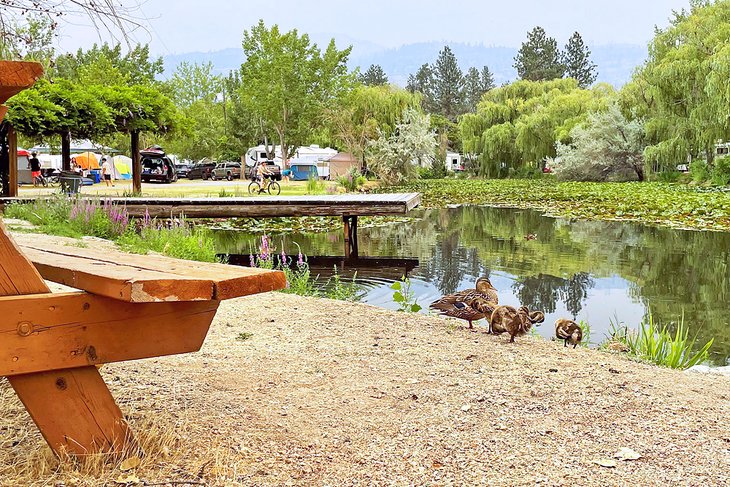 South Beach Gardens Campground is a family-run spot at the south end of Penticton across the road from Skaha Lake that has been in operation for more than 25 years, and it's a hoppin' place when the heat is rising. Don't plan on an in-and-out experience: During July and August, there's a five-night minimum and a $100 deposit to hold the reservation. Bookings for reservations start in February and are available by mail and phone.
South Beach can accommodate more campers than any other campground in Penticton, with more than 280 sites available for RVs and tents. In the peak of summer, it's busy and full yet doesn't feel hectic or crowded. Eight sites can accommodate RV lengths up to 12 meters. RVers have 30- and 15-amp power service, water, and septic. Tent campers can opt for a site with services or without.
Campsites are set among mature trees with grass, and some RV sites have creek access with views of water lilies. These sites are popular because they attract birds and small critters, so expect to see ducks, quails, and turtles. Fish from the dock or the creek that runs through the campground (it's catch and release) but head for the beach if you want a dip.
On-site attractions include two playgrounds for children. There is mini-golf for the kids, for which there is a modest charge. Amenities include four washrooms and showers, laundry facilities, and a store plus concession at the office. If you want Wi-Fi, the hot spot is located at the picnic tables near the arcade.
Address: 3815 Skaha Lake Road, Penticton, British Columbia
5. Wright's Beach Camp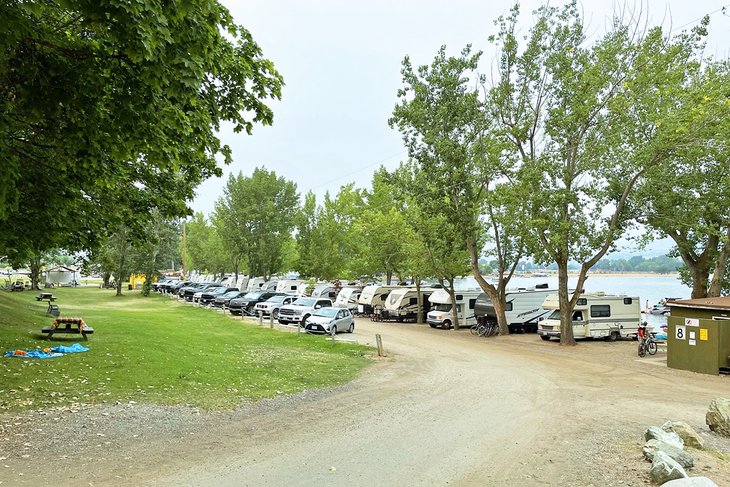 Location puts Wright's Beach Camp on the map as a destination for proximity to water and fun-loving campers. On the shore of Skaha Lake, this is one of the only campgrounds in Penticton that offers waterfront camping: Sites #20 — #80 are on the beach; sites #201 — #219 are lake view. The private sandy beach has roped-off swimming areas and a dock.
Deducting long-term RV rentals, there are at least 220 sites for RVs with full service (30-amp power, water, septic, basic cable, and Wi-Fi). RVs up to 13.5 meters with a one-meter slide-out can be accommodated. Tent campers are welcome to set up in a serviced site. There are also 25 rental trailers if you didn't bring your own home on wheels. These are typically offered to rent by the week, but you may be able to score one on a nightly basis at the last minute if space is available.
The setting is fairly open, with mature trees for shade. Pads range from grassy to sand to gravel. Small strips of grass or beach separate the camping areas that are fully occupied and lively in high season.
Apart from laundry, showers, washup basins, and a BBQ in the field area, amenities cater to active tourists: There's a children's play area and activities for kids, an outdoor multi-sports court, and an outdoor heated pool. Wave runners, paddleboards, kayaks, motorboats, and water skis can be rented from the boat shack. During high season, the events calendar is chock full of things to do, including movie nights and yoga classes.
The KVR Trail is a popular attraction accessible from the campground.
Address: 4200 Skaha Lake Road, Penticton, British Columbia
6. Barefoot Beach Resort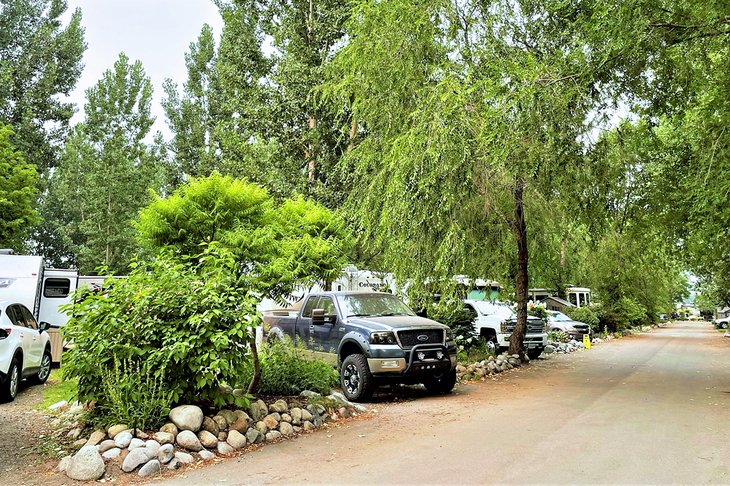 Barefoot Beach Resort has its own private beach on Skaha Lake just steps away from the camping area and is accessible by a pedestrian tunnel under Hwy 97. If you want to come here during the high season months of July and August, your RV needs to be less than 25 feet (including trailer hitch). There's a five-night minimum in July and August; a two-night minimum stay applies in April, May, June, September, and October.
The resort is divided into two areas: one for yurts and another for the long-term RV community, where patios flow into the gardens to create an attractive landscape. Mature trees provide shade for everyone to appreciate the park and its amenities.
The resort management prides itself on building and operating the resort with family in mind. As the website proclaims, it's family built, family operated, family value. Come here with your family — and that includes the dog. Pooches know they're welcome when their paws hit the ground in the off-leash area.
Here, you can arrange to go stand up paddling, rent a bike or golf cart, dine at the restaurant and patio, make a decision at the ice-cream parlor, and possibly gather round the beach fire pits. A coin-operated laundry keeps everyone looking good at this home away from home.
Address: 4145 Skaha Lake Road, Penticton, British Columbia
7. The Lost Moose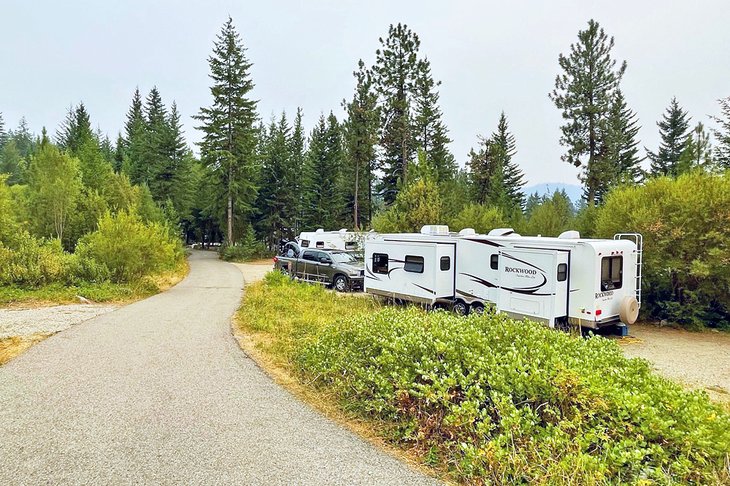 Once upon a time, the previous owners of The Lost Moose were flying over in a helicopter, when what to their wondering eyes should appear but a moose. They circled back to take a closer look but where did that big guy go? The current owners have never seen a moose on the property. So the question remains: Was the moose lost? We'll never know, but the name stuck.
Up and away from campgrounds in the city, it's a 20-minute drive from Skaha and Okanagan Lakes to reach the secluded Lost Moose campground. Although the road is paved, it's long, steep, and eventually it narrows, making it less suitable for large rigs.
Your camping experience here will literally put you above everyone else, tenting 610 meters above Penticton with 180-degree views of Okanagan Lake and the city. The 20-hectare property borders Crown land, so there are plenty of trails for biking, hiking, and quad (four-wheeler) activity. Carmi Trails (Garnet Fire Recreation Site) is one nearby option.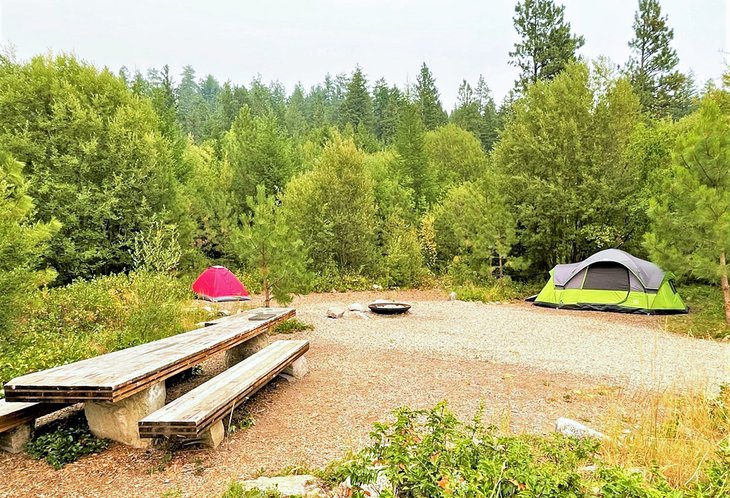 Glamping opportunities in "little sleeping shelters" are available for campers who bring their own bedding and supplies. Three cozy cabins are yet another accommodation to consider. Campers in tents and trailers set up on 15 roomy unserviced sites. Some of them will fit RVs; some of them are only for tenting.
There are no hookups, but shared facilities include flush toilets; heated showers; and outdoor washup stations with huge mirrors, so you can watch yourself doing your campground chores. There are also outdoor drain basins set into supersized picnic tables.
The Lost Moose is a family-run business that emphasizes camping in a quiet natural environment away from the urban scene. For this reason, noisy celebrations are not allowed, and quiet hours are enforced from 10 p.m. to 8 a.m. Instead of a party, plan to go for quiet walks with your well-behaved dog walking on a leash, and see if you can find the "lost moose" after which the campground gets its name. If not a moose, you'll surely see a deer.
All sites are by reservation only and can be booked online. Site #6, the biggest site, has accommodated a trailer as big as 10.5 meters but it is a bit of a squeeze at that size. Reservations are recommended during July and August when the campground is most likely to be full.
Address: 2301 Beaverdell Road Penticton, British Columbia
8. XR Family Campground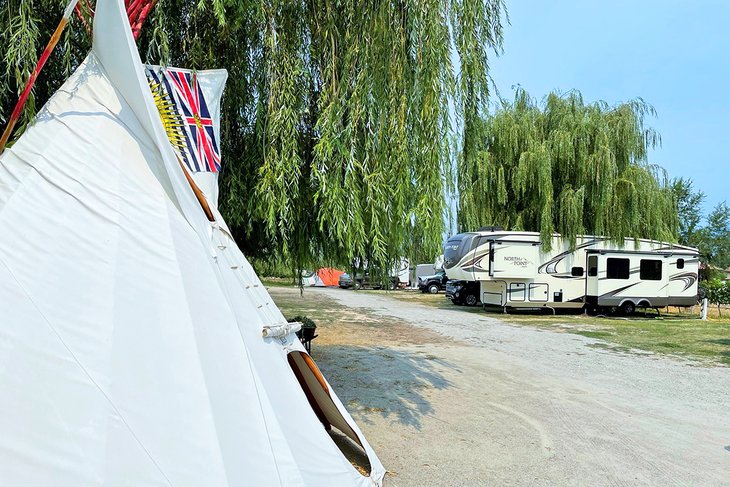 XR Family Campground is unusual in the Penticton camping field because it is located on Penticton Indian land on Sylix unceded territory. The "XR" in the name refers to across the river, one glimpse of which might give you some ideas.
The river channel between Okanagan and Skaha Lakes is colorful with floats and sun umbrellas of campers and other visitors who are cruising down the waterway. Surely this is the most fun, relaxing and unique recreational activity in the Okanagan. If you're staying at XR Family Campground, there's immediate access.
"Out of town but close to everything," this campground is located five minutes from downtown Penticton. A dozen campsites are available with full hookups to RVers to a maximum length of 13.5 meters. Your tent or RV site is in a grassy setting, some with shady willow trees. You can bring your well-behaved dog on a leash.
Amenities include Wi-Fi and hot showers in clean bathrooms.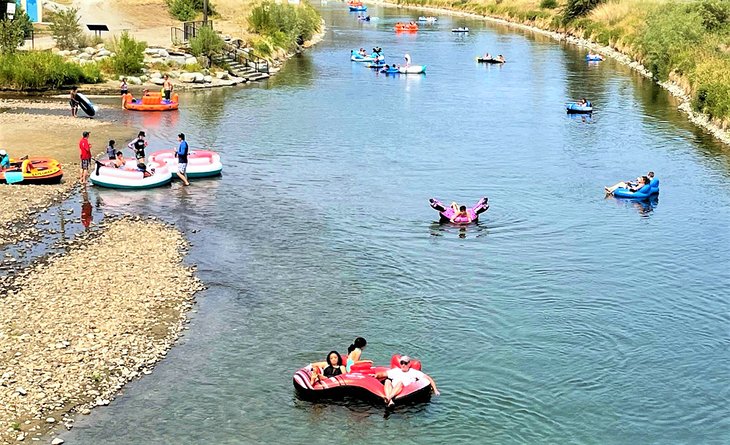 If you fancy the experience of camping out in a teepee, you can rent the white one that you see upon entry into the campground. Let the friendly management know whether you'd like some authentic Indian Bannock bread as part of the package.
The multi-generational family that owns and manages the campground is friendly and easy-going. You can easily engage any of them in conversation, and enjoy a cross-cultural experience in this peaceful setting. The campground has 24-hour security, and alcohol is not permitted on the premises.
As a bonus, campers are treated to free cups of freshly brewed coffee each morning.
Address: 285 Green Mountain Road, Penticton, British Columbia
Map of Campgrounds in Penticton, BC