10 Best Beaches in Kelowna, BC
Okanagan Lake stretches 135 kilometers from north to south and is the source of life for people and nature in this arid valley of British Columbia's heartland. It's also one of the most beautiful lakes in BC. At the lake's epicenter lies the community of Kelowna, which is blessed by 30 beaches. These assets add to the city's reputation as the capital for recreation and holiday escapes.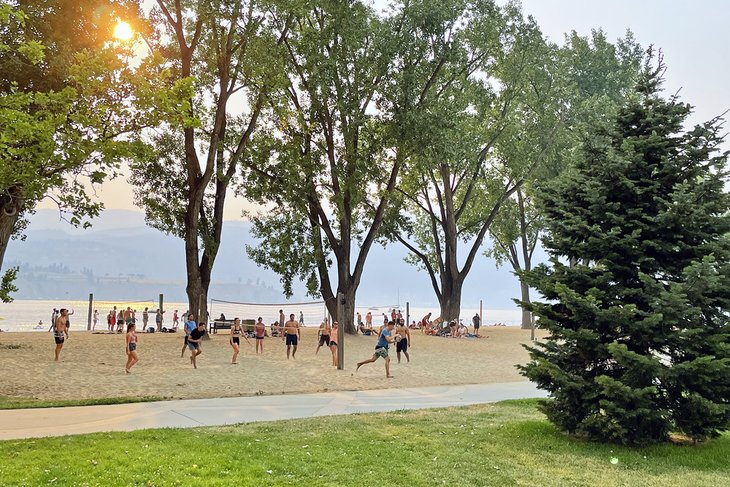 Kelowna's beaches are gilded natural beauties. City staff take extra care to clean and grade the sand each morning during summer to enhance the pleasure of traipsing about in bare feet. Especially treasured on hot days, Kelowna's lakeside beaches are launch pads for water sports, building blocks for sandcastles, and venues for family picnics. This is where people socialize with friends or decompress in solo retreat. They are the ultimate locations for bird-watching and people watching, although not always at the same time.
You don't need to go far in Kelowna to find a sandy strand for dipping your toes or completely submerging your body in clean, fresh water. Some would say that downtown Kelowna is the beach, and the name at its core is almost too hot to handle: Hot Sands Beach. All major beaches rope off swimming zones and include restrooms, change rooms, and paid parking. Be aware that dogs are only permitted on designated beaches.
When you're ready to schedule beach time into your Kelowna vacay, take a moment in the shade with our list of the best beaches in Kelowna.
1. Hot Sands Beach (City Park)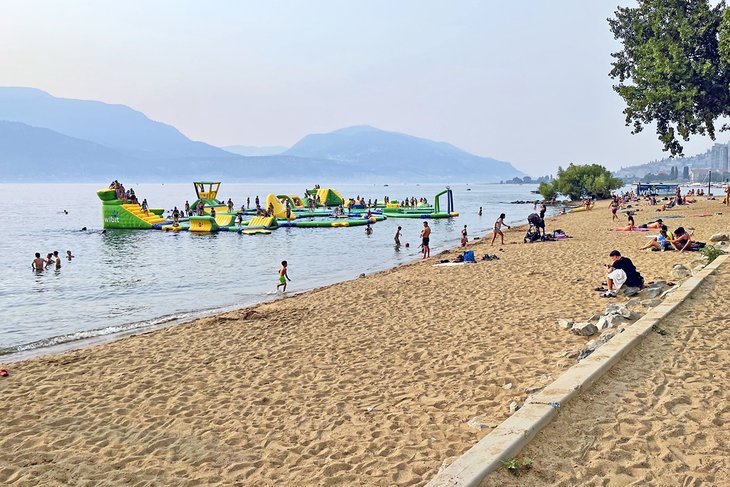 As you drive across William R. Bennett Bridge into downtown Kelowna, one of the first things you spot along the lakeshore is the most iconic beach in the city: Hot Sands Beach. Given its central location and profile along the waterfront of 13.2-hectare City Park, Hot Sands Beach is a happening place. The southern end of the beach is also the start of Kelowna's Waterfront Trail that ranges north more than two kilometers to Knox Mountain Park.
Hot Sands Beach juts into Okanagan Lake and provides unparalleled water and mountain views. If you're staying a while, bring a beach umbrella for sun protection. As the name of the beach suggests, there are days in the summer when you will want to protect the soles of your feet.
Restrooms and change rooms are located nearby along with plenty of parking and places to lock your bike.
Hot Sands Beach and City Park blend into Kelowna's downtown hub of summer activity. Young folk gather for outdoor sports such as beach volleyball, basketball, and soccer. Older people take in nightly games on the lawn bowling greens. Children, youth, and families frolic until waterlogged at Kelowna's Wibit Waterpark. Watch for bodies endlessly swinging, sliding, and bouncing on an island of inflatables.
Teenagers show off their latest maneuvers at the skateboard park, and young kids plough energy into the monkey bars at the playground. The jets at the water park are the great equalizer - everybody cools off here.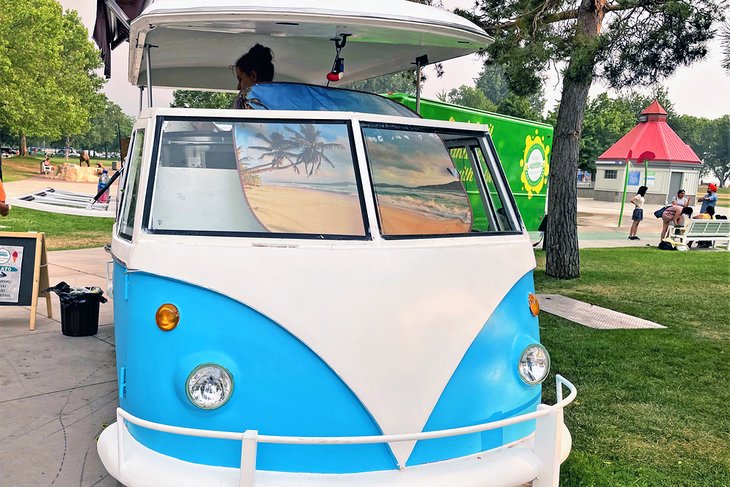 When you're ready for a snack, grab an authentic "crepe Suzette" from the VW van converted into a food truck. Find a bench, patch of grass, or stretch of sand to rest a while and watch the passing parade. Kelowna's social and multicultural diversity is on display here, making people-watching a favorite pastime.
In addition to the sounds of laughter and happy squeals during summer, melodic sounds emanate from buskers strumming a guitar, or music being performed at the Parks Alive! venue in the park. Along the trail that separates the beach from the park, local vendors of arts and crafts will sell you a one-of-a-kind memento of your day at the beach.
2. Tugboat Bay Beach (Waterfront Park)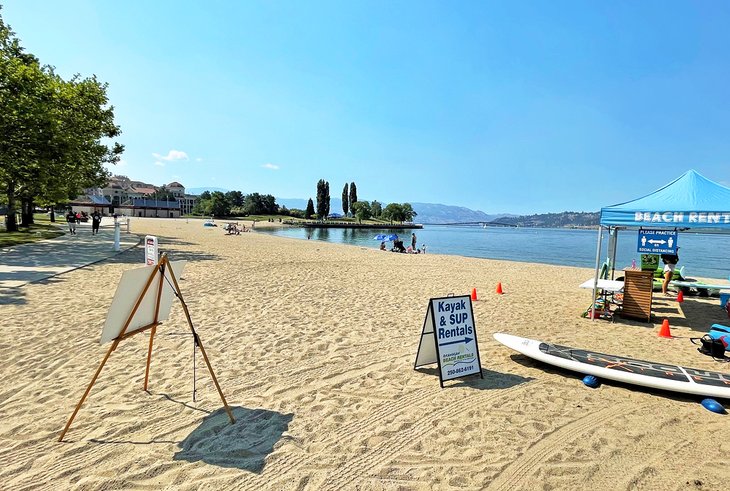 North along the Waterfront Trail, Tugboat Bay Beach is a scenic crescent-shaped sandy cove near the Royal Kelowna hotel. Next to the beach is the beautifully landscaped 7.4-hectare Waterfront Park with its lagoon, gardens, and displays of public art.
The bay is named after the stout working vessels that plied the waters of Okanagan Lake, pulling log booms and commercial barges. On this beach, you can immerse yourself in rest and relaxation. Bring a cooler of snacks and drinks, or order from the food concession. Restrooms and non-motorized boat and board rentals are handy when you need them.
This beach tends to be more tranquil than the splashy activity experienced down the Waterfront Trail at Hot Sands Beach. Expect this protected cove to provide the same quality materials required to construct a family sandcastle. Water polo is a favorite activity here, and you might have the opportunity to cheer on the winning team!
3. Boyce-Gyro Beach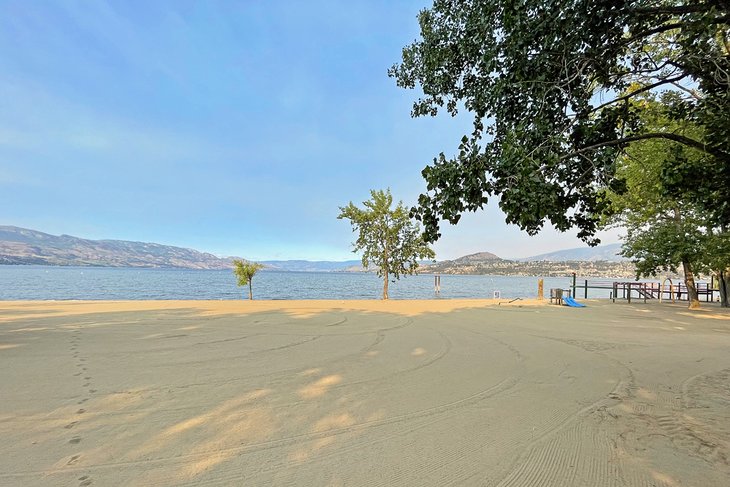 Boyce-Gyro Beach, one of the most popular beach parks in Kelowna, is located 3.8 kilometers south of downtown. This is the longest beach within Kelowna's city limits. In addition to golden sand and warm water, you'll discover amenities to attract you to this 3.6-hectare park for a few hours or a whole day in the sun.
On the water, rent a pedal boat, aqua cycle, stand up paddleboard, kayak, or canoe for exercise and relaxation. A wheelchair ramp into the water makes accessibility a snap.
In addition to wading into the water, kids and the young at heart ride the zipline into the water. There's also a zipline for those who prefer to glide over land. There are beach volleyball courts and lots of room to play frisbee. Next to the restrooms and change rooms, purchase a snack or frozen confection at the big red apple along the paved walkway.
Address: 3400 Lakeshore Road, Kelowna, British Columbia
4. Strathcona Park Beach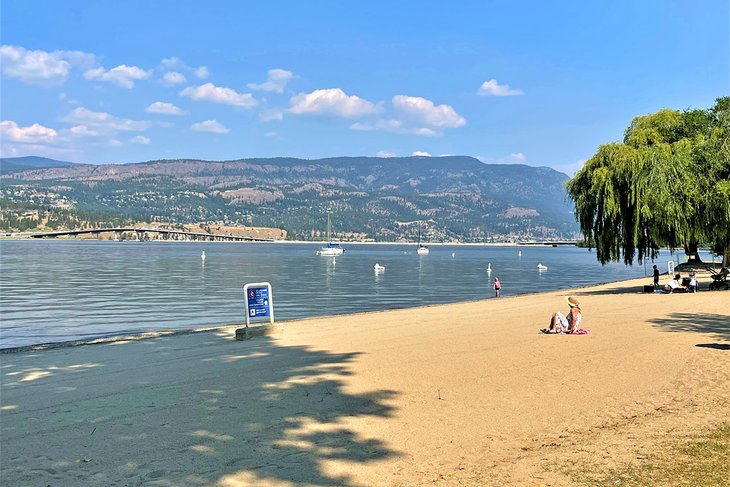 The small sandy beach at Strathcona Park is 2.1 kilometers south of downtown. This non-touristy local favorite near the Kelowna General Hospital is where families with small children appreciate the shallow water that extends out into the lake. The beach has a designated swimming area, and the water is warm for summer swims.
Strathcona is a pitstop along the 28-kilometer Kelowna Paddle Trail, extending north to south from McKinley Beach to Bertram Beach Park.
Onshore, mature trees provide shade along the beach and perimeter of the park. In one of the 23 spaces of the carpark, leave the car and make your way to the water.
The park is less than one hectare, but there is space to enjoy activities on land. The large grassy area between the beach and busy Abbott Street is the perfect place to play catch or lay out a blanket for a picnic. There is also a small children's playground with swings and jungle gym.
Address: 2290 Abbott Street, Kelowna, British Columbia
5. Rotary Beach Park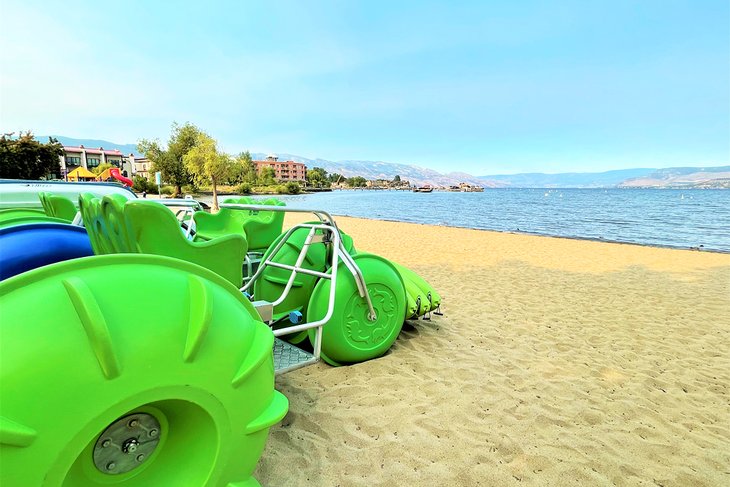 Just south of Boyce-Gyro Beach is another stretch of publicly accessible beach. Conveniently located off Lakeshore Road with ample parking, Rotary Beach Park is a place to swim and play for the whole family.
Offshore on a breezy afternoon, you'll see kiteboarders with their colorful parachute-shaped sails catching air and tacking back and forth. To experience being on the water, try your hand at paddling. An equipment rental concession has an inventory of kayaks and stand up paddleboards to launch you on your way.
The sandy beach at this 1.5-hectare park is an ideal place to hang out with friends or for a family outing. While parents enjoy water views and breezes, they can also keep an eye on their children monkeying around on the playground. This beach is located 4.4 kilometers south of downtown - one of several beautiful swimming areas along a shoreline of luxurious homes and sparkling water.
Address: 3726 Lakeshore Road Kelowna, British Columbia
6. Sarsons Beach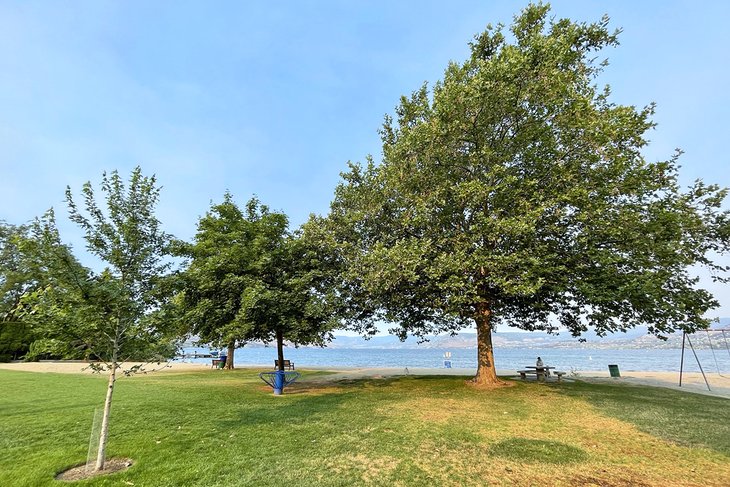 South of Boyce-Gyro Beach is Sarsons Beach - 7.6 kilometers south of downtown off Hobson Road. Leave Lakeshore Road and make your way through an enclave of upscale residences to this one-hectare public park along Lake Okanagan.
Many locals and visitors appreciate the intimate character of this hidden gem. Similar to beach parks in the area, Sarsons Beach offers parking and restrooms. Other amenities include picnic tables and a playground.
Early mornings in the summer, swimmers start their day by completing lengths or working out with their swim teams. The designated swim zone helps to ensure your kids stay safe while splashing or cleaning off the sand from building castles on the beach.
The expanse of grass with mature shade trees is a pleasant place to picnic with family and friends, or while away an afternoon of pleasure reading.
Address: 4398 Hobson Road, Kelowna, British Columbia
7. Sutherland Park Beach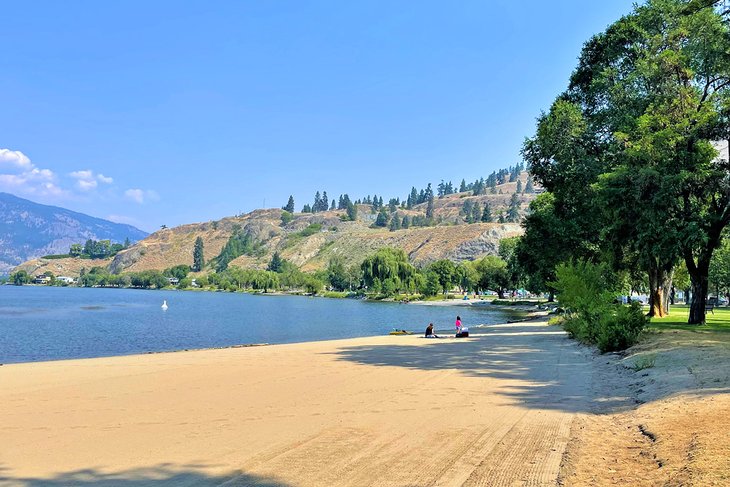 Coming off one of the trails at Knox Mountain, you might be ready for a refreshing dip in the lake. Two-hectare Sutherland Park and its sandy beach is at the base of the mountain trailhead. A short hop and a dive into sparkling clear water awaits!
In addition to the tree-lined beach, there's a boat launch if you are looking for a place to slip in and paddle away along the scenic shore of Knox Mountain Park. Local families come to Sutherland Park where there's plenty of room to play, especially for young children who are drawn to the slides and swings in the playground.
The green space lends itself to group picnics and gatherings. There is a restroom. For walkers and joggers, the park is the perfect spot to stretch your legs or practice favorite yoga poses. Sutherland Park is also a good place to bring Fido - one of the public beaches that is dog friendly.
8. Beaches of Bertram Creek Regional Park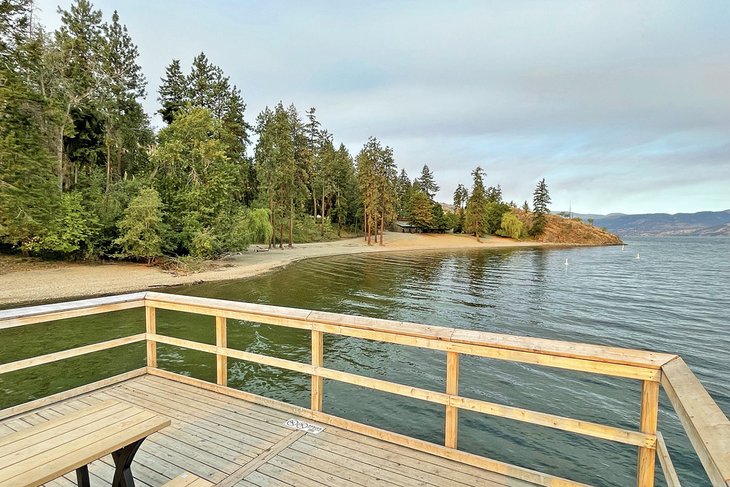 Sometimes a day at the beach means a day of hitting the road and getting out of town. Bertram Creek Regional Park is located only 14.5 kilometers south of downtown - a short drive to feel sand between your toes and be surrounded by nature.
This Okanagan Lake oasis features two swimming beaches and 17.9 hectares of grassy woodland and whispering ponderosa pines. The vast wilderness of Okanagan Mountain Park is right next door.
With picnic areas, restrooms, and plenty of parking, you have the facilities needed to exercise your body and feed your soul in one of the most scenic settings for a beach day in Kelowna. Paddlers like to launch kayaks from these beaches, and parents introduce their kids to casting a line from the fishing dock.
Bertram Creek Regional Park is a half-hour drive away from the city bustle, and a favorite place for families to escape for the day. Special events encourage people to gather here in the park's outdoor amphitheater and pavilion. On a weekend afternoon, you might happen upon a wedding taking place or an impromptu concert.
Address: 5680 Lakeshore Road, Kelowna, British Columbia
9. Beach at Bear Creek Provincial Park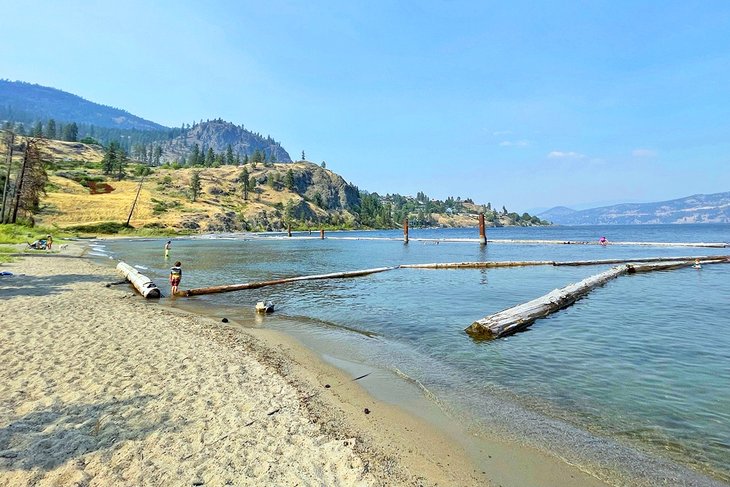 Located less than 11 kilometers from downtown Kelowna, Bear Creek Provincial Park is a favorite among locals who hike up Bear Creek Canyon or spend the day on its sandy beaches.
Partially protected from the hot late-day sunshine, Bear Creek Provincial Park is a great place to retreat from soaring air temperatures when your head and body need to cool down. Within the boundaries of this 178-hectare park, you will find 400 meters of beach on the shore of Okanagan Lake. There is a place to park your car for free and change rooms to make a quick switch from street clothes to bathing suits.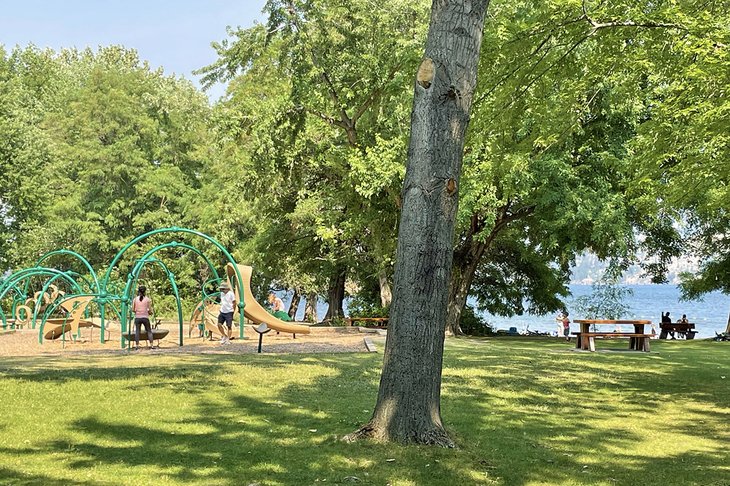 Adjacent to the designated swimming zone is a grassy area, picnic tables, and large children's playground. This day use area is partly shaded by towering oak and cottonwood trees. The boat rental concession on the beach makes it a snap to get you on the water in a kayak or aboard an SUP. Individuals and families who like to fish also cast about the shores of this park.
Some beachgoers take a break from the lakefront and hike into the forest. There are many nature trails from which to choose. Most hikers take the one-hour Rim Canyon Loop Trail to peer down the impressive cliffs to Bear Creek Falls. Captivated by these natural surroundings, it's easy to forget about the city until the panorama of Kelowna comes into view across Okanagan Lake.
Visitors to Kelowna with tents and RVs will find this is one of the most popular public campgrounds in the Okanagan Valley.
10. Beaches of Gellatly Bay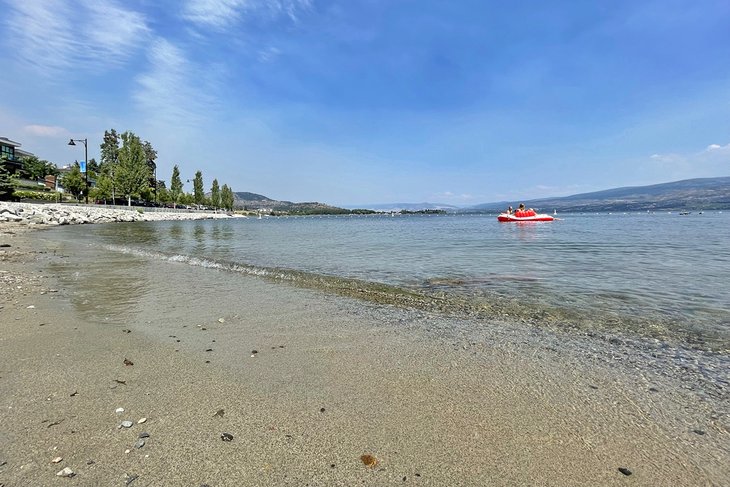 The community of Westbank - 15 kilometers southwest of downtown Kelowna - offers something that's not easy to find in this section of Okanagan Lake's west shore: public beaches.
The two-kilometer stretch along Westbank's Gellatly Bay showcases a string of beaches and other attractions for visitors to enjoy the water. While floating off the beach, fix your gaze across the lake, and you'll see the open wilderness of 11,038-hectare Okanagan Mountain Provincial Park on the east shore.
Going nuts - and having fun doing it - comes naturally at Gellatly Nut Farm Regional Park. Popular for swimming and picnicking, this four-hectare park preserves a century-old farm while serving as a place to create happy memories. You can even bring your bucket to collect nuts during the harvest season.
Where less is more, Willows Beach benefits from fewer crowds than beaches closer to Kelowna.
Design and construct a sandcastle in one afternoon at this beach and still have time for snacks, cold drinks, and frequent plunges in the lake. The park setting surrounding the beach includes well-tended trees for shade, and park benches. There's a restroom facility and plenty of designated off-street parking alongside the beach. A large grassy area with benches and a beach volleyball court are added attractions. For enhanced safety, the swimming area is roped off.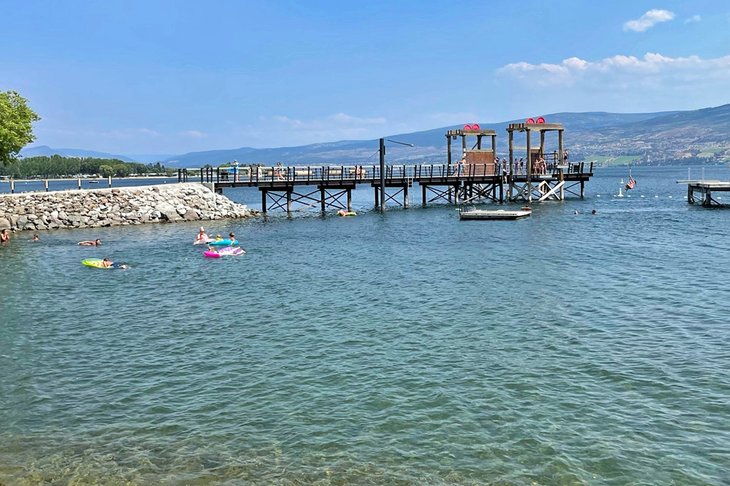 A pedestrian path connects Willows Beach with Gellatly Bay Aquatic Park. Along this level lakeside promenade, there are cantilevered viewing platforms for bird-watchers to watch ducks and other shorebirds fishing in the shallows.
The CNR Wharf at Gellatly Bay Aquatic Park was created to encourage more exuberant summertime fun in a place that was once a commercial docking facility. The short wood-planked jetty incorporates platforms for you to jump into the depths. Popular on hot summer days, the CNR Wharf features a zipline that delivers you to a raised island dock from which to perform graceful swan dives or produce the largest wave possible. You can also swim to the floating platform nearby to make a splash.
Before reaching the north end of Westbank's lakeside recreation corridor, Rotary Park provides a large grassy pull-off with parking, benches, and picnic tables for lunch or an ice-cream break. Right next door is Gellatly Dog Beach. Popular all year long - especially during dog days of summer - furry four-leggeds meet up with their canine friends for a refreshing romp in the lake in this fenced-in off-leash area.
Map of Beaches in Kelowna, BC
Kelowna, BC - Climate Chart
Average minimum and maximum temperatures for Kelowna, Canada in °C
J
F
M
A
M
J
J
A
S
O
N
D

-1

-8

3

-6

9

-3

15

1

20

5

24

8

28

10

27

10

21

5

14

1

5

-3

0

-7

PlanetWare.com
Average monthly precipitation totals for Kelowna, Canada in mm.

31

23

23

25

38

38

33

33

36

23

28

38