11 Top-Rated Things to Do in Osoyoos, BC
If you were to design the perfect place for a holiday, it would probably look a lot like Osoyoos. A huge lake, warm enough for swimming and with plenty of space for boating? Yep, Osoyoos has that. World-class golf courses, indulgent spas, and waterfront camping? Check, check, and check.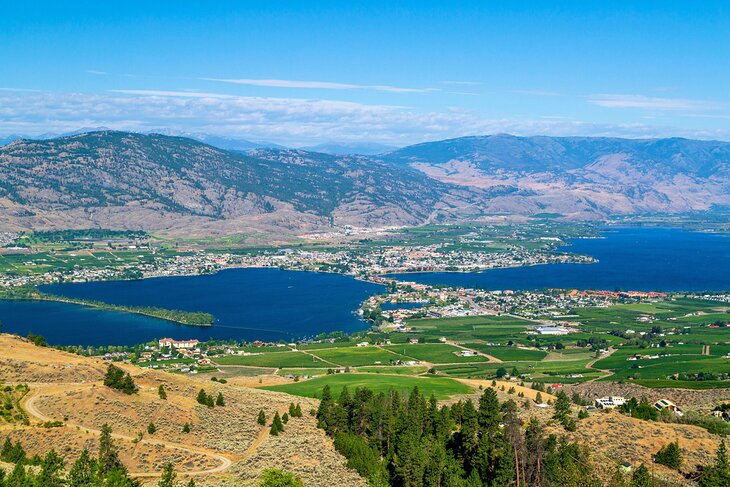 Virtually perfect weather in the summer, family-friendly activities, and Canada's only true desert? You'd better believe that Osoyoos has it all. Needless to say, the things to do in Osoyoos combine to create the optimal getaway.
These popular activities and attractions offer several unique opportunities to enjoy the landscapes of one of the most scenic towns of BC's Okanagan region.
There is plenty to discover, from the area's unique geography to the talented artists who call Osoyoos home to eclectic attractions, both man-made and natural. Find out about what you can't miss with our list of the top things to do in Osoyoos.
1. Cool Off in Osoyoos Lake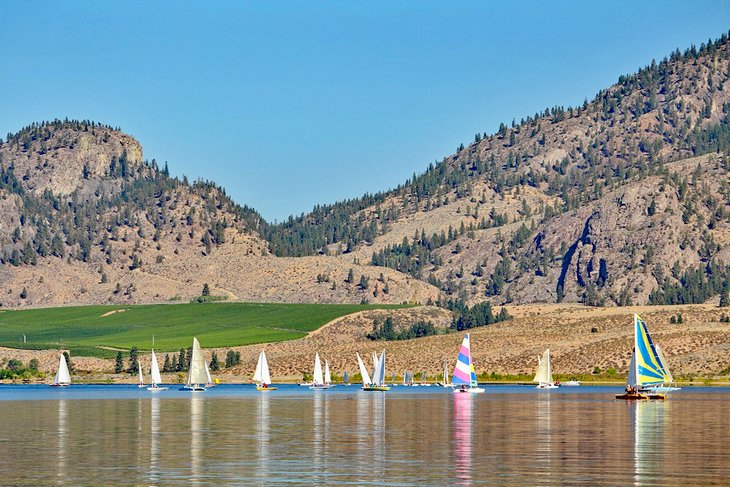 Arguably, Osoyoos's biggest attraction — both literally and figuratively — is Osoyoos Lake.
The town of Osoyoos is situated roughly in the middle of the lake, which extends south past the US border into Washington State. The entire lake is about 43 kilometers long, with several sandy beaches along the shoreline.
One of the best things about Osoyoos Lake is that it is nice and warm in the summer. Water temperatures reach between 26 and 33 degrees Celsius in July and August, making it one of the warmest freshwater lakes in Canada.
There are several ways to recreate on the lake: it's a popular place to visit for a swim, go fishing, or take the boat for a spin. Water skiing and wakeboarding are two popular activities, and charging a Sea-Doo around the lake is a great thrill. If you're boating around the lake, just be mindful about crossing the border into the US.
Boat rentals, including canoes, kayaks, and the aforementioned Sea-Doos, are available from various outfitters around town.
2. Learn the Lay of the Land at the Nk'Mip Desert Cultural Centre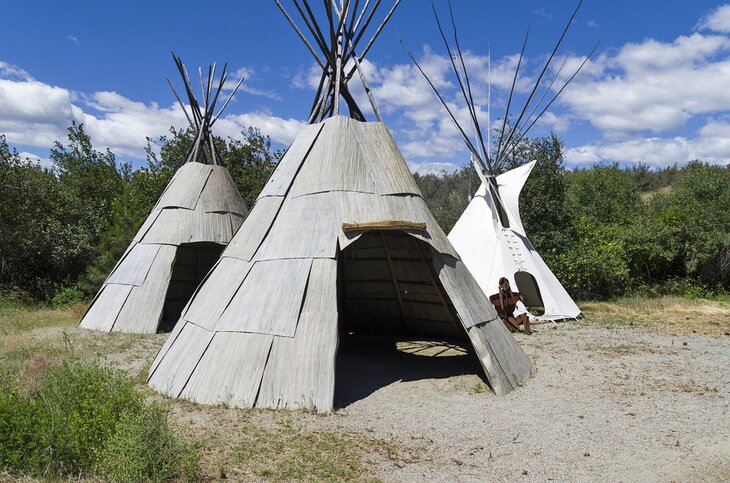 There's a lot to discover about Osoyoos, and there is no better place to do so than at the Nk'Mip Desert Cultural Centre.
Offered by the Osoyoos Indian Band, this interpretive center presents information about the unique geology of the desert conservation area, the First Nations people who have inhabited the land for countless generations, and the wildlife that roams the desert.
Interactive exhibits are located indoors and outdoors, sharing facts and stories about the local flora and fauna. After checking out the displays or catching one of the film presentations in the center, wander the 1.5 kilometers of antelope and sage desert walking trails, which will lead you to a traditional First Nations village.
There's a lot to keep you busy, including Coyote's Gifts, the on-site gift shop offering authentic First Nations merchandise ranging from art to books to edible treats.
The center is open year-round, but if you visit in the summer months, you'll get the chance to speak with interpreters who offer guided walks and informative tours around the exhibits.
In late spring, the desert flowers are in full bloom, offering a real treat for your eyes and nose alike. In the winter, the facilities can be explored on a self-guided basis. Choose your own adventure!
3. Get Inspired at the Okanagan Art Gallery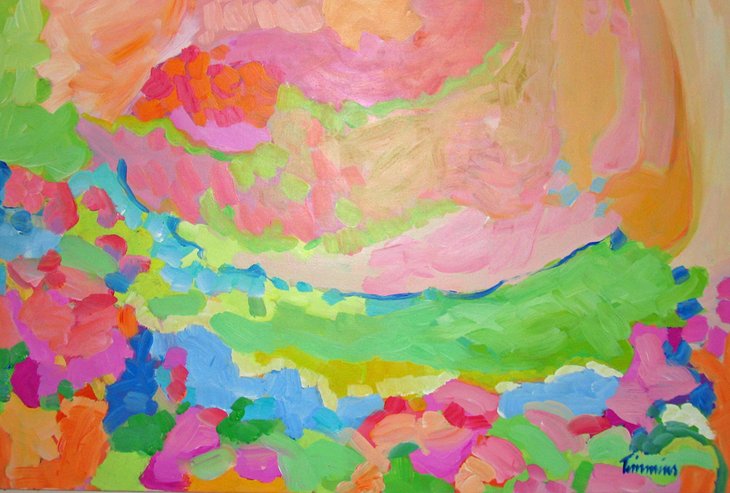 The light-flooded Okanagan Art Gallery on Osoyoos's Main Street showcases the work of some of the Okanagan's most talented artists. Pieces by two dozen local artists are on display in the gallery, which features a variety of styles and mediums. Local artists are often on-site at the gallery to answer questions and provide insight into their work.
Many of the pieces reflect the local landscapes - you just might find the perfect, one-of-a-kind souvenir to take home and add to your own collection. The pieces on display are constantly changing, so it's a good idea to drop in even if you've visited in the past.
In addition to displaying artwork, the Okanagan Art Gallery hosts events for both residents and visitors. Live demonstrations, workshops, and classes are offered throughout the year, allowing budding artists and the artistically-challenged the chance to hone their skills while having some fun.
4. Camp at swiws (Haynes Point) Provincial Park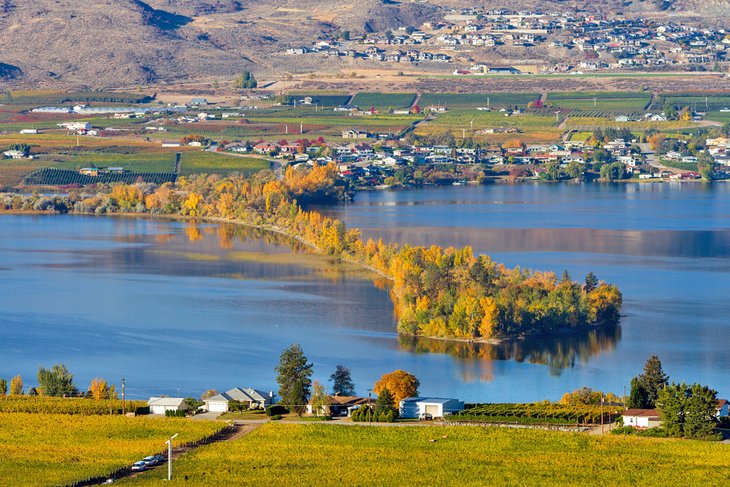 Located on the traditional territory of the Osoyoos Indian Band, swiws park (also known as Haynes Point Provincial Park) juts out into Osoyoos Lake, providing impressive water views from almost every angle.
The park is a popular attraction in the summertime, when the days are scorching hot and the evenings are pleasantly cool. swiws park is said to have the best camping in the Okanagan area — if you hope to nab a campsite, it's a good idea to book as early as possible. If the campsites are full on your desired dates, check back often, as cancellations can happen from time to time.
Even if you don't plan to camp, it's well worth visiting the park to enjoy a walk along the lake. The sandy beaches also happen to be the perfect launch point for a swim or some sunbathing.
5. Tee Off at One of Osoyoos's Finest Golf Courses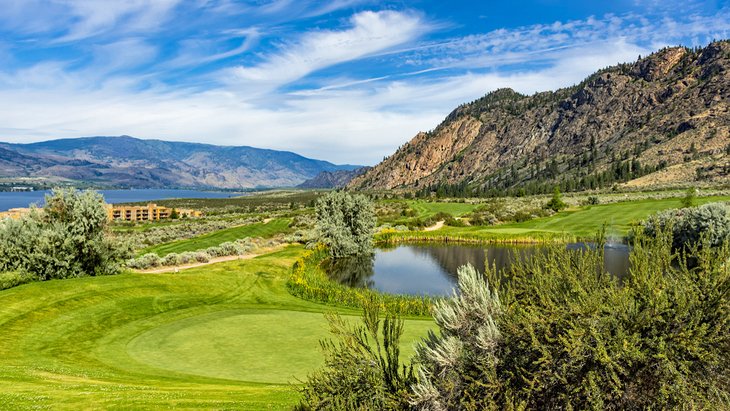 Osoyoos is home to several golf courses that make the most of the spectacular natural surroundings. Golfers are positively spoiled with options - and that's not even counting the equally impressive courses in nearby Penticton and Summerland.
Fairview Mountain is one of the most popular golf courses in the entire province of British Columbia - and believe us, there is no shortage of world-class courses in BC. Roughly 15 minutes north of Osoyoos in the community of Oliver, this public golf course is kept in pristine shape. The smartly designed golf course captures breathtaking vistas and will prove to be an unforgettable experience, even for well-traveled golfers.
Also in Oliver, the Nk Mip Canyon Desert Golf Course offers 18 holes that will challenge golfers of all levels, as well as a 14-stall driving range with a practice area, both of which are included in the green fees. This walkable course is well maintained, featuring several holes that will keep you on your toes. Grab a bite to eat afterwards at the on-site restaurant.
Closer to town, the Osoyoos Golf Club features two distinct courses: the challenging Desert Gold course and the more beginner-friendly Park Meadows course. Each course offers excellent views, but be warned: the terrain is hilly, so you may want to rent a golf cart. Whichever course you pick, you're bound to have a good time.
6. Play Hard at Rattlesnake Canyon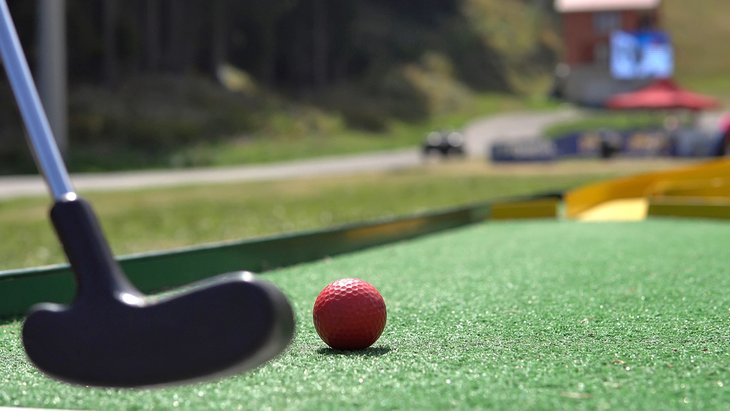 There's lots of fun to be had at Rattlesnake Canyon. This theme park, located on the east side of Osoyoos Lake in East Osoyoos, is one of the best places to visit for families. There are traditional rides, as well as bumper boats, go karts, a 35-foot rock climbing wall, an 18-hole mini golf course, and an arcade with 30 different games to keep you amused. Needless to say, you'll run out of time before you run out of things to do.
The park is free to enter; activities are priced individually, or you can purchase packages for multiple attractions. That means that you can make an entire day of it or just visit a portion of the theme park - you can't go wrong with a round of mini golf and an ice-cream cone after a long day spent swimming at the lake.
7. Take a Look at Spotted Lake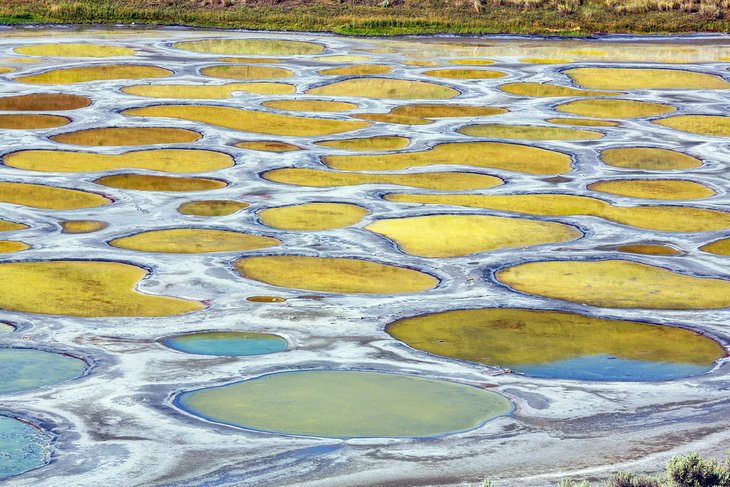 Osoyoos Lake is obviously the body of water most commonly associated with Osoyoos - but just eight minutes away is another lake, one probably unlike any other you've ever seen.
To put it simply, Spotted Lake is a polka-dotted lake. More technically, the lake contains several rich mineral deposits like magnesium sulfate, sodium sulphates, and calcium. When the temperatures rise and some of the water evaporates, the concentrated mineral deposits create what appear to be big spots on the surface of the lake.
The spots are tinted in different shades and colors, depending on the particular combination of minerals in that specific area. The result? A spotted lake!
Spotted Lake is cool to look at, but it's an ecologically sensitive place that also holds significant cultural importance to the Okanagan Syilx people. For these reasons, the lake is closed to the public - you'll have to take in the views from the fence around the outside. Still, if you're in the Osoyoos area in the summer when the spots are visible, it's worth a visit.
Head's up: in the winter months when water levels are high, you can't see the spots - so you may want to skip out on this attraction.
8. Relax at the Spa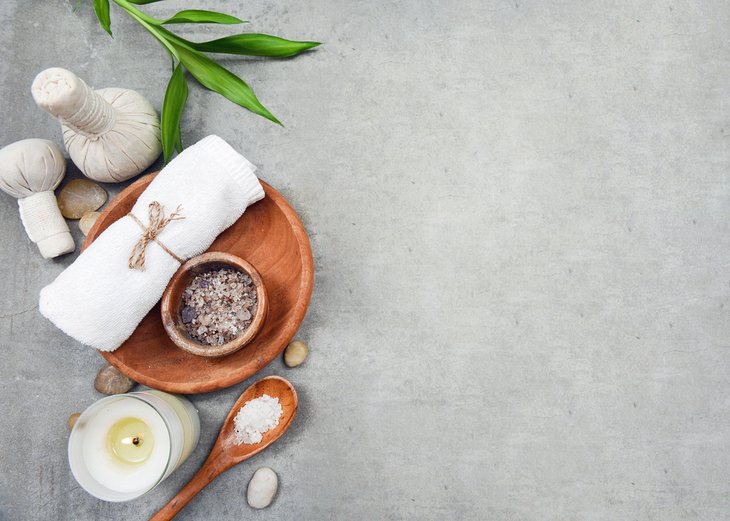 If you've chosen a peaceful, strikingly beautiful place to visit like Osoyoos, chances are good that you're looking for a relaxing experience. If you want to take it to the next level, there are several spas in town with an array of options for pampering and restorative treatments that will leave you feeling seriously blissed out.
Solterra Desert Spa offers a series of body treatments inspired by the Osoyoos desert. Spa-goers can choose between a sea salt scrub combined with a sun-dried rose clay application or a sage and cedar oil treatment paired with a full body scrub.
Another local spa, Levia Wellness Spa, provides unique signature treatments that will soothe you from head to toe. Their rain drop therapy treatment involves a stress-melting combination of massage and reflexology, while their herbal body balance service consists of a sweet-smelling lavender rosemary exfoliation and massage, complete with an in-house blended, herbal-infused massage oil.
Whether you're looking for a shared experience with friends or some solo rest and relaxation, go ahead and indulge in a pedicure, massage, or other spa treatment. After all, there's no better time to treat yourself than on vacation.
9. Ski at Mount Baldy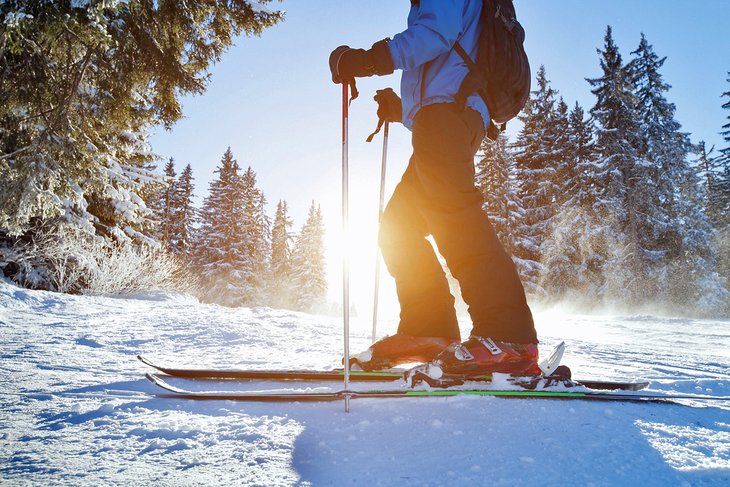 While most of the activities and attractions we've listed here are best enjoyed in the summer, there are plenty of things to do in the winter as well - like skiing at Mount Baldy Ski Resort, just one hour away from Osoyoos.
Mount Baldy features 360 acres of ski trails and 240 acres of gladed runs, primarily geared towards beginner and intermediate skiers and snowboarders. With two chairlifts plus a magic carpet, skiers can access all the runs quickly and efficiently.
This small, family-friendly resort doesn't get the big crowds that some of the larger ski destinations in the province attract, meaning you'll spend less time waiting in line and more time on the snow.
If downhill isn't your thing, you can check out the winter activities at the base of the mountain. There are five kilometers of cross-country ski trails, plus an additional five kilometers of snowshoeing trails. Of course, you can always skip out on the snow and just grab a cup of hot cocoa at the recently renovated day lodge — we won't judge.
Read More: Best Ski Resorts in British Columbia
10. Drive up to the Anarchist Lookout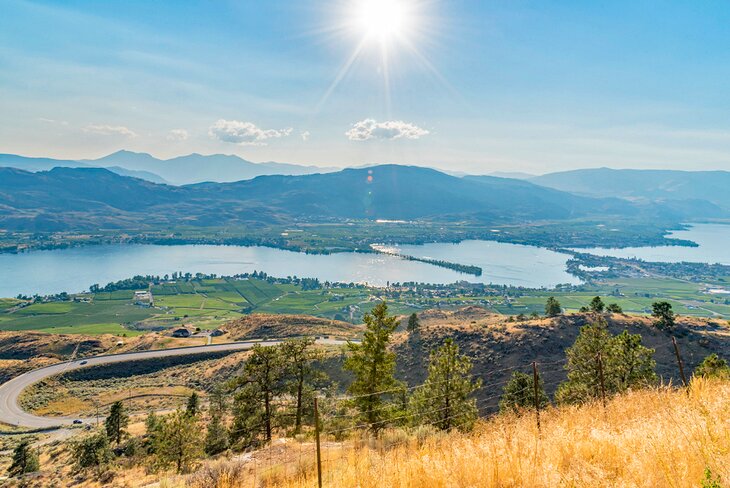 If you've driven to Osoyoos from Vancouver, you've likely found that you've followed a valley then driven up and crossed a pass time and time again. You may actually be wondering where you are once you get to Osoyoos. Well, the best way to orient yourself and enjoy an amazing view is to make the short drive up to the Anarchist Lookout.
As you switch back and forth and climb steadily, you'll be glad you drove instead of walked as you ascend from just over 900 feet to an ear-popping 4,045 feet at the lookout.
At the lookout, views up and down the valley showcase Osoyoos Lake, the mountain range across and beyond the valley, and to the south, the United States.
The whole drive is about five kilometers long. Directions are available at the visitor center.
11. Explore Downtown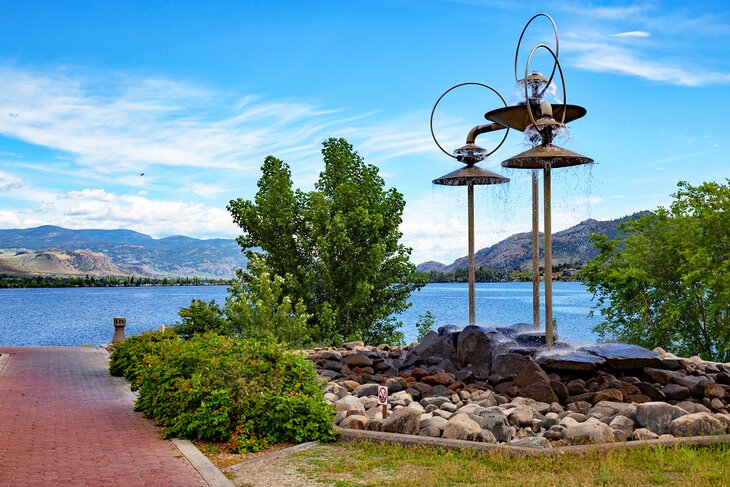 After a day of exploring or driving, nothing quite beats a nice stroll through downtown Osoyoos. This tidy downtown area is exceptionally walkable, with wide sidewalks that are, in many areas, covered more for sun relief than rain, considering this is a very dry place.
Pop into any one of the galleries, coffee shops, or other boutiques to discover something made locally that will make a perfect take home keepsake.
After all this exploring, settle in for a hearty lunch or delightful dinner at one of the well-regarded restaurants, and stroll down to the lakefront.
Map of Osoyoos, BC - Top-Rated Things to Do
More Related Articles on PlanetWare.com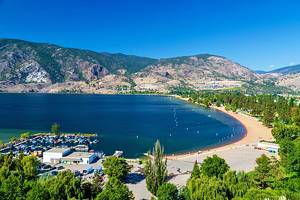 Nearby Places to Visit: The Okanagan has several communities and attractions worth visiting. Another town with a beautiful lake setting and plenty of things to do is Penticton. Beaches, hiking and biking trails, and family attractions draw visitors here all summer long. If you are visiting the Okanagan in winter, be sure to check out some of the ski resorts in this area of BC.