16 Top-Rated Things to Do in Medellin
Authors Michael and Lana Law have visited Colombia on several occasions and were in Medellin most recently in the fall of 2022.
If ever there was a city brimming with 21st-century optimism, it's Medellin. With a comfortable, mild climate and cosmopolitan feel, this city of 4 million — the second largest city in Colombia after Bogotá — hasn't always had an easy time of it.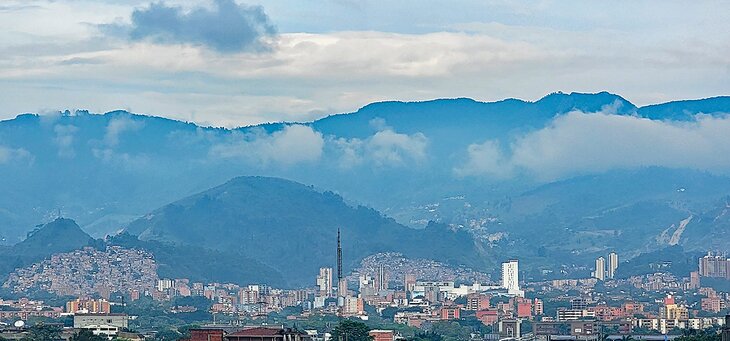 In 1988, Time magazine declared Medellin "the most dangerous city in the world." In 2013, The Wall Street Journal called it the most innovative metropolis on the planet. Today, Medellin is a hot spot for digital nomads and remote workers who come here to enjoy the city for more than just a holiday.
Needless to say, much has changed over the last few decades, and this is no longer the city once in the grip of the famed narco-trafficker Pablo Escobar. Far from it, Medellin is overflowing with things to do for all types of travelers and packs a way bigger punch than most cities of its size.
Unlike other large South American cities where the old town area typically has the majority of sights, many of Medellin's main attractions are quite spread out. This coupled with significant traffic means that it takes time to see and do things, so plan accordingly.
1. Wander the Streets of El Poblado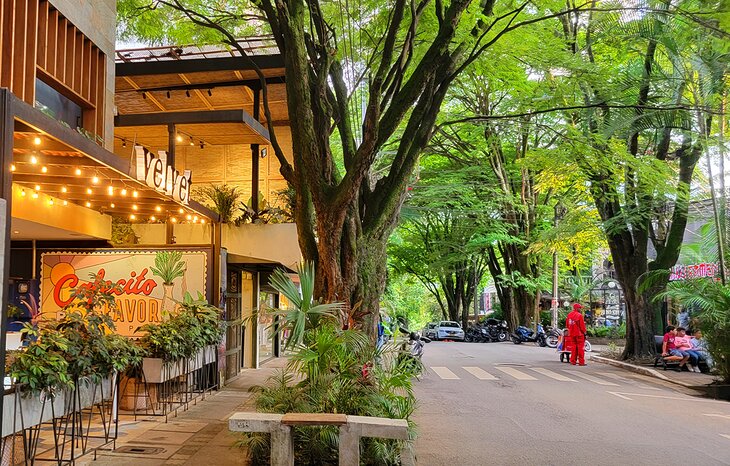 Medellin's star attraction is the neighborhood of El Poblado. Shady streets lined with huge leafy trees are home to restaurants, cafés, and boutique shops. Walking along some of the roads leaves you feeling like you're in a park, with a giant canopy of leaves over top and a small river tumbling below the sidewalk. It's a wonderful area to explore by day or to go for nightlife, and a good place to base yourself in the city.
Calle 10 is the main street through El Poblado and is always a busy, happening area. Smaller roads leading off this street are where you'll find interesting places to eat or hang out. Wander down Carrera 37 for a quaint and quiet atmosphere of restaurants and shops, or head to the pedestrian-only Carrera 35 for a more lively atmosphere and music.
Restaurants in El Poblado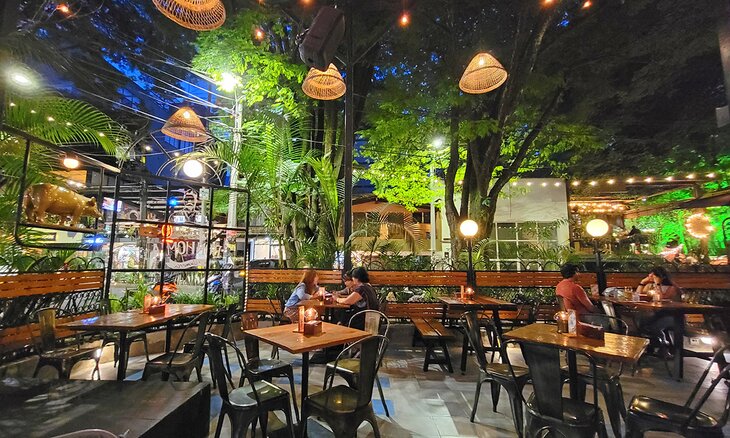 You'll find no end of restaurants in El Poblado, from fine dining to street-side patios, and even grab-and-go fast-food places. For a great atmosphere and outdoor patio dining, as well as excellent food, try Bonhomia on Carrera 37.
For something a little more casual, head across the street to 37 Park Medellin. This restaurant has the look and feel of a tree house and is a good place to meet international travelers.
Mondongos is a restaurant that many Colombians will recommend and is a good option if you want to try some traditional dishes, like tripe soup. It's right on busy Calle 10 and easy to find.
Coffee Culture in El Poblado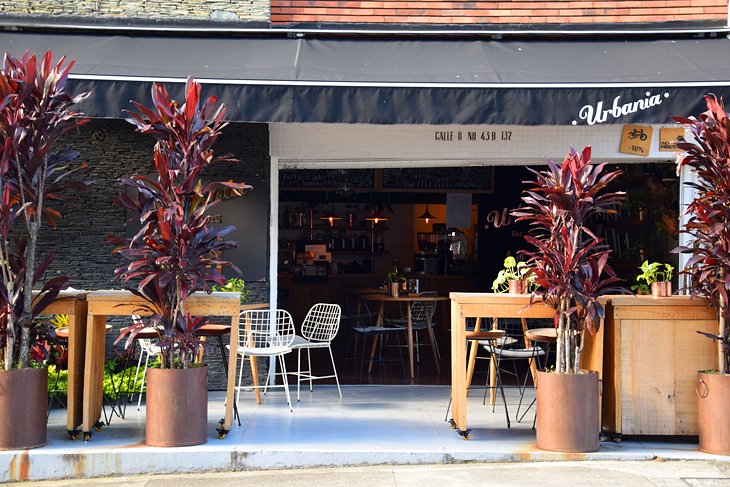 Colombia is the world's third-largest coffee producer, and many of the beans come from the hills of Antioquia surrounding Medellin. Of course, you don't need to leave town to experience the distinct flavors of Colombian coffee. The trendy El Poblado neighborhood is a hub of coffee culture and absolutely brimming with hip cafés grinding strong local roasts.
The granddaddy of them all is Pergamino, with hot and cold beverages made largely from beans grown on the owner's family farm. Right across the street, you'll find the equally recommended Café Velvet, while on the far side of the neighborhood (and much closer to the El Poblado metro stop) lies Urbania Café, which has rotating art exhibitions on the walls and a great selection of Colombian design and fashion magazines to read with your latte.
Each of these cafés makes its own blends from regional beans and sells them by the bag for prices you're unlikely to find back home.
2. The Medellin Metrocable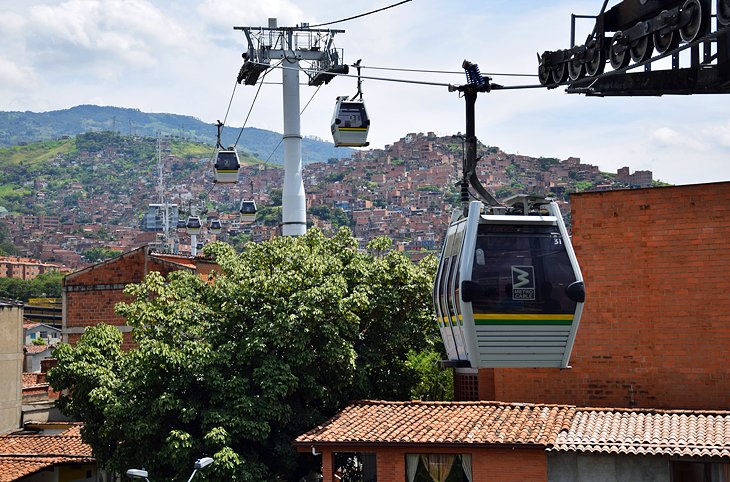 Medellin lies in a big Andean bowl, and the best way to take in the panorama is simply to hop on public transportation and connect to the Medellin Metrocable.
These futuristic cable cars soar above the city into the surrounding hills, offering unrivaled views that are perfect for avid photographers. One option is to ride Line J over social housing towers and smaller shantytowns to an outstanding overlook near the final station at La Aurora.
A more popular thing to do, however, is take Line L up to Arvi Park, an urban oasis of forested hills that feels a world away from the city center. This vast park is the perfect getaway for nature lovers, with peaceful walking trails and plenty of food and craft vendors to satisfy your every need.
3. Plaza Botero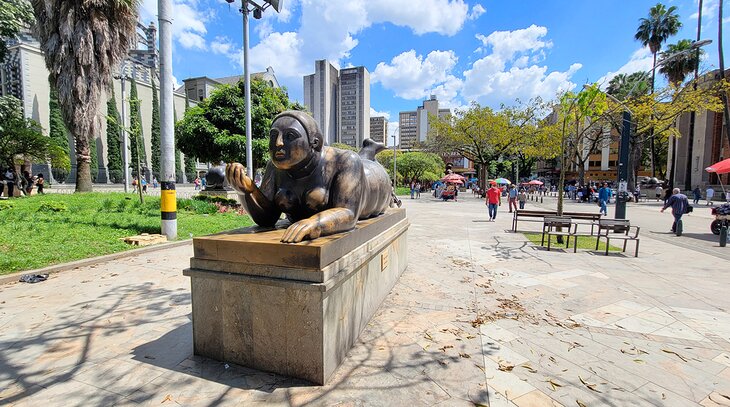 Hometown hero Fernando Botero donated 23 of his larger-than-life sculptures to the city of Medellin, and you'll find them sprinkled around the aptly named Plaza Botero (near the Parque Berrio metro station).
From rotund Roman legionaries to overstuffed animals, these portly figures have become symbolic of downtown Medellin and are surely some of the most photographed artworks in all of Colombia. Their setting against the ornate black-and-white patterns of Rafael Uribe Uribe Palace of Culture only highlights the overall appeal.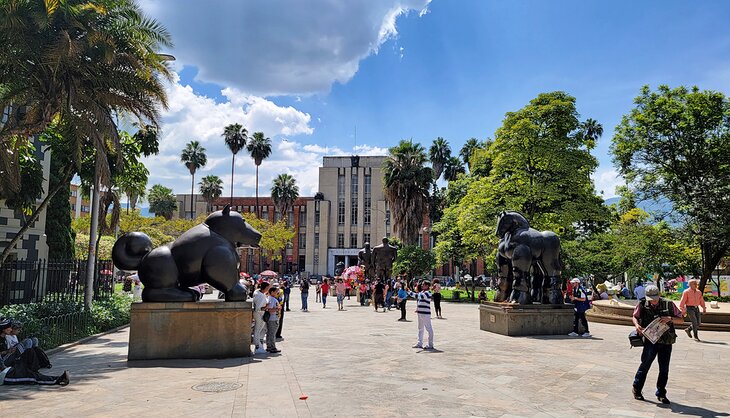 This is a busy square with a bit of an edgy feel to it. It's best to go during the day and ensure all your valuables are out of sight.
4. The Museum of Antioquia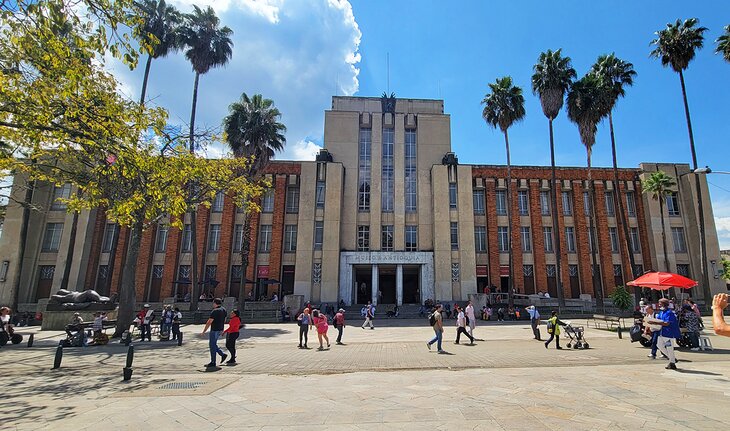 You'll find even more of Botero's works — including famed paintings like La Muerte de Pablo Escobar (the death of Pablo Escobar) — in the Museum of Antioquia (Museo de Antioquia).
Located along the western edge of Plaza Botero, this three-story facility is the second oldest museum in the country. It includes a wide spectrum of art from pre-Columbian Colombia right up to modern masters like Botero. Other items in the collection include ceramics, furniture, and pre-Colombian pottery.
If you only go to one museum in Medellin, make it this one.
Address: Carrera 52 # 52-43, Medellín, Antioquia
Official site: http://www.museodeantioquia.co
5. Shopping in Downtown Medellin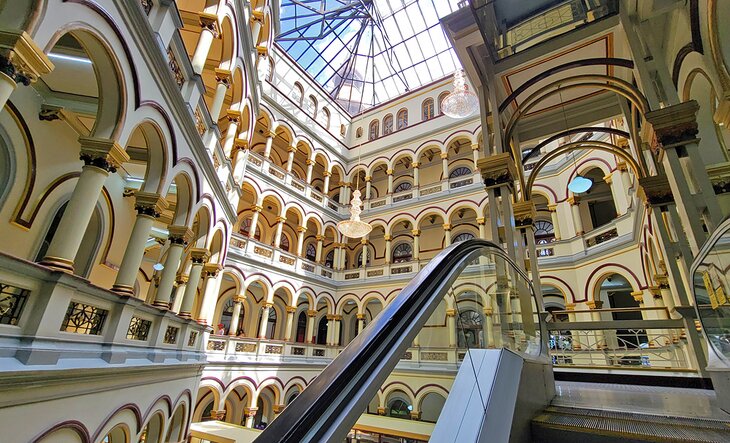 The area south and west of Plaza Botero is a veritable shopping paradise. Just wander down the pedestrian-only Calle 52, and you'll soon be in the heart of it. The entire area is jammed full of shops selling just about anything you can imagine. Many of the buildings have long galleries that create an almost warren-like area of small shops. Wander into one, and you aren't quite sure where you'll exit.
Fortunately this huge shopping area is well organized by item. If you are looking for fabric for curtains for example, all the fabric sellers are located together. Need a power tool? All the hardware stores are right next to one another.
One building that is not to be missed is the National Palace Mall. This spectacular building has been wonderfully restored to its former glory complete with massive chandeliers and skylights. This is the place in Medellin to come to for the latest fashions.
6. Comuna 13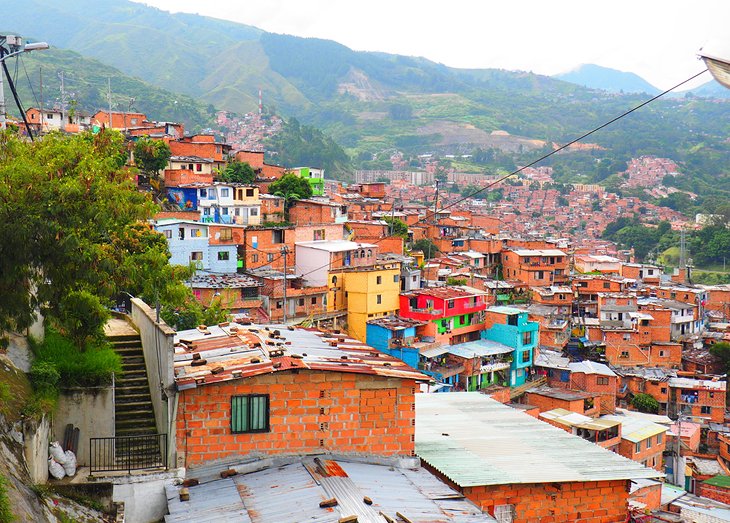 Comuna 13 was once the most dangerous neighborhood in Medellin. Now it's fast becoming one of the city's top tourist attractions, with tour groups wandering through its graffiti-filled streets. Why? An ever-growing system of open-air escalators linking together Comuna 13's cliff-clinging communities has helped drive down crime and elevate community pride.
Many of the escalator operators are also street artists who've livened up the edges of the escalator route with colorful murals that both reflect the neighborhood's tough past and offer hope for a promising future. To get the most out your visit, it's best to take a tour with an English-speaking guide from a company like Comuna 13 Tours.
Official site: http://www.comuna13tours.com
7. Guatapé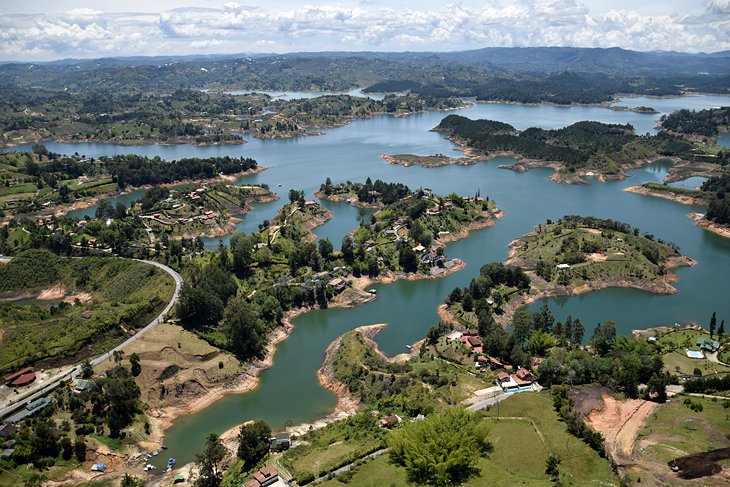 There is so much to see and do within Medellin that it can be hard to leave. However, one of the top attractions among most visitors actually lies 90 kilometers out of town. El Peñón de Guatapé is a monolithic rock formation that soars 200 meters above the surrounding landscape.
Climb the 750 concrete steps to the top, and your reward is 360-degree views over the Guatapé Reservoir, a manmade lake that has numerous tentacles lined with vacation homes and hotels. The viewing platform up top has plenty of drink vendors and shaded tables to cool off at before huffing it back down to the bottom.
The best way to visit is by a Full-Day Guatapé (Pueblo de Zocalos) from Medellin that includes lunch and a boat trip out onto the turquoise lake to view El Peñón from afar.
If you go on your own, count on a minimum of four hours of travel time to get there and back.
8. MAMM: Medellín Museum of Modern Art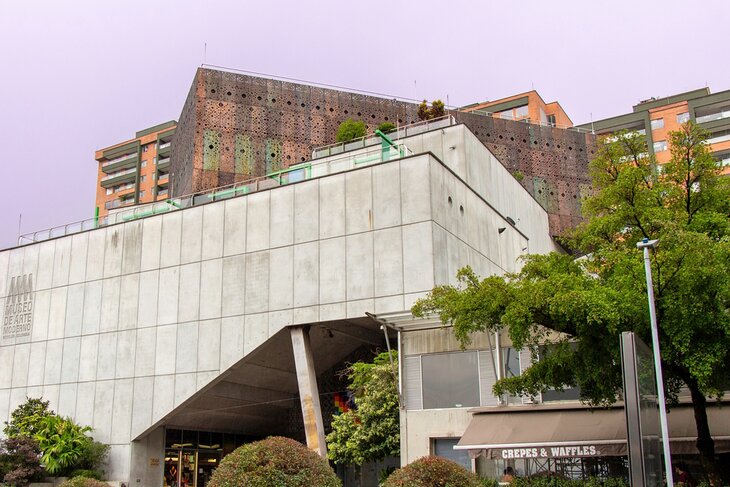 This modern art museum is, without a doubt, the star attraction of the up-and-coming Ciudad del Rio neighborhood, a former industrial area along the Medellin River that has been gentrified in recent decades and is now home to artists' lofts, sculpture-filled gardens, and top-tier dining.
Built within (and all around) the refurbished confines of a 1939 steel mill, MAMM showcases some of the stars of Colombia's contemporary art scene, including pop artists Beatriz González and expressionist Débora Arango. Ride the elevator up to the top floor of this five-story building and wind your way down for the best experience.
Address: #19A, Cra. 44 #16 Sur100, Medellín, Antioquia
Official site: http://www.elmamm.org
9. The Botanical Garden and Parque Explora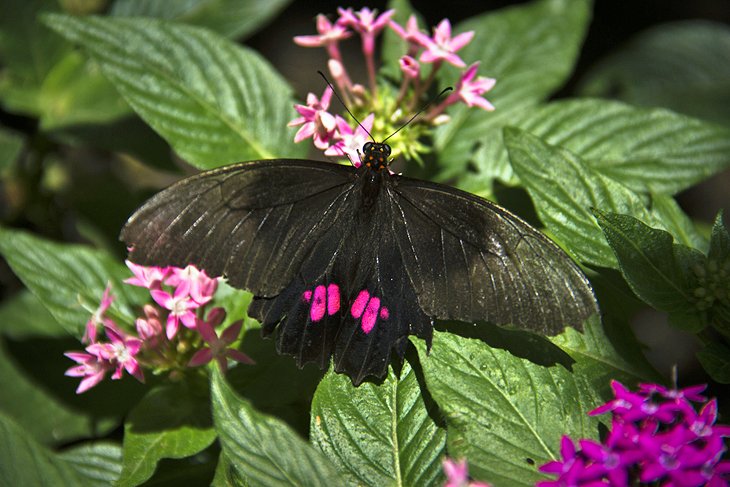 Need a break from the city noise? Head to the Botanical Garden near the Universidad metro station, where 14 hectares of green space awaits. This sprawling and free-to-enter garden not only showcases more than 600 species of trees and plants, but also has a herbarium, lagoon, and popular butterfly enclosure.
Just across the street from the botanical gardens, you'll find another must-see attraction: Parque Explora. This family-friendly complex boasts a vivarium (for reptiles and amphibians), a planetarium (for stargazing), and Latin America's largest freshwater aquarium (which showcases many critters from the Amazon Basin). There are also three interactive areas, with educational exhibits on physics, neuroscience, and communications.
10. Museo Casa de la Memoria (House of the Memory Museum)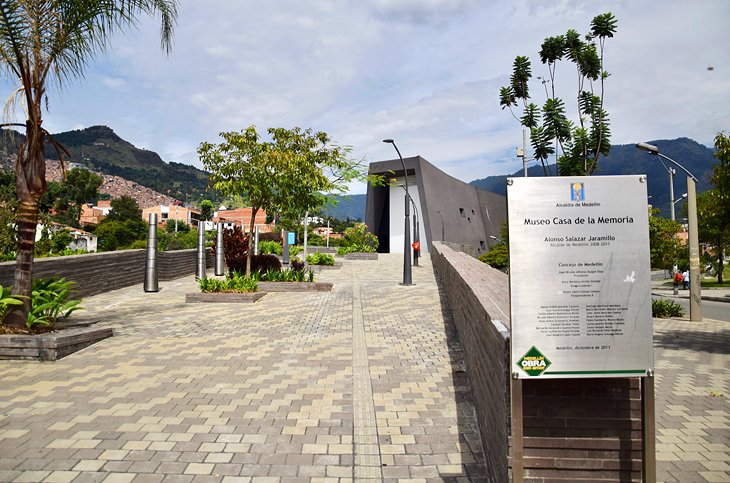 You can explore Medellin's sordid past, collective progress, and promise for a brighter future at Museum House of the Memory. This striking (and free-to-enter) complex opened in 2012 to offer a space for victims of Colombia's armed conflict to amass and dignify their memories.
The archival collections depict the history of drug and paramilitary violence in the country as well as the fight for peace and unity. It is, perhaps, the best place in Medellin to come to grips with Colombia's headline-making history and put a face to the victims of Latin America's longest-running armed conflict.
Address: Calle 51 # 36-66 Bicentennial Park, Medellin
Official site: http://museocasadelamemoria.gov.co
11. Palacio of Culture Rafael Uribe Uribe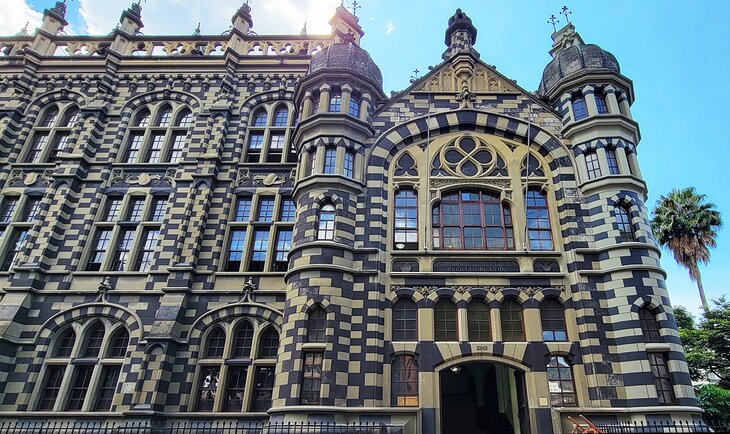 As you wander around Plaza Botero, the one building that keeps drawing your eye again and again is the checkerboard patterned Palacio of Culture Rafael Uribe Uribe. This building, done in the Gothic Revival style first started in 1925, was abandoned for many years and was finally finished in 1982.
The building is open to the public with no admission charge, so feel free to wander in and take a look around. The massive dome is quite spectacular, and the Rafael Uribe Uribe Museum room is worth a look.
12. Barrio Manila
Exceptionally green and effortlessly chic, this pocket-sized barrio on the edge of El Poblado offers a quieter alternative to its neighbor. Home to a number of fantastic accommodation options across all budgets, Manila is also your go-to spot for some of the trendiest open-air restaurants in the city, including Tal Cual and Malevo (for chargrilled meats).
Want a healthy breakfast? Head to Café Al Alma for a big bowl of granola and yogurt with local fruits. In the mood for an afternoon pick-me-up? Try Hija Mia for one of the silkiest americanos in town.
13. Plaza Cisneros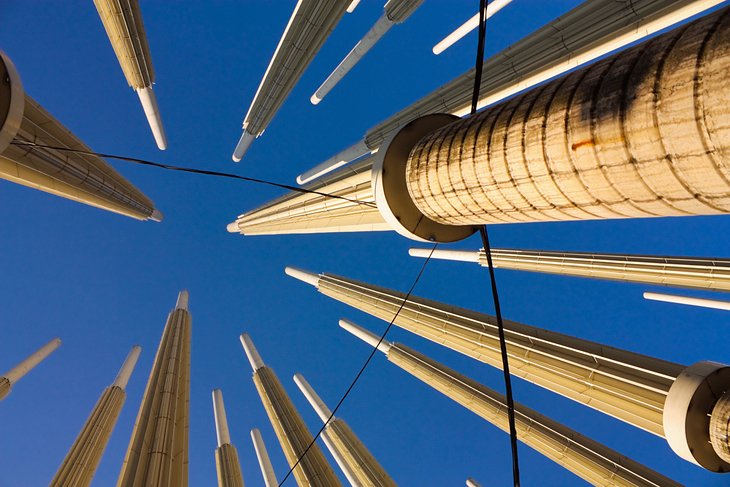 Plaza Cisneros is yet another example of a section of Medellin that was once full of drugs and violence but is now a relatively safe and popular destination for sightseeing.
Walk by during the day, and it might not look like much, but head back after dark and the 300 light poles scattered throughout the plaza will surely leave an impression. These 24-meter-high beacons are like giant Jedi lightsabers brightening up the night sky.
More than just pretty lights, this plaza is also home to some spectacular architecture, including the angular Biblioteca EPM, a library with a small museum and free Wi-Fi. Head across Avenida San Juan for even more architectural marvels like the bumblebee-colored towers of Plaza de la Libertad.
Address: Cl. 44 #52-50, Medellín, Antioquia
14. Museo del Agua EPM & Barefoot Park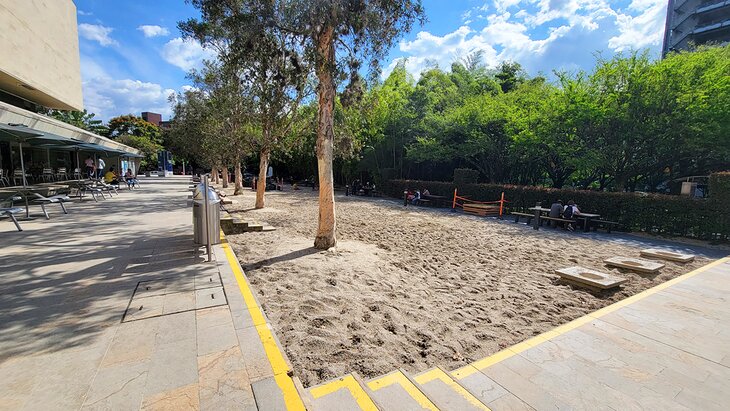 The Museo del Agua (Museum of Water) is, as the name suggests, all about water, from its origins to modern-day uses. You have to explore the museum on a guided tour, so be sure to check in advance to see when tours are starting.
Immediately outside the museum is Barefoot Park, a zen-inspired public park designed by local architect Felipe Uribe de Bedout. You can take off your shoes and wander through its green gardens, sandy pits, and bubbling water fountains to experience the different textures and contemplate how they feel. The idea is to reconnect with nature in a way humans lost when we started wearing modern footwear.
Equally enjoyable for both kids and adults, the park has plenty of shady nooks and cooling waterways to beat the heat on a scorching afternoon.
Address: Cra. 58 #42-125, Medellín, Antioquia
15. Pueblito Paisa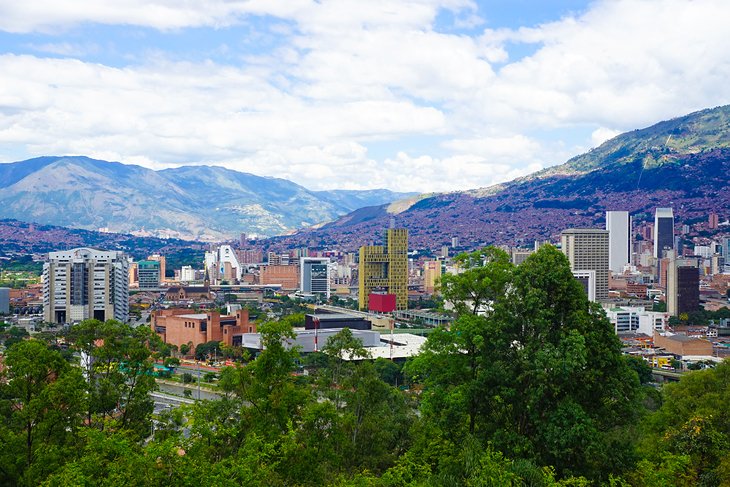 This mock town atop Cerro Nutibara is like a living museum, where you can walk back in time to the turn of the century and experience life in rural Antioquia. The village centers around a traditional town square with a church, mayor's office, barbershop, and one-room schoolhouse.
Its hilltop setting also makes it a great spot simply to get a bird's-eye view of the city below. You'll find plenty of souvenir and handicraft shopping here alongside some excellent restaurants where you can try the paisa cuisine of the Colombian Andes, including classic dishes like bandeja paisa, a belly-busting platter of ground meat, fried plantains, and avocados served with rice and refried beans.
16. El Castillo Museo y Jardines

You may not expect to find a castle in Medellin, but one does exist and it's spectacular. Once a private residence, and then for many years an entertainment venue for VIPs, today the castle and grounds are an attraction open to everyone for a modest admission fee.
One-hour, Spanish-only tours leave on the hour. Knowledgeable guides provide the background and history of the slightly dated but still sumptuous interior. The grounds display tropical plants, fountains, and large trees.
A popular pastime is to grab some takeout from a restaurant in nearby Poblado and have a picnic. A small restaurant on-site also provides food and beverages.
More Related Articles on PlanetWare.com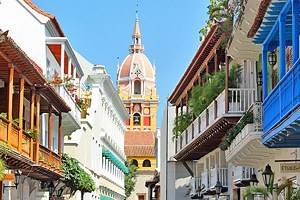 Cartagena: No visit to Colombia is complete without some time spent wandering the historic streets of Cartagena, the jewel of Colombia's tourist scene. Plan a stay in one of the luxurious, centuries-old hotels in the walled city, or scope out where to stay in Cartagena to see different neighborhoods or even save some money on accommodation.
Plan out the rest of your trip to this incredible country with our guide to the top attractions and places to visit in Colombia.