17 Top-Rated Beaches in Ecuador
The coast of Ecuador is dotted with beaches that make even the most well-traveled visitor swoon. For such a small country, the offerings are many. From sleepy, working-class beach towns like Muisine to the bustling coastal resort area of Salinas, visitors to this small yet vibrant South American country will enjoy the beautiful climate, surf, sand, and a host of related ocean-side amenities.
The influence of multiple cultures in this region results in a unique experience for tourists. Surfing shores are favorites among those who like to hang 10, and, of course, the Galapagos Islands combine nature and seashore in the very best of ways.
Finding a beach in Ecuador along its almost 2,253 kilometers of beautiful coastline is relatively easy, as most are a short drive away from the country's major cities and airports. And while the Galapagos require a bit more effort - they're located around 620 miles east of the mainland - they reward you with bucket-list-worthy accomplishments and bragging rights.
Choosing which beach destination to visit is the toughest part of the journey. There are so many, that most visitors will be hard-pressed to stop at just one.
To help you find your favorite oceanfront place in the sand, be sure to read through our list of the best beaches in Ecuador.
1. Salinas, Santa Elena Province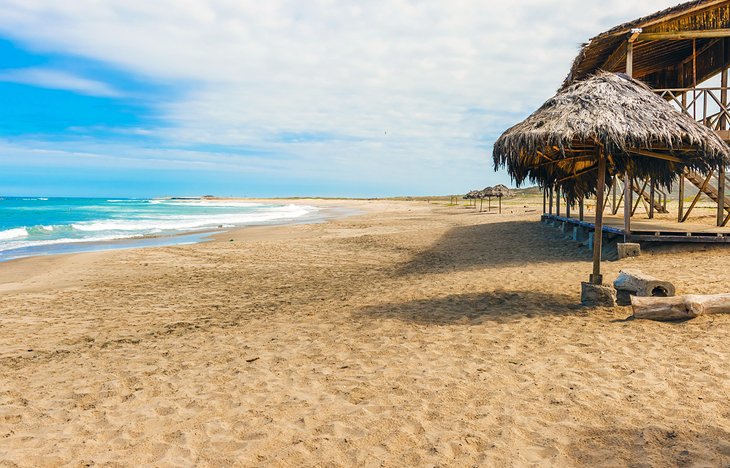 Located in the country's Santa Elena province, Salinas is the largest beach resort area in Ecuador. It's also the westernmost city on the mainland and plays host to the ISA World Junior Surfing games. It's also home to a few upmarket yacht clubs that draw visitors from all over the world.
With restaurants, shops, a marina, and endless sand beaches, it's easy to see why beachgoers flock here. If you want to surf or just relax in the sand, family-friendly Chippe Beach (Playa de Chipipe) is the spot to go.
Another plus is the fact that Salinas is about 144 kilometers from the José Joaquín de Olmeda International Airport and the city of Guayaquil, Ecuador, so getting here is easy.
2. Ayangue, Santa Elena Province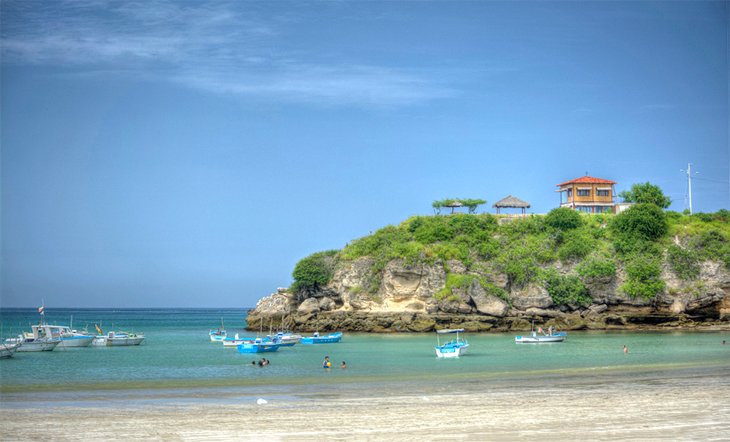 The picturesque town of Ayangue, also in Santa Elena, is about an hour from Salinas along the popular "La Ruta del Sol" tourist route. However, it seems like a world away from the hustle and bustle of the busy resort town. The beaches here are perfect for those sunbathers who just want to relax, and the views from the cliffs are spectacular.
Because of the location, it is a prime destination for seafood, so be sure to bring your appetite. The restaurants in this area are well known for their amazing seafood dishes. And while Ayangue is off the beaten path, its remote location makes it easy to escape the crowds.
3. Puerto Cayo, Manabí Province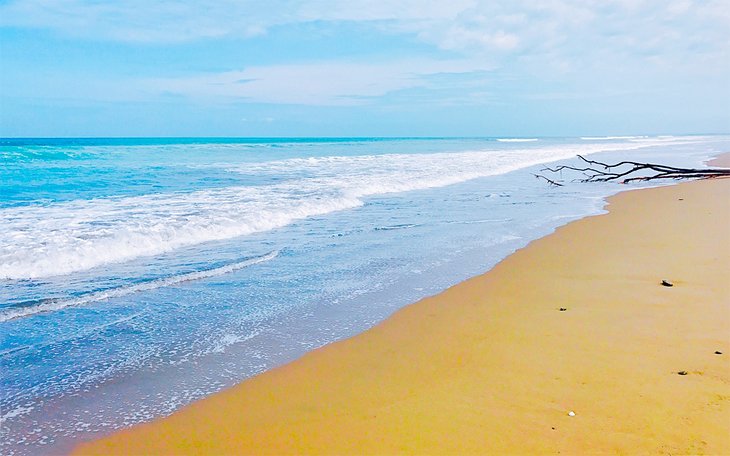 Puerto Cayo, in the province of Manabí, is a low-key beach town that's perfect for those who want to combine their beach escape with the opportunity to connect with nature and wildlife. There is indeed so much more to do here than simply lying around on the beach.
Sightseeing opportunities for visitors include whale watching adventures, fishing charters, surfing (including learning to surf), or even a short trip inland to enjoy a farm experience and jungle tour.
This beach paradise is backed by mountains, which gives it a pleasant, secluded feel. The town is small and friendly but still accessible, as it's about 48 kilometers from two airports and the city of Guayaquil.
4. General Villamil Playas, Guayas Province
Generally shortened to simply "Playas," the seaside city of General Villamil Playas is filled with history - and great sandy beaches. Located on the south coast of Ecuador about 72 kilometers from the city of Guayaquil, this once small fishing village is fast becoming a popular beach destination in Ecuador while still keeping some of its original charm.
Playas is filled with the same first-rate beach amenities as Salinas, but without the crowds. Its calm waters are great for families and novice swimmers, the beaches are pristine, and the locals are warm and inviting.
While here, don't miss the Iglesia San Jacinto del Morro Church. This attractive landmark is notable as one of the oldest churches on the south coast of Ecuador. And with lots of restaurants and street food to choose from, this beach is a seafood lover's dream.
Another popular stop in town is the San Francisco Bakery. This popular food spot still uses their original stone oven that's over 125 years old and still churning out fresh-baked sweet bread daily. This yummy traditional Ecuadorian treat is delightful to munch on while you wander or sit on the beach.
5. Mompiche, Esmeraldas Province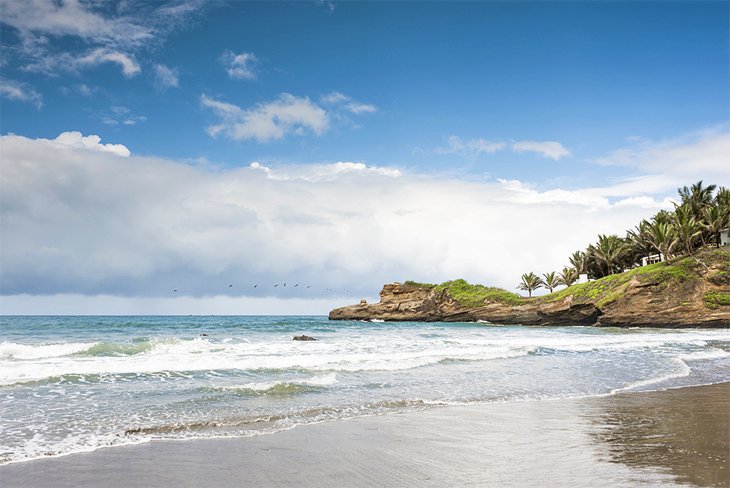 When you step foot onto the golden-sand beaches of Mompiche in the province Esmeraldas, you'll simply never want to leave, it's that picturesque. The beach here is lined with a stunning palm-tree backdrop. In addition to sunbathing and swimming, it's one of the country's most popular surf spots, too.
The town itself has a fun, laid-back vibe, and is fun to explore on foot. Be sure to allocate a little extra time for exploring, as it boasts some really awesome experiences outside the town limits, too.
In addition to fun water sports like kite- and windsurfing at the beach, head just outside of town, and you'll be able to enjoy activities such as taking a trek through the jungle, visiting nearby nature reserves, and bird-watching. You can also head to the nearest big city of Esmeralda for even more things to enjoy.
6. Muisine, Muisine Province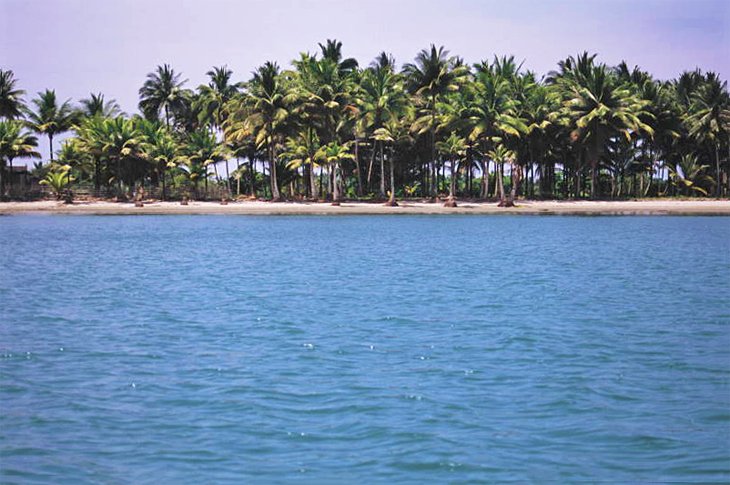 A popular destination in Ecuador, Muisine is located in the province of the same name and is well known for its soft-sand beaches. It's located on the northern tip of the Isla de Muisine in the Mompiche Bay and was one of the areas hard hit by the 2016 earthquake.
This quiet stretch of unspoiled beach is a great place for fishing, sunbathing, and enjoying the spectacular sunsets. Given the fact it's an island, its remote setting results in less visitors than the mainland, so it's perfect for those wanting to escape and avoid some of the more popular beaches.
Spending tourist dollars with the locals is a great way to help them in their recovery, all while enjoying a restful vacation of recharging. Visit the palm-lined beach at the back of the island and see some of the protected mangroves, so important to the surrounding environment.
Muisine is about 193 kilometers from Quito and 136 kilometers to Santa Domingo, making this vacation spot a doable day trip from either.
7. Tortuga Bay Beach, Santa Cruz Island, Galapagos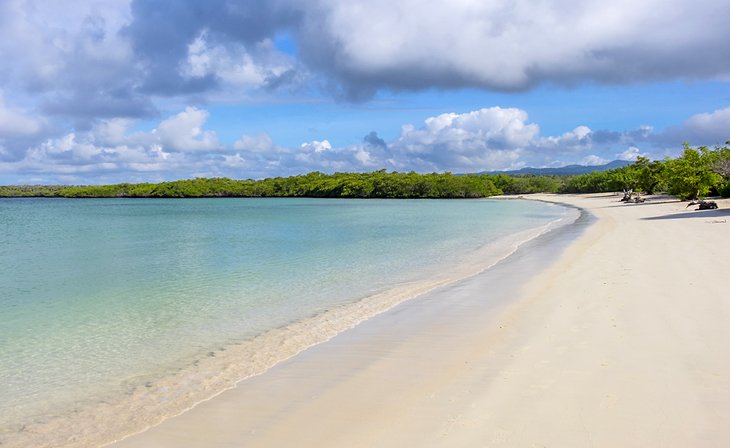 Tortuga Bay provides a sandy spot for exploring the many marine iguanas that call Santa Cruz home. Turtle nesting season is a spectacular time to visit, although beach access can be limited then.
Turquoise waters and the variety of wildlife viewing make this bay one of the most popular in the Galapagos Islands. This pristine stretch of unspoiled beach can be reached by water taxi from Puerto Ayora, or via a popular hiking trail from the same town.
8. Atacames, Esmeraldas Province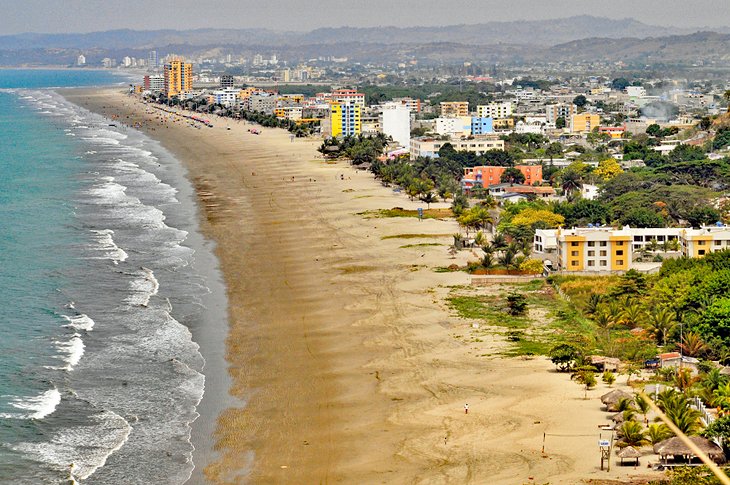 If you are looking for nightlife, excitement, and tons of activities, a visit to Atacames Beach on Ecuador's Northern Pacific Coast should be on your list of places to see. About 48 kilometers from Esmeraldas and about a four- or five-hour drive from Quito, this busy beach town hosts many tourists from abroad and throughout South America.
The area is lively during its peak season. Many residents are Afro-Ecuadorian, so it gives the town a Caribbean flair. In addition to the typical water sports you will find here like snorkeling, jet skiing, and boating, there is also an impressive aquarium, as well as a unique town to explore.
9. Playa Los Frailes, Machalilla National Park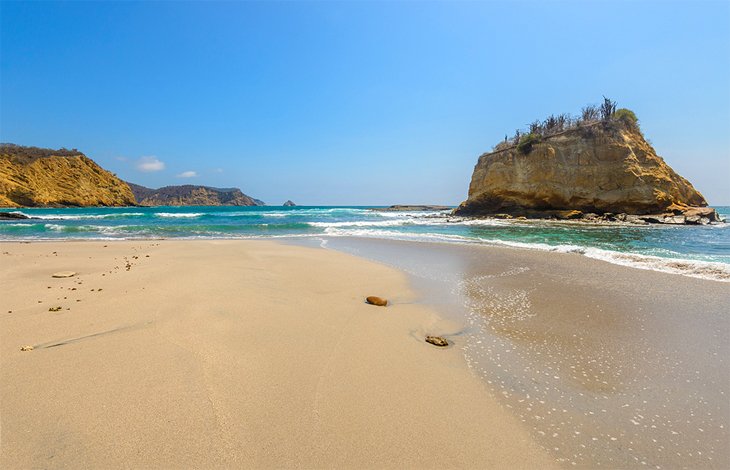 Arguably one of the most beautiful beaches in Ecuador, Los Frailes Beach (Playa Los Frailes) is off the beaten path, but well worth the journey to get here. This crescent-shaped shore surrounded by cliffs is an easy day trip from Puerto Lopez.
You can reach the beach after a short hike, or you can take the scenic route where you will most likely see wildlife along the way. When you arrive at the top of the cliff, tourists are rewarded with the most breathtaking views of the crystal-clear water, expansive white-sand beaches, and schools of colorful fish swimming below.
Because of its semi-remote location, Los Frailes is rarely crowded and is the perfect spot for those who just want the sun and sand.
10. Montañita Beach, Santa Elena Province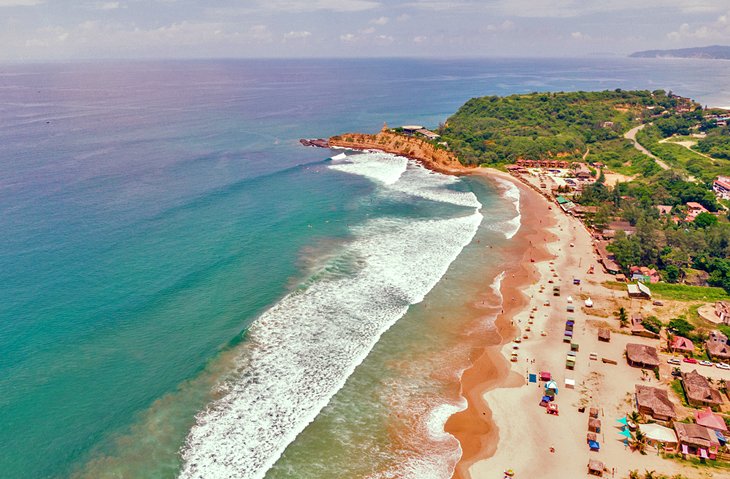 If you are looking for a bustling beach town then Moñtanita Beach is for you. This otherwise small town is inundated with tourists looking to ride massive waves and swim in the crystal blue waters. Known as the surfing capital of the country, Montañita Beach is filled with restaurants and hotels catering to the throngs of tourists who flock here each year.
While you are here, you can take Spanish lessons at Montanita Spanish School and get immersed in the local culture or hang 10 with some of the local surfers.
11. Canoa Beach, Manabí Province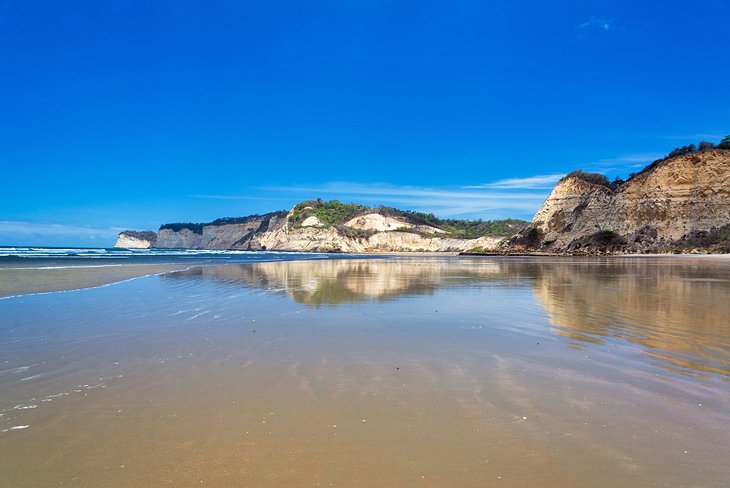 This long stretch of white, sandy beaches is perfect for a relaxing vacation. Lining the beach, you will find small guesthouses. The holidays are a busy time, so be sure to book in advance.
There is a lot more to this area than the beach. Head to the Rio Muchacho sustainable farm to learn about agriculture in the region or take a horse ride. Because the waves aren't as challenging as Montanita Beach, visitors can brave the waters and take surfing lessons at the Canoa Surf Academy.
Getting to Canoa Beach can take some time. Plan on a day of travel from Quito, as a bus trip will take about seven to nine hours to get here. Since the bus makes stops, hiring a car or taking private transport will expedite your journey.
12. San Lorenzo Beach, Manta Province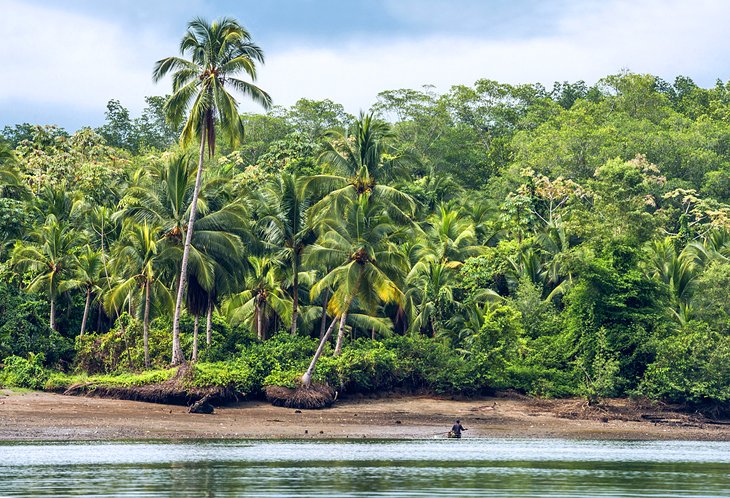 If you want a beach that boasts amenities as well as seclusion, San Lorenzo beach is the choice for you. With quiet coves mixed with long stretches of sand and calm waters, it's a great beach for families, couples, and the solo traveler.
Active beachgoers will love the challenging hike up to the cliffs. It's not for the faint of heart, but when you reach the summit, the views are spectacular, and you will be glad you made the trek.
13. Puerto Lopez Beach, Manabí Province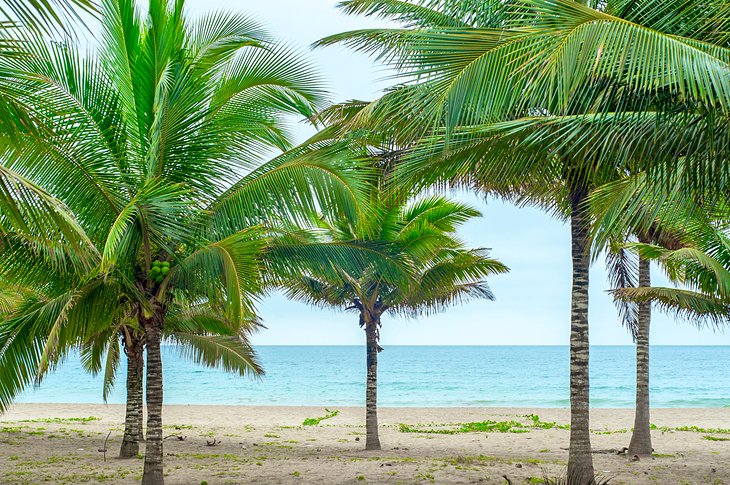 Puerto Lopez is the epitome of a coastal town and perfect for a long weekend at the beach. With small shacks and a plethora of water sports to choose from, you can sunbathe, snorkel, or dive at the beach. If you want to go on an adventure, rent a bike and explore the nearby countryside or Machalilla National Park.
If you visit Puerto Lopez Beach in June to September, be sure to book a whale watching tour for a once in a lifetime opportunity to see these amazing creatures up close and personal. It's also a great place to see wildlife that typically is found in exotic locales. Known as the "Poor Man's Galapagos," this destination allows for close encounters with the infamous blue-footed boobies, as well as other creatures.
14. Salango Beach, Manabí Province
A 30-minute drive from Puerto Lopez is Salango Beach. This beach is a draw to snorkelers, as it hosts an impressive coral reef. The calm waters and small waves are perfect for families and water sports.
Visitors will love the laid-back vibe and quiet beaches, which light up and become magical at sunset. This beach is also a favorite of fisherman, as it's rumored to have the best fishing in the province. It also offers unparalleled views of National Park Machalilla.
15. Bartolome Island, Galapagos Islands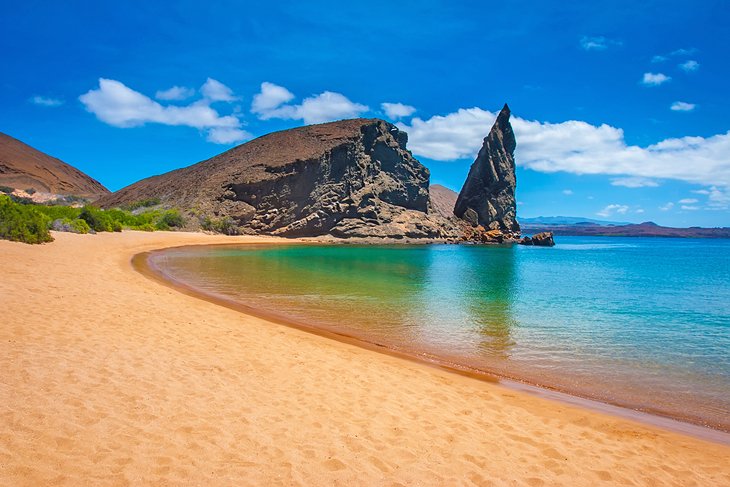 The iconic Pinnacle Rock marks the spot of not one but two crescent-shaped beaches on Bartolome Island.
Wildlife is abundant here, with sea turtles, playful penguins, and the fast-swimming sea lions who are known to dart past snorkeling aficionados with their ballet-like moves. The calm water makes it a great place for exploring life under the sea.
16. Rabida Island, Galapagos National Park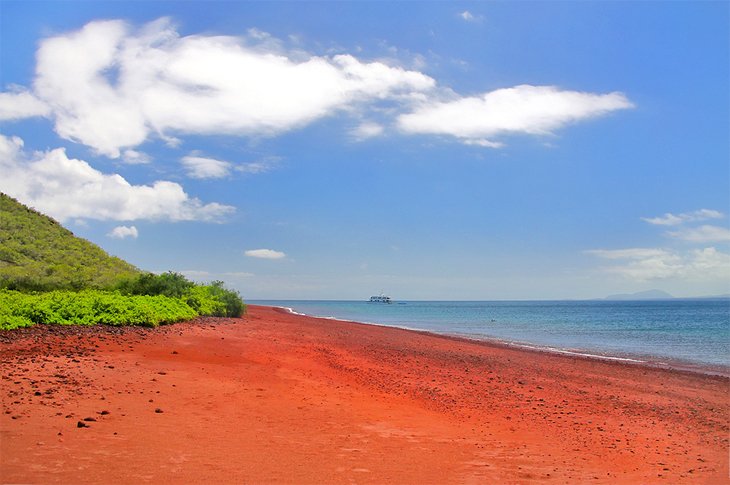 It's not often travelers find a red-sand beach on their explorations. Rabida and the unique sand color is home to blue-footed boobies, sea lions, brown pelicans, and many other birds.
Sunbathing is not the main objective here, but if you're looking for hiking and discovering new species of wildlife, this is a great spot. When the light it right, the red sand makes for a pretty awesome selfie backdrop as well.
17. Isabel Island, Galapagos Islands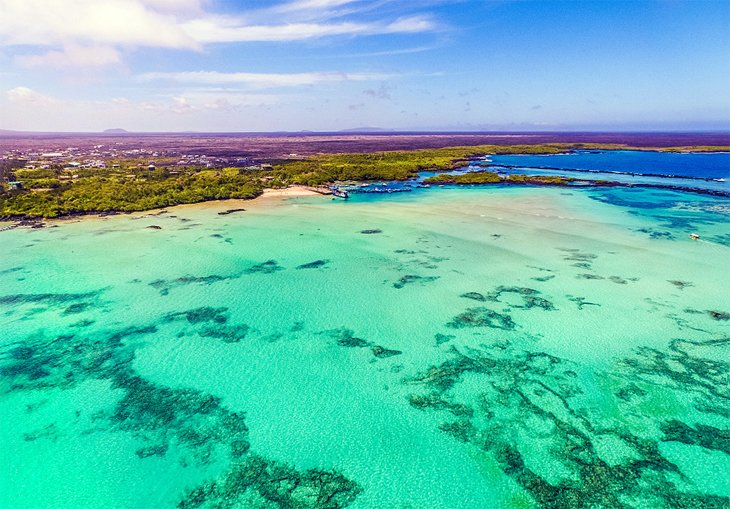 Pink flamingos and prehistoric-looking marine iguanas are the main residents of Isabel Island, along with a human population that hovers around 2,000. One of the longest stretches of beach in the Galapagos Islands can be found here, coming in at just under two miles along Puerto Villamil.
The harbor is a popular stopover with sailors making their way to the Marquesas Islands in French Polynesia. In the southeast part of the island is a lava channel where whitetip sharks can often be seen.
Map of Beaches in Ecuador
More Related Articles on PlanetWare.com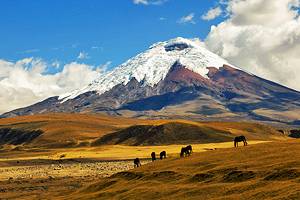 Discover Quito: While Quito is often a gateway city for visitor to Ecuador, it is also a destination worth exploring. For inspiration and ideas on how to spend your time, see our guide to the Top Attractions & Things to Do in Quito.