14 Top-Rated Beaches in Panama
Authors Michael and Lana Law traveled extensively throughout Panama, visiting beaches on the Caribbean and Pacific side of the country.
Panama is fortunate to have fantastic beaches on both the Caribbean Sea and the Pacific Ocean. Each beach has its own personality: some are calm and quiet, others tremble from the crashing Pacific waves, while some have a fun and lively vibe, with music pumping from seaside restaurants. Whatever you like, you'll find the perfect beach in Panama.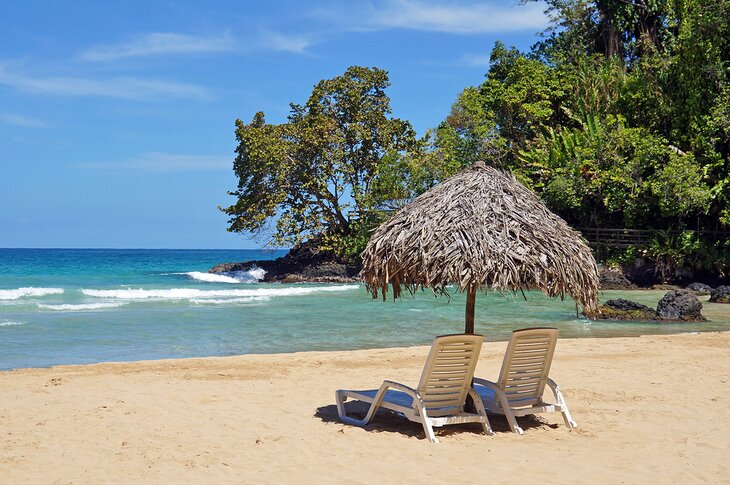 As a rule of thumb, beaches along Panama's Pacific Coast are mainly long and wide with large waves, ideal for surfing, while the Caribbean side offers smaller beaches with calm waters, perfect for swimming and relaxing. Many of Panama's best beaches are found on palm-fringed islands in the Caribbean.
Beaches on the Caribbean side enjoy pleasant breezes off the water, and the weather can be wet at times with passing showers. This side is more remote, but the islands of Bocas Del Toro can be reached by flights, making them more accessible than they seem.
The Pacific side enjoys more sun and hot winds that sweep across the mainland. Access to the Pacific beaches from Panama City is easy, and some are even day trips.
To help plan your trip, see our picks for the best beaches in Panama.
1. Beaches of the San Blas Islands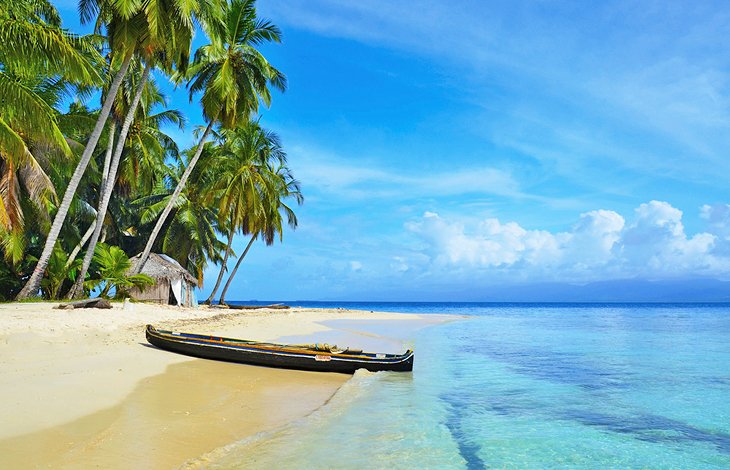 The most beautiful beaches in Panama are in the remote San Blas Islands in the Caribbean. These are the gorgeous stretches of white sand you frequently see in photos, consisting of turquoise waters and small islands with palm trees swaying in the wind.
The San Blas Islands are owned by the Kuna people, and to stay here you need to follow a certain process and reserve with them. They provide relatively rustic accommodation, three meals a day, and all your transport to these magical places. If you are looking to truly get away from it all and disconnect from the world in a stunning, yet rustic, setting, this is the place to visit.
Another much more luxurious and expensive way to visit the island is via a private sailboat, stopping in at various islands along the way and sleeping and eating on board. Your captain will take you to the best spots for snorkeling, swimming, kayaking, stand up paddleboarding, or even kitesurfing. Trips are usually all-inclusive, and the boats are luxurious catamarans 40 to 50 feet in length.
You can hire the entire boat with crew, or a more economical option is to hire a cabin and share the boat with others.
2. Red Frog Beach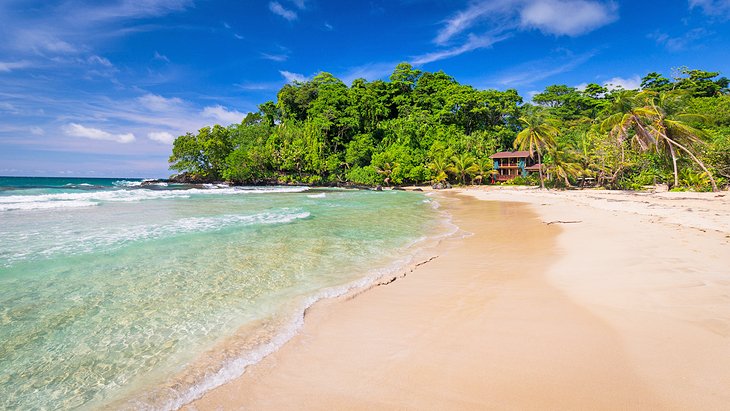 Another incredible beach in the Bocas Del Toro region is Red Frog Beach. Named for the small frog that inhabits the Isla Bastimentos, this beach is reached by boat from the main town of Bocas, followed by a 10-minute walk through the jungle.
Although this is a popular beach, with lots of visitors, and a good spot for people watching, it's big enough that it doesn't seem overrun. The waves here are smaller than you'll find in places like Bluff Beach, just perfect for those who like to ease their way into the water without getting bowled over.
Chair and umbrella rentals are available for a modest fee, or you can choose to spread your towel under one of the palm trees lining the back of the beach. A couple of restaurants serve food and drinks, or you can bring your own beach picnic. Note that there is a fee to walk across private land to the beach.
If you want to spend a few days here, be sure to book accommodation in advance. During high season, the area is often booked. Budget travelers may want to consider the Selina Red Frog, which offers a range of accommodation options, from bungalows, standard rooms, and suites, right through to dorm rooms. If you are looking for luxury accommodation in the area, the Red Frog Beach Island Resort is probably the right place.
3. Starfish Beach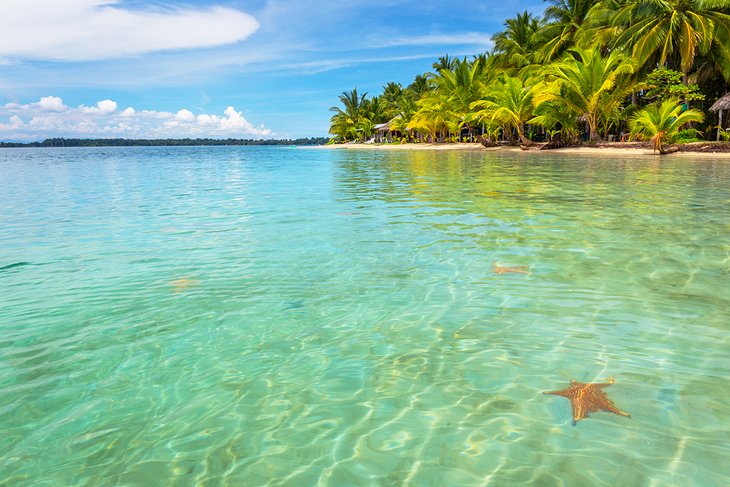 Ideal for families with small children or travelers seeking a postcard-perfect, placid beach, Starfish Beach is one of the best beaches in Bocas del Toro. This is a small beach with shallow, azure water and no waves, known for an abundance of starfish. The beach is situated on the back side of Isla Colon in the Bocas del Toro area in a bay and is protected from the waves of the ocean.
You can choose to laze on the beach, go swimming, rent a floating chair, kayak, snorkel, or for the more adventurous, go wakeboarding. Just back from the beach are restaurants serving local and international fare set among the swaying palm trees.
From the main town of Bocas, it's an easy taxi ride to Boca del Drago, followed by a short boat ride to Starfish Beach.
Accommodation: Best Resorts in Panama
4. Isla Coiba in Coiba National Park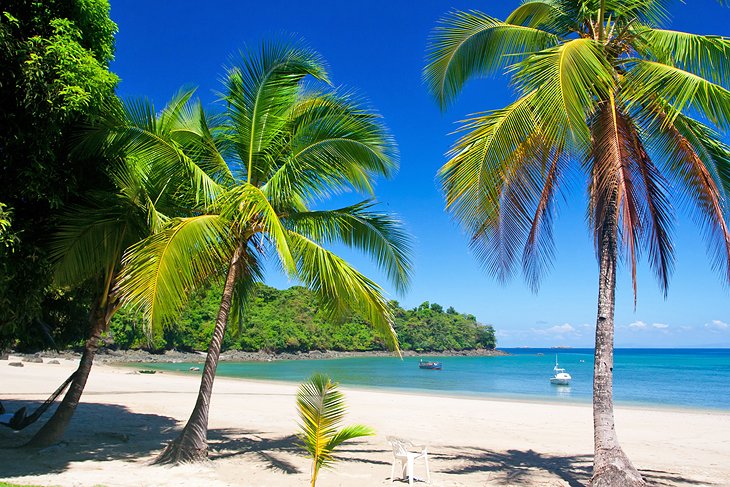 Adventurers will want to venture out to Isla Coiba to enjoy an uninhabited jungle island with stunning beaches and an abundance of wildlife. The main beach here is a beautiful crescent of sand with a small island just offshore. Additional beaches, all of which are pristine and absolutely deserted, are just around the corner.
Some beaches offer tranquil waters, while others on the opposite side have large waves and are only generally visited by serious surfers looking for the ride of a lifetime. Snorkeling here is wonderful, and scuba divers can put this on their bucket list for an opportunity to swim with whale sharks.
Off the beach, this is a paradise for nature lovers. The island is home to more than 200 different kinds of birds, crocodiles, snakes, and turtles. Isla Coiba is best reached via boat from Santa Catalina.
5. Bluff Beach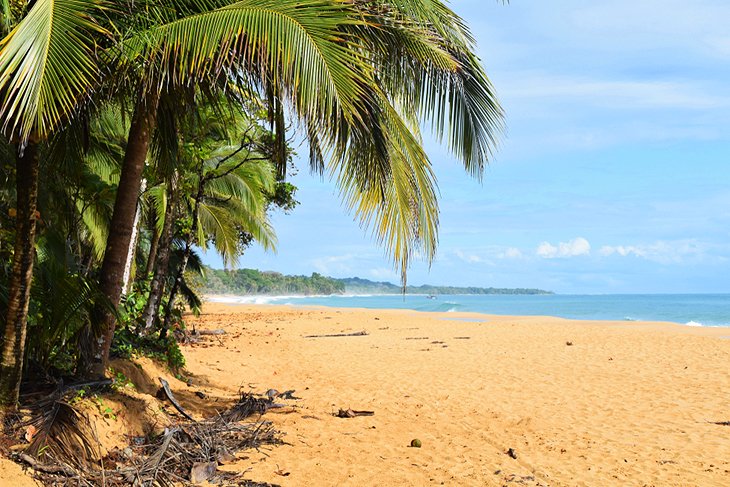 This is one of the few beaches on Isla Colon in the Bocas del Toro area that has large waves and is still swimmable. It is a popular destination for surfers and boogie boarders. Soft golden sands run for eight kilometers, so it's easy to find your patch of paradise and watch the waves roll in.
It's very quiet out here. You'll likely see very few other people, and if you are looking to get away from it all, this is the place to be. A few restaurants can be found nearby, but for the most part, it's best to bring your own food and supplies.
The road to Playa Bluff is dirt in many areas and can be bumpy, however, the ride is worth it. You have a good chance of seeing sloths hanging out in the trees and monkeys noisily swinging about.
6. Punta Chame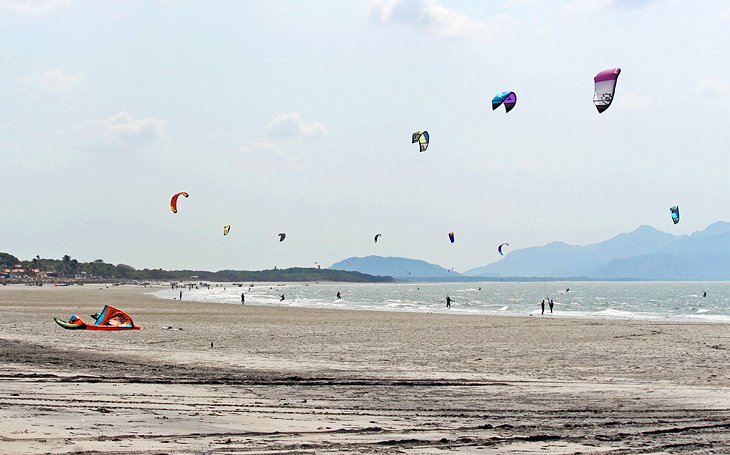 If this beach was backed by a more vibrant town and setting, this could be the best beach in Panama. That said, when you are standing on the soft sand looking out across the water to the mountains, it is arguably one of the most beautiful beaches in Panama.
This huge stretch of beach is found along a large and flat point of land jutting out into the ocean. Punta Chame is a good place for families. Small children and those who are not strong swimmers can enjoy the warm, shallow water, and parents can just laze on the beach
Beaches wrap around the point, but almost all of the action is focused along one stretch, which is a haven for kitesurfers during the windy season from December to April. Punta Chame is by far the best beach in Panama for kitesurfing. Older kids or adults who want a little more action can take some kiting lessons and learn the basics of this adrenaline-fueled sport. A couple of reputable schools offer lessons. The shallow water makes it an ideal spot for learning, if you crash or are having trouble with the kite, just stand up and walk back to shore.
This local secret is only 1.5 hours from Panama City and is primarily a day trip destination. While the town offers very little or nothing by way of nightlife, a handful of beautiful small resorts line the ocean, and cheap hotels, hostels, and mid-range properties can be found off the beach.
Pack a bit of patience when heading out here; access to the beach is not readily apparent when you first arrive, and the area back from the beach can be a bit confusing.
7. Punta Duarte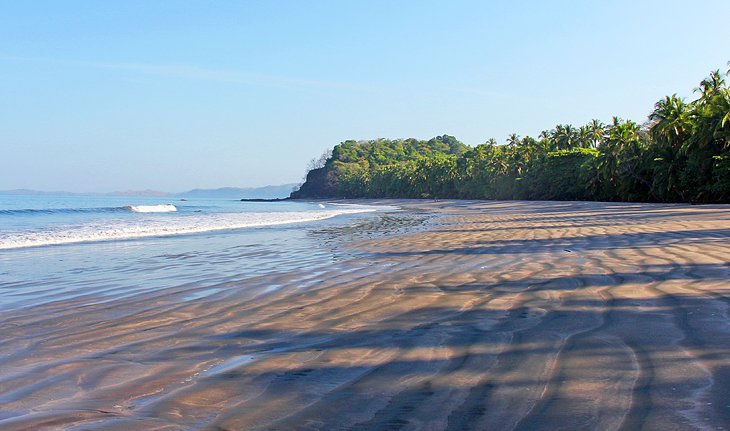 This wonderful wide beach is one of the few beaches in Panama where you can catch a sunset over the Pacific Ocean. The setting for the beach is dramatic, with an offshore island that becomes attached to the mainland at low tide. The angle of the beach means this is one of the rare beaches on the Pacific side of Panama where the waves are small, and swimming is easy.
As an added bonus, when the tide recedes, huge tide pools emerge. You can walk along the rocks and peer down through the clear water in the remaining pools to see brightly colored fish and sea creatures.
Punta Duarte is located 1.5 hours down the only highway on what is known as the Sunset Coast. The turnoff from the Pan American Highway is just before Santiago on the left-hand side when you are coming from Panama City.
8. Playa La Punta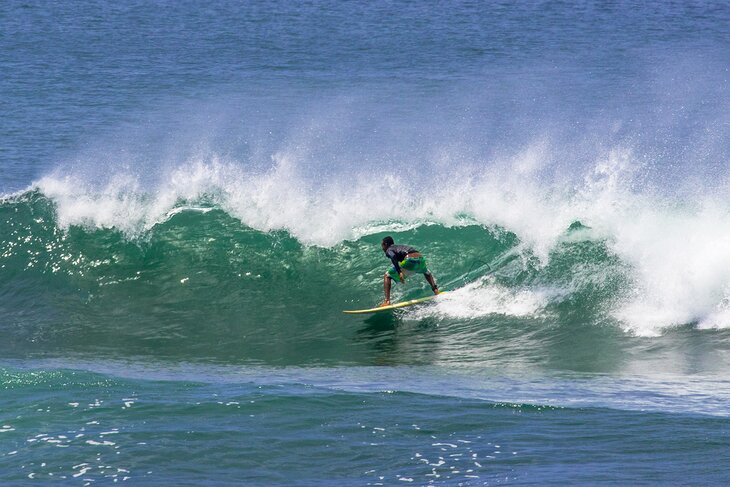 The once-sleepy town of Santa Catalina, located across the bay from the Sunset Coast, has become one of the destinations of choice for independent travelers in Panama, especially those who love to surf. The main reason for this is the large waves that wash ashore at La Punta.
The waves come in here consistently from April through October and provide a challenge to intermediate right through to advanced surfers. Those not interested in surfing will enjoy the black sand and the non-stop surf show out front.
Read More: Best Black Sand Beaches in the World
9. Playa Estero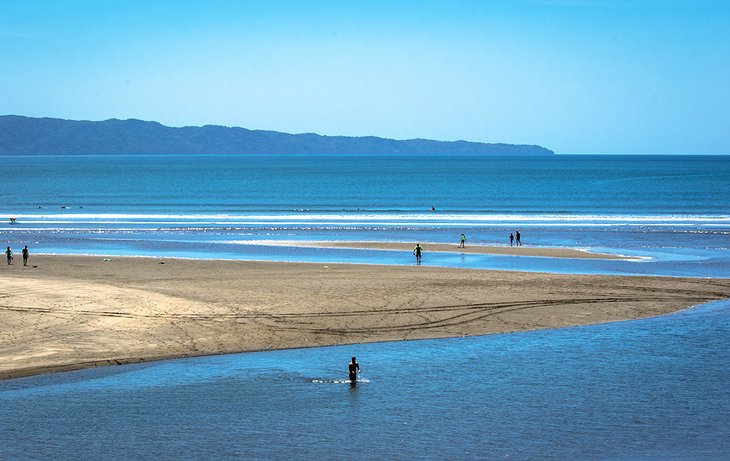 Close to Santa Catalina but with smaller waves and a nice place to splash about or learn to surf, is Playa Estero. This is a huge beach where you'll have no trouble finding your own sandy spot to hang out. The beach has a fun vibe with a good crowd having fun hanging out and soaking up the scene.
The waves here are manageable, making it an excellent place for beginner surfers. Santa Catalina has plenty of surf schools with instructors that will get you up and cruising in no time. Lessons and board rentals are cheap, and it's a great family thing to do in Panama.
10. Playa La Coquita
Looking for wide-open, flat sand ideal for riding a horse or a bicycle? Be sure to check out La Coquita, near Santa Catalina. It's also a good place for wading into bathtub-warm waters.
Unlike many other beaches along this coast, you can enter the water here without the fear of being tumbled end over end by a huge wave. It's a peaceful place, not many people come here, so chances are you'll have it all to yourself.
It's best to visit at low tide when the beach is at its maximum size. La Coquita is easy to get to, just clamber over the rocks at the end of Estero Beach.
11. La Punta on Isla Grande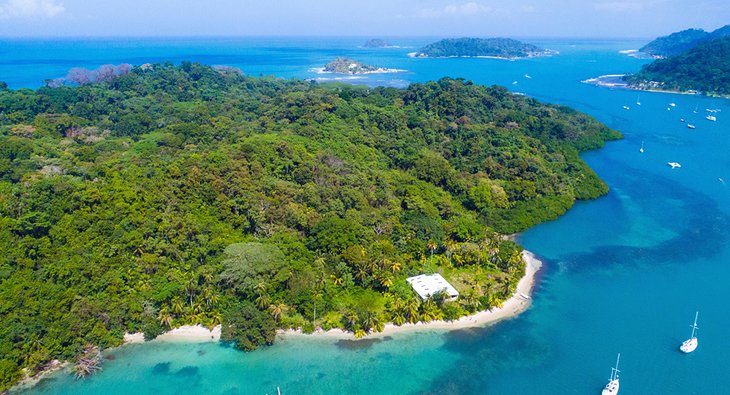 A popular weekend destination from Panama City for foreigners and Panamanians is Isla Grande, easily accessible via a two-hour drive and a short 10-minute boat ride. This small island on the Caribbean side of Panama is known for its beach, called La Punta, where you'll find calm, shallow waters; picnic tables; freshwater showers; and chairs.
There's more to do here than just laze about on the beach. Three great surf breaks, stunning snorkeling, fresh seafood, and the famous 1568 statue called the Black Christ of Portobelo, are some of the main attractions. A daily fee is charged for car parking in the town of Portobelo, the boat shuttle, and to access the beach.
12. Playa Venao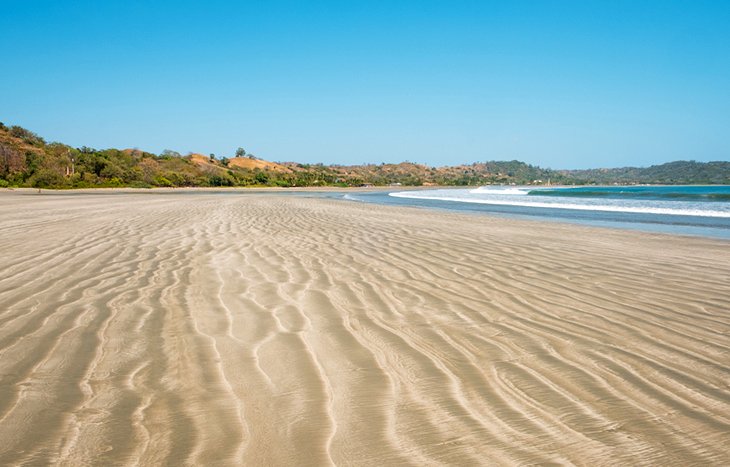 Located on the Peninsula de Azuero, Playa Vanao is considered one of Panama's best surfing destinations. Even if you aren't a surfer, you can set up your beach chair or towel on the golden-brown sands and watch the surfers as they battle the waves. The waves come in various sizes on Playa Venao, making it an excellent place to learn the sport.
Accommodation ranges from upscale backpacker lodges to luxury hotels on the beach, and cheaper places back in the small town of Pedasi. Playa Venao is just one of many beaches along this coastline; others to check out include Bull Beach and Playa Cambutal.
13. Coronado Beach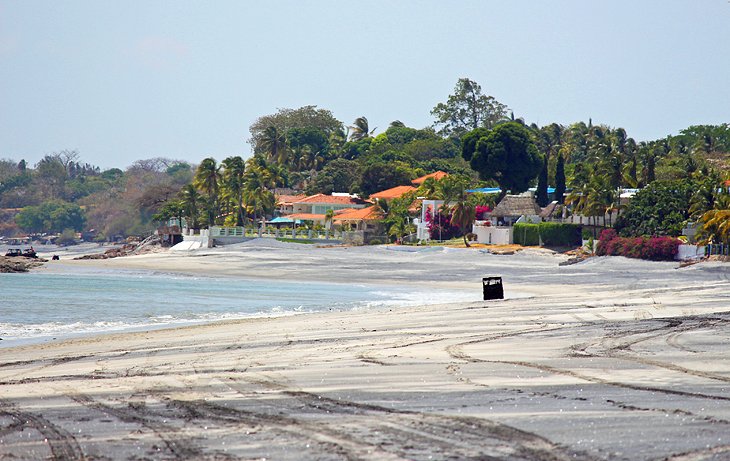 Coronado Beach is close to Panama City and is the destination of choice for many city dwellers looking to escape for the weekend and expats who want to base themselves near the city. The beach is lined by a mix of homes, condominiums for rent, hotels, and romantic bed and breakfasts. It's popular mainly for its community and proximity to the city, rather than the actual beauty of the beach itself.
The wide beach is a mix of blonde and sparkling black sand that shines in the midday sun. Swimming here is possible, but the waves can be large in areas, so caution is advised.
A few miles back from the beach, just off the Pan American Highway, is the bustling town of Coronado where you'll find a variety of shops and restaurants.
14. Playa Larga on Isla Contadora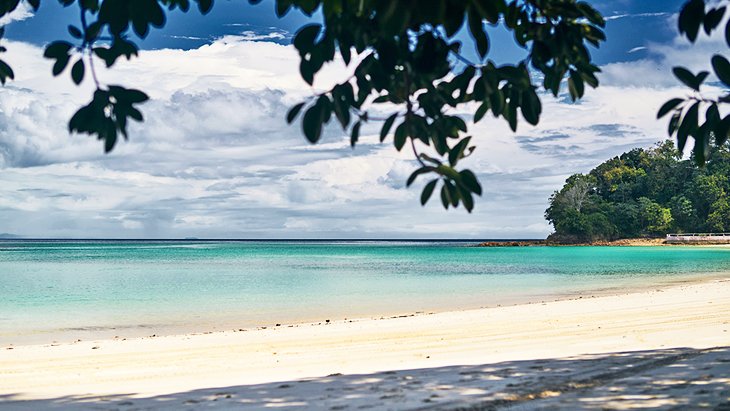 Isla Contadora, part of the Pearl Islands, has seven beaches, each with its own look and feel, but the most popular is Playa Larga. This spectacular white-sand beach stretches on for a half mile and is known for generally calm water. The island can be reached via a short 15-minute flight or via a ferry, which can take up to two hours.
Playa Larga has a strange vibe resulting from the large, abandoned resort in the jungle just back from the water. Rumor is that the place was once owned by a Colombian drug lord who died in a plane crash. In addition to this curiosity, an exiled shah from Iran holed up on the island for a while, and President Jimmy Carter is also said to have visited
If the Pearl Islands sound familiar, it may be because a season of the reality TV show Survivor was filmed on one of them.
Map of Beaches in Panama
More Related Articles on PlanetWare.com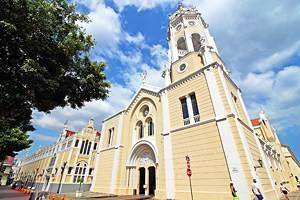 Explore Panama: Panama offers a diverse range of opportunities for travelers. Beyond the beaches are wonderful towns and cities, historical sites, coffee plantations, mountains, waterfalls, and wildlife. For ideas on where to go, see our article on the Top Attractions & Things to Do in Panama. If your travels take you to the capital, be sure to spend some time looking around. Start with our guide to the Top Attractions in Panama City.