12 Top-Rated Things to Do in Bogota
Authors Michael and Lana Law have traveled to Colombia multiple times, including a recent trip to Bogota in fall of 2022.
Bogota offers an experience like no other in Colombia. Surrounded by lush mountains, the city may seem a bit overwhelming at first, but you can't help falling under its charms.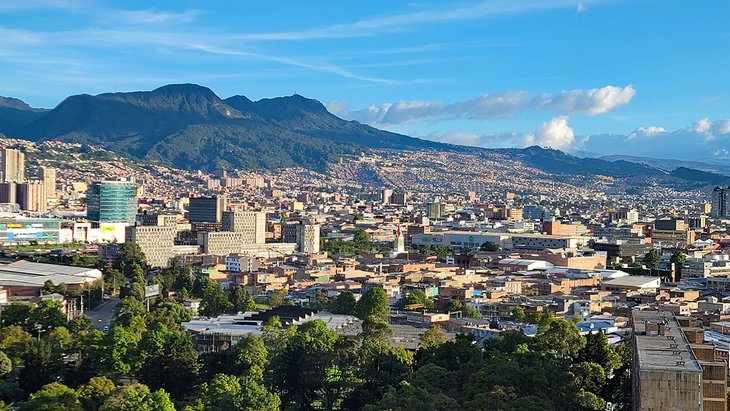 Wondering how to tackle a day or two of sightseeing in Bogota?
Start by heading to the Plaza Bolivar to see the cathedral and the Museo Nacional de Colombia or watch people feeding the pigeons. One of the fun things to do here for tourists is to have your picture taken with a colorfully dressed llama and send it to your friends back home.
From here, wander up Calle 11 to see the vendors selling goods and maybe have a street-side poet type you a quick poem. Grab a pastry and coffee along the way if you need a bit of a pick-me-up and to counter the effects of 8,660 feet of elevation. If you have the time and inclination, stop in at the nearby Gold Museum, one of the city's most popular tourist attractions.
Then turn your sights upwards and walk up through the colorful streets of Candelaria to Plazoleta Chorro de Quevedo. Check out the vendors in the square and then stroll down the surrounding narrow walkways nearby to admire the graffiti art.
When you're done here, call an Uber to take you to Monserrate Cable Car and head up for the best view of Bogota. Enjoy a long, leisurely lunch at the elegant Casa San Isidro and plan out your evening's events in the flashy Zona Rosa.
1. Walk through La Candelaria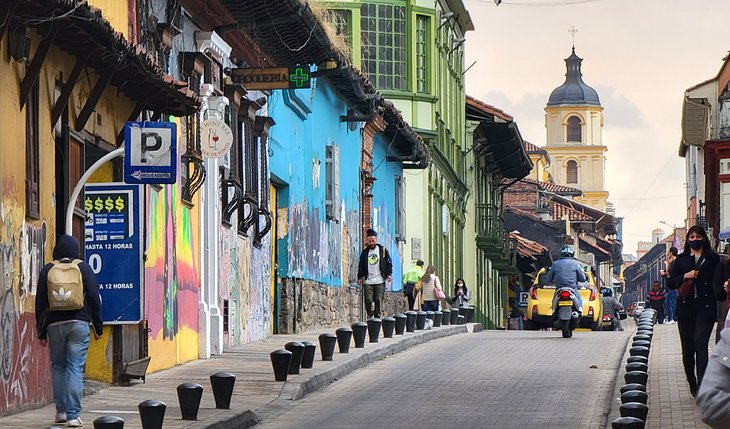 Highlights: Narrow streets and alleys with colorful murals.
La Candelaria neighborhood is the most colorful area of Bogota, in more ways than one, and one of the best places to visit to get a true sense of the city. This historic district of buildings from the 1800s is riddled with narrow streets and walkways, and spills down from the mountains on the far eastern side of the city.
The most intriguing aspects of this area for tourists are the art-clad walls displaying eye-catching murals that range from abstract to pictures of daily life.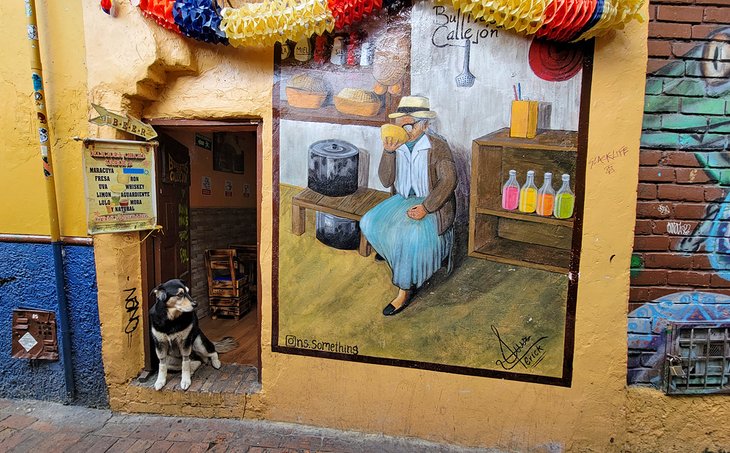 It's a delightful place to wander around by day, with unexpected scenes around every corner. Discover a graffiti-covered building, a cozy coffee shop, a narrow cobblestone walkway, or a small market selling local crafts.
One of the sights here is the Plaza del Chorro de Quevedo, where most days you'll find a small pop-up market of local arts and crafts. Just off the plaza heading downhill is Calle Jon del Embudo, a famous, narrow street lined with small shops and restaurants along with some of the city's most famous murals.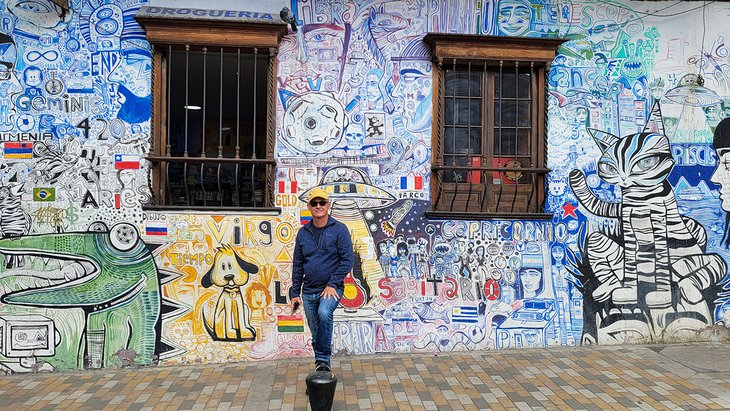 For a coffee and a snack, check out Casa Galeria Cafe, with a pleasant and colorful courtyard.
It's important to note that La Candelaria actually includes places like Plaza Bolivar, but the historical architecture is located east of the modern area that surrounds the Plaza.
If you want to stay in this area of the city, the Hotel de la Opera is a quaint boutique hotel in a wonderful location.
2. Take the Cable Car up Monserrate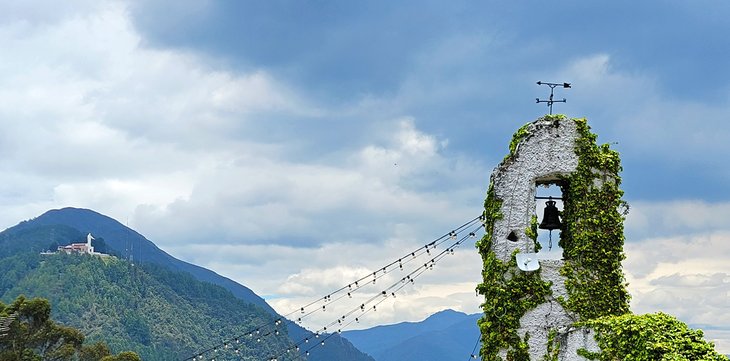 Highlights: Views over the city, a mountain-top church, and restaurants.
Bogota is big, and the best way to truly get a handle on the city and the surrounding countryside is to take a trip to the viewpoint at Monserrate. Reached via either a scenic four-minute cable car ride or via the slower funicular, or for those with energy to spare, a 1.5-kilometer walk, this wonderful oasis of calm provides incredible vistas. People have been coming here in some form or another since the mid 17th century.
At the top, you'll find the Sanctuary of Monserrate, a functioning neo-Gothic church dating from 1925. As you climb the stairs from the cable car or funicular stations, you may notice that you are short of breath. This is due to the elevation, a gasp-inducing 10,341 feet (3,152 meters) above sea level.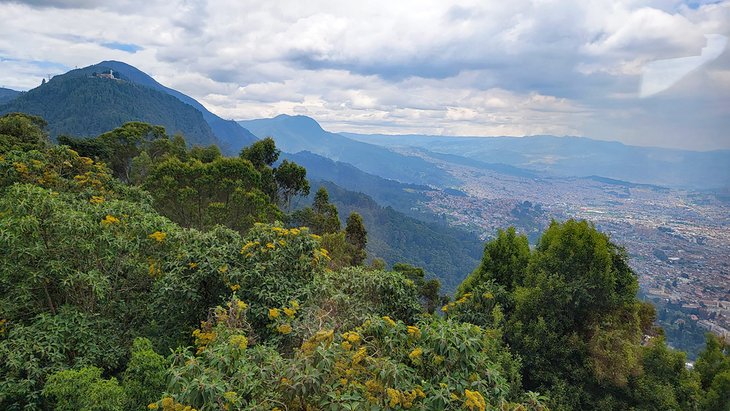 Catch your breath and soak up the incredible views, snap a selfie or two, then make your way to one of the two wonderful dining establishments. Choose from either Italian at Casa San Isidro or typical Colombian food served in a renovated home from 1924 at Santa Clara House.
Given this is one of the most popular things to do for both foreign tourists and locals, lineups can be long, and the waits sometimes substantial. Peak time is from 10am until 3pm, and you may want to avoid going on Sundays when the rate is lower, and the locals tend to flock here.
3. See the Sights at Plaza Bolivar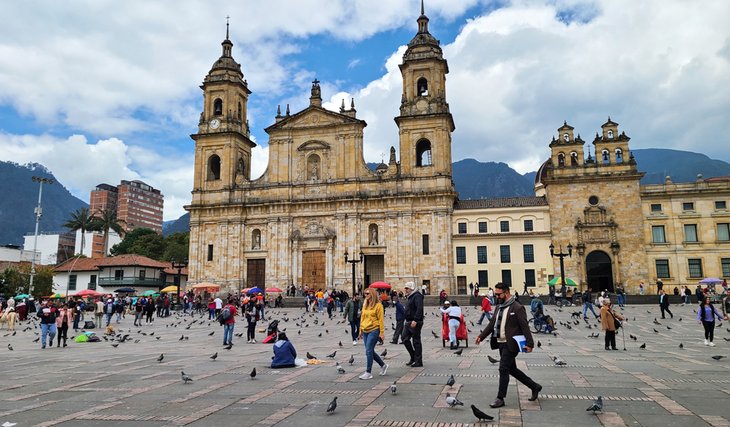 Highlights: The cathedral, Palace of Justice, pigeon feeding, photo ops with llamas.
Home to the city's most important buildings, this huge square is always filled with people and pigeons. Lots of pigeons! You'll know you are in the right place when you see the giant statue of Simon Bolivar facing the Palace of Justice.
Other notable buildings in Colombia's largest square include the Nacional Museo de Colombia and the impressive Cathedral of the Immaculate Conception.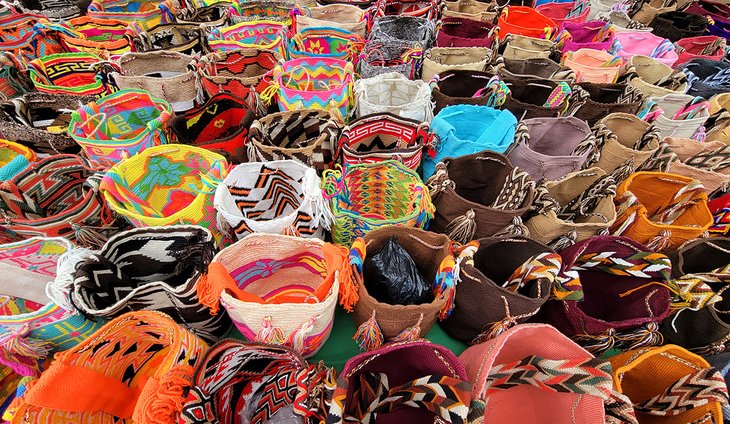 The plaza is a great place to visit to enjoy a bit of people watching, get your photo taken with a llama, or do like the locals and feed the flocks of pigeons. If you're traveling with kids, there are a number of fun things to do for children, with pigeon feeding and llamas topping the list. The area has a fun vibe and an assortment of interesting characters wandering about.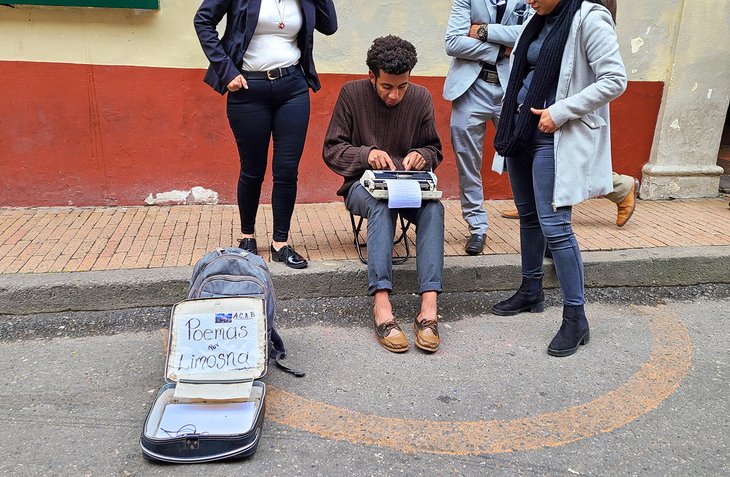 Take a stroll down a few of the side streets to find restaurants, shops, vendors selling souvenirs, and other interesting sights. Where else can you find a poet to type you a poem on the side of the street?
4. Gold Museum (Museo del Oro)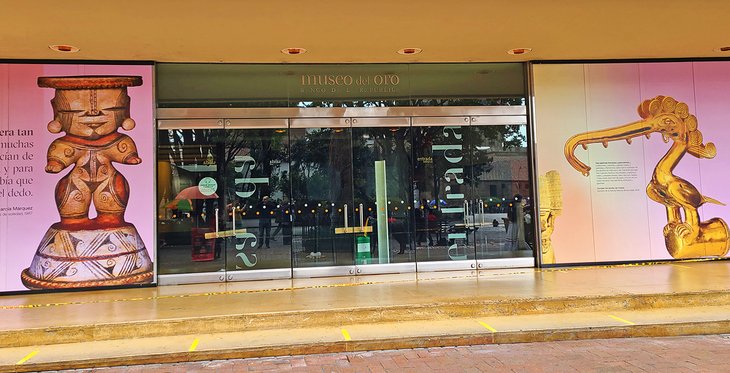 Highlights: An extraordinary collection of gold pieces from the pre-Hispanic era, free on Sundays.
Just the name of the museum should be enough to pique your interest. It's well worth a stop to see some of the most remarkable pieces of this coveted mineral displayed. Spread over three floors, the museum showcases over 34,000 pieces from the pre-Hispanic era.
Fascinating carvings primarily depicting women and animals are displayed, complete with descriptions in Spanish and English. In addition to gold pieces, the Gold Museum also displays pieces made from stone, ceramics, and even bones.
Admission to the museum is free on Sundays.
5. Visit the Botero Museum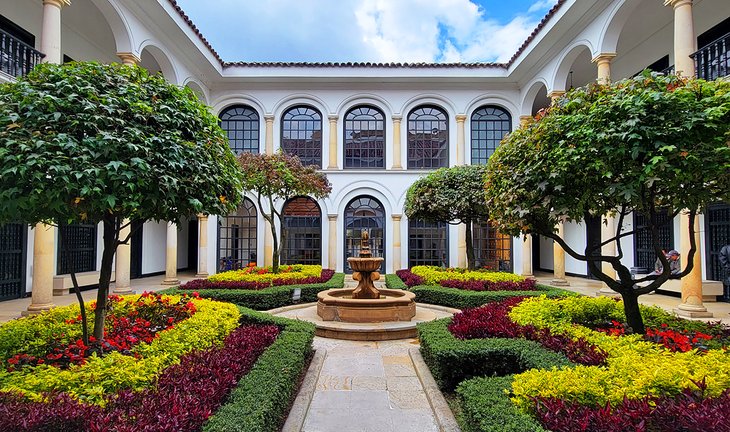 Highlights: Paintings and sculptures by Fernando Botero, Picasso, Dali, Monet, and others.
Colombia's most famous artist, Fernando Botero, has a style that is most likely unlike anything you've ever seen. His artwork, both in sculpture and in paint, is something that must be experienced to be fully appreciated.
The Botero Museum is a free attraction. Just walk right in and tour the galleries to see some of his most famous works. The artist self-curated the assortment, which includes 85 of his own pieces and another 100 works by various other famous artisans including Picasso, Dali, and Monet.
One of the must-see paintings here is Botero's version of the Mona Lisa, which shows the famous lady as if she had eaten one too many of Colombia's famous arepas.
6. Salt Cathedral de Zipaquirá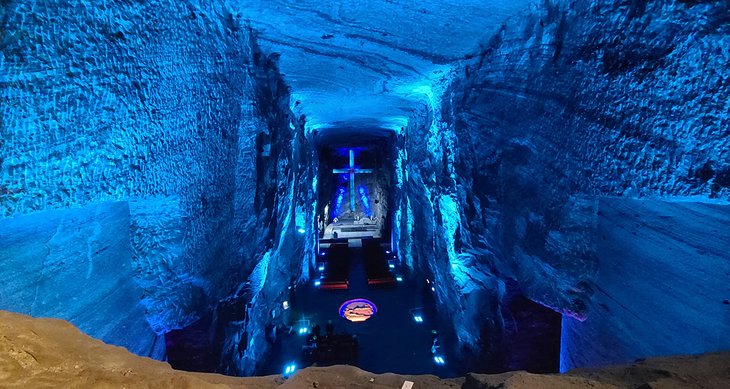 Highlights: Former salt mine with an underground cathedral.
Located in the small town of Zipaquirá, a couple of hours from downtown Bogota, the Salt Cathedral is one of the most unique tourist attractions in Colombia. It's quite a feeling to enter the mine shaft and walk on a gentle incline, eventually ending up over 600 feet below ground. Along the way are the 12 stations of the cross and multiple salt caves.
Eventually you'll make your way to the main attraction, a cathedral complete with pews, a massive cross, and a spectacular marble carving in the floor. The whole scene is softly lit and truly something that has to be seen to be fully appreciated.
Several other smaller chapels are also located nearby and are worth a look.
Beyond the cathedral area, the place takes a dramatic turn to the commercial. Located in additional caves off the main roadway are all manner of trinket sellers, food stalls, and mineral shops.
7. La Perseverancia Market (Plaza de Mercado La Perseverancia)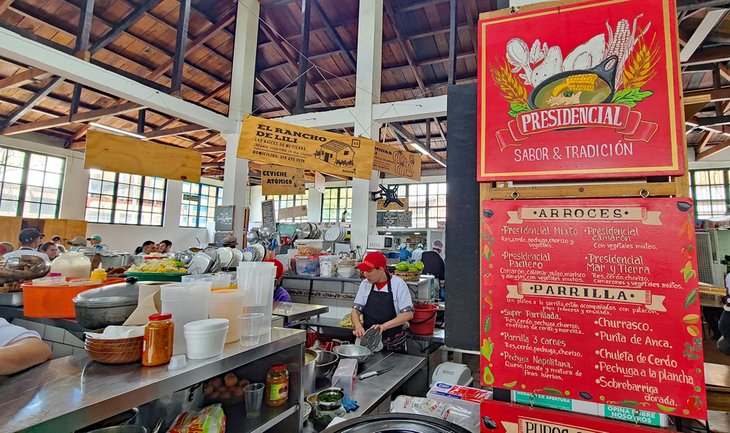 Highlights: Meat and produce market, restaurants serving traditional Colombian cuisine.
If you want to have a true local experience that includes shopping and eating like a resident, a trip to La Perseverancia Market is in order. Known colloquially as Persa, this small market is located near the National Museum of Colombia.
All manner of fresh fruits and vegetables, meats, and other items from around Colombia are available from small sellers. Be sure to ask for your "rebaja ñapa," which roughly translated means a discount and gift. The seller may mistake you for a local!
It's not all about shopping here, in fact many people think La Perseverancia Market is more about eating. Attached to the market is an incredible food hall, with a multitude of restaurants serving typical Colombian fare from a central open-air kitchen. It's loud, crowded (especially at lunch), and all a bit crazy but very, very fun. The food is exceptional — all the fresh ingredients from the market find their way into dishes that include the famous Ajiaco soup.
8. Go to Andres DC for Food and Music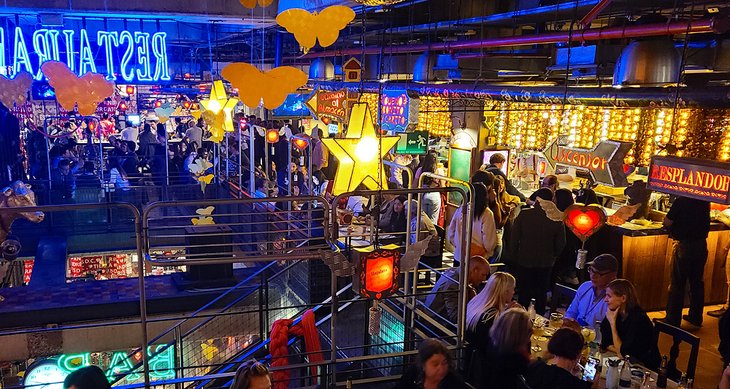 Highlights: A quirky Bogota restaurant spread over multiple floors with live entertainment.
Andres DC is a Bogota institution when it comes to dining. The original restaurant is located in Chia, about an hour from Bogota and consists of multiple dining rooms, dance floors, and kitchens. The décor is way beyond eclectic; some people say it's like the American children's chain restaurant Chuck E. Cheese for adults.
If spending two hours in Bogota traffic is not your idea of fun, head to this highly-authentic-feeling copy of the original, located in the Zona T in the El Retiro Shopping Center.
It's not really a place to go for a romantic dinner, but it's a fun thing to do in Bogota at night with a small group. The music gets louder almost on the hour, with live bands playing, and on a Friday night, the place will be packed. If you're looking for some nightlife in Bogota without a lot of hassle, this is the best place to visit.
The menu is extensive and expensive by Colombian standards. Food offerings run the gamut, from huge steaks through to seafood and all manner of fried items.
9. Zona Rosa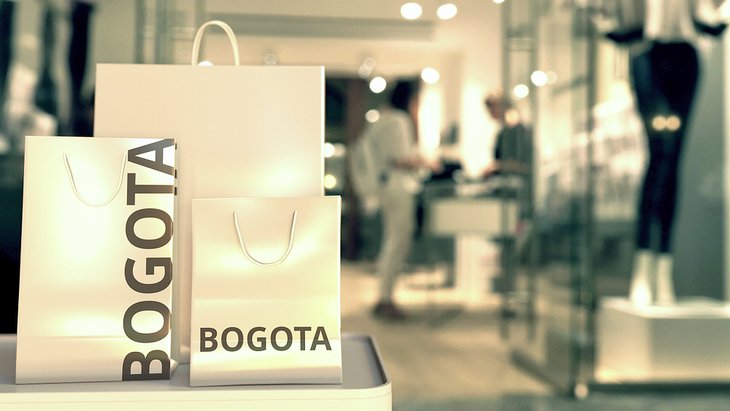 Highlights: Shopping by day, dining by night.
If you've had your fill of street graffiti, culture, and historical buildings, then make a beeline for Zona Rosa. This modern and hip area of Bogota is the premier destination for shopping during the day, and dining and having a good time in the evening.
Modern buildings are home to high-end boutiques, American and European chain stores, and all manner of restaurants. Wide sidewalks make strolling here a pleasure, especially if you have your hands full of all your recent purchases.
10. Play a Game of Tejo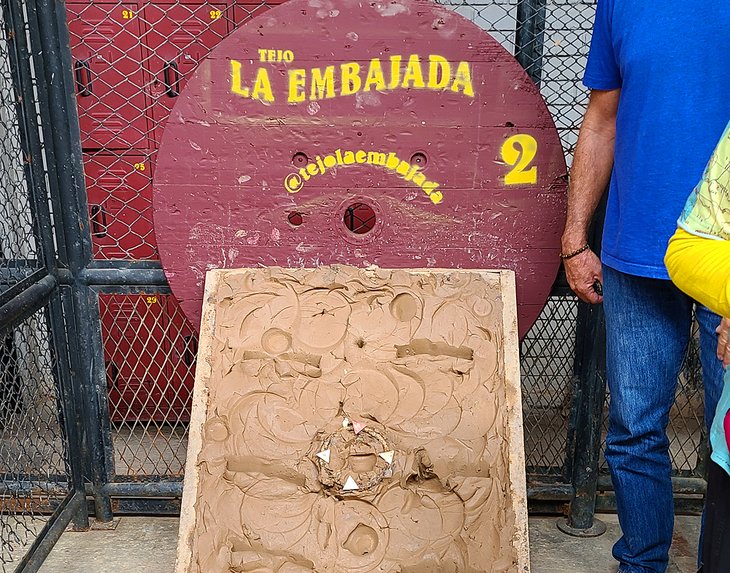 Highlights: A traditional Colombian game of throwing disks at explosives on a target board.
Ask any Colombian what they do for good times with friends and they may tell you that they throw steel disks at a board filled with clay, where they aim at explosive packets of gunpowder hoping they will explode. They aren't just making this up, this is an actual Colombian pastime called Tejo.
Tejo is similar in nature to the game known as cornhole. The idea of Tejo is to try and get the disks to stick in the center of the tray of clay. If you hit the explosive packets, everyone cheers, and you get additional points.
This is another fun thing to do with a group of friends, and the venues generally serve food. Grab a meal and play a game. Tejo La Embajada on Carrera 24 is a reputable establishment, but there are many nearby, and you can also find Tejo places in La Candelaria.
11. Museo Nacional de Colombia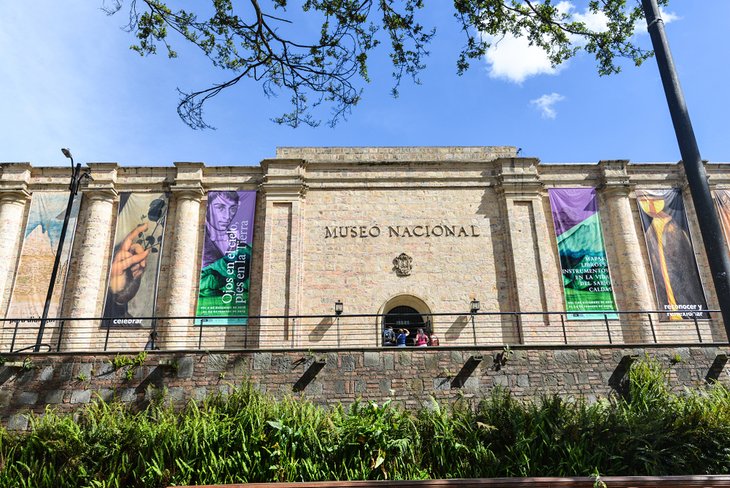 Highlights: The best collection pertaining to Colombian history in the world.
The Museo Nacional de Colombia is the granddaddy of all museums in the country. Contained within its formidable walls is the largest, oldest, and most complete collection of Colombian history in the world.
The collections are spread over 17 galleries divided up into four different areas: archeology, ethnography, art, and history. You'll not be short of things to see and do; over 2,500 items are on display at any point in time.
Although the main attractions are the items on display, the architecture of the building itself should not be overlooked. Built in 1823, it has served many purposes over the years and was once a prison. The Museo Nacional de Colombia has been operating here since 1948.
12. Botanical Gardens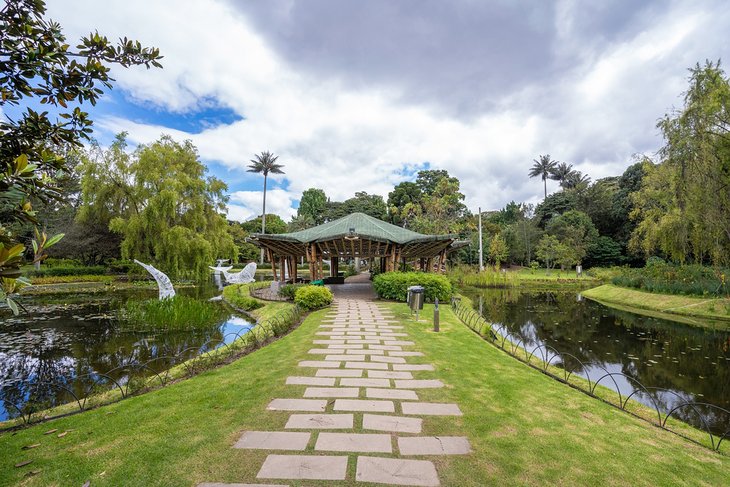 Highlights: Plants and trees from Colombia, greenhouses, and walking paths.
Bogota, with its manic traffic, may seem like a concrete jungle at times; however, a trip to the Botanical Gardens of Bogota is an excellent way to escape to a quiet oasis of green. Pleasant walkways wind their way through stunning examples of flowering plants, trees, and ferns from all over Colombia. Water features, including ponds and waterfalls, are home to a variety of aquatic plants.
Not to be missed are the greenhouses, home to an incredible assortment of humidity-loving plants from many of Colombia's unique ecosystems.
Bogota, Colombia - Climate Chart
Average minimum and maximum temperatures for Bogota, Colombia in °C
J
F
M
A
M
J
J
A
S
O
N
D

20

5

20

6

20

7

19

8

19

8

18

8

18

8

18

7

19

7

19

8

19

8

19

6

PlanetWare.com
Average monthly precipitation totals for Bogota, Colombia in mm.

33

43

66

112

94

56

41

48

74

114

89

53
Average minimum and maximum temperatures for Bogota, Colombia in °F
J
F
M
A
M
J
J
A
S
O
N
D

67

41

67

43

67

45

66

46

66

47

64

46

64

45

64

44

65

44

65

45

66

45

66

43

PlanetWare.com
Average monthly precipitation totals for Bogota, Colombia in inches.

1.3

1.7

2.6

4.4

3.7

2.2

1.6

1.9

2.9

4.5

3.5

2.1
The best time to visit Bogota is during the months of December, January, February, and March. At this time of year, it's dry, and although it's never particularly hot in Bogota, these are also the warmest months of the year.
The second best time to visit is in July and August, when it's also dry but daytime temperatures are slightly cooler and it's a bit less sunny. The rainy months of April and May are best avoided.
Although Bogota is only 4 degrees off the equator, the climate is driven by its altitude of 8,612 feet above sea level. This high altitude means cool days and cold nights no matter what time of year you visit. Days here are a mix of sun and cloud most days and when the sun shines, it's warm almost hot with an intense equatorial sun, when the clouds come or you step into the shade it gets cold fast.