11 Top-Rated Attractions & Things to Do in Panama
Author Lana Law loves exploring the islands, beaches, and history of Panama.
Panama's small geographic area packs in a diverse range of landscapes, interesting towns and cities, and a myriad of vacation possibilities. Beautiful beaches and islands can be found along both the Pacific and Caribbean coasts, and the mountainous interior is home to coffee plantations, small towns, waterfalls, wildlife, and some wonderful hiking trails.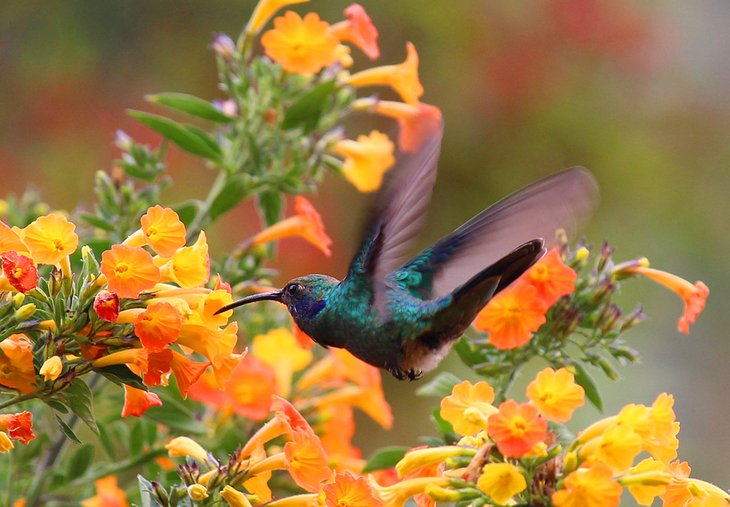 In Panama City, you'll find a modern metropolis with shopping, dining, and an assortment of tourist attractions and things to do, including the country's most famous site, the Panama Canal.
Most first-time visitors head to Casco Viejo, the Old Town, to soak up the atmosphere and see a little of the city's history. But for most visitors, Panama City is just a starting point before they head out on adventures to other parts of the country.
For ideas to help plan which places to visit on your trip, see our list of things to do in Panama.
1. See Ships Transiting through the Panama Canal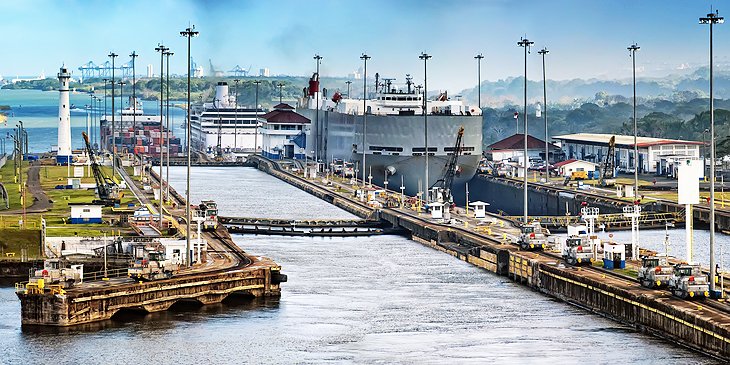 Highlight: Massive ships piled high with colorful containers moving slowly through the locks
Panama's most famous attraction is by far the Panama Canal, connecting the Atlantic and Pacific Oceans. Watching a massive ship, piled high with colorful containers, gliding quietly into the locks reveals the true enormity of this great feat of engineering. Taking a boat tour through the canal gives you even more perspective.
If you want to simply see the Panama Canal, the best place to do this is at the Miraflores Locks, about 25 minutes from downtown Panama City. You can see the canal from the five-story visitor center, complete with a small museum, a restaurant, and an IMAX theater in a separate building.
2. Surf, Dive & Soak up the Beaches of Bocas Del Toro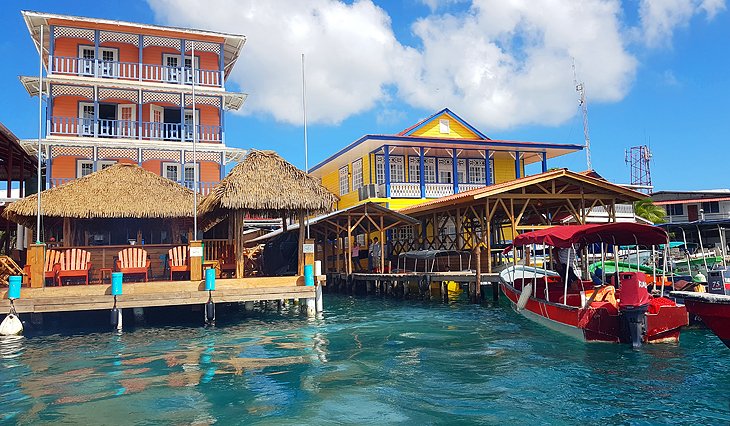 Highlights: Wonderful beaches, unique townsite, and cheap accommodations
Bocas del Toro is Panama's main beach destination in the Caribbean. This collection of low-lying tropical islands, not far from the border with Costa Rica, is known for its outstanding soft-sand beaches lapped by crystal-clear, azure-colored waters.
The atmosphere here is beyond relaxed, with many young travelers coming to the area and, in some cases, staying for months or years. Things to do in Bocas del Toro include surfing, swimming, diving, or just lazing on the beach. Activities are generally cheap.
Although you can find luxury resorts with infinity pools, this is a budget-friendly destination, frequented by mainly singles or couples. The main town, also called Bocas del Toro or simply Bocas Town, is located on Isla Colon.
The town itself is not known for beaches, but you can find lovely stretches of sand on other parts of the island or by taking a boat to nearby islands. Some of the most popular are Bluff Beach, Starfish Beach, and Red Frog Beach.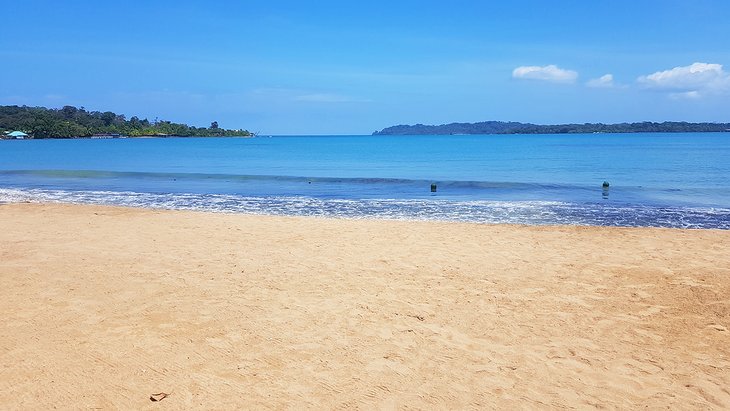 Bocas del Toro has an airport on Isla Colon, which is how many travelers get to the islands. If you are exploring Panama by car or public transport, most people come here after a stop in Boquete. From Boquete, you can drive about 3.5 hours over the mountains to the town of Almirante, and from here, take a 25-minute boat ride to the town of Bocas del Toro.
Boat trip pricing is set by the government, and all boats charge the same amount. Parking in Almirante is safe and not expensive. Don't worry about finding the parking lots, touts will flag you down and direct you to their preferred lot, thereby earning themselves a small commission. This is a good investment if you are not familiar with the town.
3. Watch the Sun Go Down on the Sunset Coast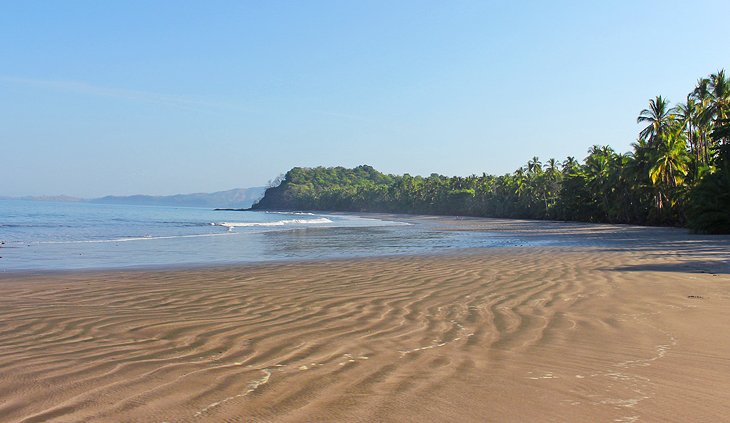 Highlights: A low-key destination away from the crowds, stunning beaches
One of the very few places in Panama where you can watch the sunset over the Pacific Ocean, the Sunset Coast is an undiscovered area with small towns, wide open beaches, and a small number of lodges and inns where you can get away from the tourist scene.
This is rural Panama, home to rolling hills, small villages, family farms, and huge beaches lined by palms and forests. Foreign tourists are not plentiful the way they are in other areas of the country, and many of the visitors are Panamanian. The road down to the Sunset Coast from the Pan-American Highway is twisty and has a few potholes to dodge, but every mile takes you further off the beaten track.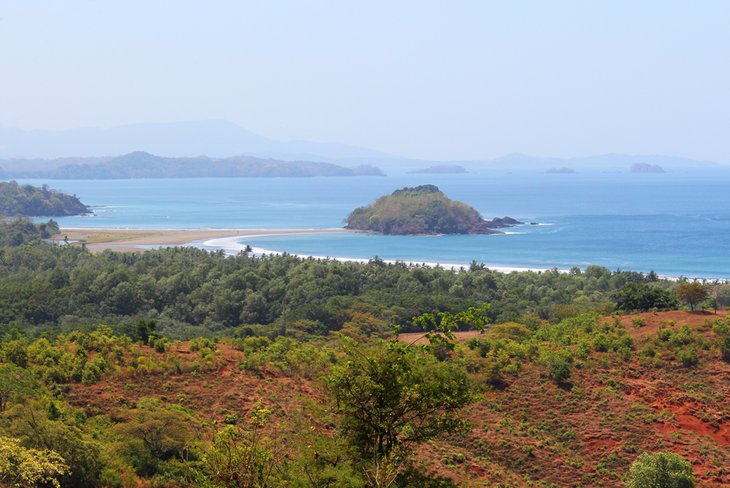 This area is also popular with surfers. The wide-open beaches take the brunt of the Pacific Ocean rollers, and it's rare that you'll need to share a wave. If you want a beach all to yourself, this is the place to come.
4. Hiking & Nature in Boquete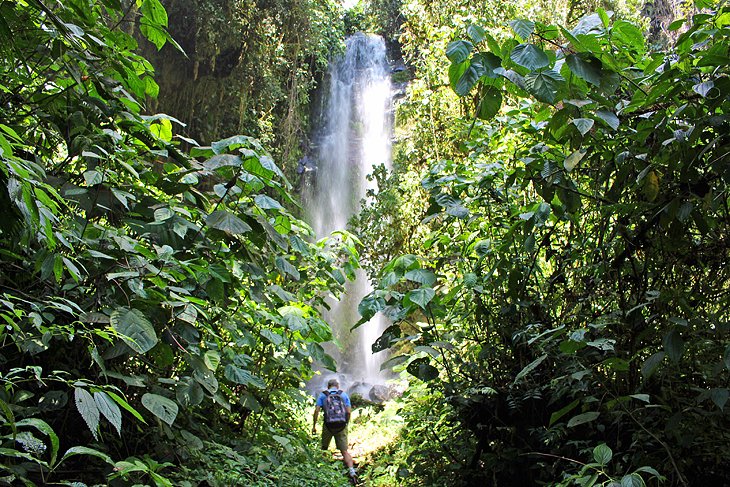 Highlights: Waterfalls, hummingbirds, coffee plantations, hiking trails through the mountains
The mountain town of Boquete has a wonderful climate, where you can escape the sometimes oppressive heat of the coast and lower areas. The town is relaxed and safe, catering to expats and people escaping the winters in northern climates, and local Panamanians looking for a weekend getaway.
Some of the appeal here is the variety of good restaurants, as well as a mix of quality hotels and luxury inns. It's also one of Panama's most important coffee-growing areas, and known as a hot spot for nature and wildlife, particularly hiking and birdwatching.
Having a vehicle here is quite handy for touring the surrounding mountains and reaching trailheads and nearby sites, but you can also arrange tours with transportation to the coffee plantations.
One of the best short drives in Panama leaves from the outskirts of Boquete. This scenic loop of about 15 miles passes the main hiking trails, a beautiful river, an abandoned castle, and waterfalls. The road also provides amazing views down the valley and up the slopes of Volcan Baru.
Along the loop is Finca Lerida Lodge, with an outstanding restaurant. It's also one of the best places to visit to see birds in the area. This makes a nice lunch stop, where you can watch the non-stop hummingbird action.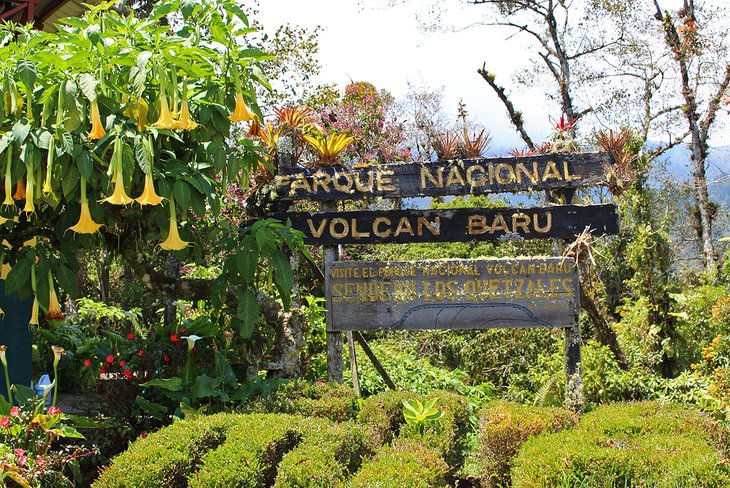 Serious hikers can arrange to hike up the Baru volcano, leaving in the wee hours of the morning with a guide to be at the summit for sunrise. You can also tackle hikes like the popular Quetzal Trail (Sendero Los Quetzales), leaving from nearby Volcan Baru National Park, or one of several waterfall hikes off the loop road.
If you want to experience a little nature here without leaving Boquete, plan a stay at the quaint Boquete Garden Inn and enjoy breakfast outside while you watch the colorful birds dining at the feeders.
5. Wander the Narrow Streets of Casco Viejo in Panama City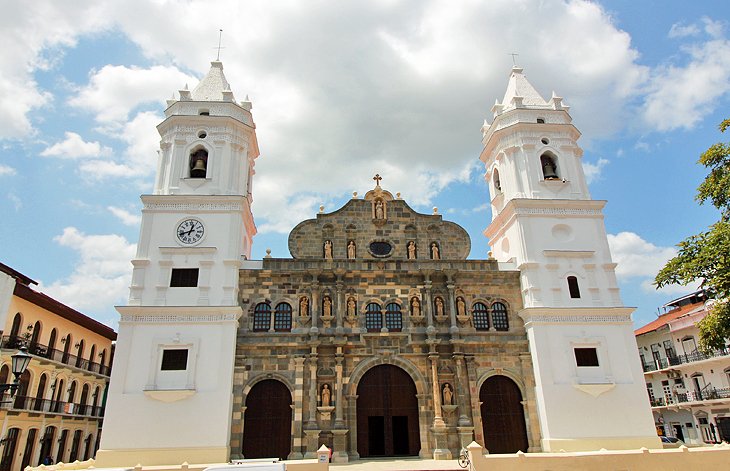 Highlights: A compact area of restored 18th and 19th-century buildings, good dining options
History surrounds you as you stroll through the narrow streets of Casco Viejo, also known as the Old Town. See colorful buildings, historic ruins, and great views out over the bay towards the gleaming towers of modern Panama City. This area is compact, and all the sights are within an easy stroll of one another.
In the evening, the buildings and ruins are creatively lit up, and restaurants set up tables and chairs on the sidewalks. Casco Viejo is ideal for a romantic getaway, with boutique hotels located in restored buildings dating from the 18th or 19th century.
6. Escape to the San Blas Islands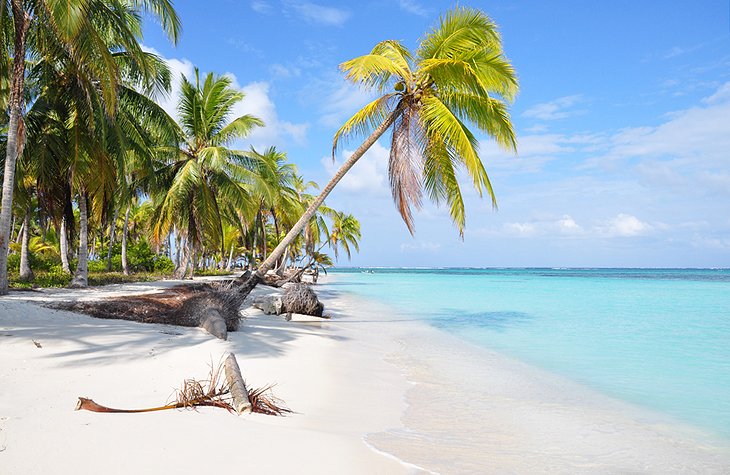 Highlights: Beautiful tropical islands best visited via luxury sailing charters
If you truly want to get off the beaten track and have a taste of adventure, a trip to the San Blas Islands might be just what you're looking for. Postcard-perfect islands with palm trees and crystal-clear water gently lapping the white-sand beaches are what this area is all about.
The most luxurious way to explore these islands is on a sailboat charter. Your captain will chart a course through this spectacular region, stopping at unbelievably beautiful spots. The boats are luxury catamarans, and cruises are anywhere from three to 21 days in length. All meals and beverages are included, and dining under the stars while the waves gently rock the boat is sublime.
If your budget doesn't allow for a crewed catamaran, economical options are available. However, you need to be prepared to bring out your inner Robinson Crusoe, as the accommodations are generally on the rustic side.
The only way to stay on these idyllic islands is to book a package with the local indigenous Guna people, which includes transport to, from, and around the islands, very rustic accommodation (no A/C), and three basic meals a day. This is a totally off-the-grid type of trip, so prepare accordingly, physically and mentally.
7. Surf at Santa Catalina & Day Trip to Parque Nacional Coiba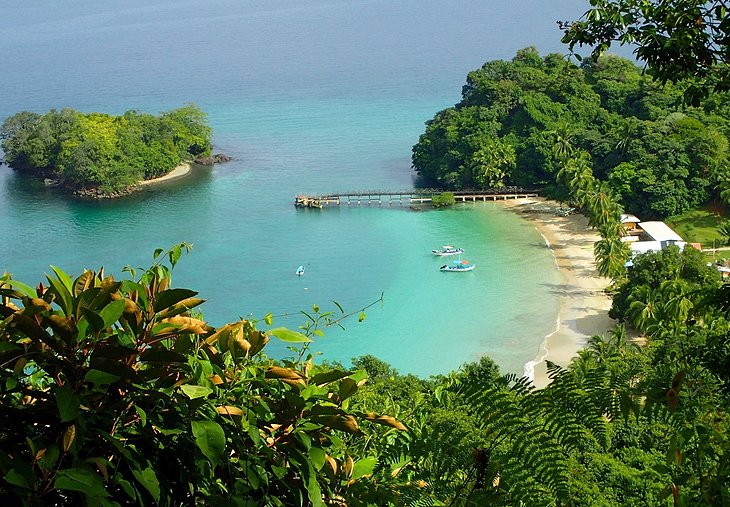 Highlights: Fun and funky town with a chill vibe, whale sharks off of Isla Coiba
One of Panama's top surf destinations on the Pacific Coast is Santa Catalina. This small but growing town has a laid-back surfer feeling about it. Small guesthouses and hotels, and funky restaurants, force you to slow down and relax.
If you aren't here to surf, great snorkeling and scuba diving spots are nearby, and horseback tours through the surrounding countryside are good options for those not interested in getting wet.
One of Santa Catalina's main draws is Isla Coiba. This lush island, now Coiba National Park, is almost untouched and is considered a biodiversity hot spot, with close to 200 bird species, crocodiles, turtles, and snakes.
Scuba diving here is very popular due to the enormous whale sharks that frequent the area. These gentle giants are curious creatures and enjoy interacting with divers. Tours to Isla Coiba can be arranged in Santa Catalina.
8. Swim in the River at Los Cangilones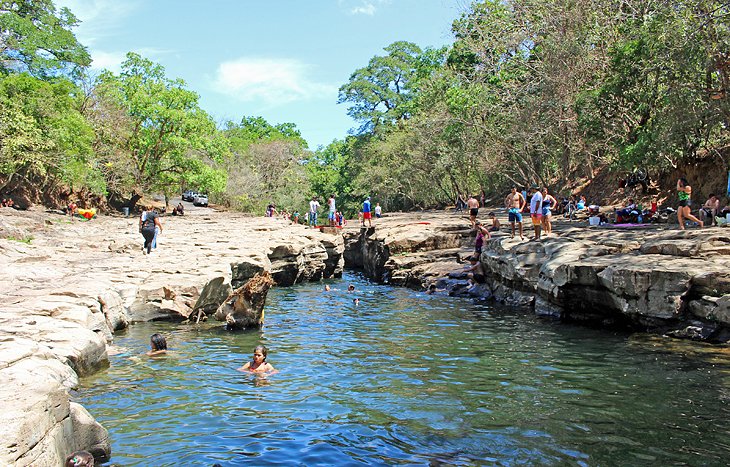 Highlights: A chance to hang with the locals and to practice your cliff jumping
One of the most fun things to do near Boquete is to visit the local swimming hole at Los Cangilones. Set at a lower elevation than Boquete, the climate here is much warmer, and on hot days, you'll find a fun scene, complete with music, barbecues, and food vendors. Panamanian families come from far and wide to splash and jump into the cool river water.
In this unique geological place, the river narrows into a gorge before opening up again in a shallow pool at the bottom. Daring adults and older kids jump off the edges into the slowly moving waters and then float down to the bottom, climb out, and do it all over again.
Youngsters and visitors who are looking for something a little milder can wade into the shallow waters where the gorge opens up. The walls vary in height, so it depends on how brave you are and how high you want to go.
Don't be deceived, the walls are actually quite a bit higher than you may think. The clear water below distorts your height reckoning. Fortunately, lifeguards are on duty and keep a close eye to make sure the jumpers resurface.
There is a small fee to enter the park, and it is a short walk from the parking areas down to the river.
9. Kitesurf at Punta Chame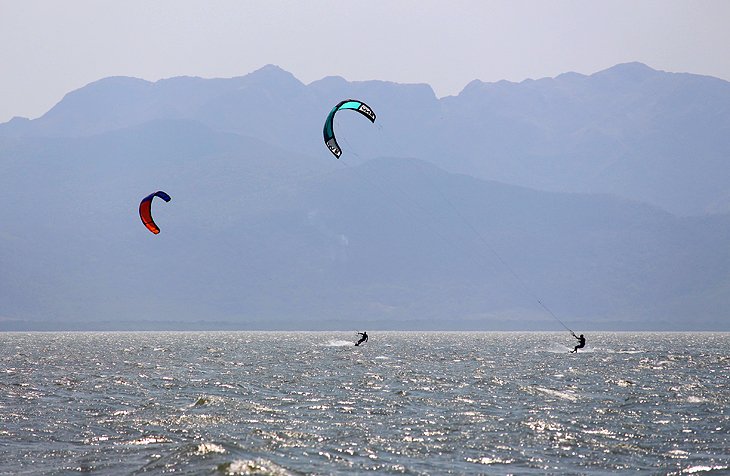 Highlights: Shallow water, massive beach, consistent wind perfect for kiteboarding
Although it's not on most travelers' itineraries, Punta Chame is home to one of the nicest beaches in Panama and it's also the best place for kiteboarding in the country. Set on a peninsula jutting out into the Pacific Ocean, this area is literally all about the beach.
The seemingly endless stretch of sand here is wide, and the water, warm and shallow. This gives kiters who are learning the distinct advantage of being able to stand up in the water to collect themselves as they work with their kite.
The winds are side onshore and quite consistent from December to April, which is Panama's dry season. Several kite schools offer lessons, including Machete Kite and Kitesurf Panama, located at opposite ends of the beach.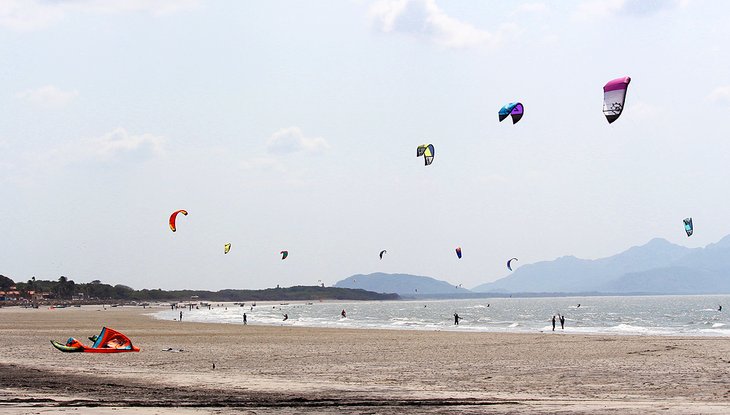 Punta Chame is about 1.5 hours from Panama City, and about 20 minutes from the town of Chame, along the Pan-American Highway. You can find good accommodation in small luxury beachfront hotels, or, if you are looking for cheap accommodation, several hostels are available in town.
Punta Chame has an end-of-the-world type feel, and this is not the place to come for nightlife. All of the action is focused on the beach and kitesurfing and for most people, this is the entire reason for visiting.
10. Enjoy a Beach Vacation at Playa Coronado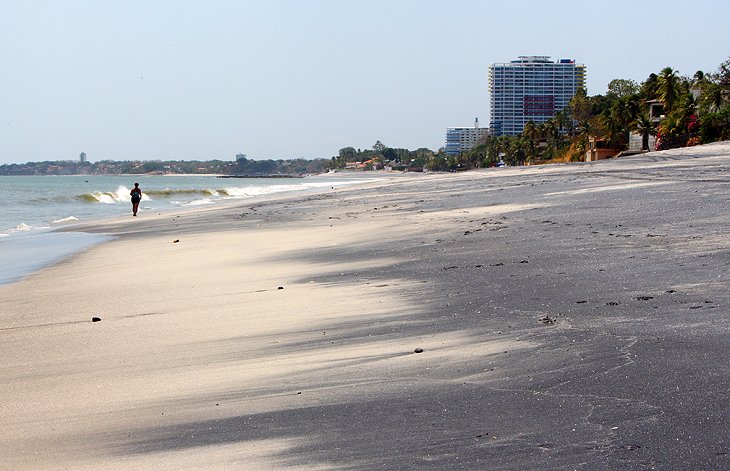 Highlights: A long stretch of uncrowded sand, hot temperatures and sunny skies, golfing
If all you want to do in Panama is hit the beach and relax in comfort, Playa Coronado is a perfect spot. The beaches here stretch for miles and are an interesting mix of sparkling black and gold sand.
American chain restaurants and a large mall provide the touches of home that many of the retirees escaping cold northern winters appreciate. The water is not blue here, but more of a grey/green color; swimmers should be cautious of the large waves.
Playa Coronado also has some good beachfront hotels and some delightfully romantic B&Bs, although a majority of the accommodation is private homes or condos. Due to the geography of Panama, Playa Coronado is one of the hottest places in Panama during the dry season.
11. Get off the Beaten Path in Santa Fe and San Francisco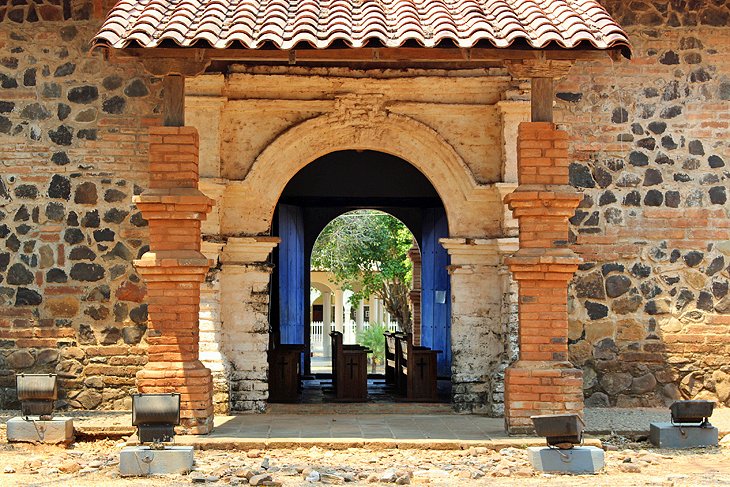 Highlights: Waterfalls, hiking trails, historic churches, a cooler climate
A couple of hours east of Panama City, you'll find the turnoff for the towns of Santa Fe and San Francisco. This turn takes you away from the coast and into the mountains, ultimately ending at Santa Fe National Park. This is a relatively undiscovered area of Panama and perfect for people who want to get off the beaten path.
On the road to Santa Fe, you'll come across San Francisco, an unassuming town with a pleasant main square and one of the oldest churches in the country, Iglesia de San Francisco de la Montana, dating from 1727. This photogenic church is open each day until 4pm, but closed over the lunch hour.
Just down the road about a mile is a secret swimming spot, Balneario El Salto. Here, the water cascades over rocks into a shallow natural pool, and swimmers come with their inflatable donuts and other toys to escape the heat on hot days.
Farther up the road, Santa Fe is a small friendly town in the mountains with some of the same features as Boquete, except in a much smaller and less developed way. Hiking, birding, coffee plantation tours, river tubing, and 4x4 driving in the national park are popular activities, which can be easily arranged.
You won't find the great selection of restaurants as you will in Boquete, but you are more likely to have personal experiences with local proprietors as you dine in their small establishments. Speaking Spanish is a real advantage here, as English is not widely spoken.
Santa Fe is located at an elevation of 1,500 feet, so it has a cooler climate than lower areas and can feel like a refreshing treat if you are coming from the coast. Be aware that on Tuesdays almost all the restaurants are closed, and from 3-6pm every day, a small no-see-um type insect comes out and feasts on exposed skin. The bites don't hurt but do produce plentiful red spots that fade by morning.
Map of Attractions & Things to Do in Panama
Tips for Renting a Car & Driving in Panama
Roads in Panama are generally in good condition and, except for Panama City, where traffic can be horrendous, driving is easy. Due to the fact that there is only one major highway, the Pan-American, which runs the length of the country, destinations are generally easy to find. The main secondary highways branch off from this main artery. Potholes can be a problem on secondary roads and can come up surprisingly quickly.
Speeders beware! Police with radar guns are a very frequent occurrence along the Pan-American highway. Speed limit changes are frequent, and it's easy to find yourself going too fast.
If you are looking to do a driving tour around Panama, you can easily rent a car in Panama City. Prices are usually better at locations in the city, rather than the airport.
Drive time from Panama City to Boquete is about 6.5 hours, but depends on traffic, particularly in Panama City. From Boquete to Almirante, where you can catch a boat to Bocas del Toro, is approximately 3.5 hours.
Best Time to Visit Panama
The best time to visit Panama is in the winter through to early spring, namely December, January, February, March, and April. At this time of year, the country is at its driest, the sun beats down with a fierce intensity, and the beaches are very, very inviting.
It's hot at this time — not just a little bit hot, but a lot hot! Daytime temperatures along the Pacific coast are in the low 30s Celsius and can easily rise well above that figure, with a strong easterly wind. Although it's hot, it's also when the Panamanians enjoy most of their festivals and religious holidays.
The months of May, June, July, August, September, October, and November are considered the rainy season, and although the average temperature only dips slightly, you'll find intense humidity and it pours rain most afternoons. You'll certainly be warm, but you'll also get wet.
On the Caribbean coast it's always warm and humid, and always slightly wet no matter the month you choose to visit.
More Related Articles on PlanetWare.com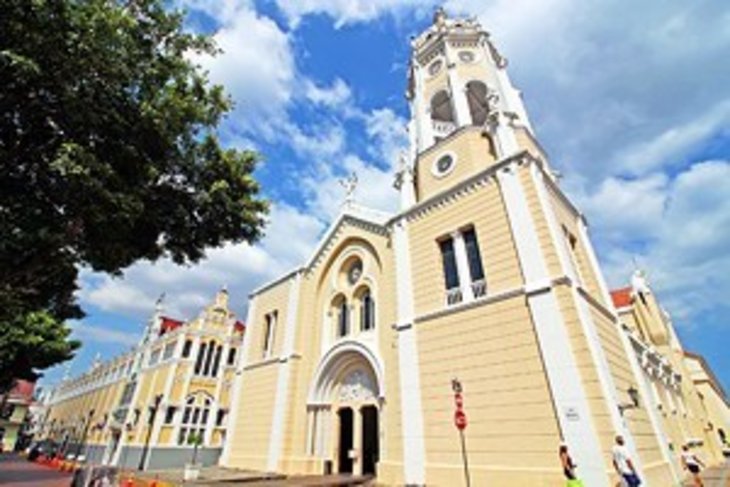 Panama City: While most people use Panama City as a jumping-off point for their trip through Panama, not everyone takes the time to see the sites and appreciate what this city has to offer. If you decide to spend some time here, see our article on the Top Attractions & Things to Do in Panama City.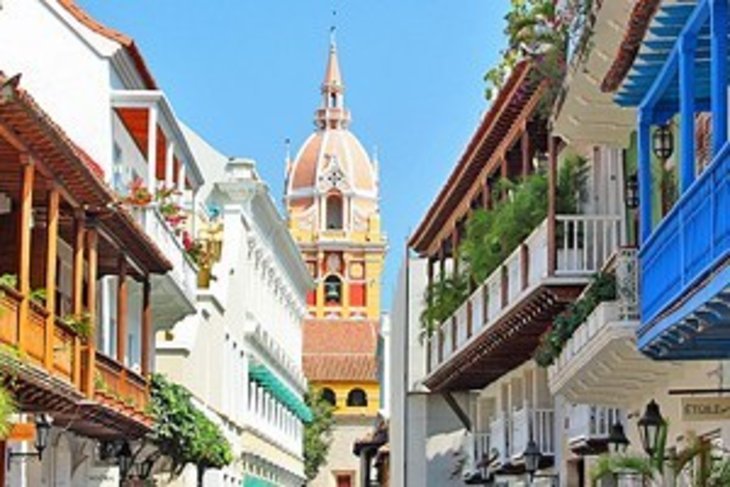 Costa Rica and Colombia: On either side of Panama are destinations worth visiting. If you want to truly experience the wildlife and natural beauty of Central America, don't miss an opportunity to explore the sites of Costa Rica, Panama's neighbor to the north. At the other end of Panama is Colombia, another destination you'll want to add to your bucket list. From Panama City, direct flights run regularly to Cartagena, one of the most beautiful colonial cities in the Americas.