11 Top-Rated Beaches in Colombia
One of the hottest up-and-coming destinations in South America, Colombia has two coastlines dotted with stunning beaches. The Caribbean coast is known for its picturesque beaches, clear turquoise waters, and great snorkeling. Many of these are clustered around Cartagena and Santa Marta. The Pacific coast offers large beaches, big surf, and more solitude.
Access to the beaches is generally easy and, in most cases, you'll find beach chairs and sun or wind shelters available for rent for a reasonable fee. Along many of the beaches, just back from the shoreline, are local restaurants serving fresh fish and other tasty Colombian food.
For a closer look at the options, see our list of the best beaches in Colombia.
1. Parque Nacional Natural Tayrona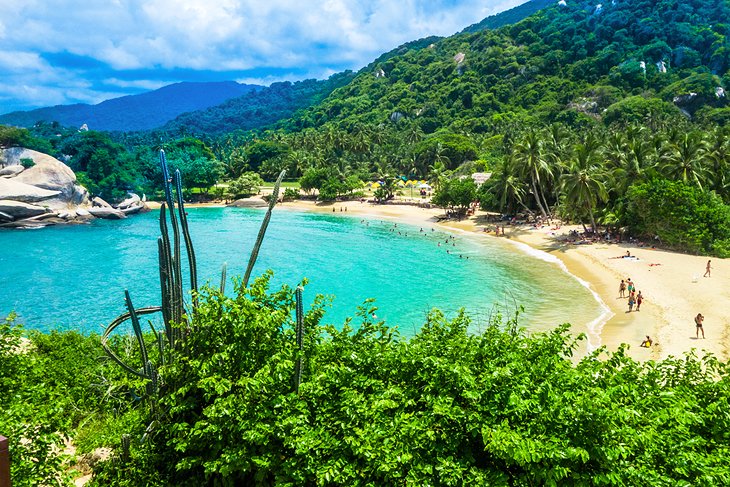 Parque Nacional Natural Tayrona has a lush and green look and feel about it owing to its place in the foothills of the Sierra Nevada de Santa Marta mountain range. The park boasts some truly amazing stretches of golden sand with crystal clear water, backed by swaying palm trees and mountains.
The three main beaches in the park, Cabo San Juan de Guia, Playa Cristal, and La Aranilla, each have their characteristics. La Aranilla is the one most photographed, owing to its uniquely shaped granite rocks both in the water and at one end of the beach.
The beaches here are primarily day trip destinations, as accommodation is limited in the national park. Santa Marta, with an abundance of accommodation and restaurants, is about 30 minutes away by car and is where most people stay.
Accommodation: Where to Stay in Santa Marta
2. Playa Blanca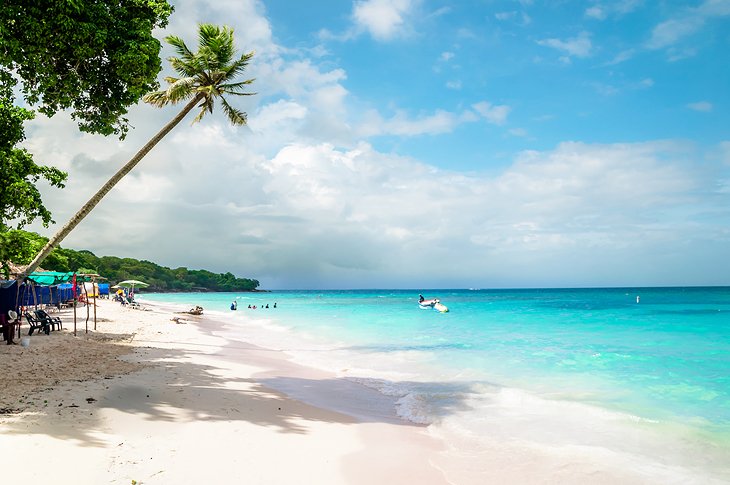 Playa Blanca is a perfect day trip from Cartagena. Easily reached via a 45-minute scenic boat ride departing right from the port in the Old City, a trip to the beach is one of the popular things to do in Cartagena and a regular excursion arranged by hotels.
Set on Isla de Baru, this long and narrow white-sand beach has beautiful clear water and small waves. Set back from the beach are rustic restaurants serving fresh fish and other typical Colombian fare. The water is shallow and warm here and is ideal for floating or snorkeling.
The tours to Playa Blanca usually make a few stops along the way at various other islands in the Islas del Rosario chain.
Accommodation: Where to Stay in Cartagena: Best Areas & Hotels
3. Playas de Palomino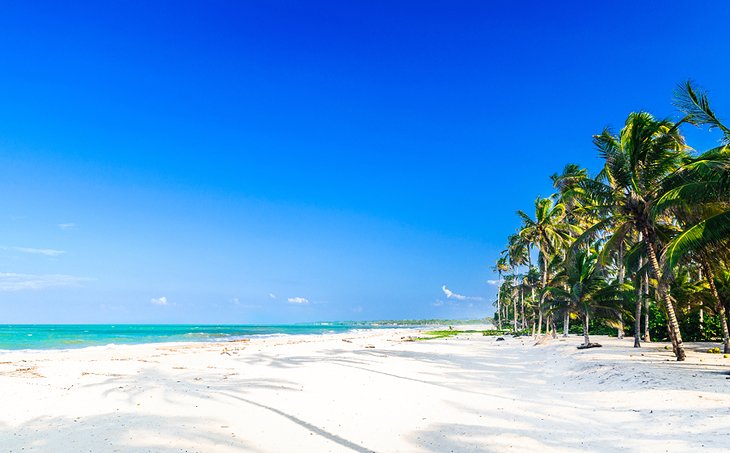 A bit farther east of Parque Nacional Natural Tayrona is the quaint small town of Palomino. On the oceanfront here is the spectacular Playas de Palomino. The beach, with its blond sands backed by palm trees, stretches for miles and miles both east and west of town.
The beach is, for the most part, deserted, and you will likely have the place all to yourself. The waves here can be large at times, so take care when swimming and always be on the watch for rip currents.
A mix of small inns and resorts dot the waterfront providing a wide range of accommodation options, from cheap hotels, ecolodges, and hostels to mid-range hotels.
Accommodation: Where to Stay in Palomino
4. Beaches of Isla de Providencia (Providencia Island)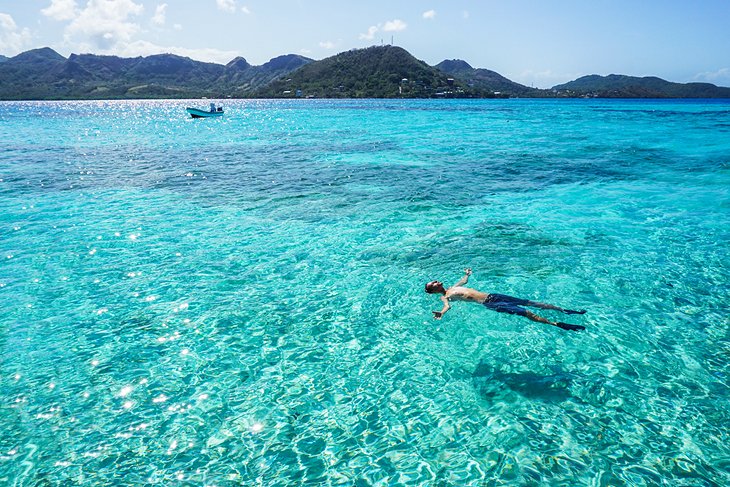 When you look at a map, you might be tempted to think that the beaches of Providencia are in Nicaragua but they are in fact Colombian territory. There's a good reason the Colombian's held on to these coral island outposts: stunning beaches and clear waters. Snorkeling and diving here is some of the best in Colombia.
Gentle waves lap up against soft white-sand beaches. Time seems to slow down here, as there really isn't much to do except laze about on the beach, snorkel, perhaps chat with the friendly islanders, and think about your next meal.
5. La Boquilla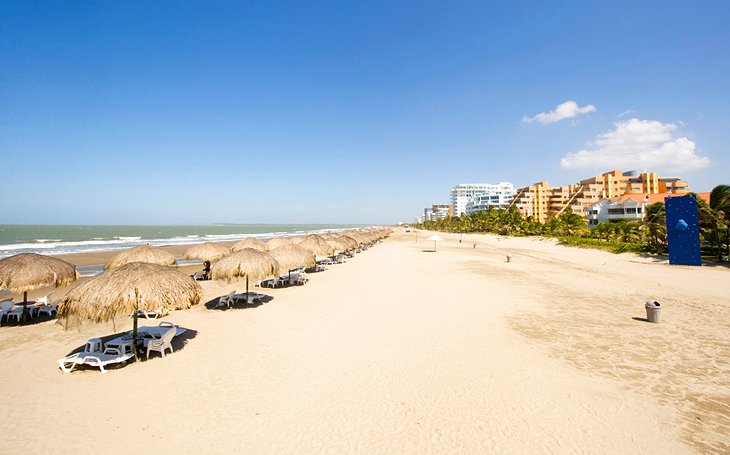 Located at the north end of Cartagena, about five minutes by taxi from the Old City, is La Boquilla. Here, you'll find beach action with a more local feel. The beach here is long, wide, and flat, and it's popular with Colombians visiting from other parts of the country.
One of the main reasons for visiting this beach is kitesurfing. Depending on the time of year, the winds pick up here around 2pm, and all the kitesurfers emerge. Even if you aren't a kiter, its's fun to watch them zip across the waves with their colorful kites floating in the sky. Colombia is a great place to learn this popular sport, and prices for lessons are very reasonable.
The beach is backed by hotels and some modern residential towers but is rarely crowded. An assortment of restaurants is set back from the beach and offers al fresco dining, with tasty lunches and dinners on the menu.
The beach is generally safest near the western edge, which is the more built-up section. Farther west, away from the towers near the small town, you can run into problems with theft, particularly if you leave your personal items unattended while you swim.
6. Playa Rodadero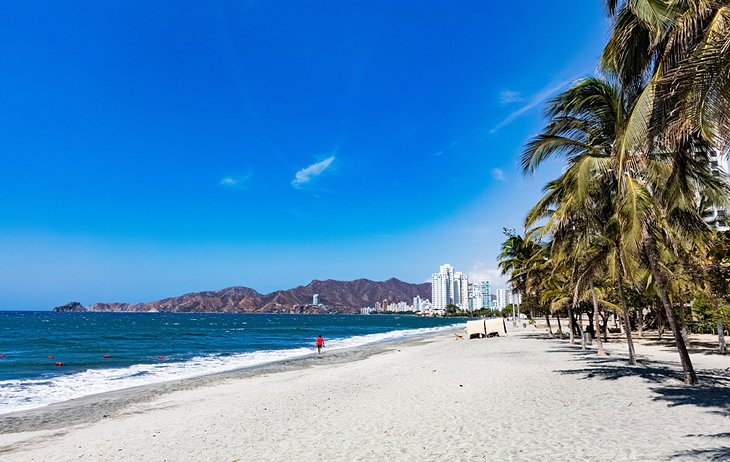 Set at the north end of a wide bay near Santa Marta, Rodadero Beach is a long stretch of sand dotted with palm trees backed by hotels and restaurants. This is a busy beach and popular with families and Colombians from nearby Cartagena, with lots going on at any time of the day or night.
You'll find a lively scene and amazing people watching opportunities. The waves here tend to be small, ideal for swimmers of all abilities.
Beach chairs and umbrellas are available for rent, and a steady stream of vendors works the beach selling everything from cold drinks to souvenirs. One of the most popular activities here is walking the beach. If you'd like to get out on the water, paddleboat rentals are available.
Rodadero Beach is about 15 minutes from downtown Santa Marta.
7. The Beaches of Capurgana & the Walk to La Miel in Panama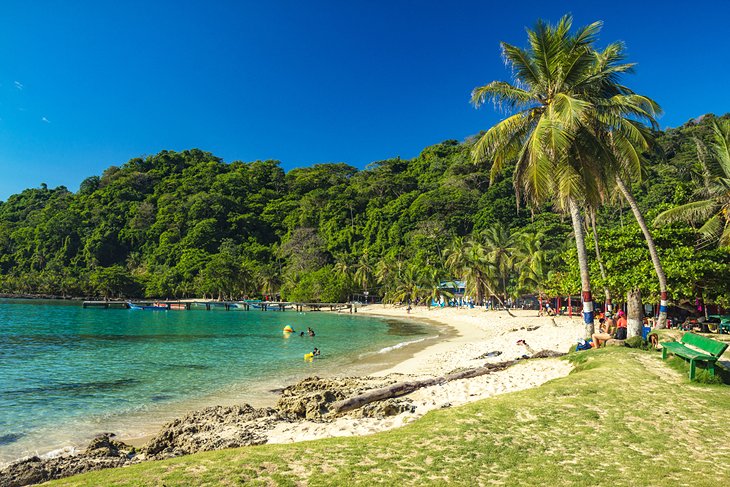 These beaches are near the border with Panama in the Choco region. They take a bit of effort to get to, however those who make the trek are rewarded by wonderful warm waters, sugar-soft sands, and the green jungle in behind.
The main beach in front of Capurgana is called Playa Soledad and is a small crescent beach, well protected from the offshore surf. Be sure to put on a mask and do some snorkeling, the underwater life here is abundant.
For a real adventure that involves crossing the border with Panama, you can head to La Miel. From Capurgana, take a boat to Sapzurro, then walk 20 minutes through the jungle, passing through an international border along the way, until you emerge to see a stunning crescent of beach backed by palm trees and jungle. Since there's a border crossing, be sure to add your passport to your beach bag along with sunscreen.
In addition to the great beaches, the towns of Capurgana and Sapzurro are relaxed places with a variety of good accommodation and dining options. If you need even more remote beaches, access to the San Blas Islands in Panama is easily arranged from here.
8. Manzanillo del Mar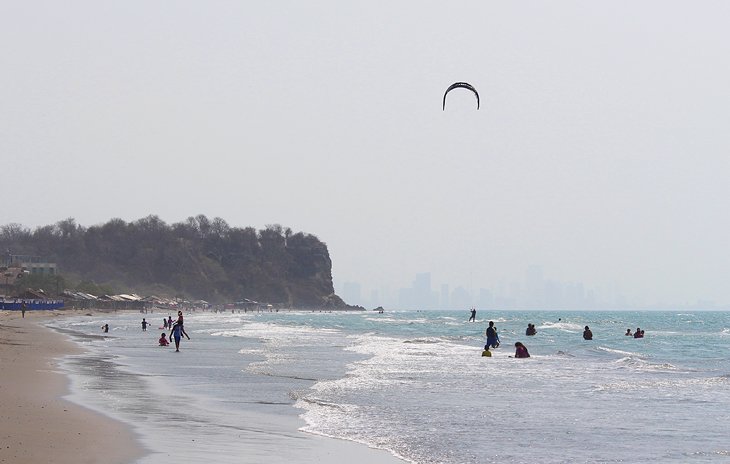 Now easier to access than ever with the new bridge over Ciena De Tesca lagoon, Manzanillo del Mar is only 15 minutes from the Old Town of Cartagena.
The beach, with its salt and pepper sands, is exceptionally long, and beach walkers will run out of energy before they reach the end. Views here are quite beautiful, with the large headland at the south end and the towers of Cartagena glimmering in the distance.
This is a good beach to escape the crowds and beach vendors of Bocagrande and La Boquilla. This is also a popular kite surfing destination. Depending on the season, the winds tend to pick up around 2pm each day.
Manzanillo Del Mar is a perfect beach for a big family get together owing to the fact that you can drive your vehicle right out onto the sand and easily set up your barbecue, lawn chairs, and tables right around your car. Should you wish to play music, just open the doors and back hatch and serenade the beach.
This is truly one of the last stretches of wide-open, undeveloped beach near Cartagena. While there is less out here than you'll find at La Boquilla, it's a safer area, with less crime and a more family-focused feel.
The waves here can get large and can be fun to play in. Note that there isn't a whole lot out here, so bring your supplies with you.
Accommodation: Best Hotels in Cartagena
9. Guachalito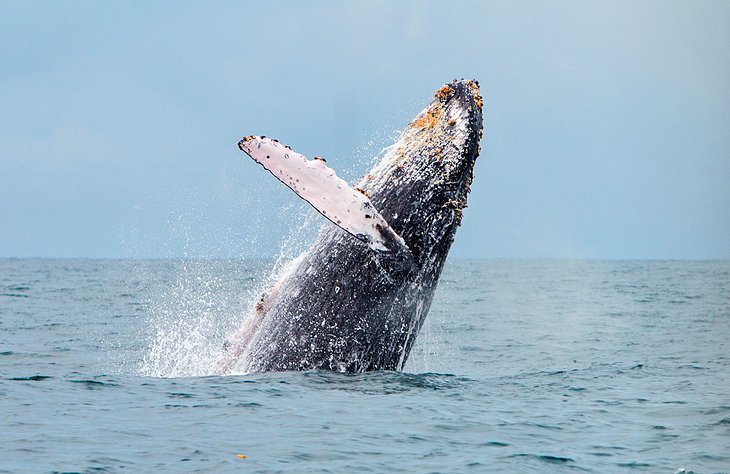 For those with a real taste for adventure looking to truly get away from it all, the beach at Guachalito is like something out of the movie Jurassic Park. Situated on the Pacific Ocean, this is one of the areas in Colombia where the jungle meets the ocean, and the resulting ecosystem is unlike any other in the country.
The sand is soft and brown, and large surf breaks offshore, gently rolling in across wide, flat beaches. Otherworldly plants and animals inhabit this area, and you'll find interesting flora and fauna, including huge mushrooms, colorful hummingbirds zipping about, and butterflies flitting from plant to plant. To cap it all off, humpback whales can sometimes be seen just offshore.
Getting here is via a small plane from Medellin to Nuqui and then a 30-minute boat ride.
10. Playa de Castillo Grande
Just around the corner from Bocagrande in Cartagena is the stretch of sand called Castillo Grande. This is the best beach on the peninsula and a good alternative to the beaches of Bocagrande. The beach is generally protected from the winds that whip up the sea in the afternoons in the windy season of January to March.
The water here is clear, and the beach is wide and long, ideal for a stroll. At one end is the Hilton Cartagena, and at the other is the Naval Club. The busiest section is near the hotel. Beach umbrellas and chairs are available for rent and are a good idea, as there is absolutely no shade here.
Beach vendors selling cold drinks and snacks operate here but are less aggressive than those at Bocagrande.
Boats leave from this area to travel to the white-sand beaches of Punta Arena on Tiera Bomba Island.
11. Playa de Bocagrande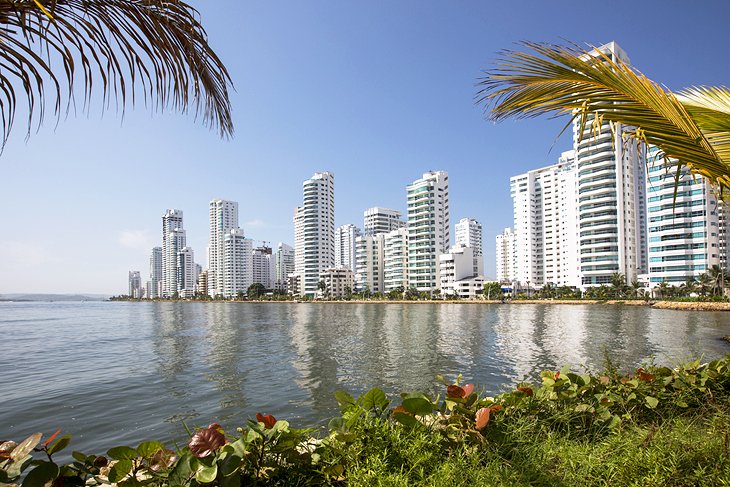 Playa de Bocagrande is Cartagena's main strip of beach. Some have compared Bocagrande to the beaches of Miami. This comparison is valid for the towers but not for the beaches. The beaches here are smaller, and you come here mostly for the scene not generally to go swimming.
Beaches tend to get crowded, but that doesn't stop the people in the hotels and towers from flocking to the seashore. Just back from the beaches are an assortment of restaurants ranging from fast food to high end.
The beaches in Cartagena do not have the azure blue colors you expect from the Caribbean, however, don't let that deter you, the water is warm and generally clean and safe for swimming.
Note that Bocagrande has a lot of beach vendors, some that can be quite persistent.
Accommodation: Best Hotels in Cartagena
More Related Articles on PlanetWare.com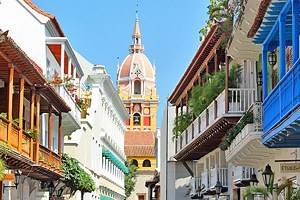 Colombia Highlights: When it comes time to plan your trip to this beautiful and diverse country, be sure to see our top attractions in Colombia for ideas. One of the country's top destinations that needs to be on your itinerary is Cartagena to see the incredibly restored old walled city. See also Where to Stay in Cartagena: Best Areas & Hotels. Another favorite destination in Colombia where travelers tend to linger is the city of Medellin.
More on Colombia