Costa Rica in Pictures: 15 Beautiful Places to Photograph
Often referred to as the "Switzerland of Central America," Costa Rica is a gorgeous place to snap some picture-perfect memories. The photogenic nation packs a lot of punch into a landmass the size of West Virginia and is home to beautiful beaches; lush cloud forests; volcanoes; and a lively animal community inclusive of monkeys, sloths, tapirs, toucans, and even jaguars. Here are 15 of the best places to snap a photograph in colorful Costa Rica:
1. Tamarindo Beach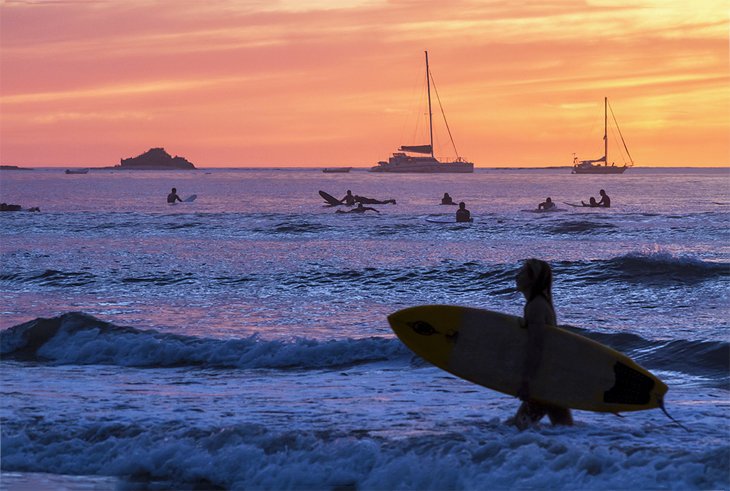 On Costa Rica's Pacific coast, Tamarindo Beach (pictured above) gets the best sunsets. They are wonderfully colorful and drawn out. This is also a well known surf beach and a great spot to learn how to ride. A number of local companies offer lessons and even run multi-day surf camps.
Accommodation: Top-Rated Beach Resorts in Costa Rica
2. Rio Celeste Waterfall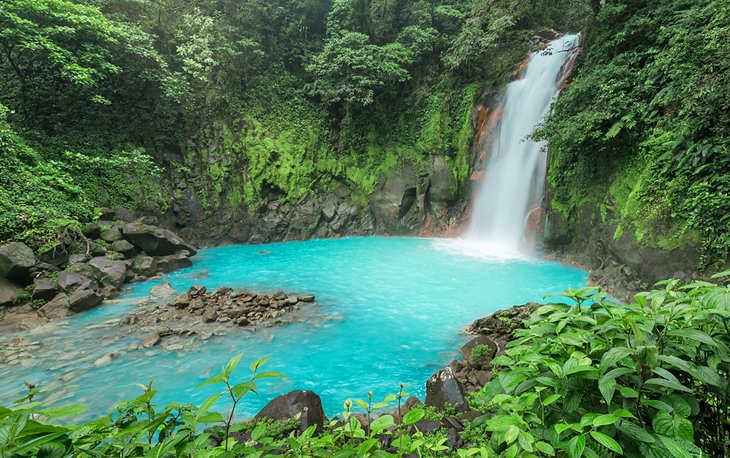 Rio Celeste Waterfall, pictured here, looks as picture-perfect in real life as it does in this photo. The stunning, bright turquoise pool beneath the cascading waterfall is tucked away in a cloud forest inside Tenorio Volcano National Park. The falls are only accessible via an in-and-out hiking trail, which takes about 45 minutes each direction.
3. Manzanillo Beach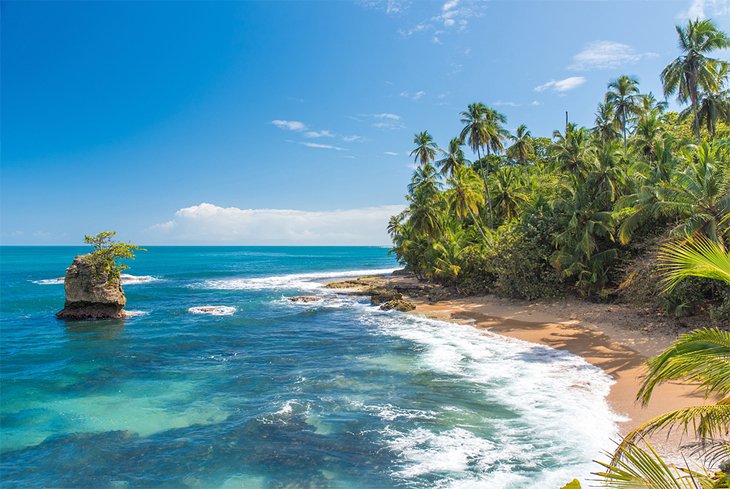 Costa Rica's Caribbean coast is wild and beautiful and still mostly undeveloped. Manzanillo Beach, pictured here, is an off-the-beaten-path gem located just south of the surfing hub of Puerto Viejo. The beach and vibrant little fishing village behind it is located inside the Gandoca Manzanillo Wildlife and Marine Refuge.
4. Monteverde Cloud Forest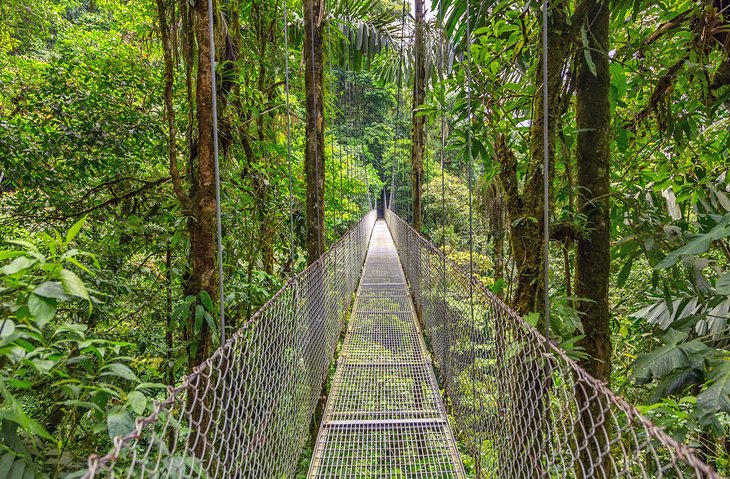 The jungly Monteverde Cloud Forest is best experienced from a suspension bridge tour that takes place at treetop level. It offers a unique perspective of the surrounding rainforest as you walk across the canopy tops via a series of suspension bridges like the one pictured here, as well as trails on the forest floor.
5. Manuel Antonio National Park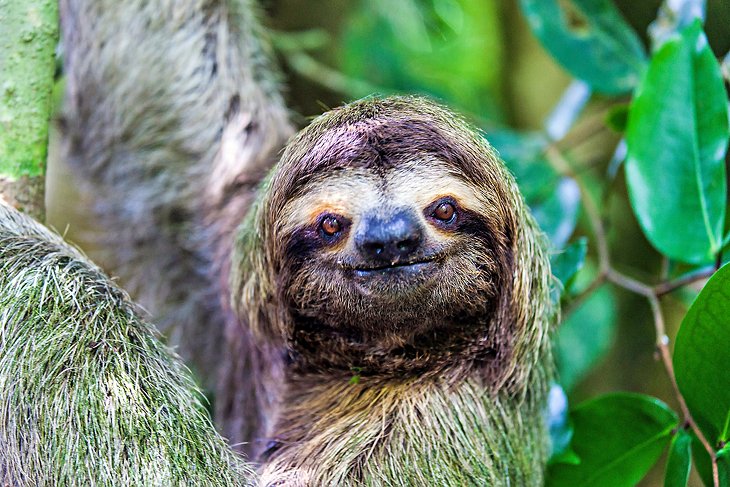 One of Costa Rica's most beautiful national parks, Manuel Antonio National Park is a mix of rainforest and beaches. In the jungle portions, you can get lucky and see wildlife, like this sloth just chilling in a tree. The beaches are also gorgeous. Base yourself in nearby Quepos town and spend a few days exploring this region's rich biosphere.
6. Tortuga Island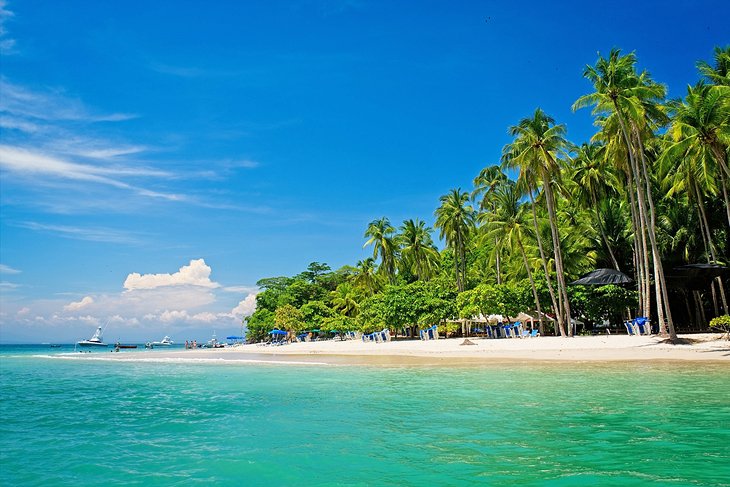 Beautiful Isla Tortuga serves as a lovely photographic backdrop for your white-sand-meets-turquoise-sea shots. It can only be visited by boat on a day trip from the Nicoya Peninsula. The trip takes about 1.5 hours each way, and tour operators usually include stops for snorkeling and a canopy tour.
7. Arenal Volcano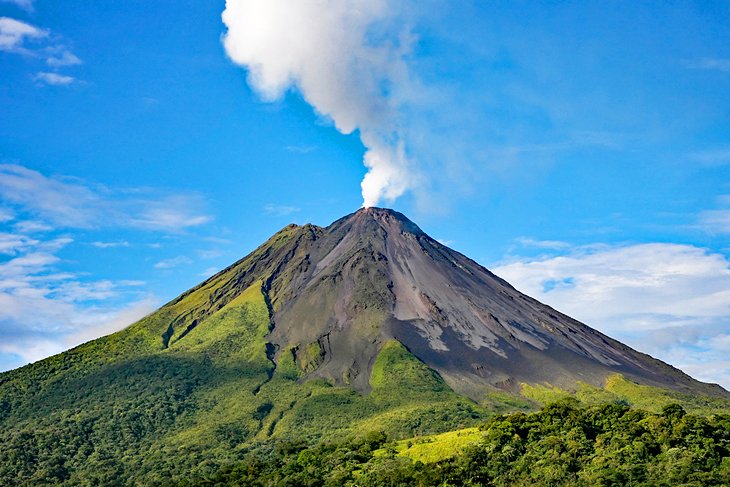 Protected by Arenal Volcano National Park, Costa Rica's most active volcano, Arenal, has had consistent lava flow since 1968. You can visit and hike around old lava flow fields and craters, which make for some great photos. Park rangers, however, monitor volcanic activity closely and will shut down trails if they don't feel they are safe.
8. Tortuguero National Park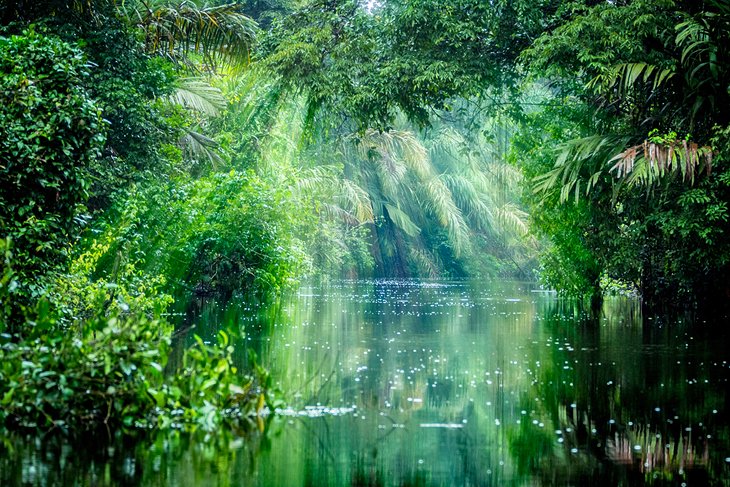 A hike through the lush green rainforest of Tortuguero National Park (pictured above) is like stepping into another world, one filled with hundreds of shades of green that change with the shifting light. The national park is situated on a sand bar island, separated from the mainland by the Tortuguero River on Costa Rica's Caribbean coast.
9. Cahuita National Park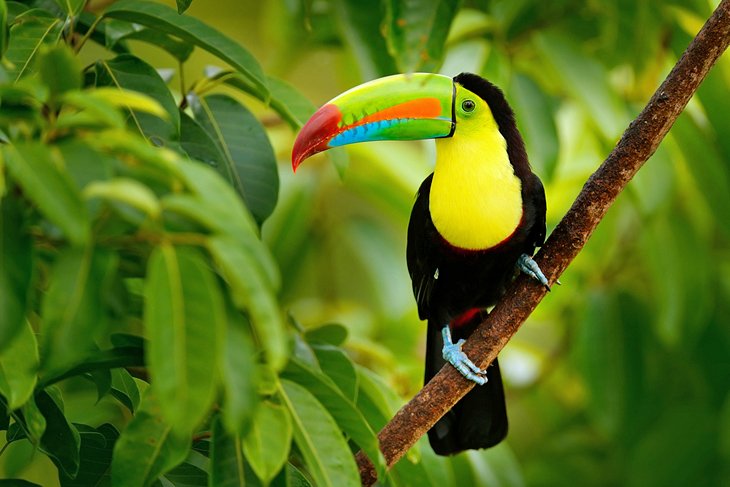 Keel-billed toucans, like the one pictured here, are native to a number of areas in Costa Rica, including Cahuita National Park on the southern Caribbean coast. As a species, toucans are believed to be monogamous, and males and females will toss food at each other in an attention-seeking effort when courting.
10. Coco Beach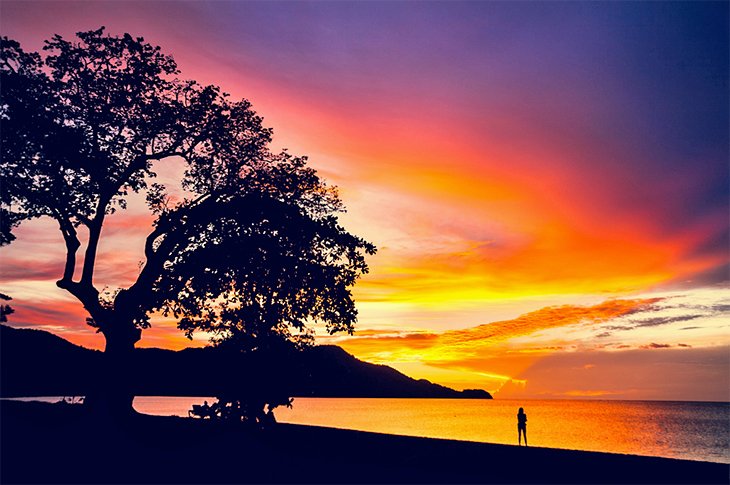 Sunsets in Costa Rica are truly surreal, with their technicolor light shows that seem to fade on for ages. Experience "pura vida" with a sunset like the one pictured above on Coco Beach in the Guanacaste Province, one of the country's most popular regions, known for its beaches, great surfing, and volcanos.
11. Playa Santa Teresa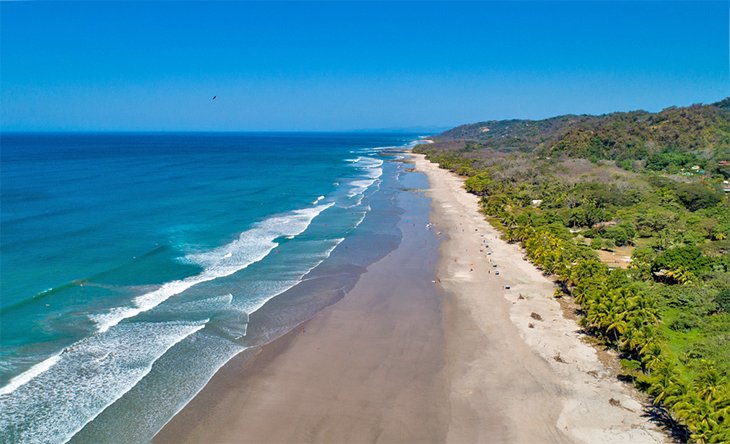 On Costa Rica's Nicoya Peninsula, Playa Santa Teresa is another popular surf town. It attracts wave riders with its wide, sandy beach and a number of beach breaks. Once a sleepy fishing village, the town here is now filled with places to stay and restaurants catering to tourists.
12. Poas Volcano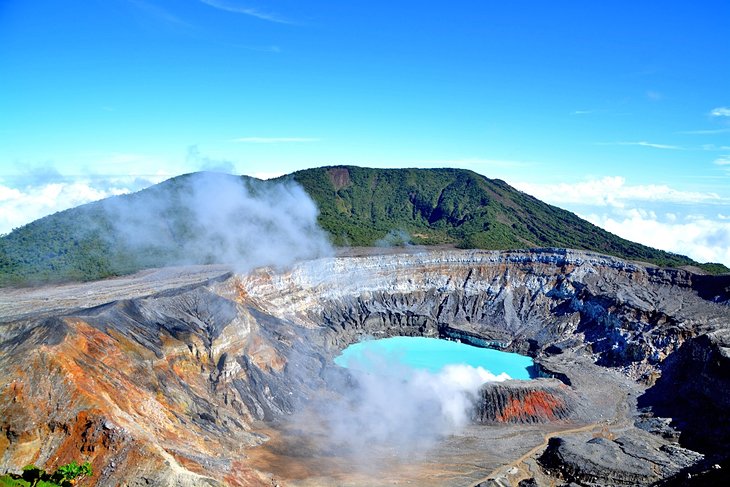 Inside Poas National Park, Paos is a still-active volcano with a crater and lake, pictured here. It has erupted some 40 times since 1828 and is still percolating today - the last major eruption was in April 2017, and evacuations were required. Besides the volcano, the park offers an excellent example of the cloud forests Costa Rica is known for in a location that is easily accessible from San Jose.
13. La Cangreja Waterfall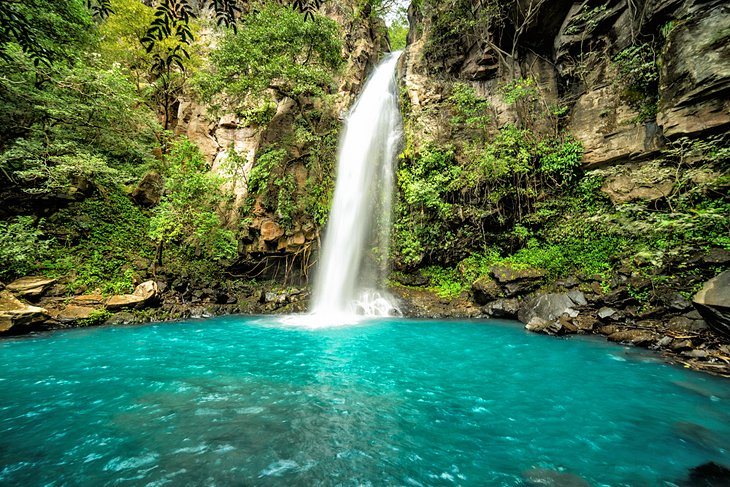 Costa Rica truly boasts a number of picture-perfect waterfalls. Another majestic example is La Cangreja, pictured above. Located inside Rincon de la Vieja National Park in the Guanacaste Province in northern Costa Rica, it is surrounded by lush rainforest jungle.
14. Corcovado National Park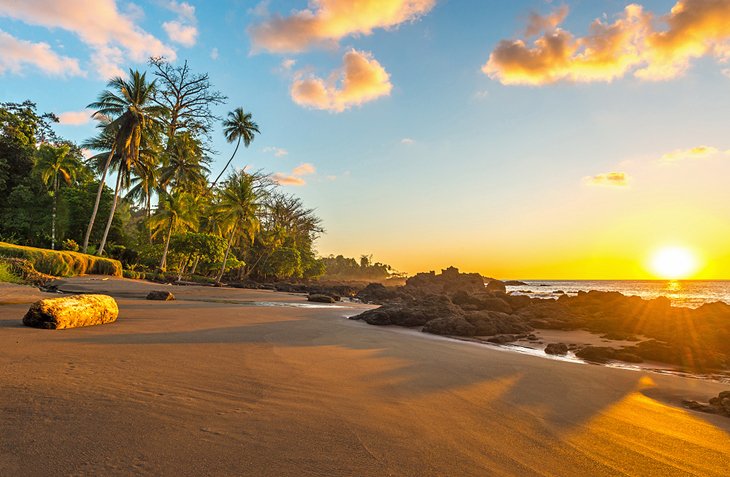 Remote and wild, Corcovado National Park on the Osa Peninsula in southwest Costa Rica is a beautiful landscape to shoot still pristine jungle and rainforest shots. Considered one of the most biodiverse places on the planet, the park is home to hiking trails along the coast and also inland into the rainforest. The sunsets, like the one pictured here, are equally memorable.
15. Horseback Ride on Samara Beach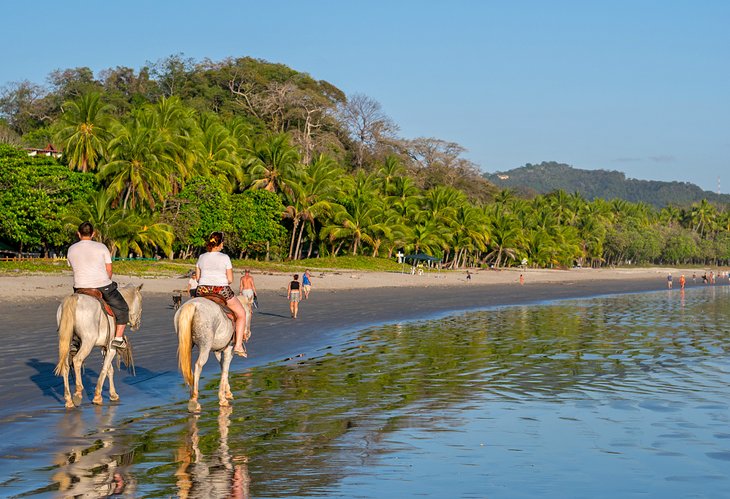 Riding a horse along the beach in Costa Rica is an exhilarating experience anytime - although if you can, sunset is a favorite time of day, especially if you're on a romantic getaway. Samara Beach, pictured here, is a horseshoe-shaped beach on the Nicoya Peninsula's southern Pacific coast.