Guatemala in Pictures: 17 Beautiful Places to Photograph
With cultural, natural, and urban attractions a plenty, plus colorful cities and textiles, Guatemala is a picture-perfect place to snap some epic photos.
This Central American gem is home to cities like Antigua, which is ringed by volcanos and features cobbled streets and neoclassical architecture. It's also home to jungles and cloud forests, beautiful lakes, and wild stretches of coastline that provide plenty of opportunities to capture beautiful pictures.
Here are some of the best places to photograph in Guatemala.
1. Mayan Ruins of Tikal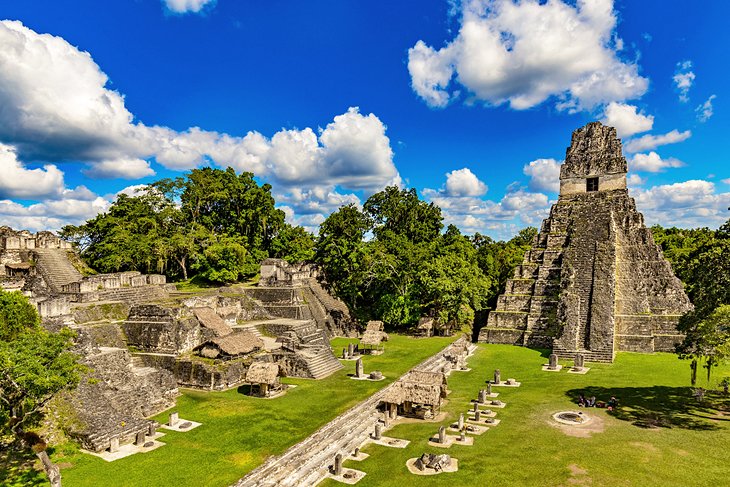 The Mayan ruins protected within Tikal National Park, in the northern Guatemalan jungle near Belize, are one of Central America's most important archeological sites. In the picture above is the Grand Plaza with the North Acropolis and the Great Jaguar Temple.
The city of Tikal was one of the most important Mayan urban centers and was occupied for more than one thousand years.
Read More: Top Tourist Attractions in Guatemala
2. Antigua Guatemala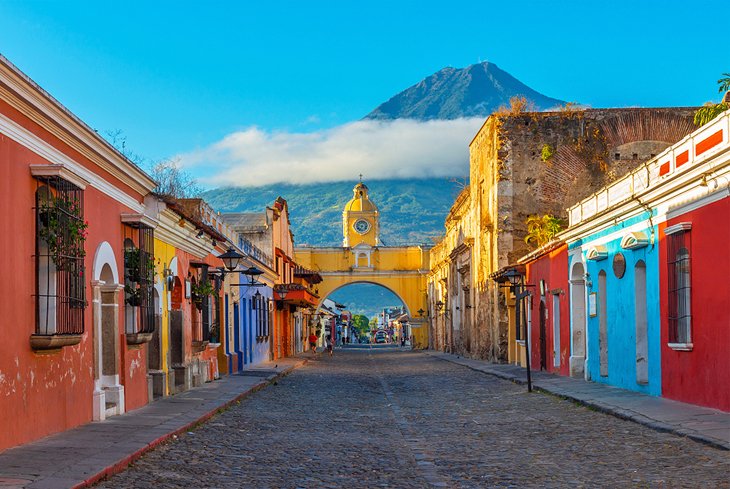 Photogenic Antigua is one of Central America's most beautiful cities. With colorful buildings, cobblestone streets, and the yellow Santa Catalina arch framing Aqua Volcano, the above image shows one of Antigua's classic spots to snap a picture.
Head out at sunrise to (often) have the street to yourself and capture even more brilliant colors.
3. Lake Atitlan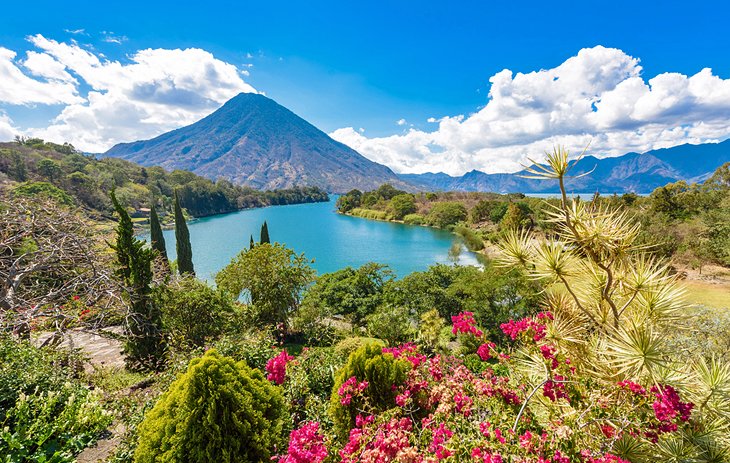 Lake Atitlan, in the southwestern highlands, about two hours from Guatemala City, is one of the world's most beautiful lakes. It is essentially a massive volcanic crater surrounded by lush green hills and more volcanoes with dramatic pointed cones, including San Pedro, which is pictured here. It is well worth the effort to visit this magical natural attraction.
Spend the night in Panajachel, which is a busy, small town known for its colorful textiles and as a lake getaway.
4. Volcano Fuego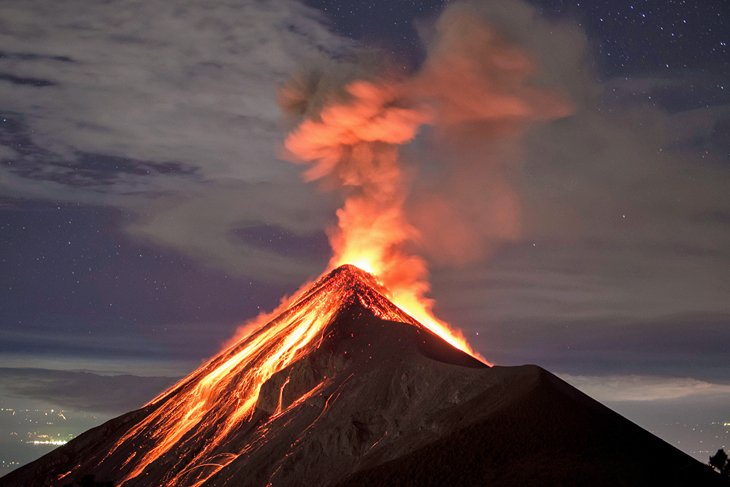 The active Volcano Fuego can be seen from the capital, Guatemala City, located about 43 kilometers southwest. Fuego frequently erupts, spewing ash and lava as depicted in the above photograph. Known as a stratovolcano, Fuego has a steep, conical shape that is quite dramatic looking.
5. Chichicastenango Market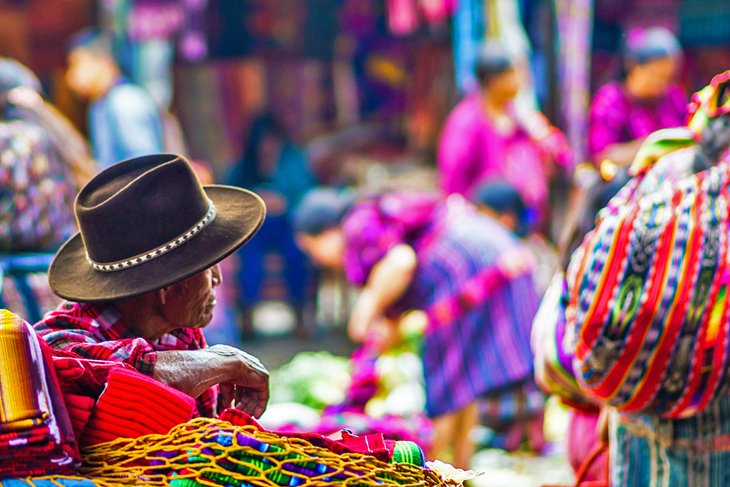 Visit the remote town of Chichicastenango on Thursdays and Sundays, when this sleepy village comes alive with one of Guatemala's largest markets.
The market very much caters to locals with everyday goods, fruits and veggies, and bright-colored textiles. From handwoven skirts and loose fitting tunics to bags and blankets, the fabric creations in Guatemala are known around the world.
6. Guatemala City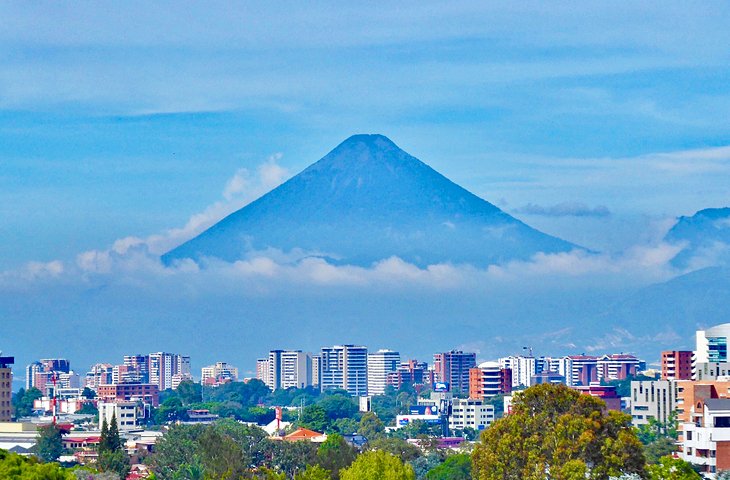 Surrounded by volcanos – Fuego volcano is pictured here – in a high-altitude location, Guatemala City is Central America's most populous city, home to more than three million people.
The city is split into multiple zones, but tourists will mostly visit Zone 1, where you'll find the central district and most of the historic buildings. And Zone 4, where there are trendy coffee shops, colorful street art, and restaurants.
7. Semuc Champey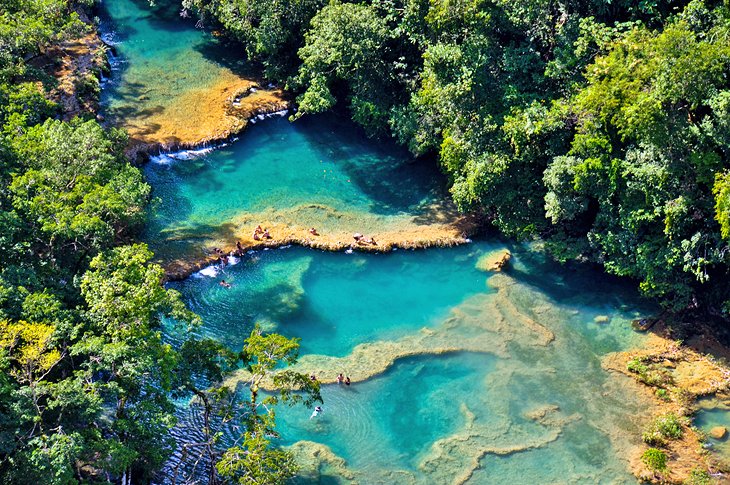 Semuc Champey is one of Guatemala's most stunning natural attractions. As seen in this photograph, it features a series of stepped, bright turquoise pools surrounded by jungle. The pools, which travelers can swim in, sit atop a natural limestone bridge under which the Cahabon River passes.
8. Quetzaltenango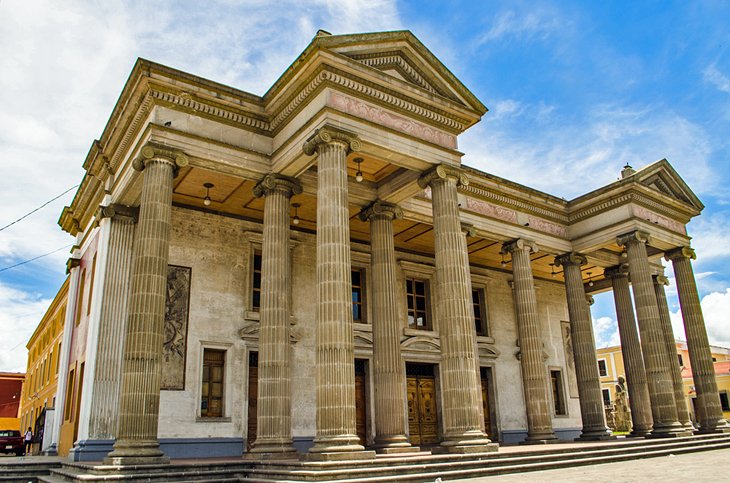 The restored Municipal Theater pictured here is one of a number of neoclassical buildings the city of Quetzaltenango in Guatemala's western highlands is known for. Other architectural must-sees include the House of Culture and Espiritu Santo Cathedral, which has a Baroque colonial exterior and a modern interior.
9. Monterrico Beach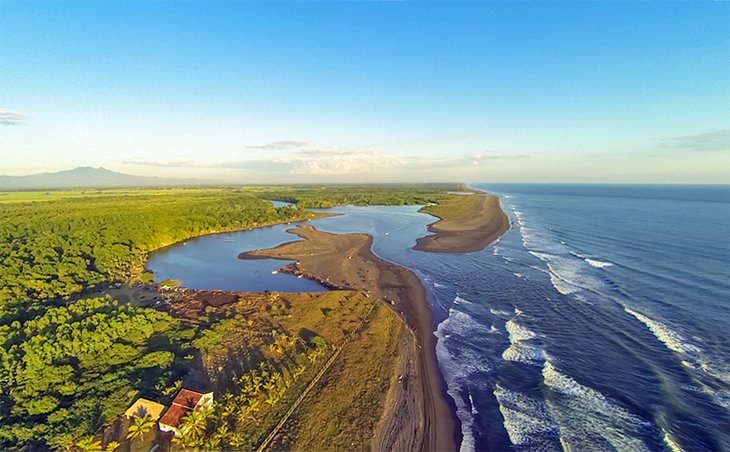 In Santa Rosa on Guatemala's Pacific Coast, Monterrico Beach is a black-sand beach that is one of Guatemala's best. It has a laid-back vibe, big waves, and inexpensive places to stay and eat. It is also a sea turtle nesting ground.
10. Metropolitan Cathedral, Guatemala City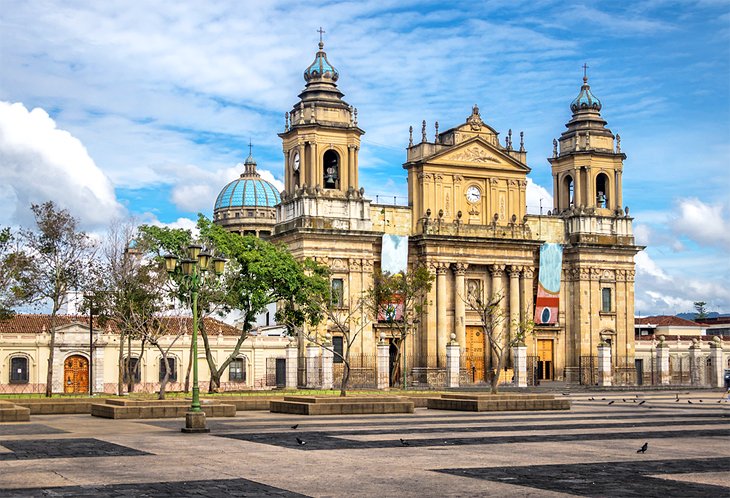 Guatemala City's Metropolitan Cathedral, pictured here, is set on the historic city's central plaza. Inside, you'll find neoclassical design, numerous religious carvings, and colonial-era paintings. Guatemala City is the country's capital and also the biggest city in Central America, home to more than 3.3 million people.
11. Place Central, Antigua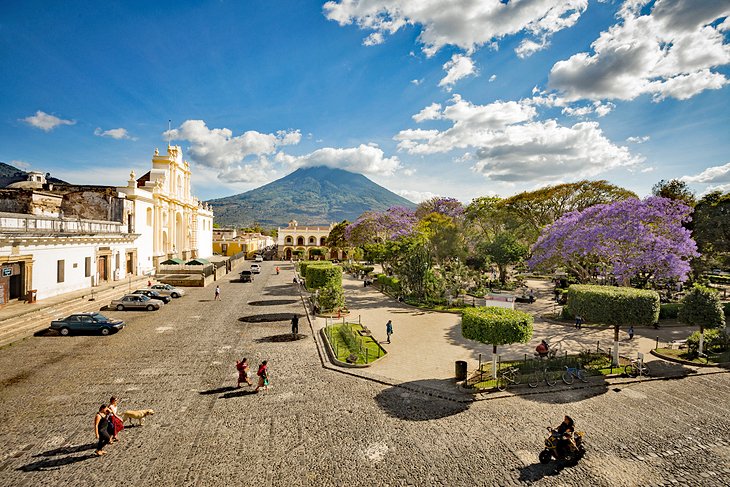 Antigua's central plaza, pictured above, is the main gathering place in this small city ringed by volcanos. The Spanish colonial buildings here include the Baroque La Merced Church, which plays a role in the city's famed Easter holy week Semana Santa celebrations.
12. Agua Volcano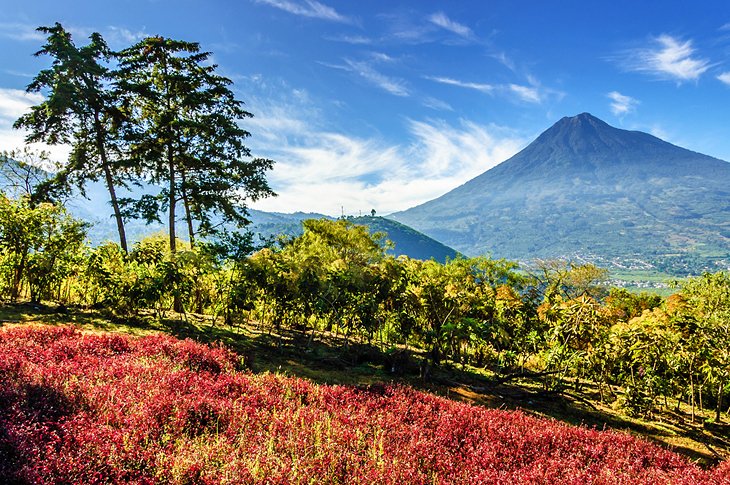 One of the volcanos just outside of Antigua, which is visible from the city center, is Aqua Volcano, featured in the above photograph. A conical-shaped volcano known as a stratovolcano, unlike Guatemala's Fuego volcano, Agua volcano has not been active for some 10,000 years.
13. National Palace of Culture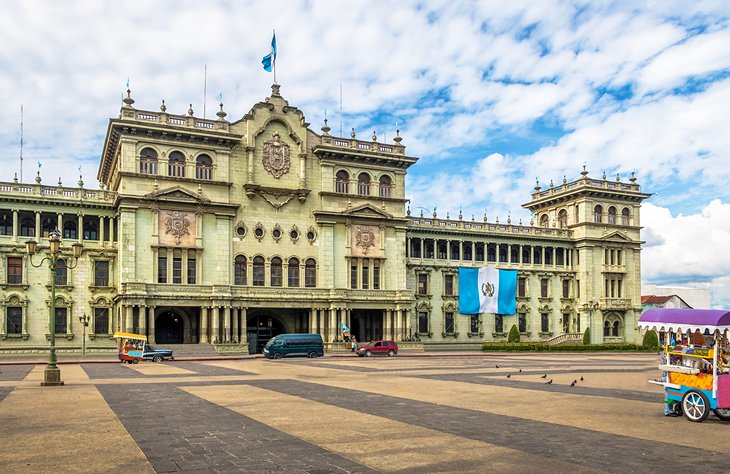 In the heart of Guatemala City, right on the Plaza Mayor, is the National Palace of Culture, pictured here. The most ornate building in the city, it is also one of the most photographed sites in the capital city. Once the home of a dictator General Jorge Ubico, today it has been converted into a museum.
14. Antigua Guatemala Market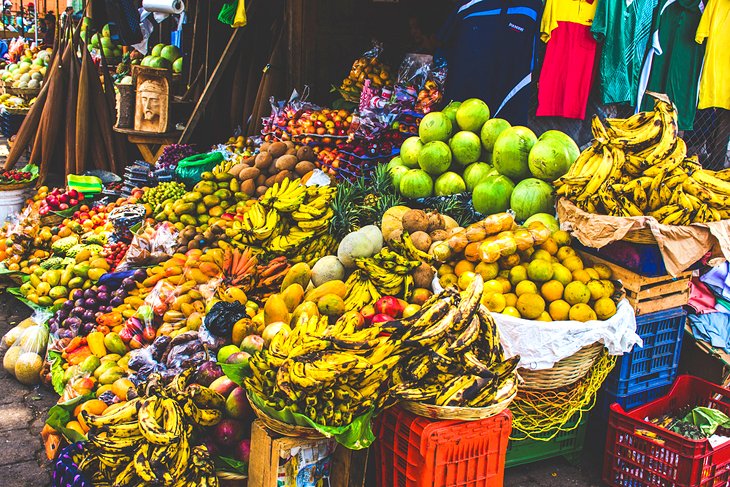 The Antigua Guatemala Market in the ancient city of Antigua is one of the best in the country. Not only does it sell fresh produce, like the fruit pictured here, but it is also filled with vendors hawking colorful Mayan fabrics, carved wooden handicrafts, and other unique pieces of art. Pick up a handwoven bag or tunic as a gift to yourself or a friend.
15. Sunrise at Lake Atitlan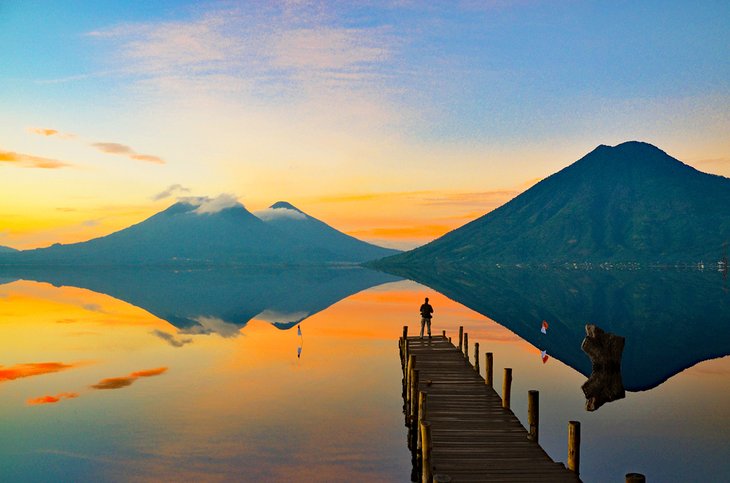 This stunning picture was shot at Lake Atitlan at sunrise. Yes, you'll need to wake before dawn to capture this style of image, but it is so worth the early call time. The rising sun creates a mirror effect, with the reflection of the mountains and rising sun showing in the glassy stillness of the lake. The few wispy clouds just add to the allure.
Try photographing from a pier, like the one in the image above, if you want to get yourself into the frame.
16. Waterfalls at Semuc Champey at Sunset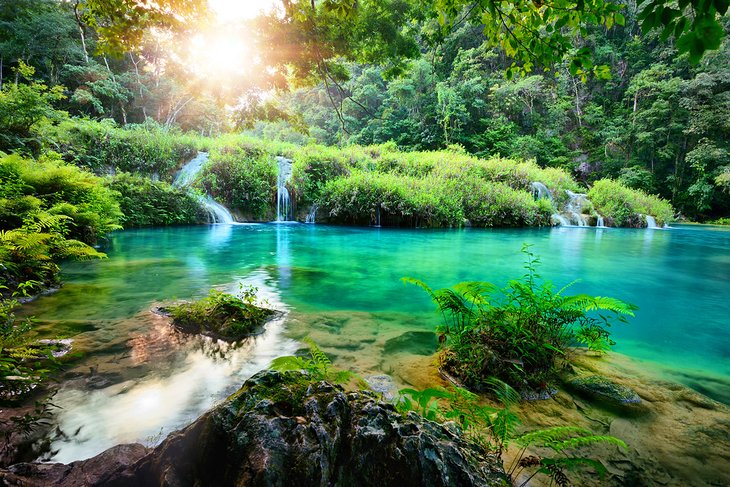 For more shades of green than your mind can even process, head to Semuc Champey, where this image was snapped, at sunset. The setting sun makes the varying hues of water and surrounding jungle saturated even more than usual.
If you are looking for a picture-perfect photo shoot location for social media, this is it! The natural monument is located near the Q'eqchi' Maya town of Lanquin.
17. Lake Petén Itzá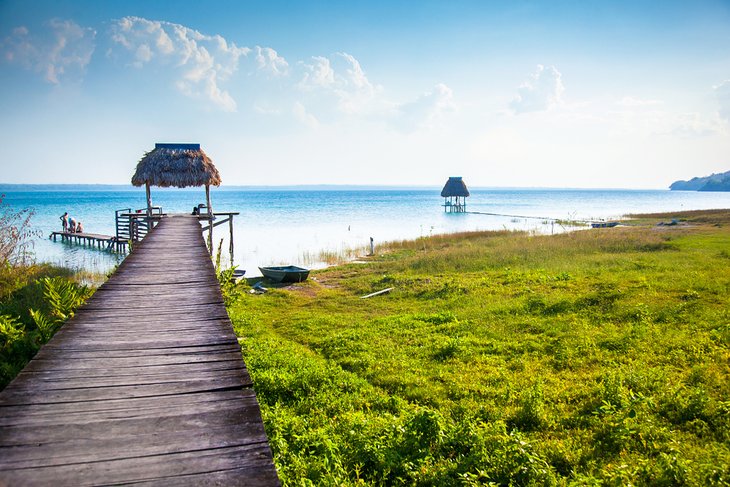 This photo was taken at Lake Petén Itzá, which is Guatemala's third largest lake. Besides being beautiful to photograph, the area surrounding this lake has a rich historical legacy.
There are 27 Maya sites and archeological remains in the area around it and on a peninsula across the lake. It is also home to numerous species of fish, birds, monkeys, and even jaguars and pumas.