15 Top-Rated Tourist Attractions in Guatemala
Guatemala is one of those rare finds, with a good mix of travel options to satisfy adventurers, culture seekers, beach worshippers, and travelers looking for a little relaxation. The country is a cultural hot spot in Central America, from the colonial architecture and cobbled streets of Antigua Guatemala to the Mayan ruins of Tikal.
Small towns in the highlands and on the shores of beautiful Lake Atitlan offer a chance for unique cultural experiences. Tropical jungles, active volcanoes, mountain lakes, cloud forests, coral reefs, and beaches will entice nature lovers.
If you venture down to the coasts, you'll encounter beaches ideal for relaxing and finding solitude in a hammock. Throughout the country are markets with local goods for sale, particularly textiles; these only operate on certain days of the week.
Discover the best places to visit in this beautiful country with our list of the top tourist attractions in Guatemala.
1. Mayan Ruins of Tikal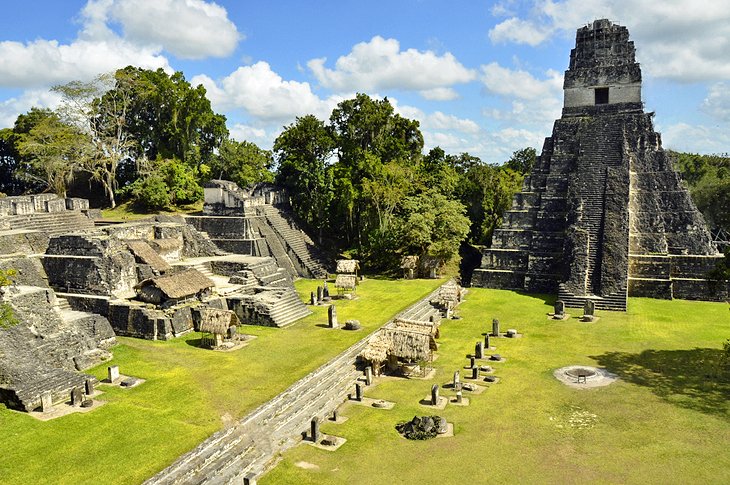 In the humid jungle of northern Guatemala, near the border of Belize, stands one of the greatest archaeological sites in Central America. The well-preserved ruined city of Tikal is one of the best places to visit in Guatemala to learn about Mayan culture.
Tikal was occupied between approximately 600 BC and AD 900, and showcases more than 3,000 structures, ranging from pyramids and temples to plazas and an acropolis. It was one of the most important urban Mayan centers for more than a thousand years and is today one of the largest Mayan archaeological sites of its time period still in existence.
The experience of visiting Tikal is enhanced by the surroundings. Steep pyramids rise above the jungle's lush green canopy populated by birds, monkeys, and other wildlife. Tikal National Park, which encompasses the ruins, is a biosphere reserve, protecting rainforest and wildlife habitat.
Monkeys are prevalent at Tikal. You'll definitely see spider monkeys and, if you don't see the howler monkeys, you'll most certainly hear them.
2. Antigua Guatemala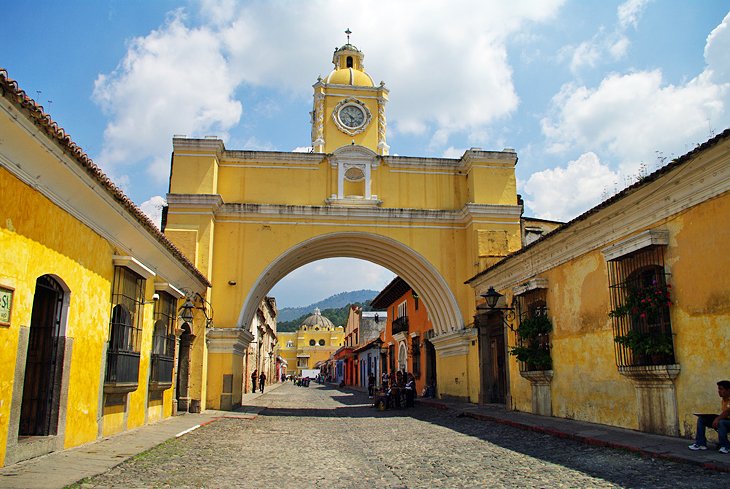 If you're looking for a city to settle in for a bit, this is the place to come. With Quality hotels at reasonable rates, trendy restaurants serving excellent food, and plenty of things to do, it's easy to fill your days here.
Antigua Guatemala, often referred to simply as Antigua, is one of the highlights of Guatemala and certainly one of the most beautiful cities in Central America. Surrounded by three volcanoes, this former capital of Guatemala offers a unique glimpse of a city unblemished by modern day concrete buildings and high-rises.
Cobblestone streets are lined with old colonial buildings, some of which show evidence of the earthquakes that have contributed to the city's history. Everywhere in the old city center are incredible churches and convents.
While many of the buildings have been completely restored, some reveal cracks caused by past earthquakes, and some have been reduced to ruins. In many cases, the ruins have been creatively incorporated into more recently constructed buildings, some of which are now hotels. The city has interesting museums to explore along with beautiful old convents that are open to visitors.
3. Lake Atitlán (Lago de Atitlán)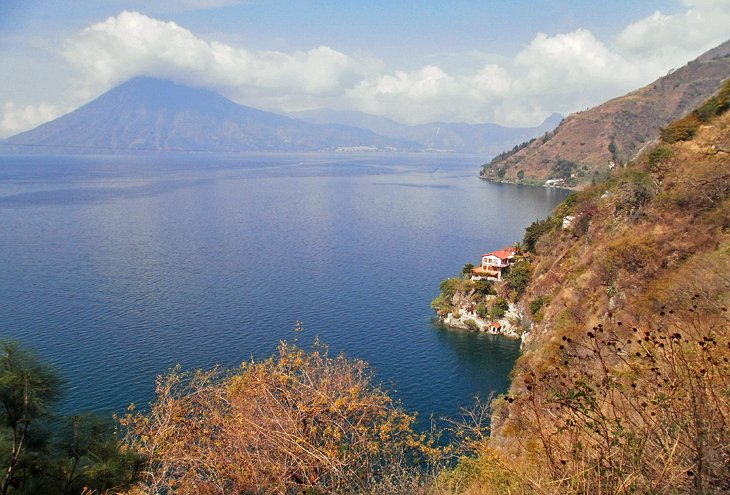 Often described as the most beautiful lake in the world, Lake Atitlán is another destination where travelers tend to linger. Make the journey here and you won't be disappointed. You can easily spend a week or more sightseeing in the small towns and villages that ring the lake.
Lake Atitlán is located in the high country, less than a two-hour drive from Guatemala City and less than an hour and a half from Antigua. It sits in a volcanic crater 1,538 meters above sea level and is surrounded by hills and volcanoes, and many of the villages on the shores are only accessible by boat.
The prime entry point is the city of Panajachel. After exploring the main street, lined with all kinds of vendors selling their blankets and goods in stalls and alleyways, make your way to the waterfront to catch a water taxi.
Boats line up here to take passengers to the villages of San Pedro, Santiago Atitlán, San Andrés Semetabaj, Santa Catarina Palopó, San Lucas Toliman, and even smaller secondary villages or private hotels. Each village is known for something different, but most have markets and local crafts.
Over the years, Atitlán has attracted many expats with an interest in alternative lifestyles. Spiritual or new age centers offer everything from yoga to metaphysical pursuits. If you are considering learning Spanish, schools are available and very reasonably priced.
Lake Atitlán's water levels are a mystery to scientists. Sometimes they go up unexpectedly and then for some reason they drop. Several theories exist but no one seems to be able to figure out the exact reason. If you find yourself at the lake during one of its high-water levels, be prepared for makeshift docks, and homes underwater. No matter the water level, it is crystal clear and generally warm enough for swimming year-round.
4. Chichicastenango Market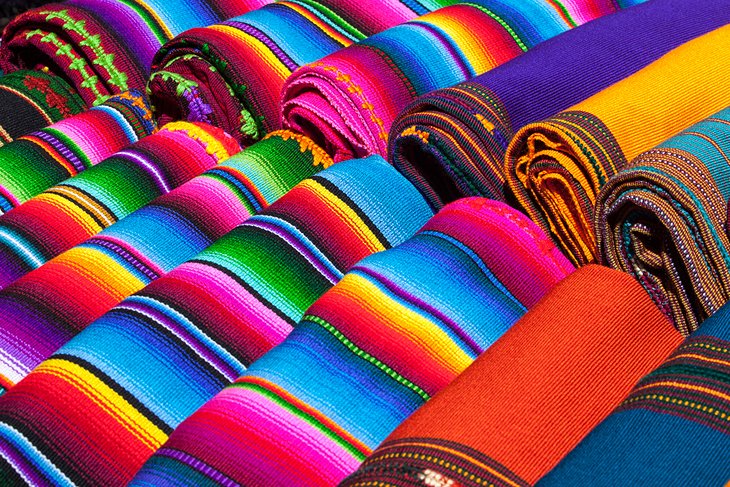 Isolated Chichicastenango, known locally as "Chichi," is a large town surrounded by valleys and mountains. The sleepy cobblestone streets come alive on Thursdays and Sundays, as it hosts one of the largest and most hectic markets in Guatemala.
This is a locals' market, selling regular everyday goods, vegetables, and the distinctive textiles for which it is so famous. Vendors come from miles around for this market, making it a great opportunity for people watching and photography.
Chichicastenango is a 1.5-hour bus ride from Panajachel making it an easy day trip from Lake Atitlán. It takes about 2.5 hours from Guatemala City and 3.5 hours from Antigua.
5. Quetzaltenango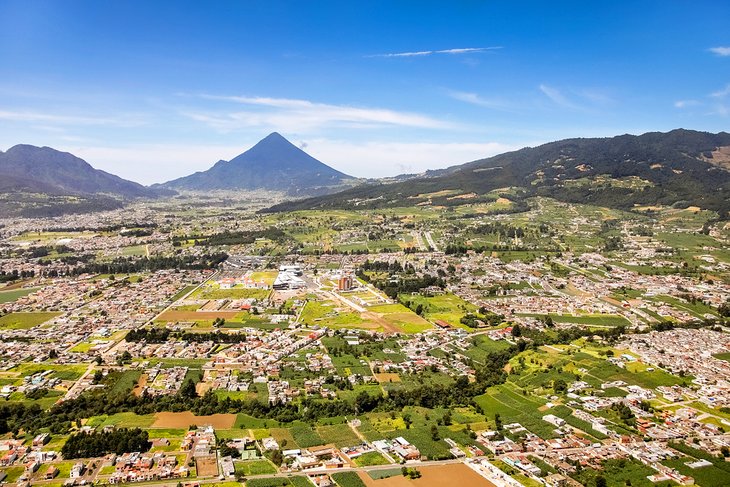 Quetzaltenango, Guatemala's second-largest city, is the commercial center of southwestern Guatemala. More commonly called Xela, the town's major sights are the Parque Centro América and the Neoclassical buildings surrounding it. Most of these buildings, apart from the cathedral, stem from the era in the 19th century when Xela was a major trading and artistic community.
Top reasons to visit Quetzaltenango include studying Spanish and hiking in the nearby mountains. Walking up Volcan Tajumulco, Central America's highest peak, is one of the more adventurous options.
In addition to being a relatively clean and safe city, Quetzaltenango's altitude of 2,333 meters ensures warm days, cool nights, and less mosquitoes. The city also serves as a base for excursions to the many nearby villages noted for their hot springs and handicrafts.
6. Monterrico and the Biotopo Monterrico-Hawaii (Nature Reserve)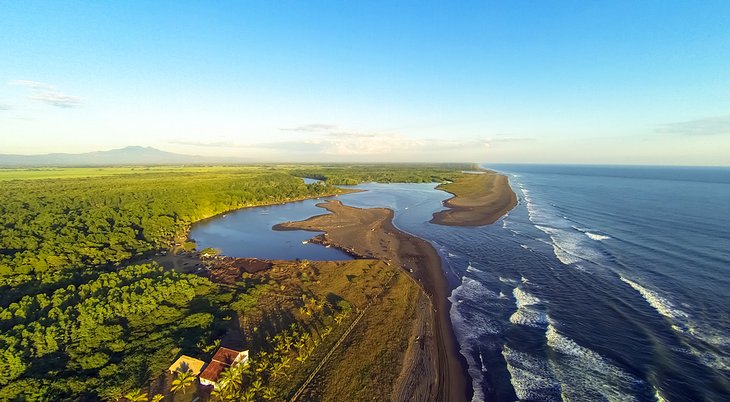 The small coastal village of Monterrico, with its laid-back feel and lovely stretch of oceanfront, will appeal to anyone looking for some time at the beach and a little nature. Unlike the high inland regions, the area around Monterrico is hot and tropical. The beach here is dominated by big surf and not always ideal for swimming, but beautiful nonetheless.
The Biotopo Monterrico-Hawaii, or Monterrico Nature Reserve, is a nature reserve created to protect mangrove forests and sea turtles. Covering an area of both land and water, it's a habitat for a large variety of bird and aquatic life, including leatherback and Kemp's ridley turtles. Boat tours offer trips through the swamps and good opportunities for bird and wildlife viewing, particularly in the morning hours.
7. Pacaya Volcano, Antigua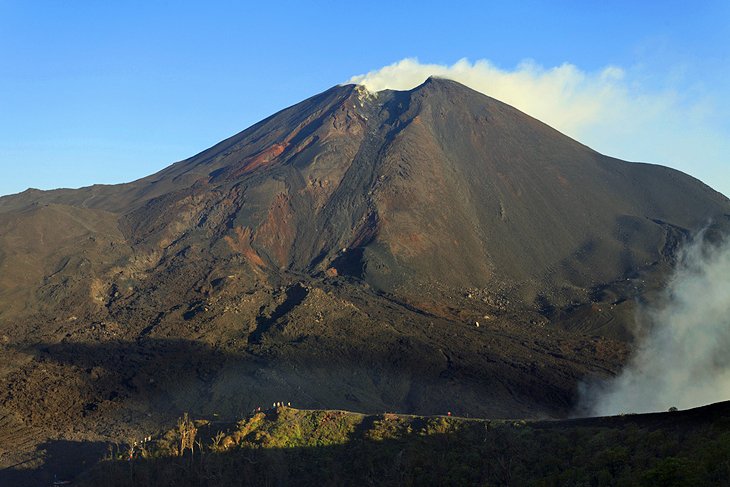 The Pacaya Volcano, rising to more than 2,550 meters, offers the chance to witness volcanic activity firsthand. Located near Antigua, this volcano been continuously active since 1975, and lava explosions constantly change its appearance.
Organized tours offer guided hikes on the volcano and an opportunity to roast marshmallows over the heat created by hot spots. It should be noted that, as an active volcano, hiking here does involve some risks. If you want to get to the top with less effort, horses are available.
8. Semuc Champey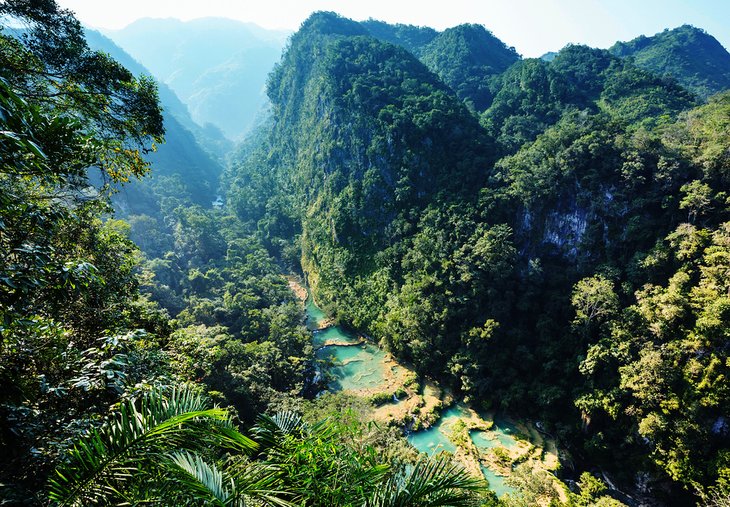 This stunning spot, deep in the jungle, can be a bit difficult to get to but is worth the effort. A 300-meter limestone shelf creates natural pools in the river, perfect for a quick dip. The pools are a vibrant color of green or turquoise. The water is calm and warm, and the area is surrounded by dense forest full of wildlife.
Tours to this site can be arranged from Lanquín. Access is either via a 2.5-kilometer hike in the steamy jungle heat, or a bumpy 4X4 ride.
9. Livingston on the Caribbean Coast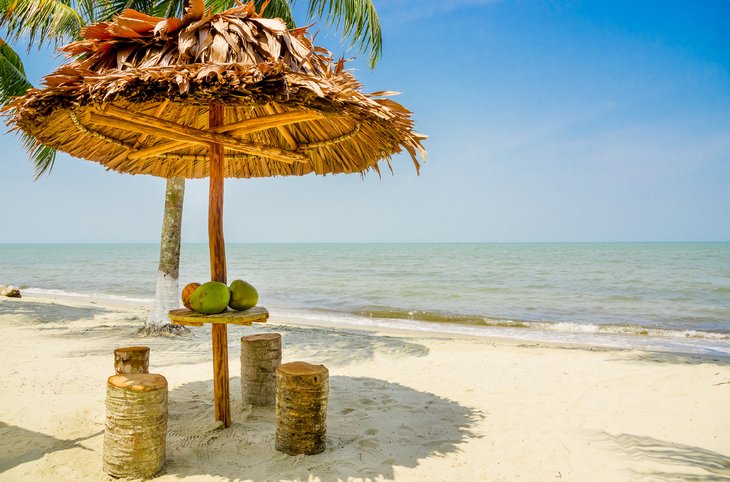 This small town of brightly painted wooden houses, found in the jungle among coconut groves, lies along Guatemala's Caribbean Coast. Livingston feels more like the Caribbean than the rest of Guatemala because of its population of Garífuna, descendants of escaped would-be slaves and the indigenous Maya.
They have created a distinctive culture and language. Caribbean rhythms abound and they increase during the month of May as a Garífuna pilgrimage arrives in town. Celebrations during Easter week and on December 12 (the feast day of the Virgin of Guadalupe) are also colorful events.
Livingston is the departure point for boat rides on the Río Quehueche and Río Cocolí or to the Cayos Sapodillas for snorkeling and fishing. The best beaches are just outside of town, easily reached by taxi.
10. Museo Ixchel del Traje Indigena (Museum of Mayan Costumes), Guatemala City
Visit the Ixchel Museum of Mayan Costumes for an overview of traditional Guatemalan costumes, from ceremonial pieces to regular garments. The museum is on the Universidad Francisco Marroquin campus.
The vast collection of textiles dates to the end of the 19th century, originating from 120 Guatemalan communities. A collection of paintings illustrating the regional costumes complements the exhibits. The museum is named for the Mayan goddess of fertility and weaving.
Address: 6A Calle 6, Guatemala City
11. Grutas de Lanquín (Lanquín Caves)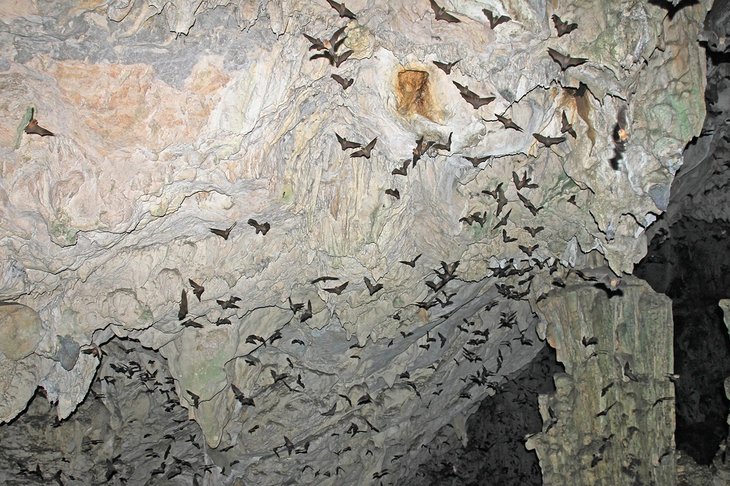 The Lanquín Caves, northeast of Coban, are deep limestone caverns containing an underground river with various lagoons and unique rock formations. You can tour a portion of the cave, which has some rugged walkways and low lighting.
Thousands of bats make their home here and provide an interesting spectacle as they leave in a nightly mass exodus from the cave to feed in the nearby forest. If you are interested in seeing this unique site, plan to tour the cave in the late afternoon and then hang around until sunset.
A religious shrine is also contained within the caves, which are considered sacred by the local indigenous people.
12. Museo Popol Vuh, Guatemala City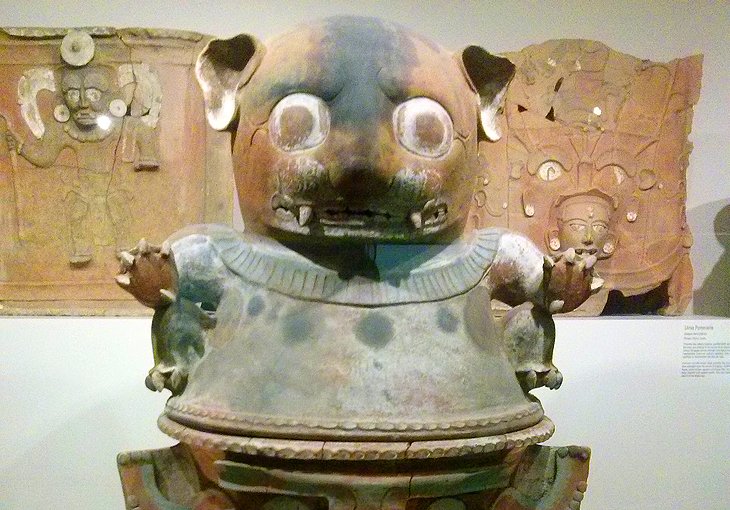 If you have some time in Guatemala City and want to learn about Mayan culture, one of the most interesting places to enjoy a few hours at is the Museo Popol Vuh. This is one of the leading museums in the world of Mayan art, housing a valuable and comprehensive collection of both Mayan and colonial art. On display are a large collection of masks, pottery, gems, tools, and sculptures.
The Museo Popol Vuh is located on the campus of the Universidad Francisco Marroquin in Zone 10.
Address: 6 Calle Final zona 10, Universidad Francisco Marroquín
13. Mayan Ruins of Iximche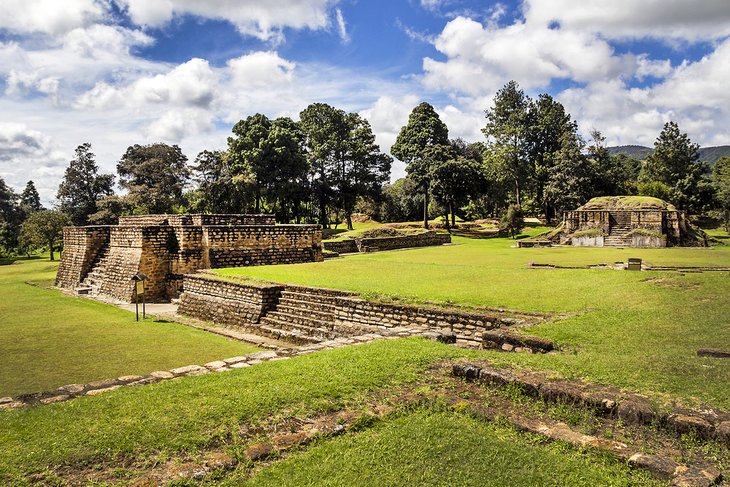 If you are visiting Antigua and don't have the time or money to head to the Mayan ruins at Tikal, Iximche, only an hour away, is a good stand in. Much smaller than Tikal, but still quite impressive to a first-time visitor, these ruins are over 550 years old, dating from 1470.
Iximche was once the capital city of the Kaqchikel Maya kingdom. At the site, you'll find two ball courts and several pyramid temples, all very well preserved and restored. Also on-site is a small museum showcasing historical items found here.
14. Casa Santo Domingo Museums
For an insight into some of the local history, stop by the Casa Santo Domingo Museums in Antigua. Located in an old convent that's been wonderfully restored, the facility has six museums consisting of rooms that thoughtfully present historical items from the Mayan people and also the Spanish.
Items on display include pharmaceutical instruments, local artwork, glass items, ceramics, Conquistador artwork, and Mayan Artwork. If you work up an appetite while touring the museums, an on-site restaurant serves up fine food in a pleasant garden setting.
15. Choco Museo (Chocolate Museum)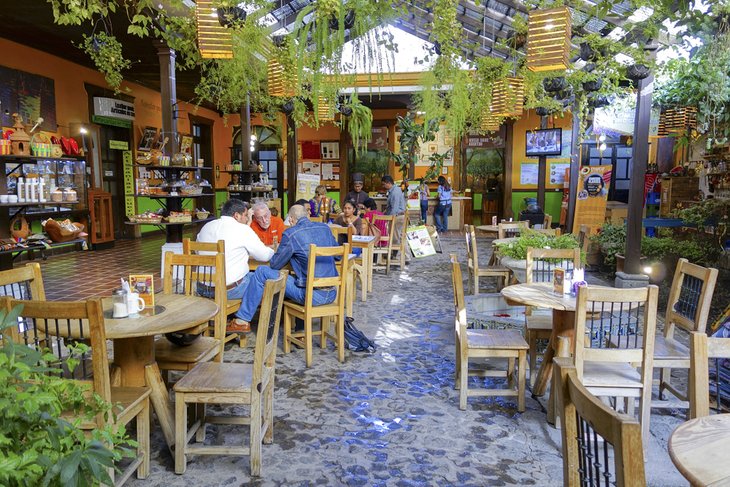 Guatemala produces a significant amount of cacao, a critical ingredient in the production of chocolate. The Choco Museo in Antigua is a fun experience for chocolate lovers. The museum, a term that is perhaps somewhat misplaced, as this is more of a shop, is a good place to learn how the raw fruit pod is processed into the final product.
To truly experience the chocolate making process, it's best to sign up for one of their classes. Not only will you learn about the process, but you'll actually end up making your own chocolate bars, an enjoyable family thing to do in Antigua.