10 Best Beaches in Tulum
These days Tulum is one of the most famous places to visit in Mexico. It's known all over the world for its ruins, things to do, restaurants, and resorts, but what actually put Tulum on the map first were its spectacular beaches.
It wasn't always that way. Up until about a decade ago, it was one of the most remote stretches of coastline in the country, long kept a secret by backpackers, locals, and adventurers, all drawn to the best beaches in Tulum.
And they really are spectacular. These are the beaches known for their silky soft, fine white sand and mesmerizingly blue water. These are the beaches that paint that idyllic picture of languidly swaying hammocks in a grove of palm trees, thatched roof palapas, and eco-chic boutique hotels. These are the beaches that helped to put this stretch of Mexican coast on the map. And they are some of the best beaches in Mexico.
Tulum is also one of the best places in Mexico for kitesurfing, thanks to the breezy winds, warm water, and beautiful views out to the Caribbean Sea and back towards the shore, which is lined with palm trees and beautiful boutique hotels. Not far from the beaches of Tulum is one of the top tourist attractions in Mexico: the archaeological ruins of Tulum. The only maritime ruins in Mexico, Tulum's ruins were once an important fortress and lookout point for the indigenous Mayan people who inhabited this coast.
The Tulum of today is a hot spot for travelers. It has some of the best restaurants and resorts in Mexico, cenotes for swimming and exploring, fishing, water sports like kitesurfing, and, of course, beaches. Plan which stretch of coast is right for you, with our list of the best beaches in Tulum.
1. Playa Paraiso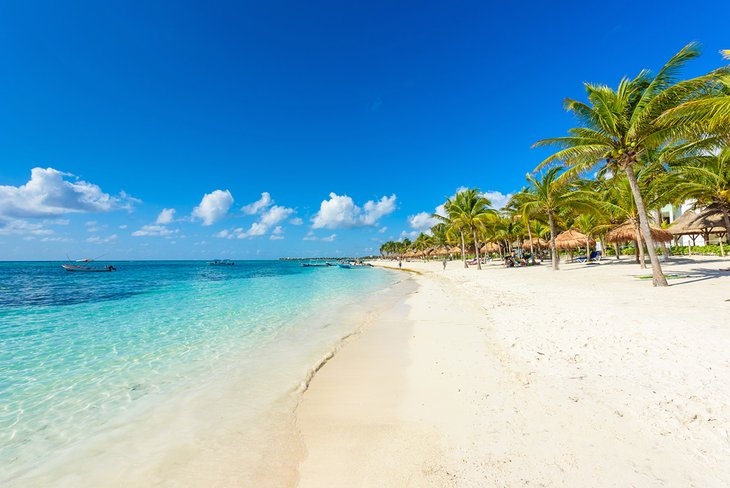 If you need one reason why Tulum became such the world-renowned beach icon that it is today, take a look at Playa Paraiso. This unbelievable stretch of bone-white sand extends down the coastline, backed by brilliantly blue water and a row of languidly swaying palms.
This is one of the beaches that put Tulum on the map — and for good reason. The second you feel that powdery sand between your toes, you too will want to abandon all sense of reality and move down to a palapa-roofed beach hut for the rest of your life.
One thing to note about Tulum's beaches is that they are never very far apart from one another. In fact, they live on basically one long stretch, so it is possible to hop from beach to beach without having to ever get in your car and drive. It makes it really convenient, but can also be somewhat confusing.
These days, Tulum is a little more highbrow than your basic palapas and beach huts, but the beach that drew the very first tourists to this part of Mexico remains the same — practically perfect.
2. Playa Ruinas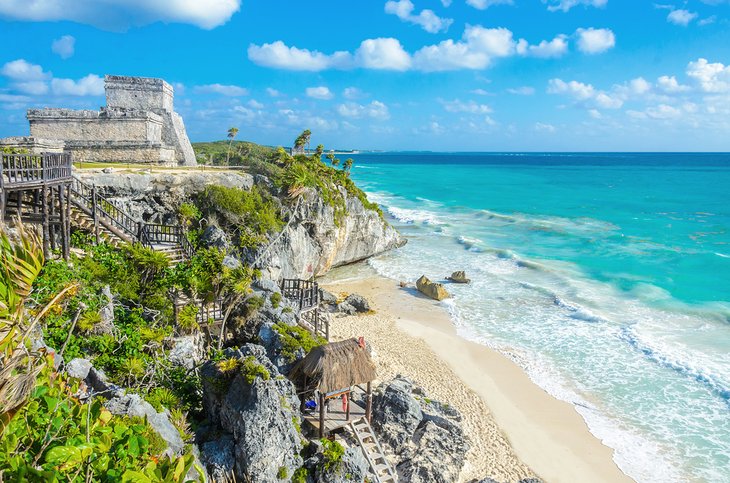 Not to be outdone, Playa Ruinas is another one of the top beaches in Tulum that put the destination in the spotlight. Success is baked right in when you have some of Mexico's most beautiful and historic Mayan ruins on a cliff overlooking the beach below.
You may be sharing Playa Ruinas with a lot of people. That's because not only is it beautiful, but the Mayan ruins that sit on the cliff above are among the third most visited archaeological sites in Mexico. With practically no tree cover, it can get really hot when touring the ruins. What better way to cool off than with a dip in the sea that has views of the ruins? To get to the beach from the ruins, follow the steps down the cliff from the El Castillo tower. You can't miss it.
Still, it's definitely worth a visit to this mind-bogglingly beautiful beachfront. And you can say you did something cultural at the same time — two birds with one beach net, if you will.
Address: Zona Hotelera Tulum, 77765 Tulum, Quintana Roo
3. Playa Pescadores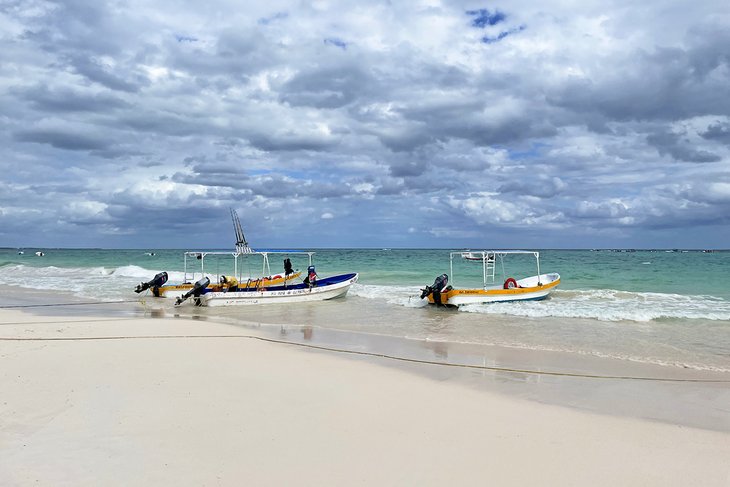 Moving farther down the sand, you'll arrive at Playa Pescadores, another jaw-droppingly stunning beach in Tulum. Playa Pescadores shares the same perks as the other beaches previously mentioned: uninterrupted views out to the crystal-colored sea, soft white sand, palm trees, and even a glimpse of the cliffs where the ruins are in the distance.
It's called Playa Pescadores (Fisherman's Beach) because this is where you'll find many of the fishing boats that go out daily to secure the freshest catch. You can also find boats that take travelers on tours to the nearby reefs for snorkeling and to see the sea turtles.
What's wonderful about the beaches in Tulum is that they are so close together. So if you feel like one is too crowded, simply take a short stroll along the shoreline until you find a spot to call your own.
If you're arriving by car, you'll find the coastal road is often lined with parked cars. Several parking options are available down the entire stretch of highway, and you'll be able to walk onto the beach from the road entrance.
Address: 109, 77780 Q.R., Mexico
4. X'Cacel Beach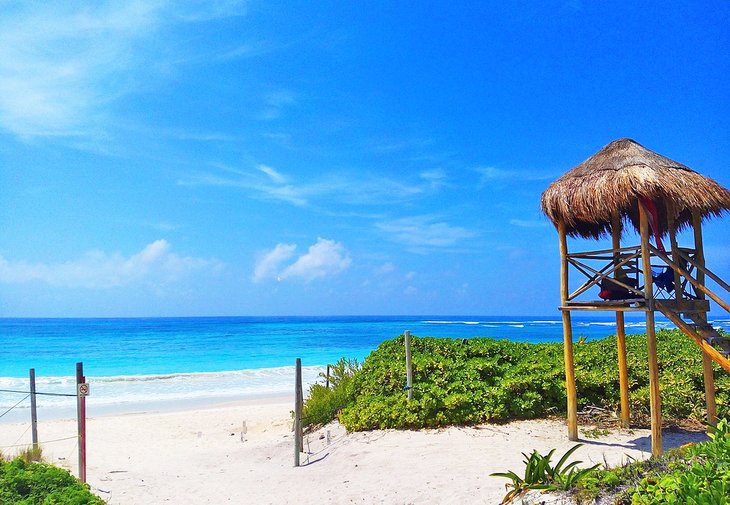 For a little extra legwork comes a whole lot of extra reward. X'cacel beach may not be the closest beach to Tulum proper, but it's close enough to make the trip, and you'll find that you may be one of the only ones there.
X'cacel is a turtle hot spot near Tulum, located between Chemuyil and Xel-Ha water park. It's a relatively remote beach, which makes it a little more challenging to find. But that is a good thing, especially when it comes to turtle conservation.
Each spring, hundreds of sea turtles come to lay their eggs on X'cacel. A local sanctuary helps to protect the eggs while they sit and then when they hatch. The local sanctuary asks for a donation per person to use the beach, so they can continue their conservation operations.
Not far from the beach is a small cenote, too, which is also included in the donation fee. X'cacel is a great spot near Tulum to get a lot of iconic activities done at once. From turtles and snorkeling, to pristine beach photos, mangroves, and a dip in a cenote, X'cacel is really one of the hidden treasures of Tulum.
5. Playa Santa Fe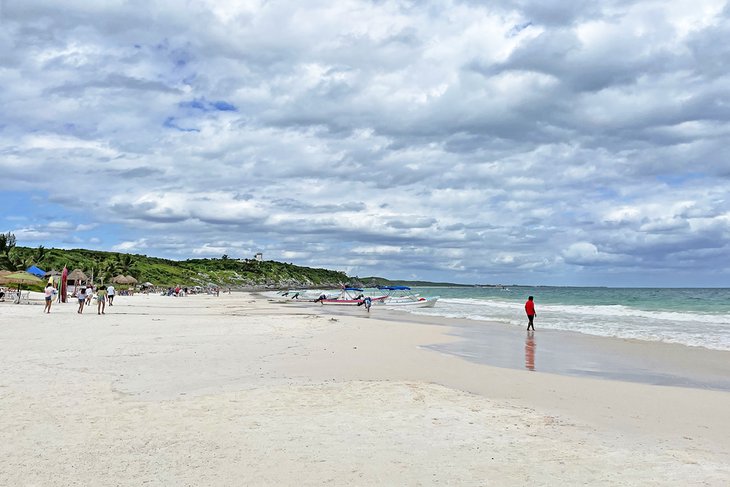 Back over in Tulum proper, Playa Santa Fe is another beach along the main stretch, not far from Playa Paraiso and Playa Pescadores. The beach is about half a mile down from the Tulum ruins and is outfitted with bathrooms and showers, making it one of the more comfortable and convenient beaches in Tulum. That means it's one of the more crowded beaches, but beachgoers never seem to mind the crowds in exchange for the gorgeous views.
Playa Santa Fe also has several beachfront restaurants and food stalls, so you really can spend the entire day there if you want.
6. Playa Las Palmas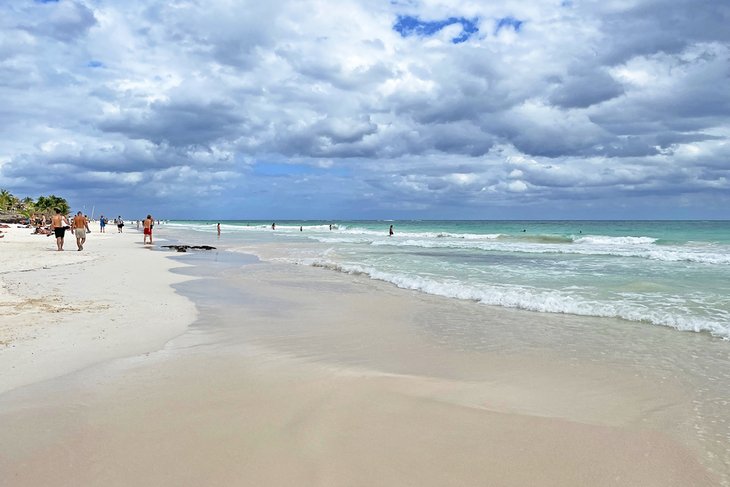 Adjacent to Playa Pescadores sits Playa Las Palmas, the last beach on the stretch of prime Tulum beachfront real estate. This relatively quiet beach has a rocky outcrop to the far right and nothing but silky soft sand to the left. If you keep walking up from Playa Las Palmas, you'll pass other beaches like Playa Pescadores, Playa Santa Fe, and Playa Paraiso.
The water here is as baby blue as all the rest, but what sets it apart from the other Tulum beaches is its (relative) peace and quiet. It has fewer services here, save for the rogue vendor, so you'll want to pack in what you need for the day, unless you want to walk up to the busier beaches.
7. Playa Akumal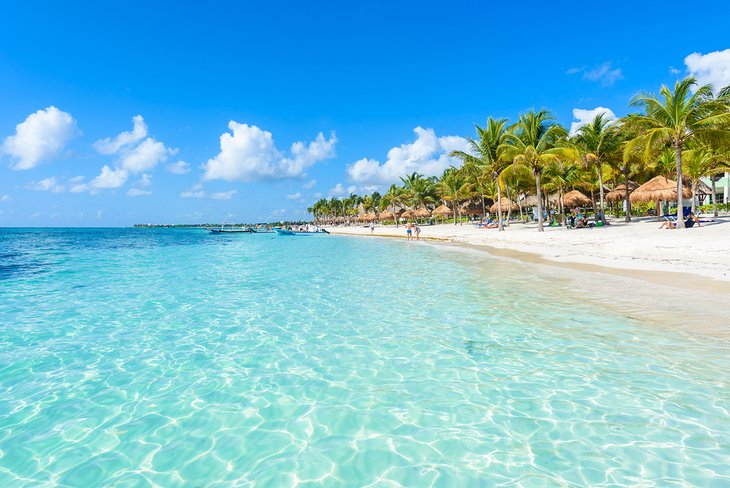 North of Tulum, you'll find a smaller pueblo that, in the last few years, has skyrocketed to popularity. Akumal is home to five beautiful blue bays that for centuries have been known to harbor sea turtles, especially when it comes time to lay their eggs. In fact, the beaches of Akumal are among the best spots in Mexico to swim with the sea turtles that return every year.
Akumal is about half an hour from Tulum's downtown and is a great option for families, especially since it has so much activity. Dive shops line the shore, and the small town is bustling with restaurants, shops, and tour stands. The beaches are practically strewn with palapa-covered restaurants, and you'll always find people of all ages strapping on the snorkel gear to get out into the crystal-clear water.
8. Playa Kantenah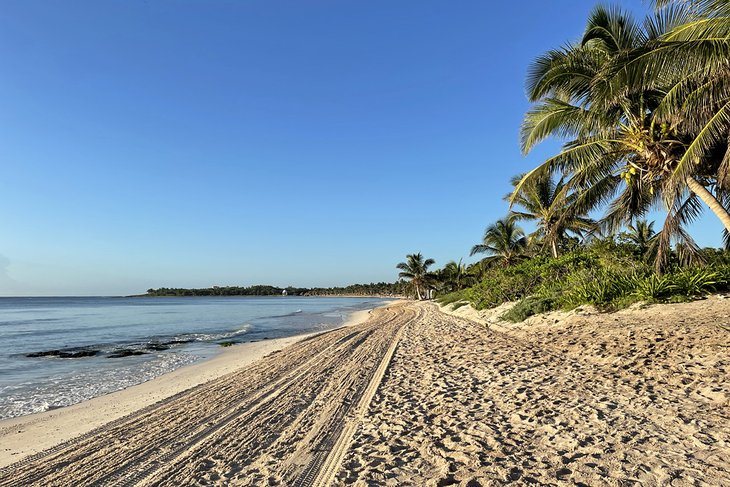 The best part about Playa Kantenah is that it is right in front of one of the best all-inclusive resorts in the Riviera Maya — UNICO 20°87° Hotel Riviera Maya. So if you book a stay at this fabulous all-inclusive resort, you'll have direct access to one of the best beaches in Tulum.
The beach is not the widest in Mexico, but it is very long and gently curves around the bay. The golden-colored sand stretches as far as the eye can see, while gently lapping turquoise waves roll onto shore. The resort is free and open to all, but because of how it is protected, you'll find mostly hotel guests using it, which means it is quiet and completely laid-back. If you are a guest of the resort, you'll have wait service to bring you snacks and beverages out to the private lounge chairs, as well.
The beach sits just north of Akumal, which is maybe about a 25-minute drive from downtown Tulum.
Address: México 307 KM 260, SOLIDARIDAD, 77710 Q.R., Mexico
9. Sian Ka'an Biosphere Reserve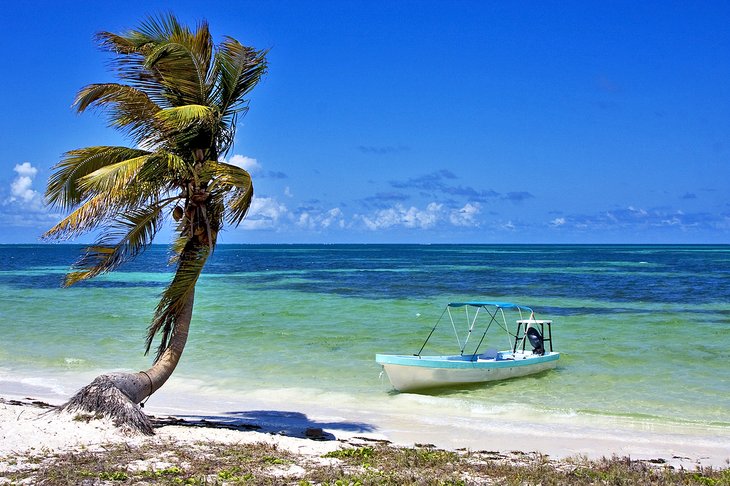 One of the most magical things about Tulum is its proximity to the Sian Ka'an Biosphere Reserve. This protected natural habitat is home to hundreds of animals, like jaguars, ocelots, many species of birds, dolphins, turtles, and more. The undeveloped mangrove jungle is completely pristine, raw, and beautiful, and opens out to some of the most beautiful beaches in Mexico.
Some of the beaches are accessible via parking lots, but many require an adventurous spirit to reach. You can choose your own adventure in Sian Ka'an, depending on how far you want to go to find a perfect beach. The ones that are discovered through the jungle may require a guide to get to, but you will likely be one of the only ones there.
The beaches that are closer to the parking lots may have a few more people, but because the reserve is a bit of a drive, you'll still have much more privacy than you would at the beaches closer to Tulum's center.
No matter which you choose, you can expect a virgin beach experience — a far cry from most of the beaches in this part of Mexico. See the Mayan world exactly as the Maya would have centuries ago.
Address: Felipe Carrillo Puerto, Quintana Roo, Mexico
10. Punta Allen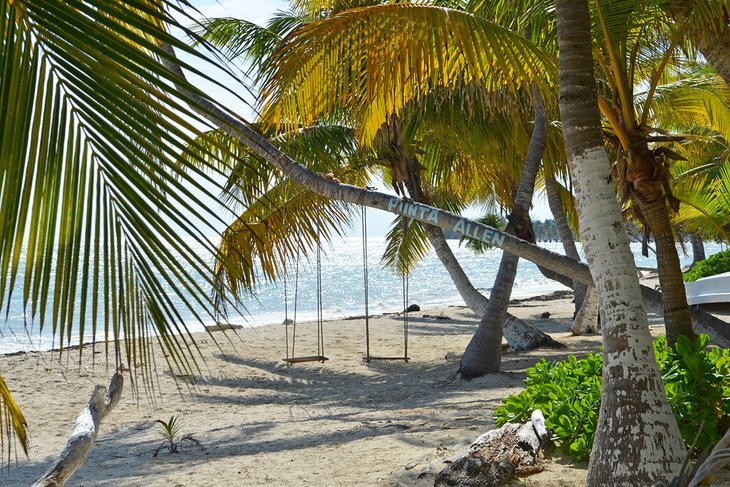 If you're up for an adventure — and chances are if you're going to Tulum that you are — then it is worth the two-hour drive from Tulum down to Punta Allen. The largest village within the Sian Ka'an Biosphere Reserve sits at the end of the Boca Paila Peninsula. It is here that you'll find one of the very best beaches in Tulum.
To get to Punta Allen, drive south from Tulum along the Tulum-Boca Paila road, but be sure to take a vehicle that can handle the terrain. It's not exactly smooth sailing in these parts. Still, the adventurous drive is worth it for the absolutely breathtaking beach that awaits.
The beaches in Punta Allen are nothing short of pristine, and seeing as the town is much less about partying and more about limited cell service and early nights, chances are the beach will stay that way for quite a while. This is a great spot to visit if you like wildlife, as well, as it is a prime place for spotting dolphins, crocodiles, and turtles.