12 Top-Rated Things to Do on Isla Mujeres
Just across the glittering, turquoise water from the northern tip of Cancun's Hotel Zone is one of the most beautiful islands in the Mexican Caribbean. Ringed with spectacular white-sand beaches and surrounded by calm, picture-perfect water, Isla Mujeres is a gem of an island that measures only four miles long and 2,130 feet wide.
The best things to do in Isla Mujeres can usually be found outside enjoying the pristine natural environment. To the east is the Caribbean Sea and to the west is the gentle bay that separates the island from Cancun.
A quick 30-minute ferry ride transports travelers from the shiny high-rise skyline of Cancun's Hotel Zone to the laid-back, sleepy island, where cars are few and far between and days are spent kicking back on the sand with a tropical smoothie and the sound of music gently lilting into the air.
Whether you're interested in keeping busy, relaxing at a resort or simply lounging on one of its spectacular beaches, you will find there are plenty of things to do in Isla Mujeres for all interests.
So rent a golf cart and put the laptop away. Isla Mujeres is all about disconnecting and discovering one of the most laid-back places to visit on Mexico's Caribbean coast. Here are the best things to do in Isla Mujeres.
1. Swim with Whale Sharks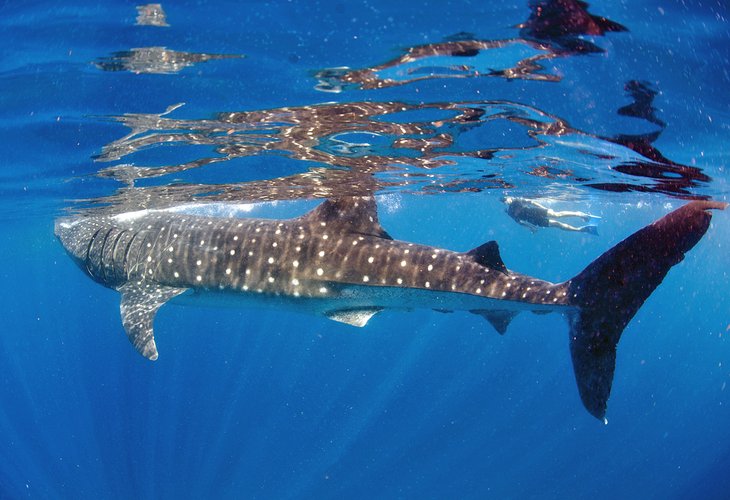 Get ready to be absolutely humbled when you swim side by side with these magnificent, gentle giants. Whale sharks are one of the largest animals on the planet – they can grow up to 40 feet in length. While neither whale nor shark, they are, without a doubt, the largest fish in the sea.
Whale sharks usually swim 800 feet below the surface of the water, but from June through September, they rise to the surface off the coast of Cancun, right off the shores of Isla Mujeres, to bask in the warmer waters. During this time, it's possible for humans to swim alongside these beautiful beasts for the experience of a lifetime. It is truly one of the best things to do in Isla Mujeres.
Whale sharks are mind-blowingly large, but they present no threat to people. They feed on the smallest of sea organisms, like plankton and fish eggs. It is completely safe to swim alongside them for one of the most up-close-and-personal nature experiences there is on the planet.
Several tour companies on Isla Mujeres offer whale shark tours, so it won't be difficult to find one to book. You won't regret it.
2. Stroll the Zocalo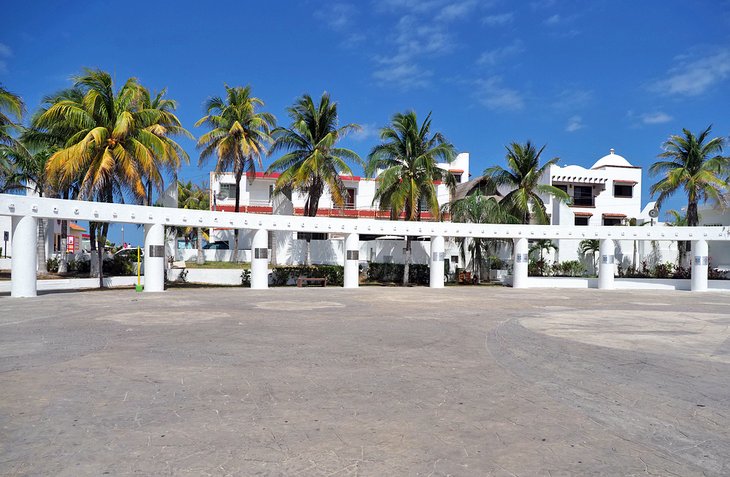 Every Mexican town or city has a Zocalo, or a town square. You may be familiar with the most famous one in Mexico City, which is home to the stunning cathedral and other examples of breathtaking Spanish architecture. Well, Isla Mujeres is no different. The Zocalo on Isla Mujeres is the beating heart of the island, and it's where visitors can find an explosion of colorful activity.
By day, the zocalo is relatively quiet, save for the pedestrians meandering in and out as they make their way to and from the beach, shops, and restaurants. But come evening, the square comes alive with both locals and visitors alike, all who come to enjoy the food, dances, and celebrations that spring up nightly.
While downtown, you may want to visit the seaside walks, also known as the malecon. In 2014, a group of artists were invited to paint large-scale, ocean-themed murals. Today the gorgeous pieces of art are still visible and among the top tourist attractions on the island.
3. Explore Garrafon Natural Reef Park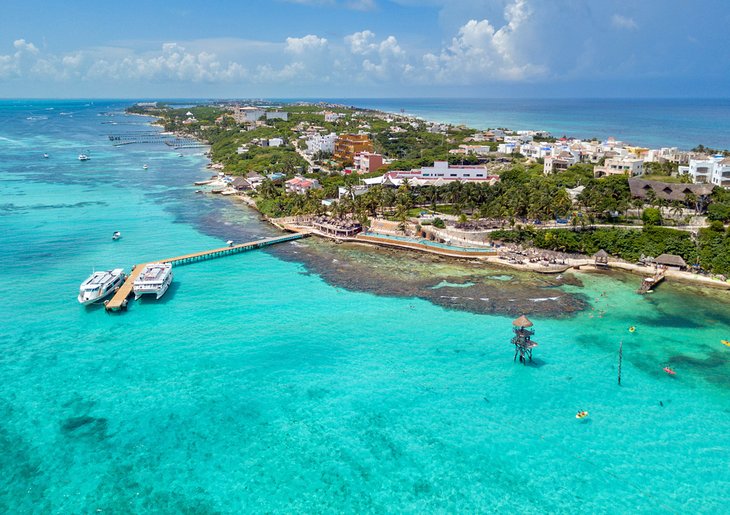 If your idea of a good time is being out in nature, then Garrafon Natural Reef Park is your dream vacation spot. This naturally protected area sits at the southern tip of Isla Mujeres, and is known for its ecology and biodiversity.
Some of the most popular features at Garrafon are the reefs, towering cliffs, and ocean views. Visitors can spend the day kayaking and snorkeling, hiking the nature trails, ziplining, or simply kicking back in one of the hammocks and enjoying the warm, gentle waters.
While visiting Garrafon, be sure to stop by the cliff area known as Punta Sur. Here is where visitors will find a sculpture garden, the island's famous lighthouse, and a historic Mayan temple that dates back centuries. In fact, Isla Mujeres means the Island of Women, and the Maya people believed that the island served as the sanctuary for the goddess Ixchel, the goddess of fertility and medicine.
Address: Kilómetro 6 Carretera Garrafón Lt 9, 77400 Q.R., Mexico
4. Hit the Beach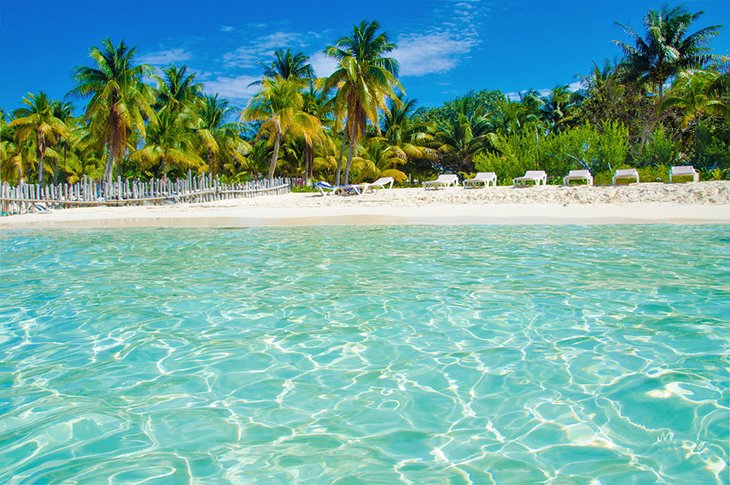 The Mexican Caribbean has some of the best beaches in the world, but few are as beautiful as the beaches on Isla Mujeres. The first beach to catch your eye will undoubtedly be North Beach, or Playa Norte, which is the most popular and developed beach on the island – and for good reason. Playa Norte is a shockingly white swath of sand backed by shallow, glittering turquoise water and fringed with picturesque palms.
Playa Norte is a great beach for activities. Everywhere you turn is a spot to rent kayaks, snorkel gear, beach chairs, and umbrellas. You'll even find a string of beach restaurants that run up and down the sand, where you can camp out for the day and order food, listen to music, play beach volleyball, and relax. Waves are practically nonexistent off the shores of Playa Norte, so it really is fun for the entire family.
Other beaches to note on Isla Mujeres are Playa Tiburon, Playa Lancheros, and Playa Indios. Explore the calm west coast of the island to discover these beaches. You can access them on your own, or sign up for one of the many snorkel tours available on the island. These beaches make for common lunch or dinner spots as part of organized excursions. Along the beaches, you'll find spots to rent snorkel gear or grab something to eat. If you're looking for the iconic Isla Mujeres pier, you'll find that at Playa Lancheros.
5. Browse Avenida Miguel Hidalgo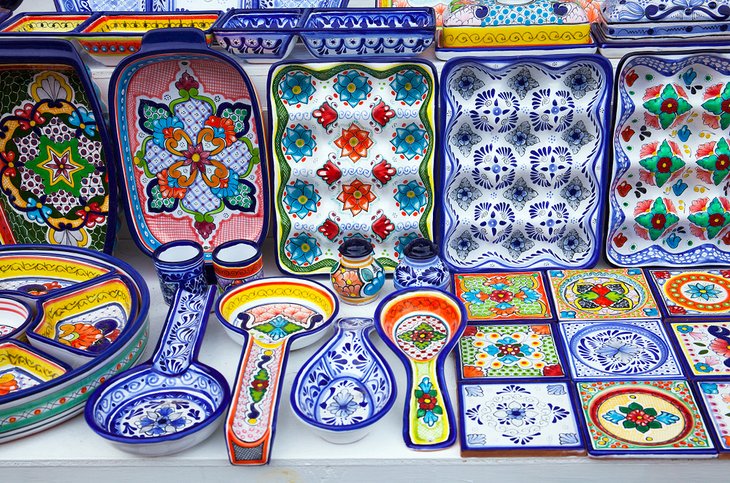 The main artery of the downtown area is Avenida Miguel Hidalgo. This pedestrian street is a dizzying array of shopping and restaurants, always bustling from morning until late at night.
Stroll down Avenida Miguel Hidalgo to browse the many boutiques or souvenir shops, where you can find everything from a commemorative T-shirt to jewelry and locally made art. The vendors can be a bit overzealous when it comes to trying to lure in customers, but it's still a sight to see.
Come the evening, the restaurants spill out onto the street, making for an energetic people-watching experience. Bear in mind that the restaurants on Avenida Miguel Hidalgo tend to be a bit more expensive than other restaurants. Still, the live music is worth it.
6. Rent a Golf Cart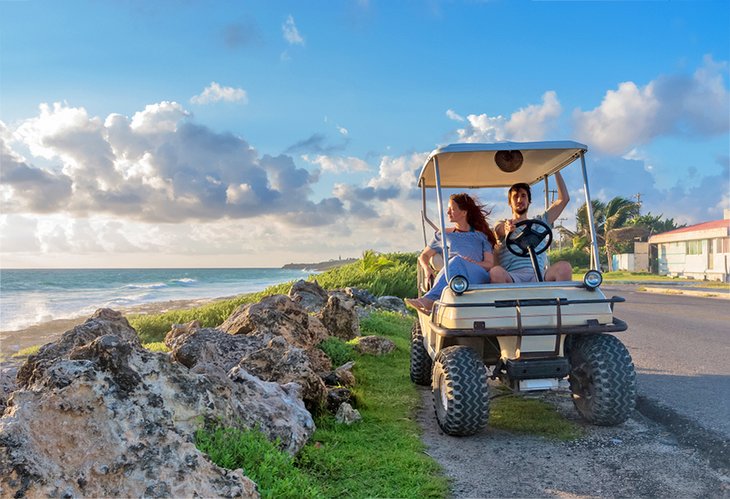 For the very best sightseeing tour of Isla Mujeres, all you need is a golf cart. Fortunately there is no shortage of golf cart rental spots in Isla Mujeres – it's everyone's favorite way to get around to see the beautiful coast ring.
Carts can be rented by the day or by the hour, but since a day-rate is roughly $40 it's worth taking it for the entire day so that you can really make the most of the island. All you'll need is a valid driver's license and you're off and running.
Some of the most popular attractions on Isla Mujeres, like Playa Norte and Avenida Hidalgo, are easily accessible on foot from the ferry terminal. But the skinny island has so many other things to see all the way around the perimeter that you'll definitely want to get out of town. All along the coastal route, you'll be treated to spectacular shades of blue in all directions.
You won't want to miss the roadside coconut stands; colorful homes; and the famous Punta Sur, which is marked by cliffs and endless views out to sea. You'll also be able to see Templo Ixchel at Punta Sur. Crossing to the east side of Isla Mujeres, you'll see the wilder Atlantic coast, which is known for its more exciting waves and steep cliffs.
The entire trip only takes a few hours, but you can take as much or as little time as you like making the journey. By the end, you'll have seen the entire island of Isla Mujeres and all its many different personalities.
7. Snorkel or Dive around Isla Mujeres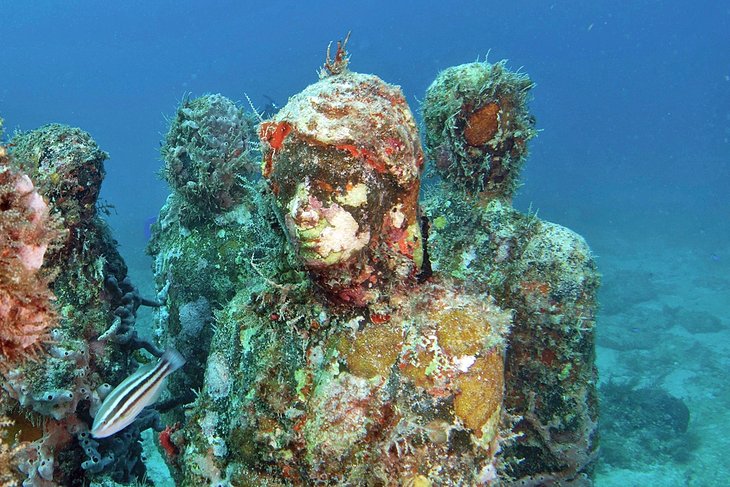 While some of the best diving in Mexico is just south of Cancun closer to Cozumel, Isla Mujeres has many treasures lurking beneath the water's surface, as well. The reefs around Isla Mujeres are incredibly shallow, which is great for snorkeling, but a little farther out divers will find a few deep wrecks, arches, ledges, and caves.
What's great about snorkeling or diving in and around Isla Mujeres is that the water temperature is pretty warm year-round. It's possible to dive about 300 days per year. As mentioned before, the best time to swim with whale sharks is from June to September.
One of the most popular diving spots off of Isla Mujeres is the MUSA (Museo Subacuatico de Arte), or the Underwater Museum. Salon Manchones, one of the two exhibits, is off the coast of Isla Mujeres and is eight meters deep, meaning it's recommended for scuba divers versus snorkelers. Divers will find more than 450 sculptures.
8. Play at Parque de los Sueños
Families traveling together will love Isla Mujeres' Parque de los Sueños, which literally translates to Park of Dreams. For parents with active kids, that's exactly what it is. Located on the southwest coast of the island, this massive water park is the perfect place to play all day long.
Open daily, a pass to the park includes lunch and unlimited soft drinks, as well as unlimited use of paddleboards, kayaks, snorkeling gear, as well as the waterslides, ziplines and climbing wall. Of course, the option to relax is always available, as there is a sun-drenched dock that sticks out to sea.
Address: 77400 Isla Mujeres, Quintana Roo, México
9. Discover Baby Sea Turtles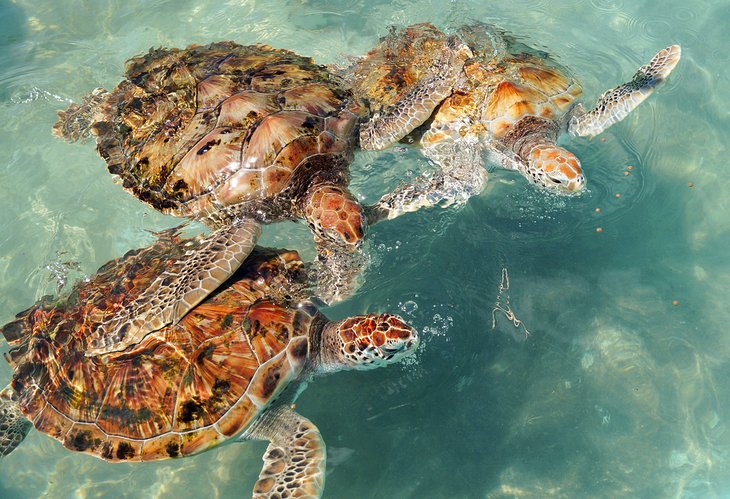 For decades, Isla Mujeres has been a hatching ground for giant sea turtles who come to build their nests in the soft sand between May and September. These days, as sea turtles are becoming increasingly more endangered, the eggs are protected at La Tortuga Granja, The Turtle Farm, located on the island and designed to keep the eggs safe.
Between August and October, visitors are in for a magnificent treat, as they have the possibility to see literally hundreds of baby turtles being released to sea after being hatched. Local children and visitors are invited to take part in the release of the baby turtles, which is a life-changing experience.
In addition to the turtle sanctuary, the small aquarium has a variety of tropical fish, sea horses, baby manta rays, and lobster.
10. Sail to Isla Contoy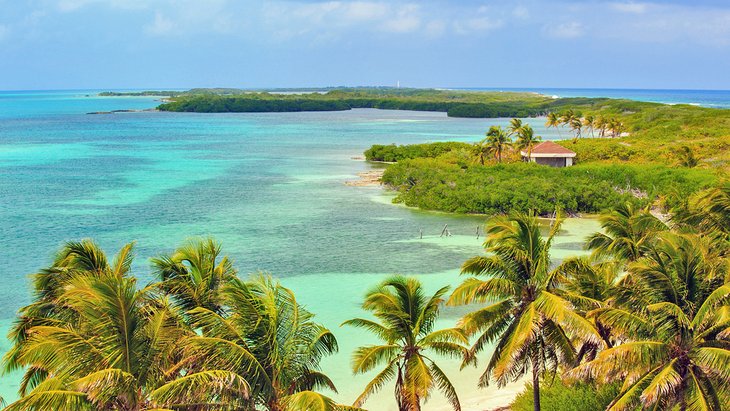 North of Isla Mujeres – 18 miles, to be exact – is an even smaller island known as Isla Contoy. This slice of paradise jumps out like an idyllic island of pirate legend, with powder-soft white sand, thick palm tree jungle, and unspoiled turquoise water. The undeveloped island is protected by the government of Mexico and was declared a national park in 1998.
Today it's possible to visit Isla Contoy as part of an eco-tourism excursion. Select tour companies have been granted permission to bring up to 200 visitors to the island per day. The exclusive experience is absolutely worth it for a rarely seen glimpse at undeveloped Caribbean Mexico. Expect to see several different species of turtle, more than 150 types of tropical birds, and plenty of fish in the surrounding waters.
11. Visit an Island of Floating Bottles
Just off the coast of Isla Mujeres is one of Mexico's greatest recycling projects. The island of Joysxee was built on a mound of 150,000 recycled plastic bottles. Atop the bottles, which have been tied together, is a pile of sand and a wooden platform, which today holds itself together and makes a base for a sustainable garden.
Today the island grows herbs, banana trees, pistachio trees, and more. The trees' roots wrap around the plastic bottles, which actually binds them together further. While the island is privately owned, it's possible to take a boat around the island to catch a glimpse from the water.
The island is also home to a two-story house, where the owner and designer of the island, Richart Sawa, currently lives. The house is completely sustainable, using collected rainwater and solar panels to run as many of the operations as possible.
12. Explore Dolphin Discovery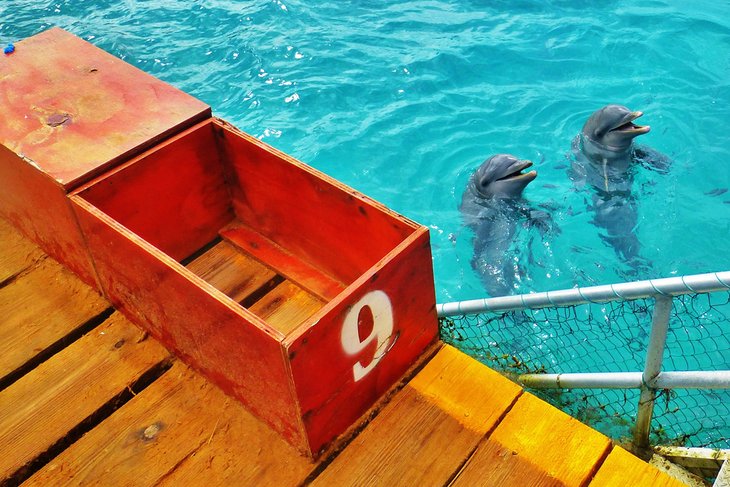 Is it even a trip to paradise if you don't have a dolphin encounter? While visiting Isla Mujeres it's entirely possible to make your dolphin dreams come true with a visit to Dolphin Discovery.
Located on the southern end of Isla Mujeres, Dolphin Discovery is an educational center, where visitors can learn about the lives and conservation of dolphins. And yes – they can even swim with them. With trained guides, visitors learn all about the anatomy of dolphins, their social habits, and will get to spend time swimming with them in the water.
Dolphin Discovery has other animals, as well, including sea lions, manatees, sharks, and stingrays. The best part of the experience is that all the animals are kept in their natural habitats, not in enclosed tanks.
Dolphin Discovery on Isla Mujeres features three different packages: The Encounter, the Swim Adventure, and the Royal Swim. Each package has a different amount of interaction and time with the dolphins, depending on how up close and personal you want to get. The facility also has a pool, a buffet lunch, lockers, and showers.
Address: Laguna Mar, Carr. Sac Bajo Lt 26, Paraíso, 77400 Isla Mujeres, Q.R., Mexico
Map of Things to Do on Isla Mujeres
Isla Mujeres, Mexico - Climate Chart
Average minimum and maximum temperatures for Isla Mujeres, Mexico in °C
J
F
M
A
M
J
J
A
S
O
N
D

27

19

28

20

29

22

29

23

31

25

32

26

32

26

32

25

32

24

31

23

29

22

28

21

PlanetWare.com
Average minimum and maximum temperatures for Isla Mujeres, Mexico in °F
J
F
M
A
M
J
J
A
S
O
N
D

81

67

82

68

84

71

85

73

88

77

89

78

90

78

90

77

89

76

87

74

84

72

82

69

PlanetWare.com