12 Best Mexican Islands
When it comes to the best beach destinations in the world, you'd have a tough time doing better than Mexico. It is, without a doubt, a beach lover's paradise. But while most of its idyllic vistas ring the coast of the mainland, Mexico has quite a few islands, as well, which offer a different vantage point from which to enjoy the country.
Most visitors are well-versed in Cozumel, one of Mexico's largest cruise ports and a top destination for diving and romance. But did you know that the country's coastline is peppered with so many other islands? Both the east and west coast, as well as the Sea of Cortez and Gulf of Mexico have island escapes that are waiting to be discovered.
From the Caribbean paradise of Isla Holbox, to the rugged desert experience on Espiritu Santo, and the remote marine treasure trove of Socorro Island, Mexico has quite a few island adventures that are ripe for the taking.
For ideas and inspiration on the top places to visit, read our list of the best islands in Mexico.
1. Cozumel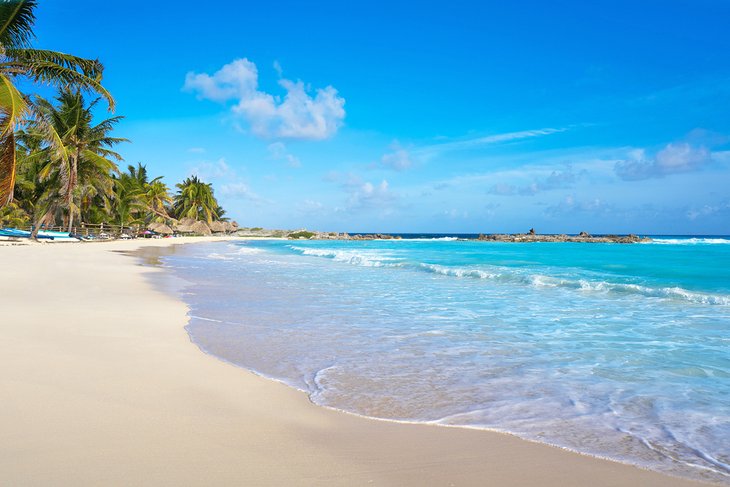 Just off the coast of bustling Playa del Carmen is one of Mexico's greatest Caribbean escapes: the island of Cozumel. Wreathed in shimmering, crystal-clear water and powder-soft sand, Cozumel has been a major attraction for honeymooners and scuba divers for decades.
It's also Mexico's largest cruise port. In fact, the port area where ships dock is a frenetic hotbed of activity, from restaurants and shopping to boisterous beaches.
But more than just a one-day stopover for cruisers, there is so much more to explore away from the main drag. Rent a scooter for the day to take a trip to the more remote corners of the island. A trip to the east end of the island rewards visitors with unspoiled, quiet beaches; a thick, forested interior; and plenty of pristine spots to explore beneath the water's surface.
Cozumel sits along the Mesoamerican Reef System, which runs 175 miles from the Gulf of Mexico down to Honduras. Its underwater views are second only to the Great Barrier Reef in Australia. This is to say that Cozumel has some remarkable diving, from tropical fish and coral to caves and tunnels. Check out El Cielo for its thousands of starfish.
Accommodation: Best All-Inclusives Resorts in Cozumel
2. Isla Holbox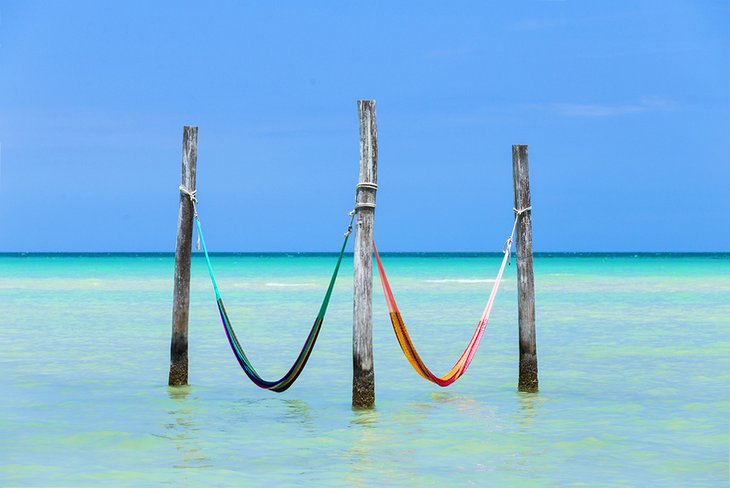 What was once Mexico's best-kept Caribbean secret is slowly gaining momentum to becoming its most popular boho escape. Isla Holbox sits off the coast of the northern end of the Yucatan Peninsula, a bus ride from Cancun to the town of Chiquila, followed by a short boat trip.
Isla Holbox is a car-free island. Visitors get around on golf carts or beach cruisers, and you can circle the entire island in less than an hour.
If you've ever been to Caye Caulker in Belize, you will easily recognize the vibes on Holbox. Think backpacker-friendly, with plenty of yoga, laid-back beach hangouts, open-air cookouts, and lots of young travelers. Though more resorts are opening all the time, including a new Marriott and a few all-inclusive resorts.
It's about as Caribbean as it gets here, with powder-soft sand, swaying palm trees, and the lilt of reggae music pouring out from the beach retreats.
Today, however, Holbox is seeing a rise in the boutique hotel scene, and vibes are starting to swing more Tulum. It may be a little while before the private boats arrive, but Holbox is certainly much different from how it used to be, so best to get there as soon as possible.
3. Isla Contoy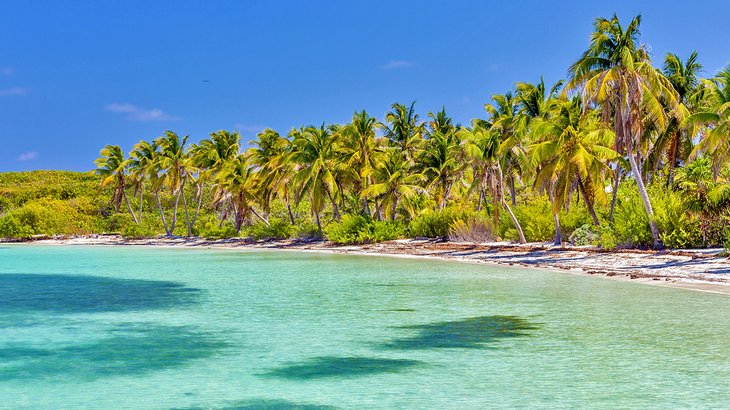 Once you visit the sugary shores of Isla Contoy, you probably won't want to return home. It's understandable – Isla Contoy is straight out of the pages of Robinson Crusoe. It's about as close to a private island as you'll get in Mexico, where the only inhabitants are the palm trees and the wildlife.
The good news is the island was declared a national park in the 1990s and so is forever preserved. The bad news is this means it's only open for day trips, so you'll have to head home eventually.
Isla Contoy is about 15 miles north of Isla Mujeres and is one of the most important nesting places of sea birds in the Mexican Caribbean. On the island, you'll find more than 150 species of migrating and resident bird species, hidden among the lush tropical foliage. It's also an important nesting place for sea turtles.
The island only permits about 200 visitors a day, and visitors must be part of a licensed tour group. The approved tour companies sail from Isla Mujeres or Cancun.
4. Isla Mujeres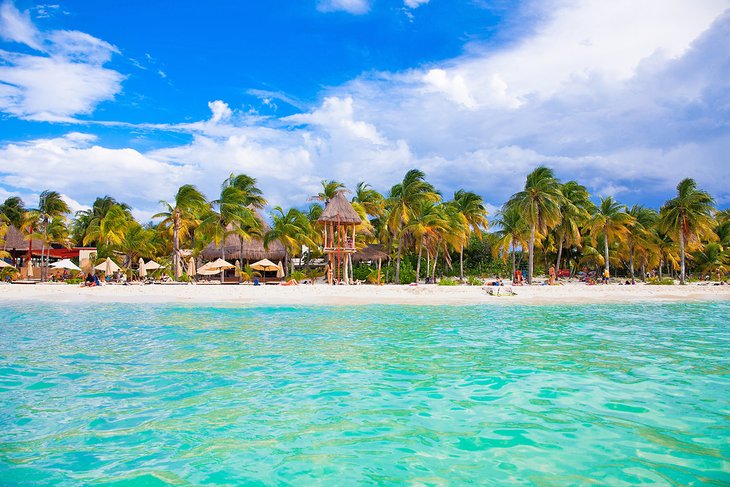 Travelers who want a change of scenery from the energy of Cancun can take a quick boat trip across the Caribbean Sea to visit Isla Mujeres.
A little sleepy in vibes, the island is known for its gentle waves; scuba and snorkeling; and raw, unspoiled natural beauty. Tourists get around by golf cart, which is the best way to reach each end of the island.
Note: The north end of the island is where more of the tourist shops, restaurants, and beach hangouts are, and tends to have a bit more energy. We love the Green Demon for its fresh juices and healthy menu items.
The south end is all about quiet, calm, and nature. A nice way to get the best of both worlds is to sleep on the south end and rent a golf cart each day to explore the more energetic sections.
Isla Mujeres is typically a side trip from Cancun, but has enough to be a destination all on its own. It can be reached from Cancun's main terminal in Puerto Juarez.
5. Islas Marietas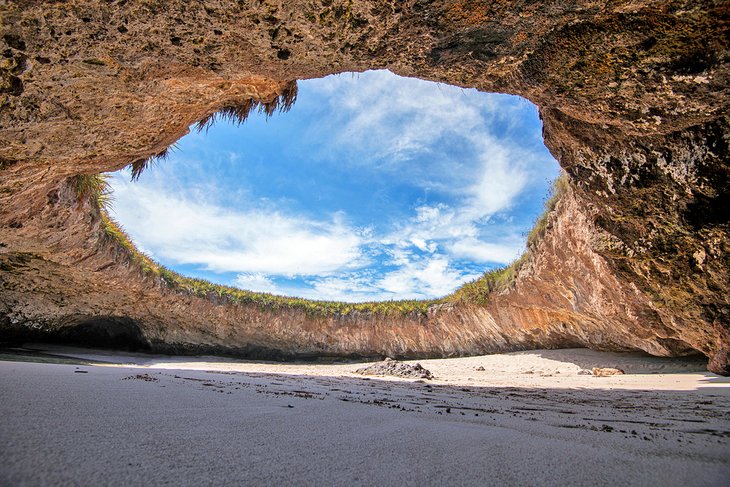 One of the better day trips from Puerto Vallarta is a visit to Islas Marietas, a group of small, protected islands that are known for their abundance of marine life. Because the islands are a protected natural area, people are not allowed to actually step foot on them.
However, this is a great activity for snorkelers or scuba divers who want to swim alongside sea turtles; manta rays; wild dolphins; and maybe even a humpback whale, or two, depending on the season.
One of the highlights of Islas Marietas is the hidden beach, which sits at the center of one of the rocky islands. When the tide is low enough, it is possible to swim through a short tunnel and emerge onto a sandy stretch of hidden beach, surrounded by high rocky walls and the occasional sea bird that flies overhead.
A few tour operators offer day trips to Islas Marietas from Puerto Vallarta, and many include lunch with the tour.
6. Isla Todos Santos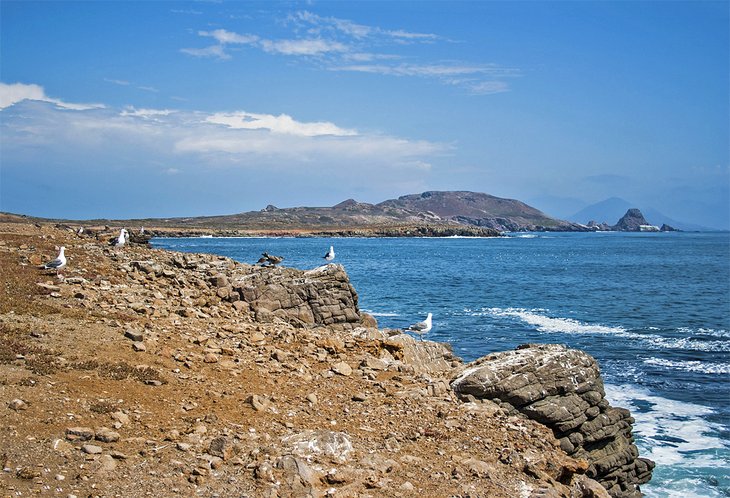 If you've heard of Todos Santos, chances are you are thinking of the artsy town in Baja California Sur, near Los Cabos. But then there is Isla Todos Santos, which is something all its own. Known by pro-level surfers for the epic waves, Isla Todos Santos sits just off the coast of Baja and has some of the largest waves in North America.
Most people visiting Isla Todos Santos are staying on land in Ensenada and boating over to the islands to catch a wave. The island has no facilities on it, so is best enjoyed for the surrounding waters.
But don't worry – there are plenty of things to do to keep everyone entertained on the sea. Even if you're not a surfer, you may enjoy the boat ride regardless, where you're sure to catch a glimpse of sea lions, seals, pelicans, cormorants, and more.
If you're a diver, you'll relish the underwater sights, from beautiful sea life like manta rays, dolphins, and whales to intriguing caves and ravines.
7. Espiritu Santo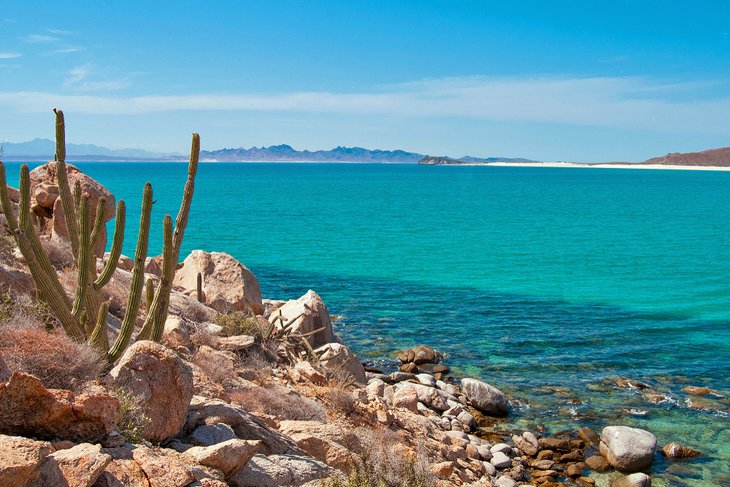 While you won't find any hotels here (it is a Natural Protected Area), Espiritu Santo Island offers remarkable natural beauty. Perched off the coast of La Paz in the Sea of Cortez, Espiritu Santo is a perfect juxtaposition of desert-meets-sea, which is exactly what the Baja Peninsula is known for.
The archipelago of which Espiritu Santo is a part is one of Mexico's youngest national parks, and it is a sight to behold, from the sparkling turquoise water to the sheer abundance of marine life.
The island itself is made from volcanic rock. But what makes it so special and protected is its diverse wildlife, from sea lions and sea birds to underwater flora.
The island itself is veined with hiking trails, and it's even possible to camp overnight. Make sure to find a tour company that provides kayaks, so you can really take advantage of exploring all that this island has to offer.
Espiritu Santo is about 31 square miles and has no permanent residents. Boats and tours depart from the marinas of La Paz or the pier along the malecon.
8. Deer Island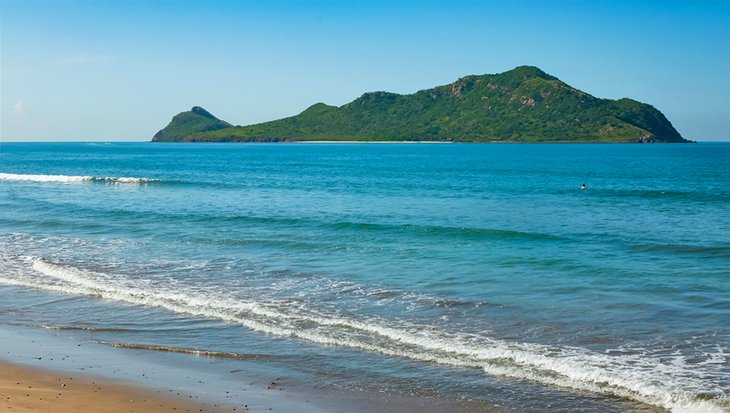 The city of Mazatlan, on Mexico's Pacific Coast, has many icons, but none are as recognizable as the string of three islands that hover just off its shore.
Of these islands, the largest one is known as Deer Island, and it's one of the best spots for a day trip from the mainland.
Deer Island is a quiet, peaceful spot that offers a spectacular view of the Mazatlan skyline. While on the island, visitors can swim in the gentle surf, hop in a kayak, grab a snorkel, or even pick up a volleyball for a friendly match on the beach.
Several local tour companies offer different ways to see the island, whether it's at the end of a boat tour, a dedicated visit, or for a sunset catamaran cruise. Usually these tours come with a provided lunch on the beach, but you can always plan ahead and bring your own.
9. Cedros Island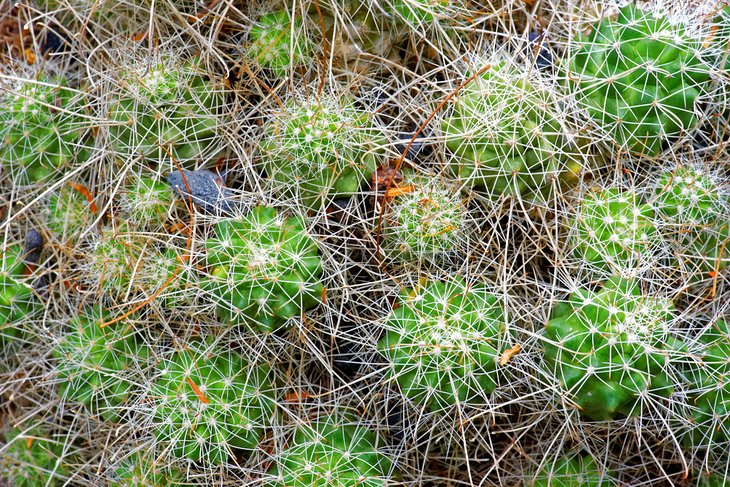 If you're looking for a taste of real Baja (far, far off the tourist trail), it has to be Cedros Island. Located off the west coast of the Baja Peninsula, the island has a small population of less than 4,000 and measures 134 square miles, about 300 miles off the coast of the peninsula.
It's rich with sleepy fishing vibes and, in fact, the island itself is now a Natural Protected Area. The main town is known as Cedros Town, which is a remote island village that is about as local as it gets. If you want to see Baja as it was a century ago, this is the place to visit. Be prepared to feast your eyes on unspoiled nature and a sea that is teeming with wildlife, from sea lions and whales to lobster and more.
The second town on the island is Puerto Morro Redondo, or El Morro to the locals. Other towns include Lomas Blancas, La Colorada, and San Agustin, but bear in mind these "towns" have less than 20 buildings a piece. It really is a whole other world out there.
10. Socorro Island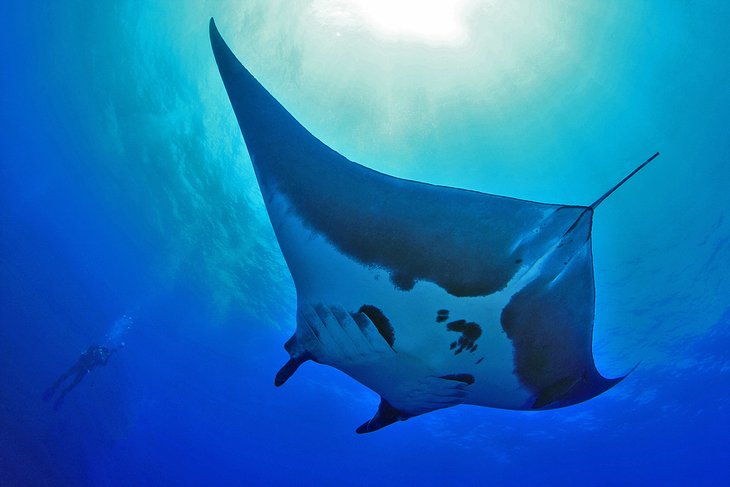 Located about 240 miles off the coast of Baja lies a small archipelago chain of four islands, known as the Revillagigedo Islands. These islands are among the best dive spots in all of Mexico and of them, Socorro Island is the most well-known.
But a visit to Socorro Island isn't as easy as a hop, skip, and a jump. It takes quite a bit of planning to get here. The journey takes about 24 hours by boat, and everyone who visits the islands does so on a liveaboard. Numerous companies depart from Cabo San Lucas and spend about a week taking divers to the supreme spots in the water.
Note: This is not a trip for new divers. Socorro Island and the Revillagigedo Islands sit in some pretty temperamental waters and should only be tackled by experienced divers. What you will be rewarded with, however, are wild dolphins (who are known to be very friendly), schooling hammerhead sharks, manta rays, and humpback whales.
11. Mexcaltitán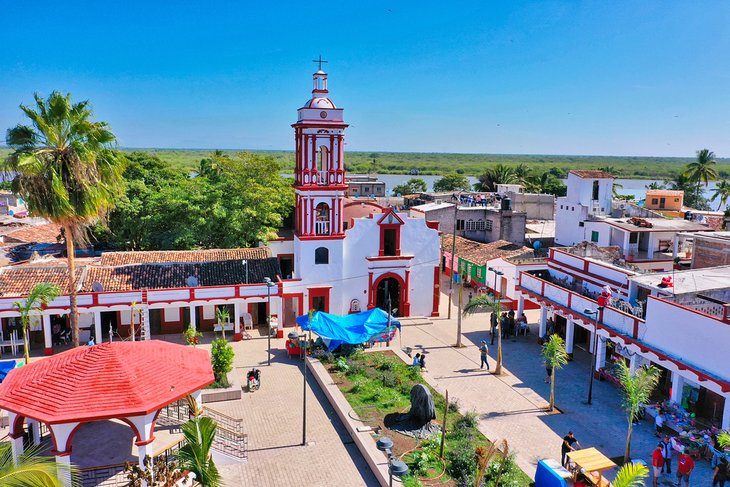 Just off the coast of one of Mexico's most famous shorelines is one of its best kept secrets: Mexcaltitan. Located off the coast of Riviera Nayarit, this island is often referred to as the Mexican Venice thanks to its many canals and boat culture.
The tiny island has a population of less than 1,000, and its history dates back thousands of years. In fact, one school of thought believes that this island is the original homeland of the Aztecs, from which they set out when they were looking to establish their new capital in what is now Mexico City.
Be sure to explore the small, historic streets, the wide central plaza, main cathedral, as well as the El Origen Museum. Accommodation on the island is limited, but you can visit Mexcaltitan for the day from San Blas via a boat trip.
12. Isla de Janitzio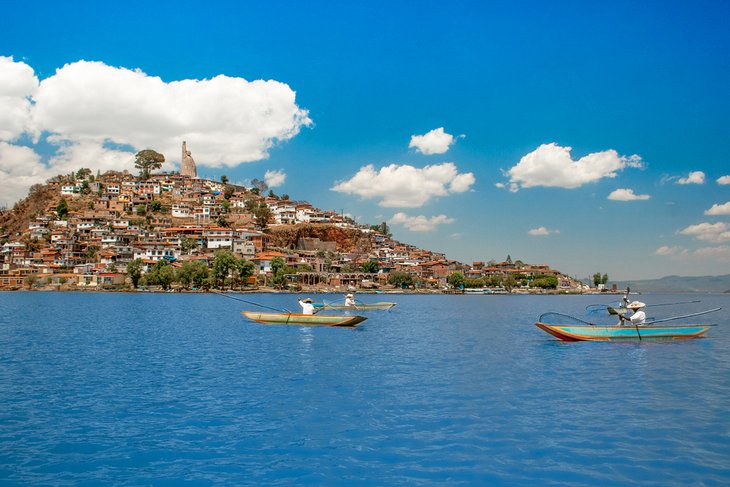 Not all Mexico's islands are located in the sea. The Isla de Janitzio sits within Lake Patzcuaro in the state of Michoacan. The main town on the island is called Janitzio, and it is one of the best places in Mexico to see the original traditions of Day of the Dead.
Day of the Dead is one of Mexico's most important traditions, where people pay tribute to ancestors and loved ones who have passed on. The people celebrate with candle-lit boat processions that float out into the lake, a visually stunning experience on Isla de Janitzio. It's followed by a trail of people making their way to the church and graveyard.
Another reason to visit the island is to see the state of Jose Maria Morelos, which stands at 130 feet. The statue sits at the highest point on the island and is one of the first things you see as you approach the island on the lake.
Janitzio is one of five islands in the lake and is only accessible via a 25-minute boat trip. Boat taxis run daily from the pier in the city in Patzcuaro.