12 Best Cheap Places to Travel in February
If you're looking to take a low-cost getaway, February is one of the top months for cheap travel. Many destinations around the world are in between high seasons, and you don't have to look far to find a cheap place with great weather and fascinating attractions. It's the month for budget-conscious travelers to make their move.
Yellowstone National Park is a bargain in February – if you don't mind cold weather. Crowds thin out (and prices drop) in Rome this time of year. February is one of the cheapest times to cross the Taj Mahal off your bucket list. And if you dream of going to the beach on a budget, look into Punta Cana and Cozumel.
For more ideas on low-cost vacations, check out our list of the best cheap places to travel in February.
1. Cozumel, Mexico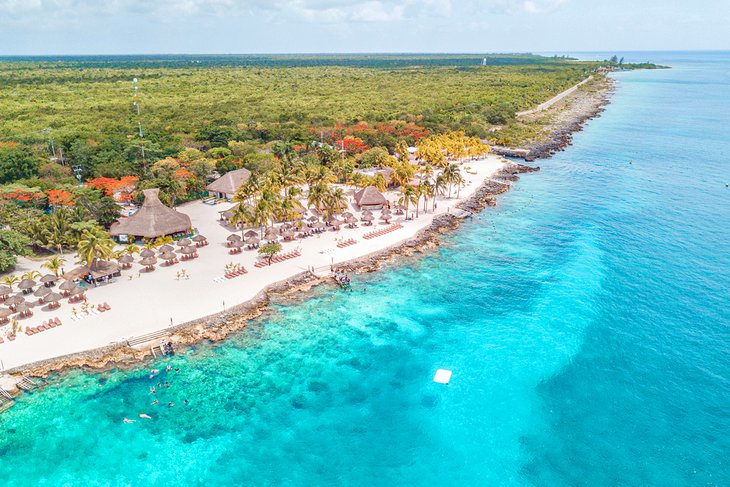 If your home city is covered with snow all winter, you'll probably be itching for a sunny escape come February. Fortunately, you can do it on the cheap in Cozumel, Mexico.
Located off the coast of the Yucatán Peninsula, the island paradise boasts turquoise water, soft white sand, and a relaxed vibe that will instantly put you in vacation mode. You can keep your trip to Cozumel affordable by staying at one of the all-inclusive resorts, small lodge, bed-and-breakfast, or even a vacation rental.
After accommodations, your biggest cost in Cozumel will be things to do. Lounging on the beach is completely free and can easily occupy all the days of your vacation. You can also rent snorkel gear for very little money and check out the sea life, eat at tasty (yet cheap!) restaurants in San Miguel, and see the Ruins of San Gervasio for less than $10.
2. Rome, Italy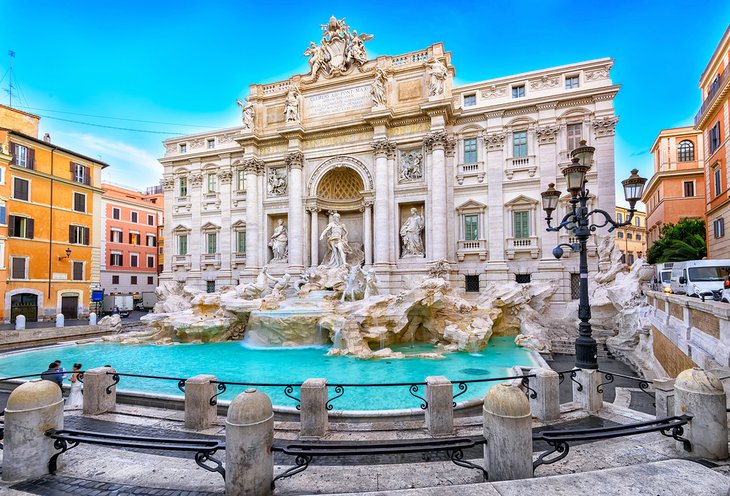 Rome is notorious for big crowds that make it difficult for even the most hardened tourists to appreciate the historic sites. But in February, visitors to the city thin out considerably, giving budget-seekers the opportunity to score rock-bottom rates on hotels and have the top attractions in Rome all to themselves.
Pack some warm clothes, though – the temperature in Rome doesn't usually top 13 degrees Celsius in February.
With such low rates on accommodations, Rome is an easy place to stretch your travel budget this time of year. Attractions like the Colosseum, the Arch of Constantine, the Pantheon, and the Roman Forum cost very little – if anything at all. And you can fill up on a huge bowl of pasta for around 10 to 15 euros at small restaurants throughout the city.
If you're short on time, it might be worth purchasing a ticket for the Rome Hop-On Hop-Off Sightseeing Tour to help you hit all the attractions and get skip-the-line admission to certain sites.
3. Montego Bay, Jamaica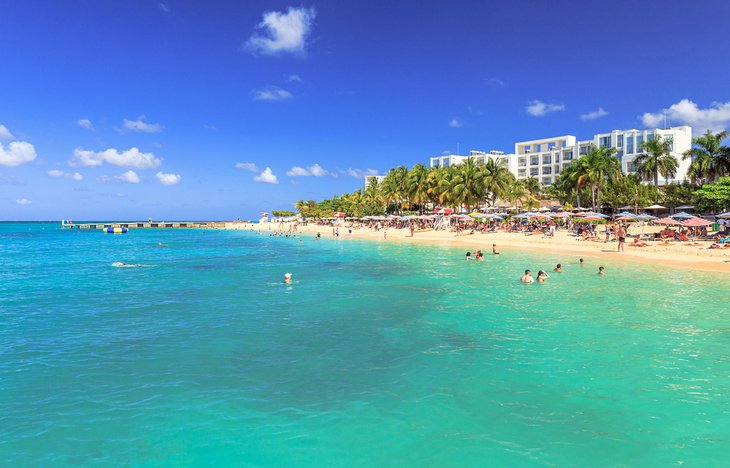 It's high season in the Caribbean, and while budget travelers will likely be priced out of most islands this time of year, they can still find some decent hotels at less than $50 a night in Montego Bay in February.
There are typically only three rainy days in the month of February, and temperatures range between 21 and 29 degrees Celsius – the perfect weather for enjoying the beaches and other top tourist attractions in Montego Bay. Stretch your budget even further by skipping resort restaurants and instead noshing on Jamaican jerk from beachside vendors.
Accommodation: Best Hotels in Montego Bay
4. Punta Cana, Dominican Republic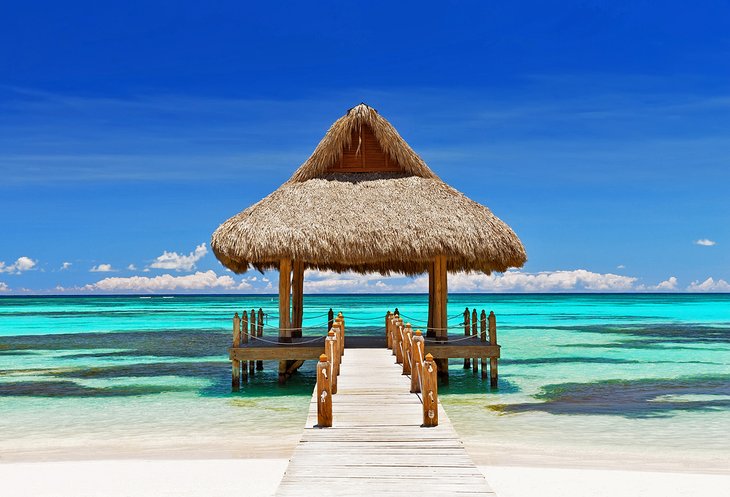 Even in the middle of high season, the Dominican Republic is one of the cheapest places in the Western Hemisphere to spend a few days at a beautiful beach. Look for affordable resorts on the eastern tip of the Caribbean country, especially in the tourist hot spot of Punta Cana. You can usually find rooms at three- and four-star hotels for $80 a night or less in February.
Put your hotel savings to good use with a whale watching excursion on your vacation to the Dominican Republic. Humpback whales migrate south to mate off the coast of Punta Cana from January through March, and boats take tourists out to sea every day to try to catch a glimpse of these larger-than-life creatures.
Another reason why Punta Cana is one of the best cheap places to visit in February is its kitesurfing. Tens of thousands of people flock to the destination to practice this sport between November and March, when the breezes meet the 10-knot minimum for this water sport.
Accommodation: Top-Rated Family Resorts in Punta Cana
5. Yellowstone National Park, United States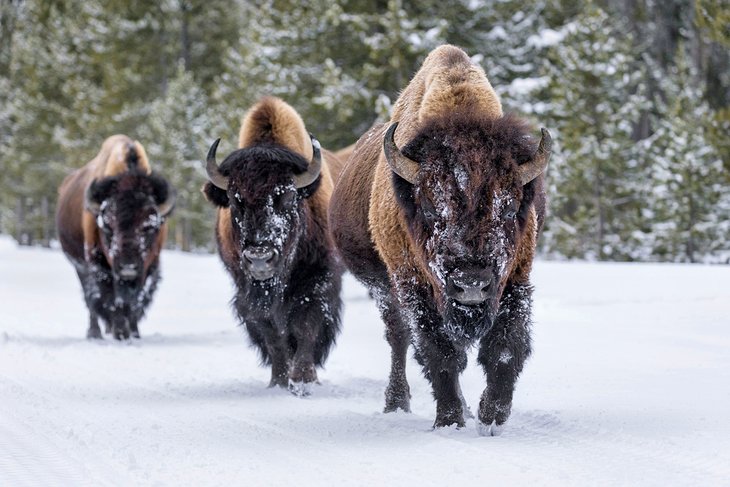 Yellowstone National Park is famous for its wildlife and vast swaths of untouched nature. While it sees more than four million visitors a year, very few travelers make their way to this destination in February. Those who do visit Yellowstone in the off-season can get spectacular deals on lodging, though.
Keep an eye on the park's website for road closures, and bundle up as much possible. Fortunately, there are warming stations throughout the park, where you can seek shelter and enjoy a hot drink.
Despite the cold weather, Yellowstone National Park is still lovely in the winter. With fewer people around, animals come out from hiding, and tourists can easily spot bighorn sheep, bald eagles, and gray wolves, among other creatures. You can also go snowshoeing, rent snowmobiles and take a fun snowcoach tour of the park.
6. Salar de Uyuni, Bolivia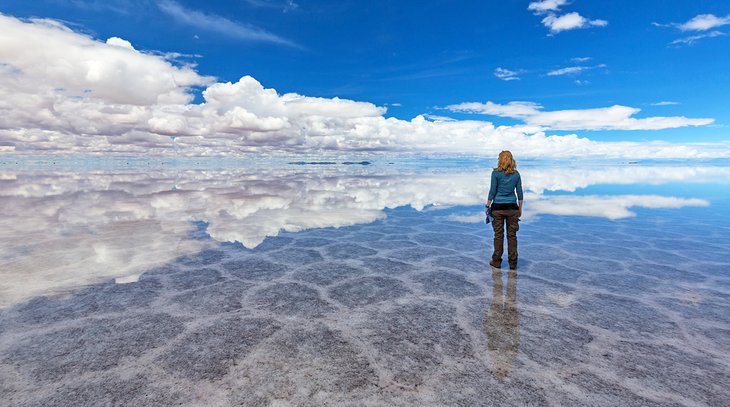 The wet season keeps most travelers away from Bolivia, helping to keep prices low between January and March. However, despite the rains, February is the best time of year to see the hypnotic mirror effect at the world's biggest salt flat, Salar de Uyuni, in the Andes Mountains.
The floodwater covering the salt flat creates an optical illusion that makes it look like a crystal-clear glass mirror, perfectly reflecting the clouds and the sky overhead.
Another one of the top things to do in Bolivia during the rainy season is visit the Eduardo Avaroa Reserve. Around 25,000 flamingos gather at the reserve's Red Lagoon to mate this time of year – a sight that bird lovers everywhere won't want to miss. Make reservations with tour operators in advance to increase your chances of getting a good price on a trip.
7. Cartagena, Colombia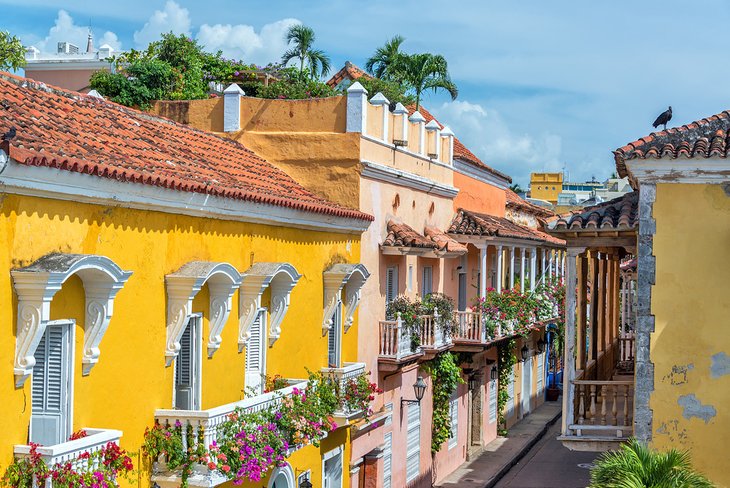 With high season ending in mid-January, Cartagena is one of the best cheap places to travel in February. Not only will you have sunny, pleasant weather, but you'll also deal with much smaller crowds than other times of the year in this trendy city.
There are tons of attractions and things to do in Cartagena. The historic walled city is a must-visit. By day, you can wander the meticulously restored area and appreciate its lively squares. After dark, music from roving bands can be heard throughout the plazas.
Try to score a deal at one of the luxury hotels in the walled city during February, if your travel budget allows for it. It's the most convenient place to stay in Cartagena.
February is also a great time of year for tourists to experience some of Cartagena's top annual events. In early February (or occasionally late January), the city hosts the Hay Festival, an international literary event with readings, film screenings, and musical performances.
Around the same time of the month, the Feast of Our Lady of La Candelaria puts the city's Catholic faith on display with a parade toward La Popa Hall. And during the days leading up to Ash Wednesday, it's worth taking a day trip up to Barranquilla (a two-hour drive from Cartagena) to party with locals during Carnival. Be sure to dress in your very best feathers and glitter.
Accommodation: Where to Stay in Cartagena: Best Areas & Hotels
8. Innsbruck, Austria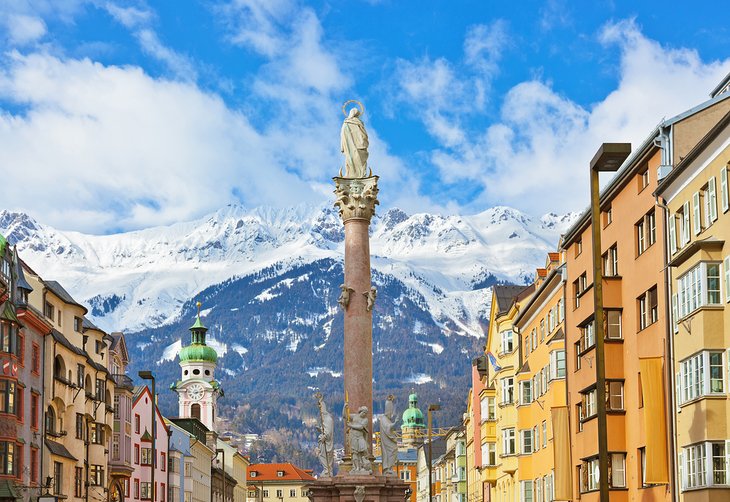 Think skiing in Europe is out of the cards for tourists on a tight budget? Think again. The small mountain town of Innsbruck, located in the Austrian Alps, has amazing slopes and lift tickets that cost far less than most other ski destinations.
But beyond its ski offerings, Innsbruck is also a fantastic place to visit if you're interested in culture and sightseeing. The famous Maria Theresa Street exudes old-world charm with palaces, shops, and cafés.
The Old Town brims with medieval buildings painted in a palette that's fit for an Easter egg. And the Hofburg, Innsbruck's old Court Palace, will impress you with its fine painted ceilings, polished marble grand hall, and luxurious apartments.
Overall, the destination is the perfect place for a winter sports enthusiast who wants something extra on their European ski vacation.
9. Venice, Italy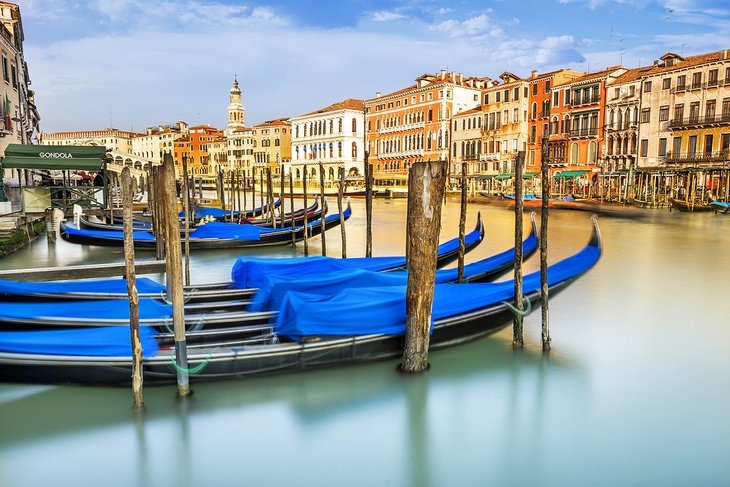 February is the month of love, and if you want to take a romantic tip that won't break the bank, consider visiting Venice. Like the rest of Italy, the "Queen of the Adriatic" receives much fewer tourists in February than other times of the year. As a result, hotel prices drop, and you can enjoy sightseeing in Venice, sans crowds.
Of course, you'll want to take a boat ride along the canals when in Venice. But beyond that, February is also the peak of opera season, so you might want to catch a show at La Fenice.
For an escape from the chilly February weather, warm up among pre-19th-century works of art inside the Gallerie dell'Accademia. And be sure to check out the Carnevale festivities around Piazza San Marco during the month of February.
10. Barcelona, Spain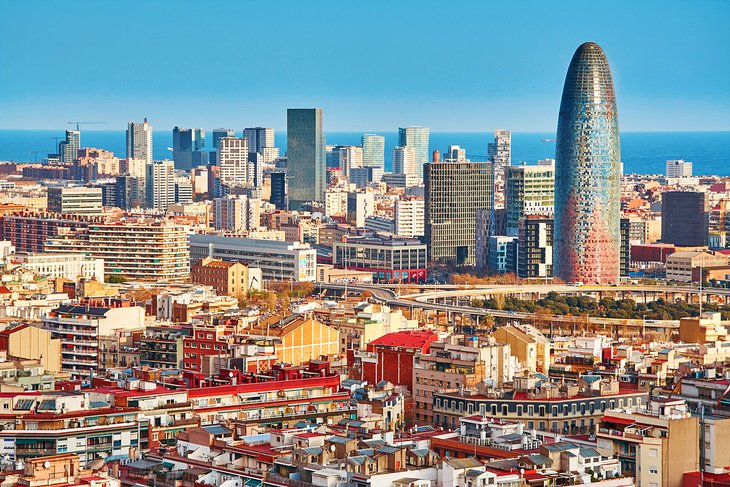 Prices plummet in Barcelona during the month of February, making it one of the best places to visit in terms of value. The weather will be cool, but not unbearable by any means – expect temperatures to range from five to 15 degrees Celsius on average, with very little chances of rain.
The one downside of visiting Barcelona in February is missing out on the beaches. With that said, there are still many other awesome attractions and things to do in the city, and they're even more fun when you're not shoulder to shoulder with crowds of other tourists.
Visit the Basilica de la Sagrada Familia, Barcelona's most iconic structure, and Gaudí's whimsical surrealist park, both of which are UNESCO World Heritage Sites. Watch the light show at the Magic Fountain of Montjuïc. And check out the Catalan Gothic architecture at the Monestir de Pedralbes.
11. Amsterdam, Netherlands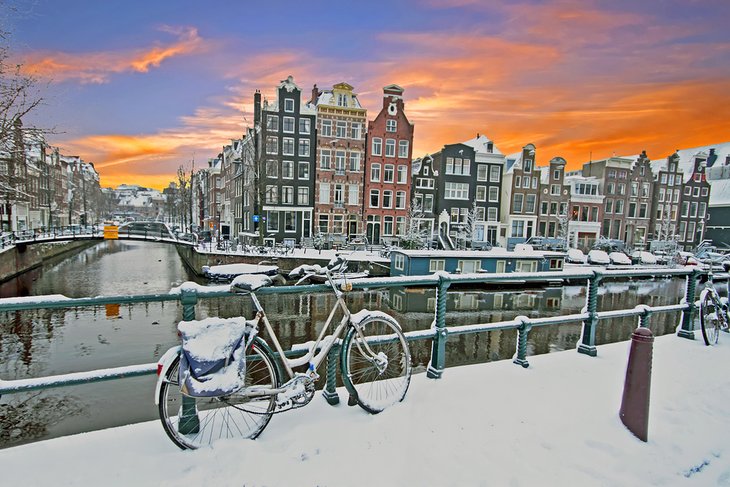 No one is visiting Amsterdam in February for the weather. The city is cold and dark this time of year. However, what it lacks in sunshine, it more than makes up for with ultra-affordable airfare and accommodations. What's more, many of Amsterdam's top attractions are indoors, giving you endless choices for worthwhile escapes from the chilly weather outside.
You've got your pick of more than 40 museums in Amsterdam, including the Rijksmuseum, Van Gogh Museum, Rembrandt House Museum, and Stedelijk Museum Amsterdam. You can also learn about one of the best-known victims of the Holocaust at the Anne Frank House.
See one of the world's finest furniture collections at the Royal Palace of Amsterdam, which offers English language guided tours. And check out some of the famous churches, like Nieuwe Kerk and Oude Kerk, the latter built in 1306 and offering wow-worthy views of the entire city.
12. Agra, India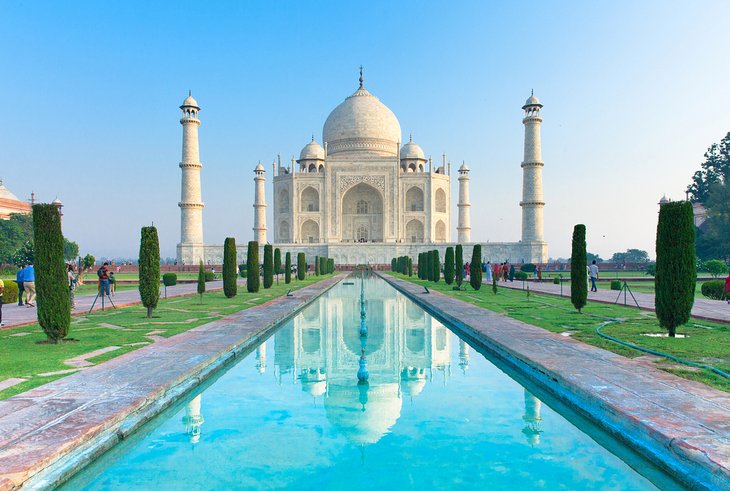 Every traveler dreams of making their way to the small city of Agra for one very big reason: the Taj Mahal. This spectacular Mughal attraction has been astounding travelers for centuries.
While it draws huge crowds throughout the year, visiting the Taj Mahal in February is one of the cheapest times of year to make this pilgrimage. Tourism rates drop in this part of India in February, dragging the price of hotel rooms along with them.
The Taj Mahal is just one of the incredible attractions and places to visit in Agra, though. Tourists can fill their days with sightseeing at the Agra Fort (a UNESCO World Heritage Site), Itimad-ud-Daulah's Tomb (a graceful structure inspired by the Taj), the gardens and mausoleum of Akbar the Great, and the vibrant Old City of Agra.
With most attractions having little (or no) cost of admission, Agra offers a great bang for your buck, even if you're on a super tight budget.
Map of Cheap Places to Travel in February