From Cancun to Chichen Itza: 5 Best Ways to Get There
Only 120 miles from Cancun, one of Mexico's most important and iconic cultural sites, Chichen Itza is easy to get to and close enough for a day trip from the idyllic beach capital. This sprawling pre-Columbian city was built by the Maya people of Central America, who occupied southern Mexico, Belize, and Guatemala for centuries.
Chichen Itza was a major regional capital for this part of the central and northern Yucatan peninsula. Today, it is one of Mexico's biggest tourist attractions and still an active archaeological site. It is classified as one of the New Seven Wonders of the World and has been a UNESCO World Heritage Site since 1988.
Chichen Itza rises out of the jungle in the state of Yucatan. A single highway connects Cancun with Chichen Itza, and there are a variety of ways for visitors to get there. Options vary from self-drive to organized tours to private plane. Below are details on a variety of ways of getting from Cancun to Chichen Itza.
1. From Cancun to Chichen Itza by Tour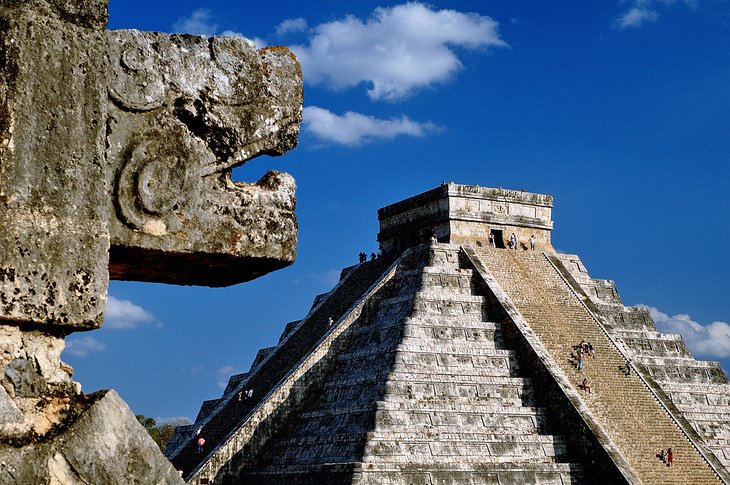 One of the most convenient and hands-free options for getting to Chichen Itza from Cancun is to take an organized tour. You'll have your pick of options, and your hotel can help you organize them, as well. We like this Chichen Itza Day Trip from Cancun option.
The full-day tour packages together a variety of activities to make sure you're getting a well-rounded experience. In addition to visiting the Chichen Itza archaeological site, the tour includes a stop in colonial Valladolid, as well as a swim in a nearby cenote (Ik Kil), lunch, and complimentary round-trip hotel transfers.
Departure times are around 8am, depending on your hotel location. Admission to Chichen Itza is not included, however admission to the cenote is included.
The entire experience is about 12 hours.
2. From Cancun to Chichen Itza by Car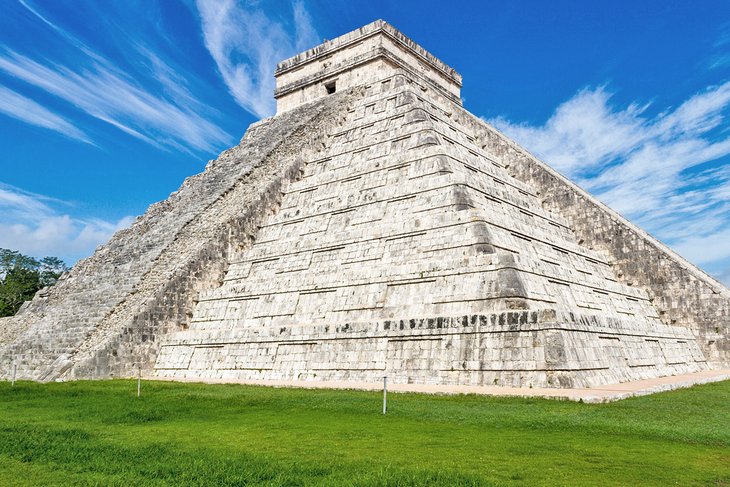 Perhaps the most direct way to get from Cancun to Chichen Itza is to rent a car and drive yourself. Driving in this part of Mexico, between the states of Quintana Roo and Yucatan, is incredibly easy. The land is flat, the highways are relatively straight, and it's a tourist-heavy section, meaning it is safe and protected.
The drive is about two hours each way, with ample opportunity to stop and take in extra sights along the way. For example, pass through the lovely colonial town of Valladolid to take in the pastel-colored buildings and Spanish architecture. Valladolid is one of Mexico's famed "Magic Towns," and was founded in the mid-16th century.
Another option might be to stop at one of the gorgeous cenotes along the way. Cenotes are natural sinkholes that expose an entire network of underground rivers across the Yucatan Peninsula.
The number one advantage of the self-drive option is that you make your own schedule. Organized tours, while convenient and seamless, can often take significantly longer simply because of the number of people.
Of course, when renting a car anywhere, it is important to note a few things. Mexico has many affordable rental car options, but when booking a rental car, often fees are hidden, so that it looks like cars can be rented for less than $5 a day. Once the insurance is added on, the price goes up significantly. Expect to pay around $30 to $50 a day, depending on the season.
It's also important to note the highways. To get to Chichen Itza from Cancun, drivers will be taking highway 180. There is the local 180 and the toll 180. The local road has many speed bumps and is much, much slower. The toll roads are much more efficient, and in much better condition. Tolls can only be paid in pesos and in cash so be sure to carry cash with you.
3. From Cancun to Chichen Itza by Bus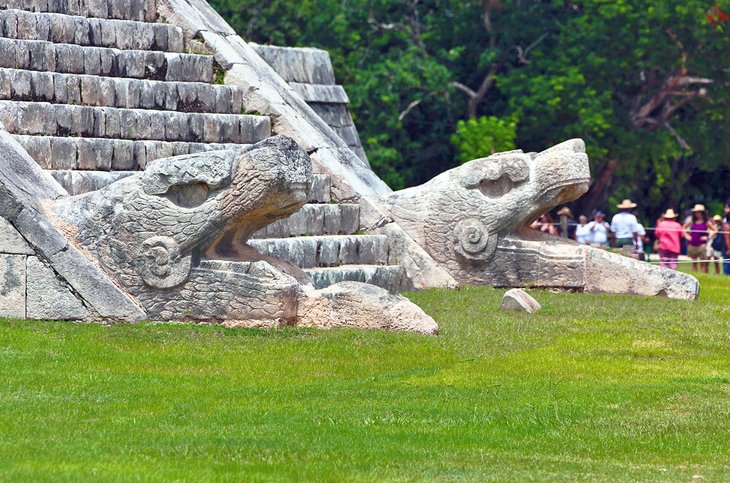 Traveling on a budget? No problem. Not only is it affordable to take coach buses around Mexico, it's incredibly safe and comfortable, as well. The ADO bus company offers service from the ADO station in Cancun to Chichen Itza.
The bus leaves daily at 8:45am and has a return bus departing Chichen Itza at 4:30pm. It's about a three-hour journey on the bus, and costs about 50 MXN. The problem with this option is that you are at the mercy of the bus schedule, and using this option means you will be at the archaeological site for roughly five hours.
If you don't want to spend that much time at Chichen Itza, another option is to take the bus to and from Valladolid and take another bus from there to Chichen Itza, as more departures are available.
The ADO bus station is located near Puerto Cancun, on the other side of the lagoon from the Hotel Zone. Bus tickets can be purchased online at the ADO website, or in person at any ADO bus station.
4. From Cancun to Chichen Itza by Air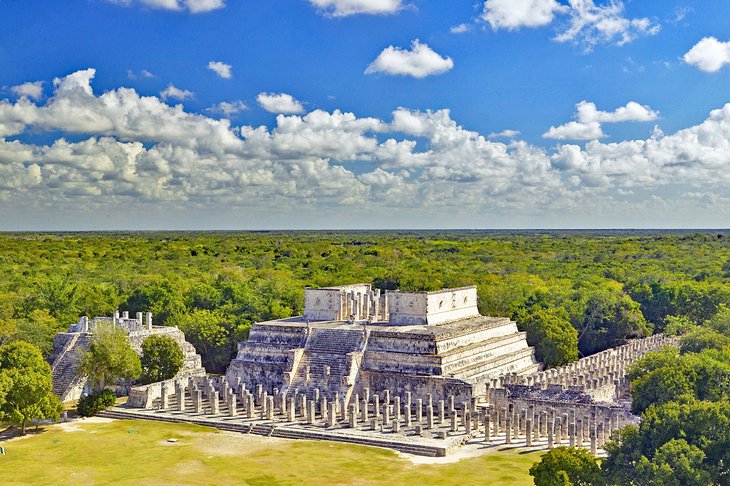 And then, of course, there's the option to completely splurge and visit Chichen Itza in true rockstar style - by plane, of course. The benefit to taking a private or shared plane to Chichen Itza is the sheer exclusivity of it all, not to mention the unforgettable experience and the incredible time saver.
Fly Tours Cancun, for example, offers a shared flight to Chichen Itza every Wednesday. Travelers are taken by plane to the archaeological site in less than an hour. The price includes round-trip flight, a visit to the archaeological site, hotel transfers, soft drinks, and the entrance fee to Chichen Itza. Flights depart at 9am, and travelers are given 2.5 hours to explore the site before returning back to the Cancun airport.
Along the way, be prepared for some truly unique and mesmerizing views. The company has other tours, as well, which include other archaeological sites in the region, if you haven't had your fill with just Chichen Itza.
5. From Cancun to Chichen Itza with a Private Guide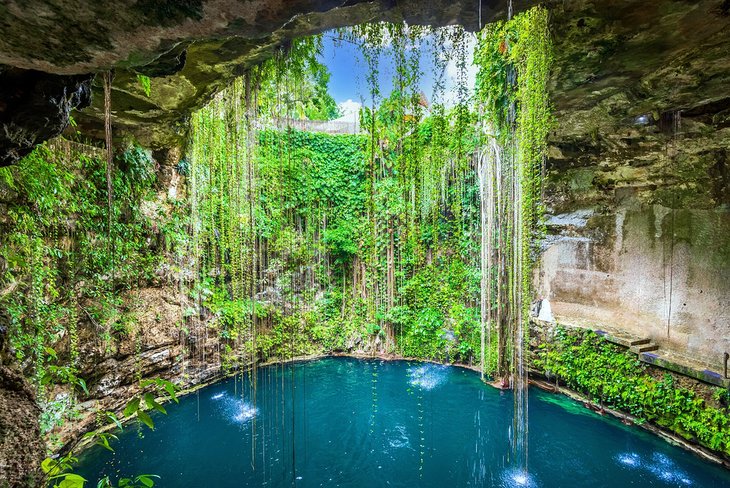 Another splurge-worthy option (though less pricey than a private flight) is to hire a private guide. Private guides offer you the convenience of an organized tour, but with the flexibility to move at your own pace. Plus, it's guaranteed that all your questions will be answered.
Private tours are also efficient because you can skip a lot of the waiting that is associated with group travel. And anything that might not interest you on a tour, you can also skip, allowing you to have a more customized itinerary. Alternatively, if you have a particular area of interest, a private tour allows you to spend more time exploring that.
We like this Chichen Itza, Cenote, & Valladolid Private Tour, which allows travelers to skip the crowds of the bus tours. The highly personalized experience includes round-trip transportation from Cancun, where you get to set your own pickup time.
Much like the group tours, this trip also includes a dip in Ik Kil or Xcajum cenote, as well as a buffet lunch. If you choose not to swim in a cenote, the tour also offers the option to explore the Maya jungle.
This tour is anywhere between eight and 11 hours. Transportation is air-conditioned, as well.